Are you ready to mark your territory in the world of Minecraft? Or is your crew building your own city in these best PvP Minecraft servers? Whatever the case might be, you need a reliable and attractive boundary for your base. Furthermore, such a wall should not only be good-looking but must be easy to replicate around your base. That's where we are stepping in with the best and easy Minecraft wall design ideas that you can start building right now. Though, keep in mind that collecting the resources for these walls is gonna take a while. So, without further delay, let's jump right in!
Best Minecraft Wall Designs (2023)
You can find the materials list to create each wall design along with their descriptions. The materials are valid for a 7-block-wide variant of the wall, so you can scale as per your requirements.
1. Black Castle Wall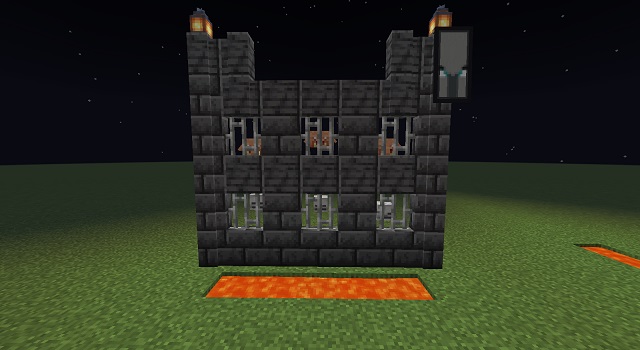 Items Required:

2 Lanterns
1 Omnious Banner
6 Mob Heads
6 Iron Bars
14 Polished Deepslate Walls
18 Deepslate Brick Walls
2 Lava Buckets
One of the most common Minecraft wall ideas that players go for is to create a castle boundary for their base. Thanks to the huge amount of stone-type blocks in the game, you can come up with a variety of unique castle wall designs. In our version, we are using deepslate to give a medieval look to the wall, while adding iron bars to serve as a window.
Meanwhile, the mob heads behind the bars, the Omnious banner, and the small lava tunnel are there to overwhelm enemies. Not to forget, you can add lanterns, moss, veins, and even cracked deepslate blocks for a more rustic style. Later, you can even turn this single wall into an entire castle in Minecraft with the help of our linked guide.
2. Bamboo Minecraft Wall Design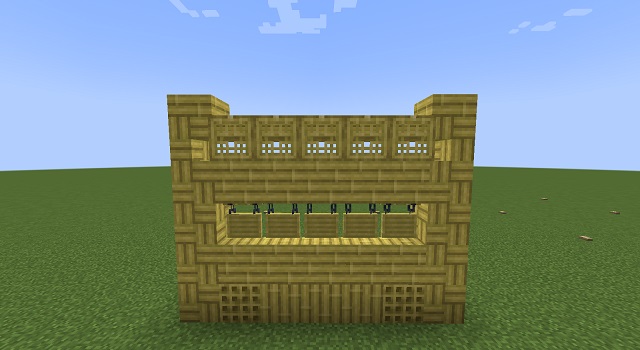 Items Required:

20 Bamboo Blocks
5 Bamboo Hanging Signs
5 Bamboo Trapdoors
16 Bamboo Moasiac Stairs
5 Blocks of Stripped Bamboo
6 Bamboo Mosaic Blocks
The bamboo blocks in Minecraft are the newest family of wood blocks in-game, and they are truly game-changing. You not only get unique designs but also a bunch of exclusive wood blocks. Then, all that's left for you to do is arrange the bamboo blocks to create the wall of your base. While this design works even with other types of wood, the bamboo mosaic blocks are truly irreplaceable.
Not to forget, if you are looking for alternative wall designs and a good way to collect bamboo, our Minecraft bamboo farm can help you with both purposes. But first, make sure your Minecraft house is large enough to encompass it.
3. Clean White Marble Wall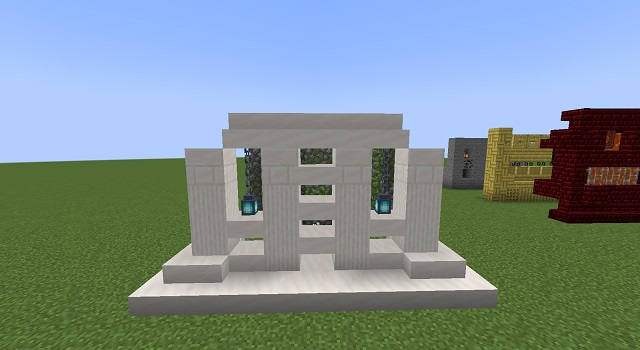 Items Required:

2 Soul Lanterns
2 Chains
10 Quartz Pillars
4 Quartz Bricks
15 Smooth Quartz Stairs
18 Smooth Quartz Slabs
If you like simple and clean designs, this Minecraft wall is made for you. It features a simple window and pillar pattern with lanterns for aesthetics. While you might not get a tactical advantage or horror element from it, this minimal design will fit right within every Minecraft house idea.
Moreover, because of its mythological design, you can even add items like vines, candles, and even trees to level it up. Though, a huge piece of architecture with no additional elements would be a prime example of modern and clean design. If nothing else, it's going to stand out in the chaotic best Minecraft survival servers.
4. Nether Minecraft Wall Design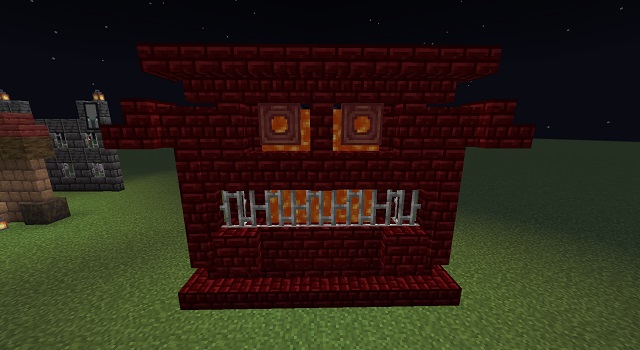 Items Required:

5 Iron Bars
2 Red Nether Brick Blocks
19 Red Nether Brick Wall
16 Red Nether Brick Stairs
2 Mangrove Trapdoors
2 Lava Buckets
The main purpose of any wall in Minecraft is to keep hostile mobs and other players at bay. This wall is primarily designed for that purpose and relies on blocks from the Nether, the scariest dimension of Minecraft. The overall appearance tries to overwhelm other players and the light from the lava prevents hostile mobs from spawning.
While setting up lava might take a bunch of time, it will also act as an additional defensive measure for your base. Meanwhile, you can get most of the other building materials by salvaging a Nether fortress in no time. Feel free to use either Nether or Red Nether blocks. Make sure you have some Minecraft potions backing you up.
5. Abandoned Wall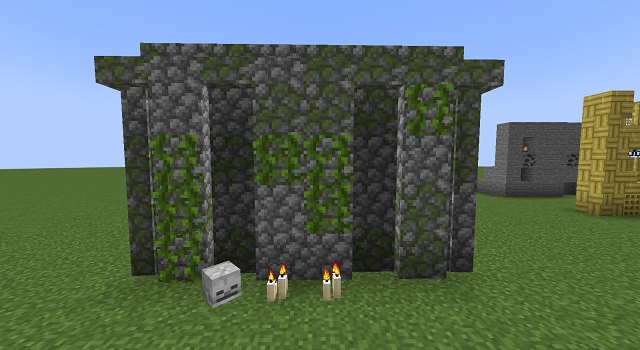 Items Required:

7 Cobblestone Walls
9 Mossy Cobblestone Walls
6 Mossy Cobblestone Stairs
9 Cobblestone Blocks
7 Mossy Cobblestone Blocks
2 Cobblestone Stairs

6 Vines
8 Candles
Skeleton Skull
Let's go back a few centuries to explore the roman ruins and bring them to Minecraft with this simple cobblestone wall. Keeping abandoned areas in mind, you just have to create a pillar-based wall using a mixture of cobblestone and mossy cobblestone blocks. The mossy variants give the vibe that the structure has been there for a while.
Not to forget, for additional aesthetic, you can also add vines, candles, and even skulls on your wall. Not to forget, if cobblestone doesn't sit well with your vibe, you can use the same formula with deepslate and cobbled deepslate blocks as well. However, they might end up making your base look too similar to an Ancient City structure.
6. Holes in the Walls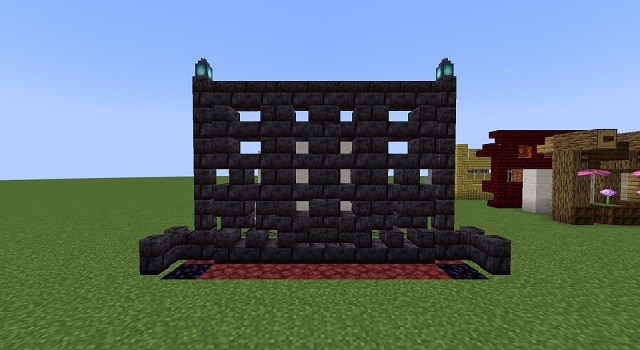 Items Required:

2 Soul Lanterns
9 Netherrack Blocks
25 Blackstone Walls
39 Blackstone Stairs
2 Obsidian Blocks
Taking inspiration from the ruined portals, you can use Blackstone to create a daunting and ancient-looking wall. This design mostly relies on wall and stair blocks placed in a checkered format. Furthermore, you can add Netherrack, soul lanterns, and obsidian to make it feel like a structure that has spawned out of the Nether. Just make sure to leave hole-like openings in the wall for tactical purposes.
7. Garden Minecraft Wall Design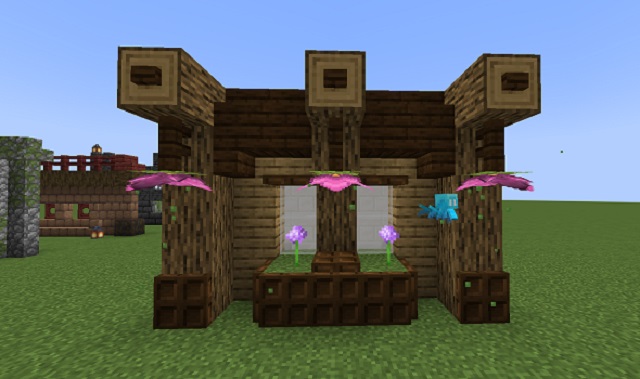 Items Required:

17 Oak Logs
3 Dark Oak Buttons
3 Dark Oak Fences
8 Dark Oak Trapdoors
6 Dark Oak Stairs
2 Dark Oak Slabs
12 Oak Planks
3 Spore Blossoms
4 White Stained Glass Panes
2 Alliums
Wood is one of the most diverse and easily accessible blocks in the world of Minecraft. So, while you are busy collecting resources for other Minecraft wall ideas, a wooden wall would be perfect to surround your base in the meantime. You can pick any two types of wood and mix their blocks to create a simple yet reliable wall.
For additional decorations, you can add plants, tie up mobs and even start a wall-side garden to push your wall to the next level. Not to forget, if you want to keep it entirely unique, the bamboo wood can help you stand out well.
8. Swamp Wall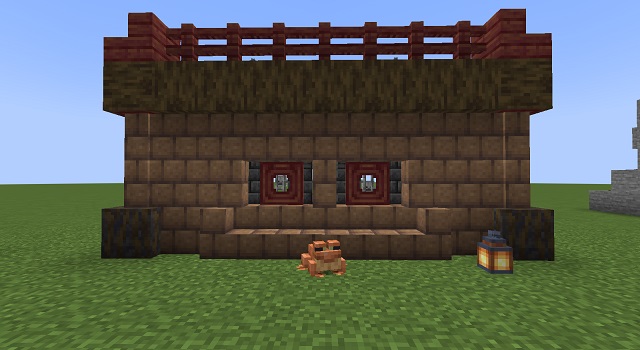 Items Required:

7 Mangrove Fences
2 Mangrove Stairs
2 Mangrove Trapdoors
9 Mangrove Logs
2 Muddy Mangrove Roots
17 Mud Brick Walls
5 Mud Stairs
One of the newest biomes of Minecraft, the Mangrove Swamps, is a true gift giver to players. It spawns the amazing Minecraft frogs, gives out the new mangrove wood, and even unlocks the entire family of mud blocks for you. Since we don't have a village dedicated to swamp biomes (yet), it's a must to have a wall will the swamps in focus.
The mud blocks serve as a great base for the structure and meanwhile, the mangrove wood is great for decoration. You just need to strike the balance between the two to get your perfect Minecraft wall. Furthermore, if you can include the popular frog lights on your wall, they can act as the main light source for the area. Though, lanterns fit better with the overall theme.
9. Secret Door Wall
Items Required:

2 Sticky pistons
21 Stone Blocks
10 Redstone Dust
1 Pressure Plate
2 Redstone Torches
While players express themselves in their unique and impressive Minecraft wall designs, the structure, as a security measure, must also be practical. This is even more important if you are trying to keep your base hidden from intruders. That's where this wall comes in handy. As the name implies, your wall is going to appear like any other wall in the game but it will have a secret door hidden behind it.
For the purpose of practicality, we suggest you use common blocks that naturally merge within the existing Minecraft biomes. For example, in a mountainous biome, you can use stone blocks to create a secret door on the side of a mountain. Then, you can also add other elements like ore blocks in it to make it feel entirely natural. The best part is that the same blueprint can also apply to any other wall design as well to add a secret door to it. And if you ever get stuck, our dedicated guide on how to make a Redstone door in Minecraft is there to help.
10. Forest Minecraft Wall Idea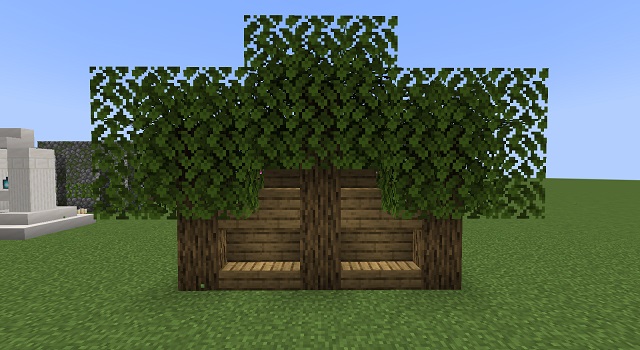 Items Required:

3 Tree Saplings
6 Bone Meals (optional)
10 Wooden Stairs
Almost all walls in Minecraft take a bunch of resources and effort to construct. Things get even harder when you try to make it secretly blend into the world's natural biomes. However, there is a simple workaround thanks to the Minecraft trees. You just have to place tree saplings around your base at certain gaps and then wait for them to grow.
As you might expect, the trees will create an automatic forest wall around your base. Later, you can trim the leaves and add stairs or planks to make the trees fit well with each other. Moreover, since there are six types of saplings in the game, you also have the option to create a diverse forest wall. Not to forget, saplings like jungle can spawn really tall trees creating a really reliable boundary for your base.
Make Your Minecraft Wall Today
With that, it's time for you to start building your own Minecraft walls right away. Though, we suggest you use some of the best Minecraft commands first to make the construction process easier. Alternatively, you can also make a free Minecraft server and invite your friends over to help you out. Though, in the latter case, you will have to take a trip around different Minecraft biomes to gather all the necessary resources. Having that out of the way, which Minecraft wall design are you going to implement? Tell us in the comments below!
---
Load More