Minecraft is home to the biggest creators in the gaming community. They create the most unique houses, some of the best adventure maps, and even a model of earth within Minecraft. But all of that seems trivial in front of the best Minecraft castle ideas that you can build. Some of these are large enough to even outrank the castles in Disneyland. Meanwhile, others are simpler to make and can be built in your world within an hour. Whichever castle idea you choose to bring to life, make sure to equip the best Minecraft skins that suit your royal lifestyle. Having said that, let's stop beating around the bush and explore the best Minecraft castle ideas of all time.
Top Minecraft Castle Ideas (2022)
1. Official Medieval Fortress
Years ago, Mojang released an official building guide to help players create a variety of structures in the game. Among them, as you might expect, was a castle in the form of a medieval fortress. It doesn't only have detailed exteriors but also dedicated rooms, including even a throne room. As for the creation, Youtuber Sbeev has already covered it, so you don't even have to buy the guide. Moreover, it depends on the blocks used in villagers' houses. So, you can easily blend it within the best Minecraft villages.
2. Disney Castle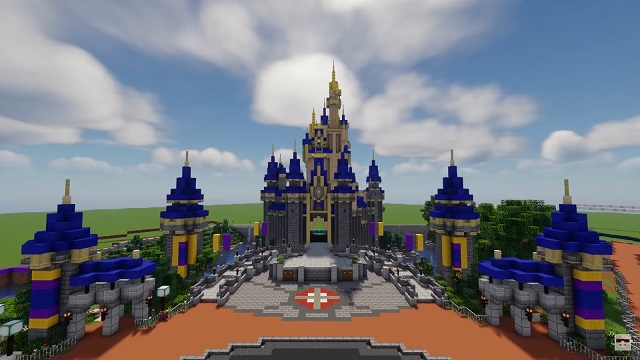 Whether you are a fan of their action-packed MCU movies or the Pixar magic, you must be familiar with Disney. Other than its popular characters, this mega studio is also known for its iconic castle. And now you can get it within Minecraft. There are plenty of tutorials to make it happen, but Youtuber Bubbaflubba is the one that goes deep into the details.
3. Minecraft Mountain Castle Idea
Thanks to the Minecraft 1.18 Caves & Cliffs update, Minecraft's terrain is now more mountainous than ever, and the best mountain seeds serve as a testament to that. As captured by TheBestCubeHD, such a high base serves as a perfect place to look over several smaller bases. But keep in mind that you need to plan transportation before moving construction blocks to the mountain top.
4. Gothic River Valley Castle
Expanding our list of the best Minecraft castle ideas, we have a design that takes a castle and extends it over a river valley. It includes two separate huge structures connected by a bridge, which hangs over a river. The final result looks nothing less than a movie scene. But what's better is that you can directly download this castle's map from Geet-Builds instead of creating it from scratch.
5. Japanese Castle
Unlike most games, Minecraft has one of the most collaborative international communities. And this brings up a chance for great cultural appreciation. Expanding on that, here's an idea of a Japanese-style castle in Minecraft. Covered in detail by Youtuber BlueBits, this castle follows a strict Japanese theme with colored wood, lamps, and a lot of curved roofs.
6. End Castle in Minecraft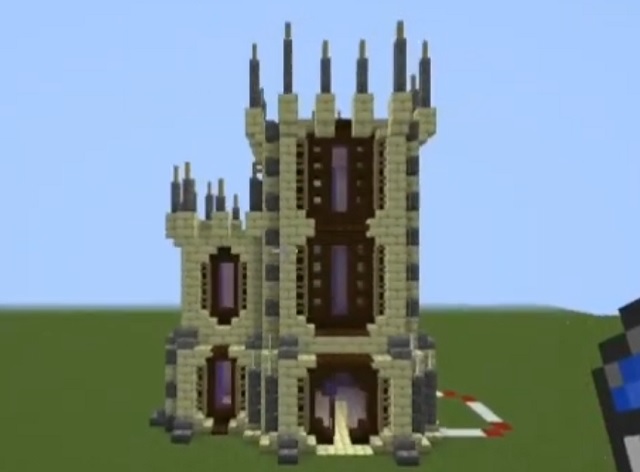 Almost all Minecraft castle ideas take inspiration from the real world to create something great. But our next entry simply takes the end dimension and builds a castle from blocks of that dimension. An Enderman farm and an end portal are also part of this build and help complete the essence. As for the building process, YouTuber Lex The Builder has you covered.
7. Castle Ruins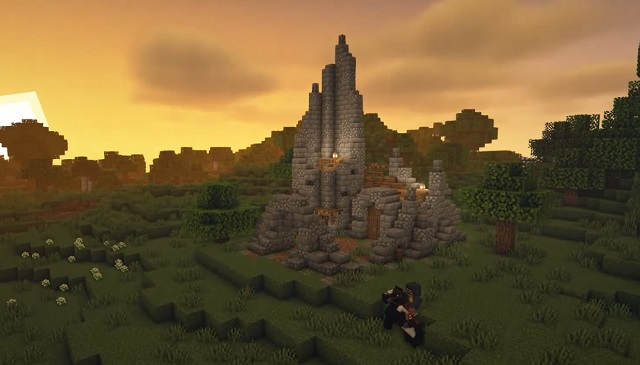 If Minecraft castles have to reflect real life, then our list can't be complete without castle ruins. Its design represents an abandoned castle with nature taking over it. It stands out well within a list of shiny new castles while offering a closer-to-life look. Moreover, thanks to a tutorial by BigTonyMC, it is also one of the easiest castle ideas to bring to life.
8. Castle in One Chunk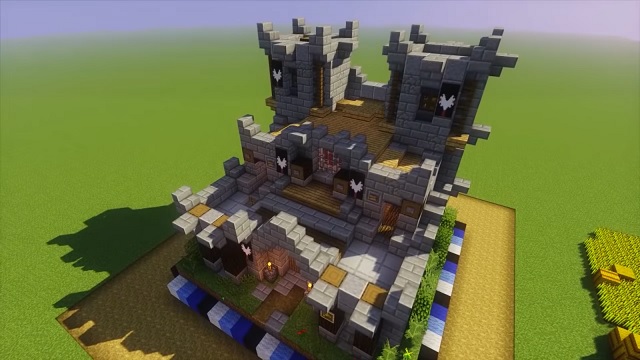 Most Minecraft castles are built in large areas and extend over multiple chunks. They take hours to build and usually don't fit into existing Minecraft bases. But if you already have a base, this one chunk castle is simple, fun, time-saving, and easy to fit. All you need is a small open area and this tutorial by Pixlriffs to get started.
9. Survival Castle in Minecraft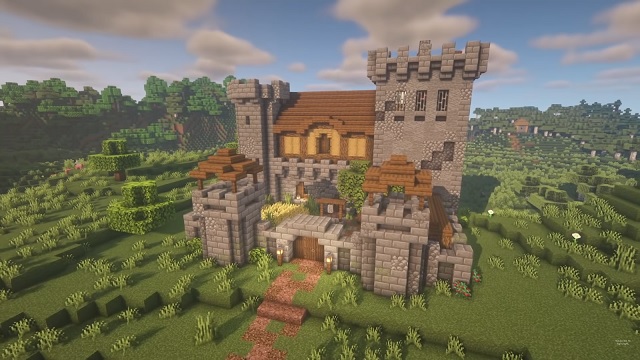 When you try creating a Minecraft castle, it's best to do it in creative mode. But for players whose world is already in survival or hardcore mode, this Minecraft castle idea is perfect. This castle is not only easy to make but also works as a tactical base. You only need the most abundant blocks and limited efforts to nail it down. Just make sure to follow BigTonyMC's tutorial closely.
10. Pink Castle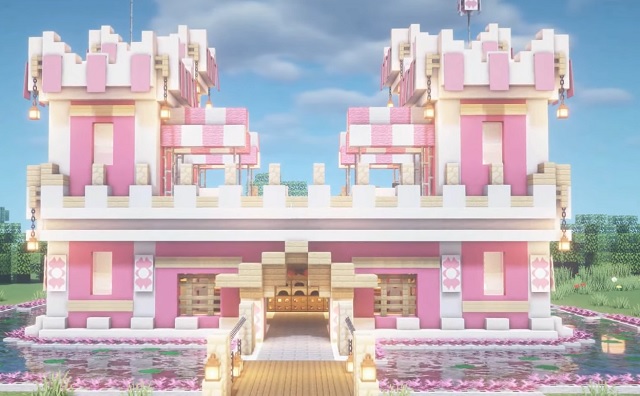 Stepping away from traditional themes, our next castle idea promotes a cute theme. Its design takes inspiration from cherry blossoms and features a pink and white aesthetic. Other than the color, the castle's design also has a lake around it with a bridge that connects the castle to the mainland. Thanks to the block choices and detailed tutorial by Youtuber MMH, the final result is as gorgeous as the whole concept.
11. Water Castle in Minecraft
Our next castle is for everyone who loves the Minecraft ocean biomes. The idea is to create a far-from-society castle that can't be accessed easily. Such a castle not only looks unique but is also great to avoid attackers and hostile mobs without much effort. But you need to know how to make a boat in Minecraft before following BigTonyMC's tutorial to build this castle.
12. Dover Castle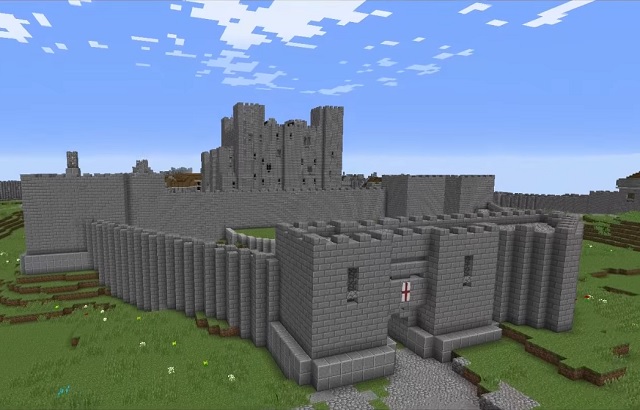 Dover Castle is one of the most popular medical castles in England. And thanks to the English Heritage charity, you can now recreate it in Minecraft with ease. The attention to detail is impressive in this design. So, if you want to experience the world of British royals without stepping foot outside your room, this Minecraft castle idea is for you.
13. King's Landing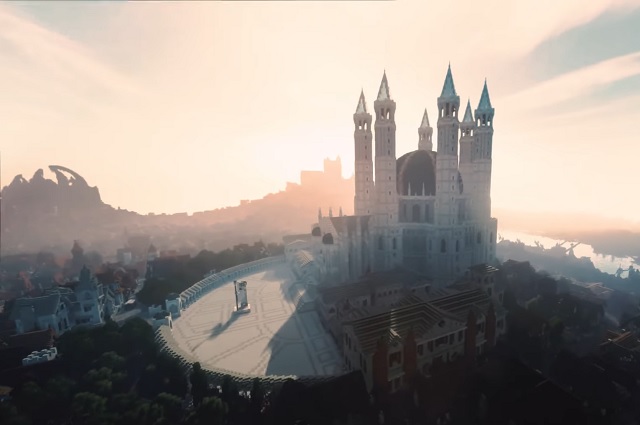 If we are discussing the most epic castles in Minecraft, our list can't be complete without King's Landing from Game of Thrones. This iconic castle's design is truly inspiring in terms of detail, style, and massive size. But the best part about King's landing is that it's a part of WesterosCraft's online server. So, you can play on it with your friends without putting the effort to build this castle.
14. Dark Minecraft Castle Idea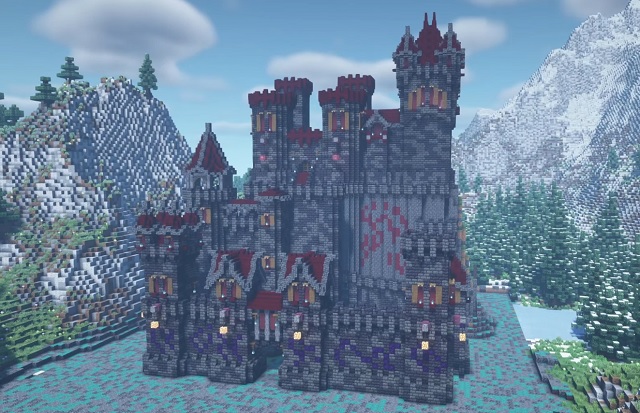 With the addition of Warden in Minecraft, the game is about to get scarier. Keeping up with that spirit, we have a design for a dark castle by Youtuber LionCheater. The castle depends upon Blackstone and other dark blocks in the game to create a sinister vibe. Usually, this design would stand out in most Minecraft biomes, but you can create a horror house out of this powerful design in the deep dark caves.
15. Castle with Traps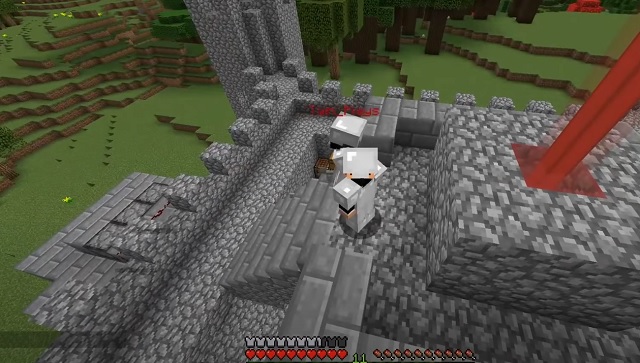 Creating a Minecraft castle isn't only about its looks, and the tutorial by RyanNotBrian proves that well. Their castle's design purely focuses on trapping enemies and protecting your resources. This castle has a bunch of clever traps that can instantly kill any looters and even hostile mobs. So, even if you don't end up creating the same castle, you can still use many of these ideas to protect your castle.
16. Floating Minecraft Castle Idea
Thanks to Minecraft's unique gravity, you can also create a castle in the air, apart from water and land. Youtuber Twin Saw's tutorial covers such a castle in the best possible way. The design focuses on creating several floating islands with parts of the main castle on top. And then, if that wasn't enough, the floating islands have sharp bottom parts. This iconic style makes the castle feel like it was ripped from the ground to float in the sky.
17. Roman Estate Castle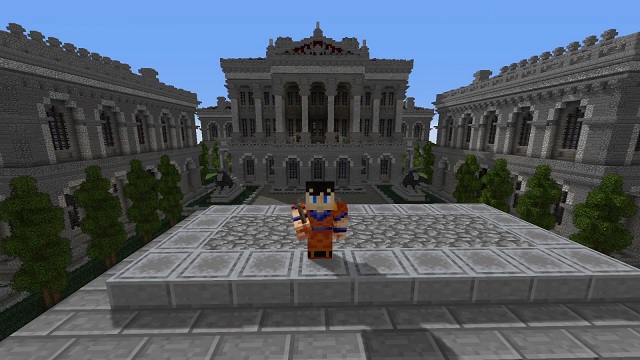 While creating a castle in Minecraft, you don't have to stick with the traditional design. Thanks to the idea by Youtuber Trydar, you can build a modern palace-styled castle that follows a roman architectural design. The design includes fountains, a manor house, gardens, pavilions, and the grand Roman palace.
18. Elsa's Frozen Ice Palace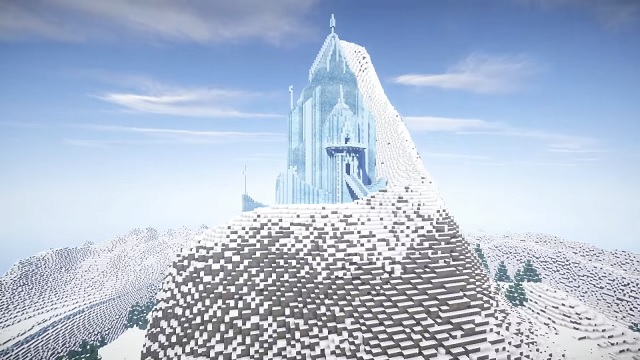 One of the most iconic castles in pop culture is Elsa's palace in the movie Frozen. Taking inspiration from the same, we have our next castle idea by Youtuber Sjin. This castle is made up mostly of ice and snow blocks with serious attention to detail. Similar to the movie, it's best made on the snowy mountains of Minecraft. Not to forget, it's the only exclusive structure we can get in that biome at the moment, and we are not including the igloos.
19. Gladiator Castle
Many ancient castles are known to have open arenas for entertainment and training purposes. But not many Minecraft castles keep up with that idea. Fortunately, this downloadable castle does the job for us. It has a unique design that combines greenery with medieval architecture. But as you might expect, its best part is the huge gladiator arena where you and your friends can battle.
20. Minecraft Desert Castle
Even with villages and temples, Minecraft's deserts are somewhat blank. However, this Minecraft castle idea aims to change that with a unique design. This castle takes the desert theme and pushes it up a notch. It is modular and simple to create if you are using BlueBits' YouTube tutorial.
21. Underground Castle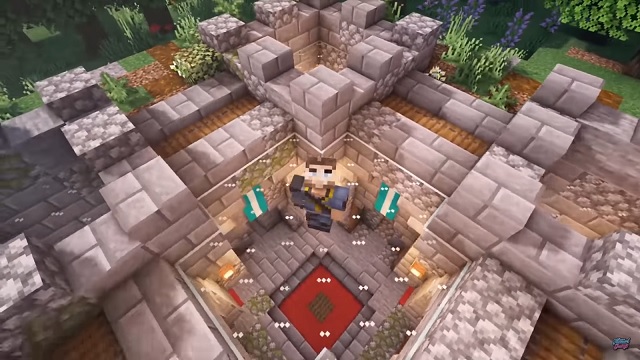 With the new caves of Minecraft 1.18, more and more players are building their bases underground. Thanks to the diverse ore distribution, you have no reason not to build a castle underground too. And with the help of the Youtuber TheMythicalSausage's tutorial, you can easily make one with smeltery, storage, brewing station, and everything in-between.
22. Nether Base Castle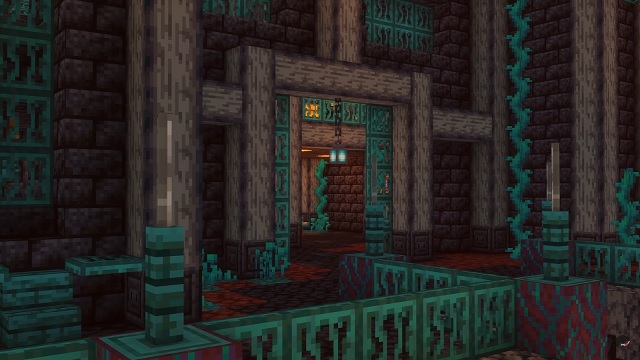 In the vanilla world of Minecraft, the Nether realm is the only place that has a castle-like structure in the form of a fortress. Building upon that, Youtuber Reimiho came up with the idea of a castle base in the Nether dimension. It follows the same theme as the fortress and fits right alongside the existing world. The only drawback of this beautiful castle is that you can't sleep in it because of beds exploding in the Nether.
23. Pewdiepie Castle
It is a common fact that one of the largest promoters and content creators of Minecraft is PewDiePie. So, it's no surprise that his main base is built in a Japanese castle style. There are automatic farms, trading areas, and even a custom sorting system. And thanks to Youtube creator MrReaper Error, you can easily recreate it in no time.
24. Bodiam Swamp Castle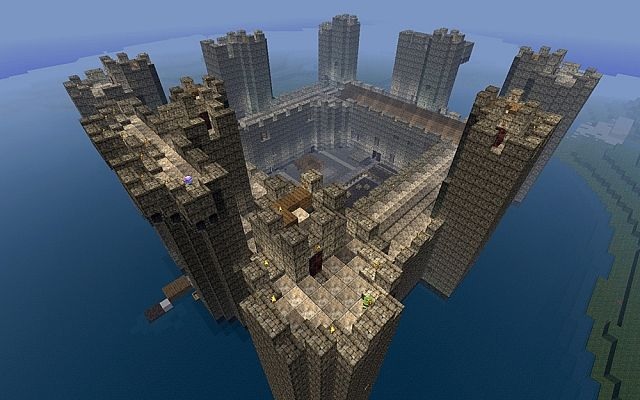 Among the new biomes of Minecraft 1.19, the Mangrove swamp revamp is the most popular among the community. But even so, the swamp biomes still lack any unique structures. Fortunately, the Bodiam swamp castle from the Monty Python movie series fit right in. It has more than 40 rooms, including a prison, market, and even a chapel. Moreover, all of it follows an abandoned theme that goes hand-in-hand with the biome. The best part is that you can download this castle design from Oxyligen right now.
25. Oak Castle in Minecraft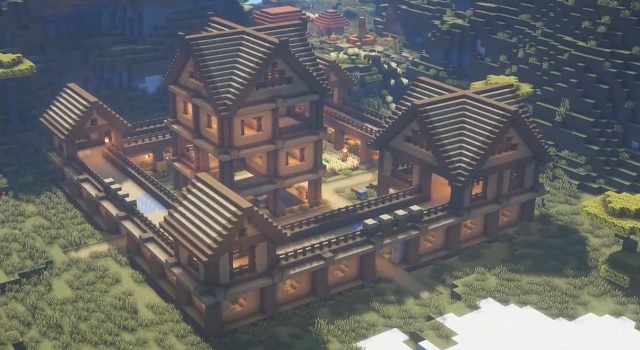 A major hiccup that players face while creating castles or any large structures is resources. But what if you could create a whole castle with just wood? Thanks to this tutorial by Kims Studio, you can build a castle using oak logs and their by-products. The final result will always be prone to arson, but you can definitely recreate it faster than any other Minecraft castle ideas on our list.
26. Minecraft Redstone Piston Castle
The basic way of making a castle is just doing it for the looks. But if you know how to use Redstone properly, you can even make the castle automatic and functional. Thanks to the Youtuber Mumbo Jumbo, you can easily create a castle with an automatic door, a self-expanding bridge, and more.
27. Cinderella Castle
Most people get introduced to the concept of castles through fairy tales. So, it's no surprise that our next Minecraft castle idea stems from the tale of Cinderella. Youtube creator Sjin captured this concept well and recreated the Cinderella castle down to the tee. The color combination, lighting, and even the main bridge are true to the movie's castle design. With such details, you can expect that it's going to take a lot of time and effort to recreate it.
28. Wizard Tower Castle Idea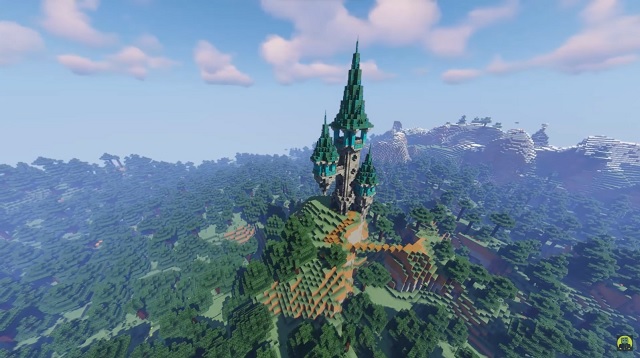 Stepping aside from the concept of large castles, let's focus on tower castles for a bit. These are compact, easier to build, and usually reflect isolated or rebel characters. Youtuber BrokenPixelSK has covered one such castle in their tutorial with a forest Wizard theme in focus. The design focuses on a medieval-style tower that can easily be a part of fantasy maps and even magic-based servers.
29. Safest Minecraft Castle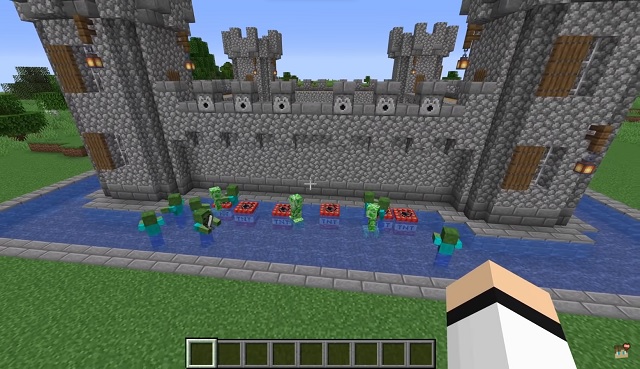 Once you are done building Minecraft structures, the next step is protecting them. Thanks to BBlocks's Youtube tutorial, you only need to implement some smart traps and a few cool surprises to tackle all types of enemies. The trap designs work against other players as well as hostile mobs.
30. Glass Castle in Minecraft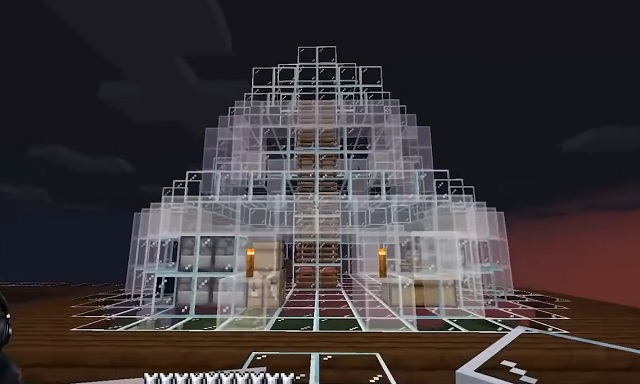 Almost all Minecraft castle ideas are built around colorful blocks and visual themes. But not this one. It sheds all the colors and textures to present us with a transparent castle made out of only glass blocks. Designed by Youtuber PaulGG, this castle isn't the most tactical one, but it definitely stands out in the world of rigid structures.
31. Swordhaven's Castle
This Minecraft castle idea finds the sweet spot between basic builds and a snow theme. Designed by Rayman03, this is a mountain top castle covered by snow at just the right spots. It includes an ice tree, a sewer, a courtyard, and even dedicated halls for various royal activities.
32. Mountainside Castle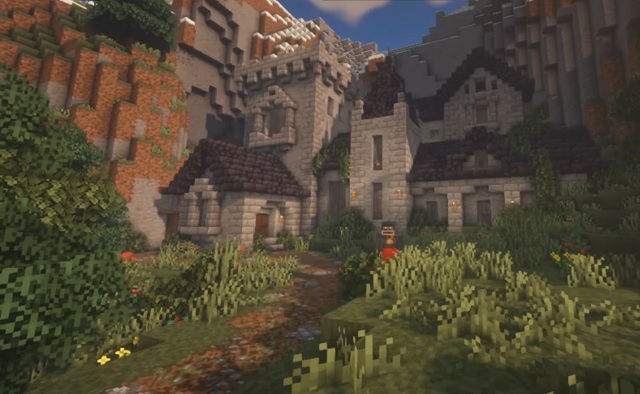 As you might have noticed, most Minecraft castle ideas are on top of mountains in the game. That location gives them a majestic look but isn't easy to climb and build upon. Fortunately, BigTonyMC has a compromise in the form of a Mountainside castle. Their castle design is the extended form of a medieval house that gets protected from 3 sides by mountains.
33. Easy Minecraft Castle Idea
If you are new to building in-game structures, most castle designs can feel overwhelming. But not this castle design by Youtuber Minecraft Fantasy Builds. Their design is simple to follow, uses basic blocks, and you can easily terraform it into complex designs. In fact, you can even make it in hardcore or survival game mode.
34. Underwater Minecraft Castle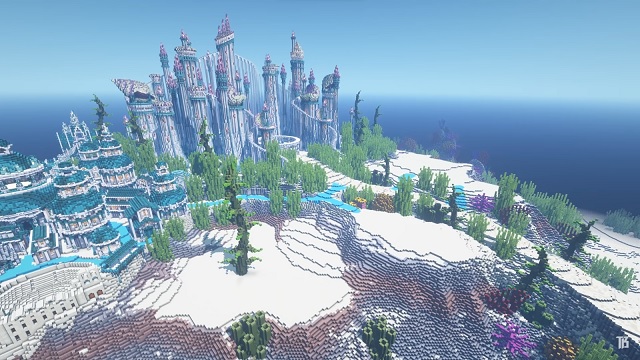 Some castles are unique because of their safety features while others have standout designs. But this one by TrixyBlox is a combination of both. This castle design focuses on an underwater kingdom that uses the theme of an ocean monument to create a world comparable to Aquaman's home. But make sure you have enough Potions of Water Breathing before you start building it.
35. Castle Farm House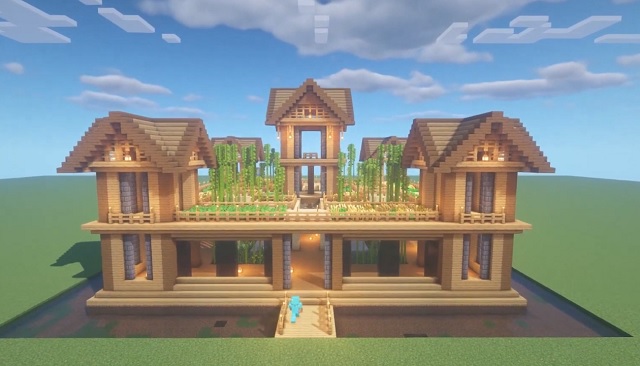 If you want to use Minecraft castle ideas as your main base, they must support various food farms to keep you going. Keeping that in mind, the Youtuber Snow Architecture's castle design creates a farmhouse in the form of a castle. You can grow wheat, potato, bamboo, and a lot of other food items in Minecraft.
36. Minecraft Castle Dungeon Idea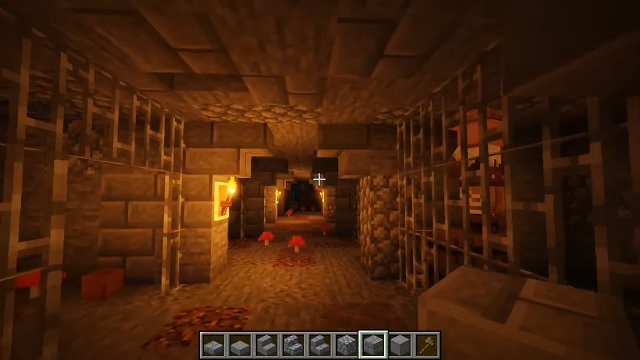 Most castles in human history are incomplete without underground dungeons. So, there's no reason that the ones in Minecraft shouldn't have dungeons. Following that notion, the Youtuber NoDakSmack has created a very detailed castle dungeon design. It has underground rooms, prison areas, and even natural terraformation. If you know how to defeat the Warden, this place can easily become your next best battle base in Minecraft.
37. The Taj Mahal
Stepping away from fictional castles, it's time to celebrate the ancient wonder, the Taj Mahal from India. This Mughal castle pays tribute to the greatness of architects from that time. However, if you haven't seen the real thing, you can still build it in Minecraft. Making it isn't an easy task, though. You have to follow the complete tutorial series by Dyceus to make it happen. But when it's ready, the final result is worth all the effort and time that goes into it.
38. Vitruvian Castle
This Minecraft castle idea takes inspiration from Peles Castle in Romania for its design. It revives the renaissance vibes of ancient European castles while maintaining its unique characteristics. Moreover, instead of building it from scratch, you can also easily download the design from RezolutnyDarek.
39. Gothic City and Castle
Our next Minecraft castle idea takes it a step further by building a city around the castle. Devised by Geet Builds, both castle and the city follow the same theme. There are dedicated hallways, individual houses, and even open grounds completing the vibe. Then as if all of that wasn't enough, this whole castle area is floating in the sky.
40. Mushroom Castle
Breaking away from stereotypical themes, our next Minecraft castle design uses Mushrooms as its main theme. The end result still reflects a castle but all its blocks and color scheme represent a mushroom. If you can find a mushroom fields biome, this castle design is perfect for its aesthetics. You can use the tutorial by Youtuber Jjaaxxthelegend to build it with ease.
41. Epic Minecraft Castle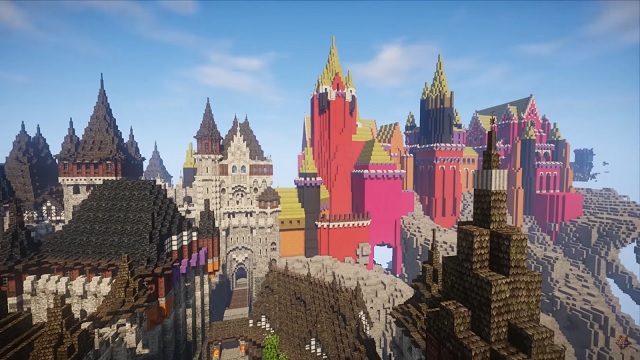 Our next Minecraft castle idea comes from the collection of Dukonred1. They are one of the most popular Minecraft creators and are known for creating medieval structures. And among all their creations, the most epic one is this complete castle. Its design has a dungeon, towers, rooms, prisons, and everything else that you can find in a real castle.
42. Seaside Castle
You shouldn't have to choose between making a beautiful castle and making an easy one. If you plan it right, the castle design by One Team is the most impressive castle that any player can make. They use stone and wood for the structure and other blocks for protection. Since this castle is built on the sea, you won't even need to worry about protection from hostile mobs. All you need to figure out is how to build a food farm, and this can be easily your next survival base.
43. Cute Minecraft Castle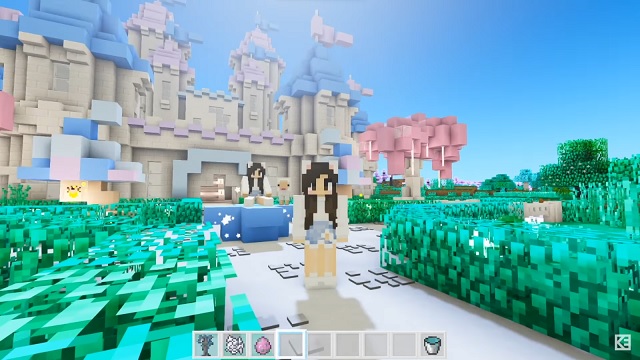 Modern or retro, almost all Minecraft castle ideas try to reflect a strict and unkind theme. Some do it to represent royal power, while others do it for the dark theme. But that doesn't mean castles can't be cute. With that thought, we have Katherine Elizabeth's cute castle design for you here. The castle has a cute toyish theme, and each block of this design feels like something made of clay blocks.
44. Hogwarts – Harry Potter Castle in Minecraft
Next up, we have one of the hardest Minecraft castle ideas that most of you can easily recognize. Directly out of the Harry Potter books, Hogwarts is a castle-shaped high school that is home to Wizards and Witches. Youtuber Planet Dragonod has covered the whole building process of this castle in detail, but even with that, it can easily take you days, if not weeks, to make it happen. However, once it's ready, you can easily recreate Harry Potter movies within the game thanks to the attention to detail in this concept.
45. Dragon Palace
Most fairy tales involving a castle and a kingdom in our world aren't complete until a dragon makes an appearance. So, there's no reason that the same shouldn't be true in the world of Minecraft. With that thought, your next castle idea focuses on a dragon island that feels like something out of a movie.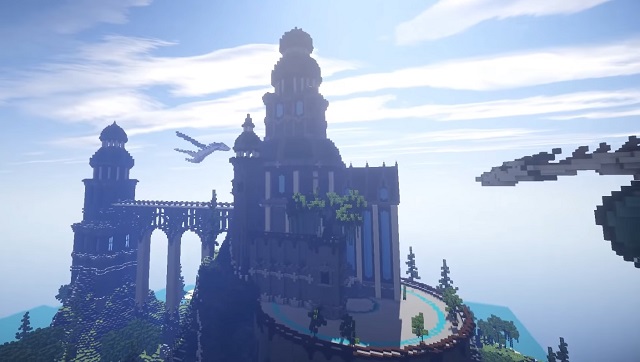 This idea by Youtuber GeminiTay brings an isolated island castle to the game, alongside two dragons. Both of these dragons are made out of blocks but feel totally real from a short distance. Details on the castle are as impressive as the dragons. And if you ever want to bring in real dragons to your world, the best Minecraft mods are just a click away.
Build the Best Minecraft Castle Design Ideas
With that, you have a complete list of the best Minecraft castle ideas at your disposal. You can choose the one you want to recreate based on your interest, time, and the efforts behind its process. But before you start building them, make sure you know how to download and install Minecraft maps to use some of the ready-made castles. Then, you can even install texture packs in Minecraft to customize how your castle's looks. Our list of best Minecraft texture packs can help you find a few great options to complete the medieval theme for your world. Having said that, making a castle is no joke. It's going to take some serious dedication and lots of time. So, we won't keep you here any longer. But before leaving, which Minecraft castle idea are you planning to recreate? Tell us in the comments!