Making a Minecraft server is a nightmare. This is a common belief that many players, including myself, have had for years. You have to download files, set up codes, and do what not to make the server work. The overwhelming work required to make a custom Minecraft server keeps players away from the game's multiplayer adventures, even though it's the most fun way to experience Minecraft. But now, it's time to put an end to this nightmare by learning the easiest way to create a free Minecraft server for Java and Bedrock edition. The best part is that you can get your Minecraft server up and running in 15 minutes or less. To put that into perspective, it's half the time it will take most players to defeat the Warden in Minecraft 1.19. So, let's not waste any time and learn how to make a free Minecraft server online.
Make Minecraft Server for Free (2022)
The method we are covering in this guide gives direct competition to the developer's official Minecraft Realm servers. You can use any of the services listed below at your convenience. Realms only have a paid plan, while its competitors offer both free and paid services.
What is a Minecraft Server?
A Minecraft server is a base world you and your friends can share, explore, and play within over the Internet. These can be as basic as your default spawn location or as complex as one of the best Minecraft modpacks. A simple Minecraft server loads the world data from its host's existing device, and people can join that server using the host's IP address.
What we will focus on today in this article is different from traditional servers. Instead of storing and hosting the server and its data on our devices, we are outsourcing the task to online hosting services. Doing so allows us to skip the manual setup process, and it also ensures that the servers stay accessible even if our device is offline. The best part is that we can do all of this and more for free. No file downloads, codes, or anything for manual setup is needed here.
Best Free Minecraft Server Hosts
There are many free Minecraft server hosting providers you can use in 2022. The one we will be using in this tutorial is Aternos, but you can choose any of the following as well. They are also free to use and provide equally good services.
PloudOS
Minehut
TridentSDK
FreeMcServer.net
Serverpro
FalixNodes.net
If you want more robust options, we have a dedicated list of the best premium Minecraft server hosts that you can explore for as low as $1.5 per month. These premium hosting services offer you more customization options and add-on features.
Make a Free Online Minecraft Server Using Aternos
Aternos is a completely free and customizable server provider that serves an average of 750k Minecraft players every single day. It supports mods, automatic backups, and works with both Java and Bedrock editions. With that said, let's see how you can use Aternos to make a free Minecraft server.
Steps to Sign up for an Aternos Account
1. To begin, open the official Aternos website and click the "Play" button at the bottom right corner.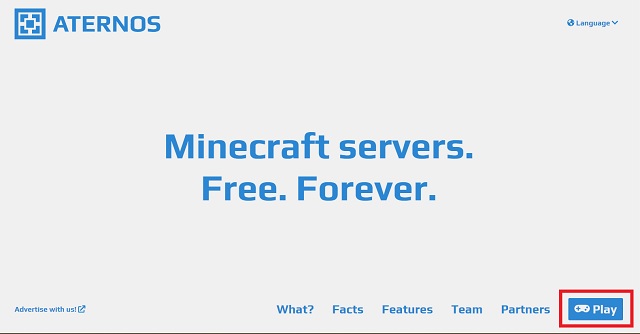 2. On the next page that opens up, you need to create an Aternos account to get started. Here, you can use Google or Facebook to sign up or use the "Sign up" button to make an account without using your social media credentials.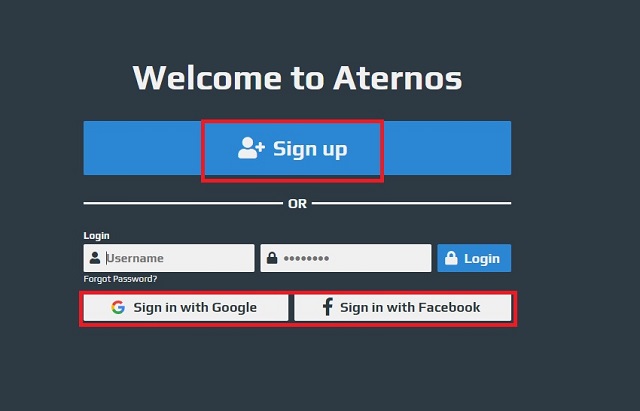 3. If you choose the "Sign up" option, you need to enter a username of your choice. Then, you have to make sure you have accepted the privacy policy & terms of service policy by toggling on the buttons next to them. After that, click on the "Next" button to continue.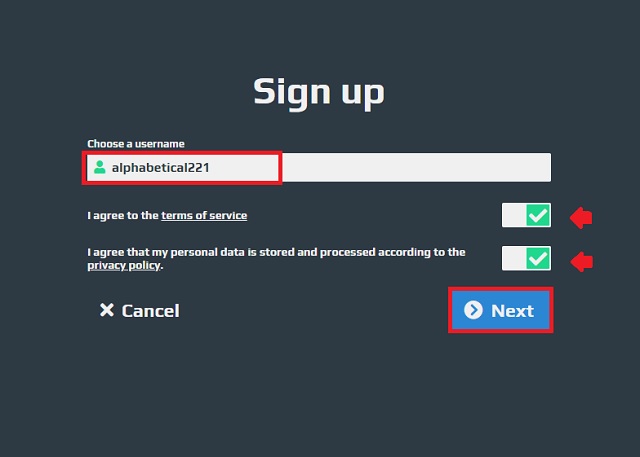 4. Next, you have to set a password for your server. You can also share your email address to help recover the password in case you forget it. Click on the "Sign up" button to finish. You have to solve a captcha before moving forward.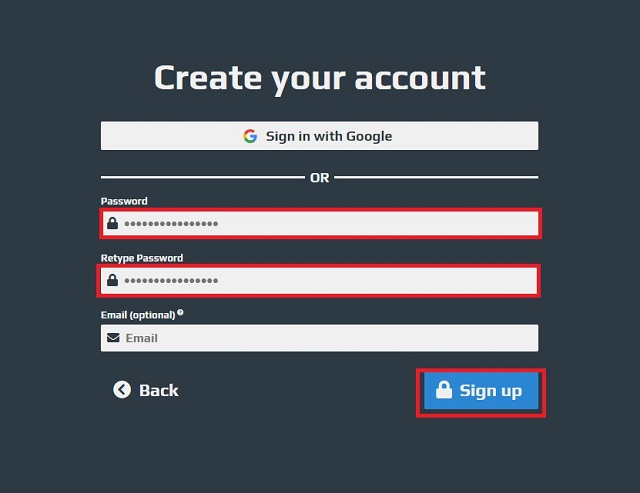 Create Free Aternos Minecraft Server
Once you have successfully created an account, Aternos will give you the option to create a new server. Here's how to go about this process:
1. First, click the large "Create a server" button in the middle of your screen.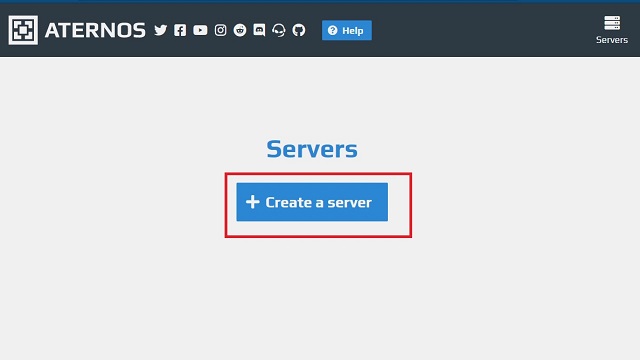 2. Then, you need to choose whether you wish to create a server for Minecraft Bedrock or Java edition. You can change it later, as shown in the screenshot below. There's also the option to change the server name and add a welcome message, which you can do by clicking on the "pencil" icon next to these sections. When you are done, click the "Create" button to finish setting up your free Minecraft server.
3. Your server is now ready for use. Click the "Start" button to start the server, but don't start playing on it just yet. There are some minor adjustment options you need to make before you can go on Minecraft adventures or survival seed runs with your friends.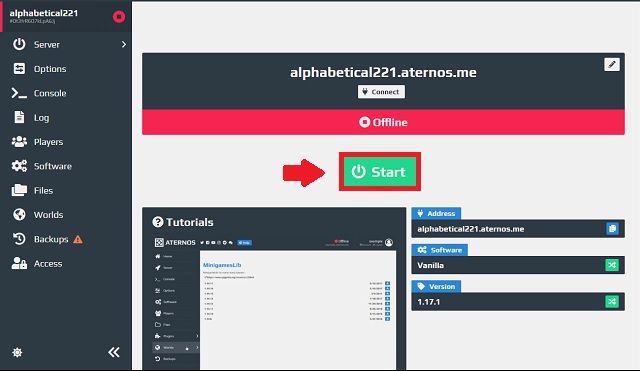 Customize Your Server on Aternos
Even if you are using some other platform to make your free Minecraft server online, you can expect to find similar customization options. Just look for similar titles in the server settings of your platform and make the changes described below.
1. To change the basic servers settings, click on "Options" in the left side panel. Here, you can adjust the basic properties like game mode, difficulty, and spawn settings for a few entities.
2. Then, go to the "Players" section from the left panel and list the usernames you want to ban or whitelist in your server. This feature might come in handy later on, especially when many players join your server.
3. You can also try changing the "software" settings from the menu. However, we suggest you not mess with these options unless you know what you are doing, as they can have game-breaking impacts.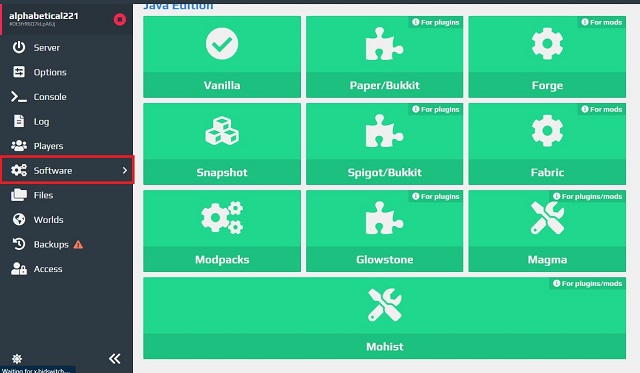 4. Finally, we have the "Worlds" section that is also accessible via the left side panel. Here, you can upload your existing Minecraft worlds as .zip files. There's also the option to download the world from your online server.
How to Connect and Join Your Online Minecraft Server
Now that our server is up and running, the only thing that's left to do is invite some friends, join the server, and play the game. The process to connect to an online is the same across all Minecraft platforms. So, follow the steps below to join and play on your free online Minecraft multiplayer server.
1. To begin, go to the server's homepage and make sure the version of your server is the same as your game's version.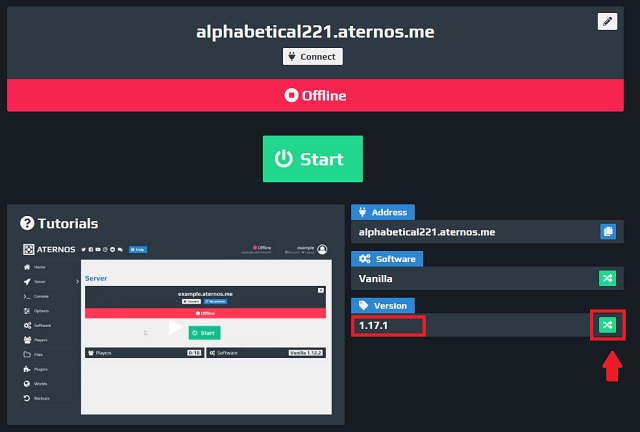 2. Then, copy the server address manually by clicking the copy icon next to it.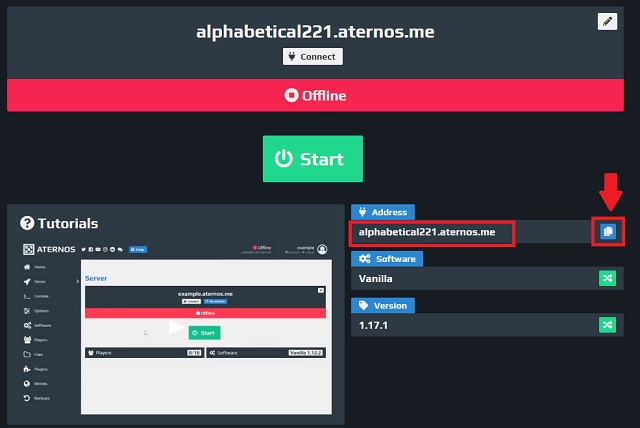 3. Now, click on the "Start" button if you haven't already, and open Minecraft on your PC, console, or mobile device.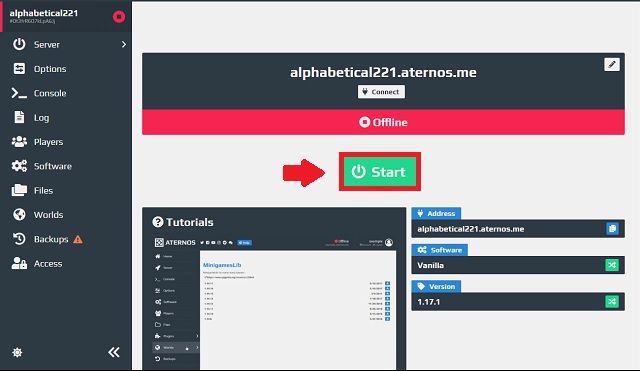 4. Once the game loads up, click on the "Multiplayer" option from the Minecraft homepage.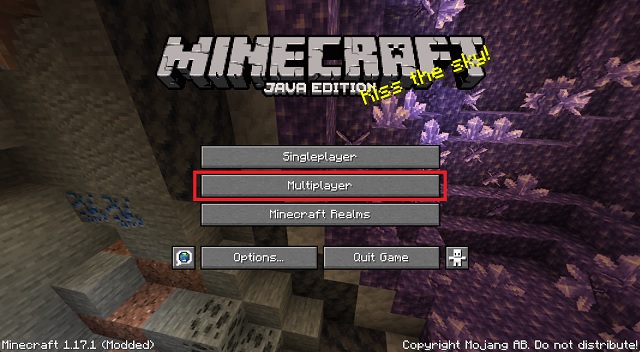 5. On the multiplayer screen, click the "Direct Connection" button at the bottom.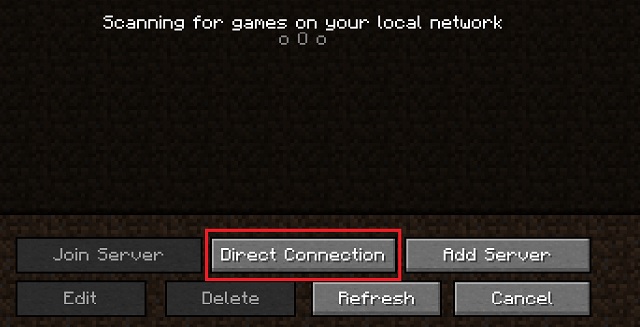 6. Here, enter the server address you copied from Aternos and click the "Join Server" button to join and start playing the game.
Give your game a minute or two to connect to the server, and you will be ready to play. If you face any errors, head to our FAQ & Errors section to find a solution. You can share the same server address with your friends, and they can join the server using these steps.
Online Minecraft Server: FAQ & Errors
"Connection Timed Out" Errors
This is a common error that can be fixed by restarting the free Minecraft server. Alternatively, you can try joining the server using the port address. To do so, go back to Aternos and click on the "Connect" button and what you will see in a port-based server address. It will be in the following format: yourserveraddress.aternos.me:12345 with the number after ":" colon being your port address. Users can copy this port-based server address or IP and use it in the "Direct Connection" section, as we did earlier.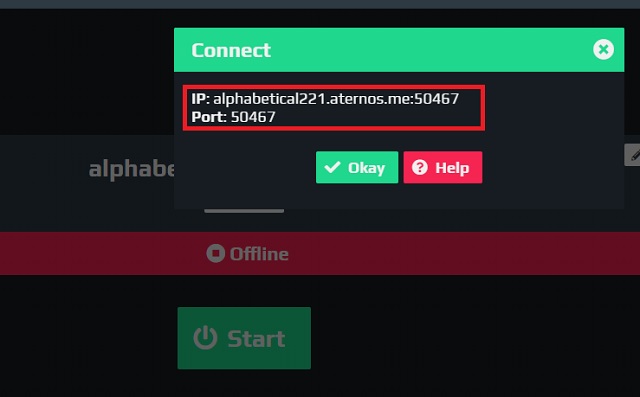 "You're not Whitelisted for the Server" Error
Remember the "Players" settings screen from the server customization section? That is likely the cause of this error. You need to go to your Aternos player settings and manually allow you or your friend into the game by adding their in-game username in the "Whitelist" section.
Alternatively, you can also close the whitelist option altogether. Though, that might make your server prone to spammers if your Minecraft server address is somehow leaked. In any case, you will find the setting in the "Options" section.
Can I use Aternos on Minecraft Bedrock?
Yes, with limited functionalities as compared to the Minecraft Java Edition. You can use Aternos to create online servers that you can use on the Bedrock edition too.
Why is my Minecraft server laggy?
Online servers can be laggy if you install too many plugins, Minecraft texture packs, and mods on them. Removing a few of them can make your servers smoother. Getting a more reliable internet connection also helps.
Easily Set up a Free Minecraft Server
And just like that, you have mastered the easiest way to make an online Minecraft server for free. You can now use this server to collaborate with friends and build some of the best Minecraft maps. Or, you can use the opportunity to explore all the Minecraft biomes. Irrespective of how you plan to use it, your free Minecraft server will surely offer you a fun experience. Moreover, it will also save you the amount of work that goes into updating servers with each major Minecraft update. You can expect these service providers to get the Minecraft 1.19 servers alongside the official release later this year. However, the same isn't true for most manually handled servers. So, the choice is all yours. But if you face any problems or glitches while making your server, drop your query in the comments below. Someone from our team will help you out.