Music is everywhere, it is commonly said and luckily for us, the evolution of technology, especially internet, has allowed us access to music from any part of the world at any time and smartphones have made this quest even simpler. Most of us – I like to believe – carry our favorite music on our smartphones with us. And with the expansion of mobile storage and for the freedom from depending on internet, why shouldn't we? I also believe that this class-A euphoria-inducing drug deserves the best treatment and to help you ensure that, we are listing the top 10 best Android music players. Let's dive in:
The Best Music Players for Android
1. BlackPlayer
Gorgeous – or a potential synonym – is what you will utter when you first encounter BlackPlayer. The simple interface is complemented with fluid animations, striking fonts, and solid colors which you can customize to choice. Your music files are segregated by tracks, artists, albums, and genre. One of the features I personally admired was the automatic loading of artist images and bio from Last.FM when tracks are sorted by artist. You also get a five-band equalizer to suit the quality of sound to your preference. In the playback screen, there is a small customizable option which can be assigned a variety of tasks related to the track properties, playback, and BlackPlayer settings.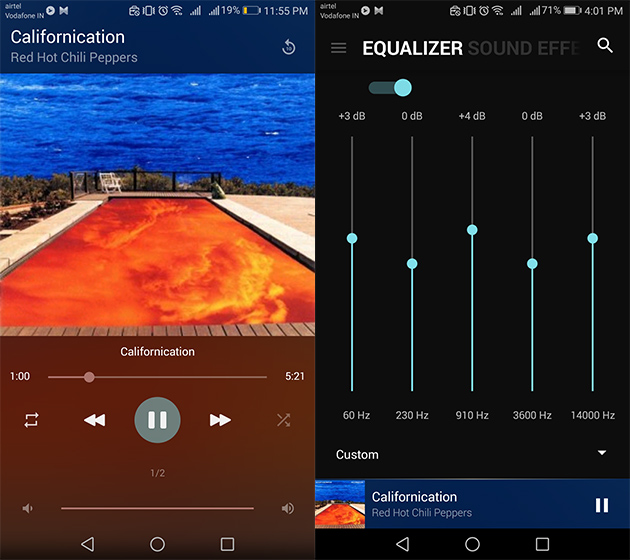 BlackPlayer also allows users to select gapless playback and the ability to crossfade tracks with the option to choose between different styles and duration of fading. It is also compatible with Chromecast, so you can easily play music onto a connected display directly from your device. There's an ocean of options to modify the interface as desired.
Install: (Free, BlackPlayer X $0.70)
2. Pi Music Player
If you're a sucker for dazzling animations, you'll adore Pi Music Player. You can customize the appearance by selecting from four different themes and choose how are your tracks sorted. But, it pleases more than just aesthetically. There is a huge emphasis on playlists and while Pi Music Player automatically assorts tracks based on most played, favorites, recently added etc while giving you the ability to backup playlists on to your device.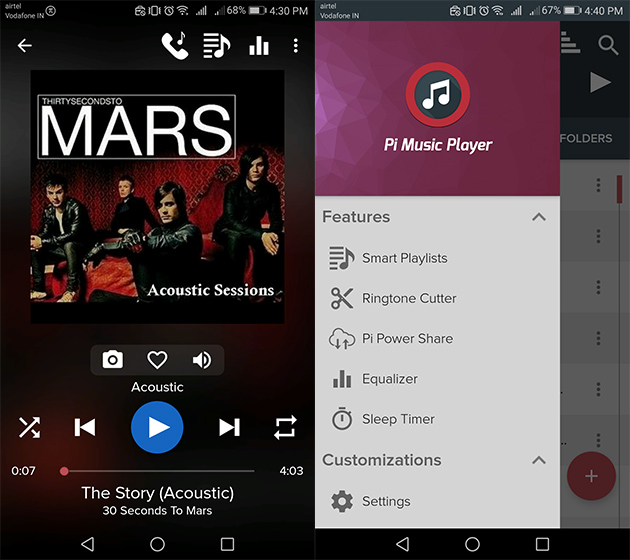 Other than that, you get features such as Pi Power Share which allows you to share a music file with anyone throughout the world using a sharing key and a Ringtone Cutter so you can snap your favourite parts from the songs that delight just to make sure that it is less annoying when that you next receive that telemarketing call. If that's not all, Pi Music Player has an engaging easter egg which spins the icon every time you touch it.
Install: (Free)
3. AIMP
If you want to get straight into business and avoid giddy animations, get distracted, or dumbfounded by series of options that probably do not impact the experience of listening to music, then AIMP should be the right choice for you. I wouldn't dare to call AIMP's in minimal but the interface is super clean. One of the appeals of this music player is support for a vast array of audio formats, some of which might be too elusive to be heard in daily life.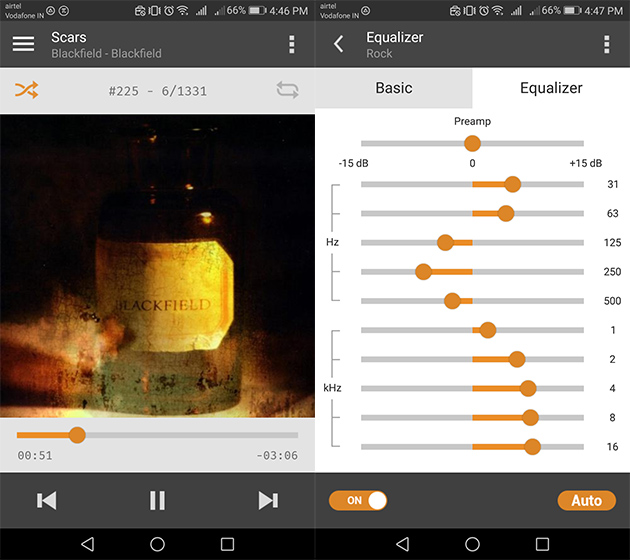 In terms of audio, you get a 10-band equalizer, five of which are dedicated to bass frequencies. You also get control over the playback speed and can cut or boost audio gain using the inbuilt preamp. You can also convert stereo files into mono to optimize playback according to your speaker setup. AIMP is like a file manager for audio files and you can choose which folders to display in the music player, although manual selection can be irritating for some users.
Install: (Free)
4. Musicolet Music Player
Are you the DJ of your group or prefer having strictly controlled the playback of tracks? Then, Musicolet Music Player could be an ideal option for you. The music player allows you to create multiple queues of tracks that can be manipulated and edited as you desire. Getting around with the interface can be a bit consuming initially but in no time, it grows on you. It also features five-band equalizer with standard presets and options to control bass boost and surround sound.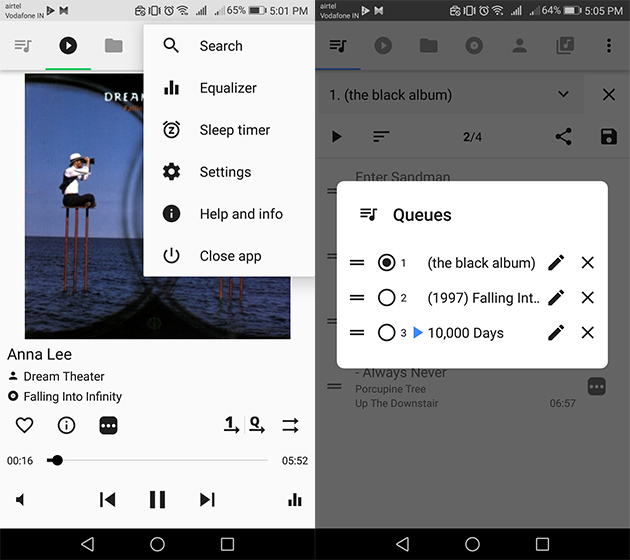 You also get basic options to change the appearance of themes including light, dark, and AMOLED-friendly dark option and the ability to change accent colors. You can also fiddle with the playback speed and customize controls of headset remote buttons as you will. Lastly, you also get options to add and view lyrics, edit information like title, artist info, album, etc., and change the album art.
Install: (Free)
5. Retro Music Player
In case you're looking for a music player that beautifully organizes your music, you'll dig Retro Music Player. Albums and artists are neatly laid out in big square tiles with minimal use of text. This app gives you the ability to play with colors on every front, from the colored navigation bar to a wide gamut of accent colors, to the color of the notifications. You can also enable a full-screen mode which hides the notification and navigation bars while the app stretches for an immersive experience. The app appears highly inspired by the recent overhaul of Apple iOS Store and even lets you add curved corners to the window and the bit I like about Retro Music Player best is that it uses swipe gestures extensively.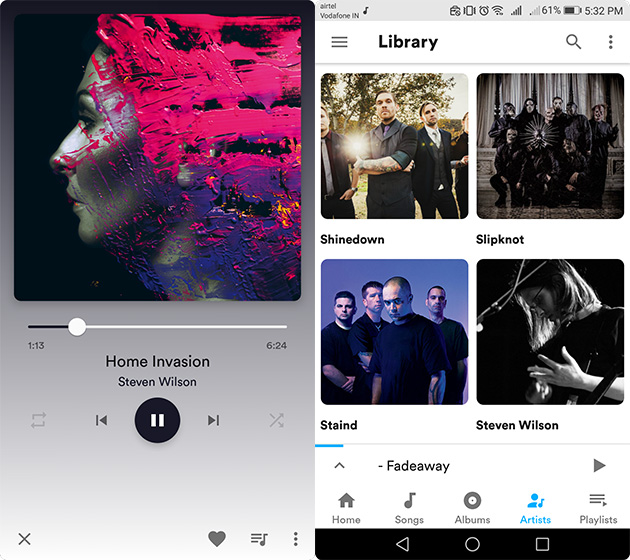 Just like BlackPlayer, Retro Music Player automatically adds images to artists and display a bio based on Last.FM information. There is no inbuilt equalizer but you can select one if you have it preinstalled. It didn't, however, recognize the stock equalizer on my smartphone and this might be a bit of a peeve for some users. It can also display lyrics from Kugou and Lyrics Wiki.  
Install: (Free)
6. Abbey Music Player
Clearly gaining inspiration from the historic album by the Beatles which became famous for its iconic cover art featuring the band at a road crossing, Abbey is unlike normal music players in terms of design. It is far from bloated and text acquires most of the space with occasional hiccups in form of icons whose functions can be easily recognized. While playing the track, you get a rotating vinyl disk animation which can be turned off if it displeases you.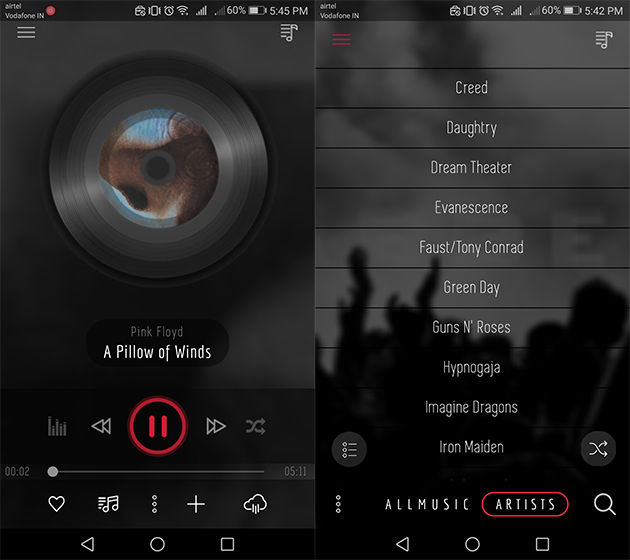 You can assign tracks according to your mood and choose from among different high-contrast themes. Apart from moving to your favorite tracks, you can also chip out ringtones from music files and also update outdated album art. Apart from these features, you can also relax your mind by listening to the harmony of raindrops along with the tracks or even unaccompanied by any other sound.
Install: (Free)
7. Pulsar Music Player
If a union of utility and simplicity is what you thirst for, Pulsar Music Player should be a suitable choice. There isn't much going around in the background and all options are right in front of your eyes which is facilitated by the simplistic material design. Pulsar can automatically sync missing album art and artist images and lets you edit track information.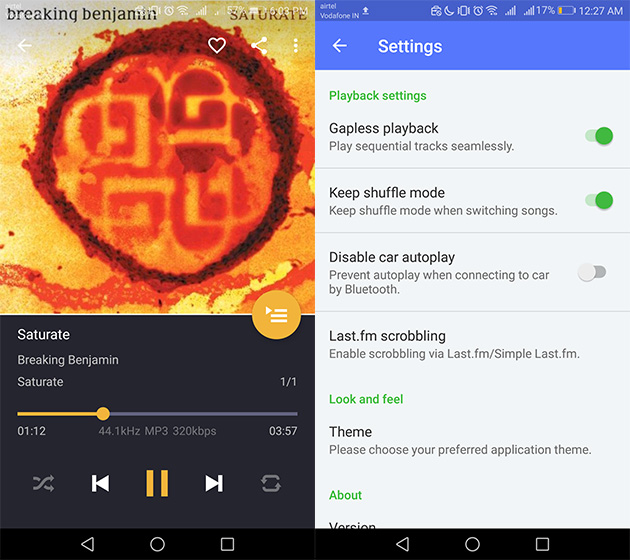 Swiping through the screens works seamlessly and you get a concise bundle of settings that will not confuse you. You can choose between three different light and dark themes and customize which tabs to show on the main screen. You will, however, be required to buy Pulsar Music Player Pro to enable the equalizer and you don't get the ability to choose alternatives. So if that's one tradeoff you can make for the sake of simplicity, Pulsar is a great choice of a music player.
Install: (Free, Pulsar Music Player Pro $3.43)
8. Shuttle Music Player
Another music player blessed with a material design and oddly satisfying animations is Shuttle. It is adept at organizing albums based on artists and allows you to navigate back to the album, artist, or genre directly from the now playing screen. There are endless color options to play with when it comes to accent colors while base colors are limited to the common pallets. You can also choose between light and dark themes.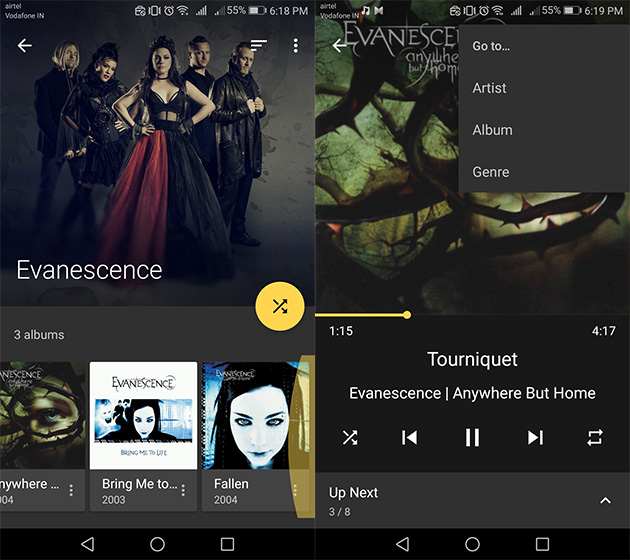 Shuttle features a five-band equalizer with a bar to change the strength of the EQ while you also get presets and a bass booster. Shuttle also features support for music-tracking using Last.FM scrobbler and can download missing album art for you. There subtle additions to make listening to music on headset easier with options like auto pause and resume and "beep on skip". With the paid version, you get screencasting via Chromecast and menu for editing tags, besides extra themes.
Install: (Free, Shuttle+ $2.65)
9. Neutron Music Player
Pretty unusual and unlike modern-day apps, Neutron may remind you of the perplexing control panel of a Star Trek spaceship. The interface majorly relies on icons and finding your way around might need some getting used. The music player is evidently made for geeks who want higher control over the audio output of their devices far beyond just frequency bands. Neutron Music Player allows you to toy with several parameters which it clubs under the "DSP Effects". For instance, you can add a compressor in the chain of effects and manipulate parameters like attack and release times, gain. Likewise, you can play with parameters for crossfade, surround sound, and alignment of speakers.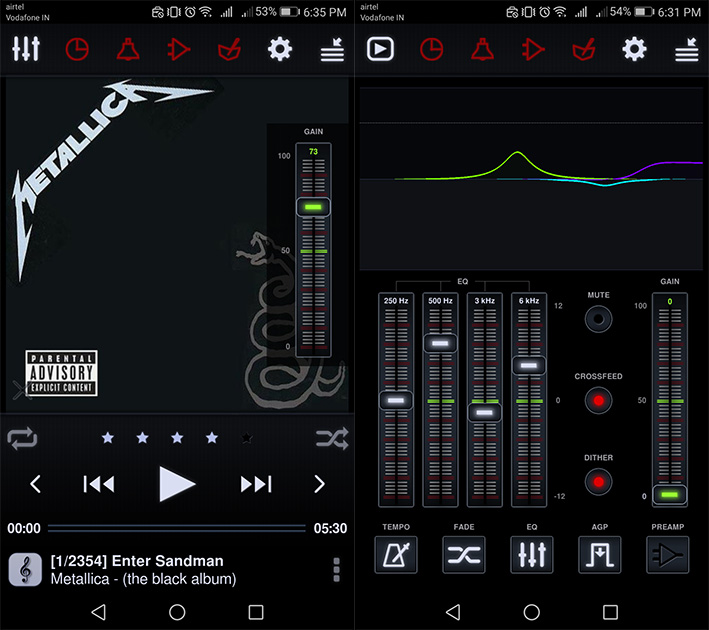 Neutron Player allows you change the playback speed and the pitch of the song, because normal entertainment can sometimes fail to propitiate a constantly humming brain. You can also change the order of effects in the FX chain and this is something which will surely please musicians and audio producers apart from wave geeks. Lastly, there are features like 5-star ratings which you can add to songs but I was not able to figure out a noticeable difference of ratings on shuffle. You can pay a premium if you want higher control over those sound parameters.
Install: (Free, Premium Version $6.23)
10. Musixmatch Lyrics
The most interesting – and useful – of the bunch and deservedly saved for the last is Musixmatch. Apart from being a minimally designed music player, Musixmatch is a service which displays lyrics while a song is being played on your device. What's better that you don't have to open the service manually and playing any song on your phone easily raises its ear, causing it to automatically pop up in a Messenger-like overlay window.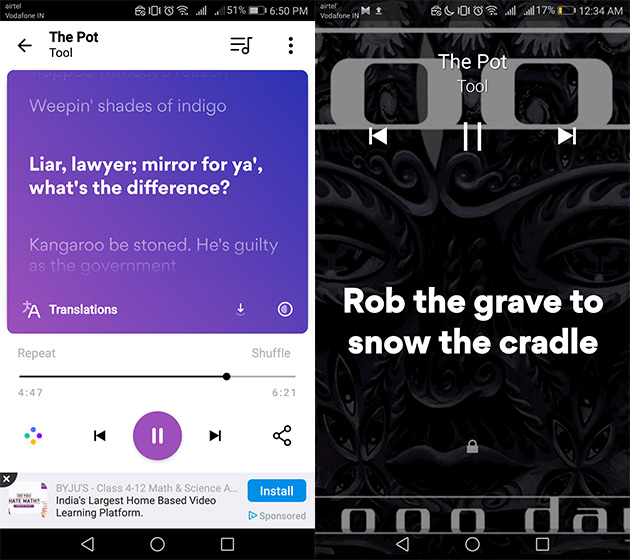 While Musixmatch comes with ads, you can either pay $1.96 per year for the full version or gain points by engaging in acts of good karma like synching lyrics or adding lyrics for regional songs. You also get an option for identifying songs in a Shazam-like fashion. Musixmatch supports not just local music players but also popular services like YouTube, Google Play Music, and Spotify. If there are lyrics that set your heart racing, you can share those with your Facebook friends and Twitter followers using "Lyricscard". Lyrics show on the lock screen by default, but it might interfere with your usual lockscreen, so make sure you check that beforehand. 
Install: (Free, Premium $0.65/month & $1.96 per year) 
SEE ALSO: 5 Cool Apps Like Musixmatch You Can Use To Find Lyrics
So, Which is Your Favorite Music Player on Android?
We have listed different music players keeping in mind various factors like ease of customization, file support, interface, sorting options, and add-ons to suit the needs of different users. It is our hope that one or more apps will help your ears find the right sound to your favorite love song, honor ballad, tracks of rebellion, or just muzak.
Did we miss any app out? Do let us know about your recommendations for the best Android music players in the comments below.