Deepfake videos are on the rise and this time, Lensa AI has taken the internet by storm. It lets you create deepfake portraits within minutes and the results look incredibly authentic. While deepfake apps are for fun, deepfake videos can be deeply problematic if used for misrepresenting someone, particularly in politics. So in this article, we have carefully selected deepfake apps and websites which are mostly harmless and can be used for research purposes. You can utilise these services for studying machine learning, image recognition, computer vision, and of course, for fun too. Now having said that, let's go through the list without any delay.
Best Deepfake Apps and Websites (Updated March 2023)
We have included the 12 best deepfake apps and services keeping fun elements, privacy, and research use-case in mind. Depending on what you want, you can comfortably choose the best deepfake app. Now having said that, let's begin the list.

DeepSwap.ai is easily worth the tenner for anyone interested in deepfakes and creating their own online. The price is reasonable, the service is straightforward, and the results will almost certainly astound you with their realism. Surprisingly, it can replace up to 6 faces at once and works with videos, GIFs, and photos. If you want convincing deepfakes without fiddling with software for hours, GET IT!
Try Deepswap.ai with 50% off (Sponsored)
Note: Even though deepfake technology isn't yet good enough to completely fool people, it's important that we use deepfakes ethically. Do not use deepfake technology for illegal purposes, and definitely don't use anyone else's pictures/videos without their explicit permission.
1. Lensa AI
Lensa AI is the latest app that has gone viral for creating AI portraits of you or anyone else. It's not exactly deepfake in the sense that it will put your face on other people's bodies or in videos. However, Lensa AI has the insanely cool ability to create photorealistic portraits of yours from a few selfies. What's more, the app creates portraits in multiple styles including superheroes, anime, and more.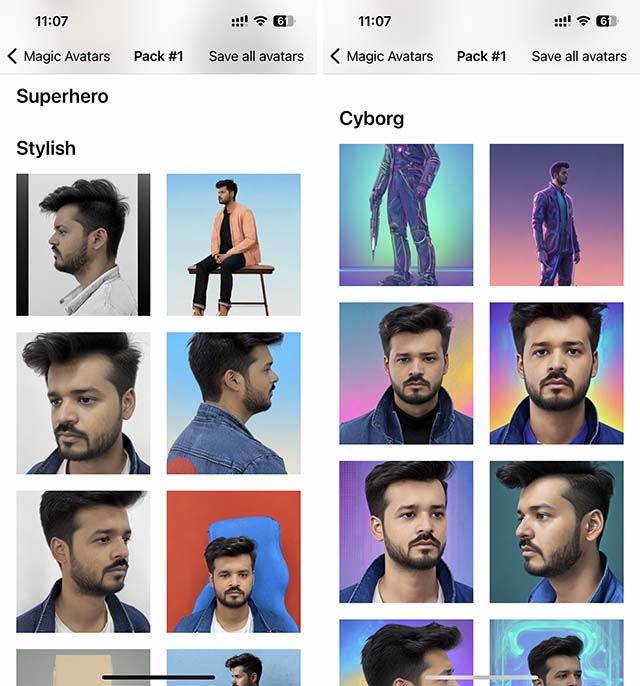 Though the app is free to use for general purposes, if you're trying to make portraits, you will have to pay for each set or subscribe to the app's premium version. Lensa AI is definitely one of the few apps that comes out with really impressive results almost every single time, and you will undoubtedly enjoy the photos that it comes up with. If you need help on how to use Lensa AI, check out the linked guide.
2. Deepfakes web
Deepfakes web is a service that lets you create deepfake videos on the web. It uses Deep learning to absorb the various complexities of face data. Deepfakes web can take up to 4 hours to learn and train from video and images whereas it takes another 30 minutes to swap the faces using the trained model. The free version will output the deepfake video in around 5 hours, whereas the premium version will spit out the video in just 1 hour.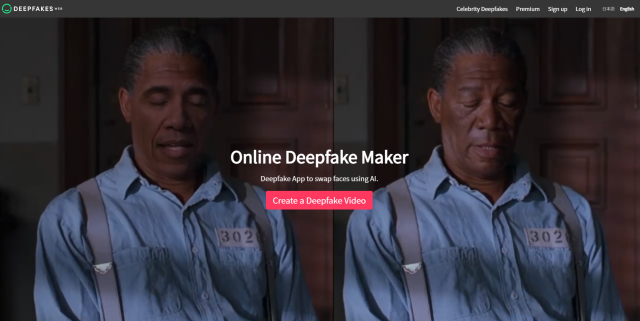 Even though it uses powerful GPUs on the cloud, it can take hours to render all the data. It goes on to show that creating a deepfake video is no child's play and seeing Zao do it within seconds is truly game-changing. Anyway, if you want to try making deepfake video for research in computer vision, you can go for Deepfakes web.
Visit Website (Paid, $3/hour of usage)
3. Wombo
If you've not been living under a rock, it is likely that you have already seen some clips from Wombo. For those unaware, Wombo is a lip-syncing app that lets you transform yourself or others into a singing face. You can choose from among 15 songs and make the character sing that song, all from a single image. This app is all the rage right now, taking over Reels and TikTok across the world.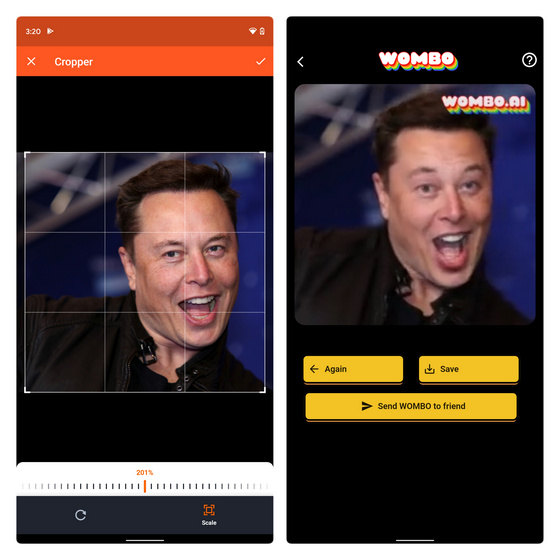 Here's a sample clip from the Wombo app. You don't wanna miss this one:
Install: Android / iOS (Free, in-app purchases)
4. Reface
You might recall one of our reports where we showcased a deepfake app named Doublicat to help you make fun GIF memes. Well, the developers of Doublicat have renamed the app to Reface, after Reface AI. Reface AI is the Generative Adversarial Network (GAN) behind the scenes. To use the app, all you need to do is capture your photo and then choose the gif that you want to use.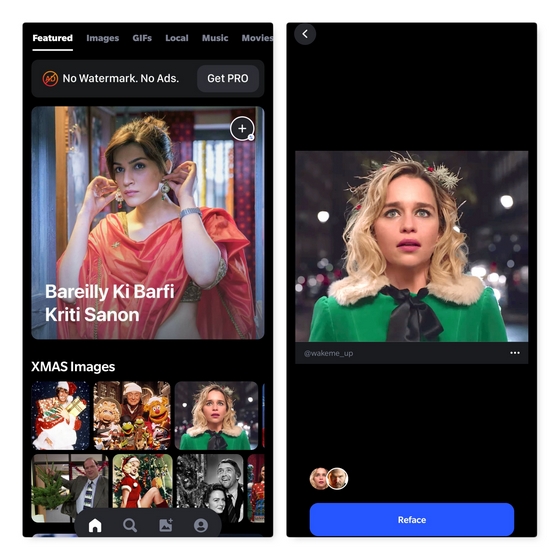 In a few seconds, the app will superimpose your face on the gif. It doesn't work perfectly and the face superimposition will depend on the symmetry of your face and the gif you are using. That said, there are so many gifs on the internet that you will always have options. This can be your personalized gif maker app that you can use to impress your friends.
Install: Android / iOS – Free (in-app purchases)
5. MyHeritage
Another viral deepfake app you should try out is called MyHeritage. The app's Deep Nostalgia feature gained popularity among social media users as it lets you animate old photos. To use the service, all you have to do is upload an image and press the animate button.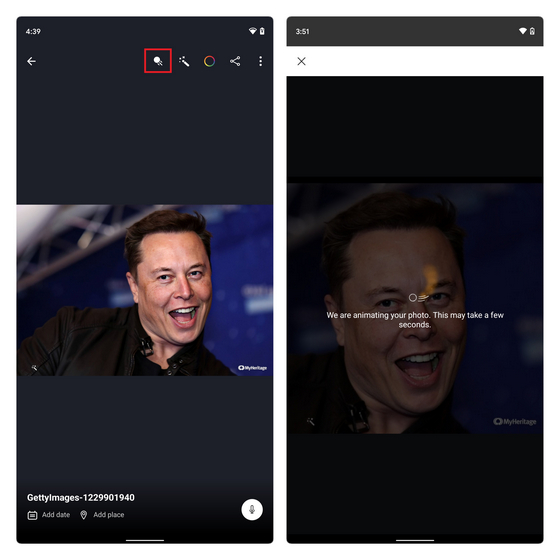 In a few seconds, you get an animated version of the image with the face, eyes, and mouth moving like it's straight out of The Daily Prophet magical newspaper from Harry Potter. You can check out the output image right here: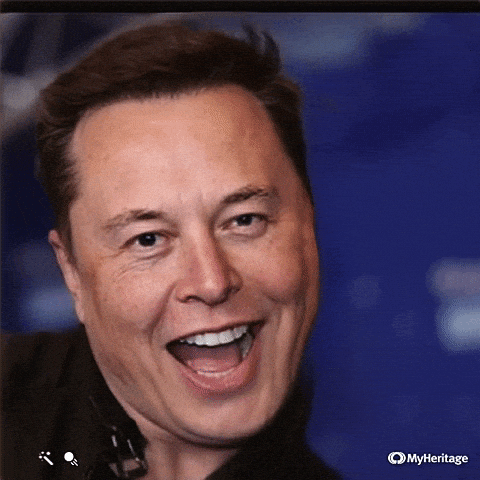 Install: Android / iOS / Website (Free)
6. DeepFaceLab
DeepFaceLab is a Windows program that allows you to create deepfake videos. It's primarily built for researchers and students of computer vision. However, if you want to learn about deepfake videos, you can definitely try out this tool. It uses machine learning and human image synthesis to replace faces in videos.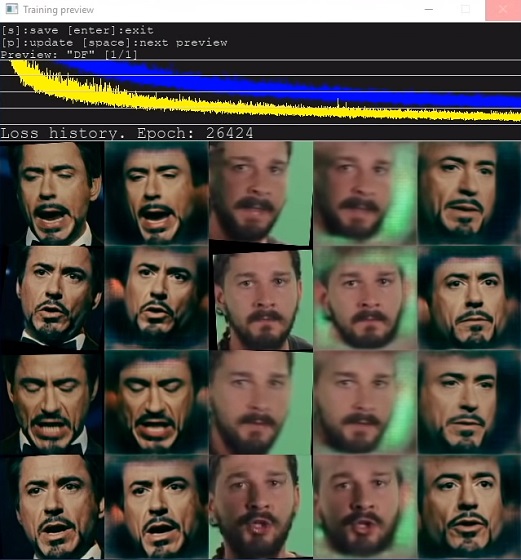 Since DeepFaceLab is an advanced tool mostly for researchers, the interface is not user-friendly and you will have to learn its usage from the documentation. Again, it goes without saying that you need a powerful PC with a dedicated high-end GPU. Simply put, if you are a student specializing in computer vision, DeepFaceLab can be a great tool to understand deepfake videos.
Visit GitHub (Free)
7. Deep Art
Deep Art is another app that went viral some time ago. It's not a deepfake video app, however, it can create deepfake images based on art, ancient structures, and paintings. While there are many apps that have similar features, the unique aspect of Deep Art is that it uses AI to turn any photo into an artwork.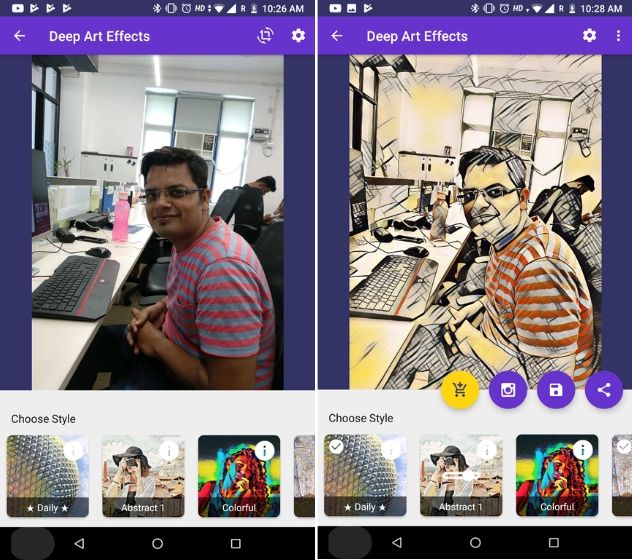 The highly advanced algorithm is said to have been inspired by the human brain and uses stylistic elements of popular artworks to recreate artistic images. Deep Art is trained by the works of various artists which include Van Gogh, Leonardo da Vinci, Michelangelo, Picasso, and more. And the good part is that there is no privacy issue with this app. If you want to try something artsy, Deep Art is the best app to try.
Install: Android / iOS — (Free, in-app purchases)
8. Face Swap Live
Face Swap is not entirely a deepfake app, but it does let you switch faces with your friend or a photo in videos, and it's one of the best face swap apps out there. You can record videos, put stickers, take photos, and directly post on social media. What I like about this app is that, unlike other face swap apps, it's not that static and there is some degree of movement on the face. There are also 3D effects, interactive face warping with several masks and effects. All in all, if you are looking for a deepfake app, Face Swap Live can be a great Zao alternative for the time being.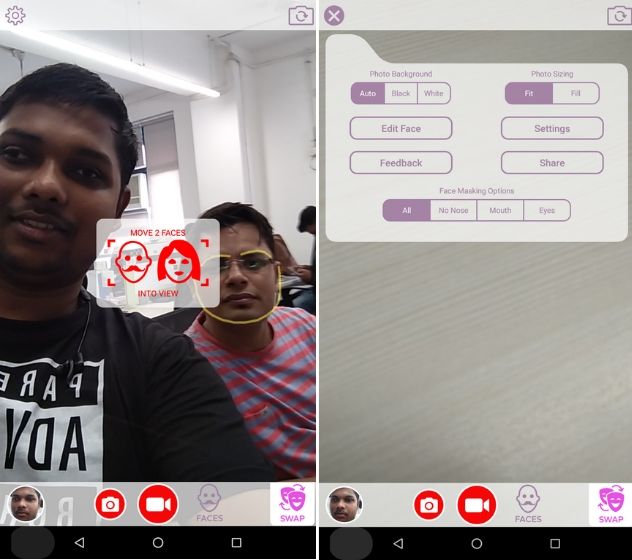 Install: Android (Free), iOS ($0.99)
9. FaceApp
FaceApp is a popular app and is in fact one of the first few apps to really popularise and democratize deepfakes and AI-generated face editing on smartphones. With FaceApp you can simply upload your picture to the app and then see what you'll look like when you're old, make yourself smile, and more. As mentioned above, the app uses AI to edit the photos so they look quite realistic. Not only is this a wonderful way to have some laughs with your friends, it's also great if you have old photos and you want them to have the subjects smiling instead of sitting with a straight face.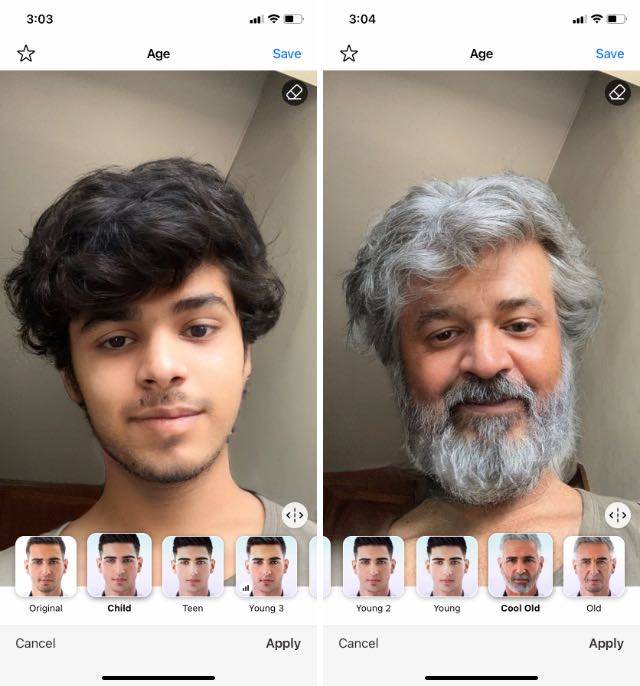 Install: Android (Free), iOS (Free)
10. Jiggy
I often use Giphy to create GIFs on my Mac and share them with my friends on WhatsApp, iMessage (that I can now unsend if I want), etc. However, Jiggy takes that process one step further. With this app, you can create deepfakes of GIFs and put yourself in any GIF you like. That's cool, right? All you need to do is choose a photo of yourself and select the GIF you want to be in. That's it, Jiggy will then use its smarts to place your photo in the GIF, complete with animation! It's a fun way to create customized, personal GIFs that will surely be more fun to share.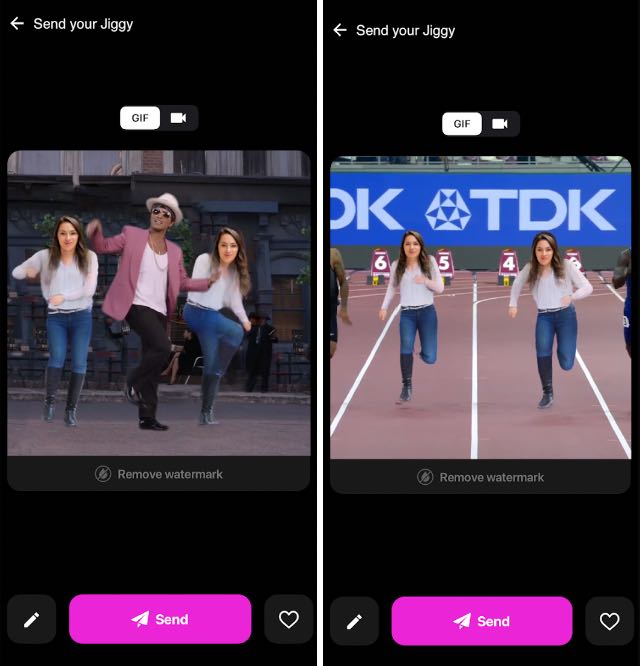 Install: Android (Free), iOS (Free)
11. FaceMagic
Another AI-based face swap app is FaceMagic. Using FaceMagic, you can use faces of your choice on videos and images. The app's in-app feed gives you prompts to perform face swaps, but you also have the option to use your own photos and images as the base face swap object. Moreover, you can get started with FaceMagic for free. That said, you will have to purchase the premium subscription for unlimited face swaps, priority processing, unlimited photo upload, and removing watermarks and ads.
Install: Android (Free), iOS (Free)
12. DALL-E Mini
While we are on the subject, if you're someone who loves creating goofy deepfakes, do not forget to check out DALL-E Mini. Inspired by OpenAI's DALL-E, DALL-E Mini is an AI model capable of generating images from a text prompt. The AI model is trained with millions of images from the internet, eventually making it possible to draw images of things that don't exist. For instance, here's a cursed combination of Pikachu and Pug dog:
Visit Website (Free)
Frequently Asked Questions
What software is used for deepfakes?
Deepfakes are created using artificial intelligence and machine learning software. All the apps mentioned on this list use built-in AI and ML software to create deepfake videos and photos.
Who invented deepfake?
According to Wikipedia, the word Deepfake originated in 2017 from a Reddit user named "deepfakes". That said, no one man can claim Deepfake's invention. The work done in computer vision, AI, and ML made it feasible for researchers and amateurs to create deepfakes. There's no single person who invented this.
How dangerous is deepfake?
As of right now, most deepfake technologies are not good enough to completely fool people. However, if used incorrectly, deepfakes pose a fairly serious threat to society. Since they can be used to misrepresent people, and can be fairly convincing (if not infallible), it is important to ensure that you use deepfakes within the bounds of legal rights, and don't use the technology for nefarious purposes.
Is deepfake AI?
Yes, deepfake apps and websites use AI, ML, and machine vision to create deepfakes.
Can AI detect deep fakes?
Yes, there are tools to detect deepfakes. However, the reliability of these tools is not consistent and could vary based on the test subject.
Is it illegal to make deepfake videos?
No, it's not illegal to create deepfake videos as long as you are explicitly depicting them as deepfake videos and not using them for disingenuously misleading people. That said, if you're using someone else's photos to make a deepfake, do ensure you have permission to use their photos, or you will leave yourself open to legal issues.
Top Deepfake Apps and Websites to Check Out
So that was our list of the 12 best deepfake apps and websites available right now. While there are a few services offering deepfake videos, it takes a painfully long time to render and create the final video. Nevertheless, if you are interested in learning about machine learning and how the faces are swapped, you can definitely go for the advanced tools. If you enjoyed this article, you should also check out our list of fun websites to pass time. You will find many gems there. Anyway, that is all from our side. If you found our article informative, do comment down below and let us know.