You might have noticed that AI is all people talk about these days. That's for good reason since AI chatbots like ChatGPT can pretty much do anything you could dream of. However, besides this chatbot, there exist a collection of AI writing apps that can write everything from a simple ad copy to a beautiful prose for your website. If you are a copywriter in the making or someone curious online, this article is for you. We have compiled a list of the 15 best AI writing apps for you to use for your content creation needs. So toss your pen and paper aside and let's dive in.
Best AI Writing Apps to Use in 2023
1. Writesonic
Writesonic has consistently been one of the best AI writing tool websites because of its ability to create a plethora of content. Coupled with AI services, the website has a wide range of tools, which range from AI article and blog writers to text expanders, paraphrasing tools, article summarizers, and more. Depending on your use and the length of texts you can choose from these features and pick the one that applies to you.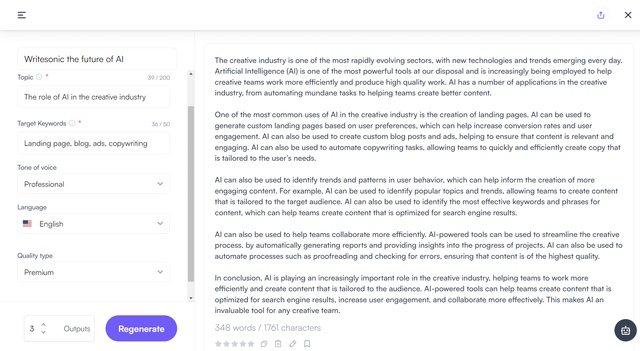 I tested various Writesonic tools and liked the paragraph tool the most. Since short yet concise paragraphs are the least prone to errors, I was able to use them according to my needs. Writesonic allows for fine-tuning the AI, including the tone of voice, the quality of output, keywords, number of outputs.
You can even cater to different countries as the AI tool supports more than 25 languages. Signing up for Writesonic gives you access to free 2,500 free words. You can upgrade to the long-form plan for as low as $12.67 per month.
Try Writesonic
Price: Starts at $12.67 per month
2. Rytr
You might have heard of Rytr in our best ChatGPT alternatives. Well, we are mentioning it again because of how well it worked. For those unaware, Rytr is an AI-backed content generator that works across different writing genres. Since Rytr is powered by AI, you don't need to feed it a lot to get information. The writing app takes a simple section topic along with some keywords and gets to it immediately.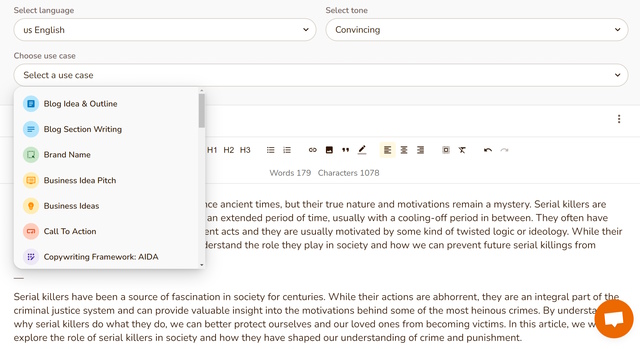 Besides being used for general use, Rytr can accommodate over 40+ use cases and 20+ tones. So when you feel like it you can switch to different areas such as blog writing, business ideas, call to action, social media ads, interview questions, and a lot more. Combine that with 30+ language support and you have one of the best AI writing apps. During my time with Rytr, the content generator was quite accurate and presented neat and editable copy. Now while you can't use it word for word, it's easily recyclable. Rytr's free plan is flexible, but you can get the Saver plan which starts from $9 per month.
Try Rytr
Price: Starts at $9 per month
3. Copy AI
Copy AI is one writing tool that has been recommended by a lot of users online. And to the tool's credit, it does a lot right even if it's limited. Put together with a neatly organized layout, Copy AI has divided the different use cases available into categories. These vary depending on your use case and include social media content, blog, e-mail, website copy, and even fun-based ones. Click on any of them and you get specific features. All total, Copy AI offers 90+ tools and templates.
In my specific case, I chose to blog and then selected write blog intro. Copy AI then required a few things including the blog title, its purpose, and tone, and got to work. As is custom with most AI apps, it generated output in just 30 seconds. The output itself wasn't as polished as ChatGPT or some of the competition but it was decent enough. By default Copy AI rendered six outputs which you can use. Signing up for the service gives you a 7-day trial but you can buy the Pro Tier for $49 per month for unlimited words. Check it out.
Try Copy AI
Price: Starts at 49$ per month
4. Paragraph AI
Paragraph AI is more of a browser companion than a website service itself. This AI writing app is available either as a Chrome plugin or an Android/iOS app. Depending on your platform you can choose either; I resorted to the former. The installation process itself is easy enough and only requires a one-time sign-up. Paragraph AI offers three different categories which are Write, Reply, and Improve. Users can click on any of these options to expand them and get the AI to write on them.
The Write category includes various content types like Articles, lists, messages, e-mails, and more. Simply click on any of them and provide context for the AI. You can even selectively adjust tones and choose between formal/informal, friendly/assertive, and pessimistic and optimistic. Once done, click on the write button and receive the output. However, if you would rather improve or interpret upon text then choose that, and Paragraph AI will do it for you. The AI writing app gives you 25 free writes who recharge every day. Thankfully, upgrading is affordable at $12.5 per month if you buy the annual plan.
Try Paragraph AI
Price: Starts at $12.5 per month
5. Simplified AI
Another relied-on service for content creators Simplified AI is a platform that combines keywords and artificial intelligence to create fresh text copies and rewrites them easily. Like other writing tools, Simplified AI focuses on not just one but multiple forms of content. This includes standard blog writing and ideation of long-form content, text rewriting, to even Amazon product reviews. Since Simplified AI has a lot of variety, you're better off using the templates feature which has all these divided.
Both were easy to use with their own nuances. Generating ideas from Simplified AI requires just the blog title, tone, and language. However, you can fine-tune it and even choose the level of creativity. Once done, the AI generates leads within seconds. Explaining the concept was equally fun as the AI dished out easy-to-understand text that one could read to their kids. However, as mentioned AI offers a variety of other writing use cases including ones for serious creatives.
Simplified AI works on a credit system that weirdly shows the balance in percentage. You can top that off by paying for credits for as low as $15 for 15K credits. However, I didn't see any subscription so you will need to make one-time payments. Nonetheless, Simplified AI is one of the best AI writing apps out there.
Try Simplified AI
Price: Starts at $15 for 15K credits
6. Shortly AI
Speaking of serious creatives, Shortly AI is one of the best writing apps that has been purpose-built for them. This content generator has been made to eliminate writer's block and thus works on contextual writing. The AI works for both article/blog and fiction writers. Simply give your project a name, write a bit for context, and then hit write for me. The AI then intelligently understands the content and expands on it.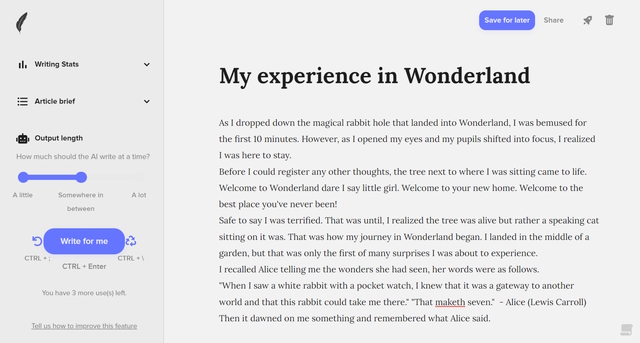 However, Shortly AI provides a good level of customization here too. You can brief the AI on the article and decide on the output length. Shortly also shows the writing stats on the top to keep a tally of your words. Shortly has slash command support to edit the content further. Users can rewrite, shorten, expand, and even instruct the AI on what it should write next. Since Shortly is just focused on story ideas, it lacks any other tools. Shortly provides four free generations per day. Shortly premium has no credit system and you can buy a seat for $65 per month with the annual plan. As you can see, it's not cheap. However, for folks with writer's block, this AI writing app can do wonders.
Try Shortly
Price: Starts at $65 per month
7. ChatGPT
After all, who can forget the one chatbot that started it all? ChatGPT is a language model developed by OpenAI and is an implementation of the GPT-3 model. Since its inception, the bot has been used for a wide variety of things ranging from simple writing to intense coding. If you've gone through our list of cool things you can do with ChatGPT, you know what we're talking about.
As luck would have it, ChatGPT is also quite good at being one of the best AI writing apps. This is mostly because most of the AI writing apps one will find largely use GPT as their base. ChatGPT itself can write all manner of texts including short form, long form, articles, blogs, text ideation, and a lot more. As you would expect, the level of accuracy displayed by ChatGPT in these texts is high. The best part is that since ChatGPT is free, you get unlimited uses. However, the bot has also started getting overloaded so use these best ChatGPT alternatives if it doesn't work. If you want no downtime at all, check ChatGPT now has a paid version.
Try ChatGPT
Price: Free
8. HyperWrite
HyperWrite is another AI writing app that focuses on being a jack of all trades. Trained on a mixture of GPT-2, 3, and BERT, the bot hosts a variety of writing features. These include various genres of writing and dabble into commercial work including SEO, keywords, marketing, and even generating start-up ideas.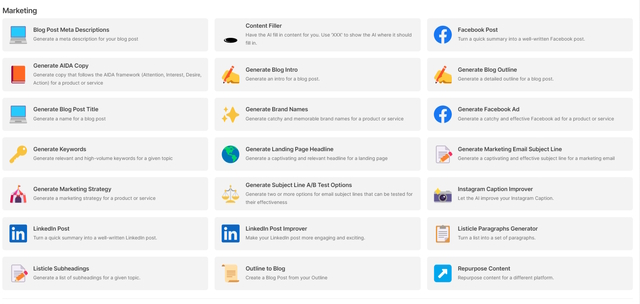 The way to get started is simple. Simply choose a template like Simplified AI and begin. I chose Flexible Autowrite which autogenerates text for you. By default, the AI outputs three separate pieces of text each of which varies. Once happy with the output, HyperWrite provides handy shortcuts to quickly open the output into another document. Thankfully, the AI got a good output on the first try and required only minor edits. If you're the sort to write yourself, the bot even has Phrasing Assistance but asks for context. HyperWrite gives free users 100 Typeaheads, 5 generations, and rewrites per month. To get unlimited generations, upgrade to the Premium tier for $19.99 per month.
Try HyperWrite
Price: Starts from $19.99 per month
9. Cover Letter AI
Applying for jobs can be difficult. Writing a cover letter that can impress is even more so. However, there exist AI writing apps that help you out here too. Developed by an AI enthusiast, this handy content generator makes precise cover letters for every position you're applying to. However, AI requires a few things for context. This includes your resume, the company you're applying to, and the target job description.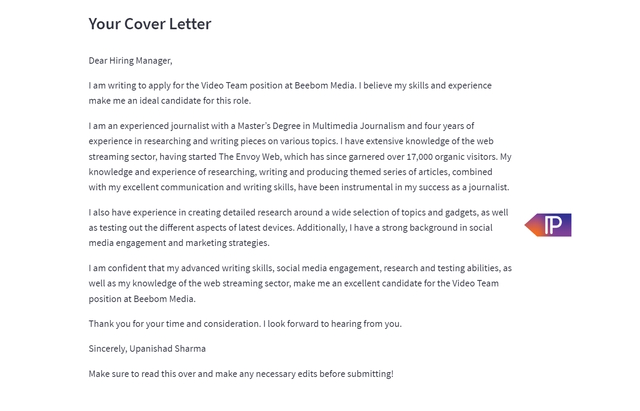 After taking all these into account, the AI churns for a minute and outputs a cover letter for the job. To the AI's credit, the cover letter it gave me was almost spot on except for a mistake or two. It's worth noting that the accuracy also depends on your resume and JD and whether they contain accurate information, to begin with. You can always rerun the Cover Letter AI and get multiple letters. Cover Letter AI is currently fully free to use and isn't locked behind any credits. So ahead and tell us if it's one of the best AI writing apps you've used.
Try Cover Letter AI
Price: Free
10. Novel AI
Novel AI is another one of the best AI writing apps but like Shortly focuses on literature. However, besides the AI bot's capabilities, what really stood out to me was its fairy-tale website design. Wrapped in a navy blue color scheme, Noval AI is a story, text, and image converter app all in one. The best part is that you don't even need an account to sign up and it's very plug-and-play.
Since Novel AI is an interactive storyteller, it works alongside the writer to pen words. Novel AI begins by taking in a prompt and then outputs a line based on it. The user then takes that line and writes their own corresponding output which the AI takes and writes its own. This way a cycle a creative cycle is formed and the final result is quite amazing. Since the entire story is quite dependent on your first line, the choices are practically unlimited.
There is also a Text Adventure mode wherein using your prompts, Novel AI does, says, or creates an entire story essentially starring your prompts in an NPC adventure. In both modes, Novel AI offers various customization options to tweak the AI but you'd be hard-pressed to do it.
Novel AI gives free users 50 text generations every day and access to Euterpe, their second-best AI storyteller. You can upgrade to the tablet plan for just $10 per month for more benefits but I suggest giving the free plan a try and using this tool.
Try Novel AI
Price: Starts from $10 a month
11. Jasper AI
While Jasper has one of the best ChatGPT rival chats, it's also highly focused on the writing business. Featuring one of the best AI writing apps, Jasper write is another platform you can use for your writing needs. This can include not only casual creative stuff but business-oriented goals. Like other AI tools, Jasper has been trained on a variety of models and features more tools than just writing.
Jasper AI contains comes with a plethora of templates that dabble in blog outlines, content improvement, FAQ generator, listicles, personalized cold emails, and even a Tweet generator. While varied in nature, the tools mostly work in the same way. Jasper requires a prompt which in the image above is a topic for the FAQ generator. The tool then decides on other settings and takes a few settings and renders an output. Everything worked quite well from the various tools I tested, including an FAQ generator, blog post writing, intro creator, and text-rewriter.
Jasper AI, however, isn't free. Users start out with a free plan but Jasper requires the Boss or Business plan to work. The Jasper Boss plan starts from $59 per month and gives access to not just write but all features. However, before you commit, this AI writing tool does give you a 5-day trial so check that out.
Try Jasper AI
Price: Starts at $59 per month
12. Copymatic
According to the company Copymatic has been voted as the AI writing tool with the lowest plagiarism rate of 2% thereby making it an addition to our list. Copymatic is an AI content generation tool that is very plug and play in nature in nature and covers a lot of text-based tools. So like other AIs, you can use it for a mixture of personal and professional-based uses. However, if you're unsure about how to use it, Copymatic automatically suggests tools for you to try out based on your need.
As per my need, I was suggested article-based tools like article generator, blog post writer, content re-rewriter, social media posts, and even an image generator. I stuck to the article generator for some quick work and was quite impressed. As mentioned, I couldn't really find any plagiarism in Copymatic generated text. However, the best thing is that Copymatic's image generator automatically generates and suggests images for your output content.
Furthermore, you can use Copymatic without giving any credit card details and get 1,500 words instantly. However, if you're writing long articles, that quickly runs out. You can get additional words for as low as $6 per month with the Pro tier. This makes Copymatic one of the most affordable AI writing tools out there.
Try Copymatic
Price: Starts at $6 per month
13. PepperType
You might have seen PepperType being mentioned as a bonus addition in our ChatGPT alternatives list. However, since this is a dedicated AI writing app, it deserves some more attention here. For those unaware, PepperType is a text-based AI content generation service that caters to a variety of fields. As with some of the best tools on the list, PepperType provides various tools including content creation, ad copies, blog writing, bio generators, and more. As with other tools, the website covers 25+ languages for widespread support.
PepperType does a good job of writing up text no matter which uses case you employ it for. The output time lagged a few seconds behind other tools but it was nothing major. As with our experience before, the content rewriter remains just an average experience and could use improvement.
Users can start with PepperType for free with 5000 words credited to their account. However, if you're the sort who writes long-form content, you'll want a paid plan which is the Starter which begins from $25 per month. While a bit expensive, PepperType provides enough value for it to justify it.
Try PepperType
Price: Starts at $25 per month
14. Texti AI
Texti AI like Paragraph AI is another AI writing app that lives right in your browser. While you can use it on the official website, the Chrome browser extension works much better and more fluidly. Texti AI is focused on text generation and as such works like a combination of copywriting tool and a chatbot.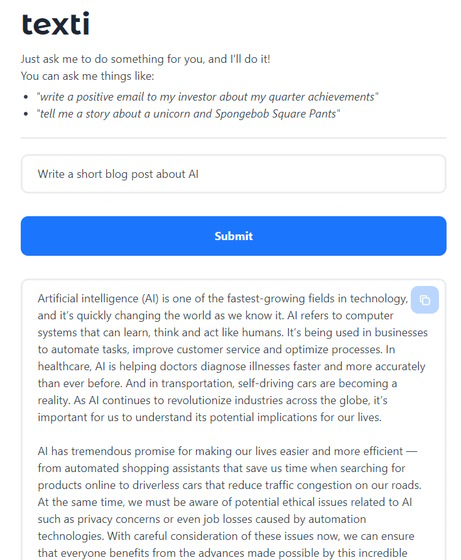 Upon installing the extension, you can use Texti AI to either ask it questions, have conversations, or use it as a copywriting tool. Texti can create blog posts, articles, short stories, essays, ad copies, and more. Even though it's working through the extension, responses are super quick and get outputs within seconds. There is also a handy archive section where you can output prompts generated by other users. This is helpful for general research or just plain fun.
Good news is Texti AI is completely free to use and just requires a simple download. I didn't run into any credit or word limits which certainly makes it one of the best AI writing tools.
Try Texti AI
Price: Free
15. VEG3
We end the list with VEG3, the world's first vegan artificial intelligence marketing assistant. Started by a couple in a marketing agency, VEG3 is an AI that has been trained on thousands of marketing examples from vegan businesses. This has created an AI that deeply understands veganism and creates content that helps people convert. This makes VEG3 a highly nuanced and specialized bot that deals in veganism.
VEG3 comes with various tools that help in text generation including an anti-vegan comment responder, recipe generator, meta ad captions, freestyle generator, and more. While the service is based on being anti-meat, I found it actually works well against the topic too. Besides that, you can use VEG3 for various other things including blog posts, essays, and other topics.
VEG3 starts you off with 5000 credits and uses varying amounts of credits depending on how long your output is. You can get the Starter plan for $39 which gives 25,000 credits and begin.
Try VEG3
Price: Starts at $39
Use These AI Writing Tools to Improve Your Copywriting
We hope you find the above AI writing apps one of the best and most useful at once. Depending on your exact need, one may be a hit while others miss. If you want even more AI apps to add to this list, check out these best ChatGPT Chrome extensions and get even more functionality. Tired of ChatGPT? Try out these best ChatGPT alternatives instead. So which AI writing app did you find the best? Drop your thoughts in the comments below!