While Apple Watch Series 6 may not have a brand new design to show off, the smartwatch has just got enough to stay ahead of the curve. Features like the robust S6 SiP with 64-bit dual-core processor, blood oxygen sensor, and electrical heart sensor make the wearable device stand out from competition. Whether you are a fitness freak or prefer to have a smartwatch that can work seamlessly with the iPhone, Apple Watch 6 is for you. If you have just bought the all-new watch and wish to explore a variety of the best Apple Watch Series 6 bands, we have got your back with the comprehensive collection.
Note: Having battery issues with your brand new Apple Watch? Here is how you can improve battery life on your Apple Watch Series 6.
Best Apple Watch 6 Bands You Can Buy
As is always the case, accessory makers have introduced a wide range of watchbands that are designed to pair with Apple Watch 6. From the classy leather bands to elegant stainless steel bands to funky looking straps, the roundup has got enough variety to help you pick a more suitable pair for your smartwatch.
Oh yes, some of the third-party Apple Watch Series 6 bands come at an incredibly low price despite ticking off all the essential boxes. So, you can get a nice-looking band for your watch without having to shell out a lot of bucks. That said, it's time to get into the exploring mode!
1. Official Apple Watch Bands
If you don't want to settle anything less the premium Apple Watch Series 6 bands, the official bands would be the right way to go. They are well-built and come in a wide range of designs. So, whether you want to embrace a classy profile or go trendy, Apple's impressive collection of bands has got you covered.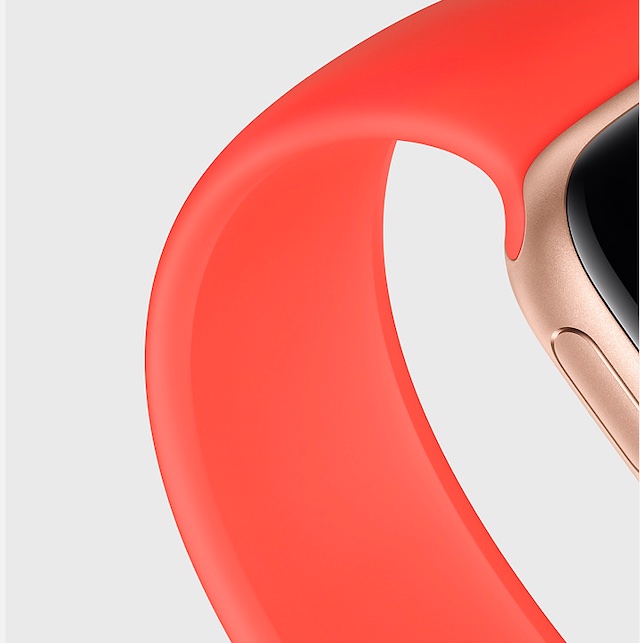 One of my favorite official Apple Watch 6 bands is the "Solo Loop". Made of stretchable liquid silicone rubber, it's super comfy. Being exceptionally breathable, it's well-timed for your adventures.
Moreover, I'm also a fan of the sport band with the pin-and-tuck close. It's pretty lightweight and comfortable to wear. And yes, you can pick it out in several color options.
If you're not a fan of the silicone straps, you can also check out the Braided Solo loop from Apple which brings the same comfort of the Solo Loop, but without the silicone look and feel.
Buy from Apple: $49-$99
2. Merge Plus
If a high-quality leather band at a comparatively low price is what you are looking for, Merge Plus deserves serious consideration. The watchband is carved out of genuine leather and features good-looking craftmanship. Notably, the visible stitching enhances its profile as a classy band for the Apple Watch 6.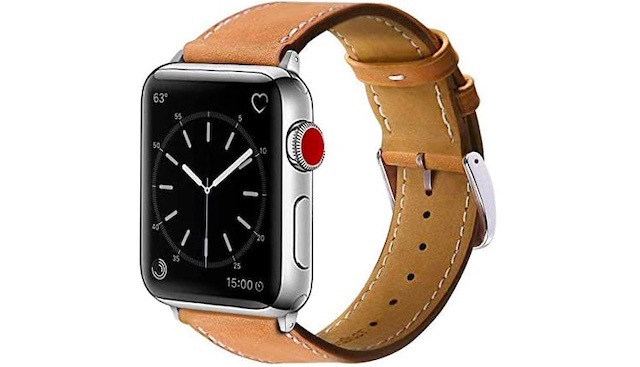 The watch band fits 6.3″ -7.9″ wrist and feels pretty comfortable to the touch. As a result, you can wear the band for hours. Besides, it's anti-slip and sweat-absorbent, which further boosts the comfort level.
Notably, it's available for both the 40mm and 44mm Watch models and comes in a ton of nice-looking colors. Priced at $13.99, it's definitely among the best Apple Watch 6 leather bands in the market right now.
Buy from Amazon: $8.49
3. Carterjett
Both in terms of durability and convenience, Carterjett is a top-notch Apple Watch 6 band. The woven nylon band is exceptionally strong which makes it a great pick for a rough and tough choice. For all being on the rugged side, it's breathable and soft. So, you can wear it all day long without any inconvenience.
The military-style Apple Watch band features robust adapters which improve security aspect. Besides, they don't have screws and remain attached to the band. Therefore, you won't need to use tools to adjust it.
Moreover, Carterjett is available for $26 and comes in a ton of nice-looking color variants including black, red, camo, and more. Everything considered; it's a fantastic rugged band for the all-new Apple Watch.
Buy from Amazon: $24.99
4. EPULY
Are you in quest of a handsome-looking stainless steel band for your Apple Watch Series 6? If the straightforward answer to this question is yes, EPULY can seamlessly fit into your taste.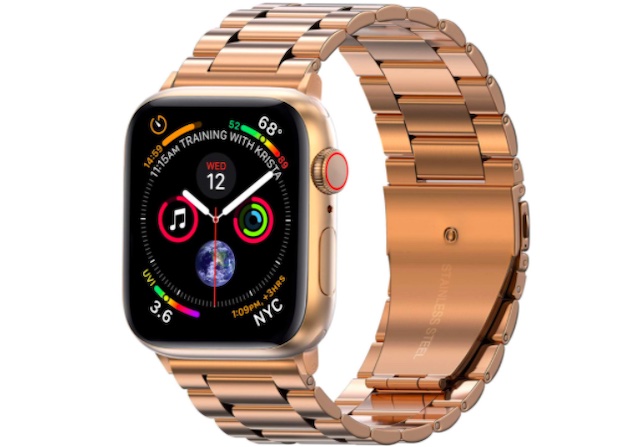 The watch band is made of top-grade 304 stainless steel and sports a stylish design. Notably, it features a strong double button folding clasp that keeps your Apple Watch intact.
It comes with a built-in connector which makes adjusting the band quite straightforward. So, depending on your wrist size, you can fine-tune it with ease. Additionally, it's priced at $16 and comes in several attractive color variants including gold, rose gold, blue, and more.
Buy from Amazon: $16.99
5. WFEAGL
Should you wish to adorn your Apple Watch Series 6 with a professional-looking band, WFEAGL is the one I would recommend you to check out. As for the material, the band is made of high-grade leather which endows pro look and feel. Add to that the refined workmanship and it appears to be spot-on for an executive outing.
The interior of the band is made of pretty soft silica gel which enhances the comfort level. Being sweatproof and waterproof, it's designed to take on all the challenges that come with the real-life. So, you can wear it not only during office hours but also during rigorous exercise.
Lastly, WFEAGL genuine leather Apple Watch 6 band is priced at $18 and comes in some really nice-looking colors to choose from. Not to mention, you can get it for both the 40mm and 44mm watch models.
Buy from Amazon: $16.99
6. SKYLET
For the folks who are hunting for affordable sporty Apple Watch 6 bands, this offering from SKYLET appears to be a front runner. Made of soft silicone material, it's very breathable, allowing your wrist to breathe easy. Thanks to the soft-touch finish and breathable quality, it seems to be an automatic pick for your gym, hiking, camping, or even swimming time.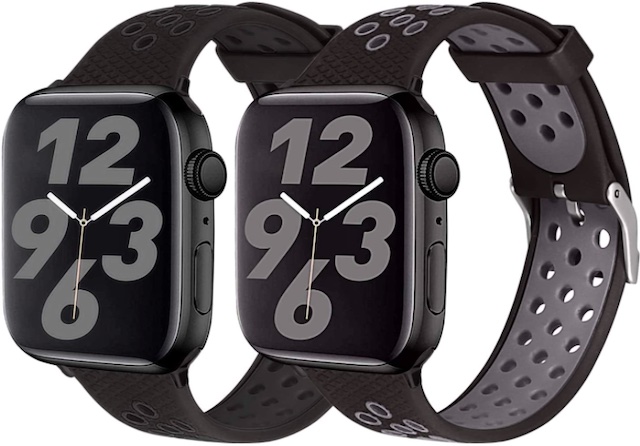 SKYLET band comes with a durable connector that allows you to slide in or out without any pain. Besides, it also securely locks into the Apple Watch slot. So, you can give your best during exercise without worrying about your watch. Features aside, it's priced at $12 and available in multiple funky color options.
Buy from Amazon: $12.98
7. OULUCCI
Sporting a sleek and elegant profile, OULUCCI is designed to make a strong statement at the very first glance. So, if you are planning to pair your watch with a svelte leather band, this one can be a suitable choice.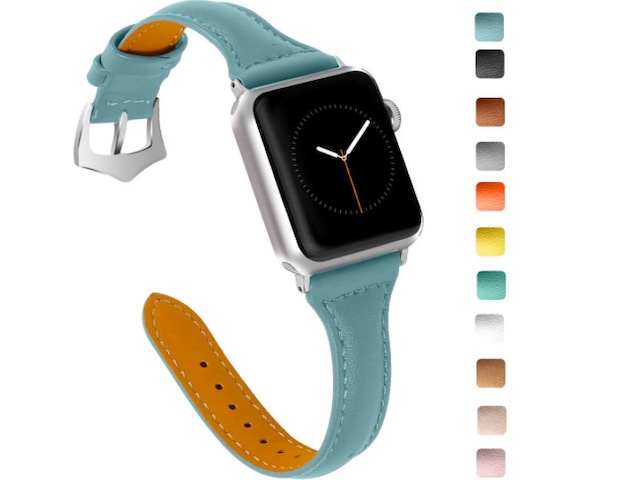 Carved out of top-grain leather, it looks quite sophisticated. Couple that with the precision finish and it becomes an ideal companion for the watch. With the soft texture, it feels comfortable to the touch. As a result, your wrist won't be bothered by its presence.
What's more, OULUCCI is priced at $13 and available in plenty of beautiful color variants. So, finding the one that can get along perfectly with your wearable shouldn't be a big deal.
Buy from Amazon: $12.99
8. Yisdo
If you are willing to amp up the glam quotient of your Apple Watch, this offering from Yisdo could be worth giving a shot. Crafted from the high-grade 304 stainless steel, the watchband looks elegant. With the gradient fitted waist design, it catches attention right away.
Another feature that makes Yisdo stainless steel band stand out is the matte surface than enhances both the design and the comfort level. Additionally, it's pretty easy to install and remove. Besides, you can also fine-tune the size using the removal tool.
Priced at $22, Yisdo is available for both the 40mm and 44mm Apple Watch models. Not just that, it also offers you some eye-catching colors to pick from.
Buy from Amazon: $21.99
9. Mifa
Well, I have specifically chosen this high-quality Apple Watch 6 leather band for the folks who have a huge penchant for vintage design. If you are one of them, you would be glad to have it.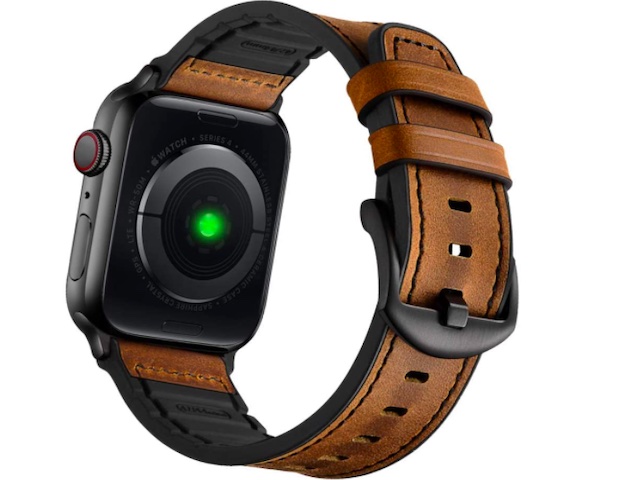 The watchband is crafted with top-quality leather and features visible stitching which gives it a retro look. And with the inclusion of silicone material, it also offers the needed comfort while wearing.
Furthermore, it has a solid anodized stainless steel buckle that endows strengths, while also boosting the rugged form-factor. With these qualities, the $25 price tag seems competitive.
Buy from Amazon: $25
10. iiteeology
Last but not least, iiteeology band looks great to be a solid companion of your Apple Watch. For starters, the band has got a high rating (4.6 stars out of 5 from almost 7.5k ratings) on Amazon, which just goes on to show that it has lived up to the expectation on most users.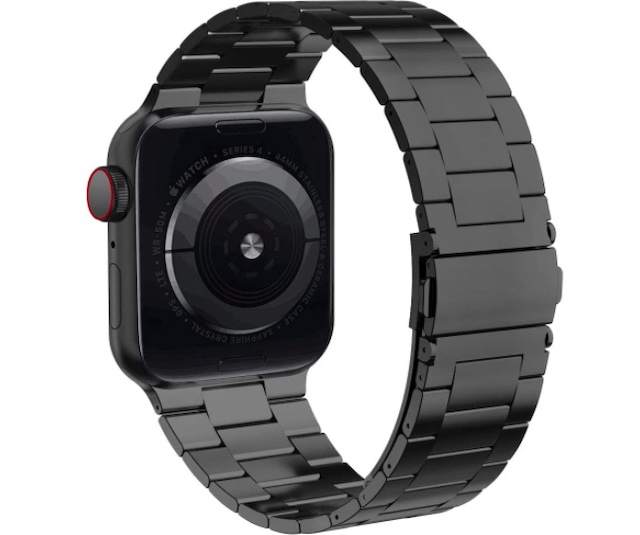 Made of top-notch stainless steel, it has a refined design. At 2.0mm thickness, it's also quite slim as compared to many other stainless steel bands in the market.
The brushed surface further enhances its profile. With the built-in connector, you can fine-tune it with the needed convenience ( yeah, no screws required). Keeping these notable specs in mind, the $20 price tag makes it seem reasonable.
Buy from Amazon: $19.99
11. Spigen
If you're a tad careless with your devices, you might be interested in an Apple Watch Series 6 band + case combo. This one from Spigen is definitely one of the best rugged options you can get.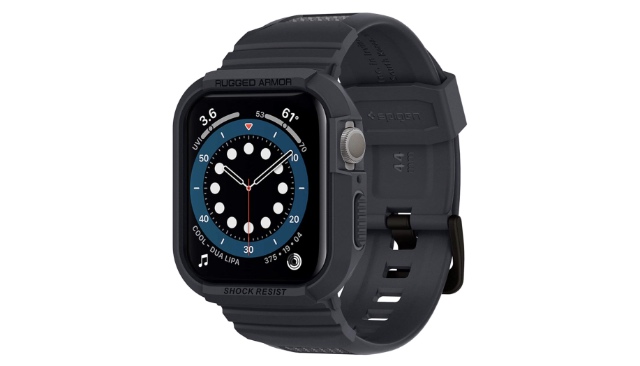 The rugged band offers plenty of protection from everyday wear and tear and is great if you often accidentally smack your Apple Watch into furniture. There's a raised-lip design around the display which means it should offer additional protection to your Apple Watch Series 6's screen as well.
The Spigen Rugged Armor Pro band+cae has a matte finish that's available in three colours: black, grey, and military green.
Buy from Amazon: $20.99
12. NUKELOLO
If you love the braided solo loop from Apple, but you also don't to spend so much money on a single band you should check this one out. This Watch S6 band brings pretty much the exact look of the Braided Solo Loop, complete with a selection of colours you can choose from.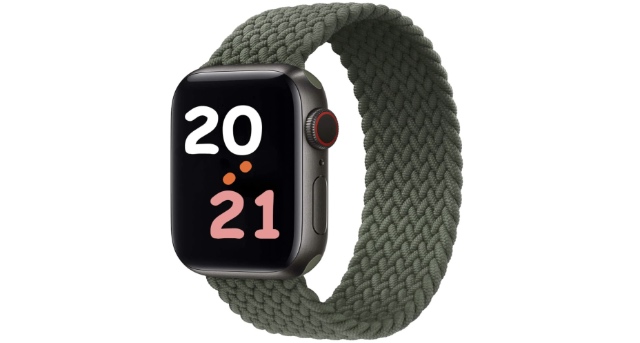 It uses recycled yarn along with silicone threads for a soft and lightweight feel on your wrist. It's breathable, just like Apple's offerings, and you can comfortably use it for workouts or swims thanks to the water-resistant and sweat-resistant material.
Buy from Amazon: $16.99
13. Recoppa
If you often find yourself loving your look when you have a scrunchie wrapped around your wrist, this Apple Watch band from Recoppa will bring that look to your outfits all the time. Similar to the Solo Loop, this band uses an elastic material so you don't have to mess around with clasps at all.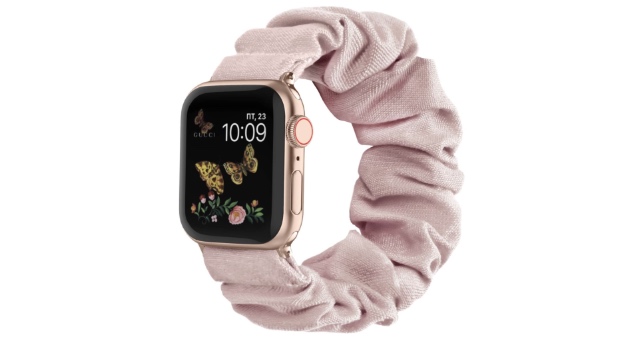 Made from cotton and polyester fabric, along with stainless steel for the connectors, this scrunchie band for Apple Watch Series 6 is comfortable and easy to wear. It's available in a plethora of colour options, so you can get one that matches your needs exactly.
Buy from Amazon: $11.99 – $15.99
14. Secbolt
Looking for an Apple Watch band that's elegant and great for dinner dates and cocktail parties? Check out this option from Secbolt that comes with a beautiful design and a sturdy stainless steel construction.
This bracelet band for your Apple Watch also has charms on it which add to the look and design. Apart from that, you will find rhinestones embedded into the bracelet to give it that slight bling that makes your Apple Watch stand out.
The band uses a drawstring style lock which looks great, and is also easy to adjust depending on your requirements. You can get this band in a variety of colours to match your Apple Watch.
Buy from Amazon: $20.39
15. Goton
If you want to add a lot of bling to your Apple Watch while also offering it at least some semblance of protection, this band from Goton might just be what you're looking for. The band is made out of stainless steel, and comes with a glitter protective case with a diamond-accented look.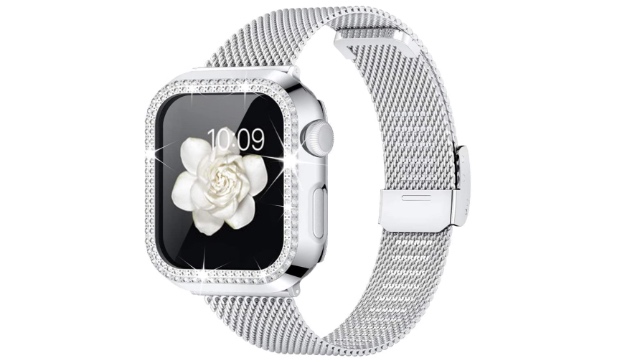 The band uses a magnetic clasp design so you can easily wear it on your wrist, and yes, you can get this in a variety of colour choices as well.
Buy from Amazon: $11.99
Choose the Top Bands to Style Your Apple Watch 6
So, these are the highly-rated Apple Watch 6 bands. Keeping in mind different needs and tastes, I have chosen bands that can easily fit into a specific role. Do note that we have also rounded up the best screen protectors for Apple 6 and Apple Watch SE along with the best charging bricks for Apple Watch Series 6. Besides, there is an extensive roundup of the Apple Watch SE bands as well.
By the way, which one is going to pair your 6th-gen Apple Watch? Is it the one that has a sporty design or the one that flaunts an attractive profile? It would be great to know your pick.
---
Load More