To most people the Apple Watch is a utility that helps them keep a track of their activity levels, notifications, and with the Series 4 and 5, their heart health with the ECG feature. That's a fair understanding of the device, and with some useful third party apps for the Apple Watch, it can become even more powerful and productive. However, that's not all that it's good for. You can also play games on it! There are a lot of fun watchOS games out there, and to make your life easier, I've played most of them. So here are the 15 best games for Apple Watch in 2021.
Best Apple Watch Games for You to Play in 2021
1. Pocket Bandit
Pocket Bandit is one of my favourite paid games for Apple Watch purely because of its excellent gameplay and the way it makes such good use of the watch's taptic-engine and Digital Crown.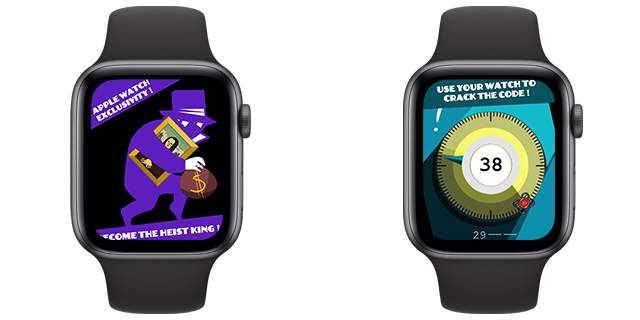 In the game you will find yourself breaking into vaults to steal money, jewels, and other valuable items while carefully avoiding the anti-theft devices installed on some of the vaults. This is an excellent game to kill some time on your Apple Watch.
Developer: Seele Games
Buy Pocket Bandit from the App Store ($0.99)
2. Tiny Armies
I love strategy games, and if you also love strategy games, you should give Tiny Armies a try on your Apple Watch. The game brings a ton of game modes including solo play, friend-battle, and even has an iMessage app that you can use.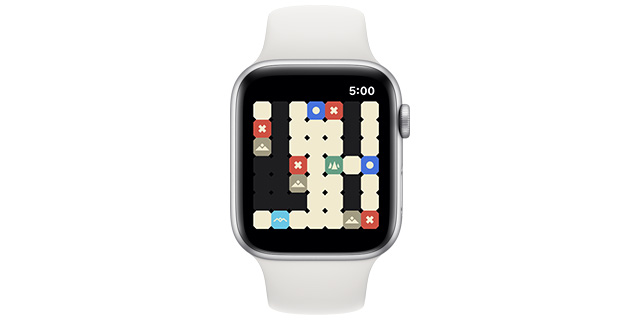 Simple swipe gestures is how you play the game, but the levels add more complexity with the introduction of environmental objects like lakes and mountains. Since this is a turn-based strategy game, you have to plan ahead because every move matters.
Developer: Brothers Flint
Download Tiny Armies from the App Store ($0.99)
3. Rules!
Rules! is a fun puzzle game for the iPhone that helps your brain grow via its stimulating puzzles. Developed by TheCodingMonkeys, this game has been the Editor's Choice on the App Store as well, which is high praise.
In this game, you basically have to follow rules to clear out levels. However, the rules from previous levels are applicable in new levels as well, and are simply mentioned as "Rule 1" or "Rule 4" etc. So you have to keep a track of all the rules you've learned in the previous levels in order to clear out more levels. Needless to say, this game gets pretty difficult, pretty fast.
Developer: TheCodingMonkeys
Download Rules! from the App Store ($2.99)
4. Bubblegum Hero
If you're looking for a fun, free game that will help you pass the time on your Apple Watch while you're sitting on the toilet, Bubblegum Hero is the perfect thing. This is a simple game that you can play completely on your Apple Watch.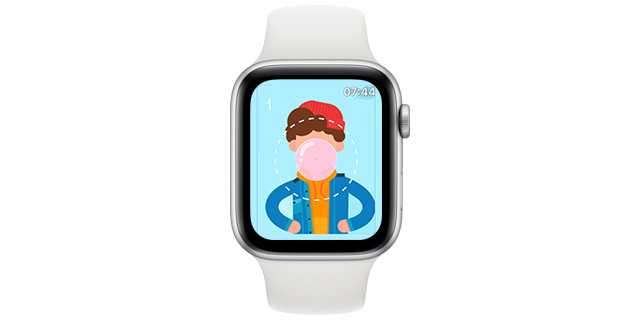 All you have to do is tap and hold on the screen to blow a bubble and release when the bubble fills the dotted line. If you release too soon the bubble will flop, and if you hold on too long it will burst. Either way, your game will be over. For something as simple as this, Bubblegum Hero is surprisingly addictive.
Developer: Crimson Pine Games
Download Bubblegum Hero (Free)
5. Pong for Apple Watch
The game of Pong needs no introduction, and this title brings that fun to your wrist. Pong for Apple Watch, as the name suggests, is a game that allows you to play pong on your wrist. Controls are simple and managed through the digital crown, making for impeccable control that you always need in a game of pong. The game is free, which makes it just that much better!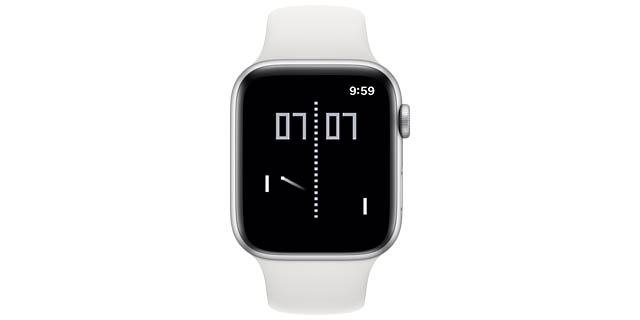 Developer: Tobias Brieger
Download Pong from the App Store (Free)
6. QUEStiny
QUEStiny is another fun-filled Apple Watch-only puzzle game that tests your memory. The objective of the game is to collect as many treasure chests as possible whilst avoiding obstacles. The game is laid out in a 9×9 grid where you're shown a quick glance of what the safest path is, and you have to do the rest through your memory. QUEStiny is a neat title that is also Apple Watch native.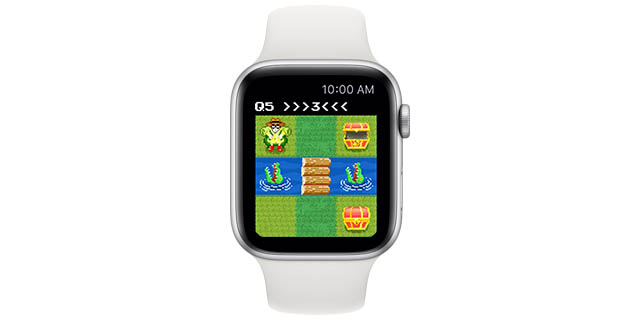 Developer: ClapClap Media
Download QUEStiny from the App Store ($0.99)
7. Wordie
Wordie is a game I included in my list of the best free Apple Watch games, and it's a really fun game to play on your wrist. The game basically works like this: you will be shown four images that have something in common, and you have to guess the word based on the images you are shown.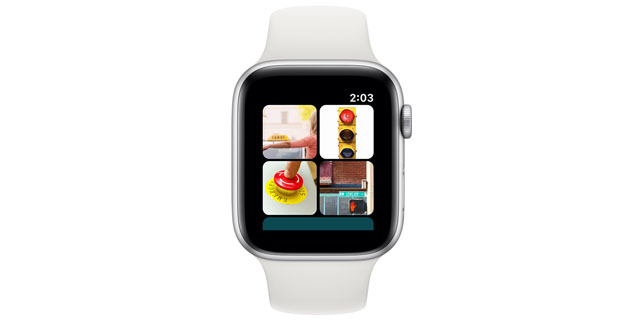 Sounds simple? It is… at first. But once you advance a few levels, you will find yourself thinking what the images could be hiding from you. It's a nice little game to play, and I mostly find myself launching it anytime I need a breather from work and want to refresh my brain a little.
Developer: ICO Group
Download Wordie from the App Store (Free)
8. Letter Zap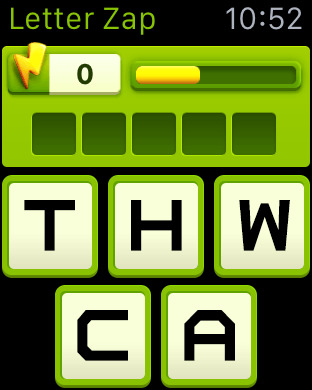 Meet Scrabble with a 30-second time limit. Letter Zap is a fast paced letter scrambler that can be played independently on the Apple Watch, with you getting a bunch of letters to make a word out of as seconds tick by. 30 seconds up and you don't have a word? Game over. The Watch game offers a unique game mode as well where you solve words while attempting to keep your heart rate under control (not as easy as it sounds, trust me). The game is a good brain teaser and can offer hours of fun while improving your vocabulary.
Developer: Manatee
Download Letter Zap from the App Store ($2.99)
9. Lifeline 2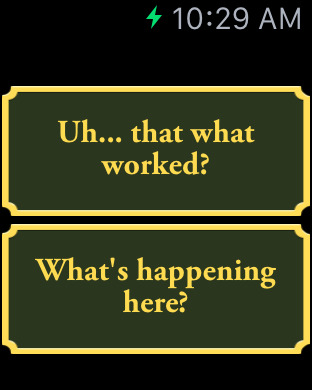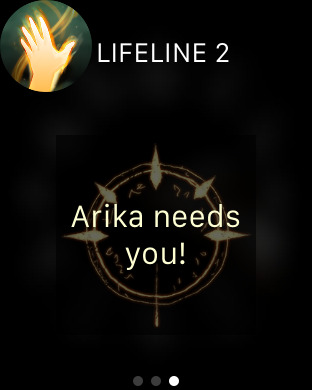 Another story-based nonlinear game that you can play both on your iPhone/iPad or the Apple Watch. Lifeline 2 is the second instalment in Lifeline series that took the world by storm when it was first released. The game's style is very similar to Timecrest, but with better graphics, a lot of original content, and no in-app purchases. The downside is that Timecrest was free, and this will set you back a buck.
Developer: 3 Minute Games
Download Lifeline 2 from the App Store ($0.99)
10. Mini Watch Games 24-in-1
This one is kind-of like a jackpot of sorts. This single, rather affordable watchOS game offers 24 mini games inside it. Priced at just $0.99, this game brings titles such as 2048, Blocky Bird, Car Car, Stick Jump, Tennis, and more. So you get puzzle games, action games, card games, racing games, and sport games all in one tiny little package. With this game you can have hours of fun on your Apple Watch.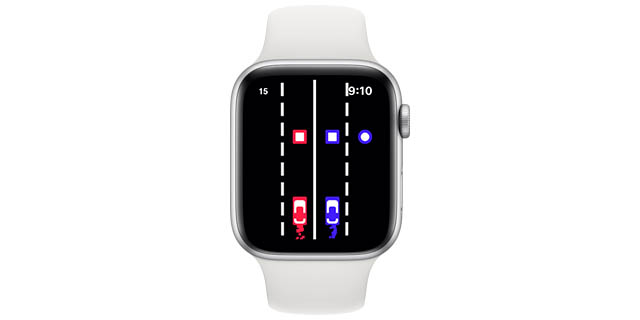 The only reason I have put this game so far down the list is because the game sometimes bugs out on you which can be a little annoying. However, it's well worth the money.
Developer: Alho Games
Download Mini Watch Games 24-in-1 from the App Store ($0.99)
11. Dare the Monkey: Go Bananas!
If you love playing platformer games, you should definitely check out Dare the Monkey on your Apple Watch. As the name suggests, you play as a monkey in this game and your aim is to traverse the various traps and enemies to get to the end of the levels.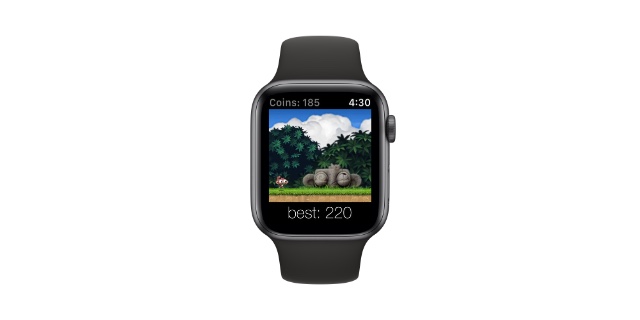 It's a surprisingly fun and challenging game, with really adorable graphics and it seems perfect for the Apple Watch's screen.
Download Dare the Monkey from the App Store (Free)
12. Chess
For fans of brain-games, there's good news! You can even play Chess on your Apple Watch. And not just against the computer, you can actually even play chess on watchOS 7 against other players around the world.
The game is free to download and will match you against other players. The interface is simple, obviously, but you do get a leaderboard to keep a track of your score and where you stand.
Download Chess from the App Store (Free)
13. Jupiter Attack
Did you love playing Space Invaders as a child? Well then you'd love playing Jupiter Attack on your Apple Watch. In this game, you're piloting a spaceship and you have to face off against hordes of enemy ships that are hell bent on destroying earth.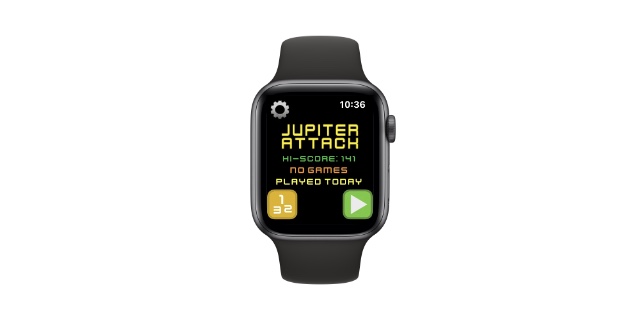 The controls are simple and you can use the touch screen and the Digital Crown on your Apple Watch to move your ship around and make sure you defeat the enemies before they defeat you.
Download Jupiter Attack from the App Store ($1.99)
14. Octopuz
Octopuz is a memory based game for people who like to exercise their brain cells while gaming. The basics of the game are really simple. You are shown a pattern on the screen of your Apple Watch and you have to replicate it. However, there's a timer within which you have to finish replicating the pattern shown to you. Basically, the game helps build memory as well as dexterity in your fingers as you try and complete patterns as fast as you can from memory.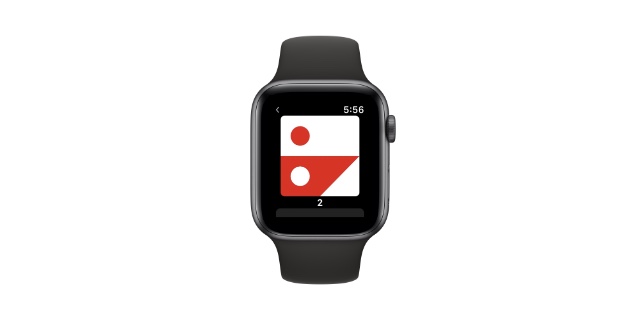 Download Octopuz from the App Store (Free)
15. Arcadia – Arcade Watch Games
Do you miss the feeling of going to your local gaming arcade and playing classic games on those big big arcade machines? Well Arcadia brings those games to your Apple Watch. You will get access to games like Snake, Galaxy Invaders, Pong, and more straight on your watch.
The best part is that there are no ads, no IAPs, and no user tracking so you can simply zone out and play in peace.
Download Arcadia from the App Store ($1.99)
Play These Impressive watchOS Games Right Now
That sums up our list of the best Apple Watch games you should check out on your smartwatch. I have tried to include a fair number of free games and paid games for watchOS in the list, and I have also tried to include all genres of games that I could find. Still, if you know of an Apple Watch game that I should have included in this list, let me know about it in the comments.