Apple introduced the new Apple Watch Series 6 in its Time Flies event along with a new iPad Air and 8th-gen iPad 8. The new Series 6 Apple Watch comes with a 20% faster S6 processor, a new blood oxygen monitoring sensor, and a host of other improvements. That said, Apple didn't tell us if they have improved the display glass or not. That means it might be using the same glass as the Series 5 and that one scuffed easily. So, if you are planning to buy the new Apple Watch Series 6, you should invest in screen protectors. To help you get started, here are the best Apple Watch Series 6 screen protectors that you can buy right now.
Best Apple Watch Series 6 Screen Protectors in 2021
Below is the list of all the screen protectors that we have included on this list. You can click on the links below to move inside the article.
1. LK Screen Protector for Apple Watch 40mm
One of my favorite screen protectors for the Apple Watch is made by the company LK that brings good protection at affordable prices. This screen protector for Series 6 Apple Watch comes in a pack of 6, so they will last you for a long time. The screen protector is scratch-resistant and offers 99% HD clarity. You won't have any difficulty in seeing your watch's display.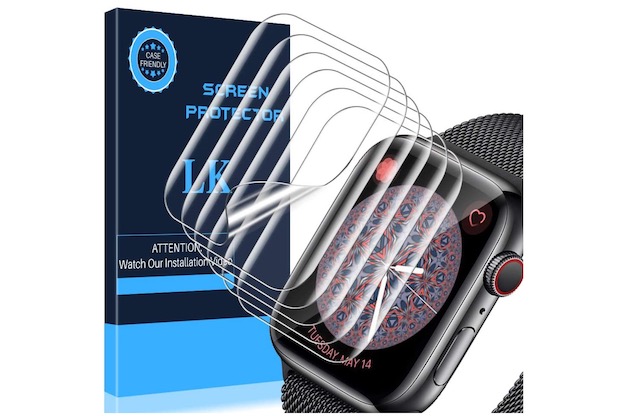 It provides full coverage to the display and is very easy to install. It also doesn't leave any residue on the screen when you remove it. That means you won't have to clean the screen every time you are replacing the screen protector. If you are looking for an affordable screen protector for Apple Watch Series 6, this is the one to get.
Buy from Amazon: $13.99
2. ArmorSuit MilitaryShield Screen Protector
If you want an even cheaper screen protector for your Apple Watch Series 6, then you can use these screen protectors from ArmorSuit. The screen protector brings self-repair technology that allows it to automatically repairs minor scratches and scuffs. It's also scratch-proof and can even handle some drops and falls.
The screen protector brings HD clarity and uses a material that doesn't get yellow over time. It also significantly reduces dust, oil, and fingerprint smudges. Finally, the screen protector comes with an installation spray, squeegee, and microfiber cloth that helps you in installing the screen protector.
Buy from Amazon: $8.99 (40 mm / 44 mm)
3. ALADRS Screen Protector Case for Apple Watch
If you want extreme durability, you should check out the LADRS screen protector case for Apple Watch Series 6. The front of this case uses an ultra-thin 0.33 mm glass that not only gives the desired protection but also maintains the touch sensitivity of the original display. The rest of the case uses as thicker polycarbonate material that will protect your brand new Series 6 watch even when you drop it from a considerable height.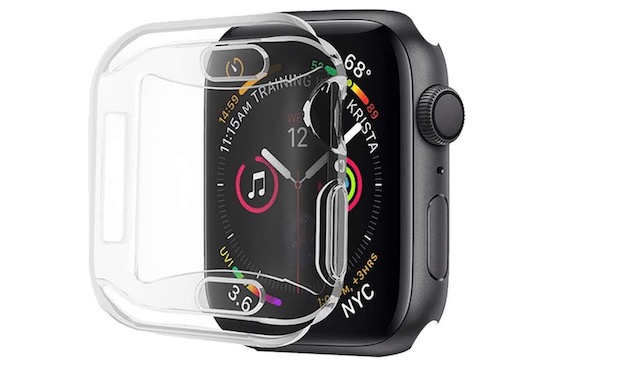 The screen protector case is made of soft TPU material and snuggly fits the Apple Watch. There are precise cut-outs giving you access to all the buttons and ports. The case doesn't interfere with the sensors at the bottom, so you will be able to record your heart rate and blood oxygen level without any problems.
Buy from Amazon: $6.99 (40 mm / 44 mm)
4. Misxi Black Hard Screen Protector Case
Another screen protector that brings a built-in case with it to provide extra protection to your Apple Watch is the Misxi Black Hard Case. If you don't like the soft TPU material used in the ALADRS case mentioned above, then you should check out this one. Thanks to the case design, this screen protector is easy to install. You just put on the case on your watch, and the screen protector will align perfectly with the display.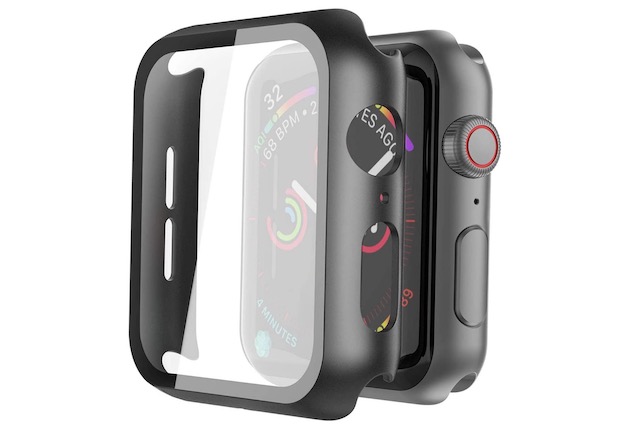 Talking about protection, the Misxi screen protector cases uses hard plastic on the sides to improve impact protection. It can easily prevent scratches and scuffs emerging from regular usage and drops and falls. The case offers precise cutouts for all the sensors and buttons, so you don't have to take off during charging. It's also comfortable to wear for a long time and doesn't affect the aesthetics of the watch.
Buy from Amazon: $10.99 (40 mm / 44 mm)
5. IQ Shield Screen Protector for Apple Watch Series 6
Another good screen protector the Apple Watch Series 6 is from the renowned screen protector maker IQ Shield. The screen protector comes with an installation tray and a spray solution along with a squeegee, a lint-less cloth, and intuitive installation instructions. This makes the installation process very easy.
Unlike some regular screen protectors, the IQ Shield LIQuidSkin protectors are crafted using a patent process that brings high response sensitivity, self-healing durability, and non-yellowing, optical transparency into a single layer of flexible yet tough film. It's one of the best Apple Watch Series 6 screen protector that you can buy right now.
Buy from Amazon: $7.85 (44 mm / 40 mm)
6. LK Tempered Glass Case for Apple Watch
Apart from making normal screen protectors, LK also makes a tempered glass case for Apple Watch Series 6. It features an ultra-thin polycarbonate case with a tempered glass screen protector, which fits the Apple Watch Series 6 perfectly. The PC case along with the tempered glass protector ensures that your new Watch is protected from all sides.
Not only this will thwart day-to-day scratches and scuffs, but it will also handle drops and falls. Note that, this case is not swim-friendly as being an open-case design, water will enter it and may cause touch sensitivity problems. You are advised to either take off the case before swimming or wipe it with a clean cloth after your swimming session.
Buy from Amazon: $8.99 (44 mm)
7. Tisen Apple Watch Screen Protector
The next screen protector on our list is from a company called Tisen that is bringing a PET screen protector that provides full coverage to the display. While this won't protect the display from impacts, it's more than enough to handle scratches and scuffs.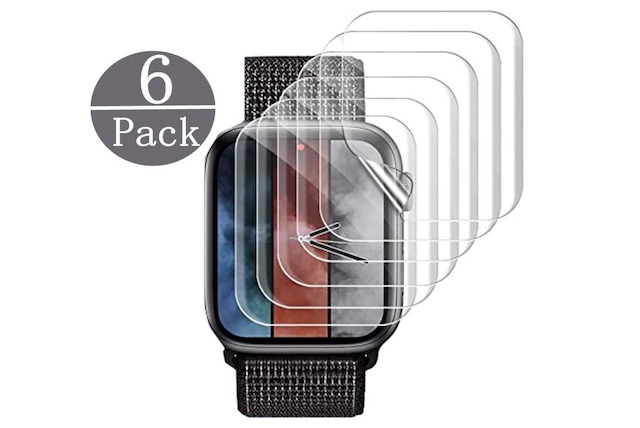 It brings a special scratch-resistant coating that protects your device from the usual signs of scratches, dust, scratches, and abrasions. Also, since it's ultra-thin, you get better touch-sensitivity and viewing experience. It offers 99.99% HD resolution with 99.99% light transmittance, thus maintaining bright and colorful image quality.
Buy from Amazon: $7.99 (44 mm)
8. wzson Screen Protector for Series 6
You can also check out the wzson screen protector for your new Apple Watch. This screen protector offers an all-around protection for your display including the bezel around the screen.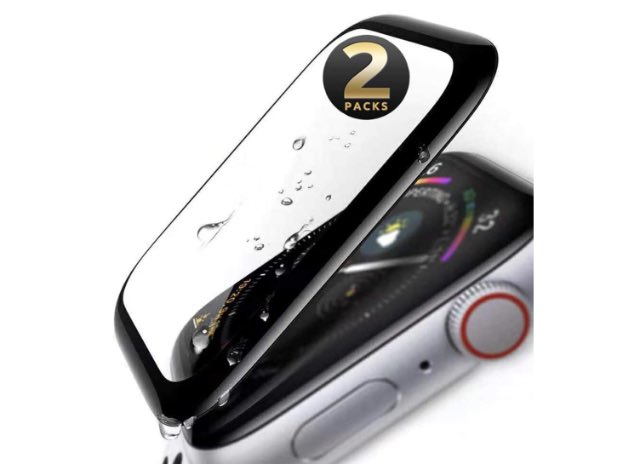 This tempered screen guard for Apple Watch has a 9H hardness level as well as an oleophobic and hydrophobic coating as well to ensure that there are no fingerprint smudges on your watch's screen. Plus it uses a bubble free adhesive so you can install it easily and without any bad-looking bubbles on the screen.
Buy from Amazon: $13.98 (Pack of 2)
9. Goosehill Tempered Glass Bling Case
If you're looking for a tempered screen guard for your Apple Watch S6, and you want a little bling to go with it, Goosehill has a great option for you. It's basically a case and a screen protector in one. That means you get a tempered glass on your watch, plus a case to protect it from scuffs and scrapes.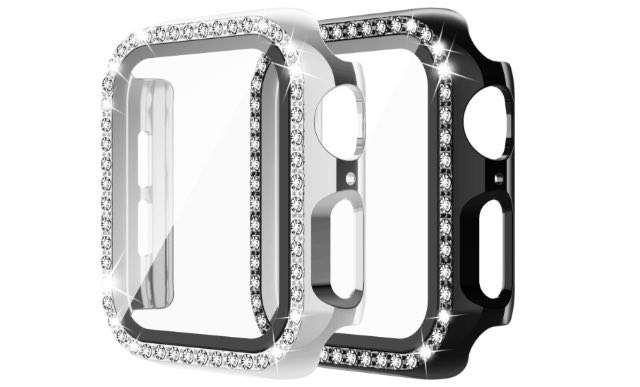 The case here has rhinestones embedded along the sides to give your Apple Watch a jewelled-look. Plus, it's made from lightweight plastic which means it won't add a lot of weight to your wrist.
Buy from Amazon: $11.45 (Pack of 2)
10. Recoppa Screen Protector with Rugged Case
Lastly, you can check out the Recoppa screen protector with a rugged case for your Apple Watch Series 6 as well. This is great for anyone who likes to use their smartwatch more roughly than the average user.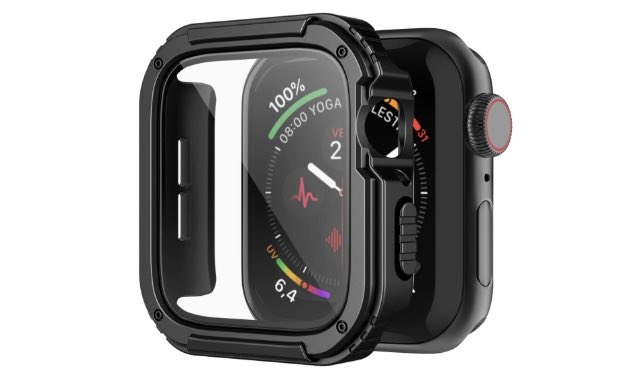 You get a tempered glass with 9H hardness for your watch's screen, plus the rugged case will definitely protect your Apple Watch from scratches, scrapes, and bumps. Moreover, the screen guard, while tempered, is really thin so your watch's touch response and screen clarity should not be affected by it.
Buy from Amazon: $10.99
Protect the Display of Your Apple Watch Series 6
These are the best screen protectors that are available for Apple Watch Series 6, as of now. Be assured that we will keep updating the article as more products are released. We have made a point to include both tempered glass and the PET film-based protectors. So check them out and let us know which one you chose by writing in the comments below. Also, don't forget to check our coverage of best Apple Watch Series 6 bands, if you are looking for some cool bands to pair with your watch.
---
Load More