In the September event, Apple finally announced the affordable Apple Watch SE and the pricing really surprised many of us. It brings the same display as the Series 6, features the last-gen S5 chip, and offers many of the features for which the Apple Watch is so popular. As an aside, you can read our full comparison between Apple Watch Series 6 vs Apple Watch SE from our detailed article. Anyway, coming to the watch, it seems a really great option and Apple has also brought some new bands for the SE model. I particularly like the new Solo Loop band that has a firm and fit design. So in this article, we curate all the best bands for Apple Watch SE available at various price points.
Best Bands for Apple Watch SE in 2020
Here, we have mentioned the best Apple Watch SE bands at different price points. From leather, stainless steel to silicone, you have all the options down there. To navigate easily, you can click on the link below.
List of Best Apple Watch SE Bands and Straps
1. Official Apple Bands — Solo Loop / Braided SL / Leather Link
Along with Apple Watch SE, the company also announced some new and cool-looking bands. You can pair your Apple Watch SE with a new type of band called Solo Loop. It comes in 9 sizes and features a unique design without clasps or buckles. This band is for those users who are always afraid of the Watch slipping off the wrist. The Solo Loop band is available in silicon rubber and braided yarn which is interwoven with silicone threads.
Apart from that, there is the Leather Link band for Apple Watch SE that is made of high-quality Roux Granada leather. The unique part about this band is that it comes with flexible molded magnets that can automatically wrap the band around your wrist, maintaining a firm and secure fit.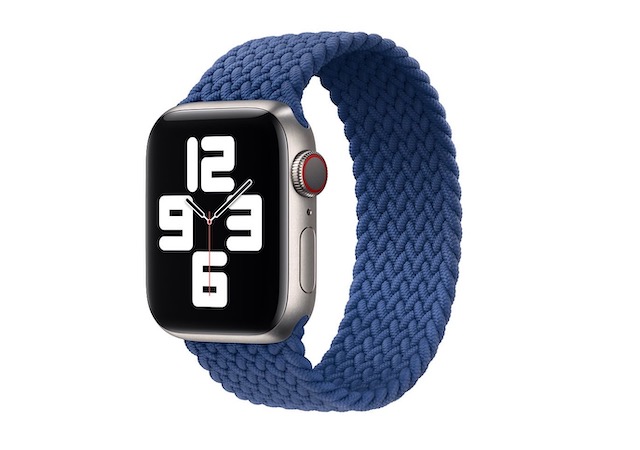 Finally, you do have the classic Milanese Loop and Pride Edition Sport Band. All in all, if I had to pick one, I would definitely go with the Braided Solo Loop, especially in that Atlantic Blue colour.
Buy from Apple: Starts at $49
2. Marge Plus
If you are looking for an affordable band for Apple Watch SE then Marge Plus offers you some of the best-designed leather straps at a low-cost. The band is available for both 40mm and 44mm models of Apple Watch SE and fits pretty well without any obtrusion.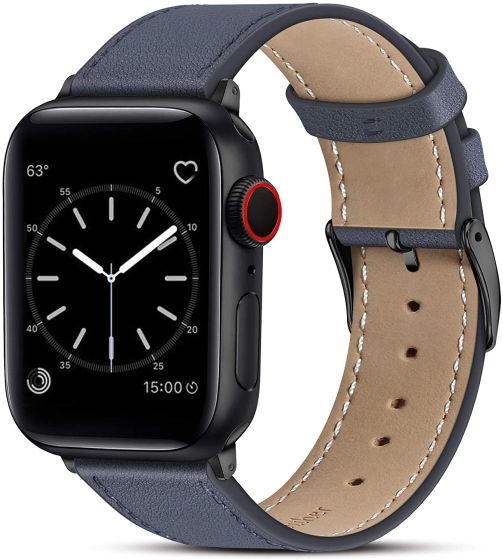 Sure, the leather won't be as good as the official ones, but they look pretty good and gives a feeling of premium leather. What I love about the Marge Plus band is that it offers tons of color options which is great for people looking for a variety of choices. To sum up, Marge Plus offers attractive bands for Apple Watch SE and you should definitely take a look.
Buy from Amazon: $12.99
3. amBand Leather
As the name suggests, amBand offers another fantastic leather band for Apple Watch SE at a very affordable price. It gives a classic vintage look to your Apple Watch SE which I assume, many are looking for. The leather is said to be of high-quality and the company claims that toxins are excluded during leather production.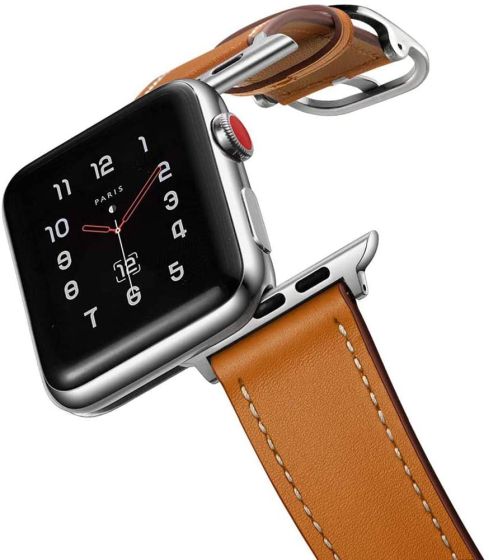 Other than that, amBand features stainless steel adapter and buckles which means it will sit flush with your Apple Watch SE. Just slide in the band and you are done with the installation. Simply put, if you are looking for a premium leather band for Apple Watch SE then amBand deserves your attention.
Buy from Amazon: $13.99
4. LDFAS Watch Band
If you were to pick the official stainless steel band for your Apple Watch SE then it would have set you back by over $100. However, the LDFAS stainless steel watch band offers you a similar level of quality at just a price of $16. Isn't that amazing?
It's made of 316L grade stainless steel which has high tensile strength and the band is both waterproof and sweatproof. The best part is that you can also adjust the strap length by the small bar which makes it almost a half-link design. So if you want a stainless steel band for Apple Watch SE then LDFAS is your best bet.
Buy from Amazon: $15.99
5. Nomad Modern Strap
Nomad, which is known for many iPhone accessories, has come up with a modern strap for the Apple Watch SE. It's essentially a leather band made of black Horween leather from the US. Nomad claims that the strap develops a patina over time and makes a distinct look which is pretty cool.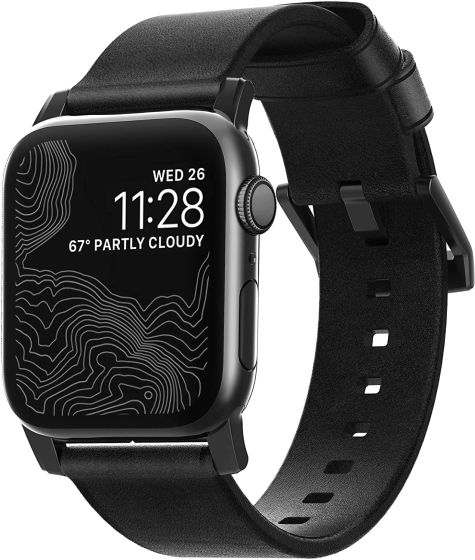 The company also uses high-quality craftsmanship to create a strap so that it fits without any unwieldy error. Not to mention, the band comes with a buckle and lug for easy installation. To conclude, Nomad Modern Strap is a stylish band for Apple Watch SE and you simply can't go wrong with it.
Buy from Amazon: $46.24
6. Spigen Rugged Armor Pro
Spigen Rugged Armor Pro is not a dedicated band as such, but it brings a complete solution to protect your Apple Watch SE. It features both a band and a case in a solid shock-absorbing material. If you are anyway looking for a case then you should simply pick the Spigen Rugged Armor Pro.
You will get the best of both worlds. Further, the strap has a slim design and you can adjust it with the metal clasp. And for screen protection, the case has raised bezels around the screen.
Worry not, the case has precise cutouts for all the buttons as well. All in all, Spigen Rugged Armor Pro is a solid choice for people who want a protective case and a band for their Apple Watch SE.
Buy from Amazon: $19.99
7. KYISGOS Watch Band
KYISGOS is another band for Apple Watch SE that brings a premium leather strap at a budget price. It looks pretty cool and since the leather is soft, you get a comfortable experience. To protect your skin further, it uses an interior lining that is made of high-quality calf leather.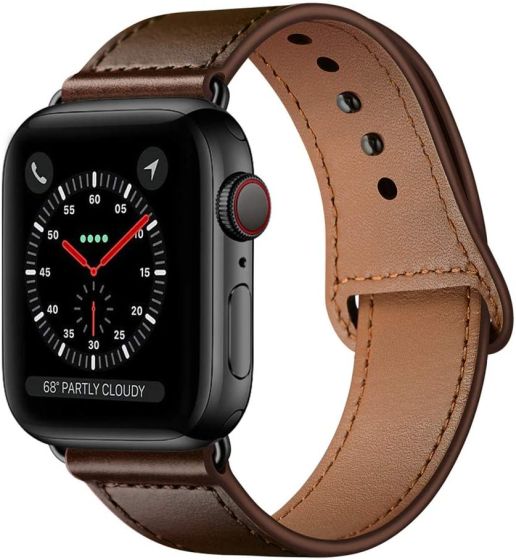 Next, the watch band comes with stainless steel adapters at both ends so you can easily lock and remove the strap as and when you want. Not to mention, the buckle is made of stainless steel so that is great. I would say, if you are looking for a comfortable leather band for Apple Watch SE then KYISGOS is another option worth considering.
Buy from Amazon: $16.99
8. Elkson Silicone Band
The Elkson silicone band is our final strap on this list and it brings a textured rubber band for the Apple Watch SE. The band is made of durable liquid silicone rubber and it's also sweatproof. As it's with most silicone bands, they last for a long time and the same is the case here as well.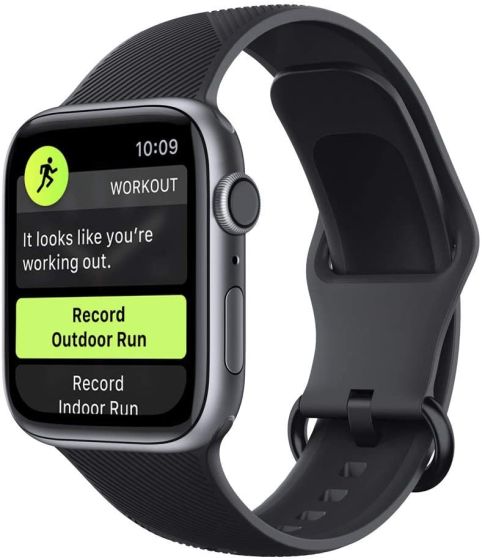 What's more, the whirl texture gives a sporty look to the Watch SE and I think you are going to love it. Summing up, Elkson offers a superb silicone band for the Apple Watch SE and you should give it a look.
Buy from Amazon: $14.99
Pick the Top Straps for the Apple Watch SE
So these are some of the best straps for Apple Watch SE that you can buy right now. We have tried to include all kinds of bands including leather, silicone, stainless steel, complete solutions like protective bands, and more. You can go through the list and I am sure you will find a suitable strap for your new watch. Anyway, that is all from us. If you found the article helpful then do comment down below and let us know.