So you just got a brand new Apple Watch, or maybe you're just looking for some of the must-have apps for Apple Watch to make your experience even better. Well, then this is the article for you. We have curated over favorite apps for Apple Watch in this article. So, read along to find the 15 best Apple Watch apps you should use in 2023 (free and paid).
Best Apple Watch Apps (2023)
There are a lot of apps for watchOS on the App Store. However, finding the ones that are actually good, or that offer some value is quite difficult. In this list, I'm going to tell you about the best watchOS apps that I use all the time, along with some that I don't use very often but you might love to know about.
You can use the table of contents below to skip to any particular app's description in this article.
1. FlickType Keyboard for Apple Watch
One of the things the Apple Watch does very well is displaying notifications, especially for messaging apps like WhatsApp and (obviously) iMessage. However, it's also surprisingly limited in the options you get for actually replying to a text message. I mean sure, you can scribble letter-by-letter, or use dictation — which isn't the best way to respond to messages when there are people around you — but there's no way to actually properly type a message out on your watch. Well, if you're looking for a great keyboard app for your Apple Watch, look no further than FlickType.
FlickType brings a full QWERTY keyboard to your wrist allowing you to quickly compose and send messages without having to use your phone. The app works perfectly, and it makes pretty awesome use of watchOS's user-interactions. For example, you can rotate the digital crown to change words, so even if the keyboard accidentally misunderstood what you were trying to type (which happens), you can quickly fix it without having to delete letters and re-type them.
FlickType also lets you reply to message notifications by just typing out the message, tapping on "send" and then choosing the contact you want to send the message.
Download FlickType from the App Store (Free, $7.99 | ₹159)
2. WatchChat 2
Even though there's an official Facebook Messenger app on the Apple Watch, it's surprising that WhatsApp doesn't have one. However, if you absolutely need to have full access to all your WhatsApp conversations on your watch, you should check out WatchChat 2.
WatchChat 2 is basically a wrapper for WhatsApp Web, and setting it up requires you to scan the QR code with your WhatsApp app on iPhone, but once you do that, you get all your chats right there on the watch. You can open any conversation and send new messages, or you can 3D touch on the screen to search for a contact and start a new chat. The app even supports media playback so you can view images shared on WhatsApp by simply tapping on them.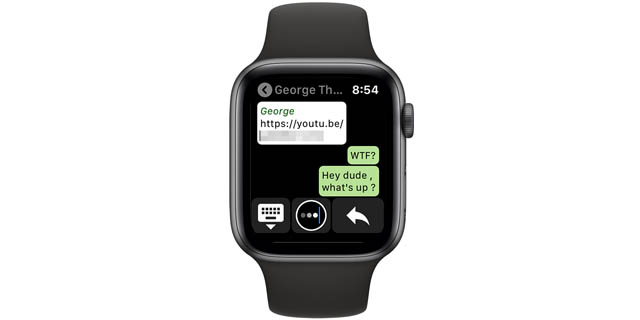 The app allows you to send messages using the built-in input options on the Apple Watch, and (if you have it) typing via FlickType Keyboard as well which is great.
It's a neat app, and considering watchOS doesn't include a native WebKit implementation, I'm sure the developer deserves the $2.99 that is being asked for this app because creating this was definitely not a simple web wrapper that pings WhatsApp Web.
It's also important to know that this app only works as long as your phone is connected to your watch, which means if you have an LTE-enabled Apple Watch, you can't use this app to send messages if you don't carry your phone along with you. That's a bummer, but it's a common theme I noticed among all the WhatsApp for Apple Watch apps that I checked out.
There's also a free app called Chatify that claims to do the same thing that WatchChat 2 does, and I did try it out, but the app wasn't working for me at all.
Download WatchChat 2 from the App Store (Free)
3. Pillow
Even though I didn't really think that the Apple Watch should get sleep tracking until the battery life gets better, Apple did introduce native sleep tracking with watchOS 7. While that feature solves my purpose of ensuring I get enough sleep, it's definitely not very feature-rich.
That's where Pillow comes in. Pillow is a free app that tracks your sleep and gives you detailed information about your sleeping patterns including the total duration of your sleep along with detailed breakdowns of awake time, REM sleep, and more. It also tracks your heart activity and has the option to record sounds if you need that feature.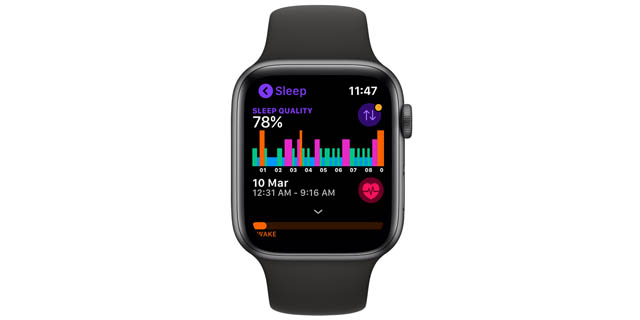 The best part about Pillow is that it comes with automatic sleep tracking, which means you don't need to tap a button to let the app know that you're going to sleep (although you can disable automatic sleep tracking if you so wish).
The app also has a bunch of Pro features that can be unlocked with a one-time in-app purchase and gives you access to things like past sleeping records, audio recordings, heart rate analysis, sleep trends, naps, and more.
If Pillow doesn't look good enough to you, you can also check out AutoSleep ($2.99|₹449), or Sleep++ (Free).
Download Pillow from the App Store (Free)
4. Overcast
If you're like me and you love listening to podcasts, you probably already have a podcasting app of choice, but if you're looking for a great podcast app for iPhone and Apple Watch, I would recommend you check out Overcast.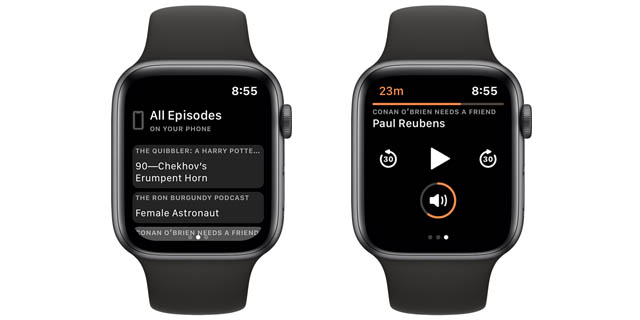 Overcast is a free podcast app that works amazing on both the iPhone and the Apple Watch. It comes with all the features you may want from a podcasting app, including automatic downloading of podcasts, notifications for new episodes, a great search feature, and an intuitive player. Plus, you can enable "Auto Sync to Watch" if you want your podcasts to sync with your watch automatically which is great for when you wanna listen to podcasts at say the gym without having to keep your phone around.
Download Overcast from the App Store (Free)
5. Lens for Watch
You know what's fun? Scrolling through your Instagram feed whenever you're bored, and with Lens for Watch, you'll get the entire Instagram experience right there on your Apple Watch.
The Lens for Watch app brings all of Instagram's features to the Apple Watch, so you can check your timeline on your watch, or see Stories, check and send DMs, and more all from your Apple Watch. You can even play videos with sound in the app, which is great.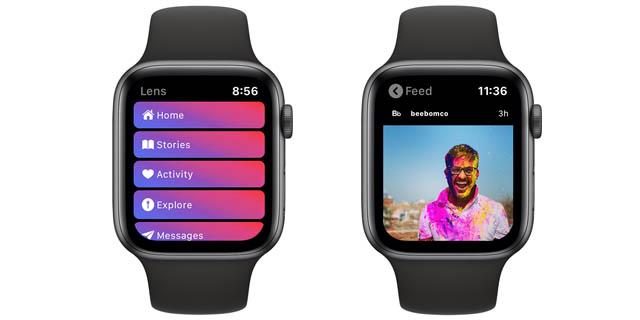 While the app is free to download and use, the free version will only let you view your timeline. To unlock features like stories, messages, and more, you'll have to purchase the Pro version of the app which is priced at $1.99 or ₹159 — that's a decent price for the kind of experience the app offers, and if you're someone who likes to use Instagram a lot, using it on the Apple Watch should be worth the money.
Download Lens for Watch from the App Store (Free)
6. Fantastical
The Apple Watch comes with the default Calendar app pre-installed, but if that's not cutting it for you, Fantastical is the most fantastic calendar app you can get, and it recently became free which is even more awesome.
With Fantastical on the Apple Watch, you get quick access to all your events for the day. Plus, you can use the digital crown to scroll between days and see your events for the next couple of days as well. The app also shows your tasks in a separate screen, however, to add tasks to Fantastical, you'll need to subscribe to the Pro version of the app.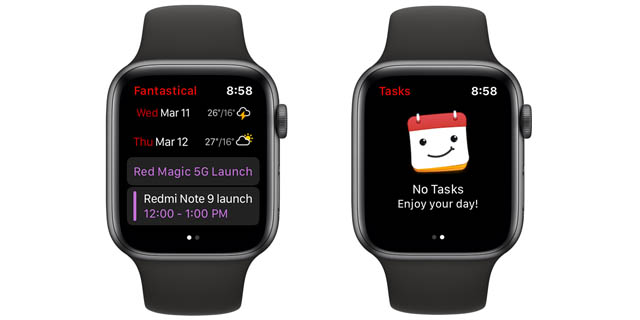 Fantastical is better than the stock calendar for a variety of reasons. First, it just makes better use of the screen real estate on the Apple Watch, and has a better user interface that can let you quickly see all your upcoming events, plus Fantastical's iPhone (and Apple Watch) app supports natural language input which makes it a lot easier to add new events.
If you use calendars a lot, like I do, you should definitely have Fantastical on your Apple Watch.
Download Fantastical from the App Store (Free)
7. Noted
Have you ever found yourself constantly scrubbing through a long voice note trying to find the important parts of an interview or a lecture? Noted solves that with hashtags. Basically all you do is start recording on your Apple Watch, and whenever you want to mark the beginning of an important section, you can simply add a hashtag at that point.
Then, in the iPhone app, you can tap on those hashtags to skip to the timestamps in the recording when you added the tags, which makes it very easy to find all the important tidbits of a voice note. You can also rename the hashtags to make it easier to understand which section of the recording they refer to, which is also great.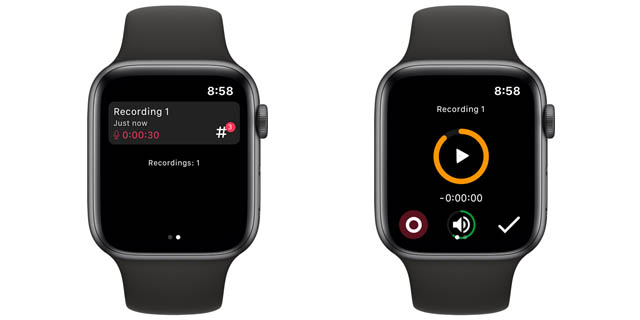 Noted is free to download, but offers a pro subscription that removes restrictions around the number of notes you can have, brings support for voice-to-text translation, and lets you export notes as PDFs as well.
Download Noted from the App Store (Free)
8. Chirp for Twitter
Among the many major social media apps that don't have an official app for the Apple Watch is Twitter. Personally, I use Twitter a lot, and if you're in the same boat as I am, you would appreciate having access to Twitter straight from your wrist. It's just easier than having to pull out your phone if you're just trying to catch up with what's been going on.
Chrip for Twitter offers all of Twitter's functionality in an easy-to-use, easy-to-navigate app that will make you feel right at home. It can show you your timeline, mentions, and notifications, and even allow you to retweet or like tweets you see.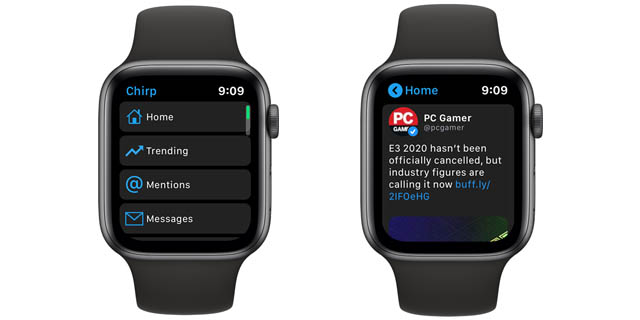 Plus, with the Pro version of the app, you can check your DMs (and reply to them), compose Tweets straight from your wrist, access your lists, and more. It's free but the Pro version of the app with additional features is priced at ₹269.
Download Chirp for Twitter from the App Store (Free)
9. iTranslate Translator
Having a translator handy is quite important if you travel often or find yourself interacting with people from other nationalities frequently. While I would normally recommend Google Translate, it sadly doesn't have an Apple Watch app. Enter iTranslate Translator. This app brings translations to your wrist. You can 3D touch to change the target language in the app, and then you can type or speak whatever you want to, and the app will translate it into your language of choice.
Download iTranslate Translator from the App Store (Free)
10. Parrity Web Browser
With watchOS 5, Apple brought support for WebKit rendering to the Apple Watch so the watch could display HTML content straight on its tiny screen. Whether or not that was the reason this app exists, I'm not sure, but a web browser on your wrist is a neat idea.
Look, to be honest, you won't be using a browser on your Apple Watch too much, but it's great for those times when you quickly need to read something online, or even just for bragging rights. Plus, it's free, and it works really well, which is great.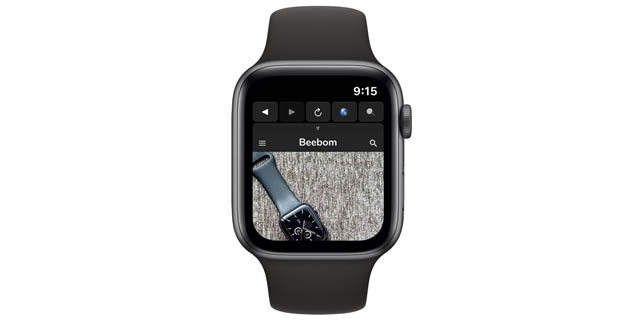 Also, if you're curious, I did try opening WhatsApp Web on this browser in hopes of not having to buy an app to use WhatsApp on the watch, but it didn't work.
Download Parrity Web Browser from the App Store (Free)
11. Authy
If you're not using two-factor authentication for your online accounts, you're playing with fire. However, using a phone number-based OTP isn't the best idea, which is where apps like Authy come into play.
With Authy on the Apple Watch, you can simply set up two-factor authentication for accounts like Facebook, Google, Instagram, and others. And when you need the 2FA code to log in, you can use the Authy watchOS app to get the code without needing to unlock your iPhone every time.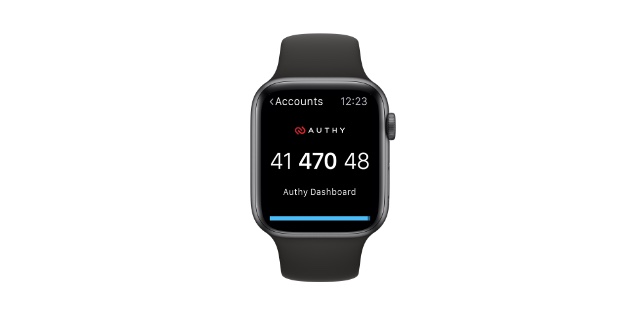 It's a very useful app that I use all the time, especially because I have to log into my accounts on a lot of different computers that I am testing.
Download Authy from the App Store (Free)
12. Watchsmith
Watchsmith is one of my favorite apps for customizing the Apple Watch faces. With Watchsmith, you can create custom complications that you can use in watchOS. This way, you can ensure that your Apple Watch can show more information with the limited complication space on the screen, and you can get relevant information based on the time of the day.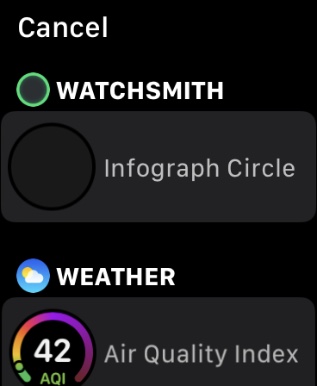 Watchsmith is technically an app that will be installed on the iPhone, but once you've created the complications you want, all you need to do is edit the watch faces you want to use the new complications in and add them. It's a pretty useful app that definitely makes your Apple Watch face a lot more informative.
Download Watchsmith from the App Store (Free)
13. Weathergraph
Weathergraph is an Apple Watch weather app that brings some really good complications as well. You get a detailed hour-by-hour view of the weather for the day so you always know what to expect from the elements.
Also, as I said, you get plenty of beautiful complications here which can be added to your favorite watch faces to keep weather information available at a glance. The app also gives at-a-glance information if you want, and more. Moreover, the developer will soon be bringing support for themes also so you can change the look of the app as per your preferences.
Download Weathergraph from the App Store (Free)
14. Brushout
If you often find yourself forgetting to brush your teeth, or brushing for two whole minutes, you should check out Brushout. This app is a brushing timer and reminder app that gamifies the concept to make things interesting.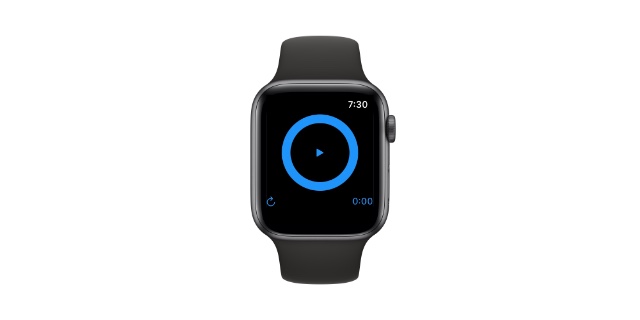 The app runs a 2-minute timer when you start brushing and even uses taptic feedback on your Apple Watch to tell you when you should switch over to the next region of your mouth for brushing. The data is synced with the Health app on your iPhone as well. Moreover, the app brings various awards for brushing streaks that you can collect by remembering to brush your teeth twice a day, every day.
Download Brushout from the App Store (Free)
15. Significant Otter
Significant Otter is one of those apps that are really different from anything else. The app is basically aimed at couples, and it claims to "take your relationship to the next level with biosignal sensors, a cutting-edge technology that's built into your Apple Watch".
The app doesn't bring features like messaging or calling, or anything of that sort to your partner. Instead, it uses the taptic feedback engine on your watch (and your partner's watch). It basically uses the data from your health app and heart rate sensor to know when you're feeling excited, or motivated, etc. Then, with a single tap, you can let your partner know how you're feeling at the moment.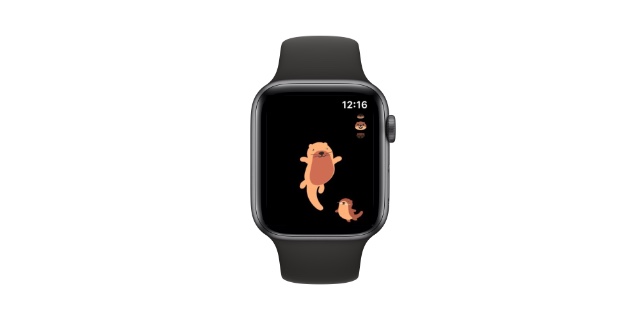 It's definitely a very different take on keeping people in touch with each other, but it's definitely a very interesting app to try out.
Download Significant Otter from the App Store (Free)
Use These Must-Have Apple Watch Apps
The Apple Watch is capable of quite a lot more than most smartwatches out there, and these third party apps can certainly help you get the most out of your smartwatch. I've tried to include all types of apps in this list including apps for productivity, social media, web browsing, and even keyboard apps for Apple Watch. So which of these apps did you like the most, and which ones are you already using? Also, if there are any useful third-party apps that you think deserve to be on this list, let me know and I'll definitely check them out.