With a view to becoming carbon neutral by 2030 (20 years sooner than IPCC targets), Apple no longer ships chargers – neither for iPhone 12 Series nor for Apple Watch 6. That means you will need to spend around $10-$20 extra to get a charging adapter for your device. Even though Apple's intention of removing chargers from the box seems noble, the harsh reality is that a large number of users do not have an efficient charger in the store. Hence, they have no option but to buy a new one to charge the device. And that's exactly what has irked fans. Anyway, I have listed out the 7 best charging bricks for Apple Watch 6 so that you can find a safe charger at a reasonable price.
Best Charging Bricks for Apple Watch Series 6 in 2021
Ideally, it would have been better had Apple offered the flexibility to users to remove the charger from the box while ordering the device. I guess folks would have really appreciated it if they had the option to reduce the total cost by up to $19 (the exact price of the official charging brick) by not getting a charger in the shipping box.
This way it would have been a win-win situation for both Apple's intention of reducing the carbon footprint and the end-users. However, in the given scenario, it's (unfortunately) the end-users who have been forced to bear the extra cost.
One other thing that is annoying about this whole scenario is that the Apple Watch Series 6 cable uses USB-A while the new iPhone 12s ship with the USB-C cable. Also, the new MacBook Pro and MacBook Air models only have USB-C ports, so you won't be able to plug in the Apple Watch charger without a USB-C accessory hub.  The whole situation is pretty confusing.
Well, coming back to the Apple Watch 6 chargers in the list, they are well-built and feature a compact design. Thus, you can carry them with ease. Beyond portability, they are also up to the task when it comes to charging your wearable device securely. With that said, let's explore the top wall chargers for Apple Watch!
1. Apple 12W USB Power Adapter
If secure and efficient charging is what you are after for your Apple Watch 6, the official 12W USB power adapter should be a preferred choice. The charging brick is well-built and sports a compact design that can comfortably slip into a small bag. So, carrying the charging even in a tiny bag shouldn't be a hassle.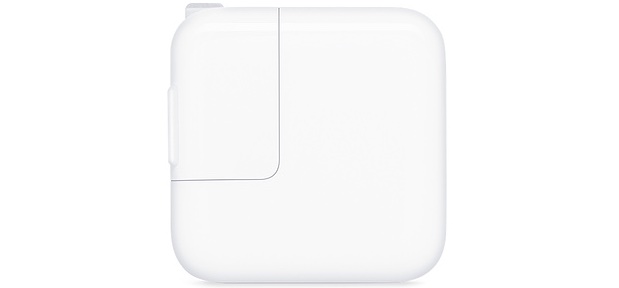 Do note that it also supports other watch models including Apple Watch SE, Apple Watch 1st generation, Series 1, 2, 3, 4, and 5. Though the official Apple Watch charging brick is priced at comparatively high at $19, given the efficient charging that it offers, you can't go wrong with it.
Buy from Apple: $19
2.
iClever BoostCube
There are multiple reasons why iClever BoostCube can be your ideal Apple Watch 6 charging brick. For starters, the 24W wall charger features dual ports (2.4A each port) that can let you power up multiple devices at once. It also offers the essential safeguard against dangers like short-circuit, over-current, and over-voltage to keep the smartwatch protected.
Moreover, the charger features an ultra-portable design and has a foldable plug. Thanks to the wide voltage range from 100v to 240v, it's designed to be a useful accessory for Apple Watch. What's more, it's also priced affordably at $10.50.
Buy from Amazon: $10.49
3. Apple 5W USB Power Adapter
Another pretty good Apple Watch Series 6 charging brick from Apple. As compared to the sibling (mentioned above), it is slightly more compact. However, it offers just 5W charging output which is quite less as compared to the 12W output delivered by the above-mentioned charger from Apple.
Beyond charging capability, the USB Power Adapter is also compatible with Apple Watch SE and older Apple Watch models like Series 1, 2, 3, 4, and 5. As for the price, it also comes at $19.
Buy from Apple: $19
4. ZLONXUN
For the folks who are on the lookout for a relatively low-priced yet decent Apple Watch charging brick, this offering from ZLONXUN could be a deserving contender. The power adapter sports a tiny design and comes with a smart chip that enables it to deliver safe charging.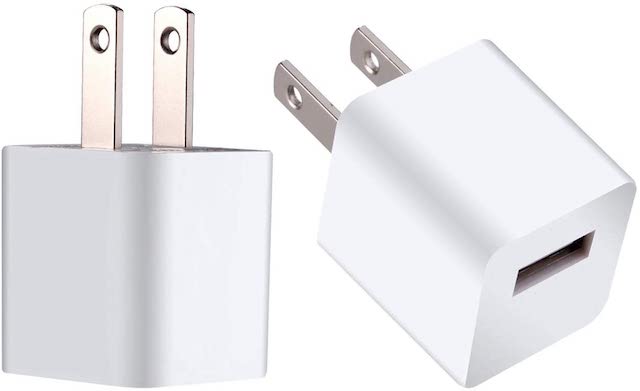 Moreover, it also ensures the device has the required safeguard against hazards like overcharging. The UL/FC/CE certification further enhances the security aspect. On top of all, it comes in two packs at $10.
Buy from Amazon: $9.99
5. Power-7
Power-7 has got you covered in most aspects. The power adapter has got a small form-factor which sacrificing durability. So, carrying the charger shouldn't be a big deal.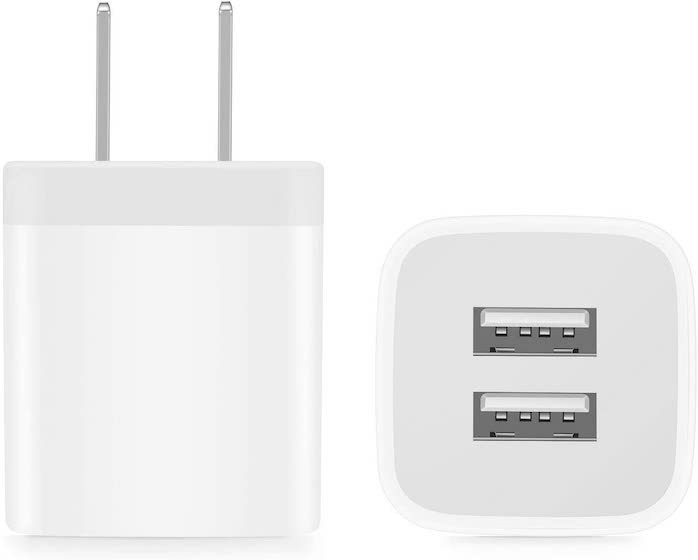 Portability aside, it charges the supported devices at a decent speed. And with the multiple protection systems that wards off threats like short-circuiting and overheating, it also makes sure your wearable device remains shielded against unexpected damage. Better still, the Power-7 wall charger comes in dual-pack at $10, which makes it one of the cheapest charging bricks for Apple Watch 6.
Buy from Amazon: $9.99
6. Amazon Basics
This offering from Amazon Basics is one of the most popular wall chargers for Apple Watch Series 6 on Amazon (4.7 stars out of more than 18K ratings). The 12W wall charger features one port and can deliver up to 2.4 amps of power, which can juice up your Apple Watch at a good speed.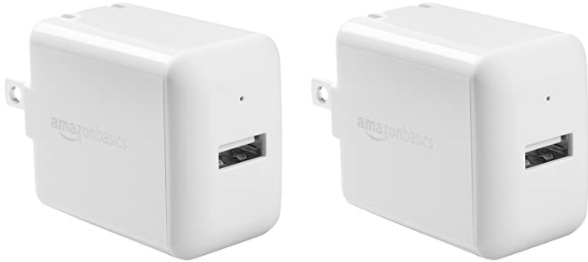 Amazon Basics charging brick is lightweight and comes with internal safety like automatic shut off to prevent overcharging. Priced at $12, it is available in two packs. It's worth noting the company offers wall chargers with 2, 4, and 6 ports as well.
Buy from Amazon: $11.99
7. AILKIN
Power adapters don't have to look mundane. Well, if you prefer to have accessories with vibrant designs, you shouldn't miss out on AILKIN. Unlike other power adapters with a simple white color, it offers chargers in multiple colors like black, blue, green, pink/blue/purple, and more.
Design aside, AILKIN Apple Watch 6 power adapter is equally up to the task when it comes to powering up your smartwatch. The presence of 3-USB output (5V/3.1A total current and 100-240V input) makes it a handy asset for travel. What's more, it comes in three packs so that you will always have a couple of extra packs in the store for an emergency.
Buy from Amazon: $13.99-$14.99
Top Apple Watch Series 6 Chargers You Can Buy
That's pretty much it! So, these are the best charging bricks that can let you securely charge your Apple Watch. Being quite compact, they are easy to carry. On top of all, these chargers are also low-priced as compared to the official charger, which is a big plus if you are willing to cut down extra cost.
By the way, which is your favorite Apple Watch Series 6 charger, and what do you think of Apple's decision of eliminating chargers from the box? Share your thoughts in the comments below.
---
Load More