Our personal life is now wound up in the smartphone we carry along in our pockets. We capture a multitude of photos and videos, which you may want to keep private. But, it's possible that your phone can accidentally fall prey to someone's hands or you may just pass it over to a friend unaware of their true intentions. Well, if you are an Android user, you don't have to worry, as there are several great apps to hide photos and videos on Android. Well, we've compiled a list of the 15 best photo and video hider apps on Android.
Best Photos and Video Hiding Apps for Android (2023)
Here are the best apps that you can use to hide photos and videos on your Android device. You can check the entire list by clicking on the table of content below. You can click on the name of an app to move its location in the article.
1. Google Photos (Locked Folder)
Even though there are a ton of third-party apps that you can use, and we have mentioned a lot of them right below, personally, I think Google Photos is the best way to protect your private photos and videos. The app has a useful 'Locked Folder' utility that you can use to safeguard any personal images that you want to hide. Once you hide photos in the Locked Folder, they are removed from the regular Google Photos library automatically, so you don't need to do that manually. Plus, the photos can only be viewed after authenticating with a fingerprint or a pattern.
What's more, Google Photos doesn't back up any photos you save in the Locked Folder, and it won't even let anyone take a screenshot of contents inside the locked folder for added security.
Download: (Free, usually pre-installed on Android phones)
2. KeepSafe Photo Vault
If you've used an Android app to hide your private photos or videos, you must have heard of KeepSafe Photo Vault. It's been around for quite a while and is still one of the better apps to safeguard your media from others. The app has bagged massive updates over the years, making it cleaner and easy-to-use by all. It lets you lock photos and videos with PIN, pattern, and fingerprint authentication options, post which it shows you a clutter-free and categorized folder grid.
You can jump into any of these folders to add and protect your private photos, videos or personal IDs. You can create new folders of your own, share them with other KeepSafe users and back up all of them to their private cloud space.
KeepSafe brings along a ton of advanced security features, such as fake login PINs, break-in alerts (where a selfie of the intruder, along with time and date of unsuccessful attempts is logged), and disguising the app with a different front-end via Secret Door. But, all of the features are hidden behind a paywall and I recommend you get it if you're really looking to protect your private media.
Key Features:
Easy-to-use
PIN, pattern, and fingerprint authentication
Private cloud storage
Download (Free, in-app purchases)
3. 1Gallery
1Gallery is essentially a photo gallery app for managing photos and videos. However, the prime feature of this gallery app is its ironclad vault which hides photos and videos with strong encryption. There are many apps on the Play Store that allow you to hide photos and videos, but they just use the .nomedia extension to make the media files non-scannable.
But if you use the 1Gallery app to hide photos and videos, no one can find the media files– not even after getting root privileges. There are three password modes available including PIN, Pattern, and Fingerprint to hide your photos and videos.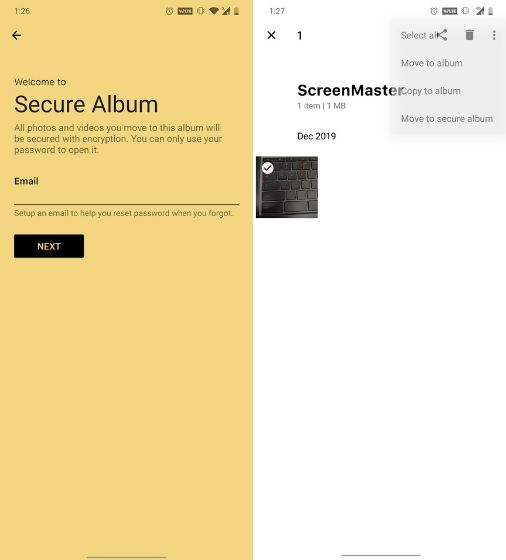 Other than that, the reason I am mentioning this app so high on this list is because of its beautiful user interface. The app is designed impeccably well and looks modern with a new design and approach to user experience.
In terms of features too, there is dark mode, support for different file formats like RAW and SVG, search management, video, and, it can also be used as a photo editor for Android. All in all, if you are looking for the best app to hide photos and videos, I would recommend 1Gallery for its encrypted vault, beautiful design and all-in-one approach.
Key Features:
Encrypted vault
Hide photos with PIN, pattern, and fingerprint
Simple gallery app
Easy to use
Dark mode
Download: (Free, In-app purchases)
4. LockMyPix Photo Vault
Among the whole lot, this was my favorite pick for guarding my photos and videos against the nosy crowd. Called LockMyPix, this aptly-named app is designed to provide the safest photo vault for protecting all your personal media files. It is backed by a military-grade AES encryption standard, and lets you hide photos with PIN or pattern.
It has an intuitive user experience, enabling you to encrypt your photos/ videos directly from the homescreen of the app. You can even instantly click pictures and add them to the vault in a jiffy. The add-on features allow you to unlock the app using your fingerprint, shake the device to lock the vault and even hide LockMyPix from the app drawer.
The cheery on top being that you cannot screenshot the app when it's unlocked, which now also adds to the privacy and security of your content. While the free version offers you a host of functionalities, you also get the option to set up fake login credentials in the Pro variant.
This feature will come in handy when someone is pestering you to unlock the app but you can give them access to a secondary vault with a fake PIN. The only drawback of this app is that you cannot backup private photos/ videos to the cloud.
Key Features:
AES encryption
No screenshots
Hide photos and videos with PIN or pattern
Download (Free, upgrade to Pro version for $1.99)
5. Calculator by FishingNet
Calculator is a unique app in this list that is meant to act and look as a Calculator app, but at the heart of it, the app has a secure vault hidden behind. Basically, if your friends and family use your smartphone regularly then you can use the Calculator app to hide photos and videos without giving any impression that you are hiding something.
You can set a numeric PIN which you will have to enter in the Calculator and press the "=" key to open the secret vault. And the best part is that the media content is encrypted using AES encryption so you are well sorted on the security front too.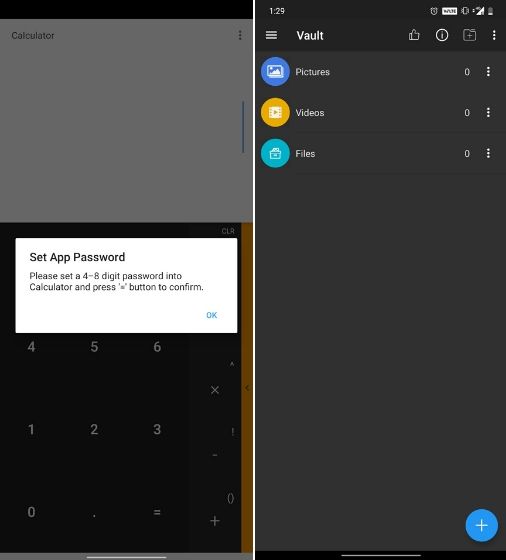 Coming to features, you have something called Intruder Selfie which allows the app to take selfies of users who try to access the secret vault. Other than that, you can set up a fake vault too in case someone forces you to open the secret vault.
Another great feature you get with this app is that you can shake the smartphone to hurriedly close the app and hide photos and videos. Overall, Calculator by FishingNet is packed with features that can enormously help you hide photos and videos from prying eyes.
Key Features:
AES Encryption
Fake Vault
Intruder Selfie
Shake to close the app and hide photos
Download: (Free, Offers in-app purchases)
6. Hide Pictures & Videos – Vaulty
Vaulty is yet another well-known and reliable photo/ video hiding apps, which may look a tad bit dated but performs its job perfectly fine. You can simply jump into the app, select the media files you want to hide from the gallery and password protect it from the outside world.The highlight of Vaulty is that it captures "mugshots" of intruders, who try to access your vault but fail to enter the correct password.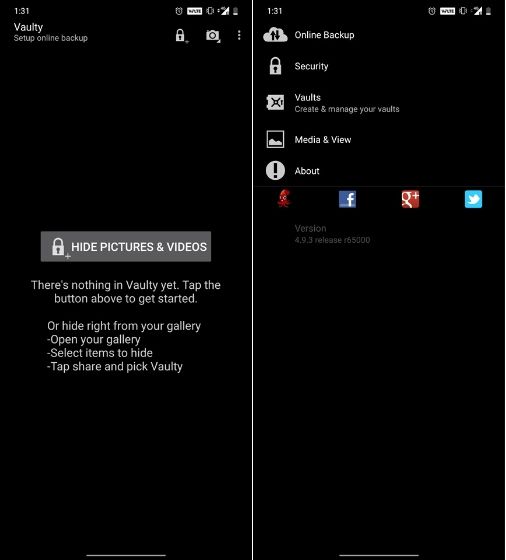 You will instantly know who tried to intervene in your private space, the moment you unlock the app. This feature is available for free to all users, which is definitely a plus. You also get the functionality to create multiple vaults, with separate passwords, to store different types of photos or videos in each one. You'll, however, have to upgrade to the Premier subscription if you want to backup your files to the cloud or remove ads from the app.
Key Features:
Multiple vaults
Intruder 'mugshots'
Directly hide photos from your gallery app
Download (Free, upgrade to Vaulty Premier for $9.99/month)
7. Hide Something
With close to 5 million installs in the bag, Hide Something is one of the most trouble-free apps for hiding photos and videos on your Android device. You can protect photos and videos with PIN, password, or fingerprint. The process of transferring new photos or videos to the 'invisible' folder is as simple as sharing a file with the Hide Something app.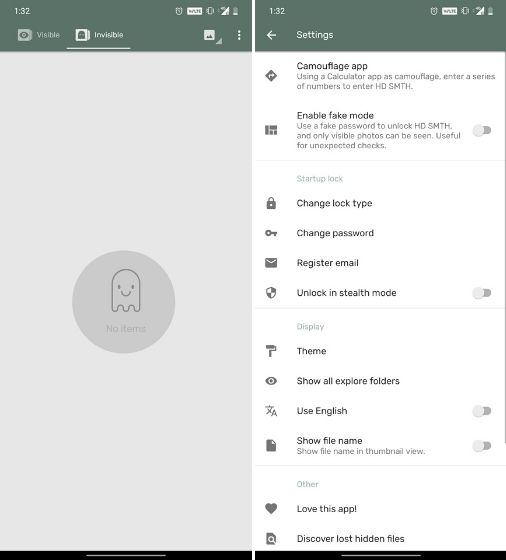 You also get access to a mini collection of beautiful themes, support for a variety of media file types, an advanced image viewer and fake login mode to further protect your privacy. Hide Something is also particular about not being detected, so it doesn't show up in the 'recently used' list.
But, the feature that takes the cake for me is that the app backs-up all your private media files to Google Drive and makes it possible for you to browse them with the desktop browser. This simplifies the process of sifting through and accessing photos or videos for the end user.
Key Features:
Protect photos with PIN, password, and fingerprint
Doesn't show up in recent apps list
Fake login mode
Download (Free, get premium license for $2.99)
8. Google Files (Safe Folder)
Unlike most of the apps mentioned on this list, Google Files is not a full-fledged vault app. However, Google recently added a convenient Safe folder to help you hide your sensitive documents, images, videos, and audio files. You'll find the Safe folder in the Collections section of the Browse tab.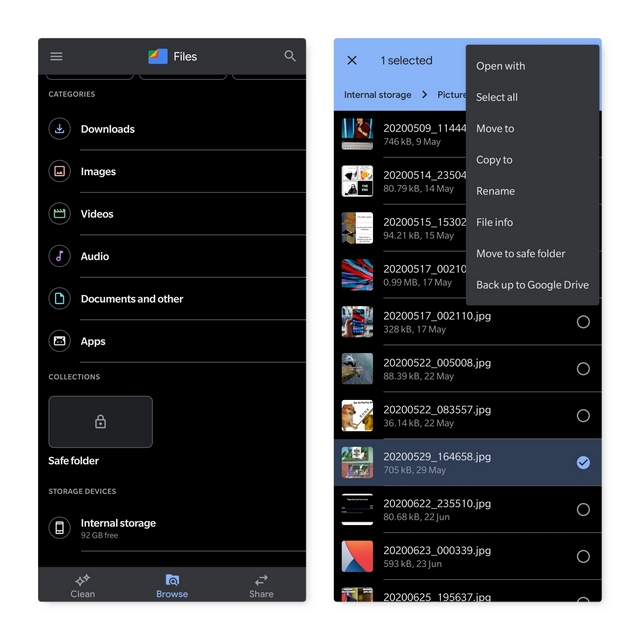 You can securely keep your sensitive files by setting a 4 digit PIN code. That said, do keep in mind that you don't have a password reset mechanism in case you forget the PIN. If you're interested, do not forget to check out our dedicated guide on enabling and using safe folder in Google Files app.
Key Features:
Built in on Google Files
Hide sensitive photos and videos with a PIN
Download (Free)
9. Sgallery
Sgallery is another powerful vault app that you should check out if you want to hide images and videos. The app utilizes AES encryption algorithm to encrypt the files. You also get more features including fingerprint unlock, shake to close, intruder selfie, fake password, time PIN, and custom wallpaper with the premium subscription.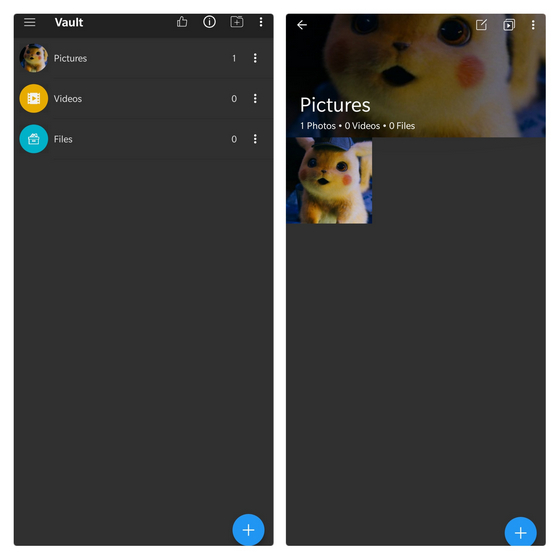 Another neat feature of Sgallery is that you can disguise it as a calculator or converter. This way, others won't know if you have hidden files. You also get a built-in web browser and notepad for safely browsing and storing texts. In addition, the app asks you to set a password recovery question in case you forget your password in the future, which is a neat addition that could come in handy.
Key Features:
AES Encryption
Pattern, PIN, Fingerprint lock options
Dark mode
Intruder Selfie
Download: (Free, Offers in-app purchases)
10. Hide Files – Andrognito
Andrognito, which is an abbreviation for Android + Incognito, is one of the more secure privacy protection apps. It allows you to hide your photos, videos and other files behind strong layers of military-grade AES encryption standards while storing the files in the cloud to free space on your device.
The free version of this app enables you to hide apps in just a single vault, but you can purchase the PRO version to create more private vaults, access your vaults via the cloud backups on multiple devices and gain access to additional features. It will also remove intrusive ads that annoy me almost instantly.
Unlocking the PRO version of the app will get you the fake vault spoofing, invisible icon, fake force close, and custom theming feature as well. But, the simplistic interface of this app had me attracted to it in the first place.
Key Features:
AES encryption
Cloud backup feature
Download (Free, in-app purchases start at $0.99)
11. PhotoGuard
PhotoGuard is another app that you can use for hiding photos and videos on your Android device. It comes with AES encryption instead of TKIP, and your media files are highly protected and can't be brute-forced to open the vault. Other than that, PhotoGuard offers cloud backup and claims that it keeps the encryption always on– be it on the device or cloud.
Furthermore, you can secure your photos and videos using a PIN, Pattern, Password or Fingerprint. And the best part is that you can add an additional layer of security even inside the vault. For example, you can set a password for albums inside the vault so that is great.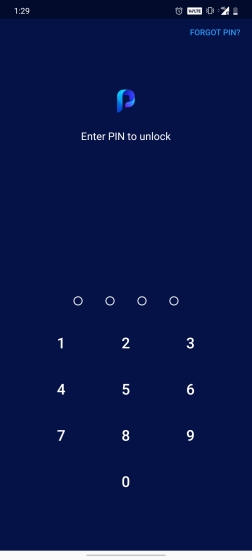 Further, PhotoGuard brings break-in alerts which will take pictures of the intruder and will log the time so you can find the intruder. There is also a photo viewer and video player integrated inside the vault which supports a long list of file formats. Obviously, this isn't a very feature-rich video player, but if that's what you're looking for you should check out the article on the best video players for Android.
Other than that, you get a private camera that you can use for taking photos and keeping them inside the vault, out of the reach of other gallery apps. Simply put, PhotoGuard is one of the best apps to hide photos and videos and you should definitely take a look at its features.
Key Features:
AES-256 bit encryption
Hide photos and videos with PIN, pattern, password, and fingerprint
Break-in alerts
Private camera
Download: (Free, Offers in-app purchases)
12. Pinbox
Another app to hide photos and videos on your Android phone is Pinbox. With this app, you will be able to easily and safely hide your personal and private images as well as videos from prying eyes. You can simply select the photos you want to hide and save them in Pinbox. The app supports fingerprint and PIN to unlock your secure gallery. Plus, it also comes with break-in detection so you can see if anyone tries to access your hidden photos without your knowledge or consent. Pinbox encrypts hidden photos using the AES algorithm, so you can rest assured that the pictures and videos are safe.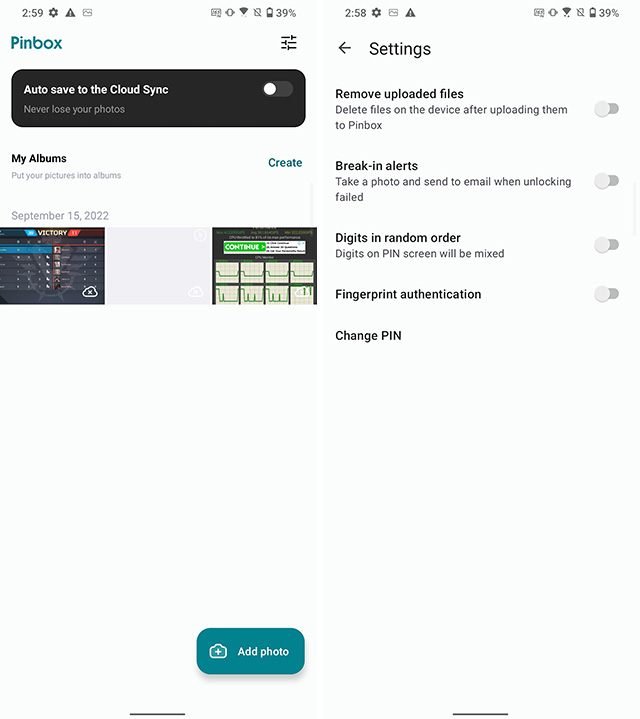 Download: (Free, offers in-app purchases)
13. FotoX
FotoX is one of the best apps to hide photos and videos on Android. The app comes with a clean user interface and you can add sensitive photos to the app gallery. The photos are backed up to cloud storage in case you want to access them on the go. The developers have ensured that this is the perfect app to hide photos by adding features like a fake crash dialog box which gives the impression that the app has crashed so that no one can access your hidden photos. The break-in attempts to access the app using the wrong PIN or pattern are also recorded by the app. Plus, there is an advanced security option that blocks any attempt to uninstall the app.
Key features:
Fake app crash dialog box
Blocks uninstalling the app
Download: (Free, Offers in-app purchases)
14. Clock Vault
This is another secretive app to hide photos and videos. The app offers a vault where you can store your photos and videos and lock the app with a pin or passcode. Inside the app, you have the option to choose the album cover photo of your choice to make the album seem unsuspicious. While the default icon of the app is already a clock, you also have the option to customize it to whether, music, a calculator, etc. There's also a decoy vault which you can open by entering a fake PIN to protect your real photos. Alternatively, it can also work as additional photos that are not so secretive.
Key Features:
Decoy vault
Option to customize app icon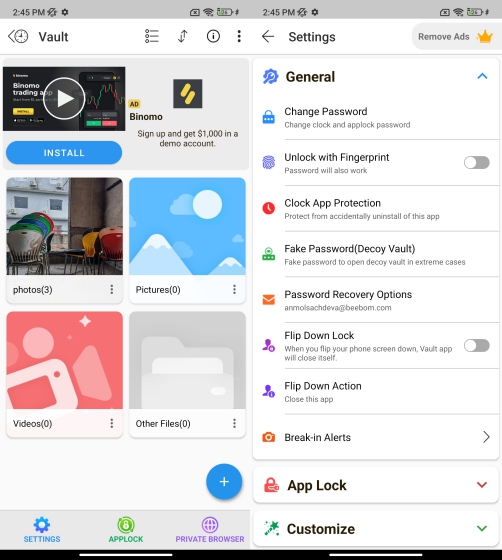 Download: (Free, offers in-app purchases)
15. Neo Vault
The last app in our list of best apps to hide photos and videos on Android is Neo Vault. Like other apps here, this also helps you hide your photos and videos behind a PIN. However, the minimalist user interface and no ads are something that makes it stand out and it does the job of a vault perfectly well. All the photos are encrypted using AES-256-bit encryption and can be backed up to your Google drive. Batch selection and deletion are also allowed in the vault.
Key Features:
No ads
Photos are backed up to your Google drive account
Download: (Free, offers in-app purchases)
Native Apps to Hide Photos and Videos on Android ROMs
There are plenty of apps on the Play Store with a great range of features and functions for hiding photos and videos. However, lately, smartphone makers have started incorporating those features right into the operating system. So you don't need to use third-party apps from the Play Store. In this section, we are bringing some of the apps and methods for popular Android skins like OneUI, MIUI, ColorOS, and more. So here you go.
Samsung (OneUI)
There are a lot of great features in OneUI, and Samsung has something called Secure Folder which is an encrypted space where you can store all your photos, videos, and files. It uses Samsung's hardware-based Knox security platform to protect your data so the protection you get with this feature is top-notch. First of all, you need to set up Secure Folder from Settings -> Biometrics and Security -> Secure Folder. Here, set up a PIN and go through other options. After that, open the Samsung Gallery app and select your photo and move them to Secure Folder. You are done.
Xiaomi (MIUI)
On Xiaomi smartphones running MIUI, you can hide photos and videos through the native File Manager app. Just select the media files and tap on the 3-dot menu and select "Hide". It will prompt you to set up a PIN or password and there you have it. If you want to access these media files, you can access them from the Hidden file section in File Manager after successful authentication.
Realme (ColorOS)
Similar to Samsung, Realme has "Private Safe" that ships with ColorOS and is one of the most useful ColorOS features. You can enable it from Settings -> Security -> Private Safe. Now you can move your photos and videos or any other files to Private Safe. It will be available in a separate folder on your home screen or launcher.
OnePlus (OxygenOS)
On OxygenOS, you can enable "Lockbox" from the native File Manager. You can set up a PIN and move your media files including photos and videos to the Lockbox. However, keep in mind, it does not deploy encryption like Samsung devices.
Best Apps to Hide Photos and Videos on Android
Well, that was how to hide photos on Android using third-party apps as well as Google-developed solutions. We also included some of the methods that you can use on custom Android UIs such as OneUI, MIUI, and others. Hopefully, at least one of these methods will be suitable for your needs. So, which app are you thinking of using for protecting your secret photos? Let us know in the comments. By the way, if you have some private files on your computer, you might want to lock your files and folders on Windows as well.
---
Load More