We love taking pictures on our smartphones, especially since most Android smartphones these days come equipped with exceptional cameras. Thus, it's important that the Gallery app on our Android device is fully equipped to manage the tons of photos we are taking. While smartphone manufacturers mostly include a photo management app aka a Gallery app by default, they most certainly aren't the best. Some are slow to load pictures, some aren't too good at sorting, while some are just too simple to our liking. So, if you've been wanting to use a better Gallery app on your Android smartphone, we are here to your rescue. Here are the 10 best Gallery apps for Android you should be using in 2020.
Best Gallery Apps for Android in 2020
1. Google Photos
Chances are, you already have Google Photos installed on your Android smartphone and if you indeed have, you certainly have the most intelligent and advanced Gallery app out there. The official Gallery app for Android packs in features like visual search, which lets you search for photos with the things associated with them. You can type something to search or you can even enter an emoji to search for a picture. It also lets you create cool albums, collages, animations and movies. Also, the app automatically categorizes pictures based on place, common things, and people.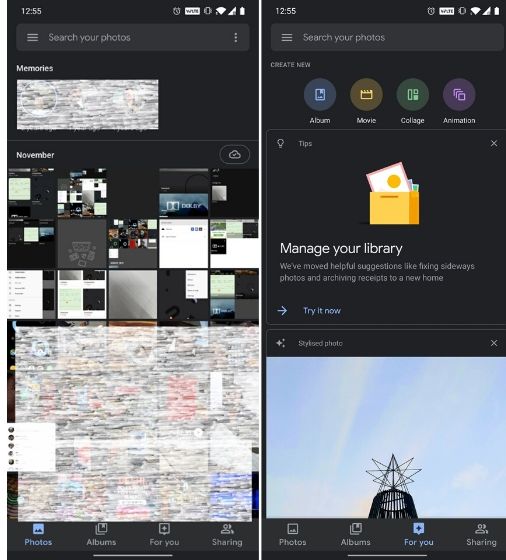 Google Photos also lets you store high quality pictures in Google Drive, so there's that. I also love the new sharing feature on Google Photos which allows users to securely share photos. Then there's the built-in basic photo editing features that allows users to quickly edit their photos. Overall, there's a lot to like here and I think this is one of the best if not the best Android gallery apps that you can use.
Install: (Free)
2. Simple Gallery Pro
After Google Photos, Simple Gallery Pro is my pick for the best Gallery app on Android. As the name suggests, it's a simple and neat looking app with all the popular features packed into one. If you remember QuickPic from the heydays, it's strikingly similar to that, but minus any ad or bloatware. You can organize your albums, protect and hide photos, recover deleted files and a lot more. Apart from that, the app also has some great tools including crop, rotate, filters, resize and more. You can also view many types of photos and videos like RAW, SVG, panoramic, GIF, etc. All in all, it's a great and simple app and worth the extra bucks. If you want the free version of this app, it's available on the Play Store, but it's not longer in development. Anyway, if you want a lightweight Gallery app, Simple Gallery Pro is the one to get.
3. Memoria
Memoria is another excellent gallery app on Android that you must try. It's filled with interesting features and the UI is pretty great. For comparison, it looks like your dashboard on Instagram. The photos are organized in both album and photos mode in separate tabs so you can easily find what you are looking for. The best part about this app is that it supports gestures to pull out details, rotate images, and hide photos. There is also a hidden vault in case you want to protect your photos and albums. Having said that, what I love about Memoria is its design and overall UI experience. It follows the design principle of Material Theme and also supports true AMOLED black for users who love dark mode. To sum it up, Memoria is an excellent example of an app that has both form and function. And in case, if you want more features, you can get the Pro version of the app.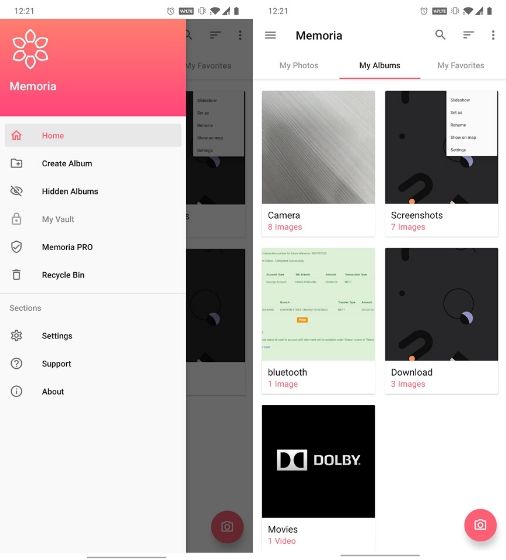 4. Focus Go
Focus Go is a new Gallery app by Francisco Franco who had developed the popular Focus app. Now, he is no longer developing the old gallery app and instead, bringing new and exciting changes to Focus Go. In my testing, it seemed the best-designed gallery app on Android that comes with a card-like interface. The principle behind Focus Go is simple: provide a big canvas to view photos with only necessary details. It's not cluttered with countless features, but offers photos in chronological order and loads up different types of images instantly. So the bottom line is, if you liked Focus from earlier days, the new Focus Go app will make the experience even better.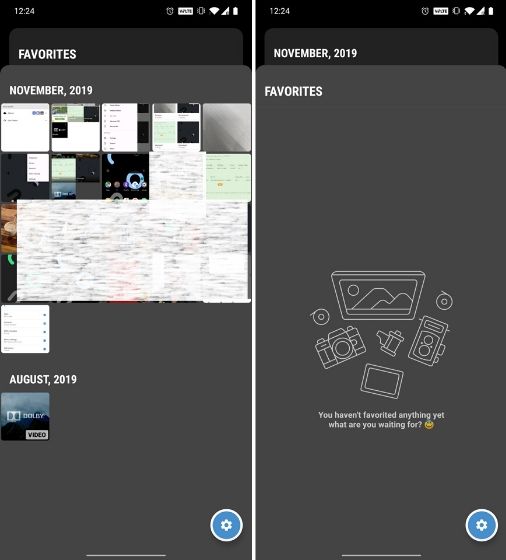 Install: Focus Go (Free)
5. Gallery
Gallery, as it's aptly named is a well-designed Gallery app for Android smartphones. The distinctive feature of this app, apart from being simple and easy to use is that it's completely ad-free and there is no bloatware whatsoever. That's simply great, right? It does not use network data for what it's worth and there is no cloud integration in the app. The developer has tried to create an offline gallery app that just works. With that said, you still get advanced features like face and scene recognition similar to Google Photos; a stories-like feature called happy moments and more. I would say Gallery is among my favorites because of its neat UI and no ads philosophy. You should definitely check out this gallery app.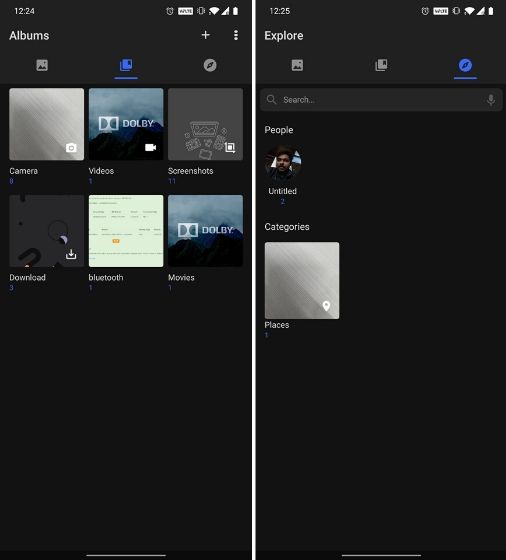 Install: Gallery (Free)
6. Piktures
Piktures might not be as popular as others on the list but it has definitely got one of the most intuitive interfaces out of the lot. The app includes a number of intuitive gestures to make navigation a lot more easy. The albums are available on the left edge, while the filters/tags are available on the right edge. The app also includes a cool calendar view and location view, which shows the pictures inside a calendar and pictures taken at various locations, respectively. Along with the beautiful interface, it features a Secure Drive, protected by a PIN, where you can save your personal pictures and videos. Other features of the app include GIF & video support, ability to view EXIF data, slideshows etc.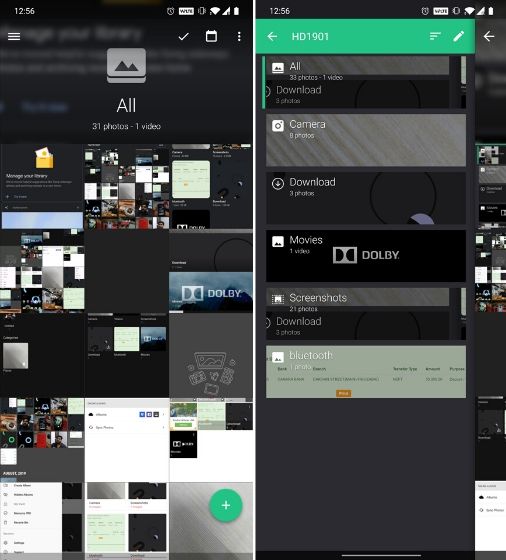 Install: (Free with in-app purchases)
7. F-Stop
If you want a Gallery app that's lightning fast, you should check out the F-Stop Media Gallery app. Along with its fast experience, the Gallery app offers various features like tags, themes for the app, ability to read metadata (EXIF, XMP, IPTC) data right from the image, metadata based search, GIF support, lock pictures & videos with password protection, slideshow mode with different transitions to choose from and more. It also includes a cool location mode based on Google Maps, where you will find pictures based on location in the map. While the aforementioned features in the app are free, there is a Pro version of the app that brings the ability to save tags & ratings in XMP format along with features like drag & drop support, nested folders and more.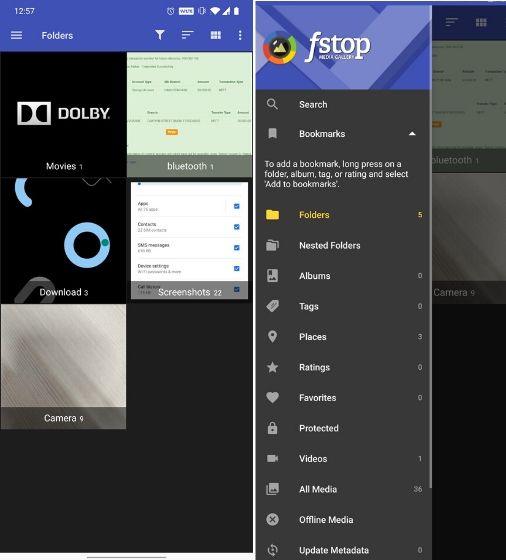 8. Camera Roll
Camera Roll is a simple and intuitive gallery app that became quite popular after QuickPic was taken down from the Play Store. It has a straightforward interface which organizes your photos and albums in chronological order. The focus is always on finding the new media and I love that thing. It also supports a range of file formats including PNG, RAW, and GIF. Apart from that, you can view EXIF data of photos which is great; create virtual albums without having to create a new folder; hide photos in a vault and more. All these features make Camera Roll one of the best Android gallery apps. However, keep in mind, the Camera Roll app is not being developed actively right now so you might not get the latest features. That being said, it's still one of the best out there.
Install: Camera Roll (Free)
9. A+ Gallery
A+ Gallery is one of the highly-rated gallery apps on the Play Store and it does look great. It comes with countless features including viewing, editing, syncing and more. In a way, it's a complete app in itself where you can view your photos, edit them and also sync it with any cloud service of your choice. Besides that, the app is quite simple on the first launch, but you can also customize it with many available themes. Apart from that, what I love about this gallery app is that it has a great search engine just like Google Photos. You can search for photos or videos by date, location and even image color which is simply amazing. So, if you want a feature-packed Gallery app on Android, give a shot at A+ Gallery. The only downside is that it shows ads in the main UI, but you can remove them using in-app purchases.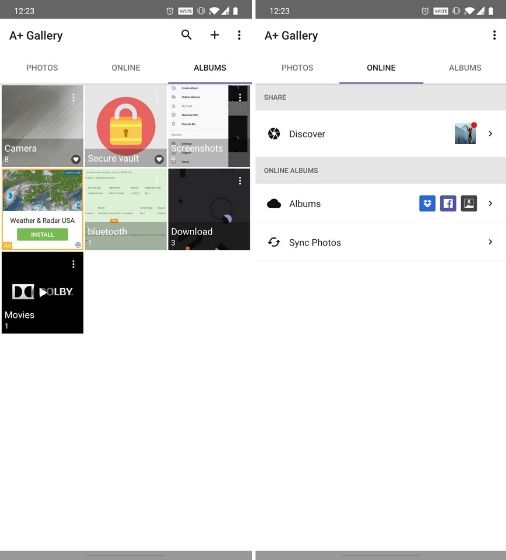 Install: A+ Gallery (Free, Offers in-app purchases)
10. Gallery Go
If your smartphone is showing its age then may I suggest a better alternative than Google Photos? Well, Gallery Go is a stripped-down version of Google Photos and it's created by Google for lower-end devices. It supports Google Photos backup and you get all your photos and albums in separate tabs but in a slim and lightweight package. That being said, you can also use it on any smartphone if you want a simple gallery app that loads your photos instantly. Not to mention, Gallery Go also comes with dark mode, editing, and auto organization features. So to put it straight, if you are looking for a gallery app without any bells and whistles but with solid basics, Gallery Go is the best app in this list.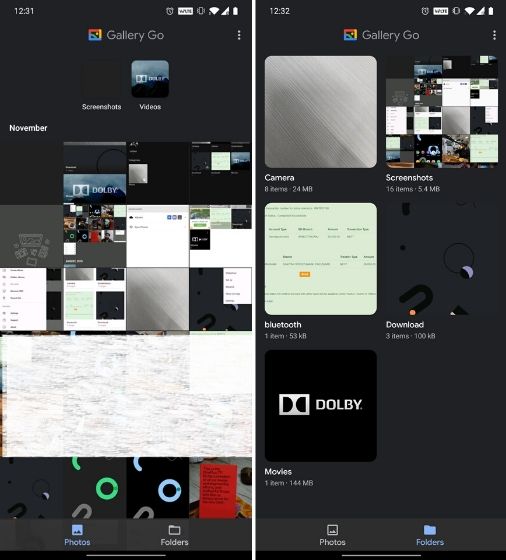 Install: Gallery Go (Free)
Organize Your Photos with Alternative Android Gallery Apps
These are most certainly the best Android gallery apps out there and you should give them a try. These apps should fulfill your need of a gallery app that is fast, better at organizing your pictures, and brings additional cool features. So, install these apps and do let us know your favorite gallery app for Android. Sound off in the comments section below because we love hearing from you!
---
Load More