A calculator app is one of the most basic yet important apps on your phone. You need to deal with calculations everyday and a calculator app allows you to use your smartphone for all the calculations on the go. Even though the default calculator app in most Android smartphones today is fairly feature packed and capable enough to handle a few complex equations. If you need a scientific calculator that can help you with all types of calculations and math problems, you will have to go for a third-party calculator app. Fortunately, there are many cool calculator apps available for Android that offer reliable features and the power to solve complex problems. We bring you a list of the 12 best calculator apps for Android to help you with all your calculations in 2020.
Best Calculator Apps for Android in 2020
1. MyScript Calculator 2
MyScript Calculator 2 is not only a powerful calculator app but it also makes calculations fun. Instead of entering numbers using a keypad, you can just write it on your screen and it will identify them. And this feature is not a gimmick. It makes it easier to enter complex calculations. If you want to enter mathematical symbols, you can just draw them. You don't have to spend time figuring out which page of the calculator holds what symbols. It also brings intuitive gestures that make it easy to edit or delete calculations. You can also save the results to the app's memory and reuse them later. Overall, I found this app to be one of the best calculator apps for Android. I love using it and recommend it to anyone who is looking for a natural calculator app.
Install: ($2.99)
2. HiPER Scientific Calculator
HiPER Scientific Calculator is a great calculator app for anyone who is looking to replace their clunky scientific calculators. What I love the most about this calculator, apart from its features, is that it has three layouts — pocket, compact, and expanded. The first layout is perfect for small phones, second for regular size phone, and the last for tablets. So no matter what's your device size, you can utilize this calculator on your phone.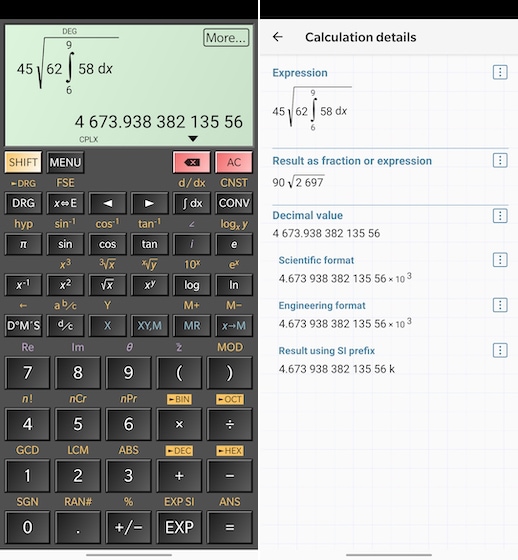 Talking about its calculation prowess, HiPER Scientific Calculator brings features including expression view, number notation, graphing capabilities, support for derivatives and integral operations, memory operations, Base-N calculations, and more. You can check out all its features in the image below. If you need to use a scientific calculator, this is the best calculator app on the Play Store right now.
3. CalcKit All-in-One Calculator
If any other scientific calculator just doesn't cut it for you and you're on the lookout for a single calculator app that will be able to do it all, then you should definitely check out the All-in-One Calculator app from CalcKit. The app features over 150 calculators and unit converters, a highly customizable scientific and RPN calculator, a floating calculator widget, editable calculator history, and much more.
With this set of calculators, you'll be able to solve everything from complex 3D geometry to simple unit conversions right from within the same app. The CalcKit All-in-One Calculator is a great option for both students and professionals who find themselves using a variety of different calculators often in their daily lives.
Install: (Free)
4. Calculator by Google
If you are looking for a clean calculator app with basic home and school needs, there's no better app out there than the default calculator app by Google. Its material design UI with clean and colorful elements make it stand out from the crowd. It's the perfect example of good use of material design language. The app lets you perform basics calculations such as addition, subtraction, multiplication, and division along with some advanced operations such as trigonometric, logarithmic, and exponential functions. As I said, it's not for people who are looking for extra capabilities, but for users with simple requirements, this is perfect.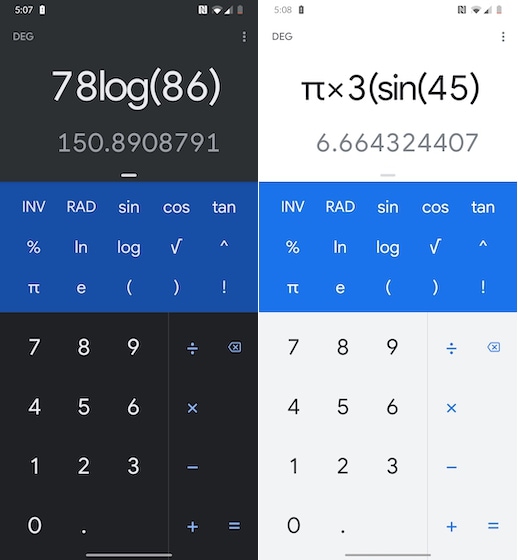 Install: (Free)
5. Photomath
Photomath is a handy little calculator app that will allow you to solve any handwritten equation just by pointing your phone's camera at it. The app works incredibly well, taking mere seconds to identify the handwriting, solve the equation, and deliver the answer. The app supports a vast variety of mathematics equations, including arithmetic, algebra, trigonometry, logarithms, derivatives, integrals and a lot more. A similar kind of functionality is also offered by Google Lens, however, in our testing we observed that Google's handwriting recognition capabilities were not up to par, with Google Lens misreading some parts of the equation more often than not.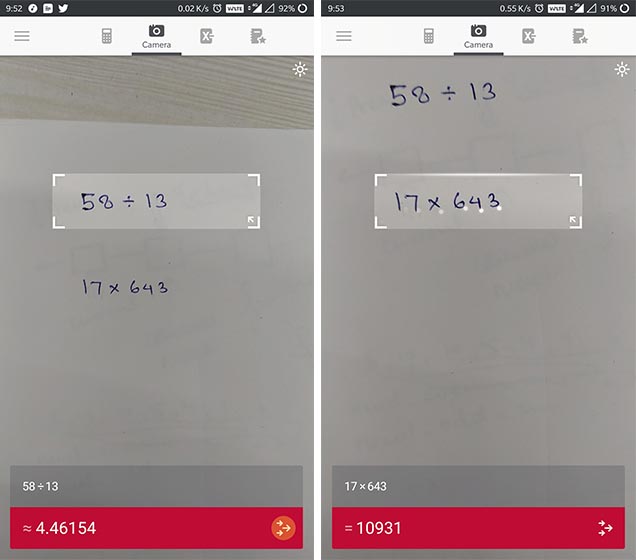 Install: (Free)
6. Calculator++
Calculator ++ is another smartly designed calculator app for Android, which has an interface similar to Google Calculator. It has two basic layouts, Standard and Engineer. Standard mode offers basic calculation tools along with multi digit support, one-tap copy/paste and other basic math tools, such as constants. In the Engineer mode, you can use advanced tools to solve problems like logarithms, trigonometry, powers etc.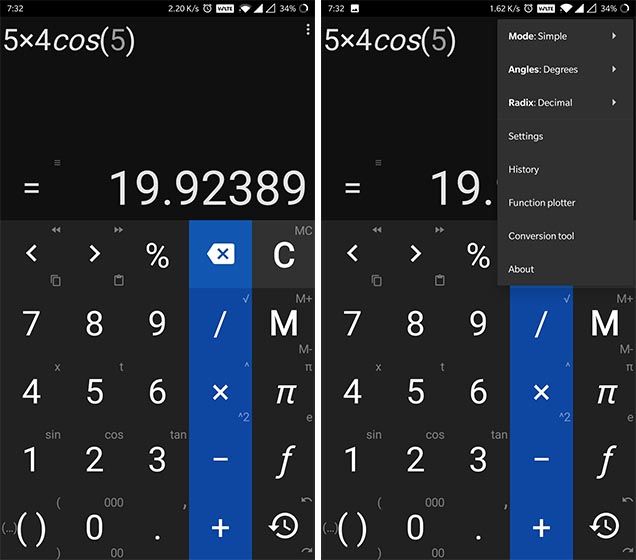 Calculator ++ offers automatic solutions, so that you can quickly enter values and get results. It even includes gestures, which make the experience a breeze. Furthermore, you can also change calculator themes and use the homescreen widget for quick access. One cool feature I really liked, is its floating window feature, which lets you use the app on top of other apps, to do calculations on the go.
Install: (Free)
7. Scalar
What sets Scalar apart from other calculator apps on this list is the fact that it isn't any old scientific calculator; instead it's a powerful math engine and math scripting language that will allow users to write scripts that are capable of significantly accelerating their work flow. Granted, the calculator is a bit too advanced for the average user, but it's a perfect fit for advanced users looking for a calculator that allows them to create scripts to simplify their work. Additionally, the calculator also allows users to create highly personalized function charts that can be shared with other users.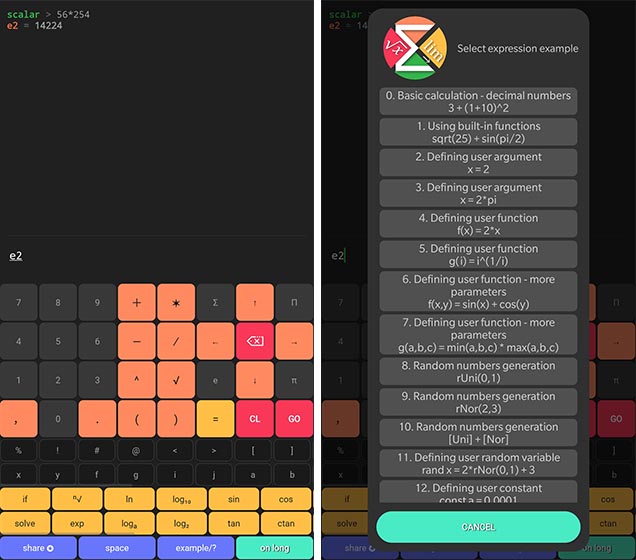 Install: (Free)
8. Desmos Graphing Calculator
If you're looking for a calculator that is capable of instantly plotting any equation on a graph, then the Desmos Graphing Calculator is your best bet. The app includes support for plotting polar, Cartesian and parametric graphs, allows users to adjust values interactively with sliders, input and plot table data, and a lot more.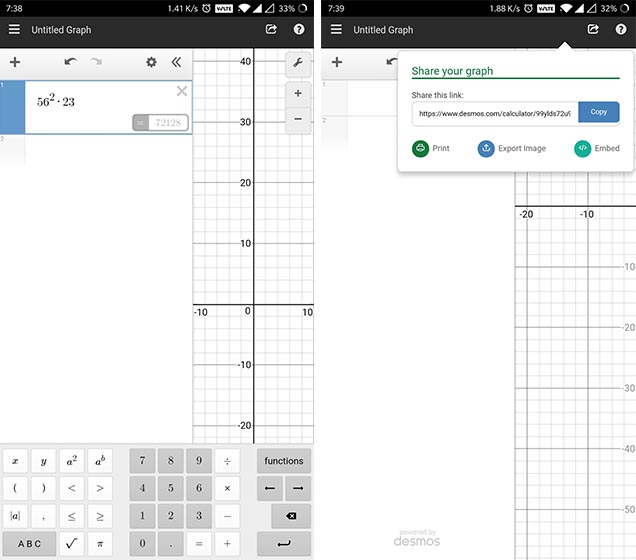 On top of all of its graphing capabilities, the Desmos Graphing Caluclator app can also be used as an advanced scientific calculator, offering all of the features you'd find in other popular scientific calculators.
Install: (Free)
9. Calculator Plus
Calculator Plus has an interface very similar to a handheld digital calculator. It can do all the basic functions you need for quick calculations. In addition, it offers a memory feature, which is found on most digital calculators to store and recall calculations from the past. The app no longer features a scientific calculator, however, it still offers a great companion app that can be used for easy conversions.
The conversions app features all of the features you'd expect from such an app, including accurate currency conversions. Furthermore, Calculator Plus keeps a complete record of your calculations and never forgets them even if you close the app. You can see the complete history along with how the equation was solved.
Install: (Free)
10. GeoGebra
As the name suggests, GeoGebra focuses on solving the graph functions used in geometric operations. With GeoGebra, you can do calculus, statistics, geometry and algebra. The app has a very simple interface, which makes it very easy to create graphs and shapes. Graphs can be created by dragging & dropping shapes and you get complete power to manipulate the graphs using your fingers. All mathematical commands are available to use, giving you total control over your graphs. Another cool feature of GeoGebra is the ability to check real-time changes in your calculations and variables in the bottom window, while you are working on a graph.
Install: (Free)
11. CalcNote
CalcNote offers a Notepad-like interface, where the problems are listed in the left half and the calculations in the right half. It's best for managing accounts and finances, as its lets you use all the advanced math operators and calculates instantly as you type. You can see all the entries & calculations and if you make a mistake, you can correct it any time. The results can also be shown in Hexadecimal, Octal or Binary, if you need. You can also calculate taxes with a single tap and connect calculations by connecting lines. Additionally, it also comes with built-in themes to change the look of the calculator and customize its layout.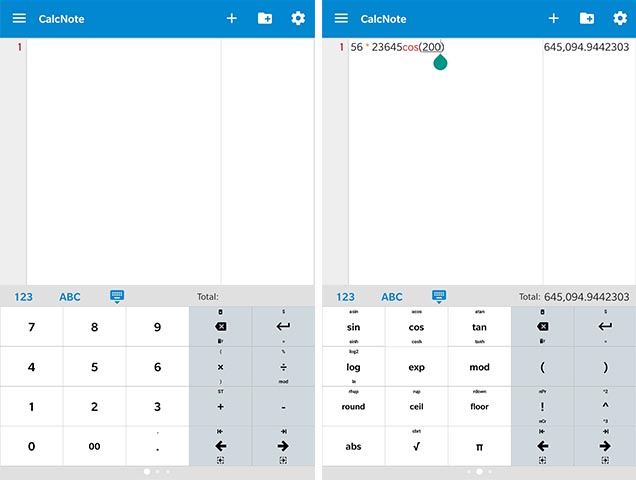 Install: (Free)
12. Stylish Calculator
If you want a calculator app with a bit of flair, check out this Stylish calculator. Instead of using the boring grey or black theme, you get to choose from a variety of colorful themes. But don't think that this app is only about looks. While it's not as powerful as a dedicated scientific calculator, it brings plenty of features. Just swipe on the screen and you will be presented with all the capabilities you need for work and school. It also brings features such as calculation history, user-defined constants, memory keys, and more. Overall, it's a good calculator app with a bit of style. That said, I do hate the ads on this one. So, if you are planning to use this, make sure to remove them using in-app purchases.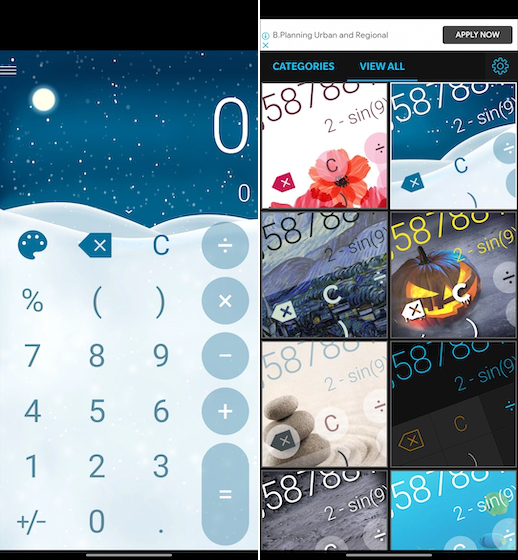 Install: (Free, $1.99 to remove ads)
Use These Top Android Calculator Apps
With access to these awesome calculator apps for Android, you can easily solve most math problems. We have featured both simple and scientific calculator apps, along with apps with some added functionalities like handwriting recognition. Do check these app out and let us know which calculator app was perfect for your needs. Also, if we missed out on a good calculator app, mention it name in the comments below.