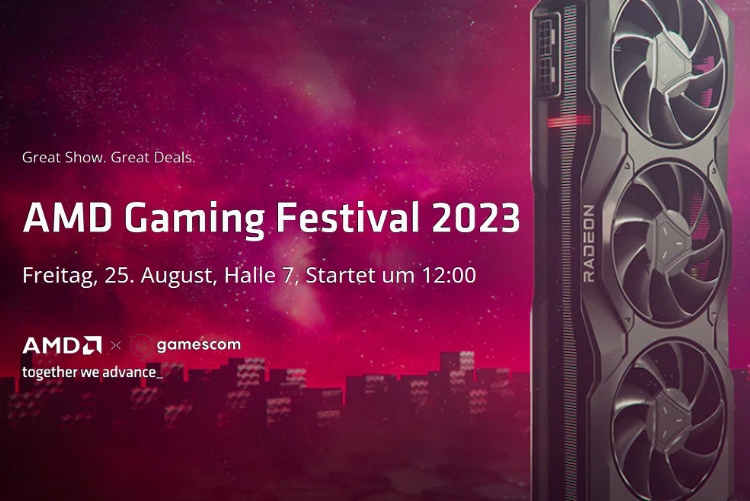 It's been quite some time since AMD launched the RDNA 3 lineup of their new Radeon graphics cards, but they hadn't introduced any mid-range GPU offerings. Team Red first only released enthusiast-class GPUs, namely the Radeon RX 7900 XTX and 7900 XT. But, AMD will finally launch new Radeon graphics cards and potentially even FSR 3 at Gamescom 2023 (runs from August 23-27). This annual event is a massive trade fair for gaming enthusiasts and sees many hardware companies showcase their latest technologies. Let's have a look at what AMD will have in store for us.
AMD Radeon RX 7800 XT/ 7700 XT Launch Expected Next Week
Scott Herkelman, the Senior VP & GM of AMD's Graphics Business, took to Twitter to confirm that the AMD Radeon team will be holding a press conference at Gamescom 2023 to showcase their "next major product announcements."
The AMD event is happening in Cologne, Germany next week on August 25th, 2023 at 12:00 PM (local time). During the earnings call of Q1 & Q2, AMD CEO Lisa Su mentioned that certain RDNA 3 GPUs will come out before the end of 2023, so this announcement is surely in line with previous statements.
Currently, the RX 7000 series GPU lineup includes the RX 7600 on the lower end, which competes with the Nvidia RTX 4060, and the RX 7900 XT & XTX GPUs on top to compete with Nvidia's RTX 4080. And NVIDIA has already launched the RTX 4070 Ti, RTX 4070, & RTX 4060 Ti graphics cards across price points in the mid-range & high-end GPU market.
AMD has only had the lower-end and enthusiast-class offering till now, and gamers have been eagerly waiting on Team Red to unveil new GPUs to complete the RDNA 3 lineup. Though it hasn't been confirmed which GPUs will be unveiled at the event, we are highly likely see the following graphics cards from AMD at the Gamescom 2023 event next week.
RX 7700 XT
RX 7800 XT
RX 7600 XT
Possibly others (like non-XT variants)
AMD Radeon RX 7700/ RX 7800 Leaks & Rumors
If we consider what we have heard from the rumor mill, at least two RDNA 3 graphics cards are expected to launch at this event. According to a previous leak by hardware analyst Jon Peddie, it was stated in his report that AMD will launch new RX 7000 series GPUs by the end of August. So, part of his leak has been confirmed since the Senior VP confirmed AMD's presence at the Gamescom 2023 event. In this same report, he stated that AMD is expected to announce at least two, and maybe five, new GPUs. This is definitely exciting news.
To give you numbers of the expected performance, below is an estimated benchmark of RX 7700 and RX 7800 GPUs based on their leaked specifications. These cards were not actually tested, so these numbers are highly speculative. Still, the numbers showcased for RX 7800 and 7700 GPUs are pretty interesting. The RX 7800 seems to be placed slightly below the RTX 4070, and the RX 7700 is placed right below the RX 6800. With the right price point, AMD could definitely get many gamers interested in these new GPUs.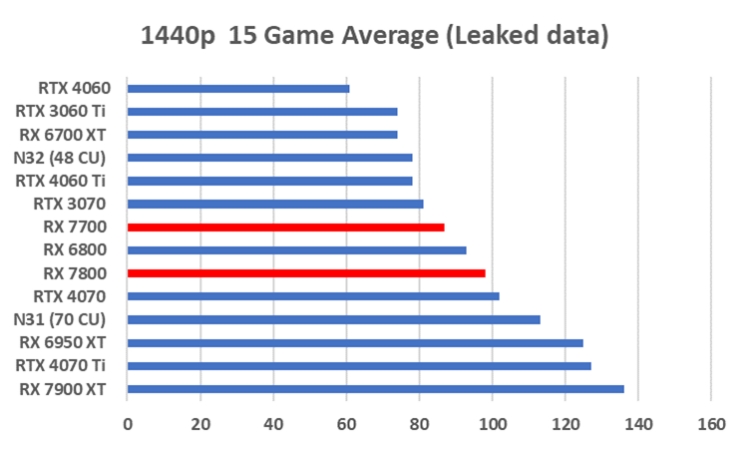 What do you think about AMD's upcoming RX 7000 Series GPUs? Is there a particular GPU you would like to see being launched? Let us know in the comments below. By the way, here are the best graphics cards for gaming to help you choose your next GPU.
---
Load More