The RTX 4060 Ti is finally here, arriving with the base RTX 4060 at an attractive enough price point to make gamers consider upgrading their graphics card. But should you? We will be going in-depth and comparing the RTX 4060 Ti to its competitors as well as older NVIDIA GPUs to give you a definitive answer. This and the lower-end 4060 make up NVIDIA's mid-range RTX 40-series GPU lineup, alongside the higher-end RTX 4090 and 4080 graphics cards. Now, with the RTX 4060 Ti, gamers have something new to buy and potentially upgrade their existing GPUs. So let's look at whether the RTX 4060 Ti is worth buying or not.
NVIDIA GeForce RTX 4060 Ti: Specifications
| | |
| --- | --- |
| VRAM | 8GB/ 16GB GDDR6 |
| Memory Interface | 128-bit |
| Core Clock [Base / Boost] | 2310 MHz / 2540 MHz |
| CUDA Cores | 4,352 |
| Transistor Count | 22,900 Million |
| Manufacturing Process | 5nm |
| Architecture | Ada Lovelace |
| RT Cores | 3rd Generation |
| Tensor Cores | 4th Generation |
| TGP (Total Graphics Power) | 165 W / 160 W |
| Streaming Codec | NVENC with AV1 |
Keep in mind that these are the specs of the NVIDIA 4060 Ti Founders Edition card we have received as a review unit, and the clock speeds of a GPU can change depending on which brand it is from, and whether it's factory overclocked or not. As you can see, NVIDIA has stuck to 8GB VRAM on the base variant, which is disappointing for many gamers. So, we will answer if you should get the 8GB or the 16GB variant of the RTX 4060 Ti.
In the last generation, the 3060 Ti was available as an 8GB variant but NVIDIA offered 12GB of VRAM on the RTX 3060 instead (albeit, slower VRAM). But for the current-generation RTX 40-series GPUs, they have given the option of 16GB VRAM on the RTX 4060 Ti at a $100 premium over the base variant. So, for people who are worried about running out of VRAM in games and want to futureproof their system, they can get the 16GB variant instead.
NVIDIA GeForce RTX 4060 Ti: 8GB vs 16GB VRAM
Is 8GB VRAM enough for RTX 4060 Ti? Let's address the elephant in the room, the VRAM problem on the RTX 4060 Ti. Whether you play on 1080p (FHD) or 1440p (QHD), a higher VRAM can help in making your PC more futureproof. It's not news that sometimes (actually, in most scenarios) games are exaggerating their VRAM consumption. But slowly, the VRAM requirement in games has been going up in recent years.
One example is Resident Evil 4's Remake – a recently released AAA title by Capcom that resulted in crashes on our Beebom Test Bench PC, which has an i7-13700KF and RTX 3070 Ti (check out the i7-13700KF CPU benchmarks here). The 3070 Ti has 8GB of GDDR6X memory, and while the card is plenty fast, the VRAM being limited caused the game to crash at higher settings.
In any other scenario, even if the game tells me that the VRAM limit is being exhausted, it still wouldn't crash and the 3070 Ti would handle every game like a dream especially when paired with a little bit of DLSS magic.
So, that game became one of the first instances where VRAM was an issue. Simply put, moving forward, some games might require you to have more than 8GB of VRAM to max out the graphical settings. As for Capcom's RE4 Remake, it is true even at the 1080p FHD resolution. So, if you want to max out in-game graphical settings, get the RTX 4060 Ti's 16GB VRAM variant. Otherwise, you'll definitely have to manage expectations and lower the in-game graphics to ensure everything remains stable.
And well, after spending Rs 41,000/US$399 on a brand-new graphics card upgrade, many gamers don't want to hear about lowering their expectations.
NVIDIA GeForce RTX 4060 Ti: Pricing & Where to Buy
The NVIDIA GeForce RTX 4060 Ti is priced at $399 (or Rs 41,000 in India) for the lower-end 8GB variant. As for the 16GB variant, the price increases by $100, costing $499 or Rs 51,500 in India.
In India, the RTX 4060 Ti is available through several retailers such as MDComputers, PrimeABGB, and more. For buying links in the US, check out the options linked below. The ZOTAC variant below is a dual-fan model, but you can get a Gigabyte triple-fan mode instead at a $30 premium.
Buy from Amazon: ZOTAC GeForce RTX 4060 Ti Twin Edge ($399.99)
Buy from Amazon: GIGABYTE RTX 4060 Ti Gaming OC 3X WindForce Fans ($429.99)
NVIDIA GeForce RTX 4060 Ti: What's In The Box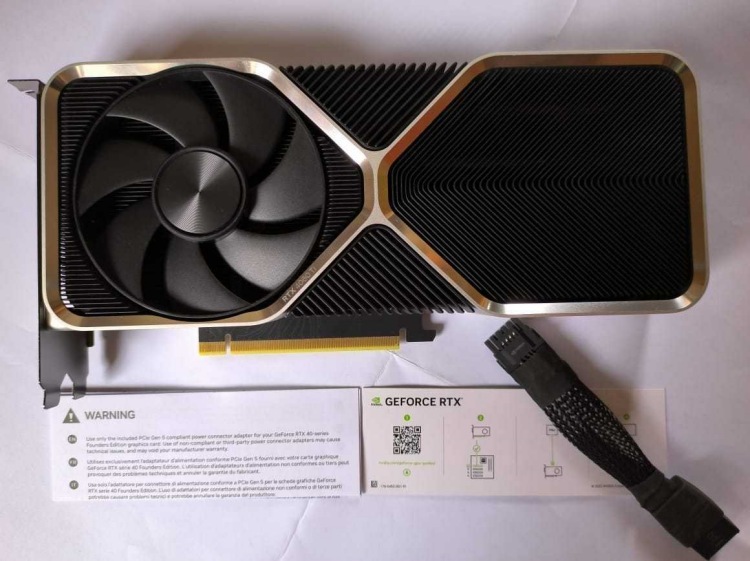 NVIDIA sent us a review unit of their Founders Edition RTX 4060 Ti 8GB card. Inside the box, we have the graphics card, along with a power adapter to convert the 8-pin power to the brand-new 12-pin connector that NVIDIA is using on their new GPUs. Apart from that, there was some documentation related to the GPU, and that's all.
NVIDIA GeForce RTX 4060 Ti: Testing Setup
This is the testing setup we are using for our RTX 4060 Ti review. We chose not to use a high-end CPU, so we could do the review from the perspective of a mid-range gamer, who owns a Ryzen 5 5600 CPU and is upgrading their existing GPU to the RTX 4060 Ti.
CPU: AMD Ryzen 5 5600
Cooler: AMD Wraith Stealth Stock Cooler
Motherboard: MSI B550M Pro-VDH WiFi
RAM: CORSAIR Vengeance LPX 16GB (8GB x 2) 3000 MHz
GPU: NVIDIA GeForce RTX 4060 Ti Founders Edition (review unit by NVIDIA)
SSD: WD Blue SN570 1TB
PSU: Cooler Master MWE 850W Gold V2
Cabinet: Corsair Carbide SPEC-02
By the way, the comparison scores for other GPUs have been sourced from 3DMark's public database. With all of that out of the way, let's look at the benchmark numbers.
NVIDIA GeForce RTX 4060 Ti: Synthetic Benchmarks
After comparing the RTX 4060 Ti in these synthetic benchmarks, it seems that the GPU is quite close to the RTX 3060 Ti. In the 3DMark Port Royal (Ray-Tracing) benchmark, we can see that the RT performance of the GPU is slightly better (~13%). But in traditional rasterization 3DMark benchmarks (Time Spy & Time Spy Extreme), the results will show you that it's extremely close to its predecessor.
3DMark Time Spy
Diving into the synthetic benchmarks, we start with the 3DMark Time Spy test. This test runs at 1080p, but the next few benchmarks are done on higher resolutions. Here, the RTX 4060 Ti is essentially neck & neck with the 4060 Ti & 3060 Ti. Do remember that having an AIB card (which could be factory overclocked) can make a slight difference as well.
But, since the scores are so close to each other (within ~1%), what these benchmark scores tell us is simply that the RTX 4060 Ti performs within the margin of error of the RTX 3060 Ti. In other words, both these GPUs perform pretty much the same when comparing their scores in 3DMark's Time Spy.
3DMark Time Spy Extreme
This is the same benchmark as before, but the rendering resolution is now 2160p, which means we have compared the performance of the GPUs with respect to 4K gaming. Here, we can see the new RTX 4060 Ti is a little ahead of its predecessor, the RTX 3060 Ti. But still, the difference is not significant enough to mention.
The RX 7600 & 6700 XT also perform similarly, further proving their worth as notable alternatives to consider, apart from the RTX 4060 Ti. We are yet to discuss DLSS 3, an exclusive feature of RTX 40 series cards which we will soon discuss in the gaming benchmarks section. That AI Frame generation feature is what sets the RTX 4060 Ti apart from the competition.
3DMark Port Royal
This is 3DMark's Port Royal, a benchmark for assessing the ray-tracing performance of GPUs. We can see that the NVIDIA RTX 4060 Ti does manage to score ahead by about 964 pts, which means it is performing 13% better than its predecessor. The RTX 3060 Ti & RX 6700 XT are not significantly far behind, and while they are previous-gen cards, they are close to this next-gen budget offering from NVIDIA.
This comparison shows that older-gen cards are still a decent choice even when considering the RT performance. Do note that actual AAA games sometimes perform better on AMD or NVIDIA GPUs based on their optimization, and this synthetic benchmark is for comparison purposes.
NVIDIA GeForce RTX 4060 Ti: Gaming Benchmarks
NVIDIA GeForce RTX 4060 Ti: AAA Games Benchmarks
First, let's look at the FPS results of this GPU on 1080p FHD, so we can understand its capabilities as a 1080p graphics card. The settings in every game were set to Ultra, although Resident Evil 4 Remake does require more VRAM if you want it to not crash or encounter instability issues. You can, of course, turn the settings down slightly and the overall graphics fidelity is impressive at high settings.
The gameplay experience is smooth across the board, with an average ranging from 73 to 116 FPS in most games. Diablo IV is not that super-intensive, so I don't expect it to be a challenge running it at 1440p either. Cyberpunk 2077 is definitely hard to tackle for even the most powerful of systems, and at the RT Ultra setting the RTX 4060 Ti manages 37.3FPS on average, which is similar to how the previous mid-range GPUs also performed. Still, you will be impressed at how much the performance changes when we switch to DLSS 3, which we will get into shortly.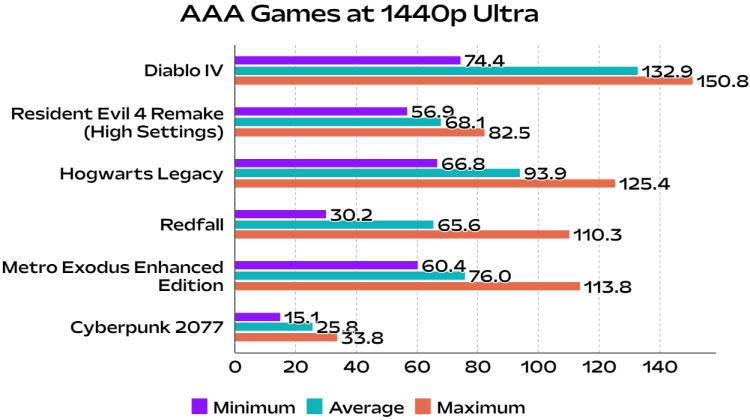 Next, let's see if the RTX 4060 Ti can pull off 1440p Ultra gaming in modern AAA titles. The FPS in most games is in the range of 60-80, which is good enough. But just like in 1080p, it should be noted that on Resident Evil 4 Remake, the RTX 4060 Ti can only manage up to High settings (textures using 2GB of VRAM), otherwise the higher VRAM requirements can produce instability issues in the gameplay experience and even result in a crash.
Still, turning the settings down isn't too big of a compromise (the visual quality difference between High & Ultra in many games is smaller than most assume), so as long as you don't mind adjusting a few settings, the RTX 4060 Ti should be able to tackle 1440p High settings for modern games as well as for future titles. Cyberpunk 2077 is also not doing well here (25.8FPS average), but ray-tracing is very intensive to handle and without the help of DLSS it's somewhat unplayable on 1440p on the mid-range RTX 4060 Ti.
NVIDIA GeForce RTX 4060 Ti: DLSS 3 Benchmarks
Of course, there's also the DLSS 3 update – the latest iteration of NVIDIA's AI wizardry which comes with frame generation, which is an exclusive feature for now. These benchmarks are what we'll be looking at next, and spoiler alert, the most intensive game in the previous benchmark (Cyberpunk 2077) does much better, and the gameplay experience drastically changes. The fourth-gen Tensor cores that are part of the new Ada Lovelace architecture bring the innovative DLSS 3 frame-generation tech. By the way, other generations do not support this feature, which makes DLSS 3 exclusive to RTX 40-Series GPUs.
In Cyberpunk 2077, we see an impressive jump in frame rate going beyond what we noticed at the 1080p setting. With the DLSS Quality setting, 1440p looks good and definitely much sharper than 1080p. Combining that with DLSS 3's frame generation magic, the average FPS increases to 53.7 and this is a much better gaming experience – in both smoothness & graphical fidelity. A performance jump like this from the previous 30FPS average is appreciated. In other games, the FPS jumps enough to transform the entire experience, making it smooth enough for high refresh-rate gameplay even for users with 144Hz/165Hz monitors.
DLSS 3 is also one of the most coveted features of NVIDIA's RTX 40 Series lineup – and when it concerns your GPU upgrade, it surely feels like an important feature to consider. After experiencing it myself, the feature can basically double your frames per second out of thin air. Regardless of what your CPU or GPU's capabilities are, if you have this option enabled on an RTX 40-Series GPU and a compatible game, the FPS will instantly jump up. The 'double' is what I roughly estimated looking at the above test, but the number can go higher or lower depending on the game.
Overall, if you think about the advantage provided by DLSS 3: frame-generation combined with AI anti-aliasing, this difference is plenty, and this is where the RTX 4060 Ti stands apart from other GPUs. I hope to see it in more games though – and while the list keeps on increasing, I'm not someone who can promise how universally game developers will implement the feature, moving forward. By the way, DLSS 3 has surely improved from when it first launched – I personally experienced a shimmery mess of pixels during one of the first few gaming laptops I tested that had an RTX 40 Series GPU, which is all gone now.
The only thing that remains is the slight input-lag disadvantage when DLSS 3 is turned on, which would be a complete no-no in multiplayer games, but honestly, in all the games I tested with DLSS 3 frame generation turned on, the additional smoothness felt good enough for me to not think of the input lag as a major problem.
NVIDIA GeForce RTX 4060 Ti: Esports Games Benchmarks
Let's look at the RTX 4060 Ti's capabilities in two popular multiplayer FPS games: Apex Legends & VALORANT. Here, we see the RTX 4060 Ti doing pretty well and being capable enough to match up to the standards required by esports players, fully supporting their high refresh-rate monitors.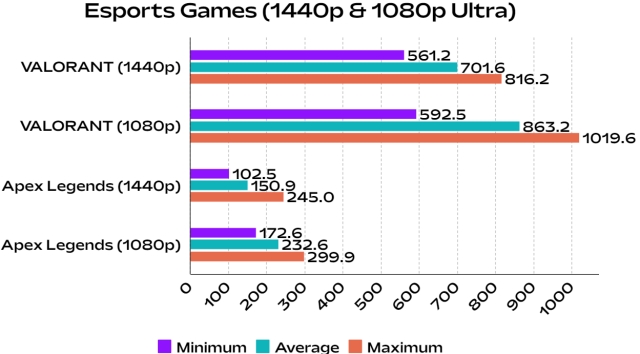 In Apex Legends, which is pretty demanding by the way, the FPS ranged from 200-250 on average during the gameplay session. With FreeSync/ GSync enabled on your monitor, it is a sweet experience to be playing this demanding multiplayer FPS. Then, at 1440p the card manages 150.9 FPS, that's still smooth and enough for competitive play.
While the minimums do dip to 172 and 102 in the respective cases, it's only during rare instances where the FPS drastically dips like when you're jumping from the plane when everybody spawns. And in Valorant, the FPS is more than enough on both 1440p & 1080p resolutions for high-refresh rate monitors.
NVIDIA GeForce RTX 4060 Ti: Content Creation Benchmarks
Testing the RTX 4060 Ti in content creation benchmarks delivers the below scores in Blender's official benchmark and PugetBench for Photoshop & Premiere. Diving deeper into the results, the RTX 4060 Ti seems to be slightly slower than the 3060 Ti in handling RAW footage (PugetBench Premiere).
Overall, all these scores are fine for a mid-range GPU, but should you buy the RTX 4060 Ti specifically as a professional content creator? Not really. The GPU is meant to be a mid-range offering for gamers and is priced at a premium compared to its similarly performing last-gen GPU because of its exclusive gamer-centric features.
NVIDIA GeForce RTX 4060 Ti: Boost Clock & Stress Testing
I took the RTX 4060 Ti through a stress test of Blender, selecting the GPU as the rendering device and running the Scanlands demo ran for 30 minutes. This is a very intensive test to run and stresses many systems to their limits. However, as another stress-test scenario, the GPU has also been taken through Cyberpunk 2077 at 1440p maxed-out settings to see how far the boost clocks are maintained. The results below show an average clock speed of 2683 MHz in Cyberpunk 2077, and 2755 MHz in the Blender Render Loop.
Compared to the advertised boost clock of 2540 MHz, the result is good. This test verifies that the RTX 4060 Ti Founders Edition performs as advertised. The worst drop in the GPU's core clock in both cases is not drastic enough at all to affect the performance and only happened for a short period of time.
| Test | Worst Drop in GPU Core Clock Observed | Average GPU Core Clock |
| --- | --- | --- |
| Heavy Gaming (Cyberpunk 2077) | 1935 MHz | 2683 MHz |
| Blender Loop (Scanlands Demo) | 2535 MHz | 2755 MHz |
NVIDIA GeForce RTX 4060 Ti: Thermal Performance
How efficient is the NVIDIA RTX 4060 Ti during daily usage? We logged the temperature during a multi-tasking scenario involving many background applications running and also a few Chrome tabs. This is a better assessment to see the GPU's temperature compared to being completely idle, being a test of temperature during general usage.
It only goes to 48.3 degrees Celcius during the general usage state, so when you are not gaming it will definitely run cool. During a heavy gaming session of Cyberpunk 2077, the temperature of the GPU's hotspot goes to 82.5 degrees Celcius, which is well within acceptable margins.
| Test | Maximum Temperature |
| --- | --- |
| General Usage | 48.3 C |
| Heavy Gaming (Cyberpunk 2077) | 82.5 C |
NVIDIA GeForce RTX 4060 Ti: Power Consumption
This is how far the RTX 4060 Ti stretches its power consumption when put in a heavy load, alongside the general usage scenario we were talking about in the last section. As you can see, during the general usage test the maximum wattage the GPU spiked to was 21.5 W. By the way, on average, the power consumption during this general usage state was around 9-10 W.
Looking at the power consumption during the most intensive game we benchmarked (Cyberpunk 2077), the 4060 Ti pulled a maximum of 150.6W. These results show that the RTX 4060 Ti is definitely a power-efficient card!
| Test | Maximum Power Consumption (W) |
| --- | --- |
| General Usage | 21.5 W |
| Heavy Gaming (Cyberpunk 2077) | 150.6 W |
NVIDIA GeForce RTX 4060 Ti: Is it Worth Buying?
The RTX 4060 Ti is one of the most affordable next-gen GPUs right now. People have waited some time to see what the budget offerings from NVIDIA & AMD will be, and this is what we get. Whether it's worth buying or not is up to you – do you care about the new RTX 40 series features? First, there's AV1 encoding for better-quality streaming. So if you are someone who streams games using NVIDIA's NVENC, you will definitely benefit from this feature. You can read more about the AV1 codec and why it's a big deal here. Apart from this, there is a negligible increase in performance, and most importantly there is DLSS 3 AI Frame Generation.
DLSS 3-supported games that you'll play will look and feel smooth, albeit with a small input-lag delay. NVIDIA has also clearly innovated on DLSS 3 further since it has come out, and in our DLSS 3 benchmarks, the RTX 4060 Ti manages to get better FPS on 1440p with DLSS Quality + Frame Generation enabled, compared to 1080p. I can definitively say that the gameplay experience was much better on the higher resolution, and doing something like this wouldn't be possible currently on other GPUs. This is because older GPUs do not have the DLSS 3 frame-generation feature, and it is exclusive to the 40 series.
So, if the above things are worth it for you, then yes, the NVIDIA GeForce RTX 4060 Ti can be worth buying. You would also be betting on DLSS 3 being implemented in future games, but how universally that will happen is not something anyone can predict. By the way, I would personally recommend going for the 16GB variant if you can stretch your budget. Otherwise, expect to compromise on the graphics settings for some current & future games.
And if you are someone who's coming from a GPU such as the RTX 3060, 3060 Ti, or the AMD RX 6700 XT, then this is probably not the upgrade you were looking for. This card is a much better-suited upgrade for people who own a lower-end graphics card and want a decent performance improvement.
NVIDIA GeForce RTX 4060 Ti: Pros and Cons
| Pros | Cons |
| --- | --- |
| Reliable performance on 1080p & 1440p | Older-gen GPUs (such as RTX 3060 Ti or AMD's RX 6700 XT) can perform very similarly while costing much lesser |
| DLSS 3 for AI-powered gaming performance improvements | DLSS 3 is not available on all titles |
| AV1 Encoding for better quality streaming | |
| Quite an efficient GPU – does not overheat & has no thermal constraints | |
Frequently Asked Questions

Is RTX 4060 Ti good?
Whether the RTX 4060 Ti is good or not is mostly dependent on how many DLSS 3 exclusive games you will be playing after upgrading to the card, since the performance differences between the RTX 4060 Ti & 3060 Ti are not very significant.
What does TI stand for in GPU?
'Ti' has been part of NVIDIA's branding in GeForce GPU products, and it stands for Titanium.
What is the power consumption of the RTX 4060 Ti?
NVIDIA rates the TGP (total graphics power) of the RTX 4060 Ti at 165W for the 16GB variant and 160W for the 8GB variant.
Which power supply to use for RTX 4060 Ti?
NVIDIA states that a power supply with a rating of 550W is required for the RTX 4060 Ti, however, you should also ensure that the PSU has 80 Plus certification and can handle the rest of your system's components such as the CPU.
Is RTX 4060 Ti enough for 1440p gaming?
Yes, the RTX 4060 Ti is enough for 1440p gaming. Many games of today run at an average FPS of 60, and for smoother gameplay, you can always turn on DLSS. If the game is too intensive to run at 1440p, lowering the settings down to Medium-High can help.
Is 8GB VRAM enough for gaming in 2023?
8GB VRAM is enough for many games even in 2023, although some games such as Resident Evil 4 Remake cannot be maxed out at even 1080p with an 8GB graphics card. In the future, games will potentially require more than 8GB VRAM, especially at Ultra settings.
REVIEW OVERVIEW

Content Creation Performance

6.5

DLSS 3 Frame Generation

9.5

SUMMARY

The RTX 4060 Ti is an interesting GPU. While it's not even noticeably faster than the RTX 3060 Ti, the previous-gen mid range offering, it does have a few exclusive features up its sleeves such as AV1 encoding for high-quality streaming, along with DLSS 3 frame-generation that can improve frame rates making the gameplay experience at higher resolutions actually playable. Still, with competing cards costing much lesser whilst offering close-to-no performance differences, the buying decision is largely dependent on how much you value these new features. As an upgrade from previous mid-range GPUs, it's a tough sell.