In the global PC market, there is no shortage of entry, mid and high-range graphic cards in 2023. No matter if your budget is barebones or next to a full bank vault, there is something for everyone. The market is rife with competitors, most notably NVIDIA and AMD, fighting for dominance. From the latest RTX 40 series GPUs to AMD RX7900 XTX, there is a lot on offer. Among these, one of the newest offerings in NVIDIA's arsenal is the GeForce RTX 4070 Ti, a high-end GPU that packs some robust specs and a lot of potential. Fortunately, we got our hands on the GIGABYTE AORUS 4070 Ti Master 12G and decided to run a plethora of benchmarks to see how well it fares. So, let's dive in and check out the synthetic, content creation, and gaming benchmark numbers for the Nvidia RTX 4070 Ti.
NVIDIA GeForce RTX 4070 Ti: TestBench
Before we begin, we feel it's only fair you should know the exact specifications of our testbench, including the installed GPU. To remain fair to the RTX 4070 Ti, the benchmark scores you see below have been run at the default settings. This includes the pre-set thermal temperate limit, which we derived was 84-degree Celsius.
The gaming and synthetic benchmarks were recorded using HWiNFO in the background, logging all the stats, including the temperature, maximum GPU clock, GPU memory speed, utilization, and much more. The testbench itself has been fully updated to the latest version of Windows 11, debloated from any unnecessary software, and kept well polished. With that said, here are the specifications of our testbench:
CPU: 13th-Gen Intel Core i7-13700KF (see benchmarks here)
CPU Cooler: Lian Li Galahad 360 AIO ARGB CPU Liquid Cooler
Motherboard: ASUS ROG STRIX Z790-E GAMING WiFi
RAM: 32GB (16GB x 2) HyperX FURY DDR5 5200MHz
GPU: GIGABYTE AORUS 12G 4070 Ti
SSD: 500GB WD Black SN770 Gen 4 NVMe Storage
PSU: 1000W Deepcool PQ1000M 80 Plus Gold Power Supply
Case: Cooler Master MasterFrame 700 Full Tower Case
Thermal Compound: Noctua NT-H1
NVIDIA GeForce 4070 Ti Synthetic Benchmarks
Let's begin with synthetic benchmarks that not only give us a good indication of the 4070 Ti's measured performance but also indicate its potential if pushed even further. We ran a flurry of benchmarks varying from intense graphical renders to more practical and real-world applications like Photoshop and Premiere Pro.
3D Mark Time Spy
For those unaware, 3D Mark Time Spy is a Direct X 12 graphical benchmark that renders select pre-decided scenes in 2560 x 1440p (2K) resolution. This is an intensive test that can put a strain on the GPU. It also has an older brother, which we mention below. We ran Time Spy benchmark in 2K and the 4070 Ti gave a total result of 22,562. The standalone graphics score was 23,274, which is a tad higher.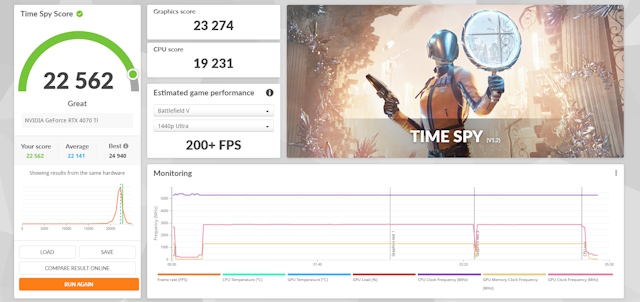 This by itself is a high score when looking across the board. Compared to other GPUs, the RTX 4070 Ti surpasses the AMD Radeon RX 6900 XT in 3D Mark Time Spy benchmark but loses against the Radeon RX 7900 XTX and 6950. It naturally comes close to the NVIDIA RTX 4080 in overall scores.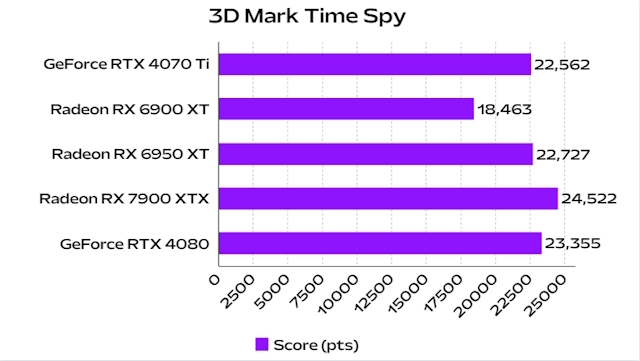 As for the card's standalone performance, it fared quite well at maintaining a steady temperature without being overloaded. The 4070 Ti reached a junction temperature of 80.2° Celsius and then dipped to a steady 76-77. The 4070 Ti reached a peak wattage of 282W. The max GPU clock went as high as 2,895 MHz before dipping down. The overall performance here was quite steady.
3D Mark Time Spy Intensive
Time Spy Extreme is naturally an amped-up benchmark of the same renders but output in 4K. This puts a considerable strain on the GPU. However, to keep things interesting and push the GPU to its limits, we decided to run 3 successive intensive runs back to back to see if the score was down and the 4070 Ti throttles a bit. Remember, it was all done on stock settings, including the pre-set limit of 84° Celsius.
The first intensive result gave a total score of 10,717, which is high and closely matches the average in this range and is quite close to the highest with this configuration. The second test result brought a score of 10,682. While one would think this is because the RTX 4070 Ti is thermal throttling during this benchmark; but that's not the case.
If you notice closely, you will see the CPU score dipped and the GPU score increased a tad bit. This caused the changed test result. By the third result, the score had come back to 10,717.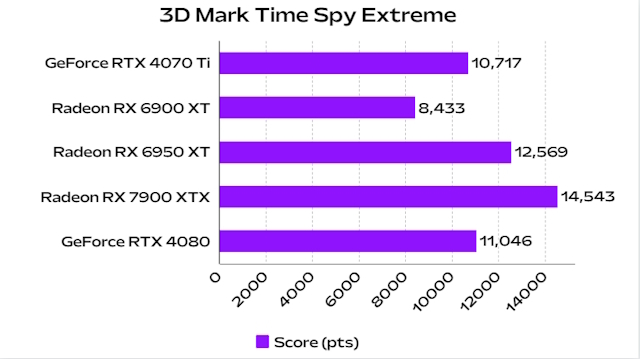 However, because we were stress testing the GPU, the junction temperature did rise to 82.6 Celsius which is practically hitting the thermal limit of the RTX 4070 Ti. The GPU wattage rose to its peak at 287 watts while the GPU clock hit 2,895 MHz. It is good to see that the GPU is not thermal throttling even when placed under 4K duress which would make other GPUs cry.
When compared to other cards, the RTX 4070 Ti benchmark scores surpassed the 6900 XT but lost to competitors like the 6950 and 7900 XTX.
3D Mark Port Royal
Port Royal is a synthetic benchmark that is focused on Ray Tracing. As before, Port Royal runs in 2560 × 1440 resolution. A single run of the benchmark gave a total result of 14,262 which the software marked as Great.
The GPU in this case had a junction temperature of 73.8° Celsius with general numbers around in the early 70s. The peak wattage went to 270W which is a hair lesser than the Time Spy. The Max GPU clock remained a bit less at 2,625 MHz.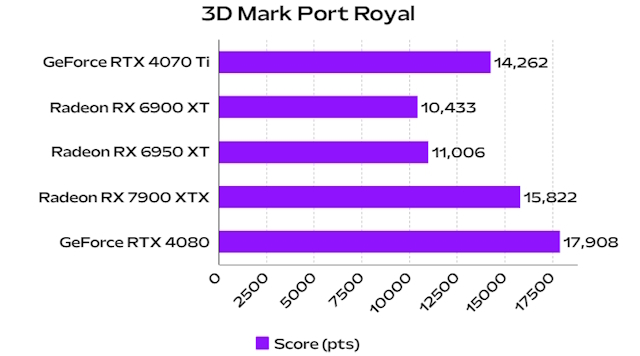 Comparing it to other competitor cards, we see that the GeForce 4070 Ti stands well in the middle. While it does beat the Radeon 6900 and 6950, it loses out to the more powerful 7900 XTX. Nonetheless, the 4070 Ti comes out as a strong card.
Blender Benchmark
Blender is yet another popular benchmarking tool that runs a variety of scenes in different resolutions and outputs a cumulative score. While not as stressful as some of these other tests, it puts a fair amount of stress on the system. We ran all three scenes of Blender and in a little under 10 minutes, the benchmark gave an impressive result.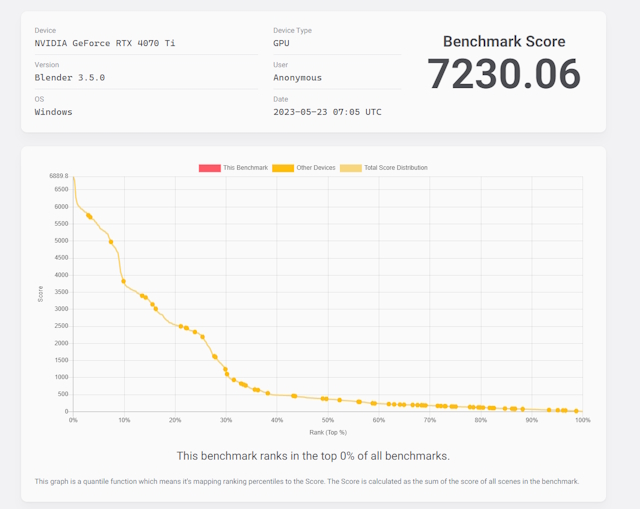 As you can see yourself, the total Blender score for the GeForce 4070 Ti is 7230.06. Coming to the 4070 Ti's junction temperature was 70.5° Celsius, far below the maximum thermal limit. The GPU clock itself reached a maximum of 2,895 MHz. The power draw on the other hand went to 190W which left quite some room to spare.
Content Creation Benchmarks
Next, we have the massively popular PugetBench benchmarks. For those who don't know Puget, these benches are known for their extremely practical and realistic representation of workflows in creative software such as Premiere Pro and Photoshop. The higher the score the better. Since Adobe apps mostly use the GPU, it's also a good benchmark to run for an indication of how your system will perform. On our default profile, we ran both the benchmarks and this is what we found.
PugetBench Premiere Pro
Premiere Pro is naturally the more demanding as it requires heavy video renders in multiple resolutions. Puget simulates a full timeline so it's easily reliable. After running the benchmark for 30-odd minutes, the RTX 4070 Ti scored 897, which is high but not fully up there. We did run the benchmark again but the score more or less remained the same, so we decided to go with this one.

Compared to other similarly matched systems online, the 4070 Ti fares well. It naturally beats its own little brother, the 4060 Ti which got a score of 636. However, AMD's flagship competitors including the Navi architecture 6900 and 7900 XTX all beat the 4070 Ti by a fair margin. The score also differs due to the overall system configurations so we are taking this into account.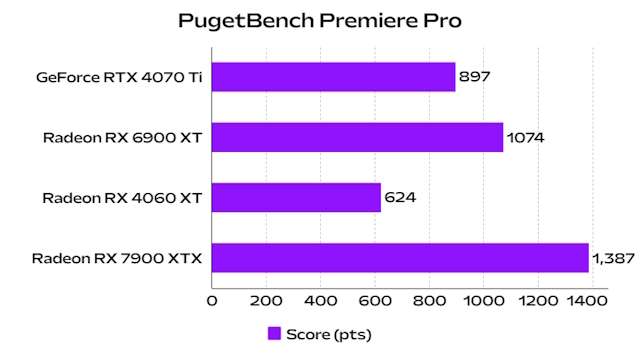 The peak temperature remained at a comfortable 65.7° Celsius so it was good to see the card wasn't stressed by a lot. While the wattage peaked at 190W, the GPU clock went as high as 2,910 MHz. While the overall score even if compared is decent, it should have been higher.
PugetBench Photoshop
Photoshop by contrast isn't as demanding as Premiere Pro. However, it does have its own nuances which can push the system. We ran the Standard Pugetbench PS benchmark and got an impressive result of 1350 which is very high. Comparing it to the online database we saw our result tracks with similar setups housing the 4070 Ti.

When it comes to the competition, the Photoshop score comes very close to AMD's 7900 XTX which is a high-end GPU hovering more or less around the same price. While we couldn't find scores for the 6900, the NVIDIA RTX 4070 Ti does beat the 6950XT by a close margin making it the better GPU for image manipulation and processing.
Photoshop unsurprisingly did not push the card too much and only gave a junction temperature of 50.3° Celsius. The wattage followed suit with a measly drain of 116W. The GPU clock at its peak stayed at 2670 MHz which is Gigabyte's advertised clock speed for the RTX 4070 Ti.
Furmark
One of the best-known benchmarks for pushing GPUs to their absolute limits, Furmark is a graphical stress test that gives the option to test out the GPU in various resolutions with ease. We decided to use this OpenGL benchmark in QHD and 1080P resolutions to get a quick idea of how it would perform under quick stress.
QHD Furmark
The first line of order is 2660 x 1400P a.k.a QHD. The entire test only lasts a few minutes but is quite punishing. After it was done, the test dished out a final score of 18,405 with an average of 307 FPS. This is quite high for this benchmark standard. This matches against quite a lot of competitor cards including Radeon 6900 and 6950.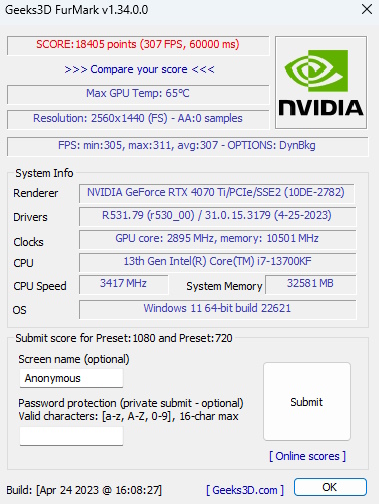 The GPU junction temperature rose all the way up to 78.1° Celsius which makes it pretty close to its thermal limit. The RTX 4070 Ti was used up to its brim with over 287 Watts being used at 100%. As for the GPU clock, it hovered around 2670-2895 MHz almost the entire time.
Furmark 1080P
To even out the score a bit, we also tested out the GIGABYTE 4070 Ti on the basic 1080P and it naturally got extremely high results. Once rendered the total score count is 24,977 with an average FPS of 416. This was again quite a high score and indicates better stress coping than some GPUs out there and me included.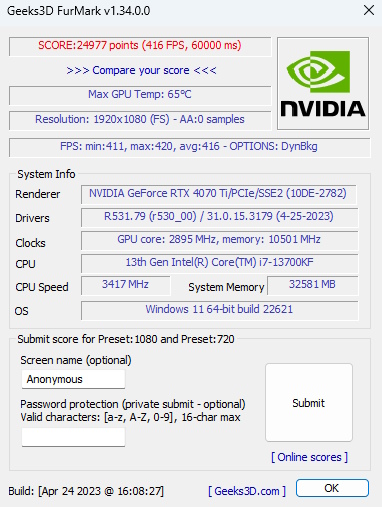 There wasn't much of a temperature difference between the RTX 4070 Ti benchmarks even though the resolution was lowered. All told the 4070 Ti peaked at 76.8° Celsius. The GPU wattage, however, again rose to its peak at 287 Watts since it was 100% used. The GPU power remained at a steady 2415 to 2895 MHz.
Gaming Benchmarks
Since some games do not come with a built-in benchmark, we have only tested the ones that do come with them. To keep things fair, we have only used the benchmarks and not resorted to selective levels that might favor the card. The games have been tested with varying resolutions including QHD and 4K in some cases to stress the card even though NVIDIA says 4070 Ti is a 2K card. Our catalog of tested games includes a healthy yet demanding mix of AAA titles combined with popular FPS shooters. Have a look below.
Cyberpunk 2077 – 2K Ultra DLSS OFF
Cyberpunk 2077 is quite possibly one of the most graphically intensive games ever to exist. As such, this required testing on both 2K and 1080P. Putting the settings and Ray Tracing at Psycho on both resolutions, we decided to keep the DLSS off to see the NVIDIA GeForce RTX 4070 Ti's native performance.
Understandably, the QHD results near brought the 4070 Ti to its knees. The average FPS after the benchmark stood at 45. The maximum FPS went as high as 57 almost giving us a playable experience.
The GPU junction temperature did not go a hair above 78° Celsius even though the power output peaked at 270W. The game did push the card to its limits with the peak GPU clock being 2895 MHz.
Cyberpunk 2077 – 1080P Ultra DLSS OFF
Full HD was naturally less demanding and hence was kinder on the GPU. The game in this case dished out an average of 71 FPS. The maximum frames almost crossed the 100 thresholds and stood at 90 FPS. The minimum of 58 frames, in this case, means that the 4070 Ti can handle even the roughest situations on FHD and Ray Tracing at Ultra.
The GPU peak temperature in this case hovered around 76° Celsius and the GPU clock at 2800 MHz. The GPU power use stayed the same at 270W. If one thing is clear is that the 4070 Ti can easily handle Cyberpunk at FHD if not at QHD.
Metro Exodus Enhanced Edition
Metro Exodus has long been known for its demanding gameplay and benchmarks which can bring down the heaviest systems to their knees. We tested out the RTX 4070 Ti at 4K, 2K, and 1080P with everything turned up to the max. The results are quite impressive.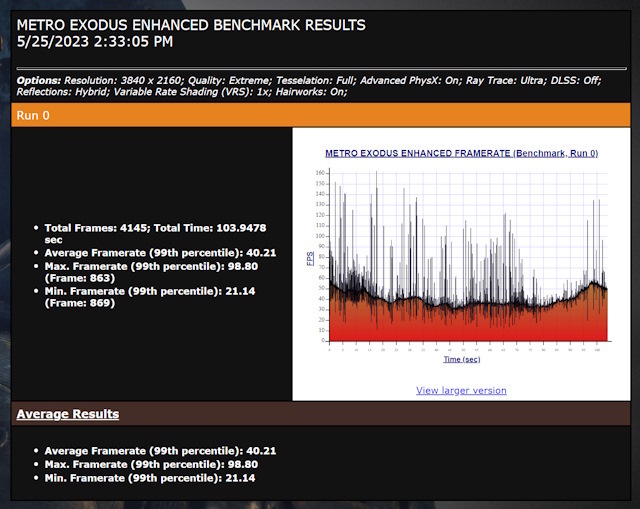 On the 4K benchmark, which ran for a few minutes, Metro Exodus gave an average FPS of 40 on the RTX 4070 Ti. This is naturally low but understandable for 4K. The maximum FPS topped at 98 with the minimum touching 21. Quite an impressive performance.
4K did heat up the GPU something fierce at 80° Celsius and drawing over 280W of power. The GPU clock too was pushed to the max at 2910 MHz.
On the QHD benchmark which ran for a few minutes, Metro Exodus gave an average FPS of around 69. The max FPS reached in a certain scene touched 132. 99% of all frames were above 45 which makes it quite playable.
1080P was a bit more generous as the average FPS was at 91. Metro Exodus went as high as 157 frames before dropping down. The 99% FPS sat at a comfortable 55.
Red Dead Redemption 4K Ultra DLSS OFF
Red Dead Redemption 2 by itself is one of the heaviest games one can play on their system. As such, we decided to start the journey off by running it on 4K. Here are the results.
The short yet intensive benchmark gave us an average FPS of 24, which is quite horrible but again, understandable. The maximum FPS the 4070 Ti dished out during this benchmark is 52. The game dropped down to the minimum of 15 FPS. So if you're someone looking to play this game in 4K, it won't exactly be possible without lag unless you drop the settings down.
The card reached a maximum temperature of 73° Celsius and reached a max GPU clock of 2910 MHz. We expected the GPU to rise higher in temperature but it handled itself better than some of the results here. While we haven't mentioned fan speeds in this article, we did notice that the Ti went the loudest during this benchmark.
Red Dead Redemption 2K Ultra DLSS OFF
We next turned it down to 2K, hoping to be a bit more gentle with the RTX 4070 Ti.
Running on 1440P, the game gave an average FPS of 50 on the highest settings. The maximum we got was 66 frames making it quite playable with the minimum being 38 FPS.
The GPU itself took a fair amount of load as it reached 73.4° Celsius. The peak power stood around 226W while the GPU clock was at a high of 2896MHz.
Red Dead Redemption 1080P Ultra DLSS OFF
The FHD results, on the other hand, were a bit more bizarre. We got a maximum FPS of 123 which was quite honest to be expected. How the minimum FPS dipped down to a measly 26 was weird. There was a moment of stutter so I am chalking it up to that. The average FPS stood around 78 making the game extremely playable at 1080P.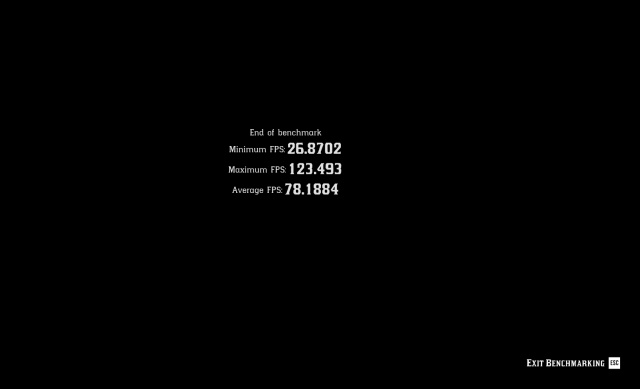 The temperatures of the RTX 4070 Ti stood a few degrees lower at 71° Celsius. The card wasn't pushed to its limits at 229W and 2625MHz for the GPU clock. As you can tell yourself, Red Dead 2 will play amazingly well on FHD.
Far Cry 6
Despite being launched almost two years ago, Far Cry 6's Yara is an impressive and extremely demanding place. However, as is customary when you have such powerful cards, we turned up every possible setting to 2K Ultra while keeping DLSS and AMD FSR off. The results are below.
At its peak, Far Cry 6 gave a maximum of 144 FPS. While not as high as one would expect, I reiterate that this game is very demanding. The minimum FPS stayed decent at 115 while we got an average FPS of 127. As you will see from the graph, there is a dip in the FPS in the middle because that was when the game gave intense explosion-centric and texture scenes.
The 4070 Ti remained consistent with the temperature as it reached a maximum of 72° Celsius. The GPU peak power stayed at a decent of 238Watts which is consistent with the frames we saw. Interestingly we saw that RTX 4070 Ti's clock speed stayed at a consistent 2800MHz and went up to 2900 once during the entire benchmark.
CS: GO
It's hardly a surprise that Counter Stike Global Offensive remains a classic even after so many years. While it is natural that the 4070 Ti will give a massive amount of FPS when it comes to Counter-Strike, we decided to test it out anyway. We ran CS with the absolute highest settings on QHD resolution. The famous FPS Benchmark community map was used which is extremely accurate.
The test result rendered an average FPS of 529.45 which is fairly generous when it comes to CS: GO. Max frames were easily pushing past the 600+ barrier when in normal scenarios. Volumetric scenes such as a smoke grenade did dip down the FPS by 100 or so but it came back up just as easily. Compared to the Radeon 6900XT we see that the maximum FPS the card reaches on the same settings is 614 making the RTX 4070 Ti a slightly better competitor.
Apex Legends
Another massively played FPS title is Apex Legends. While not too much, it is much more demanding than CS: GO and can put a strain on the system. We tested out the game as a standalone performance metric. Apex was run at 2K Ultra settings with no option left to rest. We played a combination of Battle Royale and casual modes.
At its peak, Apex Legends gave a maximum of 299 frames per second which is extremely impressive. The average FPS came around to 262. The 4070 Ti did not stress as hard when it comes to wattage with peak power consumption at 225 Watts. It was the same case with the temperature as the 4070 Ti had 72.3° Celsius.
As far as competitive gaming goes, the RTX 4070 Ti performs excellently. No matter if you're playing CS: GO or Apex Legends, the GIGABYTE card has been well-clocked to output the best possible frames.
---
Load More