Minecraft is one of the most popular sandbox games in the world so naturally, players want a common place they can hang out, discuss game strategy, share ideas, and much more. And what is better than a Discord server where you can be part of the active community, make friends and play the game together. So in this article, I bring you the 5 best Discord servers for Minecraft that have a sizeable community and a safe environment. On that note, let's check out the list of top Minecraft Discord servers.
Best Discord Servers for Minecraft (2021)
Here, we have mentioned the top survival Discord servers for Minecraft available on Top.gg. You can find the list in the table below and click on the server name to quickly navigate to the corresponding section.
1. Mystic
Mystic is one of the top Discord servers for Minecraft and has a rating of 4.6 with more than 33k members. If you are mainly looking for giveaways centered around Minecraft, Mystic is the server you should join. It has a vibrant and welcoming community among the many Minecraft servers on Discord.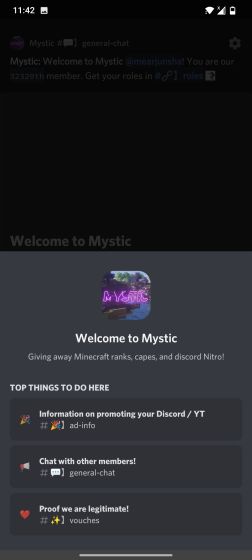 You can chat with other members 24×7, share your gameplay, ideas, and, best of all, access Minecraft mods all at the same place. Apart from that, Mystic also does giveaways for Anime games if that's something up your alley. All in all, if you want an all-around Discord server for Minecraft, then Mystic is one of the best out there.
2. Purple Prison
Purple Prison is another Discord server for Minecraft that has a massive appeal among old-time gamers and those who just started their Minecraft journey. The server is popular for 24/7 active chats around Minecraft and giveaways for the Discord Nitro premium subscription.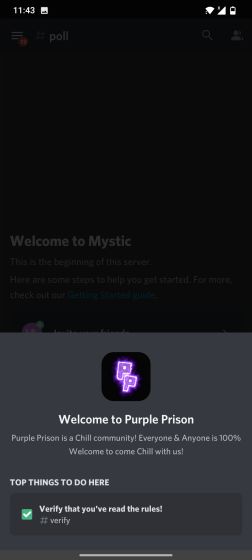 You will find users here who are non-toxic because the server has strict guidelines and many Discord bots to keep users in check against spam and unnecessary posting. So, you have a clean space where you can talk to Minecraft players from around the world and discover new things about the game. To sum up, Purple Prison is a popular Discord server for Minecraft, and you should surely give it a try.
3. Cosmic Craft
Cosmic Craft has been voted as the best Minecraft server on Discord, and it comes as no surprise. The moderators here are great and offer plenty of features to make the server more user-friendly and enjoyable to gamers. On top of that, there are daily giveaways for Discord's premium Nitro subscription, which you won't find on many other Minecraft servers.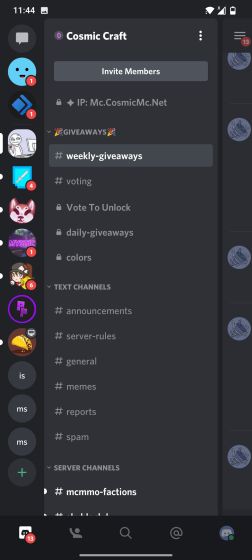 Another thing worth noting is that the discussion is largely non-toxic on Cosmic Craft. However, there have been instances of players attacking in a group until you quit the server for good. Nevertheless, Cosmic Craft does a superb job at moderation, and you will likely find your home on this server for playing Minecraft.
4. Minecraft SMP
If you are looking for the best Discord server for Minecraft in terms of support, then Minecraft SMP would be my recommendation. The members are super-chill and are ready to help you out with anything, be it tickets, setting up the crossover between SMP and Java edition, and more. It's also host to one of the largest Minecraft communities with over 63k members.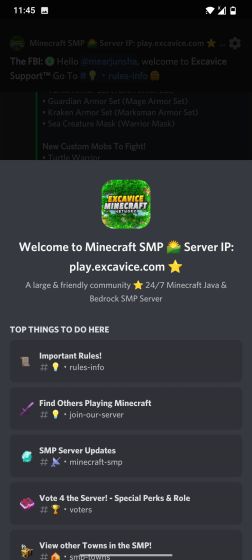 Not to mention, Minecraft SMP has active chats for Minecraft, Among Us, and Valheim as well. So you are not just getting a friendly community for playing Minecraft but also for other popular games. So if you want to make new friends while playing Minecraft, this is one of the best Discord servers out there.
5. The Vent
The Vent is not a hugely popular Discord server for Minecraft. It is one of the newer servers that has got favorable reviews and could serve as the perfect destination for many Minecraft lovers. Within the server, you can create your own group and set a host of rules which will govern your group. No staff members or bots will moderate your group, which is a feature no other server on this list offers.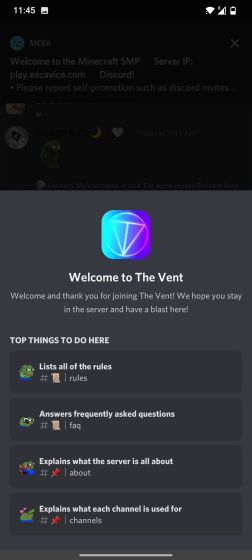 Further, you can use the many tools the server has to offer, interact with anyone in the community, and play games together. Having said all of that, while the community here is rather non-toxic, you might face some kickbacks if you happen to join certain lobbies. Overall, The Vent is getting quite popular, and you should definitely join this Discord server for Minecraft.
Join The Best Minecraft Servers on Discord
So these are the best Discord servers for Minecraft that you can join in, make new friends, and play your heart out with the active community. I have put great emphasis on non-toxic servers so you can have a good time playing Minecraft without the fear of cyberbullying. Anyway, that is all from us. In case you are looking for Discord alternatives that have similar features, then head over to our dedicated article. And before signing off, did we miss out on any of the popular Minecraft Discord servers? Do let us know and share your favorite Discord servers for Minecraft in the comment section below.