Group Voice Chat is the trend lately with lots of major players in the industry. One of them is Discord, a massive Text, Voice, and Streaming platform that took the world by storm as soon as it launched. Discord is loved both by gamers and working professionals as it helps immensely with streamlining the workflow by helping all team members stay connected in real time. Good communication should always be at the pinnacle of importance be it for enhancing collaborative efforts in a professional workplace or in a team of gamers with the passion to clutch and secure every round. If Discord's not a cup of tea for your gang or workplace, here are the 10 best Discord alternatives you can give a go.
What Should a Good Discord Alternative Have?
Some of the De Facto features one expects from a good Discord alternative are end-to-end encryption (Since Discord has refused to add it and perhaps you're looking for an app that has it), a neat and friendly UI, Private ServersWhile Discord is popular for its neat UI, ease of use, private servers, and gaming-related features.
Besides encryption, another drawback is that the file upload limit is 500 MB for Nitro users and 50MB for free users which is significantly low compared to rivals. Some of the competitors in this list have greater or even unlimited file sharing limit compared to Discord's measly 50 MB limit. Because of all these reasons, it is understandable why you probably want to cancel your Discord Nitro subscription or just shift to a different platform altogether. With that out of the way, let's get to the list!
1. Telegram
Telegram is often referred to as a WhatsApp rival, but at its heart, the platform is more than just a messaging platform. Unlike WhatsApp, Telegram is much more feature-rich, and in our opinion, competes directly with Discord than WhatsApp. It has tons of features, instant chatting, supports hosting communities (both private and public), public channels, endless customization, and much more.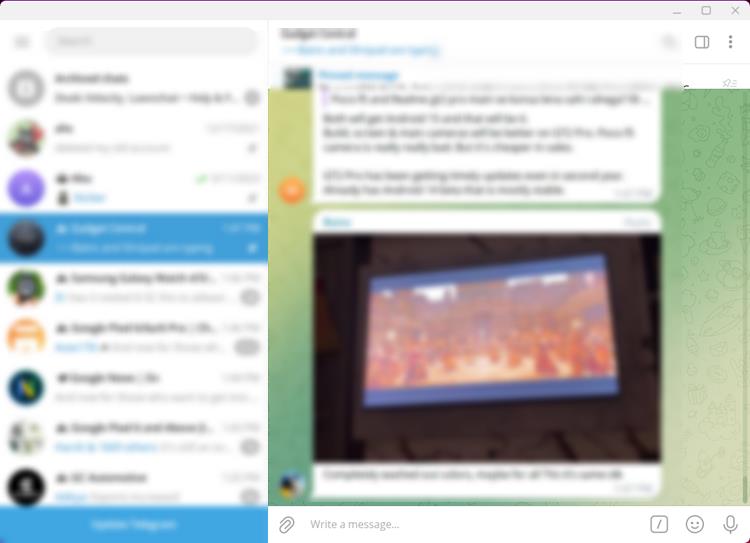 Telegram supports private and group video calling and like Discord, there are bots to manage huge groups, integrate scripts, automate queries, etc. The main differentiating factor that sets Telegram apart from Discord is that it offers End-to-End encryption for private messaging. Besides there are other useful features such as Silent Messages, a built-in video editor, Chat Folders, Message Translation, and many more.
Discord, as we mentioned earlier, falls short in this regard. Hence, Telegram is a better pick than Discord if all you care about is privacy features. The best part is service is completely free so you will have no issues jumping from Discord to Telegram. There's also a premium subscription that offers extra perks such as faster downloads, animated stickers, upgraded file upload limits, and much more.
| Pros | Cons |
| --- | --- |
| End-to-end encrypted | Some features are locked behind a subscription |
| Great customization features |  |
| Lots of bots | |
| Tons of other features | |
| Public and Private channels | |
Supported Platforms: Windows, macOS, Linux, Android, iOS, Web
Price: Free
Download Telegram
2. Steam Chat
Okay, hear me out. I hadn't tried Steam Chat before but after doing my research on it for this article, I can easily say it's an excellent replacement for Discord. It comes built into Steam, one of the most popular gaming platforms and has its own messaging and voice chat service that offers low-latency voice chat, texts, and noise cancellation too. What's better is that it's completely free to use and you even create your own groups with channels in them with friends and talk to them over text or voice chat.
To make it easy to invite people to your group, Steam also allows users to share unique URLs (like Discord) which then people can click on and instantly join a pre-made group. Steam also allows group administrators to set roles for the members which gives them various permissions, including the ability to kick out other members, manage group information, and set chat restrictions.
While Discord only allows a single user to have one role in a server, Steam group members can hold several roles to moderate the group and its contents. Much like Discord, Steam Chat also has a web client, which means you can use the service without first downloading Steam on your system. Besides, texting and chatting on Steam Chat doesn't require you to be playing on Steam. You can have Steam running in the background while playing other game. One of the major drawbacks, though, is that you can't send files, only images. Overall, it's a great built-in feature in Steam's massive ecosystem.
| Pros | Cons |
| --- | --- |
| Clean UI | Lacks file sharing |
| Easy to use | UI is a bit too basic |
| Integrates well with Steam | No screen sharing built in, although, you could use broadcasting |
| Clear, low-latency calls with Noise and Echo Cancellation |  |
| Runs as an independent service | |
Supported Platforms: Windows, macOS, Linux
Price: Free
Download Steam
3. Element
Coming back to end-to-end encryption it could be a dealbreaker for lots of people, and for them, Element is an excellent alternative. Besides offering end-to-end encryption, it includes a bunch of tools to help you streamline your team's workflow. Element also allows you to talk to anyone in the Matrix.org ecosystem since it's built on the Matrix open communications protocol.
It can really come in handy if someone you want to talk to is using different Matrix-based software, which is an open network for decentralized communication. While it's not ideal for gaming, Element can also be used by gamers and it allows users to share messages, images videos, and files of any type within groups of any size. There's also support for group video calls and voice calls.
| Pros | Cons |
| --- | --- |
| End-to-end encryption | Not very "gamery" |
| Clean and actionable UI | The onboarding process could be better |
| Matrix protocol; Decentralized communication | |
| Clear Voice and Video calls | |
| No file transfer limit | |
Supported Platforms: Windows, macOS, Linux, Android, iOS, Web
Price: Free, Pro plan starts at $2 per month
Download Element
4. TeamSpeak
Before Discord was a thing, people relied on TeamSpeak for their gaming-related conversations and there are still a chunk of people who use it still. Like Discord, TeamSpeak makes use of the opus codec for low-latency voice comms, and we've tried and tested it's voice and texting capabilities and found them to be on par with the Discord app. TeamSpeak's UI has been completely overhauled and it has a similar design language to Discord.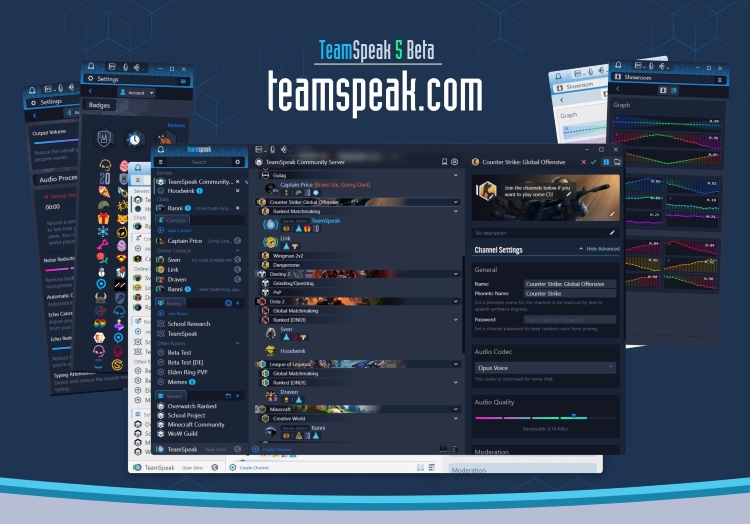 TeamSpeak allows users to create dedicated servers for their needs and guess what, every private or group conversation remains within the server thanks to end-to-end encryption, something that Discord lacks. To keep your conversations secure and private, TeamSpeak makes use of AES encryption which ensures that all of your conversations are safe from prying eyes. Although, one of the major problems with it is creating servers and inviting over 32 members in one server will cost you money unlike Discord where you can create multiple servers and have man users without any cost.
| Pros | Cons |
| --- | --- |
| End-to-end encryption | The free version limits servers and users in the group |
| Revamped Discord-like UI | Not really beginner-friendly |
| Great Privacy |  |
| Clear Voice and Video calls |  |
| Customizable |  |
Supported Platforms: Windows, Android, macOS, Linux, iOS
Price: Free on Windows, macOS, and Linux; $0.99 on Android; $0.99 on iOS
Download TeamSpeak
5. Mattermost
Realistically, Mattermost trades blows with Slack rather than Discord, but since we've mentioned Slack as a Discord alternative, it'd be evil to not mention Mattermost. For starters, it's open-source and self-hostable software. Like Slack, its target audience is professionals and individuals who want a great Slack alternative, and for Discord users, it is a great alternative too.
It also has features such as boards that allow team heads to create goals and OKRs; This may not matter 😉 to gamers but we could see people in a server using it as a checklist for what games are trending and to take suggestions from others regarding which game's the next in the queue. The sky's the limit. It also has calling and screen sharing to stream your games to friends while they're waiting to join your party. Overall, Mattermost is a decent alternative to Discord. One of the drawbacks of the app is the file uploads are limited to 100 MB.
| Pros | Cons |
| --- | --- |
| Store messages data locally; much secure | Not very customizable |
| Clean UI | File sharing limited to 100 MB |
| Geared toward professionals |  |
Supported Platforms: Windows, macOS, Linux, Android, iOS
Price: Free, Paid plan starts at $10 per user/USD (For features that shouldn't matter to gamers)
Mattermost Download
6. qTox
One of the main things qTox concerns itself with is privacy. Tox is an open-source software that uses of military-grade encryption, to protect your data. The project has been archived as of writing this but you could still use it to chat with your gamer friends.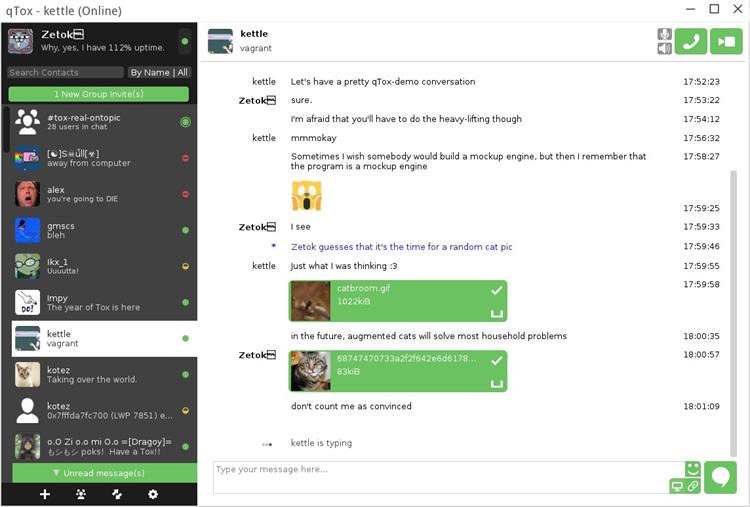 It's free and easy to use, and has a clean UI. Although the interface doesn't look very modern, it works and if that's all you need, it's a great choice over Discord which doesn't encrypt your data. There's support for text, voice, and video chat, along with a neat screen-sharing feature that you can use.
There's also a no-cap file-sharing feature, which is also a great addition that makes qTox great for professional settings. What really makes qTox unique, however, is the fact that it's decentralized and the entire network is made up of its users. It means that you won't have to deal with any server outages that might hamper your workflow.
| Pros | Cons |
| --- | --- |
| Clean UI | No longer being maintained |
| Easy to use and lightweight UI | Outdated UI |
| Unlimited File Sharing limit. | |
| Clear calls and Screen sharing |  |
| Decentralized system design. No outages. | |
Supported Platforms: Windows, macOS, Linux, Android, iOS
Price: Free
Download qTox
7. Slack
If you happen to use Discord for professional use and are searching for an alternative, you might want to switch to Slack. While it doesn't remotely look like Discord, the overall user interface is clean and simple. The service has the same clean and simple user interface as Discord, but it's geared towards a more professional setting, so you won't find any "Gamery" aesthetics.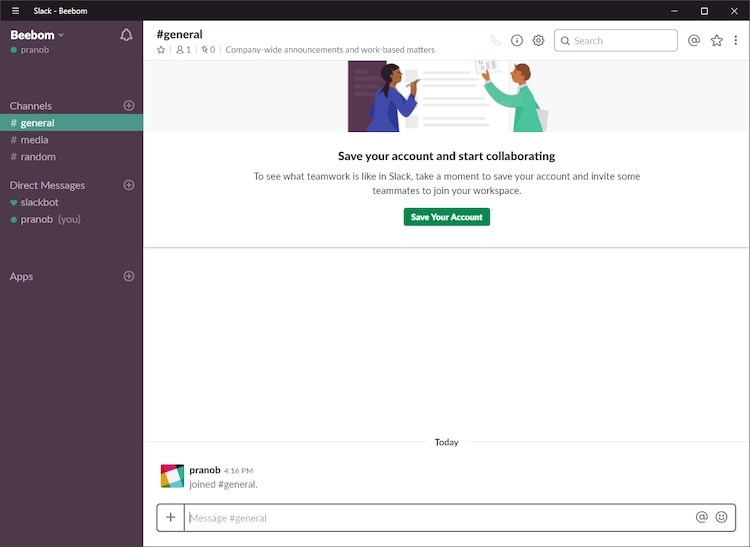 What you will find instead are lots of helpful features that are geared toward improve your productivity. Voice chat via huddles and screen sharing haven't been strong areas of slack, so if your primary focus is lag-free voice comms you might want to look elsewhere. Although, like Discord, Slack has lots of bots and Discord-like app integrations, making it one of the best Discord alternatives.
| Pros | Cons |
| --- | --- |
| End-to-end encryption | Laggy voice chat and screen sharing |
| Clean UI | Not very gamery |
| Geared toward professionals |  |
| Bots and third-party app integrations |  |
| A generous file transfer limit |  |
Supported Platforms: Windows, macOS, Linux, Android, iOS
Price: Free with limited functionality, Paid plan starts at $2.67 per month
Download Slack
8. Skype
Skype isn't your regular Discord alternative as it's pretty limited in what it can do, but if you've run out of options to consider, it can get the job done. It does allow you to make groups and do group calling, and what's better is that it also has a screen-sharing feature, albeit a pretty limited one.
Besides, if you 're just getting started with the voice chatting and texting world, Skype is quite simple to use and offers all the basic functionality you'd need to communicate with your friends in a group. It also allows sharing files of up to 300 MB, which is still plenty for sharing videos and high-quality images.
Although, if you own a PC that's not so fast, it's worth noting that Skype will have a toll on it because it consumes lots of system resources even in the background, which might hamper your gaming experience.
| Pros | Cons |
| --- | --- |
| Clean UI | Lacks lots of features |
| Easy to use | Consumes lots of system resources |
| Generous File Sharing limit. | More useful for a professional and personal setting. |
| Clear calls and file sharing |  |
Supported Platforms: Windows, macOS, Android, iOS, and Linux
Price: Free
Download Skype
9. Microsoft Teams
Microsoft Teams may be more fit for professionals, but you could use it to chat with your friends while playing games. Like Discord, there's support for voice and video calls both for individuals and groups. Besides, Teams has an upper limit of 100GB for file transfers compared to 500MB on Discord. In addition, Teams now offers a free plan with reasonable benefits.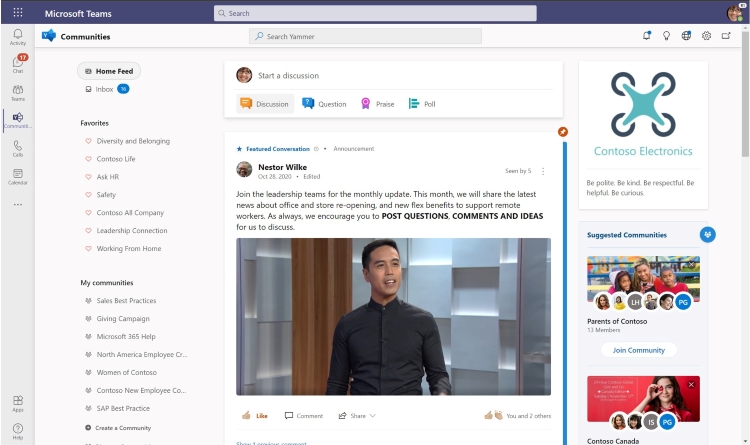 The only downside to Microsoft Teams is that you can't host communities — public or private — which can be a pain point for gamers and most Discord users because they're used to having multiple servers for multiple things. Nevertheless, if you are looking for a free app like Discord for real-time collaboration with your teammates then Teams is a worthy pick.
| Pros | Cons |
| --- | --- |
| Clean UI | More suited for professional use |
| Easy to use | No Discord channel alternatives |
| 100GB File Sharing limit. |  |
| Clear calls and Screen sharing |  |
| Third-party app integrations |  |
Supported Platforms: Windows, macOS, Linux, Android, iOS, Web
Price: Free, Paid plan starts at $5 per month
Download Microsoft Teams
10. Mumble
Last in our list is Mumble, an open-source VoIP platform which is also designed for great low-latency audio calling. Much like TeamSpeak 3, Mumble requires a standalone client to work and doesn't include browser support, something that we've seen a lot of Discord users love about the same.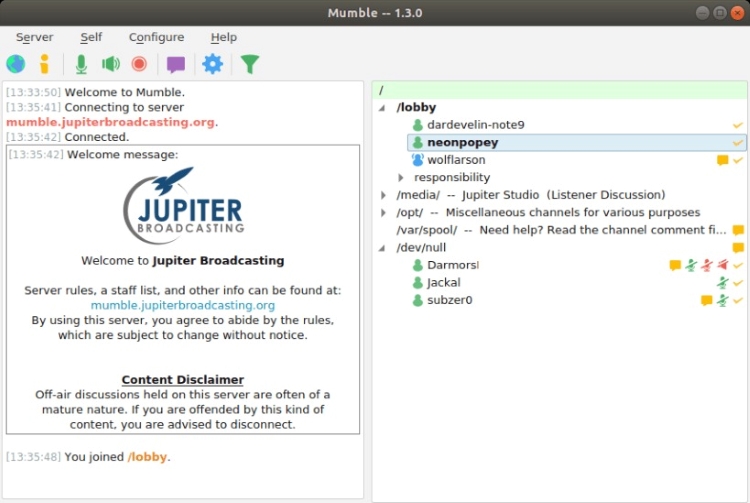 However, unlike Discord, Mumble is totally free to use and is available on several platforms. It's also encrypted by default which is great for people who're concerned about their privacy. Its authentication feature prevents random people from dropping into your chat room, however, it doesn't feature DDoS protection like Discord.
Mumble is also quite lightweight, both in terms of resources and using bandwidth as it requires just around 20kbps of bandwidth to function. Mumble's voice quality is no slouch compared to Discord' and it also has a positional sound feature that sets it apart from other VoIP software.
| Pros | Cons |
| --- | --- |
| Free and Open Source | Looks a bit outdated |
| Low-latency calling | No protection against DDoS attack |
| Encrypted by default |  |
Supported Platforms: Android, iOS, Linux, macOS, Windows
Price: Free, Paid plan starts at $7.50 per month for 15 users
Download Mumble
The apps mentioned in this list may not be as comprehensive as Discord but are the closest things available compared to the same. While we did compile it with gamers in mind, there are a few apps that may look like they don't belong in this list because they're more geared toward enterprises. However, the idea is you can use it for creating private communities and instant messaging. Now that you know of the best Discord alternatives, take a look at cool Discord Easter Eggs you should try out. Meanwhile, let us know in the comments section which of these Discord alternatives you liked best and why.
---
Load More