Voice and text chat apps are widely used around the world, both by gamers and professionals alike as they really help streamline the workflow by allowing all team members to stay connected in real-time. A good chat app can really make a big difference in the collaborative efforts of any team, which is why a ton of people use Discord. However, some find the UI of Discord not-so-professional or the lack of End-to-End encryption concerning. So in order to help you find a great app that you and your team can use, we've compiled a list of the best Discord alternatives (free and paid) out there. Check out the following apps and you might find an application that fits your needs perfectly.
Best Discord Alternatives (Updated September 2020)
Here, we have enlisted apps similar to Discord in terms of functionality and feature set. While we have kept gamers in mind, we have also mentioned some apps which are more enterprise-like but you can use it for creating private communities and instant messaging. To learn about the apps in detail, you can click on the link below.
Why Use an Alternative to Discord?
While Discord is popular for its neat UI, ease of use, private servers, and gaming-related features, there are some drawbacks too which are usually not talked about. For instance, Discord does not support End-to-End encryption (even for private messages) which is pretty disappointing given that many competitors have implemented E2E long ago.
Apart from that, the file upload limit is just 8MB for free users and 50MB for paid users which is significantly low when compared to other rivals. Lastly, there have been reports of intruders spamming into private servers which are points of major security concern. And that's why you should look for an alternative to Discord.
List of Top Apps Like Discord
1. Telegram
Telegram might be seen as a WhatsApp rival, but at the heart of it, the popular messaging service is much more than that. I would say, Telegram competes directly with Discord than WhatsApp. It has tons of features, instant chatting, supports hosting communities (both private and public), public channels, endless customization, and much more.
The best part is that now Telegram supports video calling and it applies to both one-on-one and group calls too. And similar to Discord, you can create bots to manage huge groups, integrate scripts, automate queries, etc. That said, what sets Telegram apart from Discord is the fact that Telegram at least offers optional End-to-End encryption for private messaging.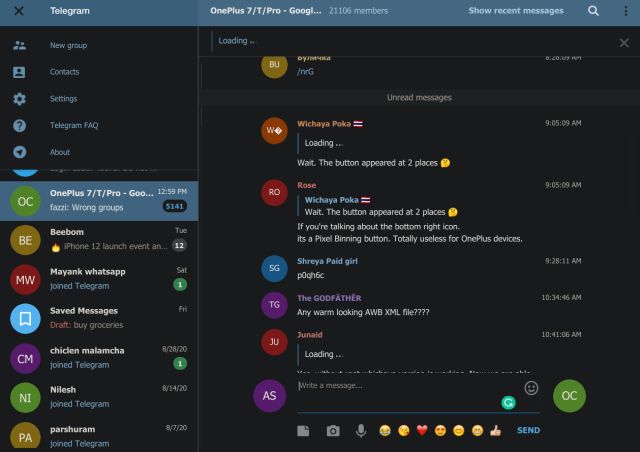 Whereas, Discord falls short in this regard. So if you are looking for an app like Discord but with improved security then Telegram will be an apt pick. Best of all, the service is completely free so you will have no issues jumping from Discord to Telegram.
To sum up, Telegram brings a boatload of features just like Discord with End-to-End encryption and you must give it a try. You can find the best Telegram features from our linked article.
Top Features
Optional E2E support
Tons of features
Create public and private channels
Manage channels with bots
Free to use
2GB upload limit
Supported Platforms: Windows, macOS, Linux, Android, iOS, Web
Price: Free
Download Telegram
2. Element
While Discord is a great app for gamers, it doesn't offer end-to-end encryption, which means that your conversations aren't as secure as you might want them to be. In case you're someone who's serious about privacy and are looking for the best Discord alternative that offers better privacy, then you should definitely check out Element – a text and voice chat app that offers end-to-end encryption.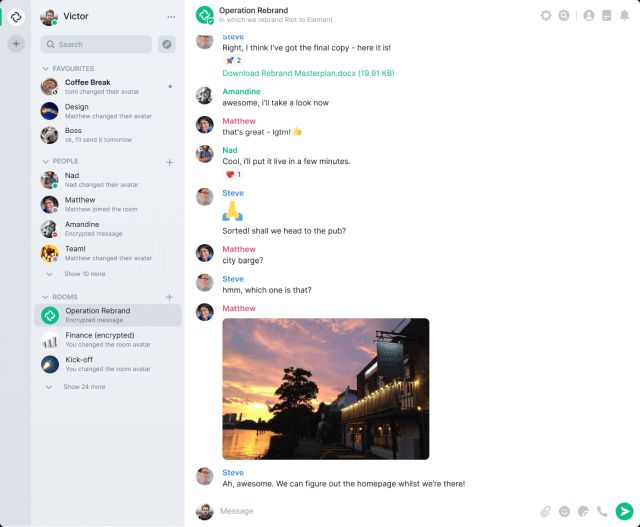 Element is primarily meant for team collaborations and as such, it includes a bunch of tools to help you streamline your team's workflow. Built on the Matrix open communications protocol, Element also allows you to talk to anyone in the Matrix.org ecosystem.
It can really come in handy if someone who you want to talk to is using different Matrix-based software. While it's not designed for gaming, Element can also be used by gamers and it allows users to share messages, images videos, and files of any type within groups of any size. Now, there is also support for group video calls and voice calls.
Top Features
Offers E2E
Clean UI
Matrix protocol
Low-latency calls
Transfer all kinds of files
Supported Platforms: Windows, macOS, Linux, Android, iOS, Web
Price: Free, Pro plan starts at $2 per month
Download Element
3. TeamSpeak
Much before Discord was even a thing, a lot of gamers relied on TeamSpeak for their in-game communication needs and quite a few dedicated fans have still stuck around.
Much like Discord, TeamSpeak makes use of the opus codec for low-latency voice comms, and being a long term user of the service I can attest to its capabilities as a great voice and text chat app. Also, now TeamSpeak's UI has been completely overhauled and it looks very similar Discord.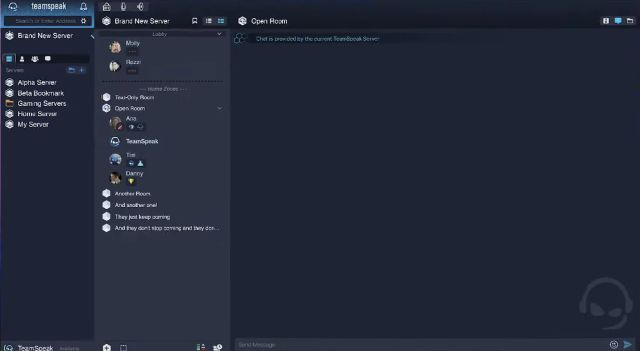 TeamSpeak allows users to create dedicated servers for their needs and other users can join these servers to communicate with each other regarding a common topic – be it for games or productivity. To keep your conversations secure and private, TeamSpeak makes use of AES encryption which ensures that all of your conversations are safe from prying eyes.
Unlike Discord, you'll need to download the TeamSpeak client to use it on your device as it doesn't include browser support. While TeamSpeak is free to use on several platforms, you'll need to pay in order to set up a new server.
Top Features
Best for gamers
AES encryption
Create dedicated servers
Brand new UI in beta
Chat and calls
Cross-platform
Supported Platforms: Windows, Android, macOS, Linux, iOS
Price: Free on Windows, macOS, and Linux; $0.99 on Android; $0.99 on iOS
Download TeamSpeak
4. Slack
If you're looking for the best Discord alternative for professional use, check out Slack – a team messaging platform that looks a lot like Discord. The service has the same clean and simple user interface as Discord, but it's geared towards a more professional setting, so you won't find any gamer-y things.
Instead, you'll find a number of helpful features that aim to improve your productivity at work, however, if you're looking for lag-free voice comms then you should definitely check out some of the other options. Slack sets itself apart from Discord by providing integrations for over 800 third-party software that are used by businesses.
It also lets you receive notifications through the software you're using without requiring you to open the app. File sharing is also easier and more convenient on Slack as it has a 1GB limit on uploads, whereas Discord just permits files up to 8MB in size to be shared on the platform.
Slack is definitely worth a shot if you're looking for a chat app for your business and not something you'd use while playing games with friends.
Top Features
Best for enterprise users
Neat UI
Integration with third-party apps
1GB upload limit
Chat, voice and video call
Supported Platforms: Windows, macOS, Linux, Android, iOS
Price: Free with limited functionality, Paid plan starts at $2.67 per month
Download Slack
5. Overtone
Overtone is a simple to use Discord alternative that looks and feels a lot like its competitor. Based on Vivox, one of the best integrated voice chat services that are used by popular games like Fortnite, PUBG, League of Legends, etc. Overtone aims to bring exclusive technology directly to gamers around the world.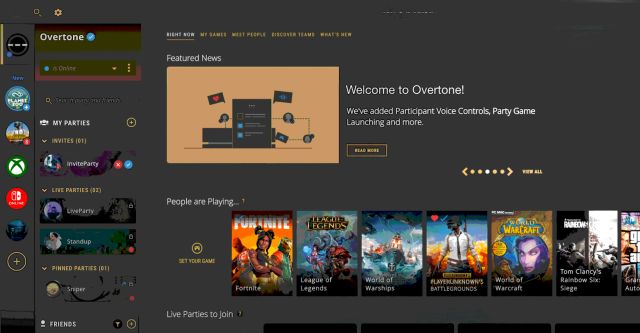 The simple and lightweight app doesn't use a ton of your system resources and is quite easy to setup. Much like Discord, Overtone is free to use and it includes most of the necessary voice and text chat features, supporting text messages, voice chat, and group chats.
On top of that, Overtone also features a couple of social features that will help you connect with people who have similar interests and discover teams that are playing the same game. Much like Discord, you can also run Overtone on a web browser, so you don't need to download a separate client for your communication needs.
Top Features
Best app for gamers
Chat, voice and video call
No client needed, run on a browser
Integrates well with game publishers
Free to use
Supported Platforms: Windows, Web
Price: Free
Download Overtone
6. Skype
If you aren't looking for all the bells and whistles all the aforementioned apps have to offer and just want a simple, familiar service that will get the job done then you should consider using Skype for your in-game communication needs.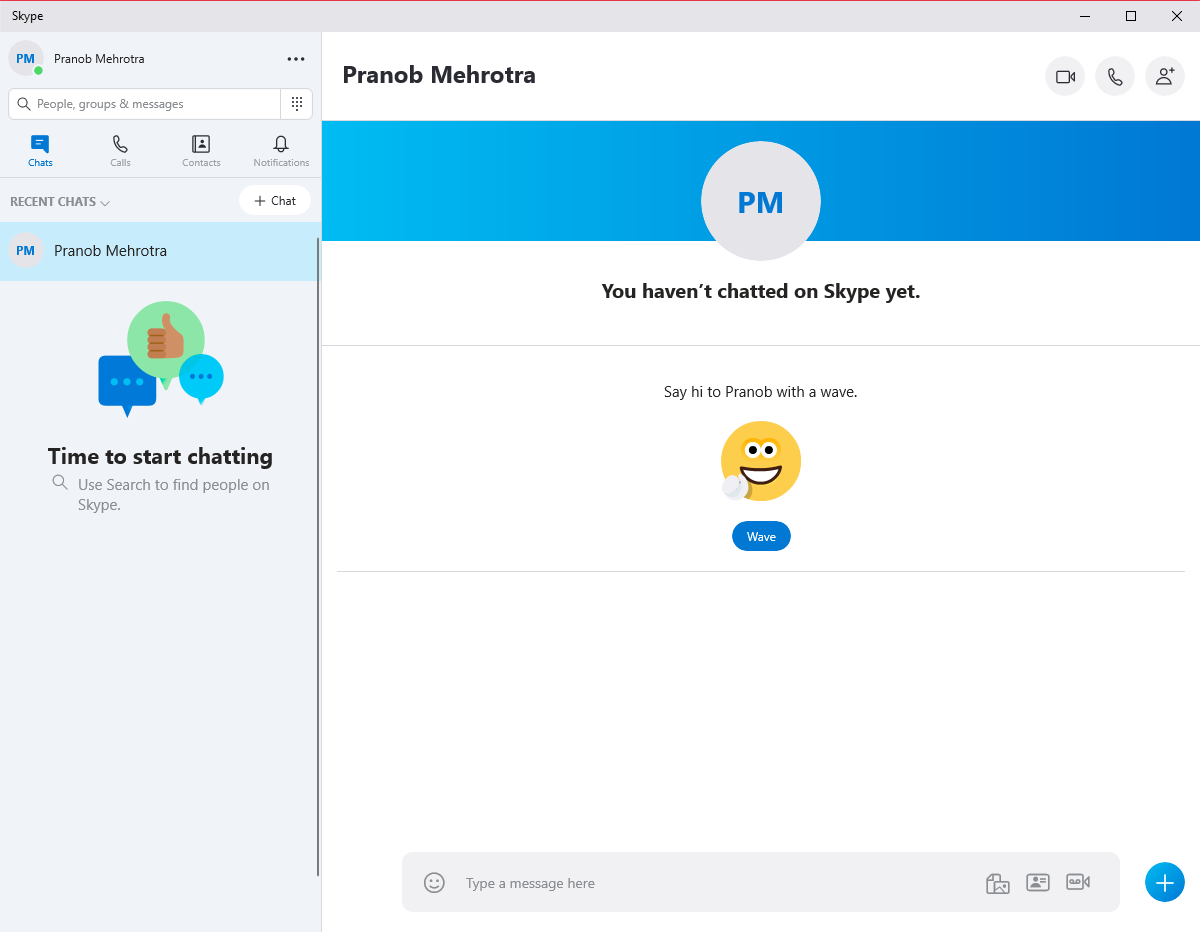 The popular text and voice chat service is quite simple to use and offers all the basic functionality you'd need to communicate with your friends in a group. Skype even allows users to share files in a chat, along with video chat capabilities, which might not be handy while gaming but may come in useful if you use it in a professional setting.
It's worth noting that Skype weighs heavily on system resources, which might have an impact on your gaming experience depending on your system configuration.
Top Features
Simple and easy to use
Chat, audio and video calls
Free to use
Share files up to 300MB
Supported Platforms: Windows, macOS, Android, iOS
Price: Free
Download Skype
7. Steam Chat
Another discord alternative you can try is Steam Chat, Valve's own messaging and voice chat service for gamers which is also a great alternative if you don't want to use Discord. Steam's chat feature is free to use and you can create your own groups with friends and talk to them over text or voice chat.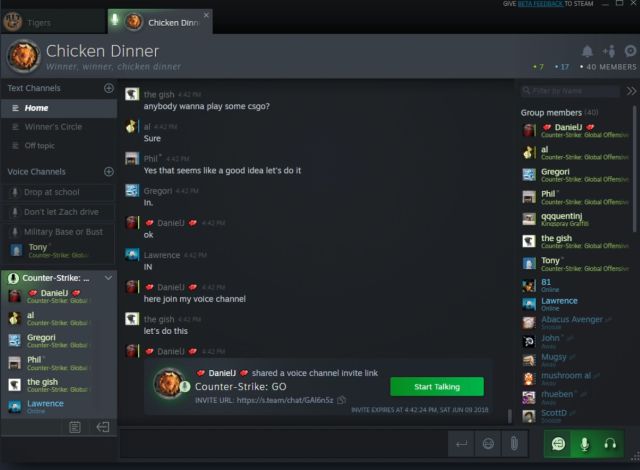 In order to make it easy for anyone to join your group, Steam also allows users to share unique URLs (like Discord) which you can click on and instantly join a pre-made group. Steam also allows group administrators to set roles for the members which give them various permissions, including the ability to kick out other members, manage group information, and set chat restrictions.
While Discord only allows a single user to have one role in a server, Steam group members can hold several roles to moderate the group and its contents. Much like Discord and Overtone, Steam chat also has a web client, which means you can use the service without first downloading Steam on your system.
Top Features
Best for gamers
Create groups and chat
Auto-moderation
Voice call
Free to use
Supported Platforms: Windows, macOS, Linux
Price: Free
Download Steam
8. Tox
If you've been using Discord for anything other than gaming and require a platform that's a bit more privacy-oriented then you should give Tox a try. Tox makes use of military-grade encryption, which means that all your conversations on the platform will remain safe from prying eyes.
Tox is also fairly simple to use and it has a clean, but dated-looking interface which you can get a hang of in minutes. There's support for text, voice, and video chat, along with a neat screen sharing feature that can really come in handy if you wish to show your team something on your system.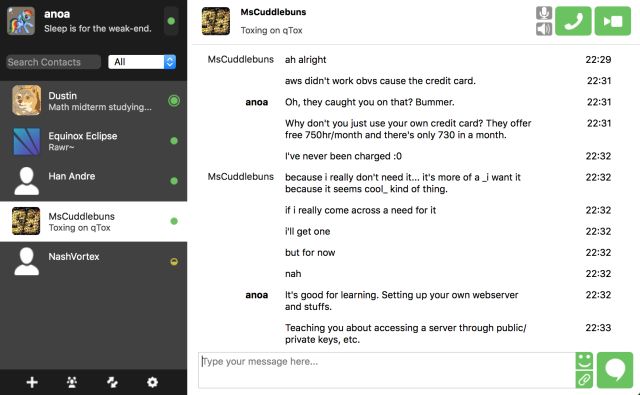 There's also a file-sharing feature, which is also a great addition that makes Tox great for professional settings. What really makes Tox unique, however, is the fact that it has no central servers and the entire network is made up of its users. It means that you won't have to deal with any server outages that might hamper your workflow.
Top Features
Powerful encryption
Decentralized servers
Simple interface
No outage
Chat, audio and video calls
Supported Platforms: Windows, macOS, Linux, Android, iOS
Price: Free
Download Tox
9. Microsoft Teams
Microsoft Teams may not be developed for gamers, but people can use it to their advantage. Similar to Discord, you can chat with your teammates in real-time and chalk out a plan. There is now also support for voice and video calls both for individuals and groups.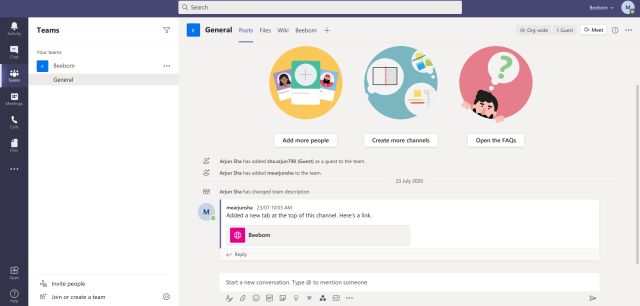 Not to mention, you can also transfer files using MS Teams and the upload limit is humongous 100GB. Discord simply pales in comparison as it only offers a maximum file transfer of 8MB under the free plan and 50MB under the paid Nitro plan. In addition, MS Teams now offers a free plan with reasonable benefits.
Having said that, the only downside of Microsoft Teams is that you can't host communities — either public or private — which can be a pain point for gamers and most Discord users. Nevertheless, if you are looking for a free app like Discord for real-time collaboration with your teammates then MS Teams is a worthy pick.
Top Features
Collaborate with teammates
File upload limit 100GB
Chat, voice and video calls
Free tier available
Third-party app integration
Supported Platforms: Windows, macOS, Linux, Android, iOS, Web
Price: Free, Paid plan starts at $5 per month
Download Tox
10. Mumble
Last in our list is Mumble, an open-source VoIP platform which is also designed for great low-latency audio calling. Much like TeamSpeak 3, Mumble requires a standalone client to work and doesn't include browser support, something that a number of Discord users love about the service.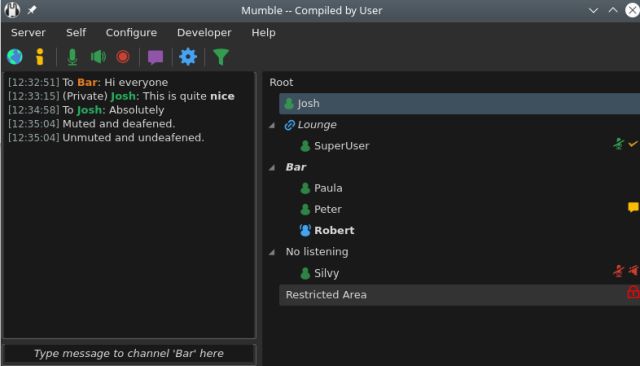 However, much like Discord, Mumble is totally free to use and is available on several platforms. Mumble also allows encryption of chats, which is great for people who're concerned about their privacy and its authentication feature prevents random people from dropping into your chat room, however, it doesn't feature DDoS protection like Discord.
Mumble is also quite efficient, as it uses just up to 20kbps of your bandwidth to function normally, a feat that Discord might not be able to accomplish. In comparison with Discord, Mumble's voice quality is also quite good and it also has a positional sound feature that sets it apart from other VoIP software.
Top Features
Open-source
Low-latency audio calling
Create your own server
Chat encryption
Supported Platforms: Android, iOS, Linux, macOS, Windows
Price: Free, Paid plan starts at $7.50 per month for 15 users
Download Mumble
Frequently Asked Questions
Q. What Can I Use Instead of Discord?
You can use Telegram, TeamSpeak3, or Overtone instead of Discord. These apps offer very similar features to Discord with the ability to host communities, chats, voice and video calls, file sharing, and more.
Q. Is Discord Going to Shut Down in 2020?
No. There have been no such reports. That said, Discord often takes down servers that incite violence.
Q. Is TeamSpeak Better Than Discord?
In a way, yes. It offers enhanced security and now TeamSpeak has also revamped its client and website with dark mode, channel support, multi-window chat, and more.
Q. Is Mumble Better Than Discord?
I would not pick Mumble over Discord as an overall package, but yes there are certain unique things about Mumble. It's open-source, has a very low-latency voice chat option, and allows you to create your own private server.
Q. Can I get Hacked Through Discord?
Yes, there have been some cases of hackers making their way to private servers. They spam the server and change the manager-level privileges. Apart from that, there have been many concerning reports about Discord being used to steal account credentials.
Find the Best Apps Similar to Discord
Well, that rounds up our list of the best Discord alternatives you can try. As you can tell, there are a number of similar applications in the market, each with their own unique features, that you can use for gaming or in a professional setting.
While some of these apps are more geared towards gamers (much like Discord), others have some great productivity-related features that can help with your workflow at the office.
Out of the lot, I tend to use Telegram most often, because I've been using it for quite a while now and I'm just used to the interface. But if Telegram doesn't fit your needs, then you can try out any of the other Discord alternatives we have mentioned here.