The market share for Chromebooks skyrocketed over the past couple of years, thanks to the adoption of remote learning fueled by the Coronavirus pandemic. While Chromebooks have created a niche for themselves with Google's lightweight Chrome OS, Microsoft has now announced Windows 11 SE to compete against Chrome OS in the education sector. In this article, we have detailed everything you should know about Windows 11 SE and how it's different from Windows 11. Apart from discussing Windows 11 SE vs Windows 11 in terms of the feature set, we will also take a look at compatible laptops, pricing, and whether Microsoft can rival Google's Chrome OS with Windows 11 SE?
Windows 11 SE vs Windows 11: Differences Explained (2021)
What is Windows 11 SE?
Windows 11 SE is Microsoft's new cloud-first operating system aimed at students in K-8 classrooms (8th grade or up to age 14). It is essentially a stripped-down version of Windows 11 built with students and educators in mind. Strategically positioned as a Chrome OS alternative, Microsoft hopes to win over the education sector crowd with the launch of this OS variant.
Unlike what one would naturally assume, Microsoft says the SE in Windows 11 SE doesn't stand for Student Edition. Instead, it is not intended to be short for anything and is just a means to clearly differentiate the OS from other Windows editions.
Naming aside, Windows 11 SE is Microsoft's latest effort to offer a toned-down version of Windows after Windows 10 S, Windows 10 in S Mode, and the now-canceled Windows 10X. While Windows 10 in S Mode is also available for consumers, Windows 11 SE is exclusively meant for educational use cases.
How is Windows 11 SE Different from Windows 11?
Windows 11 SE vs Windows 11: App Availability and Installation
A key difference when we compare Windows 11 SE against the Windows 11 is app availability. Unlike the standard Windows 11 desktop OS, Windows 11 SE doesn't ship with Microsoft Store. In addition, you can't manually install most third-party native Win32 apps either. As a result, you will not have the option to install native apps like iTunes or Spotify on your school laptop. While you can't install manually apps, Windows 11 SE supports select authorized Win32 and UWP apps.
Windows 11 SE vs Windows 11: Snap Layouts
Microsoft improved the multitasking experience on Windows 11 with its new Snap Layouts feature. While you get six handy Snap Layout options in Windows 11, Windows 11 SE simplifies this by offering only two Snap Layouts. They let you use two apps side-by-side on your laptop at the same time. Speaking of app snapping, it's also worth mentioning that all apps launch in fullscreen mode by default in Windows 11 SE. That seems right because most Windows 11 SE-backed budget laptops will ship with smaller screens.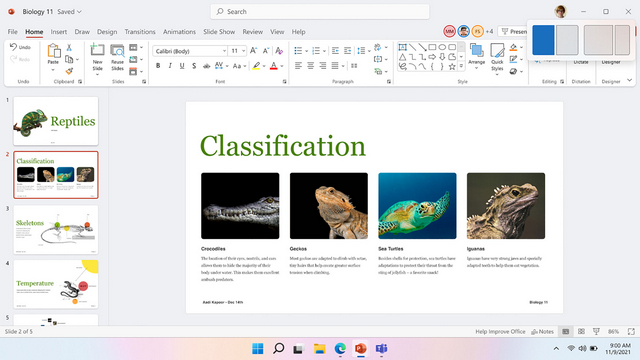 Windows 11 SE vs Windows 11: Widgets
With Windows 11, Microsoft added a widgets panel that shows you the latest news, weather, photos, sports scores, and more. This Windows 11 feature is not present in Windows 11 SE, and that's a good thing. Microsoft wants to keep things light with this education-focused version of Windows 11. Meanwhile, if you are not a fan of Windows 11 widgets, you can follow our guide to disable widgets on Windows 11.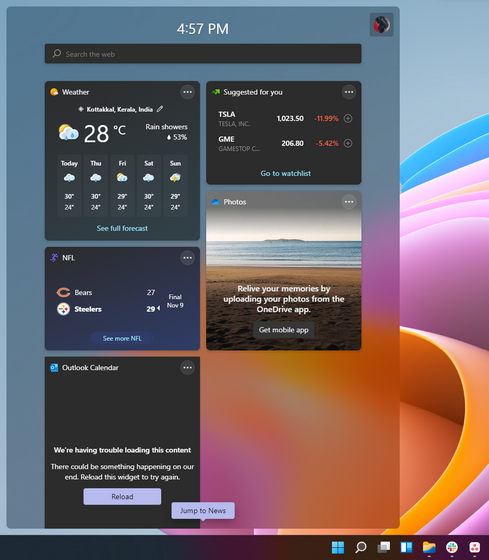 Windows 10 vs Windows 11 vs Windows 11 SE: Feature Comparison Chart
Microsoft has published a handy comparison chart to give you a quick idea of what to expect from Windows 11 SE. As you can see below, notable omissions include the option to run all Windows apps, limited availability, and the option to upgrade from your existing Windows 10 PC or laptop. And as should be clear, you can only upgrade from Windows 10 to Windows 11 and not Windows 11 SE. Why? Well, we have explained that down below.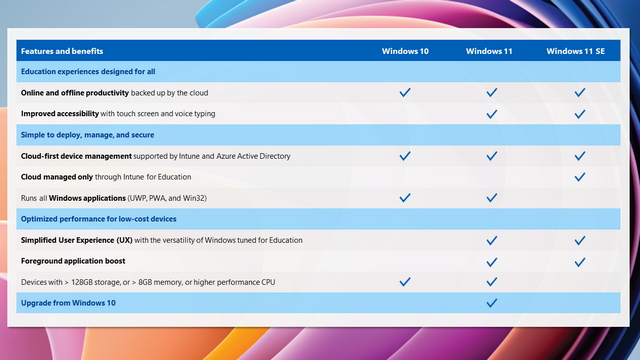 Windows 11 SE System Requirements
Despite being a cloud-first OS, Windows 11 SE has the same system requirements as Windows 11. Microsoft says that's because Windows 11 SE is built on the same core. You can check Windows 11 SE system requirements below:
Processor: 1 gigahertz (GHz) or faster with 2 or more cores on a compatible 64-bit processor or System on a Chip (SoC)
RAM: 4 GB RAM
Storage: 64 GB or greater
Graphics card: Compatible with DirectX 12 or later with WDDM 2.0 driver
System firmware: UEFI, Secure Boot capable
TPM: TPM Trusted Platform Module (TPM) version 2.0
Display: High definition (720p) display, greater than 9-inch and 8 bits per color channel support
Internet connection and Microsoft account
What Apps Can I Install on Windows 11 SE?
As mentioned earlier, Windows 11 SE lacks Microsoft Store and installation of third-party Win32 apps. Since it is a desktop OS catering to the education sector, the apps you can install on Windows 11 SE are limited by design. As a user, you will have to mostly rely on web apps in Edge or other supported browsers like Google Chrome.
App installation on Windows 11 SE is managed through Intune for Education. Intune for Education is Microsoft's cloud-based mobile device management (MDM) service for schools to let admins manage student devices. Hence, your IT admin can choose to deploy approved apps like Zoom using Intune for Education. Moreover, Azure Active Directory (AAD) and Microsoft Account (MSA) are the only identity authentication tools supported on Windows 11 SE devices.
Windows 11 SE supports Win32 and UWP apps in the following categories curated for education:
Content-filtering apps
Test-taking solutions
Accessibility apps
Apps that facilitate classroom communication
Essential diagnostics, management, connectivity, and supportability apps
Browsers
Can I Install Windows 11 SE on my PC?
Another doubt that many of you might have is – How can you download the Windows 11 SE ISO? Well, sadly, you can't. Since Microsoft is not publishing Windows 11 SE images, you can't install Windows 11 SE on your PC at this moment. Microsoft states Windows 11 SE is unlikely to be available for retail users.
Considering the restrictions in place and the same system requirements, you are not gaining a lot by opting for Windows 11 SE instead of Windows 11. Microsoft asserts the same in an official support document. It says that "most customers buying personal devices would not want the app and management restrictions that these devices come with, so stores are not likely to sell them."
Can I Switch from Windows 11 SE to Windows 11 Home or Pro on My Laptop?
The answer is no. You can't switch from Windows 11 SE to Windows 11 Home or any other version of Windows 11 on a laptop provided to you by an educational institute.
Windows 11 SE Compatible Laptops
Microsoft has listed the initial set of compatible laptops that will ship with Windows 11 SE out of the box. Check out the list below:
Lenovo 100w Gen3
Acer TravelMate B3
Dell Latitude 3120
Asus BR1100C
Lenovo 14w Gen2
Lenovo 300w Gen3
Dell Latitude 3120 2-in-1
Acer TravelMate Spin B3
Asus BR1100F
Dynabook E10-S
Is Windows 11 SE a Chrome OS Killer?
Although Microsoft already has education-centric offerings like Windows 10 /11 Education and Windows 10/ 11 Pro Education, they're not as popular as Google's Chrome OS. With Windows 11 SE, Microsoft is taking a restrictive approach to provide IT admins more control over student devices. While it is a welcome move for IT admins, Microsoft will face serious competition from Chrome OS.
Unlike Chrome OS, Microsoft is late to the party with Windows 11 SE when it comes to targeting the K-8 education sector. At this point, the peak demand has plateaued and even started to decline as more and more schools open around the world. According to market intelligence firm IDC's November report, Chromebooks posted the first decline in shipments in the third quarter of 2021 since the start of the COVID-19 pandemic.
Microsoft is planning to undercut Chromebooks by offering Windows 11 SE with management features like Intune for Education along with full versions of Microsoft Office and Minecraft: Education Edition at Chromebook's management-only price. On the other hand, schools using Chromebooks have to pay separately for managing all subscriptions and services. While it's an attractive perk, enticing schools, and educational institutions to switch from Chrome OS to Windows 11 SE will be a tough hill to climb for Microsoft.
Windows 11 SE Explained
Windows 11 SE is a promising offering from Microsoft that doesn't cut a lot of corners in the education sector. It removes all the unwanted complexity that Windows 11 brings to the table and offers better management tools that IT admins would appreciate. That said, the success or failure of Windows 11 SE lies in how Microsoft manages to strike partnerships with schools and educational institutions. And well, that's something we will have to wait and find out. So, what do you think of Windows 11 SE? Share your thoughts in the comments below.