Thanks to the arrival of some notable browsers and vast improvements in major players that have been ruling across platforms for years, the battle for the best Windows 10 browsers no longer seems lopsided in 2019. While some web browsers offer a faster and seamless experience, others provide enhanced security and privacy. Moreover, there are a few browsers that offer full-on customization for more flexibility. If you are toying with the idea of picking out a Windows 10 web browser but aren't sure which one can live up to your billing, this post can help you choose the right option. So, here are the 8 best Windows 10 browsers that you should use in 2019.
Best Windows 10 Browsers You Should Use in 2019
Before we get to our list, let us take a brief look at the things you should consider before choosing a web browser.
What to Look for in a Web Browser?
There are four pivotal things that you need to check out before picking out a browser: Speed, Efficiency, Privacy, and Security. Keep in mind, none can excel in all these aspects. Though there are a few top contenders that tick off most boxes with pretty good results. Having said that, you will have to make a decision based on what sits atop on your priority list. Now, without any further ado, let's explore the roundup of the best Windows 10 browsers.
List of Best Windows 10 Browsers
1. Google Chrome
When you talk about top web browsers across the platforms, you can't overlook Google Chrome. Packing in a huge library of extensions, it provides you more flexibility. And with the seamless integration with Google's services, it lets you sync your passwords and bookmarks across devices, which comes in handy especially when you want to have a more intuitive experience.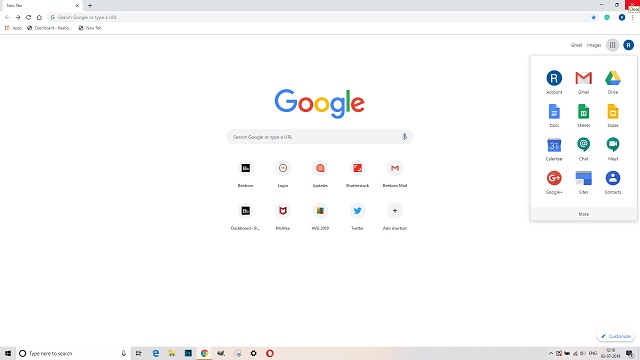 You can take advantage of the task manager to view and control all the programs that are running on your Windows PC. There is a built-in Google Translate to ensure you can translate any language without any hassle. It also has a useful PDF viewer to let you deal with PDFs conveniently. Moreover, the multi-account support and strong parental controls make it a fine bet for all seasons.
As for speed, Google Chrome is still at par with the best. However, it tends to eat up plenty of memory and also consumes more battery. So, if your PC doesn't have tons of RAM or you want your computer to last a bit longer between charges, Chrome shouldn't be your first pick.
Install: Free
2. Firefox Quantum
When it comes to offering more efficiency, privacy, and security, Mozilla Firefox probably is one of the best Windows 10 browsers. Having received a massive overhaul, Firefox's latest version "Quantum" has become a complete browser. No wonder it has not only taken away the crown from Chrome but also become one of the better alternatives for those who put more emphasis on privacy and security. Being an open-source and non-profit platform, Mozilla doesn't share users data with advertisers, which is great.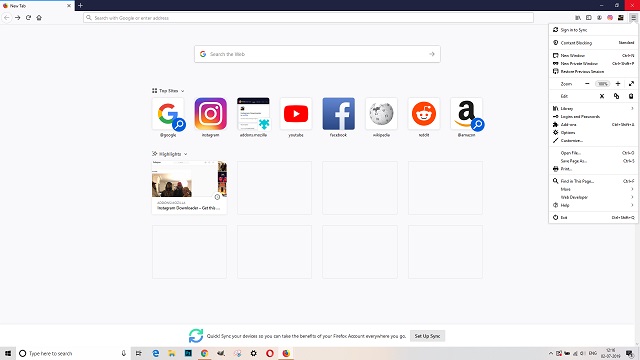 Another thing that makes Firefox Quantum a top-notch option is the architecture of the new extensions which aren't at par with Chrome's offerings but do look very promising. With the sync feature enabled, you will be able to access your open and recent tabs, bookmarks and browsing history across the devices.
If you find it a bit hard to manage passwords, you would really appreciate the password-free login. It can also help you automatically block ads to have a distraction-free web browsing experience. What's more, the smart task manager lets you view which extensions or tabs are eating up lots of energy or memory, ensuring you are able to easily spot the culprits and nab them.
Install: Free
3. Opera
Despite being one of the oldest (conceived in 1994) and feature-rich web browsers, Opera hasn't yet realized its full potential. In recent times, it has, however, made a lot of strides thanks to the arrival of several notable features.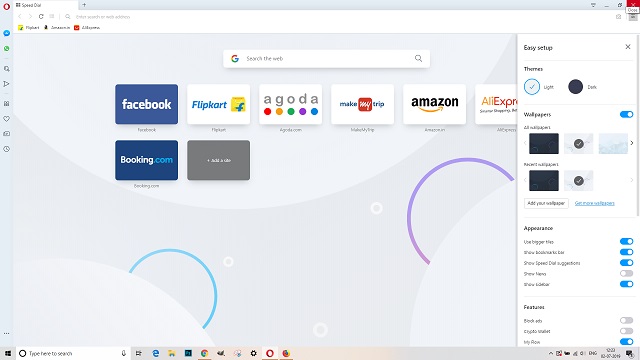 As Opera is based on the same core technologies as Chrome, it can run many Chrome extensions, which make it extremely handy for the folks who like to try out all new extensions. One of my favorite features of this browser is Turbo that saves both load times and precious bandwidth by passing webpages on Opera's servers and compressing them. If you use internet on a limited bandwidth plan, you should definitely choose Opera.
Regarding speed, it's not the fastest but it is definitely u there. Opera also has a fairly good reputation for keeping the privacy of users' data intact. It comes with an integrated ad-blocker so that you can browse the web with complete peace of mind. Moreover, you can also use the free and unlimited VPN to surf the web with an enhanced safeguard.
Install: Free
4. Microsoft Edge
Though not as power-packed and versatile as Chrome and Firefox, Microsoft Edge has been a good browser. There is one department where it has a clear advantage over many of its counterparts is that it consumes less battery. So, if you want your computer to deliver better battery life, Edge would be a better choice.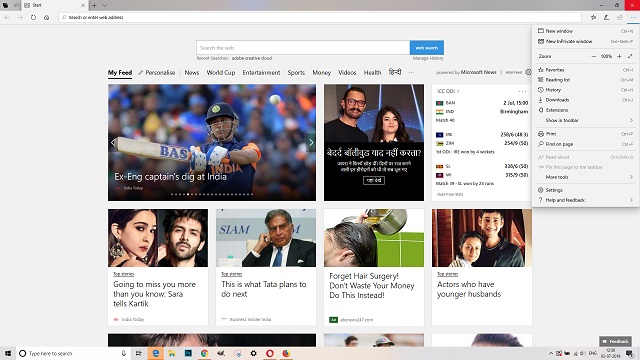 Edge features very handy tools to let you comfortably preview, group and save tabs. And with the hub functionality, you will be able to keep your reading list, recent downloads, browsing history and favorites quickly accessible. If you spend a lot of time reading articles on the web, you would like Reading View which would let you read web pages with more peace. Not to mention Cortana-Microsoft's personal assistant– that's always ready to answer questions and even offer you smart tips.
Realizing that Edge hasn't been able to compete with the likes of Firefox and Chrome, Microsoft has decided to get rid of its own rendering engine and use Google's Chromium engine. Knowing that Edge's extensions library is too small, the decision to make it a Chromium-based browser seems to be a step in the right direction. Even though it is still a work in progress, you can give it a try following our quick hands-on guide.
Install: Free
5. Vivaldi
If full-on customization sits right on top of your priority list, you should try out Vivaldi. With neat tab management, you have more control over grouping and displaying tabs. Depending on your needs, you can also fine-tune the size, position, and appearance of the browser.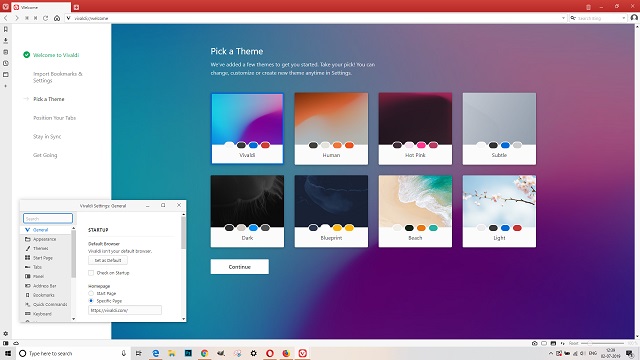 I like the custom shortcuts that play a vital role in speeding up web browsing. The keyboard shortcuts along with super handy mouse gesture further enhance navigation experience. Thanks to the bookmark manager, taking control of all the bookmarks is never a big deal.
Moreover, the built-in tools like note and image properties ensure you don't need to look beyond Vivaldi to carry out some basic tasks. On top of all, it's also based on Chromium, which opens the door for tons of elegant extensions.
Install: Free
6. Tor Browser
Are you looking for a Windows 10 web browser that can offer improved security and privacy? If yes, I would recommend you to give a chance to "Tor Browser." When it comes to extreme privacy Tor is the best Windows 10 browser on the market right now. In terms of user-interface, it looks clean. One notable feature of this browser is the ability to let you securely access even unlisted sites.
The multi-layered encryption works as an essential safeguard for your personal information. To shield your privacy or keep it from the prying eyes at bay, it isolates each website. Once your browsing is over, both the browsing history and the cookies are automatically cleaned up. Furthermore, it also blocks browser plugins like RealPlayer, QuickTime, Flash and more to shield your IP address. From a privacy point of view, these are very appreciable features.
Regarding the downside, Tor Browser doesn't offer plenty of customization. Though it does run smoothly, it's not as speedy and versatile as Chrome or Firefox.
Install: Free
7. Epic Privacy Browser
Yet another browser that's rated very highly on the parameters of security and privacy. By blocking ads, fingerprinting, trackers, crypto-mining and more, it keeps your browsing not only secure but also distraction-free. This also results in a lot faster web browsing experience.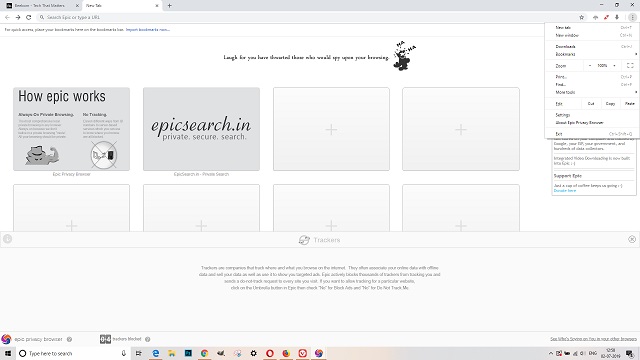 It claims to block over 600 malicious tracking attempts during an average browsing session. Though I can't verify Epic's tall claim, I can safely say that it's fully equipped to ward off trackers. Its proxy encrypts your data and also keeps each tab isolated for better security. Furthermore, it provides a free VPN ( available in 8 countries) to let you browse anonymously.
You can use Epic to access even blocked sites. And just in case, you like to watch some cool videos for watching during leisure times, the ability to download videos from many sites would be a nice feature for you.
Install: Free
8. Torch Browser
When I first stumbled upon "Torch Browser," I thought it would be just another browser in the already cut-throat market. However, once I gave it a good amount of spin, it did prove me wrong–to a great extent.
This Windows 10 browser comes with an integrated media grabber functionality to let you easily save any video or audio. Well, if you often come across some awesome clips and want to save them to your library for sharing or watching during free times, it would certainly be your thing. And with the built-in torrent manager, you can also download torrent files without any hassle.
It has an elegant media player to let you catch up with your favorite media. You can make the most of the facelift button to give a more personalized look to Facebook (or other sites) using fascinating backgrounds, colors and eye-catching themes. That's not all, you should also check out the music player that can keep you entertained during your long browsing session.
Install: Free
SEE ALSO: 8 Best Data Saving Android Browsers to Surf the Web Faster
What's Your Favorite Windows 10 Web Browser?
To me, Google Chrome is still ahead of the curve on most fronts. Though I do use Firefox and other notable browsers (mentioned above), it's indeed hard to look beyond Chrome thanks to its seamless integration with Google services and ever-growing library of extensions. I think Edge on Chromium is the way forward for Windows 10 but it totally depends on how Microsoft executes its development.
Now that I've spilled the beans about my top web browsers for Windows 10, it's your turn to let me know your best picks. And of course, also share your thoughts about the one that's going to be your default option.