If you're looking to run Android on your Windows PC, there's no shortage of emulators available today. For those who are wondering, there are numerous reasons why you might want to use an Android emulator on your Windows PC. For instance, Android developers can debug their apps right onto their desktop, gamers can enjoy Android-specific games on a larger screen and the list goes on. So, now that you see the various benefits of using Android emulators, it might be tempting to try one. The problem with Android emulators is that a lot of them are finicky and tend to not work as advertised. Therefore, I tried more than a dozen emulators to bring you the 7 best Android emulators for Windows.
Note: I tried all the emulators on my HP Envy (Core i7) running Windows 10 Home and can confirm that they work as advertised. All of these apps should work on Windows 7, 8, 8.1 as well but given the wide range of Windows hardware, they may or may not work well. 
Best Android Emulators for Windows in 2020
1. Bluestacks
BlueStacks is undoubtedly one of the best Android emulators that you can find on Windows. It not only covers gaming but as a general user, if you want to enjoy Android apps on Windows PC then BlueStacks is a great emulator at your disposal. Over the years, it has gone through many refinements and the current BlueStacks is based on Android 7.1.2 which is Nougat. The company has promised that it's going to bring BlueStacks 5 with a new gaming engine and that will be based on Oreo. Apart from that, the best part about BlueStacks is that it can run on any kind of Windows hardware, be it Intel or AMD. So the issue of compatibility is solved with BlueStacks.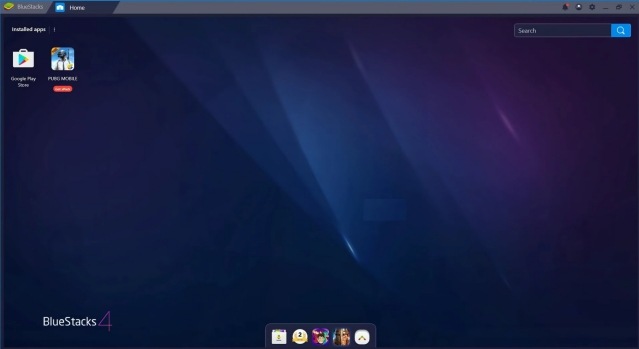 Further, to provide a seamless Android emulation on Windows, BlueStacks has partnered with Samsung to bring the Galaxy Store on its platform. That's awesome, right? It gives you access to a number of quality Android games on Windows including Fortnite, RAID, Sonic Forces and more. And let's not forget about the performance. The company claims that BlueStacks is 6X more powerful than standard Android phones out there. On top of that, it offers a range of features like multi-instance, key-mapping and an AI-based gaming engine for superior performance. All in all, if you are looking for the best Android emulator on Windows then BlueStacks surely comes at the top.
Download: Free
2. Nox Player
If you're someone who's looking for an Android emulator on Windows that offers tons of features other than just gaming, well then, Nox Player is the perfect pick for you. We've previously reviewed the emulator and boy, does it come preloaded with a plethora of features. Gameplay optimizations, controller compatibility, ability to change the Android device's build.prop, and a completely user-friendly interface are just some of the things where Nox Player outshines BlueStacks and other Android emulators on Windows.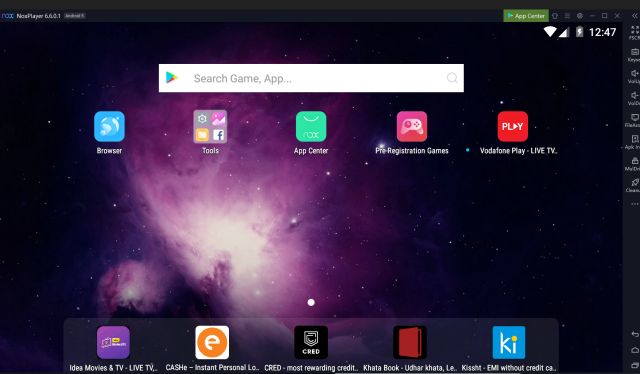 It is based on Android Lollipop 5.1.1, but you can run multiple Android versions up to Nougat using its Multi-Drive feature. But one factor where Nox Player truly scores over BlueStacks is the ability to get root access. If you've ever tried rooting BlueStacks, you'd know that it is a tedious task. But on Nox Player, you simply have to enable a toggle in the settings, and poof! – you're rooted. That's how simple Nox Player is for you and I believe it's among the best Android emulators on Windows.
Download: Free
3. MEmu Play
MEmu Play is another awesome Android emulator on Windows that has lately gained a lot of traction. It is a tough task to name a single or even a couple of features considering that MEmu comes loaded with a ton of useful features. One of the most prominent features of the emulator is the fact that it supports both Intel and AMD CPUs which is great from a compatibility point of view. As astonishing as it may sound, but it is a feature not available on many Android emulators out there.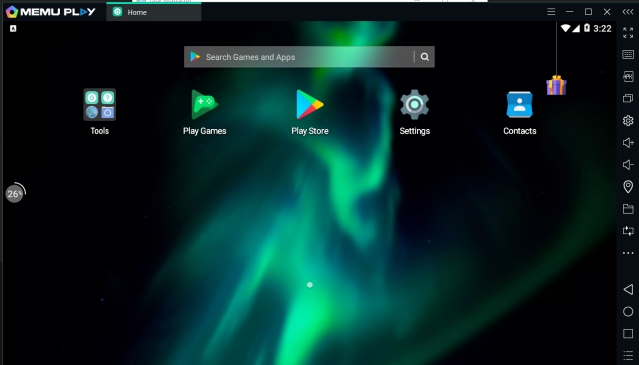 Apart from that, the emulator comes with the ability to run multiple instances of apps and Android versions at once. Furthermore, the software is based on Android Nougat (7.1.2) by default and can also run Kit Kat (4.4), and Lollipop (5.0). It also allows you to have three different windows for all three Android versions. While the emulator has some great optimizations for gameplay, I think it's one of the best Android emulators for general users as well. You can run the emulator on any Windows version from Windows 7 to 10 and it's compatible with both Intel and AMD processors. What more can you ask for?
Download: Free
4. LDPlayer
If you are looking for an Android emulator for Windows 10 that is optimized for gaming then let me offer you the latest emulator in town, LDPlayer. It has been just a few months since its launch, but LDPlayer has quickly risen to popularity due to its great performance. I installed it on my AMD powered laptop and it worked flawlessly without throwing any error. It means that the emulator will comfortably run on Intel-based Windows PCs as well. As for the Android version, LDPlayer runs on Android Nougat (7.1.2) for better performance and compatibility.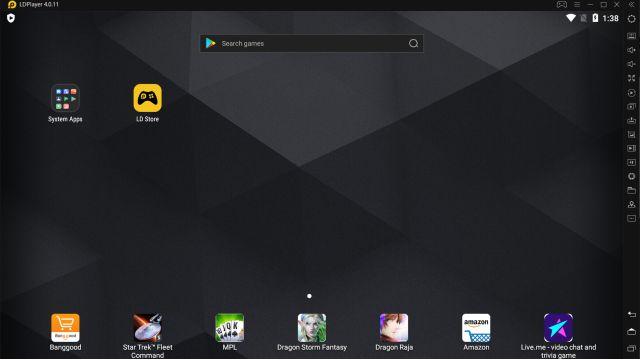 There is also a dedicated app store for games and they run quite well on LDPlayer. If you want to improve the performance, you can also take advantage of Virtualization Technology from the Settings page. All in all, I would say LDPlayer is an up-to-date Android emulator that offers a simple yet powerful Android experience on Windows computers, be it gaming or just general usage.
Download: Free
5. Remix OS Player
We've previously talked about Remix OS, the full-fletched OS replacement for your Windows system that is based on Android and gives you an entire desktop experience. However, if you wish to avoid all the hassles of installing a new OS on your device, the Remix OS Player is the one for you. Remix OS Player is a free Android emulator for Windows and it's based on Android 6.0 Marshmallow.
Remix OS Player is in most ways, one of the best Android emulators out there. Apart from carrying a ton of features such as button mapping, native Google Play support, manual settings for signal strength, network type, location, battery and more, what sets the emulator apart from the herd is how stable the software is. I've tried it on almost all the laptops I've owned and reviewed and never has the software let me down. Stability is a factor you must take into account and the Remix OS player delivers on that front. However, keep in mind, Remix OS Player is no longer in development. But you can use the older build which is based on Marshmallow. I did test it on my laptop and it performed pretty well.
Download: Free
6. Gameloop
Gameloop is another way you can experience high-quality Android gaming on Windows PCs. It's a dedicated gaming emulator developed for gamers who want to play a range of Android mobile games on desktop PCs. You may be surprised to find that Gameloop– earlier called Gaming Buddy — has been developed by Tencent as part of the desktop-mobile gaming experiment. Initially, you could only play PUBG on this platform, but now Tencent has brought support for a huge list of Android games which include Free Fire and Call of Duty as well.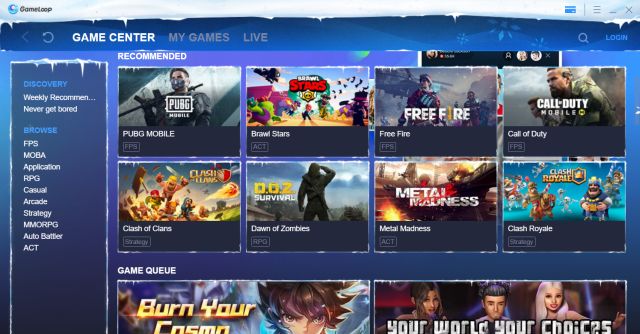 Additionally, you can get the Google Play Store by installing a separate module that is available inside the setup. Basically, with Gameloop, you are getting Play Store support, all the popular Android games with mouse and keymapping support. So to put it straight, if you want an Android emulator for PUBG and other games on Windows 10 then Gameloop is a much better proposition.
Download: Free
7. Genymotion
If you are an Android developer and looking for a way to virtually test out Android apps in a Windows environment then Genymotion is one that you should pick. It runs offline through a Windows app and on the cloud through a web browser so you have great flexibility. In addition, you have a lot of options as you can choose your Android platform from Android 4.1 to the latest Android build. On top of that, you can also install the Google Play Store by selecting your choice of GApps package.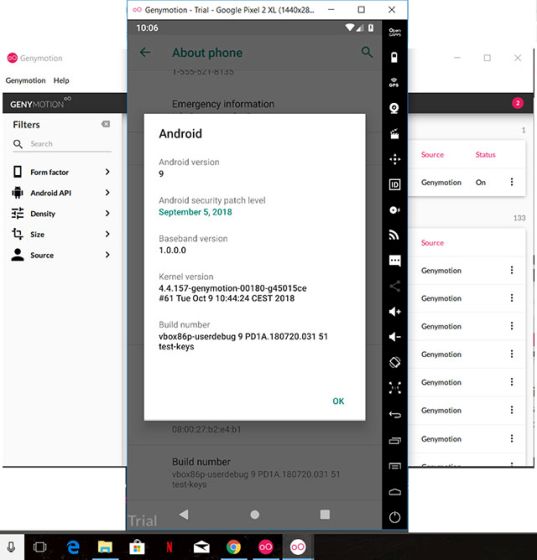 However, you can't install heavy games like PUBG or Call of Duty so keep that in mind. Apart from that, the best part about Genymotion is that you can integrate it with Android Studio on your Windows computer and develop your app smoothly on your choice of device and platform. So to conclude, if you want to test apps on multiple Android versions in a Windows environment then go with Genymotion.
Check Out Genymotion: (Free Cloud Trial for 60 minutes, Desktop plan starts at $136/year)
Other Android Emulators For Windows
There are some more Android emulators I gave a shot but they didn't make the cut to the above list. Some of the other Android emulators I tried are AndyOS, KoPlayer, and Droid4X. The reason I didn't include them above is because I wasn't able to get them to work on my machine, even after hours of troubleshooting. This does not necessarily imply that these emulators are worthless. If you feel that even after trying out the best Android emulators, none of them really suits your needs, feel free to give these emulators a try. Lastly, there's also an official Android emulator that comes bundled with Android Studio. It is built from the ground-up mainly for development purposes, and thus may not be an ideal choice for end consumers looking to run Android apps/games on their PC. That being said, there's no harm in trying it out!
Run Android Apps on Windows with the Best Android Emulators
So, this was my list of some of the best Android emulators you can use to run Android apps on your Windows PC. Whether you're a developer looking to test apps or you're a casual user looking to play some games, you will certainly find the best emulator for your need. If you ask me personally, I'm torn between MEmu and Remix OS Player. But with so many good alternatives around, it doesn't necessarily have to be the same for you. Which one of them is your favourite Android emulator for Windows? Chime in your two cents using the comments section below.