If FaceTime suddenly seems like a compelling alternative to video conferencing services like Zoom and Google Meet, it could be because of two notable feature additions – screen-sharing and SharePlay. As is the case with almost any new feature, app developers are taking their sweet time to make their apps compatible with SharePlay in FaceTime, which is designed to offer an enhanced co-watching experience. If you have upgraded your iPhone to iOS 15, you might be wondering what all apps support SharePlay and can be broadcasted to other users over FaceTime. Well, if that's the case, we have you covered with an exhaustive list of apps compatible with FaceTime's SharePlay feature on iPhone.
Best FaceTime SharePlay Compatible Apps in 2022 (Regularly Updated)
First things first, FaceTime's SharePlay is much more than a nifty feature for setting up a virtual watch party with your friends. Well, you can use this new feature to listen to your favorite tracks with your buddies, invite friends to sweat it out with you to lose that pandemic fat, or even have fun gaming nights with the family. It is just the tip of the iceberg, so take a look at the complete list of SharePlay supported apps for Phone.
Best SharePlay Supported Apps for Video Streaming
To kickstart this roundup, let's first check out the SharePlay apps that let you watch videos with your friends.
Apple TV+
As you might have already guessed, Apple TV+ supports SharePlay right off the bat. That means you can use Apple's video streaming app to watch movies and TV shows together with friends and loved ones over FaceTime on your iPhone. You can watch Apple TV+ shows like Ted Lasso, Dickinson, The Morning Show, and others over FaceTime using SharePlay.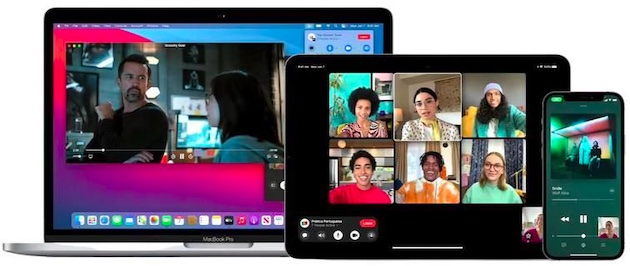 Install: Limited free trial, $4.99/month
Disney+
Disney+ is one of the few third-party video streaming apps that supports FaceTime's SharePlay feature. With a massive library of movies and exclusive originals from the creators of Pixar, Marvel, Star Wars, National Geographic, and more, Disney+ has got a boatload of rich content for you to binge with friends.
Install: Free, subscription starts at $7.99/month 
HBO Max
HBO Max has long been a popular video-streaming app, and well, it's one of the few to support FaceTime's SharePlay feature from the get-go. With an ever-growing collection of blockbuster movies, TV shows, and the exclusive Max Originals, it has enough variety of content to warrant your attention. 
Install: Free, subscription starts at $9.99/month 
Hulu
Another video-streaming app that deserves to find a safe spot on this list is Hulu. It has also supported SharePlay from the start. So, the next time you want to organize a virtual watch party, you can utilize its massive collection of movies, TV shows, originals, live TV sports, and more. 
Install: Limited free trial, $6.99/month
MUBI: Curated Cinema
Slowly but steadily, MUBI has compiled a mammoth catalog of curated movies that you would never get tired of streaming. Moreover, it also offers detailed reviews, reliable ratings, and rich editorial content so that you can easily find out whether or not a flick is worth your time. And well, you can stream it all with friends and family over SharePlay.
Install: Limited free trial, $10.99/month
SHOWTIME
Showtime is a one-stop platform for streaming blockbuster movies, award-winning documentaries, comedies, and even sports. Notably, it frequently adds new titles, so you will always have something new to stream during your virtual watch parties.
Install: Limited free trial, $10.99/month
TikTok
Vertical short videos have become a fascinating trend these days, and TikTok deserves credit for its immense popularity. A platform with millions of creators, the short-video platform lets you explore a variety of videos from dancing and comedy to DIY. Thanks to the support for SharePlay in Apple's FaceTime video calling app, you can now easily watch funny clips with your friends.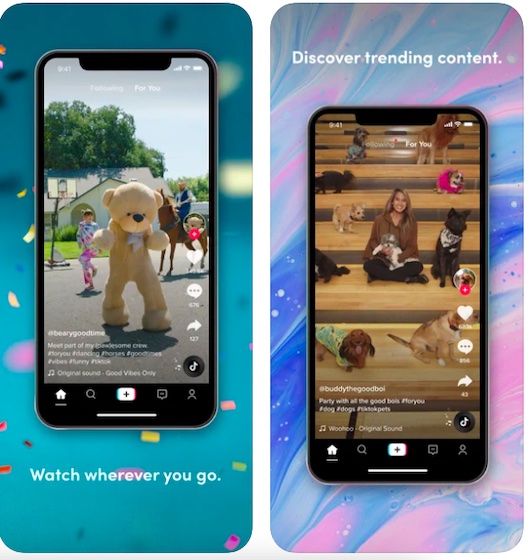 Install: Free
Digital Concert Hall
If you are a fan of concerts, you shouldn't miss out on Digital Concert Hall. With this app, you can watch more than 40 live broadcasts every season. With support for SharePlay, Digital Concert Hall also lets you relish the beauty of live and on-demand concerts with your friends at home during the pandemic. 
Install: 7-day free trial, $19.99/month
Cameo
Do you dream to collaborate and produce videos with a celebrity or your idol? If your answer is yes, try Cameo. It's an app that allows you to collaborate with celebrities (in a fun way) to create eye-catching clips. Do note that Cameo first requires you to book a video, and it takes up to 7 days for creators to record your personal video messages.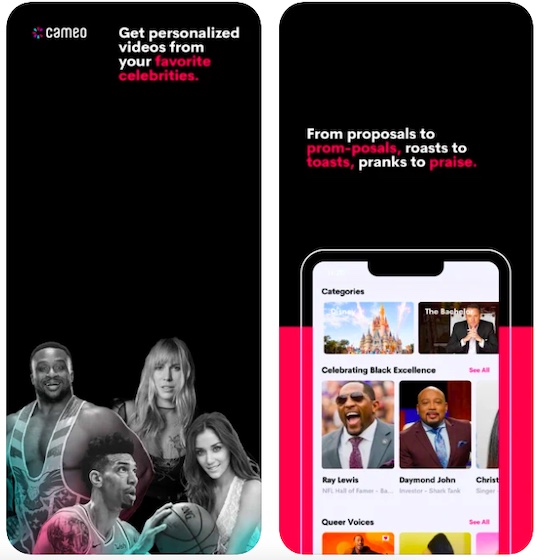 Install: Limited free version, starts at $0.99 for Cameo item 
MasterClass
Looking to learn a new skill with your friends? Well then, you should check out MasterClass, an app that offers you access to tutorials and lectures from experts in a variety of fields, randing from best-selling authors, celebrities, and musicians to scholars, politicians, as well as fashion designers, among others. So, you can get an exorbitant subscription for MasterClass and watch the tutorials with friends using the FaceTime app's SharePlay feature.
Install: Free, All-Access pass starts at $179.99
Twitch
If you are a gaming enthusiast and would like to watch live streams for your favorite FPS shooter game or MOBA games together on Twitch, it is now possible to do so. The Twitch app on iPhone has added support for FaceTime's SharePlay feature and allows you to watch streams together in sync and share playback controls.
Install: Free
Best SharePlay Supported Apps for Live Sports
If you are a sports lover and can't live without catching up with the latest live event, you would like to have these SharePlay-supported apps at your disposal.
Paramount+
For sports lovers, Paramount+ is a go-to option for streaming live events. With this app, you can catch up with live sports, breaking news related to sports, and even stream over 30,000 episodes from hit series, including NCIS, SpongeBob SquarePlants, Survivor, and more. 
Install: Limited free trial, $4.99/month
ESPN+
When there is a discussion about the best apps to follow sports news and live events, you can't keep ESPN out of the equation. Apart from letting you watch NFL, NBA, MLB, golf, soccer, Tennis, the app also lets you stream exclusive originals. And with support for SharePlay, you can stream all of its with friends over FaceTime.
Install: Limited free version, $6.99/month
NBA: Live Games & Scores
While NBA (official app) may not be as popular as ESPN and Paramount+, it is exactly what you should choose to keep track of the latest scores of NBA basketball matches. What's more, it also lets you keep track of the latest news and watch in-game and post-game highlights along with friends over FaceTime.
Install: Limited free version, $9.99 for NBA conference finals
Best SharePlay Compatible Apps for Music and Podcast
There are quite a few music and podcast apps that support SharePlay.
Apple Music
Despite the stiff competition from the likes of Spotify and YouTube Music, Apple Music is one of the most popular music-streaming apps in the world. And if you are deep into the Apple ecosystem, you would be glad to know that Apple Music supports SharePlay out of the box.
Install: Limited free trial, subscription starts at $4.99/month
Spotify
If you are on the other side of the court and use Spotify for your music streaming needs, you will be delighted to know that it supports the SharePlay feature during FaceTime calls. You can listen to music from a catalog of over 75 million songs and share playback controls with ease over FaceTime.
Install: Free, Premium subscription starts at $7.99/month
SoundCloud
Boasting a huge library of over 200 million tracks, SoundCloud is the world's largest audio streaming platform. So, whether you like to tune into podcasts, audiobooks, jazz, or other trendy tracks, it has the variety to win you over and enjoy some amazing tracks with friends using FaceTime.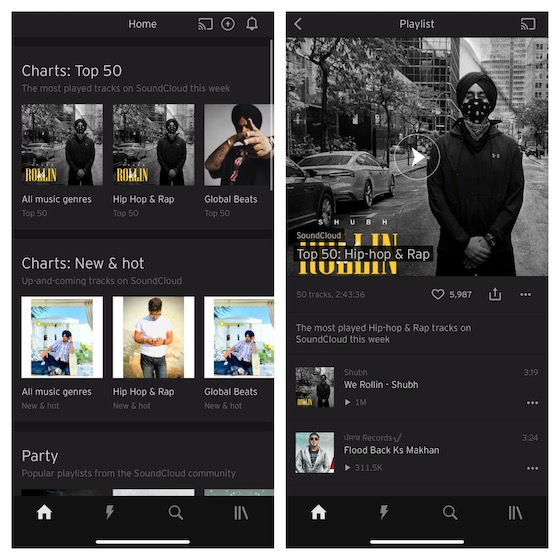 Install: Limited free version, premium starts at $5.99/month
Moon FM
Moon FM is a feature-rich podcast app. Apart from featuring one of the biggest collections of podcasts, the app has a pretty intuitive design. Features like Top Charts, a handy sleep timer, and export functionality play a vital role in enhancing your podcast listening experience and will come in handy during SharePlay sessions.
Install: Paid, $4.99
Vinyls
If you are looking for a good free music player that lets you listen to your favorite songs with friends and loved ones, make sure to check out Vinyls. What makes this app worthy of your attention is the beautiful and fully customizable UI. Moreover, this app also offers cool widgets and supports AirPlay, as well as SharePlay, to enhance your music listening experience.
BetterSleep
BetterSleep (formerly Relax Melodies) can help you relieve stress and improve your sleep. With more than 200 relaxing sounds, bedtime stories, and meditation exercises, the app is designed to make you fall in love with sleep. Or, for that matter, get the better of stress – now with friends or loved ones over FaceTime.
Install: Limited free version, lifetime access for $19.99
Best SharePlay Supported Apps for Fitness and Workout
With SharePlay, you can also organize a FaceTime workout party to sweat out in sync with your buddies to get rid of the pandemic fat that we have accumulated being cooped up at home.
Apple Fitness+
Whether you are a fitness freak or a health-conscious person who wants expert tips and guides to achieve the desired goals, Apple Fitness+ could be the right option for you. Featuring a ton of workout types, including strength, pilates, HIIT, and more, it's has enough variety to fit your specific needs. Moreover, it also offers guided mediation as well as video and audio sessions that you can follow over FaceTime using SharePlay.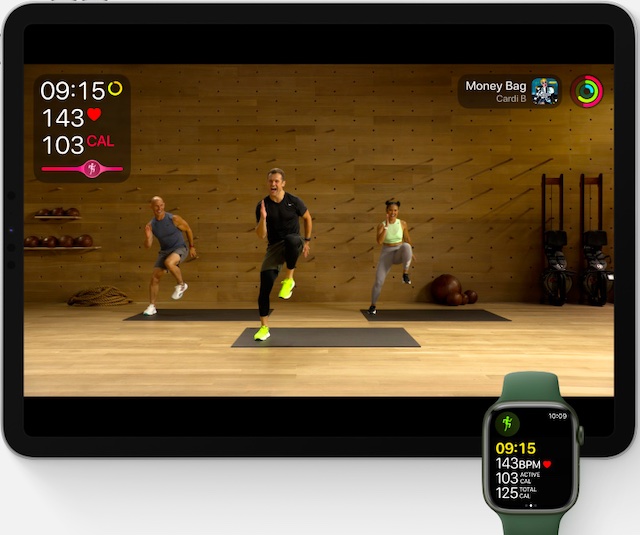 Install: Free app, $9.99/month subscription
SmartGym
SmartGym is what you should pick to create fully personalized workouts and keep track of your progress. The app has curated collections of workouts based on different equipment and goals. So, whether you wish to lose a lot of pounds or strengthen your muscle, this app can live up to your expectation.
Install: Limited free version, $9.99/month
Mapless Walking Directions
Here is a pretty simple navigation app that shows which direction you need to go and how far away your destination is. And thanks to its SharePlay integration, you and your friends can comfortably walk on your path without having to check the turn-by-turn directions again and again.
Install: Limited free version, $0.99/month
Workout Plan Bot
If you are on the lookout for a smart workout tracker, I recommend trying out the Workout Plan Bot. With this app, you can create workout routines based on your goal and keep an eye on your progress with ease. Moreover, it automatically syncs your data with Apple Health and also provides the flexibility to share your workout routines with friends over SharePlay.
Install: Limited free version, $0.99/month
BetterMe: Health Coaching
BetterMe is a highly-rated workout and calorie tracker that can help you lose/ gain weight using personalized workouts and nutrition plans. Furthermore, it also offers detailed progress tracking to keep you fully informed about how well you are performing. And with the cognitive therapy practice-based tips, BetterMe ensures you remain on your path to achieving your goal, which you can share with friends over Apple FaceTime.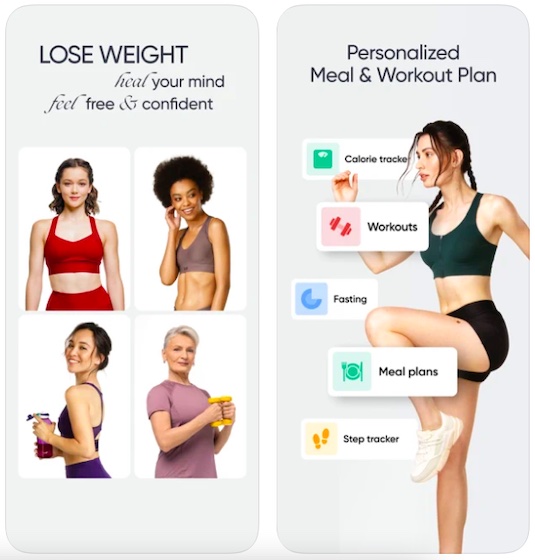 Install: Limited free version, $9.99/week
Best SharePlay Supported Apps for Games
Nnot just movies or music, you can also play games together with friends over FaceTime using the SharePlay feature. Here are some cool games that support SharePlay and you would enjoy playing with friends:
SharePlay Guessing Game
If you are fond of fun-loving guessing games, chances are you would enjoy playing the SharePlay Guessing Game. The gameplay is pretty easy and requires you to answer questions through voice. Hence, you won't have to fiddle with the keyboard to input answers during this FaceTime party game.
Install: Limited free version, $2.99 for extra pack
Shhh!
Shhh! is a light-hearted party game for FaceTime users. Talking about the gameplay, you need to give roles and show certain locations to everyone except the spy, who is decided through a series of questions. And the spy has to identify the location. Quite interesting, isn't it?
Install: Limited free version, $2.99 for full version
Heads Up!
Another game app that's primed for SharePlay parties is Heads Up. If you have a liking for charades, you would love every bit of this word game. As for the gameplay, it's all about guessing the word that's on the card.
Install: Paid, $1.99
Kahoot! Play & Create Quizzes
As someone who never gets tired of playing quiz-based games, I'm very fond of Kahoot! The best part about quiz games is that they are not only plenty of fun but offer a learning experience as well. And that's why Kahoot! may appeal to everyone at the FaceTime SharePlay game party.
Install: Limited free version, $11.99 for Kahoot! Plus
Piano with Friends 
If quizzes and word guessing games are not your cup of tea, you could try your hand at music creation using the Piano with Friends app. It comes with SharePlay support and allows you to share a resizable 88-key keyboard with friends over Facetime on your iPhone.
Install: Paid, $1.99
Best SharePlay Apps for Tasks and Reminders
With these task and reminder apps, you will have an enhanced collaboration experience over SharePlay with your friends or colleagues.
Bluebird – Focus Timer & Tasks
Time management is key for enhancing productivity. And for this exact purpose, Bluebird can be a great asset for you. By combining task management with focus mode, this iPhone app allows you to take control of shortcomings and prevent hurdles from coming in the way of your tasks. You can use it for virtual group study sessions with SharePlay over FaceTime calls.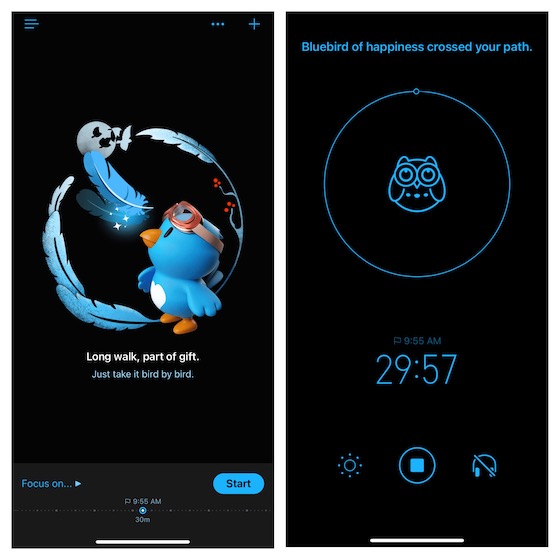 Install: Limited free version, $1.99/month for the premium version
Doneit: Reminders, To Do List
Doneit is an efficient to-do list and task manager app. With the help of this app, you can create as many tasks as you need and keep track of the progress with timely reminders. What's more, thanks to SharePlay support, the Doneit app allows you to securely share and collaborate on tasks with your friends over FaceTime on iPhone.
Install: Limited free version, $1.99/month for the premium version
Flow: Sketch, Draw, Take Notes
Apart from being a super handy app for drawing and sketching, Flow can also double up as a useful note-taking app. As it supports Apple Pencil, you can use the digital pen to create stunning works of art and also take notes with precision.
Install: Limited free version, $1.99/month for the premium version
Other Notable SharePlay Apps You Should Check Out
Night Sky
Night Sky is a planetarium app that can help you identify stars, constellations, planets, and satellites. Interestingly, the app can also let you travel to anytime in the past using a feature called "Space Travel", which you would love to use over SharePlay in a FaceTime party on your iPhone.
Install: Limited free version, $4.99/month for the premium version
Carrot Weather
While there is no dearth of iPhone weather apps in the App Store, Carrot Weather stands out in terms of accuracy and rich interface. So, if you are hunting for a powerful weather app for your Apple Device, make sure to check out this 2021 Apple Design Award winner. But, why would you want to screen share a weather app over FaceTime is beyond me.
Install: Limited free version, $4.99/month for the premium version
Apollo for Reddit
Apollo has long been my favorite Reddit app on iPhone, so it's good to see the app getting onboard with the SharePlay integration. If you are a Redditor, you may already be familiar with the app's beautiful interface and fully customizable gestures. And well, you can now use Apollo for Reddit to browse through memes together with friends.
Install: Limited free version, $0.99/month for the premium version
Translate Now
Whether you wish to learn multiple languages or want a powerful language translator to help you communicate effectively, Translate Now could be an ideal option for you. What puts this app in an elite league is the ability to translate text into more than 110 languages. You can take advantage of SharePlay support in this iPhone app to master your favorite languages with your friends.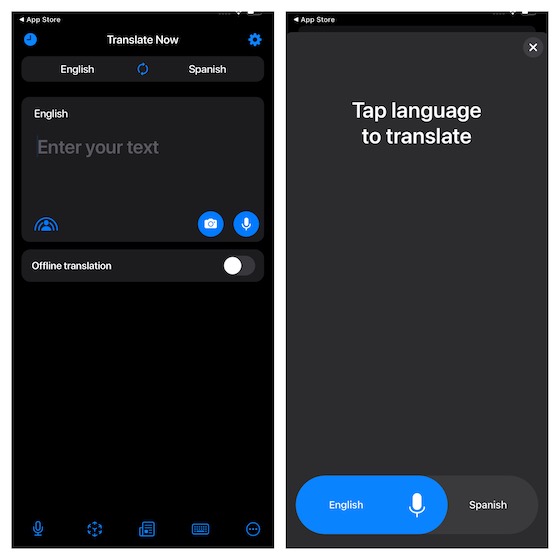 Install: Limited free version, $9.99/month for the premium version
List of Apps that Support SharePlay on Apple's FaceTime
So that wraps up this massive roundup of apps that support SharePlay in FaceTime on iPhone. Since SharePlay is still new, several apps are yet to add support for this amazing new feature. To ensure you always have a variety of options at your disposal, we will update this post on a frequent basis. By the way, which are your favorite apps that work with FaceTime's SharePlay feature? Share your top picks with us in the comments section below. Also, if we have missed out on any iPhone app that is compatible with SharePlay, do let us know in the comments section, and we will update the list accordingly.
---
Load More