Spotify is one of the most popular music streaming services across the globe, with more than 200 million total users across 80 countries- now including India as well. Spotify has finally stepped foot in India after a lengthy hold-up and it brings in tow some of the best discovery and recommendation features to the netizens here.
I believe most of you know how to use Spotify. You can play songs for free with ads and lacking offline support or shell out some money for added benefits. However, if you're a music junkie that wants to further elevate their listening experience, well, then you have come to the right spot. We have compiled a list of the 12 best Spotify tips and tricks that one should definitely know. Let's check it out:
12 Best Spotify Tips and Tricks
1. Control Playback on Other Devices
One of the best and my favorite features of Spotify is that it syncs your current listening session to the cloud, giving you the power of cross-device playback control. Dubbed as Spotify Connect, this feature enables you to play music and control it from any of your devices. You could be listening to music on your laptop or speaker, but the mobile device can be used as a remote.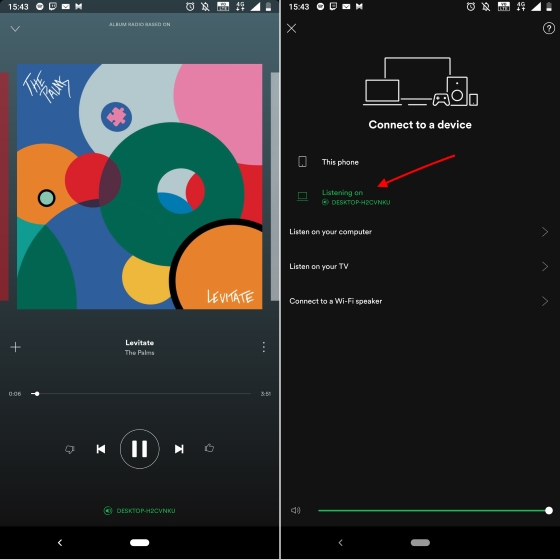 As you can see in the screenshot above, I'm listening to songs on my computer but the Spotify app on my Android device displays what song I'm listening to and play, pause or stop playback. You can effortlessly switch between devices by tapping the 'Spotify Connect' icon at the bottom of the player.
2. Powerful Search
While searching for music using the artist, album or song title on Spotify is common, the music streaming giant also enables you to perform advanced searches via operators like AND/OR/NOT, as well as narrow your search results to the year, genre, and more.
You can also combine these advanced search techniques, like Pink Floyd year:1965-1995 NOT year:1990 for tastefully precise results. This makes it much simpler for me to search for Queens of the Stone Age discovery. Here are all the advanced search terms a Spotify user should know:
year: Will display music from a particular year. You can also enter a range of years as well.
genre: Will display music from a particular genre.
label: Will display music released by the label
isrc:  Will display tracks matching ID number according to the International Standard Recording Code.
upc:  Will display albums matching the ID number according to the Universal Product Code.
3. Find Explicit/Remix Tracks
Spotify is designed for use by everyone. While some users are more comfortable with a clean version of the track, there are others who would pick the explicit or remix of their favorite track. The search shows the most popular version of the track and it might not necessarily be what you like, however, searching for its alternative version is no chore.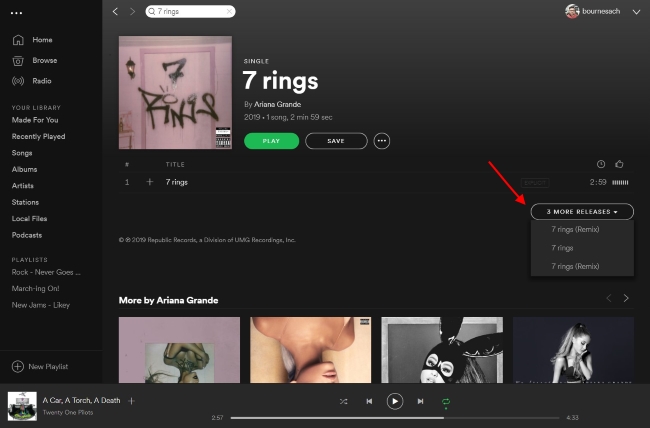 At the end of an album, the streaming giant offers an option to check out the alternate versions of a track or album via the 'X More Releases' option. Not every track or album sports this option on the desktop or web app.
4. Collaborative Playlists
If you and your friend have an almost identical taste in music, the collaborative playlists feature could be super fun to check out. Spotify allows you to create playlists which you can share with your friends and they can edit the same – add or remove songs from the playlist. Collaborative playlists are marked by a hollow circle next to their name.
To create a collaborative playlist, you'll first need to create a simple playlist and then tap the 'three dots' icon and choose the 'Collaborative Playlist' option from the menu in your Spotify desktop or mobile app.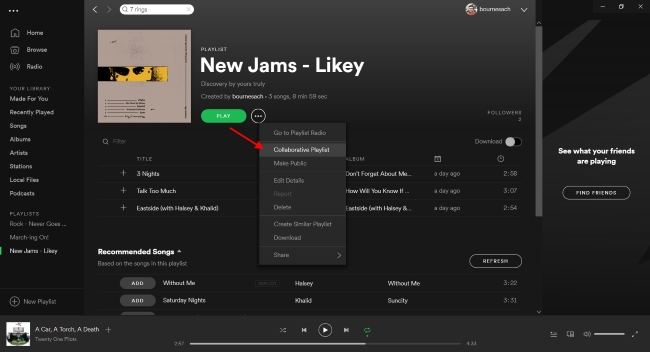 If you want to turn an existing playlist into a collaborative one on the Spotify mobile app, then go to "Your Library > Playlists" and tap the 'three dots' icon next to the playlist and select the Make Collaborative option. All that's left to do now is sharing the playlist's link with friends, making this feature super handy at parties where anyone can add music to the playlist.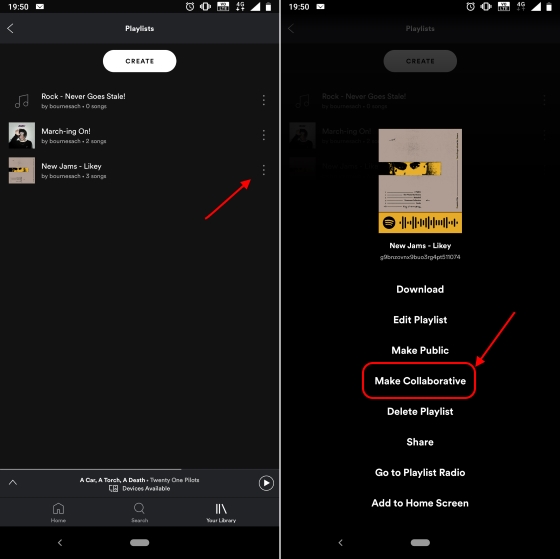 5. Transfer Playlist from Other Services
Spotify being super late to the music streaming scene in India means that there's a high probability that you've been using some other streaming service for your music needs. I myself had stuck to Google Play Music and accumulated a lot of artists, liked tracks, and obviously a myriad of playlists on there.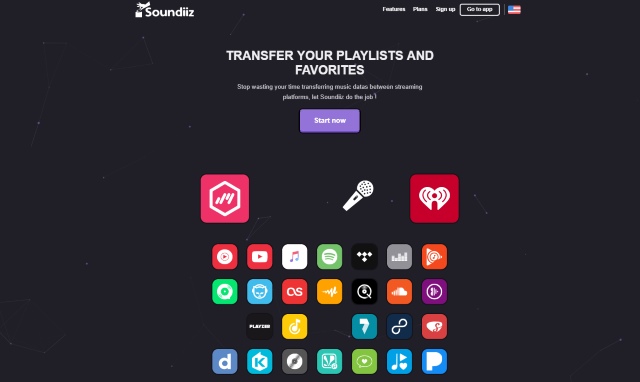 Your collection on a certain music streaming service could be a primary reason for you being wary of making the switch, but don't fret as you can bring all that over to Spotify pretty easily with the help of a third-party service called Soundiiz. It allows you to bring your collections from a number of streaming platforms and move them to other ones in minutes.
6. Maintain a Detailed Spotify History
Spotify maintains a record of all the tracks you've played recently and you can check the same by clicking the 'Queue' button from the bottom bar and navigating to the 'History' tab. However, it isn't really exhaustive and doesn't offer any insights into your tastes or listening pattern.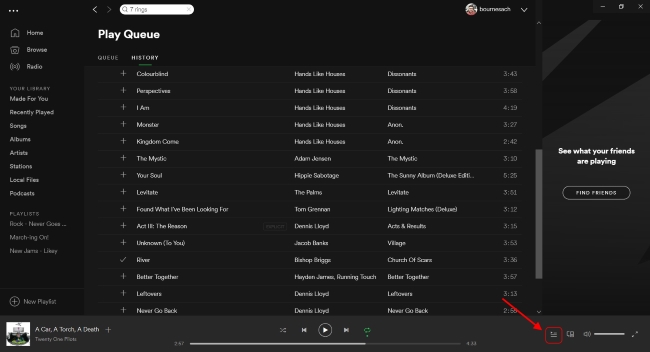 Well, this is where Last.fm comes to the rescue. I bet a lot of you must have heard of it since the service has been around for quite some time, but it's still relevant and popular today as well. You can set up Spotify Scrobbling in Last.fm to get a detailed Spotify playback history log, weekly reports with insight into your music tastes.
To be able to maintain a detailed history log, simply follow the steps defined below:
1. Navigate to the Last.fm website via this link. Tap the profile icon at the top right and select the Settings option once you've logged in.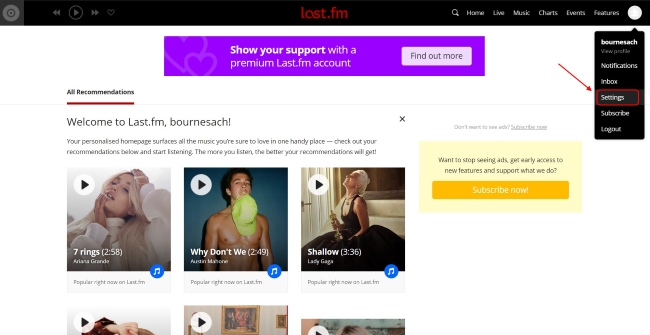 2. In the Settings menu, head to the 'Applications' tab and connect your Spotify account next to the 'Spotify Scrobbling' feature. Note: Scrobbling, for those unaware, means the name of the track you listen on a streaming platform is sent to another website for safe-keeping.
7. Add Local Library to Spotify
Unfortunately, Spotify's catalog is currently lacking a number of artists, all because of its failure to secure a partnership with Warner Music in India. But you don't need to worry if you don't find a song or album that you're looking for because you can yourself add it to the streaming service from your personal offline collection.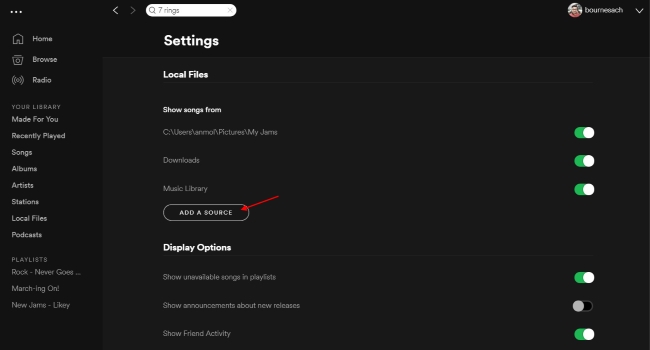 This feature is limited just to Spotify's desktop app, so tap the downwards arrow next to your username to open the Settings and scroll down to the 'Local Files' section. Here you can add the folders where your music is stored on your computer via the "Add a Source" button.
You cannot add solo tracks to Spotify's local file catalog, only folders from where the app will scan and bring in every track. You can check out my local library below, which surely packs all of Twenty One Pilots' tracks due to their lack in India: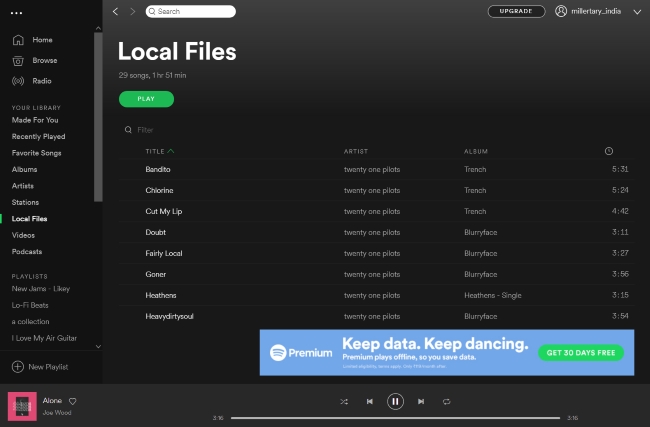 8. Share Links With Timestamps
If you've been using Spotify for some time, you would already know that sharing songs is super easy as there's a dedicated option available for the same next to each track, album, and playlist. However, it's also possible to share specific parts of the track too.
There are times you simply want your friends to check out that guitar breakdown or bass drops in a track. It's possible to share the exact minute and seconds you want a friend to start listening to a song from and here are the steps on how you can do just that:
1. Open the Spotify desktop app, navigate to the track you want to share and tap on the 'three-dots' icon next to the track to see the Share option.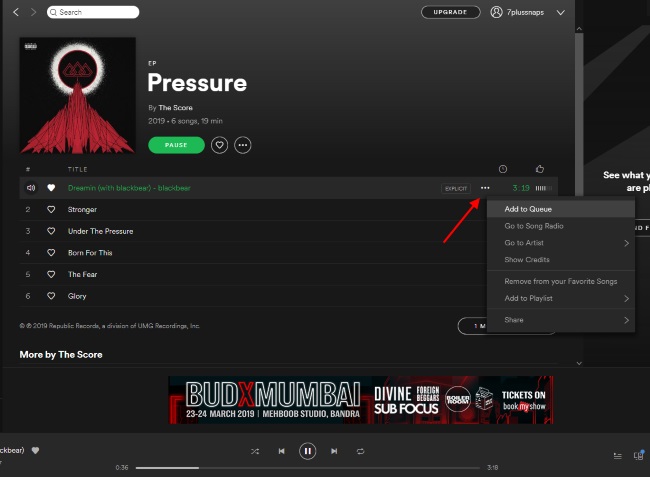 2. From the share menu, you'll need to select the 'Copy Spotify URI' option and then comes the most important part – adding the timestamp to this code. The URI code looks something like this (spotify:track:2EtDBM1HREttw143IwZvJ0) and now you need to add the timestamp (suppose 2 minute and 9 seconds) after a hashtag at the end of the URI code:
Note: The URI codes are available in the Spotify desktop app. Neither the web or mobile apps allow you to share or play the same.
3. You can now copy and share this time-stamped Spotify URI code with friends, who can then paste it into their desktop app to listen to the track from that instant. The URI code doesn't work with Spotify's mobile and web apps, showing a 'no results found' error.
9. Share Songs to Instagram Stories
Gone are the days of sharing screenshots of the new song you like to Instagram Stories in India. With Spotify finally debuting in the country, you can now easily share songs, albums or playlists to your Stories for others to discover the same.
1. To do so, you will first need to select the 'Share' option under the 'three-dots icon' menu from the Now Playing screen.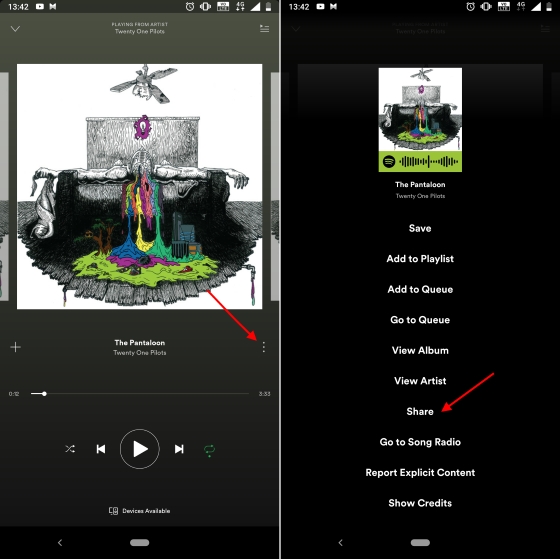 2. You would then see the Instagram Stories option in the Share menu, which on tapping redirects you to the Stories creation screen and shows the artwork of the song, album or playlist you're about to share. Simply jazz up this story with stickers or a caption and hit 'Your Story' for all to see.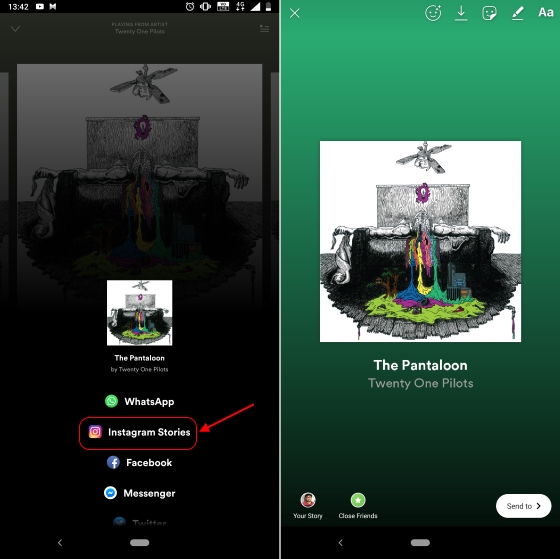 10. Control Spotify in Google Maps
Another popular Spotify integration made its debut towards the end of last year and it's none other than Google Maps. Music is an integral piece of road trips or long drives and Google knows it too, so it integrated the option to control Spotify and Google Play Music playback with its mapping app. You can enable the same by following the steps detailed below:
1. Open the hamburger menu in Google Maps, tap on the Settings option at the bottom, followed by the 'Navigation settings' option.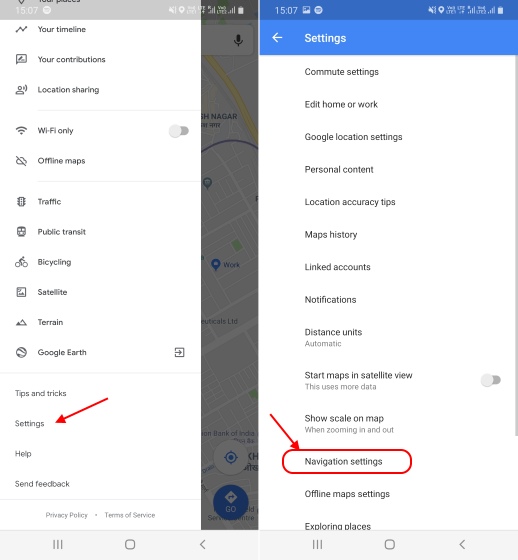 2. Now toggle the button next to the 'Show media playback controls' option and select "Spotify" as your default media app. You will need to link your Spotify account to Google Maps to make this integration work.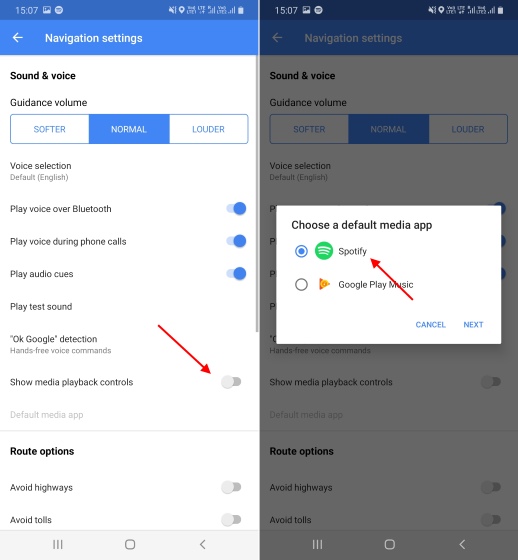 3. You're now all set to command your Spotify playlists right from the navigation screen. Simply select a drop location and start navigation to see the Spotify icon on the left side, which on tapping shows the controls (and an option to browse recent songs and playlists) at the bottom.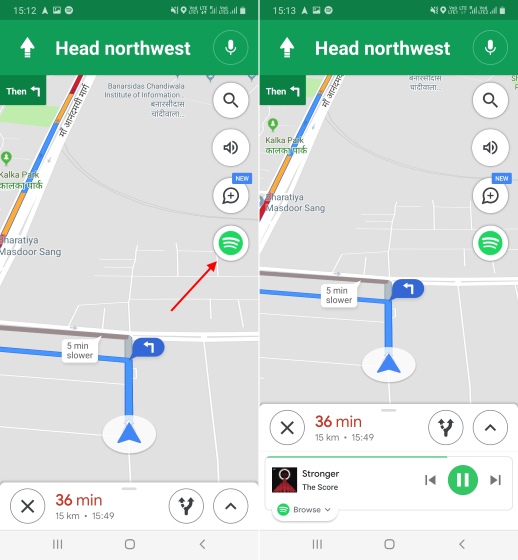 11. Wake Up to Your Favorite Track
My favorite Spotify integration will most definitely have to be this, with the Google Clock app. If you have the Spotify app installed on your Android device, you can now pick the song you would like to wake up to.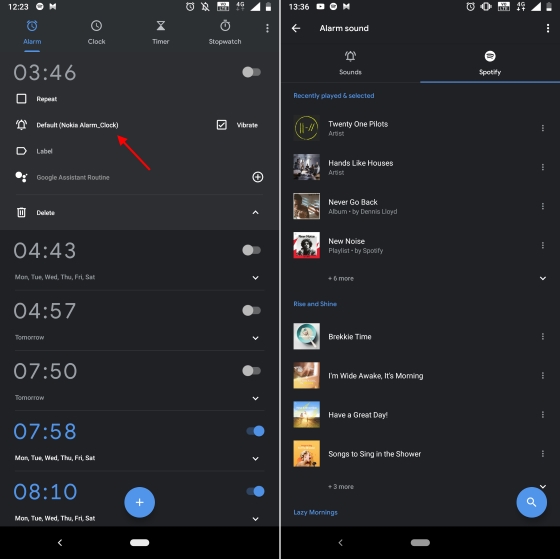 As for how to select a track from Spotify as your alarm tune, well, tap the 'alarm sound' option while setting up an alarm and you will see a new 'Spotify' tab here. You'll see all your recently played tracks under this tab. You can tap to listen to the same and select your alarm tune via the streaming service.
12. Archive Discover Weekly Playlist
Spotify probably has the best discovery algorithms among all streaming services and it shows off the same by compiling a 'Discover Weekly' playlist with new artists and tracks – every week. This playlist refreshes every Monday and if you don't save a track which you liked, then it might vanish the next week.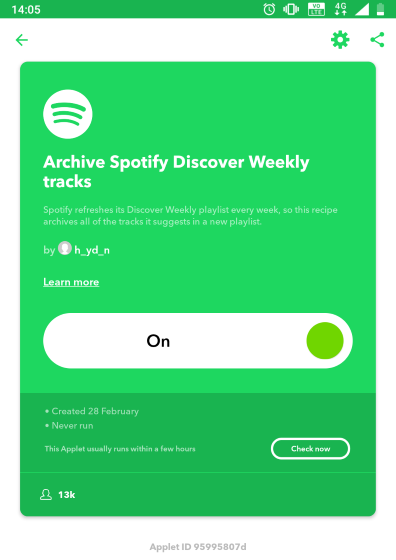 So, here's a nifty trick to automatically save tracks from the 'Discover Weekly' playlist. All you need is to link your Spotify account to IFTTT (Free, Android and iOS), search for all Spotify recipes, and activate the 'Archive Spotify Discover Weekly tracks' recipe.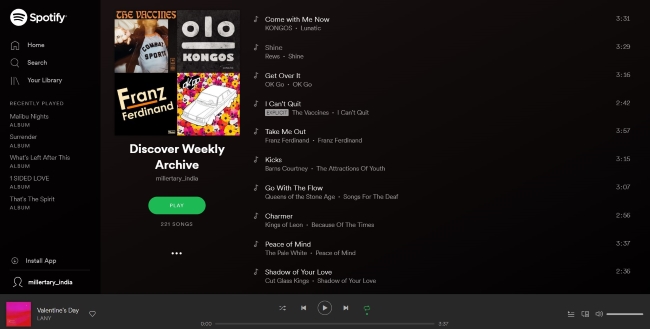 All of the tracks recommended in this playlist are saved in another Spotify playlist, so no worries if you didn't save some of the tracks you liked. Just go to the Discover Weekly Archive playlist, which is regularly updated through IFTTT, and find that sweet melody again.
SEE ALSO: 10 Cool IFTTT Recipes For Google Assistant
Get the Most Out of Your Spotify Experience
Though Spotify in India may not allow users to enjoy its whole 40+ million song catalog due to ongoing licensing woes with Warner Music Group, you could still try out all of the aforementioned tricks if you're already using the service anywhere across the globe. Not all, but most of the tips/tricks you won't find anywhere else on the Internet, so go ahead and check them out.
Which of these Spotify tips or tricks did you find the best? Also, think we missed out on a nifty trick that should have definitely been on this list, then let us know in the comments down below.