Earlier this year, Riot Games promised us something new with the Premier League. Well, they did not disappoint with the beta and ignition stages. And now, Valorant has officially announced Premier stage-1 and the action is kicking off in September. With the enrollment dates coming to a close, we have covered all the details you need to know about Valorant Premier. so, let us jump right in and understand what is the Valorant Premier League along with all the details, including rules, rewards, schedule, dates, divisions, and eligibility.
What Is Premier in Valorant?
Premier is an advanced-rank mode for players in Valorant. It is similar to the Faceit mode in CSGO or Team Rank Mode of Dota 2. Through the Premier Mode, Tier 3 teams or grassroots players will get a bigger platform to perform and show off their skills. By competing in all the stages in Premier, players and teams will get a path into the VCT Challengers.
According to Leo Faria, Global Head of Esports at Valorant, the requirement of Valorant Challengers will now require Premier Contender Division placement and not normal ranks. This will help some teams enter the Valorant Champions Tour 2024. So, let us have a look at the rules and rewards of the game mode.
Premier Active Rules
Enrollment in Premier: Enrollment in Valorant Premier is simple. You can invite your friends or players who will play with you in a team you create. After that, you will able to queue together during the match queue period. Remember, even if the owner is offline, other team members can queue into a Premier game.
Match Queue Rules: All players in the team have to verify their phone numbers through SMS verification. Moreover, if a player had an AFK or disconnect ban in the last 30 days, they will not be allowed to compete until the ban is lifted. Also, note that if a player has a communication ban for disruptive behavior, they cannot participate in Premier for the rest of the stage duration.
Playoff and Weekly Tournament Rules: You can play weekly or playoffs only for one team as one account. Any five players from your 7-player team can play in the tournament, plus anyone can leave the team anytime they want. You will even receive the reward if you are eligible after leaving the team. Teams will earn 100 points for a weekly match win and 25 points for a loss in the Premier game mode. The teams must earn 675 points to qualify for the Playoffs on October 22, 2023.
Gameplay and Overtime Rules: The weekly matches in Premier are in the best-of-1 format and do not support pause or timeout features. The games in Premier follow the 13-round win format. However, the overtime is slightly different. The first team to get 12 rounds will get a majority-based vote to choose the side to start overtime. To win in overtime, either Valorant Premier team has to win 2 rounds consecutively. The teams will swap every round and overtime will go to sudden death after 2 sets of overtime.
Valorant Premier Schedule
Valorant Premier Release Date
The Premier Global Beta was released in April 2023. After a successful beta, the Valorant Premier Ignition stage kicked off and went on till August 13, 2023. After the Ignition playoffs, it was about time for stage 1 of the Premier League.
That did not take too long as Riot officially announced that the Premier would take place right after the Valorant Champions 2023 finals on August 29, 2023. Valorant Premier will run from September 7, 2023, all the way to October 22, 2023.
Match Queue Dates and Times
Match queue times depend on your time zone. The common timings are evening as per your local time. This can be between 5:00 PM to 9:30 PM in your local time. However, the timings are subject to change depending on in-game updates, server, or technical issues. This is why it is always recommended to go to the "Team Hub" section in-game to double-check the timings.
The map for the queue will change every week. Premier teams can play two matches on each map per week. These maps will reset on Tuesday every week. The map rotation depends on your selected zone. If you can queue early, you can finish both matches of the week on the same day. The Valorant Premier dates for stage 1 are:
Enrollment: August 29 – September 6
Week 1: September 7 – September 11 on Haven
Week 2: September 12 – September 18 on Breeze
Week 3: September 19 – September 25 on Lotus
Week 4: September 26 – October 2 on Bind
Week 5: October 3 – October 9 on Ascent
Week 6: October 10 – October 16 on Split
Week 7: October 17 – October 21 on Sunset
Playoff Tournament: October 22
Valorant Premier Divisions
Premier is divided into five Divisions. Each Division is further divided into five ranks, except the final Contender Division. In Valorant Premier league, the Divisions in lowest to highest order are:
Open (1 – 5)
Intermediate (1 – 5)
Advanced (1 – 5)
Elite (1 – 5)
Contender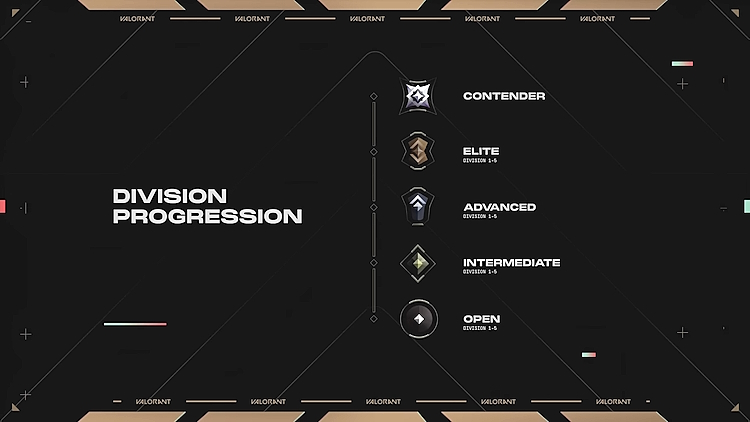 Each division also determines the MMR of a team, as per Riot. Your team's Division is calculated based on the MMR of the top 5 players in your team. You can invite any ranked player to your team unless their rank changes your team's Division. In that case, it will show an error when you invite that player. Furthermore, the MMR will carry on to future stages but the Division, zone, or enrollment will not. This means you will have to enroll again in future stages.
Valorant Premier Rewards
There are four known rewards for participating and winning in Valorant Premier. You will receive the rewards a day after the final match day, i.e. on October 23, 2023. Your reward will be in your collection if you are eligible. The rewards for Premier are:
A Player Card
Gun Buddy
Title
Crest
If you participate even in one game, you get a player card. If you play two games a week with your team, you will get a crest. For winning any single match, you will get a gun buddy and a winner title.
Overall, Premier is a great way to give upcoming players to showcase their talents and climb the ladder in Valorant. Your performance in Premier will also carry forward in the next stage and will be on your career page. We hope to have answered all of your important Premier-related FAQs, but if you still have questions, then ask us in the comments below.