When it comes to gaming, our gamertag or in-game name is close to our hearts. Most games today offer you to change your in-game name, and Valorant is no different. But changing the username requires players to familiarize themselves with a few rules and jump through a few hoops. First of all, your Riot ID or display name in Valorant is not similar to the username, which we explain in detail below. So, make sure you follow our guide to learn how to change your Valorant name.
Username vs Display Name: What's the Difference?
For the longest time, Valorant developer Riot Games has assigned two different names to each user. One is the username, the other is the display name (also previously known as summoner name in League of Legends). Let's understand the difference between them:
The username is globally unique and can be used by only one person. This is only used to sign into the Riot client or the Riot website. The username cannot be changed and is only assigned during the sign-up process. So be careful when you make your Riot account.
The display name, which you can see in-game or on your socials in Valorant, can be changed with ease. This display name is now called Riot ID and used for all games on the same Riot account. It includes your display name followed by a tagline, and it reads something like this – Beebom#NA1.
How to Set Your Valorant Name for the First Time
If you are new to Valorant and haven't played any of the Valorant maps yet, it is gonna be easier for you to set up an in-game name. After you install Valorant and open it for the first time, you will see a screen asking you to select a display name. This will be your Valorant name until you decided to change it via Riot settings. Once you enter a display name and press Enter, you are assigned a tagline based on your region.
How to Change Your Valorant Name (or Riot ID)
If you're not feeling your current display name in Valorant, you can change the same with ease. Make sure you follow the steps below, and then read the important guidelines for changing the name.
1. To change your name in Valorant, you need to head to the Riot Games website.
2. For that, open the Riot client, click on your profile picture in the top-right, and then click on "Account Details" here. Alternatively, you can directly head to the Riot Games website using the provided link.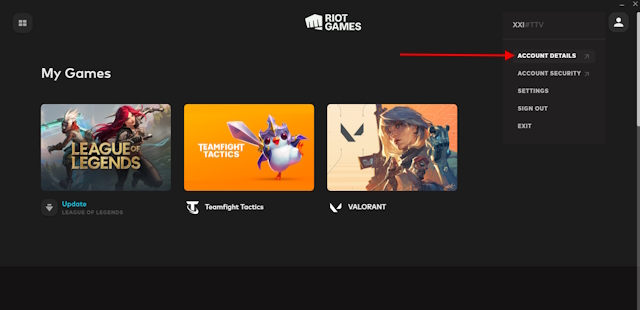 3. Log into your Riot account using your username and password. This will take you to the "Account Management" section.
4. You will find the option to change your Riot ID or Valorant name here. Remember this will change all your in-game display name across all of Riot's titles, including Valorant, Teamfight Tactics, and League of Legends.
5. Now, type in your preferred name in the Riot ID section. This will be visible to players in the game.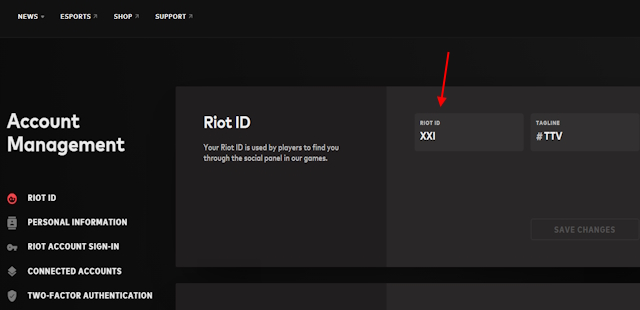 6. After the desired name, move to the Tagline section and change it.
Note: You can randomize the tag by clicking the randomize button or typing what you want. If the tag you type is available, you can use it.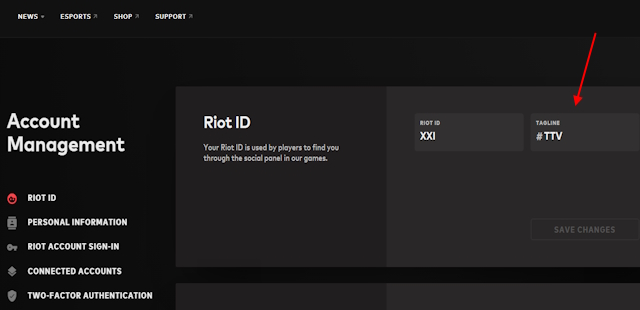 7. Once you have selected a Riot ID or display name and the tagline, click the Save changes button.
This will complete your unique gamertag for all Riot Games, including Valorant. Now, power up the game to see your new display name in Valorant.
Things to Remember When Changing Valorant Name
Finally, here are a few things that you should keep in mind when changing the name and tagline of your Riot ID in Valorant. Remember the following pointers:
1. Although you can change the Riot ID, a combination of your display name and tagline in Valorant, you cannot change the username you use to log in to your Riot account.
2. Wondering how much does it cost to change your Valorant name? The answer is zero. It doesn't cost a single penny to change your name in Valorant.
3. This brings us to the most important thing users you should remember when changing your Valorant name. Though it does not cost any money, you can only change your Valorant name, i.e. Riot ID, once a month. There is a 30-day cooldown on the name change, so be careful when picking a name as you will be stuck with it for 30 days.
4. To remind you, changing your Valorant name is equal to changing your Riot ID. That means your display name will change across all the games under Riot's banner, including League of Legends, Teamfight Tactics, and more. So think twice before you go ahead and change your Riot ID.
5. Now, you must be wondering – are there any limitations to what we can or cannot include in our Valorant username? Oh well, yes. Riot Games states that your name shouldn't contain hate speech, slurs, or profanity (either implicitly or explicitly). Also, you cannot include any personally identifiable information like your address or phone number in the username.
Frequently Asked Questions
What is the difference between a username and Riot ID?
The username is also the sign-in name for the Riot website or client. This username or sign-in name cannot be changed. The display name in Valorant or summoner name in League of Legends is the same as Riot ID and this will be your in-game identity in all the Riot Games.
How much does it cost to change the Riot ID or in-game name in Valorant?
It doesn't cost anything. You can change your in-game display name in Valorant every 30 days. Just make sure to follow the guidelines.
How Long Can a Valorant Name Be?
Riot IDs, which is also your Valorant name, need to be at least 3 letters and up to 16 letters long. They can be alphanumeric, so you have a lot of room to play with. However, remember that names that are offensive and violate Valorant's code of conduct can be reported and go through an automated check process. If a player is found to be in violation of this rule, they can be forced to change their name the next time they log into their account.