SwiftKey is the most popular third party keyboard available for Android & iOS and it recently announced that it's being acquired by Microsoft in a $250 million deal. While that is good news for Windows Phone fans, we won't blame you if you are skeptic about SwiftKey's future on other platforms. Even though SwiftKey founders have assured that SwiftKey will continue to work for Android & iOS users, we are not quite sure because Microsoft has acquired quite a few services (Accompli, Sunrise etc.) in the recent past and have folded them into its own services. Microsoft too says that they plan on integrating their impressive Word Flow technology to SwiftKey but we expect the company to use SwiftKey's AI skills into its other products like Cortana. Moreover, there's the issue of data logging, as not everyone is comfortable with Microsoft gathering their key strokes through SwiftKey.
Microsoft's SwiftKey acquisition is an important factor in users looking for SwiftKey alternatives but that's not all. SwiftKey hasn't been working as fluidly recently, as it has been known to. The keyboard app has added tons of great features but that has made the app into a resource hog, resulting in inconsistent performance.
SwiftKey has been loved by users, thanks to its AI powered predictions, autocorrect, bilingual typing, emojis, customization and support for 100+ languages. Keeping these features in mind, here are the best alternatives you can use:
Best SwiftKey Alternatives for Android and iOS
1. TouchPal
TouchPal is a worthy alternative to SwiftKey, as it includes most of the features from the latter. Similar to SwiftKey, TouchPal keyboard brings powerful error correction, contextual predictions, gesture or swipe typing dubbed TouchPal Curve, keyboard customization which is very similar to Microsoft's Word Flow. The keyboard app also supports "mixed language input" or bilingual typing and more than 800 emojis. It also matches SwiftKey, when it comes to languages support with more than 70 languages available including national as well regional ones, along with support for keyboard layouts like QWERTY, AZERTY and QWERTZ.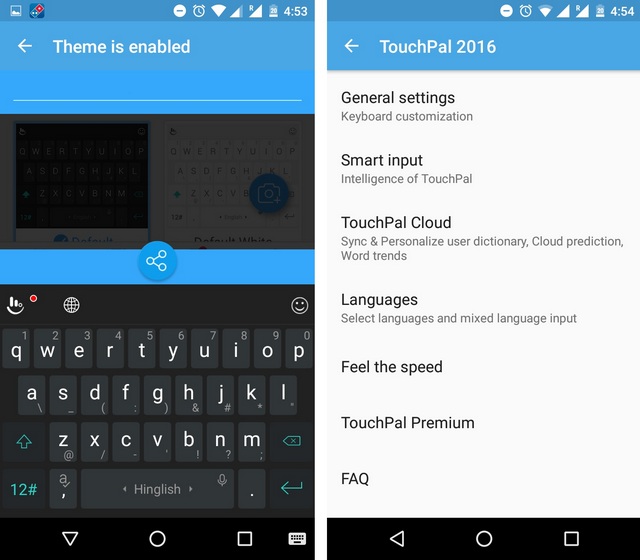 On the performance front, the app does stutter a bit while loading new themes but the keyboard works fluidly, which has not been the case with SwiftKey off late. TouchPal is available in a free version but there's also a Premium version ($4.99/year subscription), which brings additional features like unlimited cloud backup & sync, multi-clipboard etc.
2. Swype
Swype keyboard might not bring all of the SwiftKey features but if you want more speedy gesture typing, this is your best bet. It includes features like word predictions, autocorrect, bilingual support, more than 80+ languages and themes, which we have come to expect from SwiftKey. Swype also brings its very cool Dragon dictation for a hands free experience along with intuitive gestures for functions like selecting, cut, copy, paste and search. Other features include keyboard customization, personal dictionary backup & restore, constantly updated slangs etc.
Swype is available for a free trial for 30 days, after which you will have to purchase the full version for $0.99.
3. Fleksy
If you are okay with not having swipe/gesture typing, Fleksy is the keyboard to go for. The keyboard brings the best tap typing experience along with a great autocorrection, which is not a surprise considering it has the Guinness record of being the fastest mobile keyboard. Along with emojis, Fleksy is the only keyboard with support for GIFs and while it does lag behind Swiftkey when it comes to languages, the app is adding more gradually. Moreover, the keyboard app also one ups Swiftkey with its various useful extensions.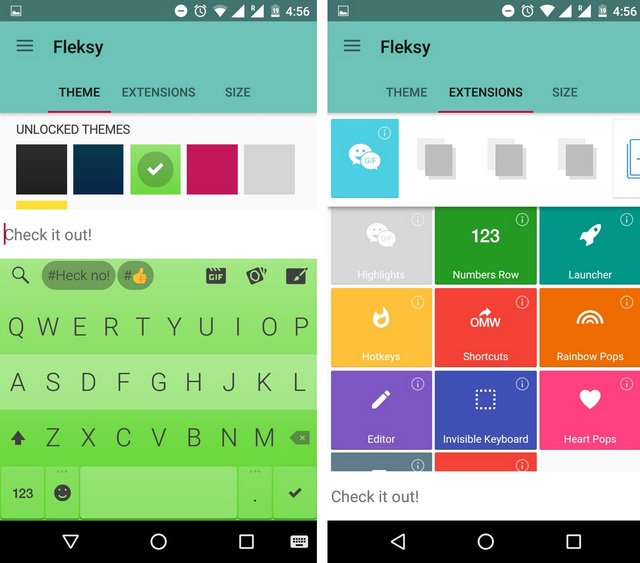 Other than that, Fleksy includes support for various keyboard layouts (QWERTY, AZERTY, QWERTZ, Dvorak and Colemak), keyboard customization, themes, multilingual typing etc. Moreover, we did not face any performance issues during our testing with Fleksy. The app is available for free with in-app purchases for content like themes.
4. FancyKey Keyboard
FancyKey is the perfect alternative to SwiftKey if you are looking to customize your keyboard totally. While FancyKey's word prediction & autocorrect might not be as powerful as SwiftKey, it works well enough. The keyboard app includes swipe/gesture typing, emoji & emoticon keyboard and keyboard layouts like QWERTY, AZERTY and QWERTZ. Sadly, it does not yet offer bilingual typing support and supports only 30+ languages but it makes it up through its plethora of customization features.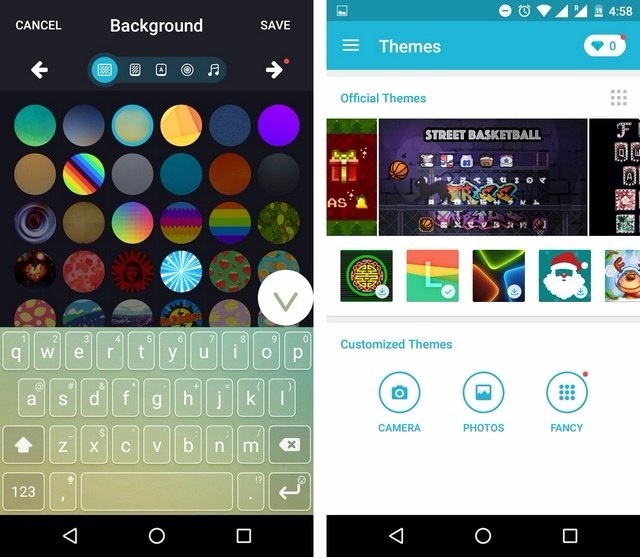 With FancyKey, you can customize the keyboard's keyshape, color, background, shadow, sound, typing effect, font etc. along with various themes. FancyKey is available for free with in-app purchases to unlock various themes.
5. Adaptxt
Adaptxt does not bring social integration (Facebook, Twitter) like SwiftKey for better predictions but it brings its own unique implementation, which some might find better. The app brings phrase suggestions, location-based suggestions, contextual suggestions based on the app you are in. Adaptxt also trumps Swiftkey in languages supported, with support for 121 languages. There's also support for 600+ emojis, themes, swipe typing, multilingual typing, keyboard layouts like QWERTY, QWERTZ, AZERTY, Cyrillic and Greek.
It also includes unique keyboard customization options like ability to swap keys, modify key shapes, fonts, background pictures etc. The keyboard app does look a little outdated but the keyboard doesn't and that's what matters. And the good news is it's available on the Play Store and iTunes for totally free.
Install: (Android, iOS)
SEE ALSO: 12 Best Third-Party iOS Keyboard Apps for iPhone and iPad
No longer willing to use SwiftKey? Try these alternatives
We certainly wish that SwiftKey remains an independent entity under Microsoft, as the app certainly deserves that recognition but if you are not willing to let Microsoft log your data or if you are facing issues with SwiftKey, you can try these alternatives. These apps are a great match to SwiftKey and some even surpass it. So, give these Android and iOS keyboard apps a try and let us know the app you deem worthy as the best Swiftkey alternative.