SwiftKey has been one of the most popular third-party keyboards for both Android & iOS, even before it was acquired by Microsoft back in 2016. The keyboard received a lot of praise from its users for features like its swipe typing, AI-powered predictions, cloud storage, autocorrect, bilingual typing, emojis, customization, and more. Back then, SwiftKey was one of the few third-party keyboards with all those features. However, we now have a ton of third-party options that are just as good as SwiftKey, if not better. So if you're finding it too difficult to keep up with the options and select the right keyboard for you, then you are in the right place. In this article, we will be taking a look at top 5 SwiftKey alternatives for Android and iOS.
Note: All the keyboards suggested in this article are available on both Android and iOS. The apps are listed in no particular order
Best SwiftKey Alternatives for Android and iOS
1. Gboard
Gboard has earned its spot as one of the best SwiftKey alternatives mainly because of all the features that it brings to the table. Google has fitted Gboard with a lot of features like Glide typing, GIF support, and more. Heck, the keyboard also has Google's Search engine built right into it, which makes it easier for you to pull up search results and more.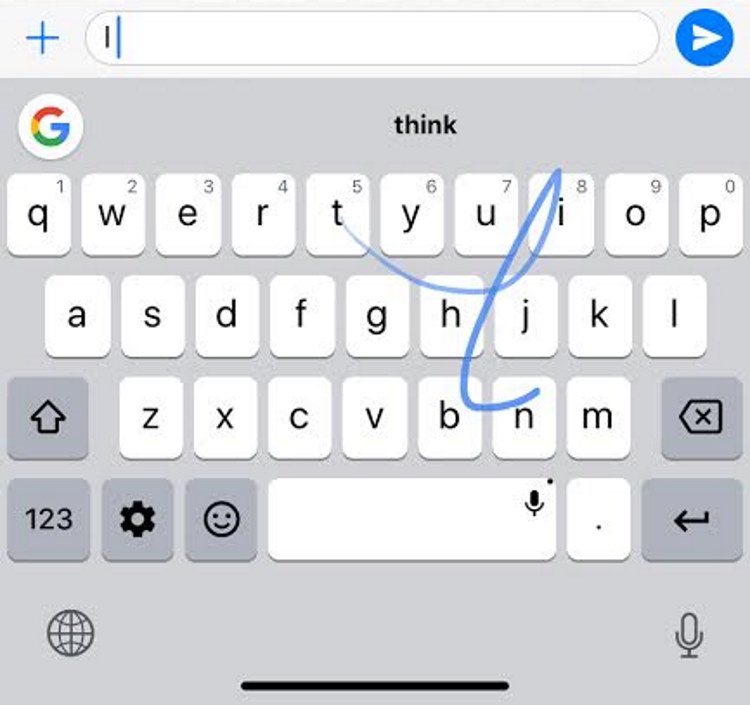 Much like SwiftKey, Gboard also predicts your sentences and gives you suggestions based on your typing habits. It also has the best in class error correction. To make it easier for its users, the keyboard also supports GIF and Emoji search, with which you can search for favorite GIFs or emojis with ease. Also Gboard, in case you don't know, supports over 300 languages, making it one of the most accessible keyboards in the market.
Download Gboard: Android (Free), iOS (Free)
2. Fleksy
If you were using SwiftKey mainly for the AI-assisted word predictions, then Fleksy is a keyboard that's worth looking into. Fleksy's 'Auto Word learning' feature is something that's highly talked about, and it is just as good as SwiftKey's word predictions. It's also very quick with those predictions, and it was recognized by Guinness records for being the fastest mobile keyboard.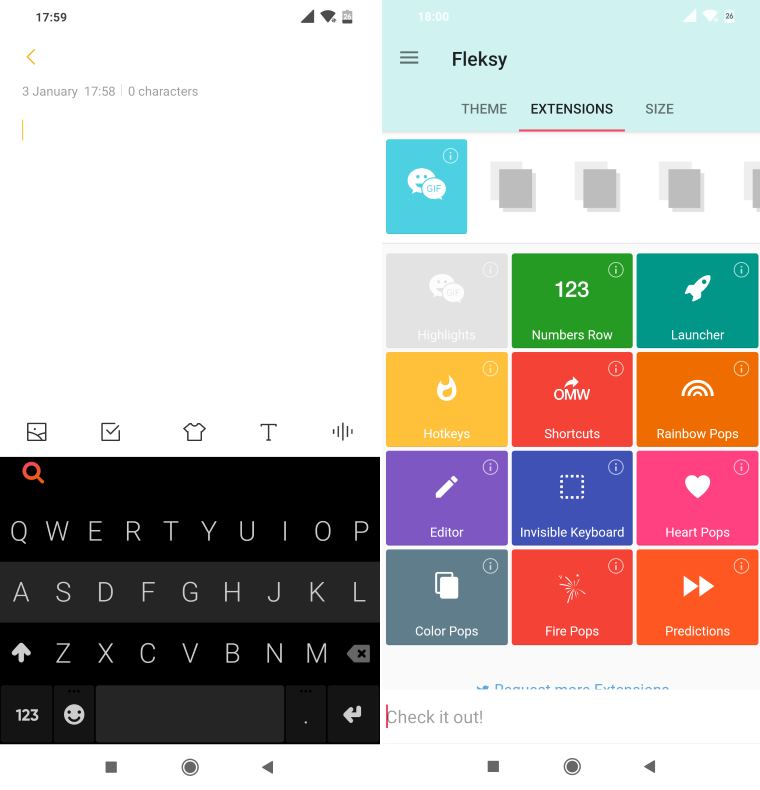 Fleksy is also popularly known for the extensions. It's one of the areas in which it one-ups SwiftKey. Other than that, Fleksy includes support for various keyboard layouts (QWERTY, AZERTY, QWERTZ, Dvorak, and Colemak), keyboard customization, themes, multilingual typing etc. Moreover, we did not face any performance issues during our testing with Fleksy. The app is available for free with in-app purchases for content like themes.
Download Fleksy: Android (Free), iOS (Free)
3. TouchPal Keyboard
TouchPal is also a great alternative to SwiftKey, as it brings most the SwiftKey features and then some. TouchPal keyboard brings powerful error correction, contextual predictions, and gesture or swipe typing dubbed TouchPal Curve. The keyboard app also supports "mixed language input" or bilingual typing, ability to create GIF emoticons with your photos, and more.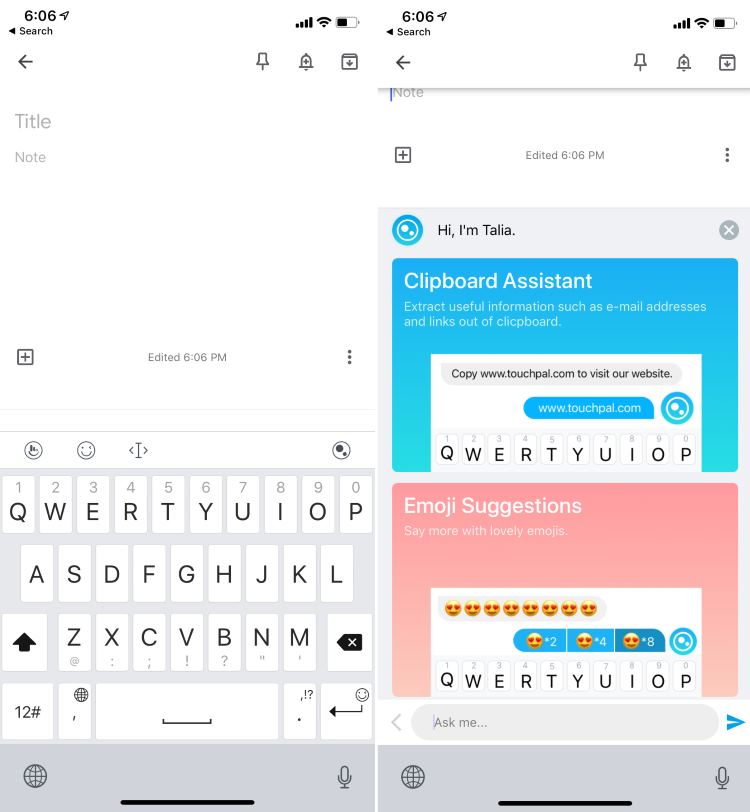 The highlight of TouchPal, however, has to be the Talia assistant. The assistant, as you can see, can assist you with Clipboard management, emoji suggestions and more. It also allows you to look up information online and share it with your friends. Despite having so many features, TouchPal is as just as fast as SwiftKey when it comes to performance. Yes, TouchPal recently came under the spotlight due to some privacy concerns, but the keyboard back online, and it works really well.
Download TouchPal Keyboard: Android (Free), iOS (Free)
4. FancyKey Keyboard
FancyKey is the perfect alternative to SwiftKey if you are looking to customize your keyboard totally. Like, seriously. Just look at the theme store that this keyboard offers. Looking past the customization options, the keyboard does have a lot of features. While FancyKey's word prediction & autocorrect might not be as powerful as SwiftKey, it works well enough.
The keyboard also includes swipe/gesture typing, emoji & emoticon keyboard and keyboard layouts like QWERTY, AZERTY, and QWERTZ. Sadly, it does not yet offer bilingual typing support and supports only 30+ languages. But with FancyKey, you can customize the keyboard's key shape, color, background, shadow, sound, typing effect, font, etc. along with various themes. FancyKey is available for free with in-app purchases to unlock various themes.
Download FancyKey: Android (Free), iOS (Free)
5. Grammarly
If you want to keep your messages, emails, and documents error-free, then Grammarly is the way to go. The keyboard looks very minimal and packs minimum features. The highlight of the keyboard is its best-in-class error correction. Grammarly is used by professional writers to keep their copies error-free, and the Grammarly keyboard will be your best friend if you are a grammar-nazi.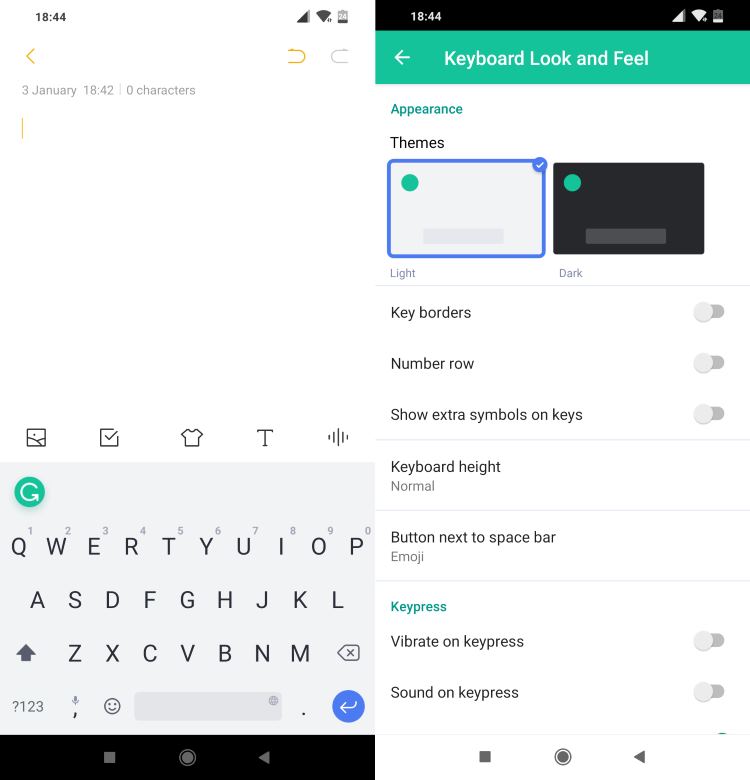 Grammarly keyboard does support emojis, but it lacks other fancy SwiftKey features like theming, glide typing and more. That being said, the Grammarly will certainly help you improve your skills, and help you understand your mistakes.
Download Grammarly: Android (Free), iOS (Free)
SEE ALSO: 12 Best Third-Party iOS Keyboard Apps for iPhone and iPad
Did You Like These Swiftkey Alternatives?
As you can see, there are a ton of good third-party keyboard options available which you can use to replace Swiftkey on your Androi?d or iOS device. I love the new Gboard and use it as my default keyboard. It's fast, it's accurate, and it lets me do anything that I want to. Which is your favorite Switkey alternatives? Let us know in the comments section below.