Writing impressive articles with immaculate accuracy and seamless flow is an art that even pros can't claim to master – let alone the ones who get into serious writing only once in a blue moon. Knowing how significant it is to compose genuine error-free articles, it's always better to take the help of technology to spot grammar errors including blunders quickly. Speaking of top-notch grammar checking and plagiarism detection platform, Grammarly is ahead of the curve on most fronts. It's feature rich and it has been expanding to more platforms of late. Though I have always loved using this software, I have never been able to make peace with the high price that stands tall at $23.96/month. Yeah, the company does offer a freemium version with some basic features but it can't fit into everyone's demand. That's why it's wise to look for the best Grammarly alternatives in 2019.
Best Grammarly Alternatives You Can Use
Having tried out a plethora of grammar and spell checkers, I have made the roundup of the apps similar to Grammarly. While some of these tools are paid, many of them are available both as freemium and premium variants. Oh yes, there are also quite a few tools that are completely free. So, whether you are a student or a full-time blogger or a professional who often has to look for a tool to rectify many mistakes like grammar, spelling, and wrong use of words, the following collection of apps like Grammarly can get your work done efficiently. And that too, without burning a hole in your pocket. So, let's explore the lineup to find the ideal app that can help you keep blunders at bay from your text!
List of Grammarly Alternatives
1. WhiteSmoke
Right at the top of this best Grammarly alternatives roundup, I would like to put "WhiteSmoke". Powered by an advanced algorithm just like Grammarly, the app is both highly efficient and versatile. Apart from checking grammar, it indicates several other important components including spell checking, punctuation, writing style suggestions, and more. Therefore, you can easily find out errors and improve the quality of your text without spending much time.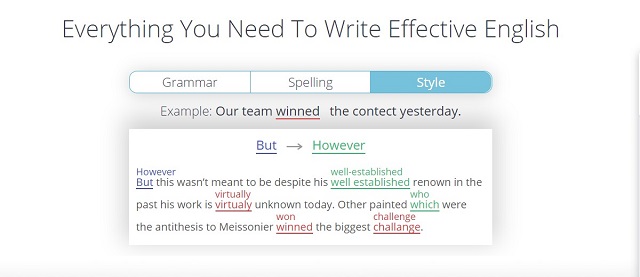 Another feature that has caught my eyes in this software is a huge library of more than a hundred writing templates such as reports, thank you notes, resume, condolence, etc. Thus, it makes pretty simple to get started on any topic. WhiteSmoke comes with an exceptionally proficient translator that excels in translating languages with maximum accuracy. And with the support for over 50 languages, it ensures you have the desired flexibility to deal with almost any popular languages.
Pretty much like  , WhiteSmoke also checks many areas of sentences like dangling modifiers, incorrect punctuation, fragments, tense, etc. To ensure you don't have any confusion about why a word has been highlighted, it provides a very clear explanation and also offers a better way to deal with it. The tool also offers a comprehensive list of synonyms via the thesaurus so that you have enough options to choose the right word or replace the one that doesn't seem to fit into the context.
Talking about compatibility, WhiteSmoke supports all the major platforms like iOS, Android, macOS, Windows, and also works seamlessly with web browsers. As for the price, it's competitive. If you don't mind paying some bucks for top-quality performance, it can be a worthy alternative to Grammarly both for your personal and business needs.
Price: 4-day free trial, $4.16/month for the "Essential" plan and $6.66/month for the "Premium" and $11.50/month for business plan
Visit: Website 
2. Ginger
"Ginger" is very similar to Grammarly on many fronts. To me, the best part about this software is the high accuracy and more personalized suggestions. So, whether you are writing a press release or preparing an impressive project, it can play a vital role in helping you write with the needed flow and accuracy. Another feature that makes Ginger everyone's tool is simplicity without compromising on important aspects. Thus, even if you are a newbie, you can master this software with little effort.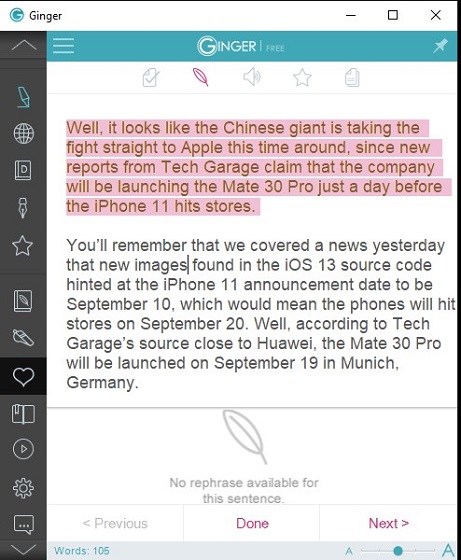 Just like Grammarly, it also lets you choose from British or American English. It keeps a track of your writing and analyzes it very closely. Then, it provides very helpful suggestions to get rid of flaws and enhance your writing. And if you like the suggestions, you can hit the "Approve All" button to instantly implement all of them or choose to pick out only selected recommendations.
Ginger also comes with a top-notch translator with the support for over 60 languages including Russian, French, Hindi, Chinese, and more. While writing if you are unsure whether a word ideally suits a particular context or not, you can quickly check its definition and also be able to perfectly rephrase the sentences so that they are more contextual. One of my favorite features in Grammarly is the ability to create a personal dictionary to prevent the software from showing errors for those particular words repeatedly. And I must say that Ginger has implemented this highly user-friendly feature efficiently to let users deal with specific errors in their way.
Beyond adorable features, Ginger works with all the major platforms including macOS, Windows, iOS, Android and browsers like Chrome, Safari, etc. Though this software is available for free, the freemium version lacks several important features, And if you decide to use all the notable features, choose the premium version ($20.97) that is on the higher end of the spectrum. High price aside, Ginger has got everything to be one of the most proficient alternatives to Grammarly.
Price: Free, premium version comes at $20.97/month 
Visit: Website 
3. ProWritingAid
It doesn't matter whether you are a full-time blogger or a student who has to deal with too many assignments, "ProWritingAid" is what you need to write confidently like a pro. What makes it an excellent alternative to Grammarly is the wide range of features that offer you better control over several crucial components. Thus, composing an impressive and error-free article is never a big deal for you.
As a full-time writer, I always like to have the luxury of a variety of writing styles like a business, blog post, general, and academic. And I'm glad that this software provides several writing styles to choose from just like Grammarly. Moreover, it also lets users select from the US, UK, and general English language that's accepted in several countries of the world. So, it doesn't matter whether you are writing a story for your American readers or composing a report for readers spread across the globe, it can live up to the task with aplomb.
Another department where I have found ProWritingAid very close to Grammarly is accuracy. To ensure your text is not only completely error-free but also pleasing to read, the software performs 25 types of tests on several important parameters like sentence structure, transition, length, grammar, etc. Not to mention, it's also very effective in revising words that can go a long way in making your article more impactful.
It works seamlessly with web browsers and can also be integrated with MS Office and Google Docs so that it remains easily accessible to you. Furthermore, this grammar checker is available in both freemium and premium versions (like Grammarly) so that both normal and pro users can take advantage of its notable features. As far Grammarly alternatives go, this one is my favorite.
Price: Free, $70/year
Visit: Website 
4. 1Checker
Whenever I think of finding apps like Grammarly "1Checker" is the one name that never fails to cross my mind. What I have always admired in this software is the brilliant proofreading. So, just in case you aren't impressed with the proofreading ability of Grammarly or want to have a free alternative, give it a chance.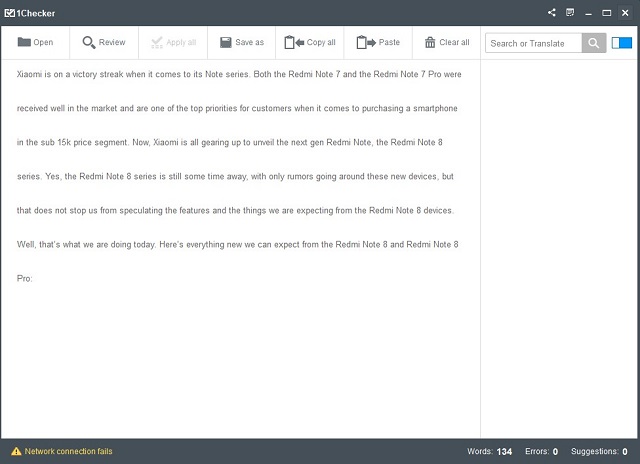 1Checker uses artificial intelligence to detect spelling mistakes, grammar and style errors. Like Grammarly, it also provides detailed and easy explanations so that you can learn from the mistakes and also be able to avoid repeating them. Thanks to the contextual learning methodology, it offers much better suggestions about wording. Thus, you can effortlessly polish your article. With a powerful dictionary, it can also play a vital role in boosting your vocabulary.
If you like the way Grammarly offers insightful reports about your writing, you are going to appreciate 1Checker as it also shows in-depth writing statistics. Therefore, you can analyze your progress and check out the areas where you need to improve. On the compatibility front, it's available for Windows and macOS. Besides, it also offers plugins for MS Word and MS Outline. If you don't want to use its app or plugin, you can choose to try out the online tool which works just as effectively.
Price: free
Visit: Website 
5. Microsoft Editor
Microsoft had been working on a Grammarly like tool since a long time and recently, the company made it office. The Redmond giant released its very own spelling and grammar correction tool called Microsoft Editor, which is obviously aimed to take on Grammarly. The Microsoft Editor tool isn't exactly new, as it was available in Microsoft Word and other Office apps as "Ideas in Word" but Microsoft Editor is a full blown Grammarly alternative available for Chrome, the new Microsoft Edge, and obviously, the Office apps, with quite a few interesting features.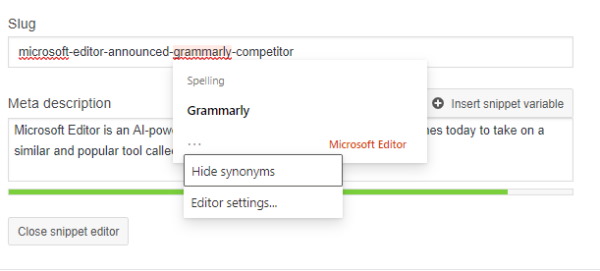 First up, I like the fact that Microsoft Editor supports more than 80 languages including a lot of regional languages as well for spellchecking while basic feedback is available in 20+ languages. Plus, if you are someone who wants to use it for English, there are options to choose between English UK, English US, English India, English Australia and a lot more. When it comes to spell checking and grammar correction, Microsoft Editor, like Grammarly, has the basic tools but there are different AI powered features like alternative vocabulary, suggestions for better clarity, along with the fact that it brings more formal suggestions or vice versa depending on the website you are in. Another key feature of Microsoft Editor is the ability to rephrase full sentences with it.
Microsoft Editor brings "Spelling", "Grammar" and "Refinement" features for free and when you are using the Chrome extension, you can turn any of these off, and even add websites where you do not want Microsoft Editor to work. However, these are free features, there are certain premium features only available with a Microsoft 365 subscription (previously: Office 365), like a similarity checker, which is like a plagiarism checker, the time it will take to read or speak a document, and advanced grammar and stylistic feedback.
All in all, Grammarly has its own advantages but Microsoft Editor is a solid alternative spelling and grammar checking tool. Yes, it's still new and its best features are locked in the Microsoft 365 plan, but the basic tools are available for free, and they work decently well, so you can check it out.
Price: Free version, Premium features available with Microsoft 365 subscription starting at $9.99/month
Visit: Website
6. GrammarLookup
A smart grammar checker and proofreading tool like "GrammarLookup" deserves to find a place in this lineup. Using artificial intelligence, it works admirably in checking grammar and punctuation mistakes. It also functions up to the mark in spotting and eliminating spelling errors, ensuring your article remains free of blunders.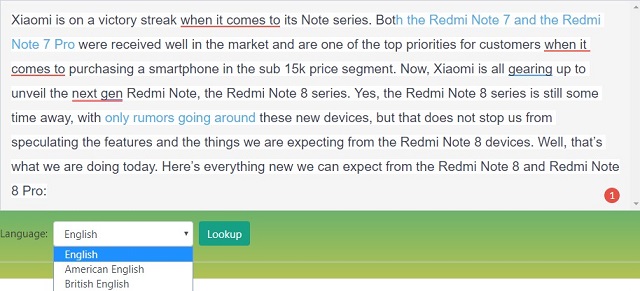 But what has caught my attention in GrammarLookup is the knack of highlighting thousands of styles issues. If you aren't satisfied with Grammarly's ability to spot style issues, I would suggest you give serious consideration to this software. Speaking of interface, it has kept everything straightforward with a minimalist looking design which makes this free online grammar checker an automatic choice for everyone.
Price: Free
Visit: Website 
7. PaperRater
To me, the best grammar and spell checker is always the one that delivers the desired result fast and is easy-to-use. And "PaperRater" has lived up to my expectations on both these vital parameters. Yes, it lacks the tons of features that Grammarly boast but when you take its efficiency in proofreading into account, you will come out impressed with it.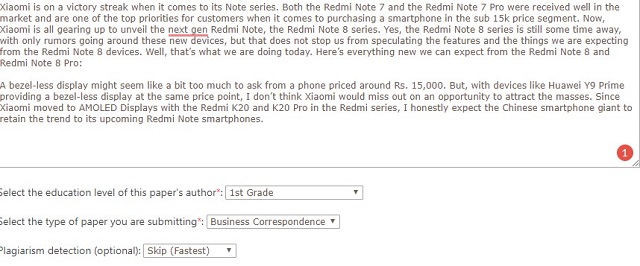 The tool pays a close look at every important aspect and offers suggestions accordingly. Thus, you can choose better words and be able to implement the style that can go along nicely with both the text and whole purpose. Both as a student and a blogger, you would find its plagiarism checking feature immensely useful. Within no time will it tell you whether your text contains plagiarized text or not by comparing your text with billions of documents.
Price: Free
Visit: Website 
8. JetPack
First things first, "JetPack" is not a full-fledged Grammarly alternative. However, if you are on the hunt for a super handy proofreader that can work in sync with WordPress to help you quickly get rid of common errors and spelling mistakes, you would be hard-pressed to find a better option. After scanning your text, it marks the words with a red, green and blue line. While the red shows the words that have been either misused or misspelled, the green highlights grammar mistakes.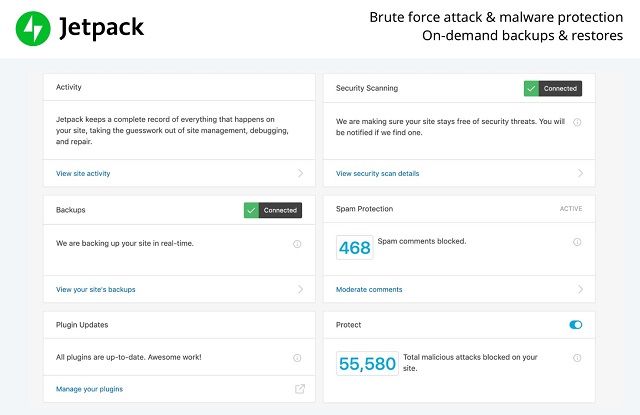 As for the blue line, it provides suggestions for writing style, thereby making it more convenient for you to enhance your article. Making sure you can understand the reasons behind the mistakes and also stop repeating the same errors time and time again, it offers clear explanations. Unlike Grammarly, JetPack can also let you keep track of your site traffic and improve security, which makes it a great asset for bloggers.
Price: Free
Visit: Website 
9. Reverso
I look at "Reverso" as one of the most reliable grammar checkers in the market. Featuring all the basic tools required to polish the text and also remove common errors, it's designed to suit everyone's needs. The highlight of this tool is the ability to translate languages fast and accurately thanks to the use of Neural Machine Translation (NMT). If you are searching for a Grammarly alternative that can deliver efficient translation, keep it in mind.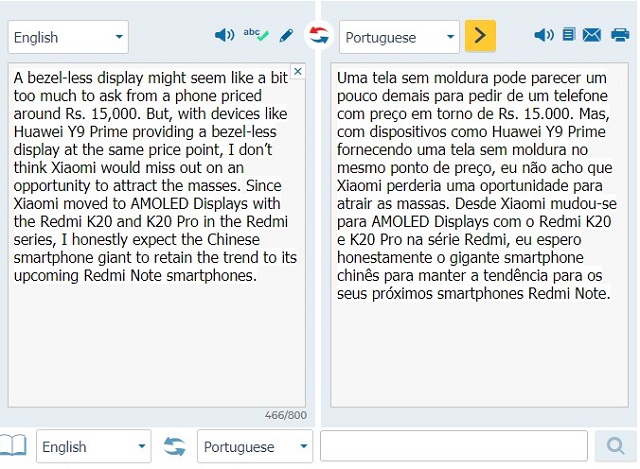 The integrated spell-checker automatically revises the text to get rid of spelling mistakes quickly. If you are trying to improve your pronunciation, do not forget to listen to how the text should be pronounced by native speakers. Furthermore, it also comes with a fully integrated dictionary to let you easily find out synonyms and boost your vocabulary. Once you have translated your language, you can email it or even print the same right away.
Price: Free
Visit: Website 
10. OnlineCorrection
Though not as versatile as Grammarly, "OnlineCorrection" is worth having when you don't want grammar errors and spelling mistakes to destroy your article. The tool is pretty simple to use and works reliably in checking many types of mistakes including gaffes like grammar, style, spell, punctuation, and duplication that often sneak into while writing. It comes with an autocorrect feature that allows you to automatically correct flaws wherever possible. Times when you are in a hurry, this feature can certainly save your day!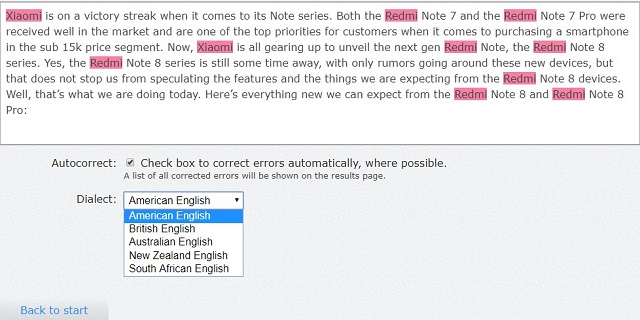 There is a results page where you can take a glance at all the corrected errors. And if the changes don't seem to fit into what you want, you will be able to make changes without any problem. As compared to Grammarly, OnlineCorrection lets you choose many dialects including American, British, New Zealand, South African, and Australian. Overall, it's a fine grammar checker and if you want to have a free alternative to Grammarly with basic features, it won't disappoint you.
Price: Free
Visit: Website 
11. HemingWay
"HemingWay", another great Grammarly alternative, is a little different from others. Should you think of boosting the readability of your article, I would recommend you to try it out. In terms of enhancing the readability of articles, it is on par with Grammarly thanks largely to several very helpful suggestions. The tool sports a simple and clutter-free interface. It shows an overall readability score to let you figure out how well your write up is.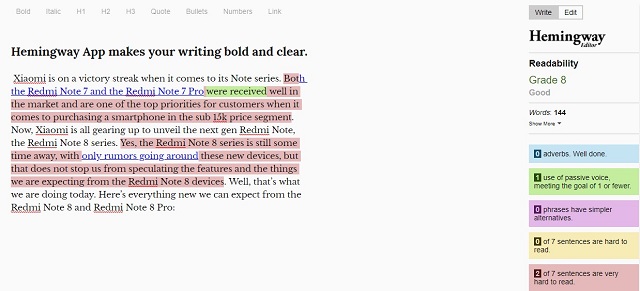 You can check out whether phrases have simpler alternatives or not and how many sentences are hard to read. It also lets you quickly find out how many times you have used a passive voice in your article. If you want to avoid using passive voice too much, it would be enormously helpful in ensuring you don't cross the set boundary too frequently. You can also use its handy text editor to insert a link, highlight headings and even add bullets so that the text appears more pleasing to the eyes.
On top of all, HemingWay is available for free, making it a fine bet for those who want their stories to be easily understood by one and all. However, do note that if you are looking for a native desktop app which comes with a full-fledged editor and works offline, you will have to buy the app.
Price: Free, $19.99
Visit: Website 
12. LanguageTool
Last but not the least, if you are looking for a simple, open-source, privacy focused spell checking and grammar correction tool, then LanguageTool is something you will appreciate. LanguageTool is a proof-reading software that's aimed at basically, everyone, be it students, authors, companies, freelancers or even publishers. The highlights of LanguageTool, apart from its privacy centric approach, are its accuracy, the 20+ languages support including languages like German, French, Dutch etc. and the fact that it has plenty of features.
LanguageTool is available in a completely free version, which brings a reliable error checker and also tells you about any basic grammatical errors. Having tested out the tool, I can say that LanguageTool is pretty capable and fast when it comes to basic errors and problems you want to find in your writing. The software also has a premium version, which is packed with features. There's additional word pairs suggestion, detection of additional errors, incorrect checksums and more. Along with the Premium version, LanguageTool is also available in a developer API subscription, which as the name suggests, brings API access that can be handy for big media houses and publishers.
LanguageTool is available for a plethora of platforms. It's available as a web tool, so you can just go ahead and paste your text to check for any errors. It's also available as a Chrome and Firefox extension, Google Docs and Microsoft Word add-on.
Price: Free version, Premium subscription starts at $14.99/month
Visit: Website
Choose the Best Grammarly Alternatives to Improve Your Grammar
With so many notable options vying for the attention, I hope you have found the right answer for your needs. If you are a pro, I would recommend you try out one of the top three options. But if you are a normal user, I would suggest you give a shot to the ones that are available for free. Do check out the apps and let us know which are your favorite Grammarly alternatives. And also, share your valuable thoughts about it in the comments down below.