What a quirky emoji can do to the mood of the conversation, a cheeky statement filled with words can't. Be it the winking face with lurking tongue or the amusing face with a thermometer, these tiny emojis express meaning that is hard to convey in words. Not to mention the double-faced emojis that are primed to kill two birds with one stone! Such is the high demand for these peculiar images that almost every keyboard app comes loaded with a gazillion of emojis. And Apple's QuickType keyboard is no exception to the rule. But, the default keyboard lacks customization which may not go down well with those who love to have both variety and plenty of personalization. If you are one of them, these are the best iPhone emoji keyboards you should give a shot.
Best Emoji Keyboards for iPhone and iPad (2020)
App Store boasts a huge collection of keyboard apps for iPhone and iPad. And much to no one's surprise, most of them have hundreds of emojis baked in. But many of them can't compete with the ones that are full-on emoji keyboard apps. Therefore, I have mostly gone after the apps designed to up the emoji game on iOS. Do they have anything else to offer? Oh yes, these apps have also got a boatload of vibrant themes, crazy stickers, and of course cool fonts. This is just the tip of the iceberg as you can discover plenty of unique symbols and characters under-the-hood. To know more about what they have packed inside, let's jump right in to explore the lineup!
1. Kika Keyboard
Let me put it across straight away. Kika Keyboard is one of the coolest iPhone emoji keyboards I have come across. Probably the best part about this app is that it works seamlessly with several popular apps including WhatsApp, Instagram, Snapchat, and more.  So, you can get the most out of the variety of emojis to ramp up your emoji game.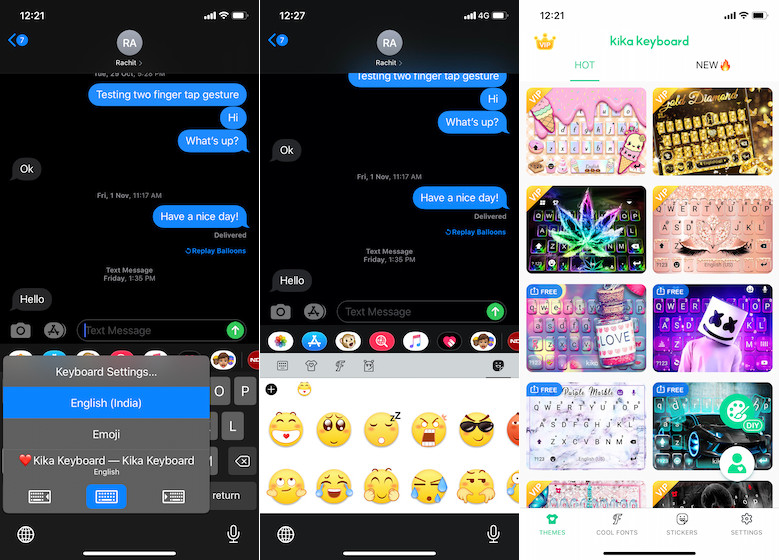 But is this keyboard app just about emojis? Nope. With over 8000 eye-catching themes, it offers a ton of customization options. And if personalization is your thing, you would love to put your hands on the myriad of themes.
Beyond customization, Kika Keyboard is also pretty good at enhancing typing experience with features like auto-correction. Not to mention, the grammar correction tool that can go a long way in ensuring you are able to express your feelings accurately. As for pricing, the keyboard app comes for free. However, if you want to explore all the features, you will need to shell out $19.99/month, which might seem a little too much for most wallets.
Price: Free, Monthly premium comes at $19.99
2. AR Emoji Custom Keyboard
There is a lot to like in "AR Emoji Custom Keyboard" aka Cheetah Keyboard. For starters, the app has a lot of AR emojis that are primed to spice up your messaging. Whether you want to express anger, love, care or sadness, you will have a variety of emojis to choose from. Aside from a huge collection of emojis, it also looks right on the money when it comes to colorful themes. So, you can customize the icon, functional keys, and more.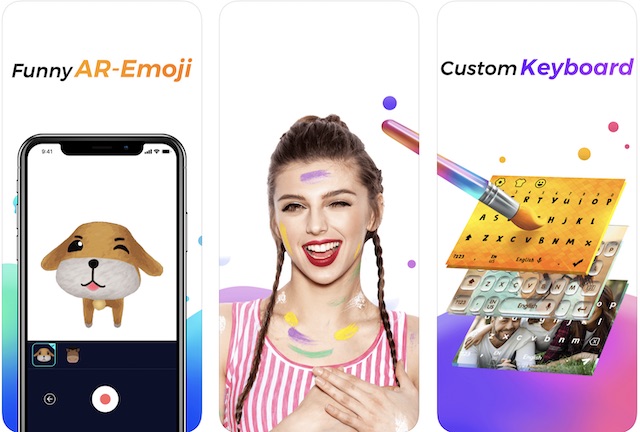 If you wish to take customization to the next level, you can also craft your own themes for a more personalized experience. Be it changing the backgrounds, designing wallpapers, tweaking the fonts or changing the color of keyboards, you get plenty of freedom to give a custom look to your iPhone or iPad keyboard. Keep in mind, Cheetah Keyboard is available for just a three-day free trial. After that, you will need to pay $11.99 to continue.
Price: Super VIP plan starts at $11.99, 3-day free trial 
3. Facemoji Emoji Keyboard
As someone who has a huge penchant for emojis, I have found "Facemoji" absolute fun. What has impressed me the most in this emoji keyboard app is the ability to create a full-on custom keyboard. Featuring over 2000 emojis and a plethora of fonts and themes, it has got all the ingredients to let you give a unique look to your keyboard.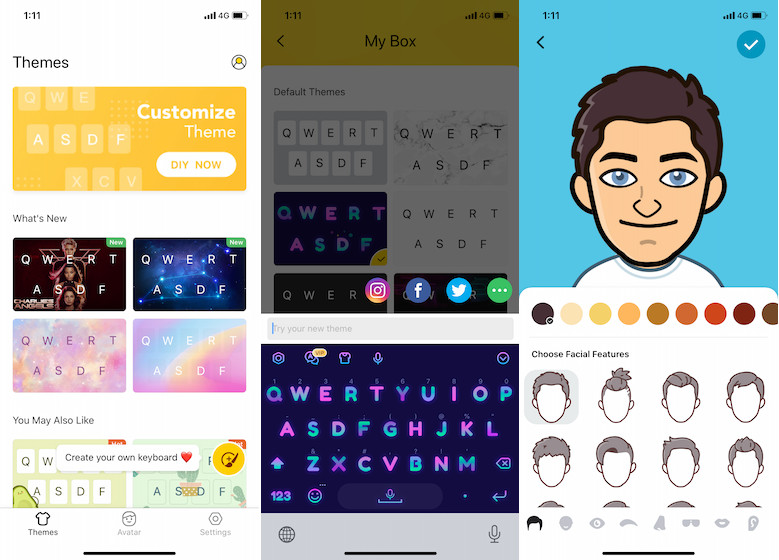 Aside from a solid pack of emojis, the app has also got fun-loving avatar stickers. Times when you want to amp up the mood of the entire conversations, these avatar stickers will come into play seamlessly.
Often have to communicate in different languages on your iPhone? Well, there is a super handy translator to let you communicate in several languages. Add to that the auto-correction and swipe tying features and you have a keyboard app that can live up to the billing with fairly good numbers. In a nutshell, Facemoji is one of the best emoji keyboards for iPhone and iPad in the App Store.
Price: Free, Customized Themes VIP comes at $4.99/$14.99
4. Emoji>
The Emoji> keyboard has got enough firepower to stake the claim of being one of the most loved emoji keyboard apps for iOS. What stands it in good stead is simplicity. The app works seamlessly with most iPhone apps thanks to the neat integration. That means you can use its impressive roster of emojis and themes in messaging apps like Facebook Messenger, Telegram, WhatsApp and more.
But hold on for a moment before making a surefire conclusion about this emoji keyboard. In what could be great for those who enjoy indulging with light-hearted gameplay, the app also offers some intriguing puzzle games that you can play tirelessly with your pals.
Price: Free, Pro variant comes at $0.99
5. Emoji Keyboard Emojis Me Maker
For the folks who want to have a fairly good emoji keyboard without having to shell out any bucks, this one could be the right answer. Aside from featuring a solid collection of emojis, the app also comes with a handy emoji maker, a font maker, and a collection of text and emoji arts. So, it doesn't matter what is the context of the conversation, you can have plenty of ready-made tools to liven up the mood of the communication.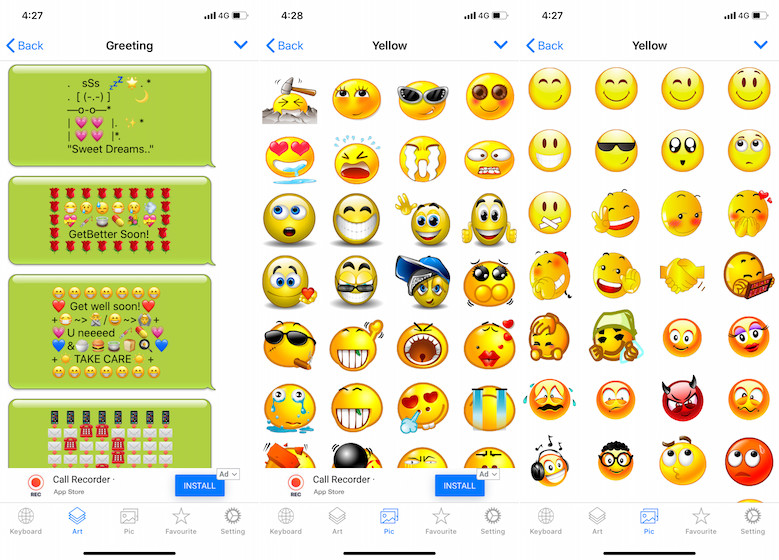 Though I like to unleash a wide variety of emojis while messaging just to prevent the conversation from being monotonous, I prefer to create a collection of top picks so that I can access them all on a moment's notice. And that's the reason why I have found the "Favorites" feature of this app worth taking note of. Beyond these creative tools, the interface looks simple. Thus, you can get a good hold of the keyboard app without having to go through a long learning curve.
Price: Free
6. AA Emoji Keyboard
Ever wondered what's the open secret of a fun-filled conversation? Well, it's all about keeping the predictability element out of the way. Speaking of unpredictability during the emoji game, what proves to be a game-changer is the luxury of an ever-increasing collection. And that's the reason why I have included the AA emoji keyboard in this coveted roster.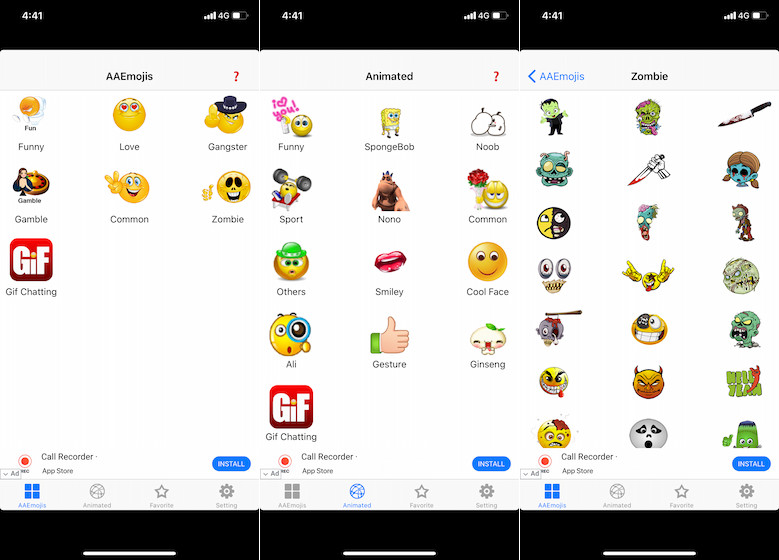 Claiming to have well over 3000 emojis including the lively animated emojis, it will never let your messaging go under the weather. That's not all, it's also got big gesture emoticons and the dreading zombie emojis to let you always be in the thick and thin of conversation. Though the app is free, unlocking all the features requires you to spend $3.99, which seems quite reasonable.
Price: Free/Pro version comes at $3.99
7. Emoji Keyboard for Texting
Yet another full-fledged emoji keyboard that won't burn a hole in your pocket for spicing up messaging! Despite being available for free, the app has got enough features to warrant a safe spot in your kitty of the top emoji keyboards for iOS. The collection of over 800 emojis should prove more than enough for messaging. Add to that, more than 50000 unique characters, over 2000 symbols, and more than 200 text pictures and your arsenal will never seem light on firepower. Overall, it's a great emoji keyboard for texting.
Price: Free
8. Big Emoji Keyboard
It pays to keep the entire mood of the conversation colorful – especially during festive times and special occasions. And this is where "Big Emoji Keyboard" would have a role to play. What puts this app in its own league is the amount of flexibility it offers in allowing you to design colorful messages. For instance, you can create your own emojis using a wide range of tools offered in the app. As it works with several popular messaging apps including iMessage, Messenger, WhatsApp, and even SMS, your messaging will be fully caught up across the board.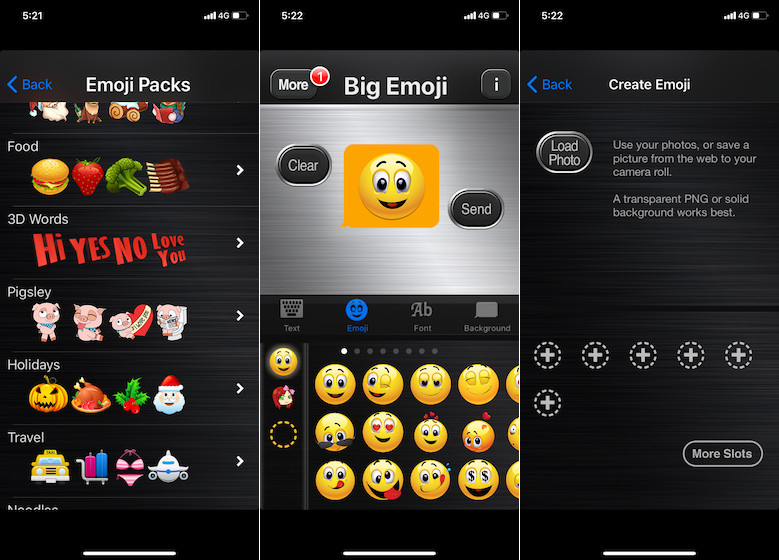 Price: Free/in-app purchase starts at $0.99
9. FancyKey
FancyKey isn't a usual emoji keyboard per se. Featuring probably the largest collection of keyboard themes, the app promises to be one-stop heaven for those who never seem to get enough of customization. Apart from the impressive themes, it also has more than a decent library of emojis so that you can't just deck up the keyboard but also relish messaging in its full glory. Furthermore, it is not behind on the GIF front either courtesy an ever-multiplying library. As for improving the typing experience, I would say FancyKey is up to the mark as it has the support for one-handed typing support and also has an efficient auto-correct feature. In short, it's what you need to make your keyboard look fancy.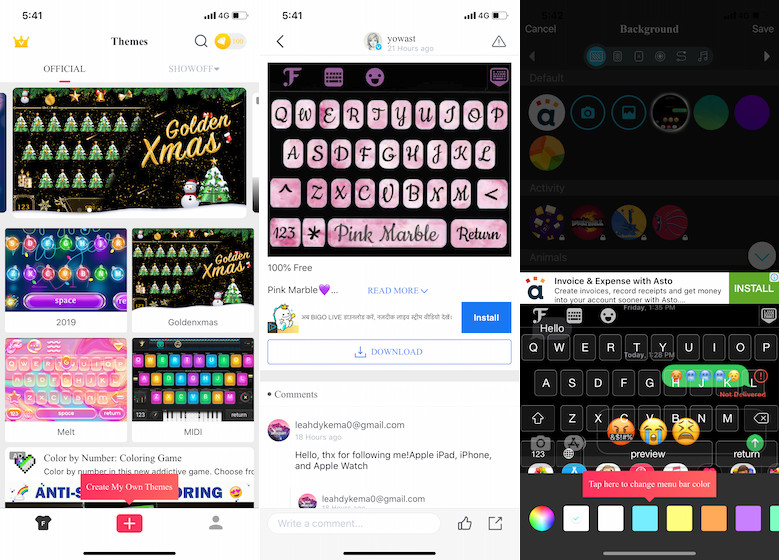 Price: Free/in-app purchase starts at $1.99
10. Gboard
Didn't expect Google's famed Gboard to grace this show? Then, you are either unaware of the versatility of this popular keyboard app or perhaps have never given a shot to the myriad of emojis that are tucked inside its massive library. Either way, you shouldn't fail to try it out to discover what it has in store. In addition to emojis, GIFs, and the gliding feature that makes typing smooth sailing, the app is integrated with Google Search. Thus, you can get started with the search without having to leave your conversation. On top of all, the app also lets you create your stickers and share them with your friends and loves ones.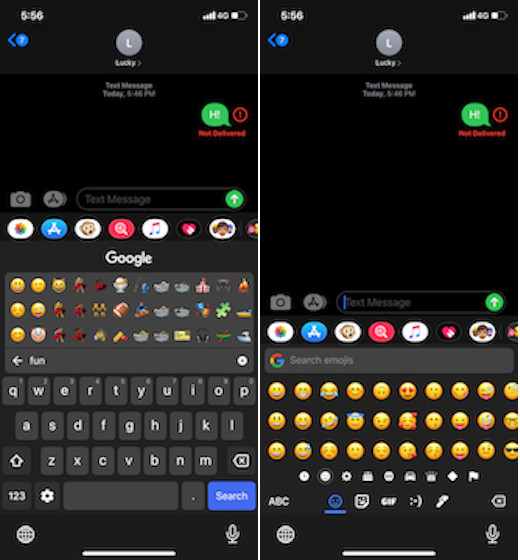 Price: Free
Note: Once you have downloaded your favorite keyboard app, you can add it to your list of keyboards by navigating to Settings app > General > Keyboard > Keyboards > Add New Keyboards. Then, scroll down to the Third-Party Keyboards section and choose the keyboard app. After that, tap on the keyboard app and toggle on the switch next to Allow Full Access. 

Make the Most of the Best Emoji Keyboards for iOS
So, these are my top emoji keyboards for iOS and iPadOS. While I do understand that Apple wants to keep everything simple and seamless, I wish the company offered a bit more freedom to customize the interface of the operating system. Agreed, things like the ability to install fonts on iOS 13 shows that the tech giant is slowly but steadily offering some neat customization. However, as compared to Android, iOS pales in comparison to the extent that there seems to be no competition on the personalization front. Hopefully, things will get better in the future. Coming back to emoji keyboards, let me know your favorite app in the comments down below.