Introduced at the iPhone X launch event in 2017, Apple's Animojis opened the floodgates for a multitude of tech companies, hardware vendors and app creators to come up with their own versions of animated 3D emojis that mimic human facial expressions. Microsoft's popular third-party keyboard app, SwiftKey, has now joined the bandwagon by introducing a similar feature as part of its latest update.
Called 'Puppets', the new feature will allow users to choose from a number of different avatars, including a 3D panda, cat, dog, owl or dinosaur, to imitate their facial expressions. In a blog post on Thursday, Microsoft said that the feature leverages its artificial intelligence technology to mirror the head movements and facial expressions of users in real-time. Unlike other emoji products that use 3D depth sensing, Puppets uses thousands of crowd-sourced images and videos from SwiftKey users, said the company.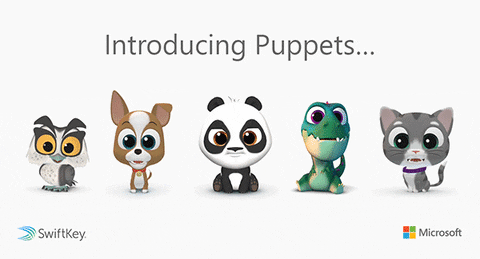 According to Deepak Paramanand, a senior program manager at Microsoft, "We created Puppets, a group of cute and furry friends that people can control just by being themselves. Choose one of five animals, record a message of less than 30 seconds and share it via one of the many popular communication apps supported by Android devices". He further said:"Puppets can instantly recognize when a user smiles or opens their mouth, for example, and make the animated animal copy it. It is so accurate that it can even copy a person when they blink".
Puppets has already started rolling out on Android, but there's no word on when it will be available on iPhones and iPads.