Apple's iOS, as we all know, is not the most user-friendly OS when it comes to customization. However, things are not as bad they used to be and you can now customize certain things in the OS including the default keyboard. The support for keyboard customization was first introduced with iOS 8, which means there are a ton of different third-party keyboards available on the App Store. But the question is – which third-party iOS keyboard should you use on your iPhone and iPad? Well, we've handpicked some of the best ones for you so here are the 12 best third-party iOS keyboard apps for iPhone and iPad, you should use.
How to Use Third-Party Keyboards on iOS
Before we dive into the alternatives, let's take a quick look at how to enable third-party keyboards on iOS as not many users are familiar with it. All the iPhones and iPads ship with the stock iOS keyboard. In order to add more, you'll have to install them first from the App Store. We have given the download links for each and every keyboard suggestions in our list, so don't worry about that. Once you've installed a keyboard app, you can add them by going to Settings –> General –> Keyboard –> Keyboards –> Add New Keyboard. Now, simply choose the ones you want to use.
After you've added the new keyboards, just make sure that you give those keyboards full access. As a side note, don't add too many additional keyboards because switching between them is a little inconvenient. We would suggest you pick two of your favorite ones from the list and stick to them. Anyway, let's check out the list now, shall we?
12 Best Third-Party iOS Keyboard Apps for iPhone and iPad
Note: All the keyboards suggested in this article are compatible with all the iOS devices including the new iPhone, iPad, and iPod running on iOS 9.0 or later. The keyboards are listed in no particular order.
1. Gboard
Gboard is not only one of the best keyboards for Android users, but it's also very popular among many iPhone and iPad users. The best part of using Gboard is the fact that it integrates Google Search, which means you can search for a place, articles, images or GIFs or even an emoji and share it instantly to the person you are talking to, without you have to leave the app you are in.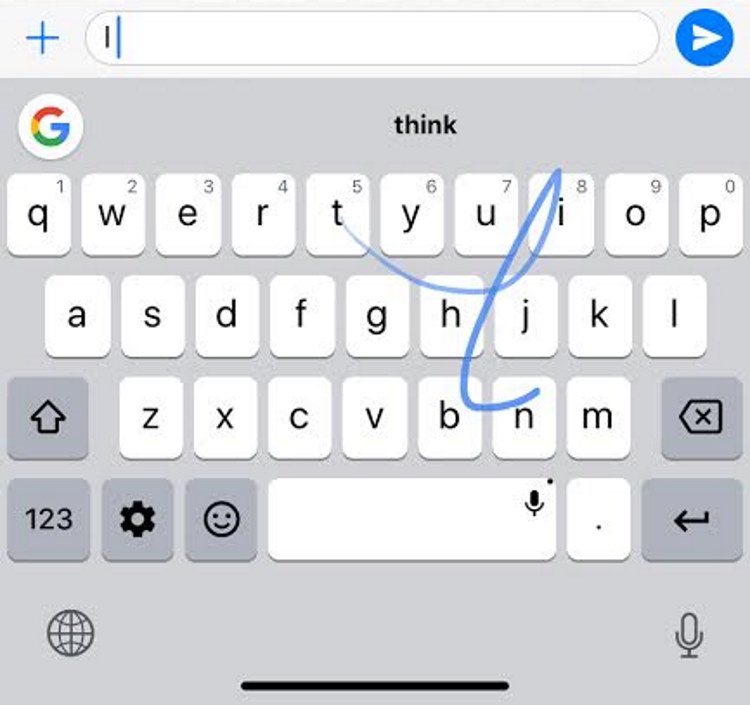 Additionally, the keyboard also brings all the awesome features like glide/swipe/gesture typing, handwriting input, Google-powered voice dictation, AI-assisted predictions, and more. The keyboard was also updated recently with new features like the ability to create your GIFs, stickers, etc. Overall, Gboard is one of the best keyboards that you can use on your iOS device.
Download Gboard (Free)
2. SwiftKey Keyboard
SwiftKey keyboard has been around for a long time. It is one of the go-to apps that a lot of users install first on their new smartphones, and rightfully so. What makes SwiftKey keyboard stand out from other keyboards is its highly efficient autocorrect feature which is based on artificial intelligence.
SwiftKey keyboard learns from your typing habits to provide better text predictions. Much like Gboard, you can also use SwiftKey to type faster by simply swiping on the keys instead of tapping them. SwiftKey also offers a ton of themes with which you can customize the look and feel of your keyboard. Additionally, SwiftKey also supports over 90 languages and comes with GIF support to make your conversations more interesting.
Download SwiftKey Keyboard (Free)
3. Grammarly Keyboard
If you are a grammar nazi, and absolutely hate sending messages or emails with typos, then Grammarly keyboard is the way to go. The keyboard comes with Grammarly's effective spell checker and grammar checker functionalities that work very well.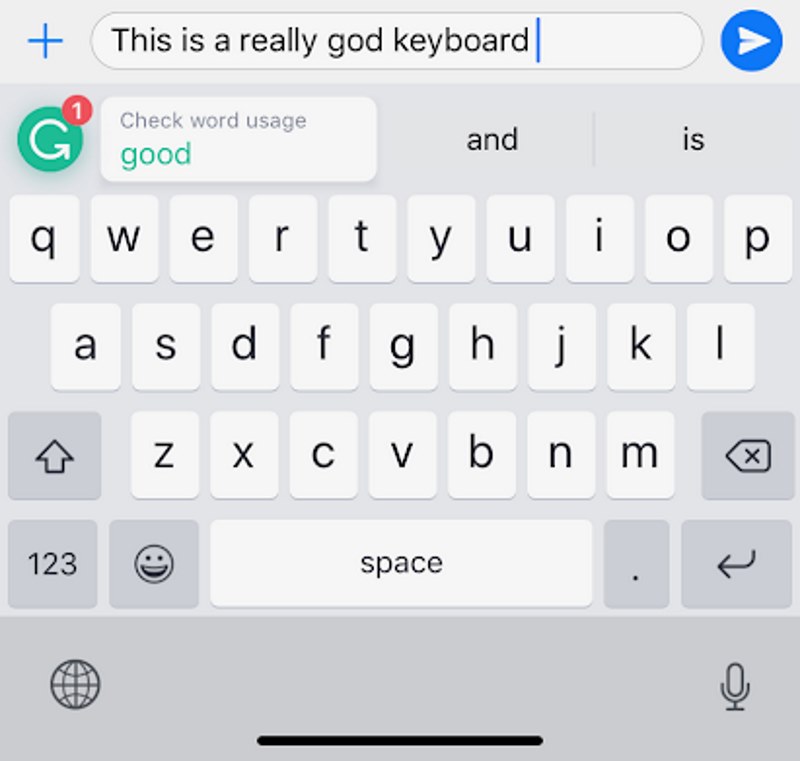 The Grammarly keyboard itself looks very minimal, and it is very simple to use. It can scan the entire text with just a tap of a button, and come up with contextual grammar errors, spelling errors, and suggestions. The keyboard is very effective when you are typing, say, an official email or some business documents. Grammarly also lets you add words to your personal dictionary, and lets you choose between American, Australian, British or Canadian English as your preferred language.
Download Grammarly Keyboard (Free)
4. TouchPal Keyboard
TouchPal is one of the very few keyboards that comes with its own assistant. The built-in Talia assistant in TouchPal can help you with things like suggestions, look up information online, help you manage clipboards, etc.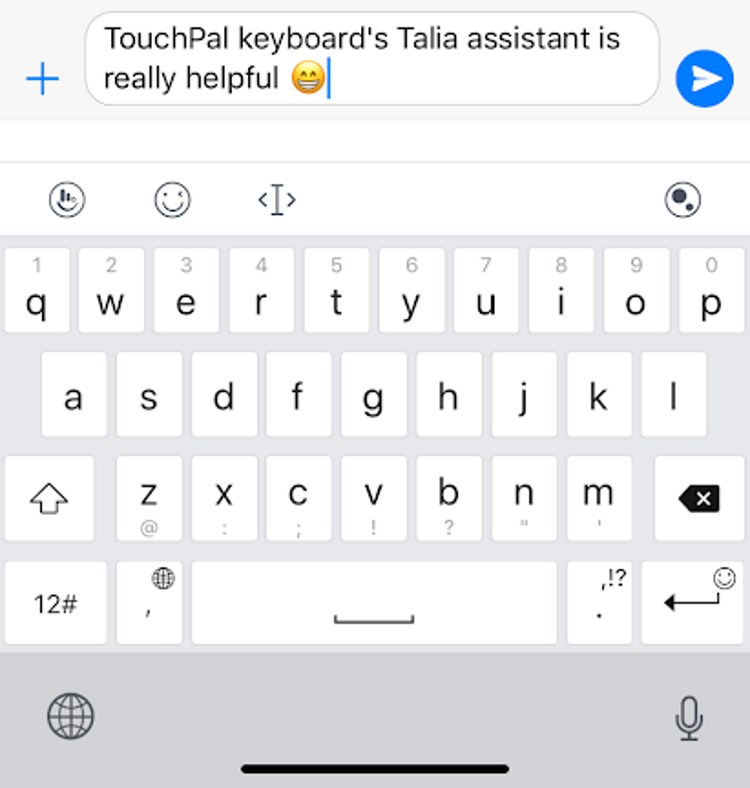 Looking past the Assistant, the TouchPal keyboard itself is packed with a ton of features. The keyboard takes advantage of swipe gestures called 'TouchPal Curve' with which you can effortlessly type long messages or emails. Besides that, the TouchPal keyboard also comes with a lot of customization options like themes, fonts, etc., and there's AvatarMoji, that enables you to create a GIF emoticon of your own image. TouchPal has also a height adjuster, with which you can increase or decrease the size of the keyboard depending on your needs.
Note: TouchpPal keyboard was briefly removed from marketplaces due to privacy concerns. The listings are back online, but it is definitely something that you might want to make a note of.
Download TouchPal Keyboard (Free)
5. Better Fonts Keyboard
Though other keyboards mentioned in this list like TouchPal, lets you change the font, Better Fonts Keyboard is probably the one to get if you want to go crazy with text art. Better Fonts has one of the greatest collection of fonts, and it lets you choose them easily with just a tap of a button. You can use Better Fonts keyboard to send text messages with text art over any messaging platform. They even work well on social media platforms like Facebook, Twitter, Instagram, and more.
Better Fonts keyboard also comes with a few themes of its own, but the fonts are really the highlights here. There are a total of 118 fonts to choose from, out of which a handful of fonts are paid. You can choose to buy the paid ones for as low as $1.99 each or unlock all of them for $19.99. Better Fonts keyboard has over 5 million downloads and it is one of the top-rated keyboards on the App Store.
Download Better Fonts Keyboards (Free)
6. Phraseboard Keyboard
If you are someone who doesn't like to send text messages and is sick of typing the same responses time and again, then the Phraseboard is the perfect keyboard for you. The Phraseboard, as you can see, is not a full-fledged keyboard. Instead, consider it as a tool that lets you send pre-written text responses that are categorized for ease of use.
Let's say I want to go out for lunch with a colleague. Now, instead of typing the entire message, I can simply tap the phrase that's already saved and send it in a jiffy. Easy, right? In addition to the ones that are bundled with the keyboard, you can also create your own phrases and save them. All your new phrases will be saved to the cloud, so you don't have to worry about re-doing all of them again if you uninstall the app.
Download Phraseboard keyboard (Free)
7. Bitmoji
Although you can send Bitmojis via Gboard on Android, the easiest way to send Bitmojis on iOS is with Bitmoji keyboard. The Bitmoji keyboard is unlike anything you've used before. Instead of alphabets and numerals, Bitmoji keyboard comes with, well, Bitmoji. You can simply search for the ones you want to use and hit send. That's it.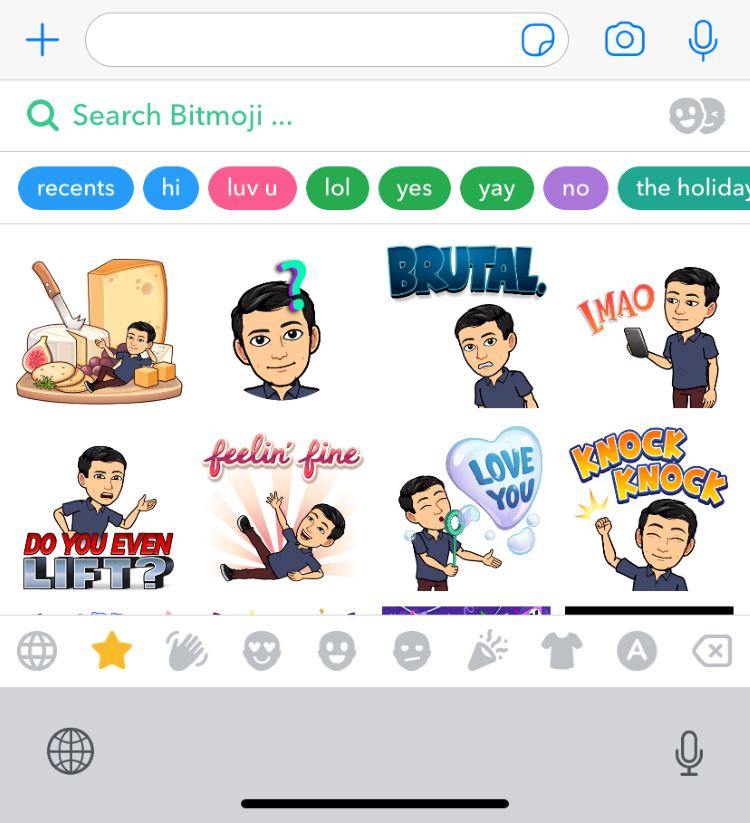 In order to use Bitmoji, you'll either have to sign in your Snapchat account or sign up for a new one to get started. The Bitmoji keyboard has a growing list of expressive avatars, and you sure find the right Bitmoji to match your mood. The keyboard is also very easy to use and you can log in to your account from right within the keyboard.
Download Bitmoji (Free)
8. GIPHY
GIPHY is a fun keyboard that lets you send GIF images to convey your messages. The keyboard uses GIPHY's huge repository of GIFs, so you'll never run out of images to send. GIPHY has also added the ability to make customized GIFs and stickers, and it makes it using the keyboard that much fun.
Unlike other GIF-enabled keyboards on the market, GIPHY is highly optimized for iOS devices. So loading a lot of GIF images won't make your iPhone slow. In addition to using the GIPHY keyboard for sending fun images, you can also use this keyboard to upload your content from within the keyboard. If you love sending GIF images, then GIPHY keyboard is a must-have option. The keyboard comes bundled the GIPHY app, so you don't even have to install a separate app to use the keyboard.
Download GIPHY (Free)
9. Keymoji
If you are not a fan of GIFs and you like conveying your messages through emojis, then you have to check out Keymoji. Keymoji is one of those keyboards that wants to take the emoji universe to the next level by making the process of using emojis both easy and fun. Keymoji can predict what you are about to type and give emoji suggestions for the same.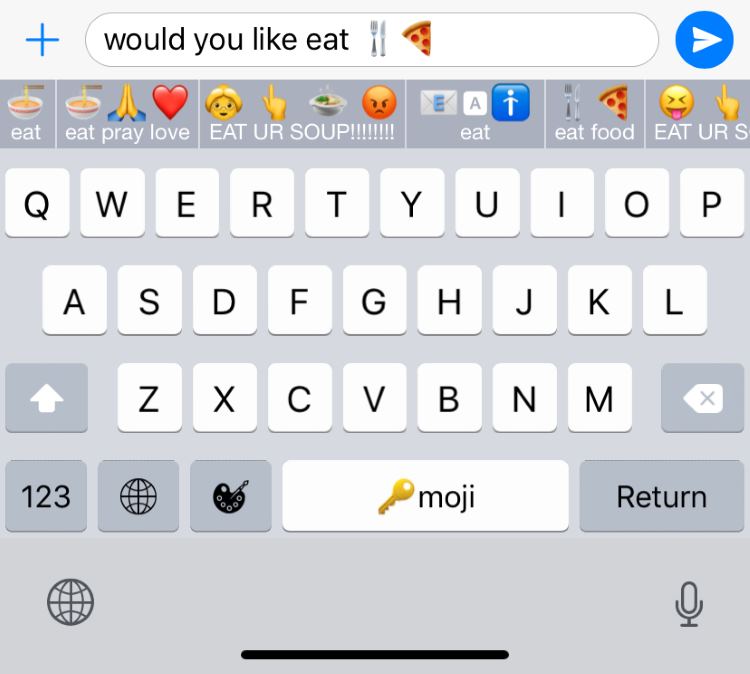 Other than translating our text into emojis, Keymoji also lets users come up with emoji phrases and compete with other users from all over the world to come up with new and favorite emoji phrases. You can submit your Keymojis, Emoji Arts, and Emoji Song Lyrics via Keymoji app. There's the leaderboard of most popular Keymojis. You can also search ready-to-use Keymoji from the collections.
Download Keymoji Keyboard (Free)
10. Go Keyboard
Go Keyboard is one of the very few keyboards that takes customization to a whole new level. Unlike other keyboard apps that only let you tweak the look with some colors and backgrounds, Go Keyboard steps it up with more granular options. There's a full-fledged theme store with thousands of themes separated into different categories.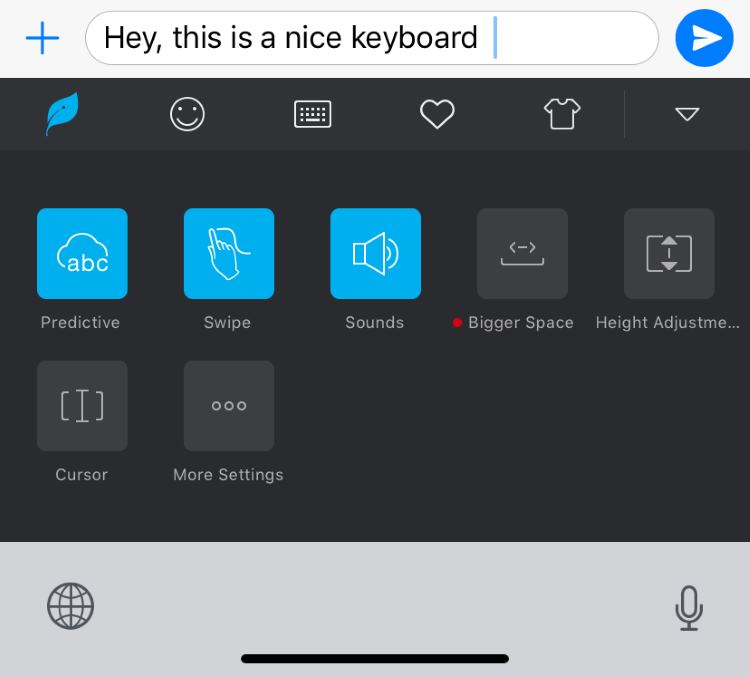 If that's not enough for you, Go Keyboard also lets you change the sound of the key presses. Yes, it's not for everyone, but you can change the sound of the key presses to truly make it suit your needs. There's also an Avatar-generator that lets you create custom avatars and use them as stickers. It's similar to Gboard's "Minis" stickers. Go Keyboard also offers a subscription model with which you can get a wider choice of themes and stickers.
The paid version of the keyboard doesn't add a lot of value, so we suggest you stick to the free version for now. Other noteworthy features of Go Keyboard includes the ability to swipe, change the height or width of the keyboard, and more.
Download Go Keyboard (Free)
11. Fleksy Keyboard
The penultimate keyboard app on our list is the Fleksy keyboard. It's the only keyboard in this list that allows you to use extensions, to make typing a hassle-free task. You can take advantages of these extensions to browse things like YouTube, Spotify, and more. Heck, you can also do a quick web search and pull out relevant links without having to leave the app you are in.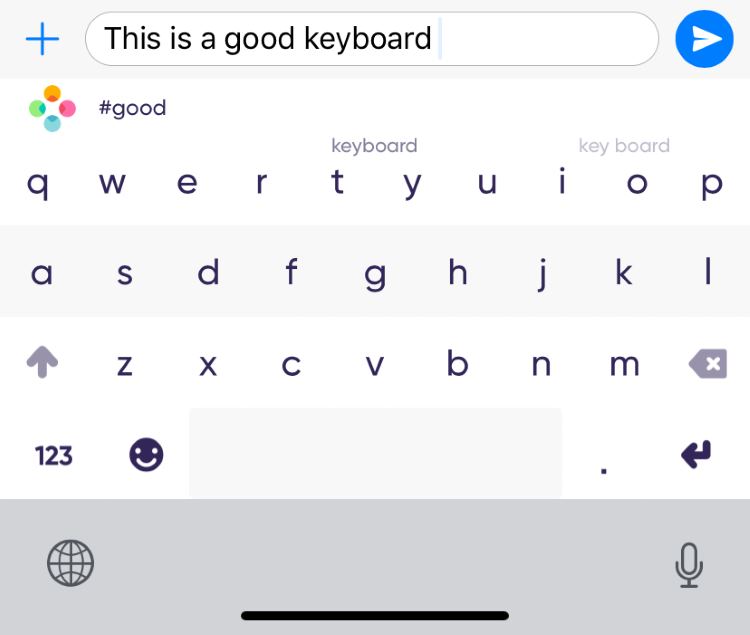 Fleksy, just like other keyboards in the list, has a ton of options like GIF support, Stickers, Memes, and more. Fleksy also lets you tap and hold the space bar button to move your cursor and make changes. The ability to use the space bar as a cursor was only introduced recently in the stock iOS keyboard. The Fleksy app offers a lot of customization options like the ability to change the keyboard size, themes, and more.
Download Fleksy Keyboard (Free)
12. Typeeto
Last, but not the least, we have Typeeto, which is little different than any other keyboards in this list. It's essentially an app that's designed for your mac. Yes, it turns your Mac's keyboard into a Bluetooth keyboard, which you can use with your iPad, iPhone, etc.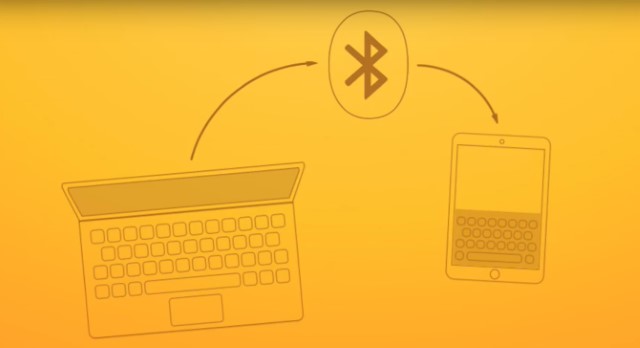 In addition to iPads and iPhones, you can use Typeeto with other devices like Android phones, gaming consoles, and Apple TV as well. The best part of Typeeto is that you don't have to install any other apps on your other devices. All you need to do is connect the device to your mac, and you are good to go. It is, however, pointing out that Typeeto isn't available for free.
Download Typeeto ($19.99)
SEE ALSO: 15 Best Photo Editing Apps For iPhone
Which is Your Favorite Third-Party Keyboard App?
Well, those were some of our favorite third-party keyboards for iOS devices. Do you use any third-party iOS keyboard for your iPhone or iPad? Which one is your favorite? Please share your views using the comment section below.