Possibly due to security concerns, iOS is a little left behind on the keyboard front compared to Android. But ever since iOS supported third-party keyboard apps with iOS 8, the gap is rapidly narrowed in with more and more developers creating their versions. The question now is which one(s) should I use? Before we dive into the alternatives, let's start with stock iOS keyboards.
Stock iOS Keyboard Vs. Third-Party Keyboards
The iOS keyboard has evolved a long way since its first iteration. The latest version bundled with iOS 9 is an excellent keyboard that comes with features like multiple languages, text prediction, auto-correct, emojis, and force touch support, to name just a few. Using force touch with the keyboard will turn it into trackpad where you can slide your cursor freely within the text.
The active default keyboard is English, to add more go to Settings – General – Keyboard – Keyboards – Add New Keyboard. Then choose one or more from the available choices.
You can delete the ones that you don't use by sliding it left and tap Delete. If you install one or more additional keyboard apps, you can even remove all the stock keyboards if you want to. But that is not a wise thing to do because there are still glitches that sometimes keep third-party keyboards from showing up. Keep at least one stock keyboard just in case.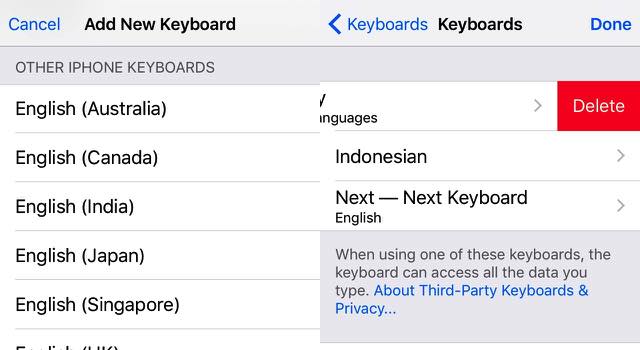 If you want to use non-stock keyboards, install the apps and then use the same steps to adding the stock keyboards. Just make sure that you give those keyboards full access. As a side note, don't add too many additional keyboards because switching between them is a little inconvenient.
And here are 12 unique and fun best third-party iOS keyboards that you can choose.
1. SwiftKey Keyboard (Free)
In my opinion, SwiftKey is currently the best third-party keyboard for iOS that I can find. It provides good text prediction, supports many languages – two of them can be activated at one time, supports typing and swiping, and gives quick access to emojis.
With your permission, it can learn from your SMS, Facebook, Gmail, Twitter, and RSS feed to improve the accuracy of its prediction. You can create a SwiftKey account and log in from multiple devices so all of your gadgets can use your customized text prediction without having to go through the learning process all over again.
SwiftKey has been available on Android for quite some time, and it's available free on iOS. More themes are available as paid upgrade.
2. NinType Keyboard ($4.99)
It's a bit hard to describe NinType. You can use it for super fast typing using two-handed slide keyboard, you get color letters and lines, jiggling keypads, calculator, words prediction and suggestions, tons of customizations, sliding cursor and delete, and more. Some people love it; some other don't. But for me, it's overwhelming.
There's a discussion on Reddit between the developer and users about adding force touch feature to NinType. Currently, the feature is still at concepting phase.
This keyboard could be my choice of best keyboard. But, there are too many customizations to go through just to make it exactly the way I like it. You should try it for yourself; maybe it's the perfect one for you.
3. Gboard (As of now, US only)
Gboard is Google's cool new keyboard app for the iPhone and it's unlike anything you might have ever used before. The keyboard makes sure that you don't need to hop between apps to share links, videos, GIFs or anything else on the internet. Basically, the keyboard integrates Google Search, which means you can search for a place, articles, images or GIFs or even an emoji and share it instantly to the person you are talking to, without you have to leave the app you are in. Sounds cool, right?
That's not all though, as the keyboard brings glide/swipe/gesture typing to the mix. Overall, Gboard is the perfect combination of Google keyboard and Google's Now features. The app is available for the iPhone exclusively for free.
4. Next Keyboard ($1.99)
Next is the result of a successful Kickstarter campaign. The developer behind it wanted to create the perfect keyboard for iOS. It's both beautiful and functional. You can insert emoji quickly by typing the name and choose it from the word suggestion, and you can add stickers to your text. There's also the quick cursor feature where you can slide your finger in the spacebar to move around the text.
More themes and stickers are available from the store, some are free and others are not. There are several sticker packages that you can get in exchange for tweets.
One thing it lacks, at least at the moment, is the support for languages other than English. Add that and multi-lingual users like me would quickly put it on the top of the list.
 
5. Blink Keyboard (Free)
As the iPhone screen goes bigger, one-handed typing becomes harder. If you belong to the small-fingered tribe like me, maybe you need Blink Keyboard. Other than the usual perks that you can find on other keyboards, one special feature of this keyboard is the ability to adjust the keypad size to accommodate typing with one hand. You can also split the keyboard to the left and right and have the numbers keyboard in the middle.
But Blink Keyboard is more than just a one-handed keyboard. It can also insert quick text by long pressing the space bar, fast delete word by word instead of just letter by letter using the Word key on the top right corner of the keypad, insert alternative characters by long pressing or swipe down on a character, move cursor quickly by sliding your finger on the first row of characters, and more.
6. TouchPal Keyboard (Free)
TouchPal focuses on the fun side of typing. It's one of the top 6 finalists at Techcrunch Disrupts. It features customizable themes, emoji predictions with over 800 of them, also tapping and swiping input with contextual prediction and autocorrect.
Some of its cool features are the ability to swipe up to open numbers, swipe down for symbols, and swipe left to delete. TouchPal comes with several languages, with a promise that more language are on the way. Users can vote to move their chosen language to the top of development list.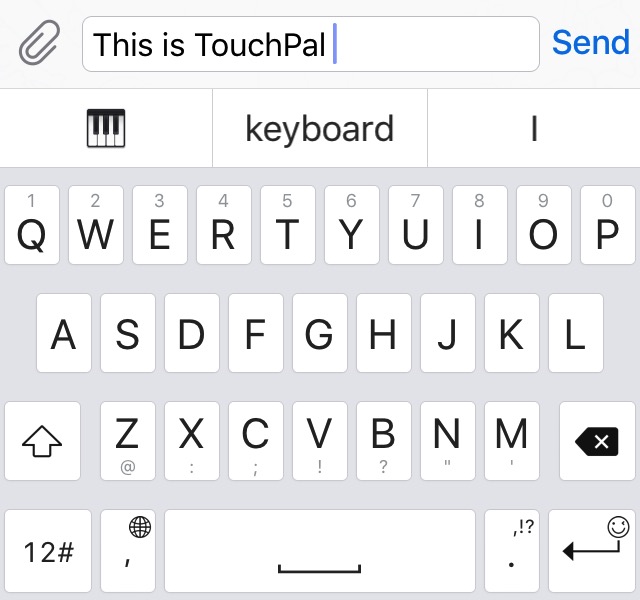 7. Typiora (Free)
Typiora touts itself as a powerful keyboard extension. Some of the features are: swipe the spacebar to move the cursor, swipe to delete (or add shift to delete forward), swipe up the shift key to change font case, and one-handed keypad mode. IMHO, the coolest feature of this keyboard is the ability to add and customize shortcuts like brb (be right back), omw (on my way), email# (email addresses that you type often), phone# (phone numbers that you type often), etc.
Users can login to get access to download assets and to restore previous purchases. Users will get 100 coins that can be used to purchase themes, fonts, sounds and more features.
One thing that may keep this keyboard from getting to the top of everybody's choice list is the lack of support for languages. Typiora only comes with a handful of languages without any indication to add more in the near future.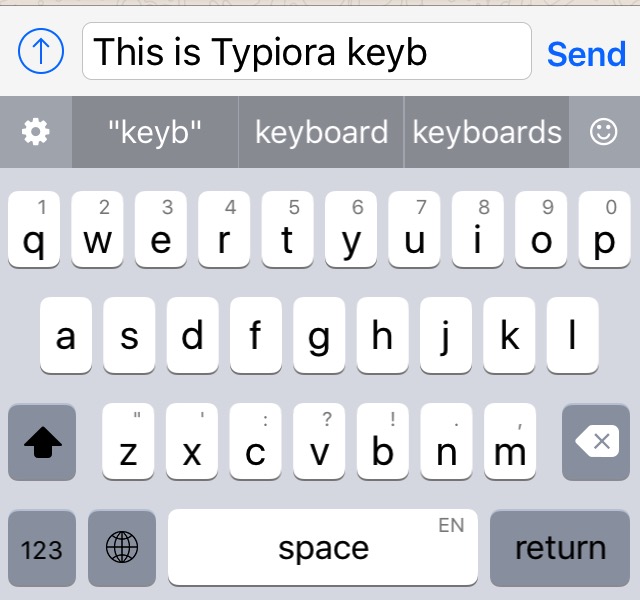 8. Fleksy + GIF Keyboard (Free)
If your goal is to type faster, maybe you should try Fleksy. This keyboard claims that it set the world record for typing speed, thanks to its powerful autocorrect. It also supports themes, gestures, and multiple keypad layouts. The app detect the position sequences where your fingers land instead of the letters you hit, so it still can predict your words even if you hit all the wrong letters.
Fleksy allows users to install extensions to add more abilities to its arsenal. Some of the available extensions are: cursor sliding, additional number row, one-handed typing mode, and hotkeys (shortcuts). You can customize the hotkeys with things that you type often like email address, web URLs, hashtags, and even symbols.
It's possible to add more than one languages to help Fleksy predict your words, but you have to manually switch the language by swiping the spacebar left or right.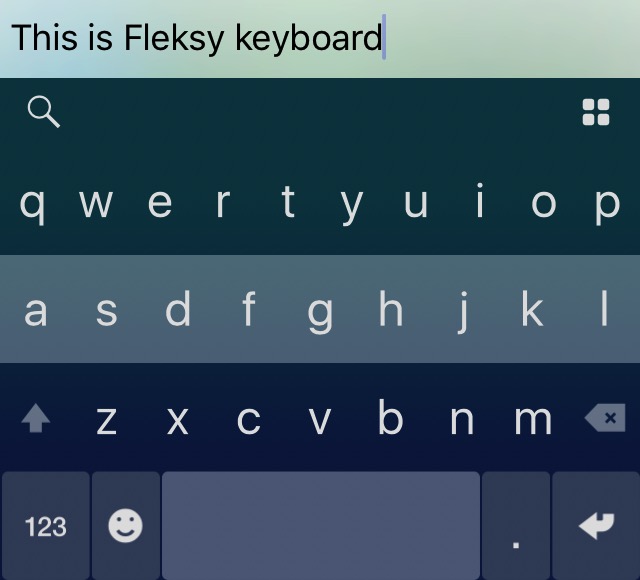 9. Swype ($0.99)
As the name suggest, Swype focuses more on swiping gestures to input text. It is the keyboard that first came up with the swiping input back when it first emerged on Android. Owned by the company behind the speech recognition software – Nuance – Swype supports many languages and features the ever-growing crowdsourced living language dictionary. Another cool feature is the animated theme. But additional themes are paid upgrade.
Swype allows users to add new words one by one to their personal dictionary by tapping the the new word from the word choice list and tap the Add prompt that appear. Removing a word is similar, tap the word and choose remove. Swype comes with more languages than Typiora, but much less than SwiftKey or Fleksy.
10. Keymoji: Emoji Keyboard (Free)
One thing in verbal language that written language can't substitute is the speaker's emotion. That's why people use emojis – especially in mobile devices where conversations are full of emotion and happen in short sentences and phrases. Keymoji wants to take the emoji universe to the next level by making the process of using emojis both easy and fun.
Other than translating our text into emojis, Keymoji also lets users come up with emoji phrases and compete with other users from all over the world to come up with new and favorite emoji phrases. You can submit your Keymojis, Emoji Arts, and Emoji Song Lyrics via Keymoji app. There's the leaderboard of most popular Keymojis. You can also search ready-to-use Keymoji from the collections.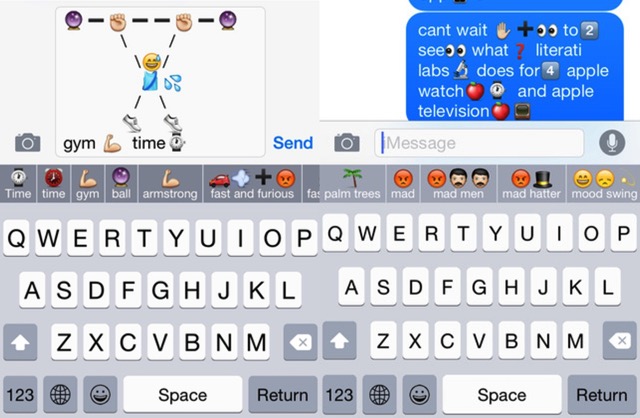 11. MyScript Stack – Handwriting Keyboard (Free)
In the world of keyboards and keypads, some people still prefer to write down their words and sentences. If you are one of them, or if you are just wanted to have a new challenge, try MyScript Stack. This keybo- or should I say "input app" will translate your handwriting into text. Write down one or two first letters of the word and MyScript Stack will try to predict what you are going to write. You can either tap one of its suggestions or continue writing until your word is complete.
If you think that typing would be much faster than writing one letter at a time, you would be right. Unless you are using Chinese, Japanese, Korean, or other languages with characters that is not supported by latin keyboards. The app comes with support for some of those kinds of language.
To speed up the process, this app also comes with gestures like space (slide right), backspace (slide left), and return (slide down then left).
12. Minuum – The Little Keyboard for Big Fingers: Now with Smart Emoji ($3.99)
Minuum is a full-featured keyboard that may have everything that you need, but its most notable feature is its ability to go into "mini mode" by swiping down on the keypad. The goal is to become as unobstrusive as possible and keep the reading screen area as big and clear as possible. If you think that the mini mode is too small for your fingers, you can swipe up to go back to normal size. It would take time to get use to the minimum keyboard, but once you do, it's fast and easy to use.
Minuum also supports one-handed typing, quick add space by swiping right, quick delete by swiping left, smart auto correct, themes, multiple languages (currently 8 at the moment with more on the way), and smart emojis. It also learns from your usage to get smarter and better.
Currently, the developer behind Minuum wants to take things a little smaller by developing even tinier keyboard for Android Wear smartwatches.

13. Gifmoji – emoji animated gif keyboard (Free)
Gifmoji is a fun keyboard that lets you use animated GIF images to convey your messages. There are many images that you can use, and the collection is growing. But if you are an old fashion emoji user or even text-based emoji user, Gifmoji gets you covered too.
Loading many GIFs at once can be a strain to both data connection and CPU usage. I found out that Gifmoji loaded noticeably slower on older iPhones. The developer provides solution by giving users option to enable CPU-saver, that is limiting the GIF to 2 loops. You can access this option via Gifmoji app.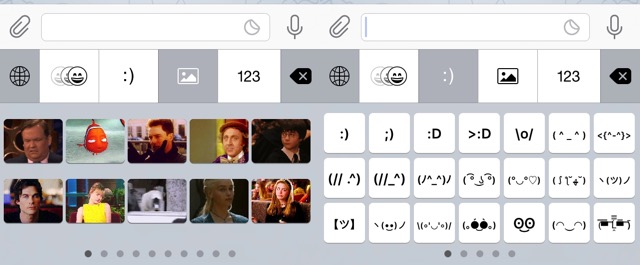 SEE ALSO: 15 Best Photo Editing Apps For iPhone
Do you use any third-party iOS keyboard for your iPhone or iPad? Which one is your favorite? Please share your views using the comment section below.
Note: The article's been update with GBoard keyboard app as an addition on the third spot.