YouTube is undoubtedly one of the best websites to kill time and consume content across different categories. However, with the abundant supply of content, one often loses track and ends up spending a lot of time watching YouTube videos. If you're one of them, this one is for you. Here is how you can stop wasting time on YouTube.
Stop Wasting Time on YouTube
We've included a browser extension, settings you can change inside the YouTube app, app timers, and a few tips based on our usage. If you often find yourself spending hours mindlessly watching whatever YouTube algorithm throws at you, read on till the end to know how you can take control over your YouTube watching habits and spend less time on the platform.
1. Using YouTube Rabbit Hole Extension
One of the useful Google Chrome extensions I use to reduce distractions on YouTube is YouTube Rabbit Hole. You can use this browser extension to hide YouTube's home page, sidebar, comments section, trending section, and even subscriptions. There are handy toggles you can use to customize the home page as per your preference.
Once you've enabled the features you need, the extension will automatically place bunnies in the place of video recommendations. This way, you can watch what you want to watch as opposed to watching random YouTube video recommendations. If you want to take control over your YouTube watching habits, I'd highly recommend checking this extension out.
Download YouTube Rabbit Hole (Free)
2. Using Break and Bedtime Reminders
In May 2018, YouTube added a break reminder feature on its mobile apps to help users take breaks. Similarly, the company brought bedtime reminders last May to urge users to hit the bed. However, not all users are aware of these and end up not setting up these much-needed features.
To set up a break reminder, open YouTube and go to Settings -> General -> Remind me to take a break. The reminder's frequency can range from every 5 minutes to every 23 hours and 55 minutes. You can choose the duration that works best for you. If you ask me, I'd recommend setting a reminder every 30 minutes.
Coming to bedtime reminders, you'll find the option to set it up from Settings -> General -> Remind me when it's bedtime. Here, you can set the start and end time of your sleep hours or any time you don't want to spend watching videos. You also have the option to get reminded after completing the current video, which should be effective as long as you're not playing 10-hour extended versions of songs or memes. While these features won't lock you out of YouTube, you can use these as a sign to close it.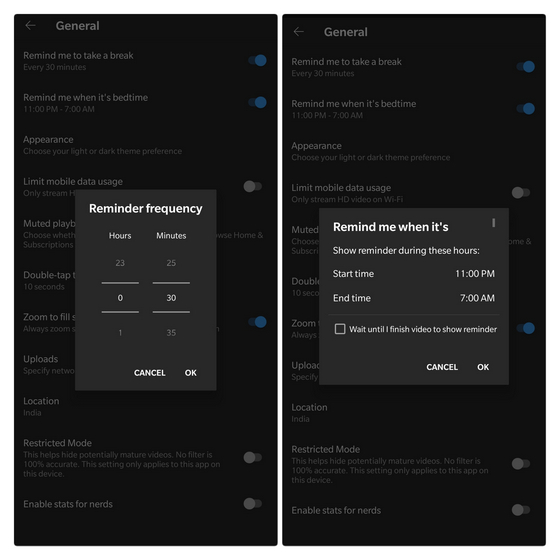 3. Using App Timers
If you are at a point where you need an extra push to disconnect from YouTube, you can rely on one of the app timers to lock you out of YouTube once you've exhausted your daily usage limit. You can use Android's Digital wellbeing feature or iPhone's screen time feature to achieve this. One third-party app that does this task well is Freedom. You'll find more app timer apps and websites in our coverage of the best focus apps.
On Android phones, open Settings -> Digital Wellbeing & parental controls, and tap on Dashboard. From the list of apps, find and press YouTube. Once you've reached the dedicated page for YouTube, choose 'app timer' and set the time you want to spend watching YouTube in a day.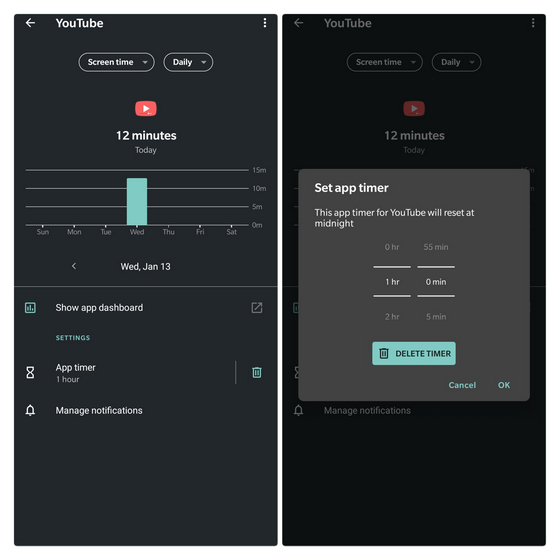 4. Practical Tips Without Third-Party Apps
Apart from all these, here are the methods I follow to make sure that I don't waste a lot of time on YouTube. First up, you should introspect your content consumption habits. A good place to start would be to unsubscribe channels that you no longer find interesting or valuable enough to spend your time on.
Another way to reduce YouTube usage is to eliminate the triggers. While it might seem like a harmless notification of a new video from one of the channels you watch, you might end up spending hours if you're not mindful. To avoid this, you should evaluate your subscriptions again and ask yourself if that particular content deserves your immediate attention. Sure, there will be a few channels where you just can't wait to watch the moment a new video drops, but the goal is to prioritize content that interests you and reduce/stop watching other videos. As an extreme measure, you can also choose to entirely disable notifications for the YouTube app.
If the platform keeps suggesting videos you're not interested in and you don't want to use the YouTube rabbit hole extension, you can click 'Not interested' or 'Don't recommend channel' options to remove them on both PC and mobile. While this is intended to curate your recommendation feed, you can use it to your advantage by clicking 'Not interested' on addictive content and videos that don't necessarily add value.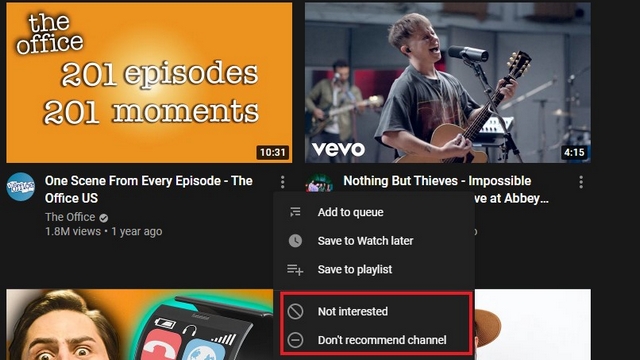 Reduce YouTube Usage and Stay Productive
So, those are the ways we found to help you stop wasting time on YouTube. Do you follow anything else that's not mentioned here? Do not forget to let us know in the comments. To make the most out of the time you spend watching YouTube, check out our article on the cool YouTube tips and tricks.