Ever since the 17th century, watches have become synonymous with luxury and class despite offering a very basic function of time-keeping. Not only essential, wristwatches especially have been linked to a person's high work efficiency, ethics, class, and some other social identifiers.
By the time I arrived on the scene, mechanical watches had turned digital and doubled up as calculators even. People have been trying to cram more into a watch for decades and I grew up with a fascination for watches with screens and tactile buttons, and I believe many other millenials will identify with this feeling.
But without getting lost in the nostalgia lane, let's get started with what the Samsung Galaxy Watch has to offer. Samsung Galaxy Watch, which was announced alongside the Note 9, is one such fine example of craftsmanship and technology which can be carried anywhere without you needing a smartphone.
It not only commands admiration for being a device to enhance your productivity (and discipline in certain cases), but simply for its captivating looks – although I must admit, it is partly because until the contents on the screen change, most people mistake it for an analog wristwatch. The Galaxy Watch is equal parts utility and luxury, and does what it promises fairly well.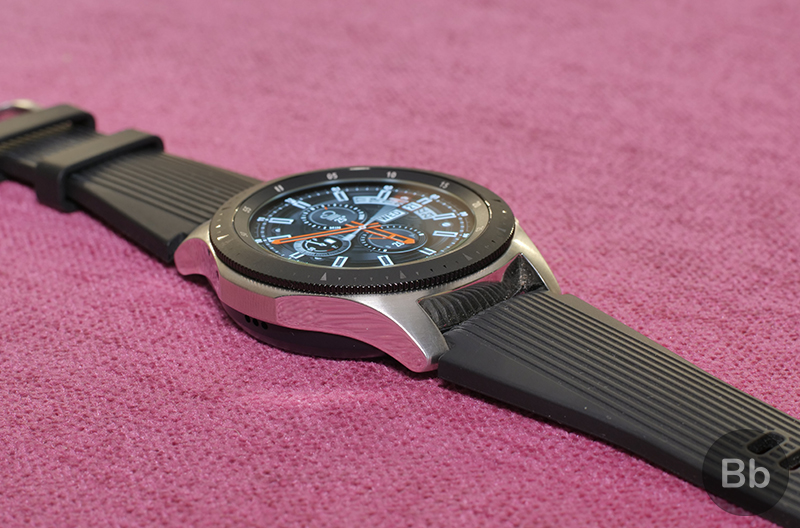 From keeping a track of your vital stats, to reminding you to perform armchair stretches, to facilitating phone calls, letting you watch YouTube videos, or even playing games, Samsung's wrist computer is very useful – and it also shows you the time – but do all of the smart features shoved into this small puck justify the price of Rs 29,990? We'll be taking a look in the review below.
Samsung Galaxy Watch Specifications
The Galaxy Watch is available in both – 42mm and 46mm sizes – allowing you to choose the size that fits your wrist the best. Let's take a look at the specifications of the Galaxy Watch.
| | |
| --- | --- |
| Display | 1.3-inch/ 1.4-inch AMOLED Display |
| Water-resistance | 1.5 meters for 50 meters, swimming-ready |
| Connectivity | Bluetooth 4.2, Wi-Fi, NFC, LTE in select markets |
| Sensors | GPS + GLONASS, heart rate sensor, triaxial acceleration sensor, geomagnetic sensor, barometric pressure sensor, ambient light sensor |
| Processor | Exynos 9110 1.15GHz Dual-Core |
| RAM | 768MB (1.5GB for LTE variant) |
| Weight | ~63g (without strap) |
| Battery | 472mAh (46mm) and 270mAh (42mm) |
| Price | starts at Rs. 24,990 |
It is not very surprising to see the same specifications crammed into the Samsung Galaxy Watch as available on any leading smartphone a little short of ten years ago, until you actually sit and ponder over it. I hope that my detailed review of the Galaxy Watch will help you make a decision on whether to buy it or not.
Let's find out if this lives up to the expectation in terms of performance, but first, let me run you through what the watch comes with inside the box.
Box Contents
The Galaxy Watch sits neatly within a box. This is what I found inside the box
Samsung Galaxy Watch
Samsung wireless charger
Micro USB cable
Charging brick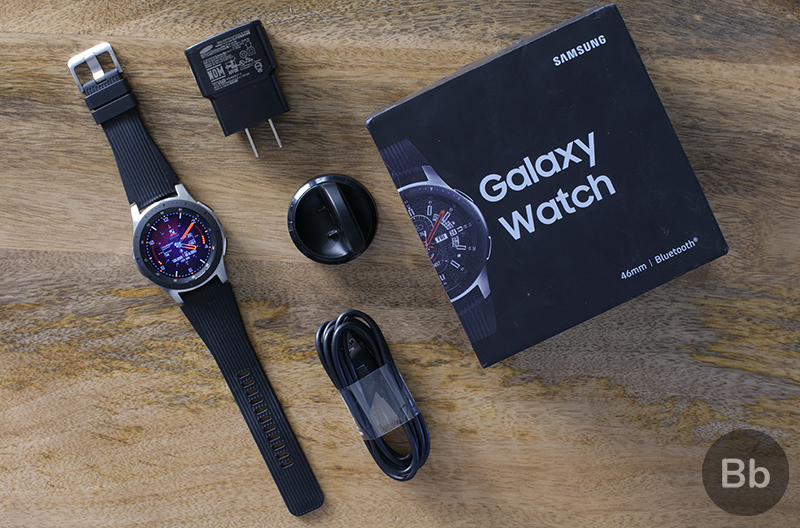 Design and Build
From my very first glance, the Samsung Galaxy Watch struck me differently than any other alternative. This is because of brushed stainless steel chassis and slight heft make it resemble a premium watch – it might almost strike you as a watch from a luxury brand at first glance. The body alternates between areas with chrome and matte finishes, and the smooth round housing adds to the sense of symmetry.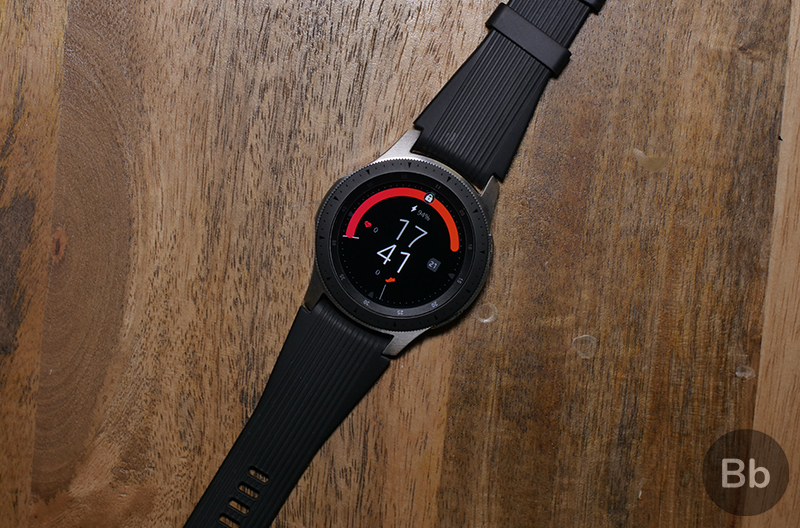 The watch features a rotating dial which is very useful while scrolling. The tiny gear-like teeth along the perimeter of the dial make it easy to find the rotating surface even without looking directly at it. This is especially useful for activating the watch and seeing your incoming notifications.
On the right side of the watch lie two buttons with dedicated functions. The upper button is useful for going a step back in the interface – and sadly is the only way to do so. I wish that swiping from left to right worked as a way to go back, as it does in some of the cheaper smartwatches. The lower button serves the function of a Home button and takes you back to the main watch face from whichever screen you are in. When you're already on the watchface, the Home button can be used to open the list of apps. 
These buttons, as well as the rotating dial, feel extremely tactile and easy to operate – although I feel that this button placement almost pressurizes you to wear it on the left wrist. This is because wearing it on the right one might put these buttons beyond the reach of your left hand. But that is the case with most smartphones using a rotating knob or crown, including the Apple Watch.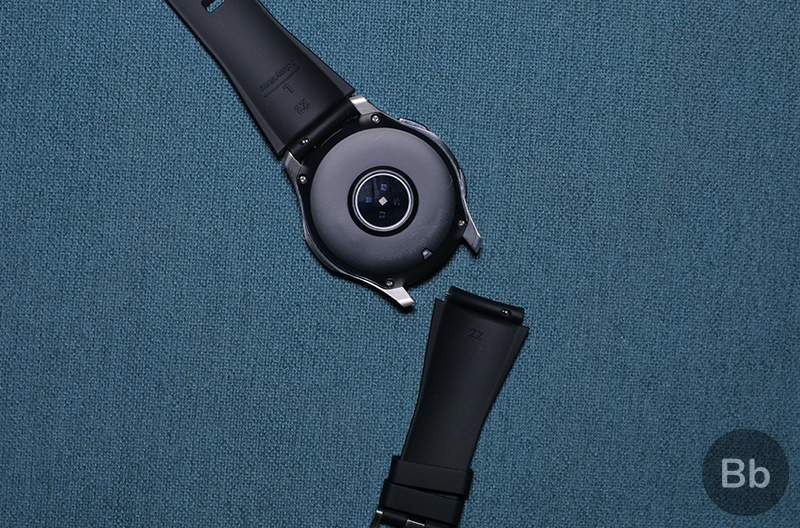 While I'm a fan of the overall build and design of the smartwatch – especially the rotating dial which allows you to see the display without your finger covering its contents, the rubber strap is something that irks me. The grooved pattern easily attracts fine particles of dust and lint, making the strap feel stuck against the loop/ ring, so much so that you almost dread having to take it off and putting it back on too often.
However, you get the liberty to use any standard 22mm watch strap or band with the Samsung Galaxy Watch, which is useful.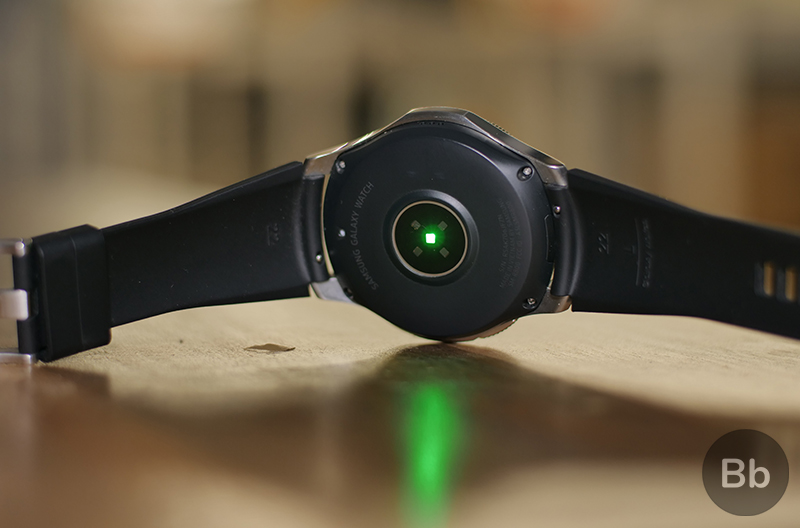 On the back is the heart-rate sensor, sitting square in the middle. Further on the left and right edges are the inbuilt speaker and the mic, respectively, which come in handy while playing music or taking calls. We will look at the quality of this almost hands-free setup below.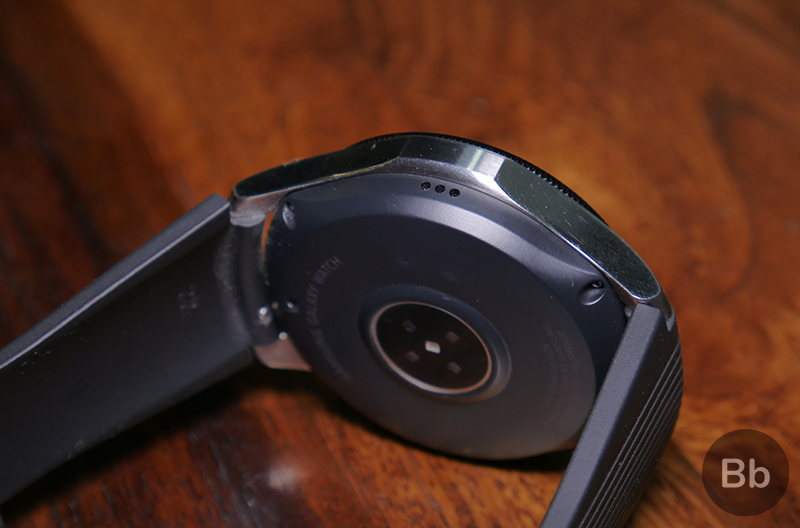 Finally, besides the sticky strap, I really have no reason to complain about the design of the watch. I've been using the 46mm variant and it fits my wrist pretty well and while I've managed to scratch the metallic parts of the Galaxy Watch a bit, the dark metal body veils those scratches. Overall, the design is pretty attractive with the rotating dial being an icing on the cake.
Display
The 46mm version of the Galaxy Watch comes with a 1.3-inch AMOLED display with a resolution of 360×360 pixels. The smaller variant uses a 1.2-inch display with the same resolution, so it might be a tad bit sharper but I have had no problem with the readability or sharpness of the bigger display whatsoever.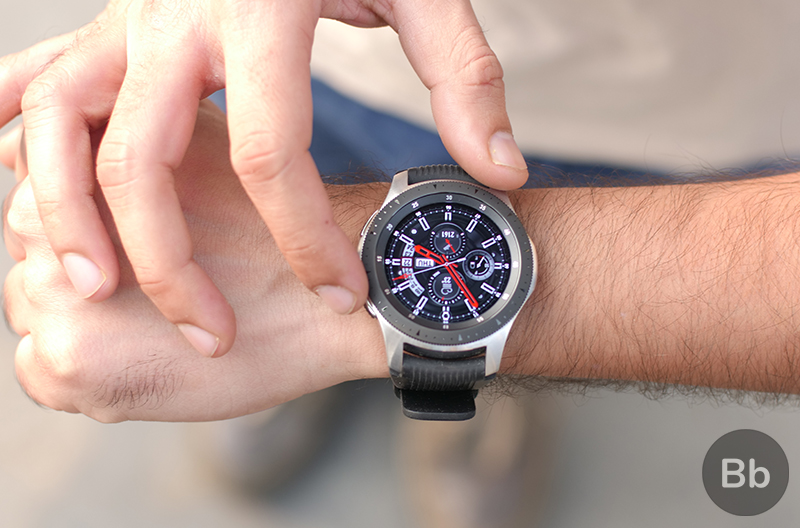 The display, to begin with, is very vibrant and responsive and it feels like it has been cut straight out of smartphone display. The rich vibrancy is what has inspired me to try a variety of watch faces with several animated elements. Moreover, the display gets significantly bright to ensure that a roaring sun does not hamper the Galaxy Watch's usability.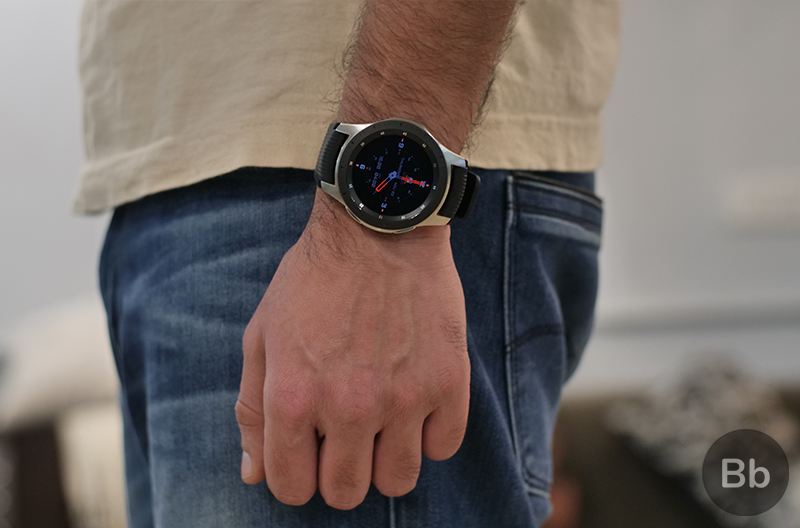 The display can remain always on and only the most important elements of the watch face are shown in muted colors and with reduced brightness. It does take a toll on the battery but that is acceptable if you prefer being able to see the time and basic stats without having to wake the screen every time.
Performance
If I had a limited set of words to introduce Galaxy Watch to Samsung fans, it can be described as a crossbreed between the Gear Fit and the Gear Sport, and designed on the lines of Samsung's Gear S series.The Galaxy Watch is a successor to the Gear S3, but it follows the same design as the latter, something which is also seen in Samsung smartphones.
This section dissects the various utilities of the Galaxy Watch, including its performance as a watch, as a fitness tracker, as a smart gadget with a touchscreen interface, and also as a device which can connect to other devices.
1. User Experience
To start with, let us first take a look at the smart capabilities of the watch. It currently runs on Tizen 4.0.0, and I got that update a few hours after unboxing the Galaxy Watch. For those of you who might not know, Tizen is an open-source operating system with Samsung as one of the backers, and the biggest of its customers too.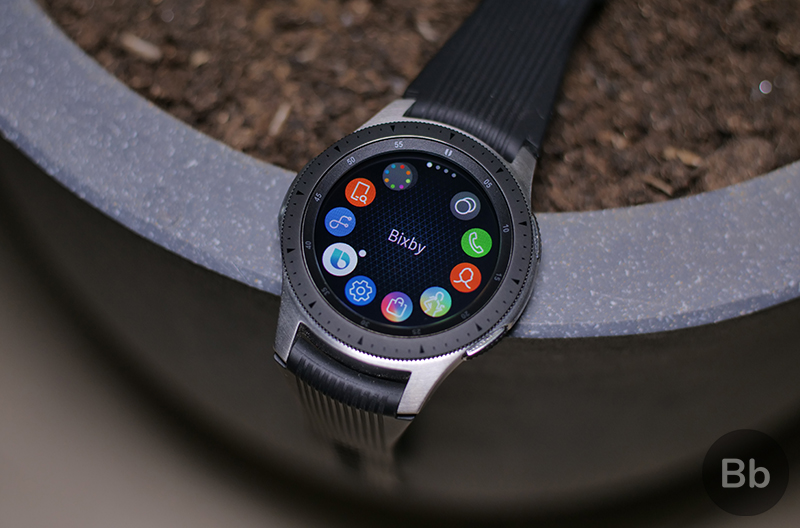 The OS, although initially adopted for all many different forms of smart devices including smartphones and tablets, Tizen now seems to be limited mostly to devices like car instrument cluster panels, smart washing machines and refrigerators, and almost all Samsung smartwatches.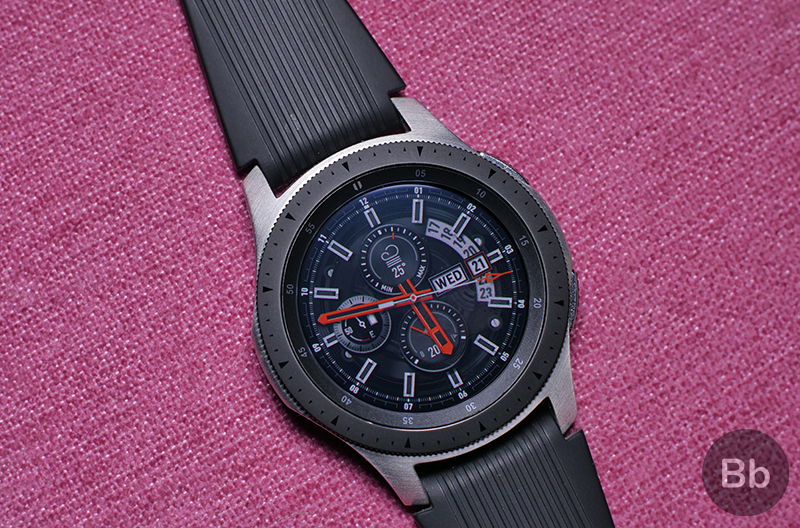 Being backed by Samsung, the interface is very refined and free from any bugs – as long as you're not using a third party application on the watch. I am especially a fan of the striking, vivid, and neon colors. The interface is designed to suit the circular dial with most of the elements abiding by the rounded design language, thus, preserving the uniformity and harmony of the interface.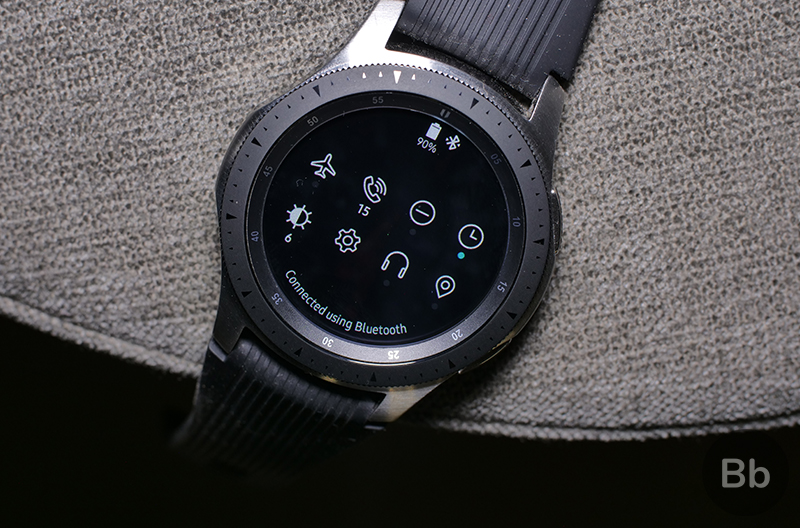 From the default screen i.e. the watch face, you can swipe left to open the list of notifications, swipe right to see widget screens, and swipe down to see a quick settings toggle which hosts options like volume, GPS, airplane mode, DND, battery saver, settings and you also get the ability to customize these options.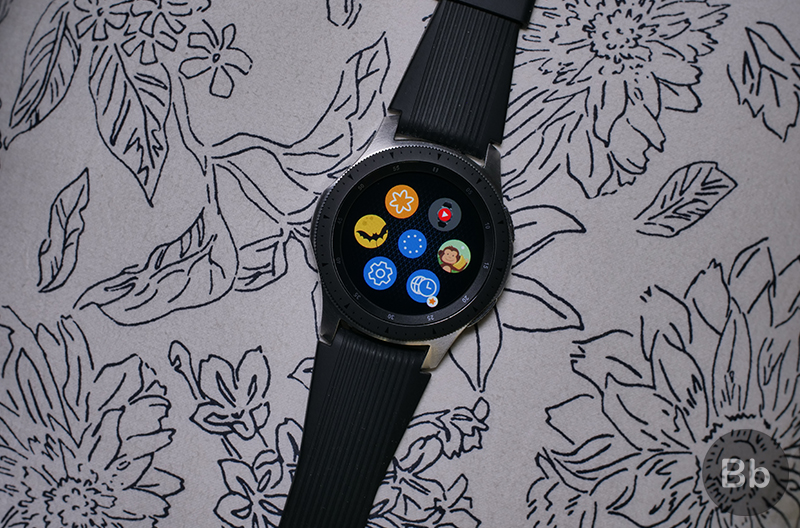 You can add a variety of favorites, ranging from favorite modes of workout to favorite apps, to favorite contacts to be able to save your time. Additionally, you can take screenshots on the Galaxy Watch, store music on the watch, or even control music-related apps using the watch itself.
One caveat of Tizen OS, however, is that you are limited in terms of the availability of apps. The support community is considerably big but app ecosystem falls short of Wear OS. The Galaxy Store does have some leading apps such as Soundcloud and Spotify, but these must be paid for.
Like most other smartwatches, you get a host of watch faces to choose for the Samsung Watch. Further, you can also customize certain faces made by Samsung. The watch also shows notifications which you can reply to from the watch without even picking up the phone. Lastly, you also get the option to set a lock pattern or code and the watch's display locks instantly after the watch is taken off the user's wrist.
The screen is tiny enough to not be able to accommodate a full-sized QWERTY keyboard but you do get a T9 setup for typing in text in apps which support text input. You also get a numpad and a tray dedicated to emojis, so that you can light your conversations up.
Samsung, like most of its other smart devices, has shoved Bixby in the Galaxy Watch too but my experience is something I would like to resign over.
2. Fitness and Sleep Tracking
If you're committed to getting fitter or maintaining your health regime, visible progress can not only keep you engaged but also motivate you to hit the gym even when you're still sore from the previous day's workout. This is where a smartwatch like Galaxy Wear works wonders.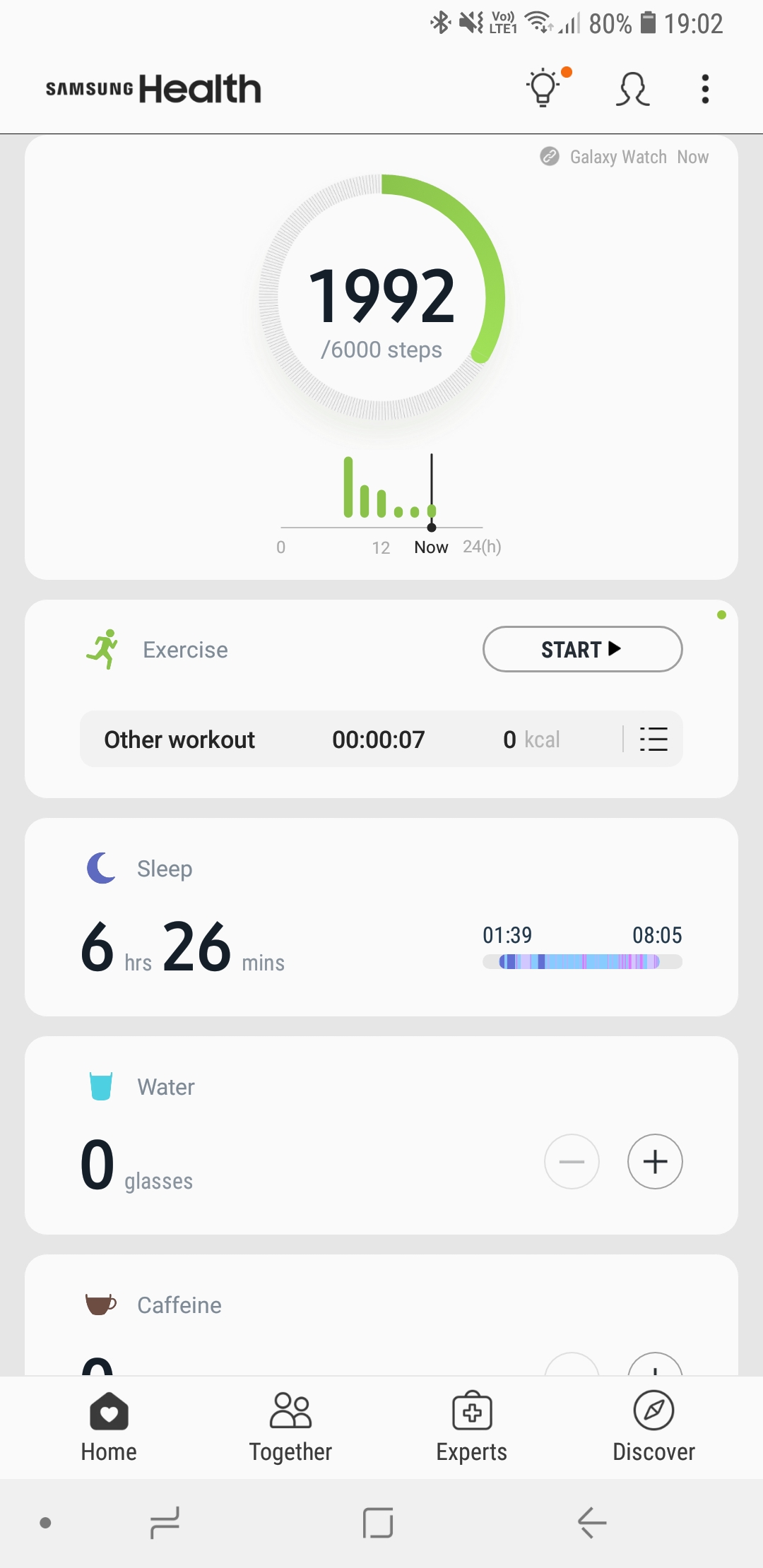 The smartwatch is capable of tracking as many as 39 different styles of workouts – like running, cycling, rowing, skiing, sports like volleyball, archery, golf, yoga, a blend of exercises using weights, and much more. The watch is also capable of automatically detecting activities like climbing stairs, the number of floors climbed, and general fitness activities.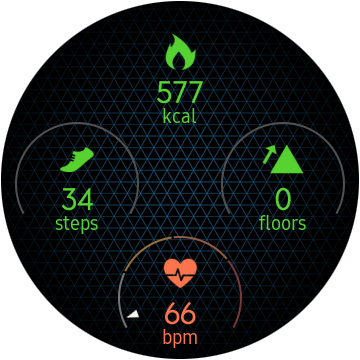 Like any other smartwatch, the Galaxy Watch captures details such as the duration of your workout, continuously monitors heart rate and uses that information along with the data about your height and weight to compute the calories burnt by you, letting you keep a track of your daily fitness goals.
However, when it comes to automatic tracking, I'm not entirely convinced about the Galaxy Watch's abilities. During my use in the last 10 days or so, the automatic workout detection did not turn on even once. I even tried resetting the watch twice in the hopes of getting the feature to work but all these efforts have been futile.
Every time I needed to track my activities in the gym, I had to toggle workout tracking on. I don't have a problem doing so – I do it manually on the Mi Band 3 too, but it is easy to lose track of your workout, if you're as forgetful as I am.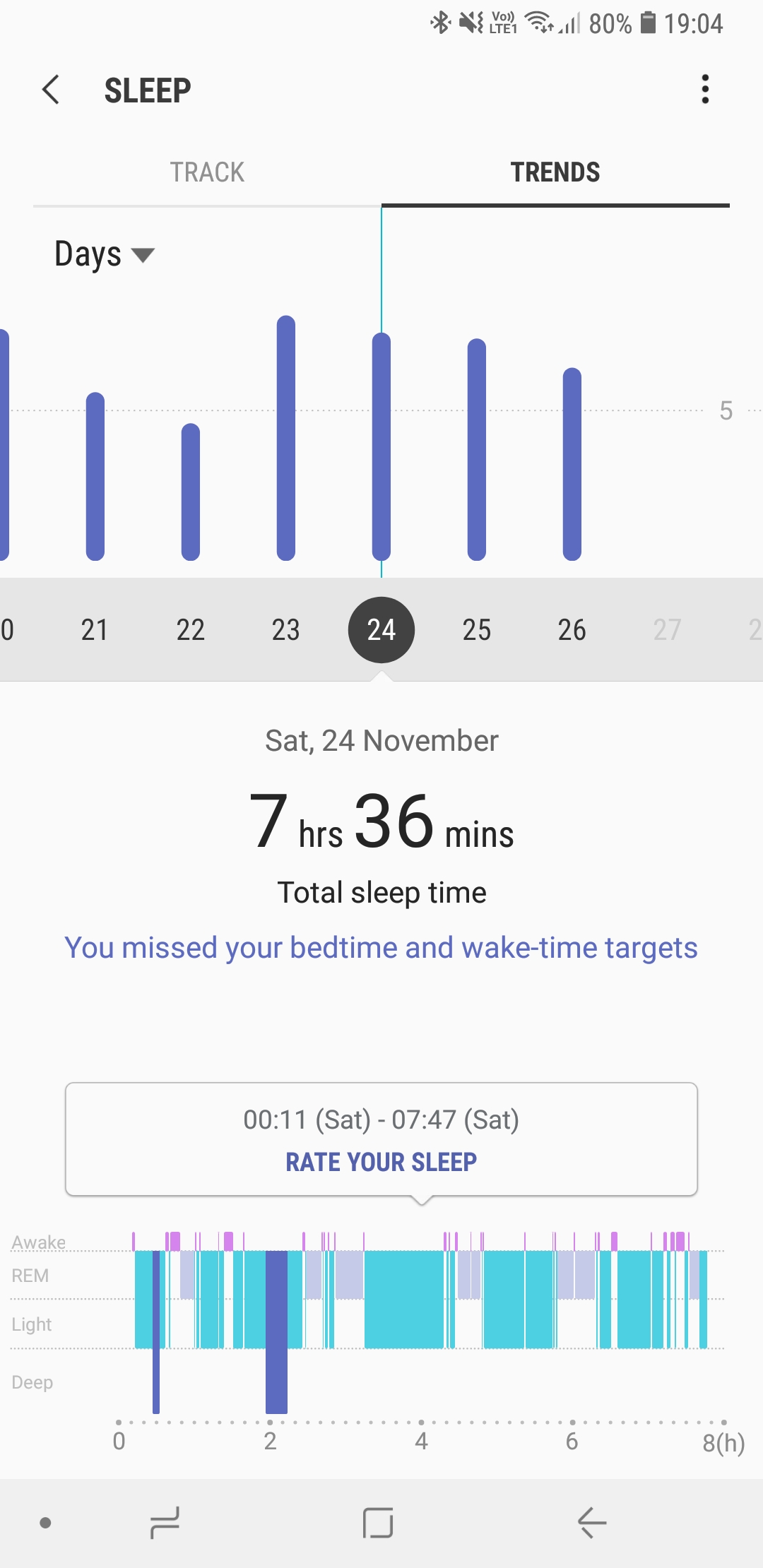 Besides that, the Galaxy Watch is also capable of identifying sleep cycles and I like it for the fact that it also takes note of rejuvenating naps during the day. The sleep information is broken down into light sleep, deep sleep, movement or activity during slumber, and REM sleep. I really appreciate Samsung's effort to include REM sleep.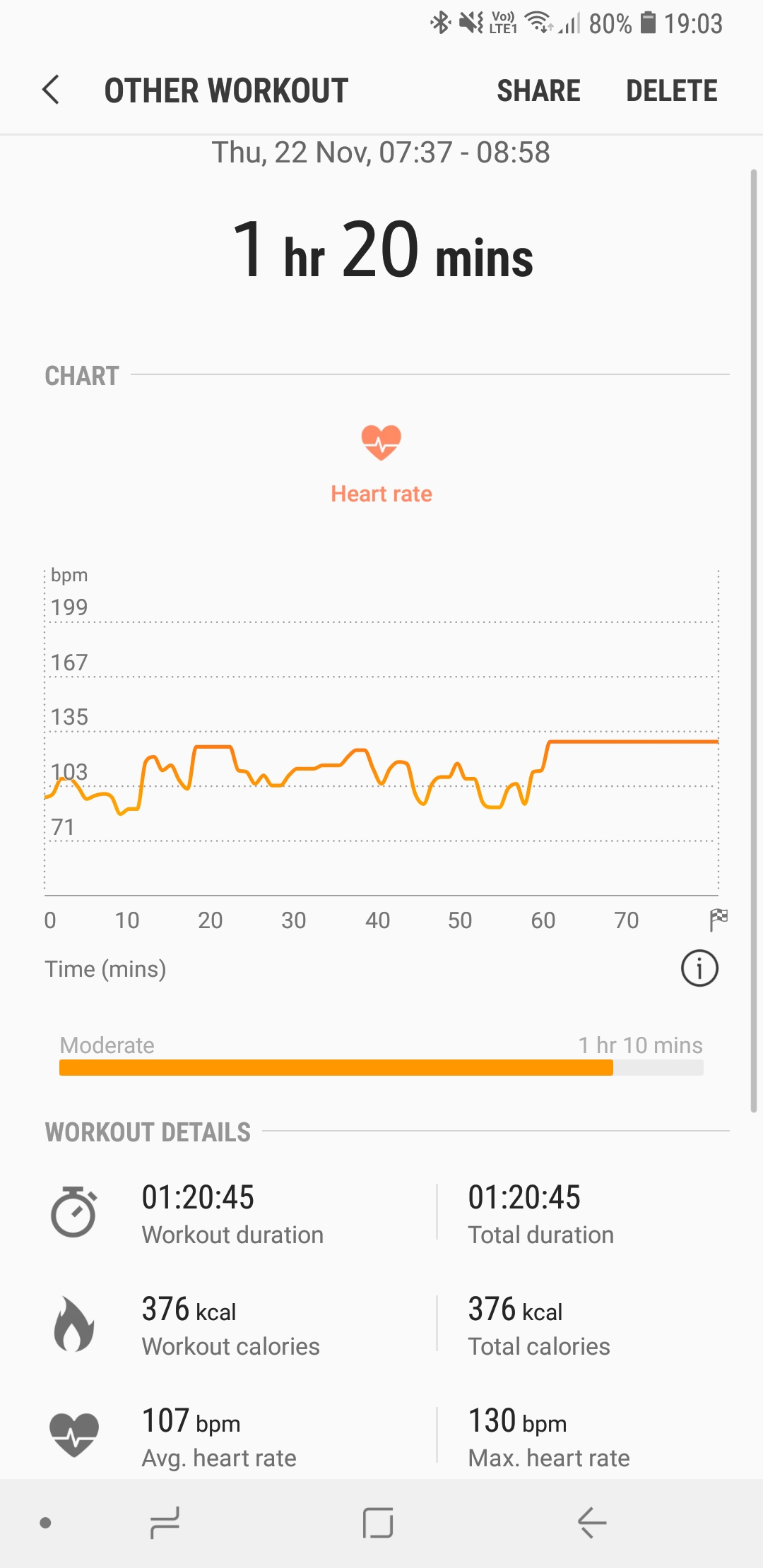 However, I have come to note instances when the sleep data from a couple of hours during the night is missing and while I can't peg down the exact reason, I believe it is because of unconscious movements at night or possibly instances when the watch can't track my heart rate.
In the end, I must talk about the feature that I really like – and rely upon. It is the Galaxy Watch's ability to identify your stress levels and assist you with a deep breathing exercise.
It can also detect that you're not moving and will recommend you to perform some armchair exercises such as torso twist, for which you need not move out of your chair.
Overall, if you can forgive the Galaxy Watch for not being very good at automatically tracking when you start or stop working out, it can be a very handy companion in your journey towards a fitter self.
3. Ready to Swim
Although older, rather typical smartwatches from Samsung such as Gear S3 were not suitable for swimming or diving (Gear Fit 2 Pro was), the Galaxy Watch can, in fact, be used for swimming for up to a depth of 50 meters.
There is no limitation on the duration for which this smartwatch can withstand being under water, meaning that even if you don't go out for swimming, you can very well wear this while lazing on the side of a pool or a jacuzzi for hours.
Notably, there is no SWOLF – the technique of using GPS data to track your the length of swimming activity and using arm movements to track strokes to determine efficiency  – but you can manually choose swimming as your way of burning those extra calories.
4. Music Controls
The Galaxy Watch comes 4GB internal storage which can be used for apps, screenshots, but the most useful application is storing music files on the watch. With the system apps pre-installed, you get around 2.5GB of free space, which means you can store around 400 MP3s – depending on the bitrate. Thanks to this, you can listen to music using the speaker on the side, or connect a Bluetooth headset to the watch.
If you prefer to carry your phone along, you can also control the music playback on your phone, and streaming services such as Google Play Music, Amazon Music, Airtel Wynk music are supported. In certain apps, you can even browse through the entire queue of tracks and jump directly to your favorite songs without having to go through the pain of individually forwarding each track. Sadly, when you're playing music from your phone, you lose the ability to seek tracks and are limited to switching tracks and controlling the volume.
5. YouTube, Games, and Much More
Even though limited in number, the catalog of apps available for the Galaxy Watch has some useful apps. These include an unofficial (poorly optimized yet usable) YouTube app, a web browser – with which you can use the T9 keyboard, official Uber app, and a viewfinder-cum-shutter interface for your smartphone's camera – which creepily works even without unlocking your smartphone.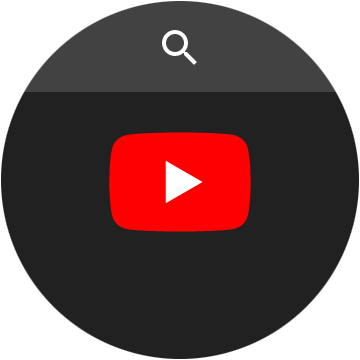 The Galaxy Watch also has some interesting games including a Flappy Birds inspiration, a circular version of the legendary Snake with the reptile moving spirals, a sniper shooter in which you zoom using the dial, a paid version of Fruit Ninja, and many more. Just like in other places in the UI, the dial comes in handy for playing games too. While these games admittedly look like early era mobile touch games, they are good enough for some occasional time-killing.
Battery
I'm sure after look at the bundle of features, you must curious about the battery's backup in different use cases and scenarios. Mostly, from actively using the watch to look at my notifications, interacting with it for music, games, tracking my health etc., I have been able to reap a battery life of more than 30 hours per charge. This is with GPS turned off and the Always-On display active.
On the other hand, switching off the Always On display might add up to a day of battery life over that. Conversely, if you keep GPS switched on, the 472 mAh battery is likely to be eaten up rapidly i.e. in less than 24 hours.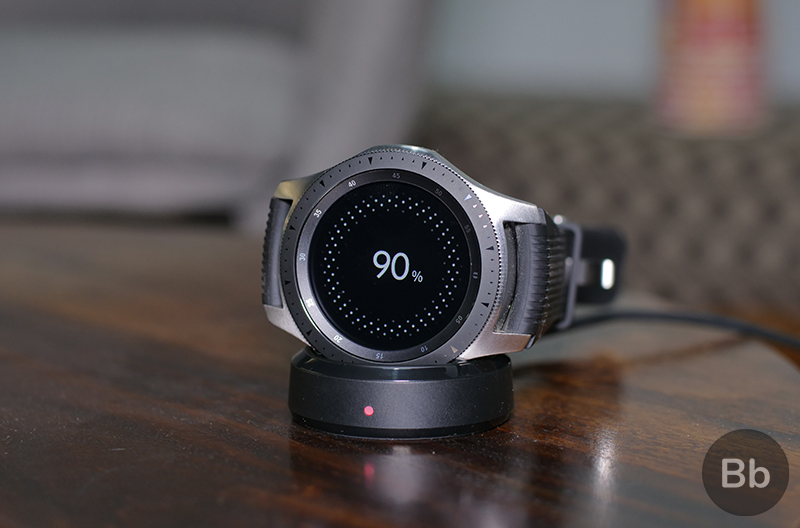 In terms of recharging, the Galaxy Watch takes around two hours to get fully charged. For this, it must be placed on top of the proprietary wireless charger which in turn draws power from a Micro USB connection.
Unlike the older generations of Samsung Gear smartwatches, this one won't charge with just any Qi-compliant wireless charger, so you must always have the charger with you if you're traveling. Fortunately, the charger works even with power banks and I even tested it with the carrying case of Noise Shots X5 which my colleague Anmol recently reviewed.
Anyone who's owned a smartwatch will accept that a battery life of just over a day is good enough. So no complaints there. However, since I have not been able to test the smaller 42mm version with a 270mAh battery, I will refrain from making any claims about its backup.
Connectivity
The Samsung Galaxy Watch is capable of connecting over Bluetooth and comes with an inbuilt GPS for outdoor tracking. Besides this, there's always Wi-Fi onboard and the watch uses the Wi-Fi credentials directly from the connected smartphone. To keep a track of whatever data the watch collects, you must install the Galaxy Wearable app from the Google Play Store or iOS App Store.
The watch keeps connected to Bluetooth for a distance of almost 10 meters and notifies you every time it disconnects from the phone. Further, the app uses Wi-Fi to connect to the Galaxy Store, but it requires the connected smartphone to facilitate the link, download essential elements, and install updates. One would think the Wi-Fi connection helps sync Samsung Health data to your phone, but that does not happen.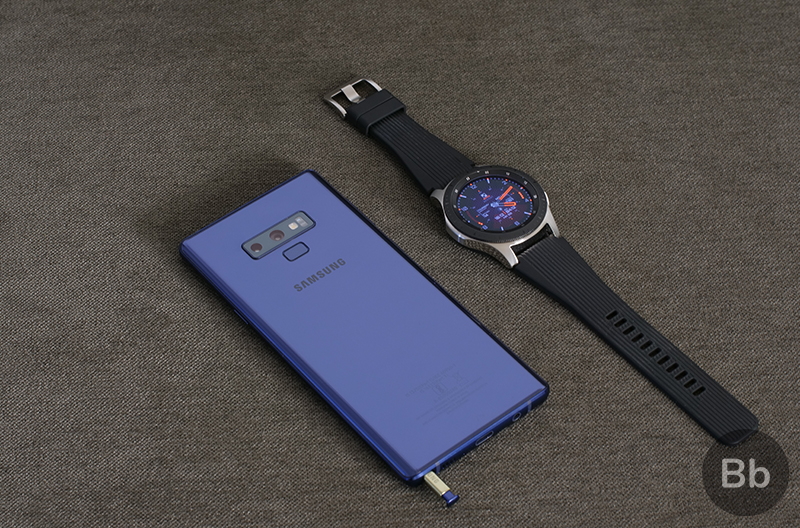 The Galaxy Watch can also be used as a hands-free device for taking calls when it is near the phone, just like a Bluetooth headset. It can be very handy if you're running or working out and don't want to miss an important call, although this is the only situation where I see this being useful.
I would not recommend you use the watch for calling, especially while driving because the low volume forces you to keep your wrist held close to the ear, which is a disaster waiting to happen when driving.
Samsung has also introduced an LTE version which uses an eSIM, but the variant is not available in India.
In terms of consistency, I found the Samsung wearable app is most useful when connected with a Samsung phone. I tried using the watch with a OnePlus 6 and faced frequent interruptions. Every time I opened the Samsung Wearable app, it would reconnect to sync the data. Further, this also obstructed the flow of notification and despite the Galaxy Watch's ability to notify your for calls, I would miss calls.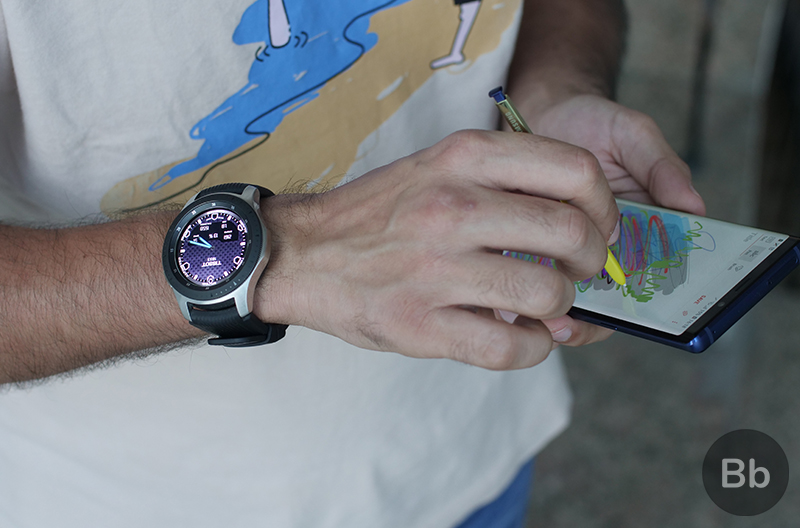 The experience with a Samsung phone is clearly better with no hiccups in connectivity and seamless push notifications. This might make the Samsung Galaxy Watch a slightly less desirable gear (pun intended) than other Wear OS counterparts.
The only concern I have is about security. The Galaxy Watch does not prompt you to unlock your phone even when you have a pincode or pattern lock. So if someone else is trying on your watch, they might be able to reply to your messages or see incoming messages quite easily.
Samsung Galaxy Watch: Pros and Cons
As we've seen in the sections above, the Galaxy Watch is an impressive gadget and definitely a watch with a beautiful appearance. I've come to like the finesse of the user interface and how it swings between an incredibly useful and powerful tool for pro users and a fidget toy for really casual gaming. Let's take a brief look at the pluses and minuses of the Samsung Galaxy Watch.
Pros:
Rotating ring eases navigation
Tactile buttons
Beautiful and very bright AMOLED display
Interactive and bug-free UI
Elaborate fitness sleep tracking
Swimming-readiness
Great battery
Stress monitoring
Spotify and Soundcloud support
Can be used for calling
iPhone support

Cons:
Limited app support compared to Wear OS
Automatic fitness tracking is sketchy
Limited 4GB onboard storage
No microSD support
Requires proprietary wireless charger
No dedicated sensors for blood oxygen level or swimming
SEE ALSO: Amazfit Stratos Review: Affordable, but Cutting Corners
Samsung Galaxy Watch: Should You Buy It?
I've come to really admire the Galaxy Watch or its minimal and user-friendly UI. It performs fairly well when it comes to tracking your vital stats while exercising or sleeping, except at times when it fails to track sleep data or turn on activity tracking automatically.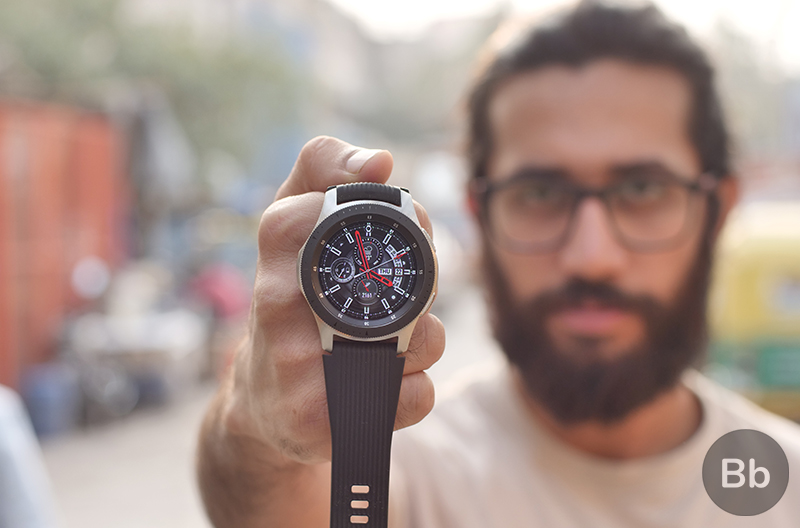 One thing is certain: You'll be in a much better place with a Samsung smartphone, which will ensure an unhindered connection. If you do own one, I would strongly recommend buying the Galaxy Watch over any other smartwatch, unless you want to experiment with a large variety of apps.
In the latter case, watches running Wear OS such as Fossil Gen 3Q Explorist (Rs 21,995) and Casio ProTrek SW004 (Rs 31,995) make more sense. If, however, you own an iPhone, you would better be off with an Apple Watch instead which start at Rs 27,900. If you want the latest generation, you can get it for Rs 43,900.
Nonetheless, the solid battery life, rotating dial, and the impressive AMOLED display are what should compel a Samsung smartphone user to check this watch out. The 42mm variant comes slightly affordable at Rs 5,000 lesser but beside the smaller form factor, you also get a much smaller battery, which might impair the kind of impressive battery we've noticed in our review.
Samsung's decision to launch the Galaxy Watch alongside Galaxy Note 9 is commendable and the seamless experience should attract Note users who wish to accomplish even more on the move.
I have been using the Galaxy Watch with the Galaxy A9 aka the quad-camera sensation from Samsung, which launched in India last week, and have faced no hindrance at all. While you can already read my first impressions (watch on YouTube) about the device, you'll be able to check out our full review very soon, so stay tuned!
Buy Samsung Galaxy Watch 42mm on Flipkart (Rs 24,990)
Buy Samsung Galaxy Watch 46mm on Flipkart (Rs 29,990)
REVIEW OVERVIEW

Fitness and Sleep Tracking

8.5

SUMMARY

Samsung Galaxy Watch should be your go-to fitness tracker and smartwatch, but only if you're using a Samsung smartphone. While it does have its quirks when being used with other phones, the sleek body, UI, app ecosystem and fairly accurate measurement of your workout and vital stats, make this a great option among premium smartwatches.