Xiaomi backed Huami recently launched the Amazfit Bip (Rs. 5,499) and the Amazfit Stratos (Rs. 15,999) in India, and I've been using the Amazfit Stratos for the last week, wearing it 24×7, and I've come to notice a whole bunch of stuff about the watch. So, if you're wondering whether the Amazfit Stratos is worth its Rs. 15,999 price tag, here's my review of the 'affordable' smartwatch.
Amazfit Stratos Specs
Before we jump into the review, lets get the specs out of the way. Here's what the Amazfit Stratos packs inside its carbon-fiber patterned plastic shell.
| | |
| --- | --- |
| Processor | 1.2GHz Dual Core Processor |
| Storage | 4 GB |
| RAM | 512 MB |
| Display | 1.34-inch 320x300 pixels |
| Water Resistance | 5 ATM |
| Sensors | air pressure, geomagnetic, ambient light, gyroscope, PPG heart rate sensor, triaxis accelerometer |
| Connectivity | Bluetooth 4.0 BLE, WiFi 802.11 b/g |
| Battery | 290 mAh |
| Price | Rs. 15,999 |
Design and Build
Pre-launch, while I was busy ogling at pictures of the smartwatch, I thought it looked pretty damn cool. So when the Stratos arrived at our office, I was pretty damn excited to use it. To my astonishment though, while the watch does look every bit as cool from the front as it looked in the picture, it doesn't exude the kind of class I imagined it would.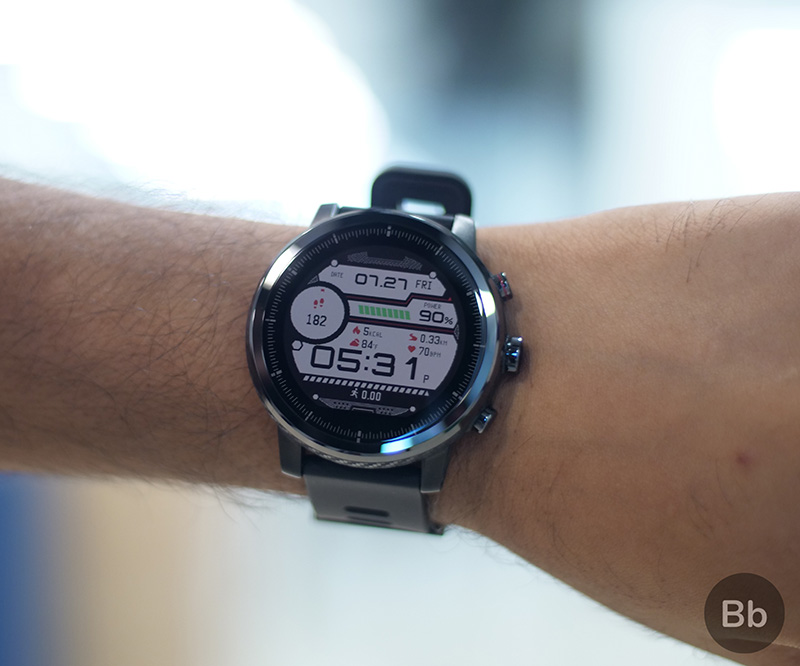 For starters, the Amazfit Stratos is a really bulky watch to wear on your wrist. I mentioned this in my first impressions of the Stratos, and I stand by that judgement. Me saying that the smartwatch is bulky is kind of a big deal, because I've been using the Moto 360 for a long time now, and that's a bulky watch but this… this smartwatch is even thicker than the Moto 360.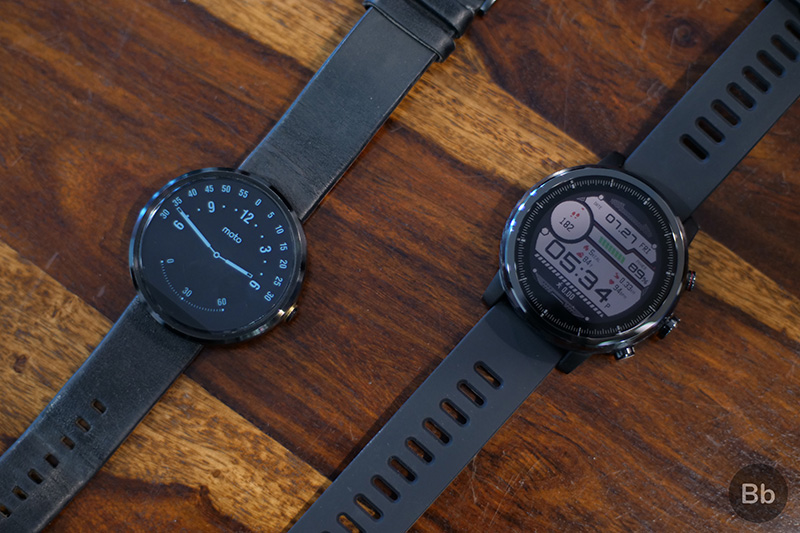 The watch is made out of a carbon-fiber patterned plastic, and Xiaomi says that the shiny bezel on the watch is made out of ceramic. That may be true, but in my opinion, the ceramic here is simply an attempt to add some class to what is otherwise a pretty unimpressive design as far as the body of the watch is considered.
There are three buttons on the Stratos, which serve a multitude of functions that can be a little time-consuming to understand and more frustrating to use if you skip through the tutorial like I did. Basically though, a long press on the middle button takes you home, pressing the up and down buttons moves through the menus. More frustrating though, is that the middle button is not the power button as anyone would expect. The upper button is the power button, and the middle button is just that — a button.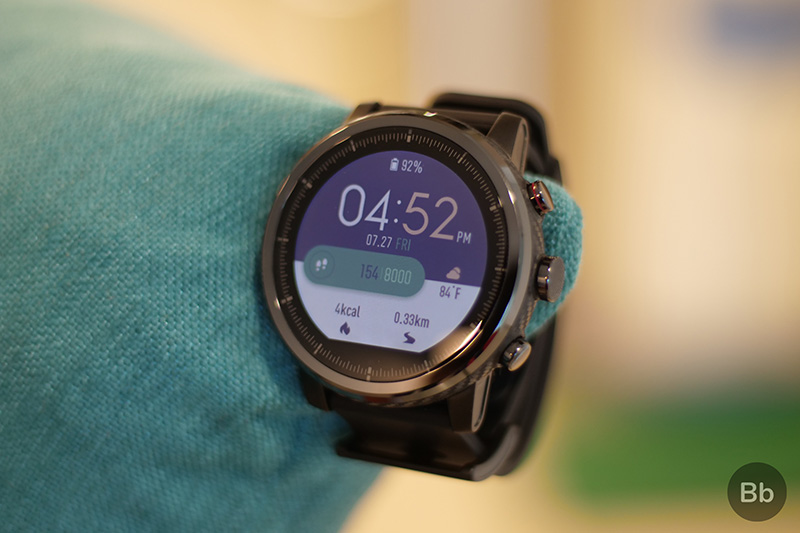 The band on the Amazfit Stratos is made out of silicone, which is both a good thing and a bad. It's good, because the band is comfortable, soft, and is pretty strong (believe me I tested it out). However, for this price, I'd really have liked a leather strap or one made out of metal. Over all though, I have no complaints with the band on the Amazfit Stratos.
Other than that, the Amazfit Stratos comes with a water-resistance rating of 5ATM which is roughly equivalent to 50 meters. That's considerably higher than the IP68 rating of the Amazfit Bip. I haven't been swimming in the last few years, but I did let the watch stay on during baths and in the rain, and it's perfect — expectedly so.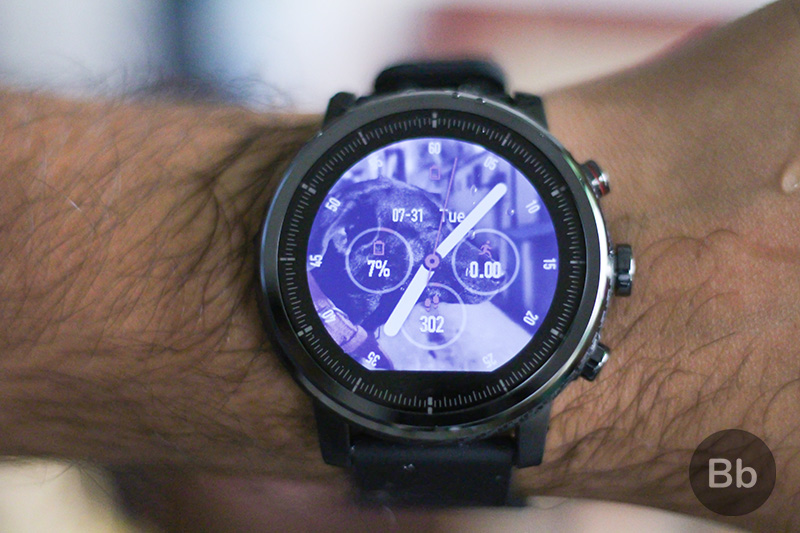 Overall, the build and design of the Amazfit Stratos, while pretty great in the sense that it almost emulates a regular watch, is let down by the sheer bulk of the smartwatch, and the rest of its casing with the 5ATM water resistance, and the ceramic bezel being the only redeeming factors about it.
Display
On the display front, the Amazfit Stratos packs in a circular 1.34-inch LCD Color Touch Always on Display with a resolution of 320×300 pixels. The reason the watch doesn't come with 320×320 pixels is the flat-tire design that Amazfit has opted for with this smartwatch.
The flat-tire, for those who don't know, is the cutout at the bottom of the circular display that the Moto 360 almost single-handedly made infamous in the world of smartwatches. Moto, for their part, said that they needed the cut-out to house the sensors in what was otherwise a bezel-less smartwatch. However, the Amazfit Stratos can't even make that excuse. This watch has ginormous bezels all around it, and while they don't look ugly, thanks to the graduated marks made all around the watch as if to mark the minutes on the face, they could've served the function of housing the necessary sensors without having to cut out the display. It's like the smartwatch notch from back in the day when no one imagined a notch on a display could be a 'feature' (gee, thanks, Apple), but I digress.
it's simply bad when it comes to anything other than taking pictures of it.
The display itself is nothing to be proud of here. It's very similar to the Amazfit Bip, and while it might look a little better thanks to the (almost) circular shape it has, it's simply bad when it comes to anything other than taking pictures of it. The display is supposed to get quite bright, but adjusting the brightness doesn't feel like it's doing anything other than making the black/gray parts of the display more prominent. It looks bad. I could maybe excuse the Amazfit Bip for having that display because of the price it's coming in at, but the Stratos is a Rs. 15,999 smartwatch, and I have no doubts in saying that you'll never have expected a display like this in a watch priced the way this one from Huami is.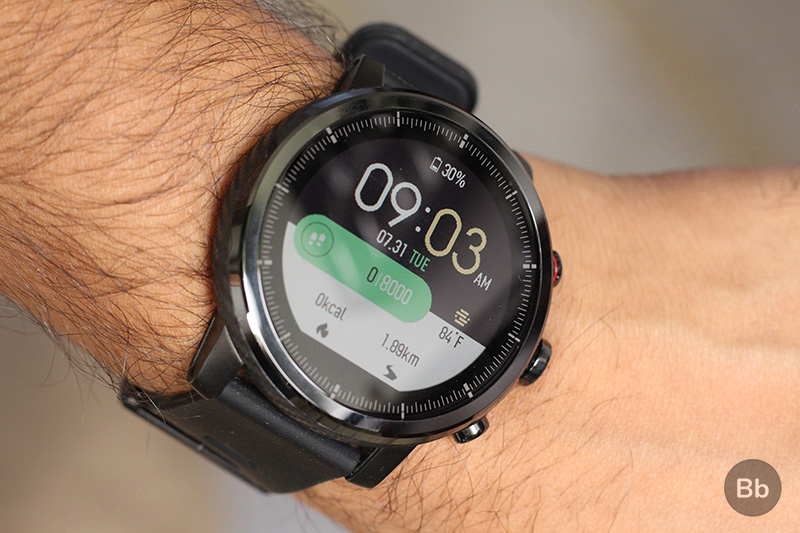 Now that I'm done ranting about the quality of the display, I do have two good things to say about it. First, the display looks really great on a camera for some reason, and second, the touch sensitivity here is on-point. I liked using the display even if I didn't like looking at it very much.
Features
The Amazfit Stratos is a pretty feature rich smartwatch, and it comes loaded with fitness features, and your regular smartwatch features, while at the same time missing out on some crucial smartwatch features that I'll never forgive Huami for skipping out on. Let me break down these features into two categories for easier explanation.
Fitness Features
In terms of fitness features, the Stratos doesn't disappoint. It comes with an array of sensors including a 3-axis accelerometer, a PPG heart rate sensor, barometer, gyroscope, and an ambient light sensor.
The watch can track your steps, the distance you've walked, the calories you've burnt, and can even keep a track of your heart rate if you want it to. I literally counted the steps I was taking to test the accuracy here, and it's pretty great. The Amazfit Stratos only ever skipped out on a step or two during my tests. That's pretty nice. However, it does suffer from the same issue that most other smartwatches and fitness trackers suffer from. It tends to misunderstand normal movements of the arm as steps and counts them. I noticed this especially while driving. I can't really blame the Stratos for this though because literally every other smartwatch and fitness tracker I've tried can be fooled in this same way.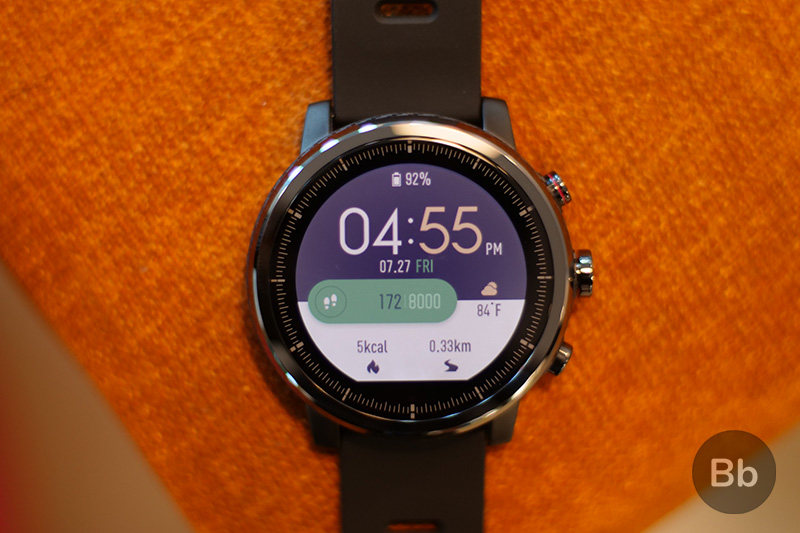 The Amazfit Stratos also comes with a sleep tracking feature, similar to what you'll find on the Mi Band 3, and in my usage I observed that it tracked my sleep pretty well. I have to take it on faith that I was in deep sleep for the amount of time the Stratos said I was, because I obviously can't know when I'm in deep sleep, and I'm not asking someone to watch me sleep and see when I go into REM sleep throughout the night. That's downright creepy. However, I did notice that the watch, quite like the Mi Band 3, doesn't know I'm sleeping if I take afternoon naps. I slept almost the entire day last Saturday, and the watch didn't track a minute of it even though I was wearing it throughout. I'm pretty sure it's hardcoded to only track sleep starting from a set threshold time (possibly around 9 pm-ish) but I couldn't confirm that because I barely ever get back home before 10.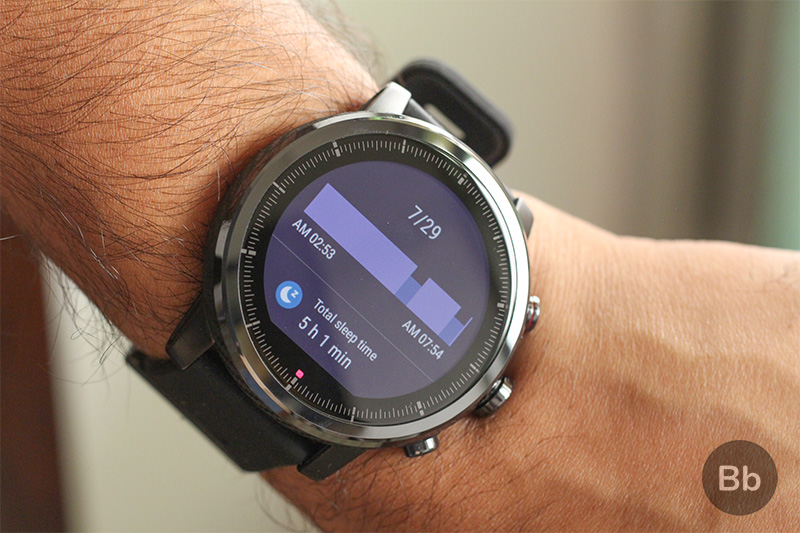 The watch also has a variety of workout modes that you can choose from before beginning a workout, including things like walks, indoor runs, swimming, indoor cycling, and a lot more. I did check if the watch would automatically detect a workout by running around like a maniac without telling the watch anything, but it simply ended up counting my steps and keeping a track of my heart rate. By the time I did tell the watch that I was gonna be walking around, I was so tired that I ended up walking only a few minutes, resulting in the watch giving me a training effect rating of 0.3/5 and saying 'this workout has no fitness benefit.' How rude.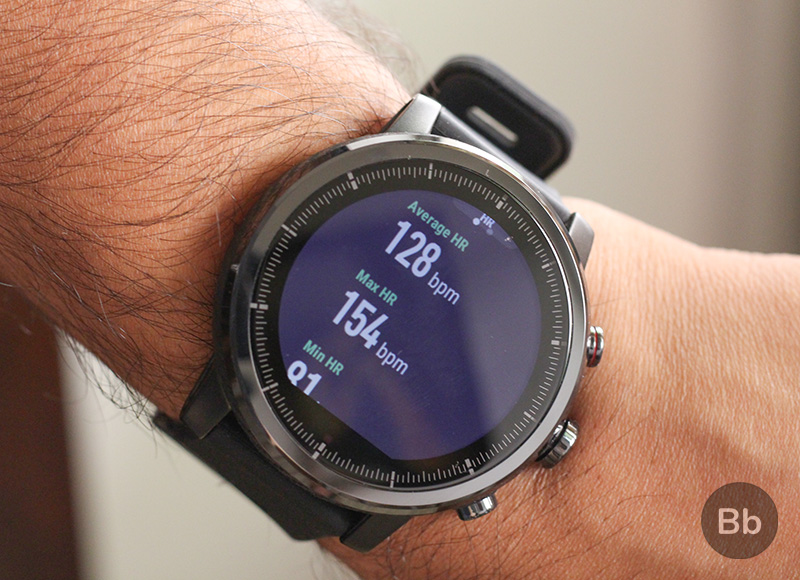 The heart rate sensor on the watch is set to take manual measurements by default, which means you'll have to go into the heart rate menu and tap on 'Measure Now' to actually get the watch to measure your heart rate. However, you can always set it to continuous heart rate monitoring if that's something you want. Do keep in mind that continuous heart rate monitoring does eat up a lot of battery.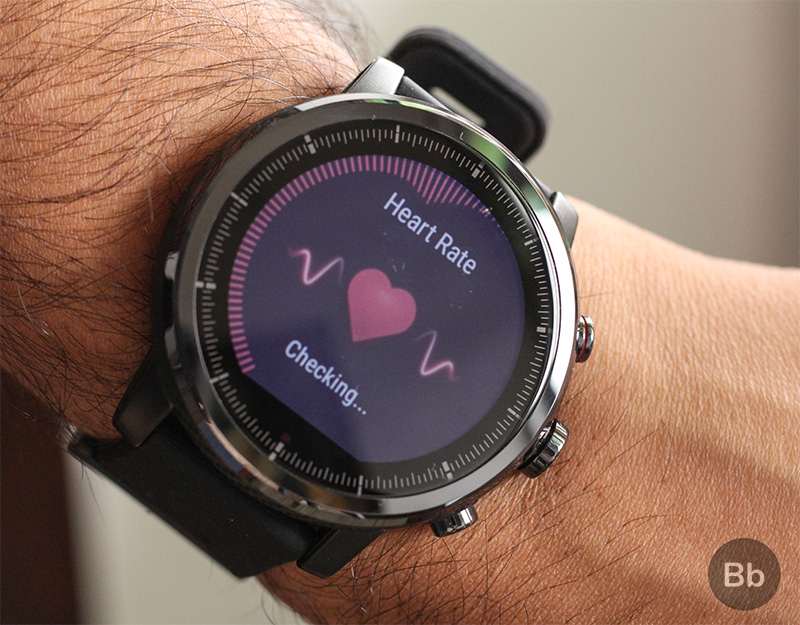 In other features, the Amazfit Stratos brings in a stopwatch that I find handy on occasions other than just work outs or runs, and timers. It even shows a handy 'Daily Overview' of my activity statistics (mine are usually abysmal, but you get the idea), and there's also a Training Center which lets you choose a fitness plan to stick to. There are options like Beginner, Half Marathon, and more, and the watch then shows you daily fitness goals according to the plan you've chosen.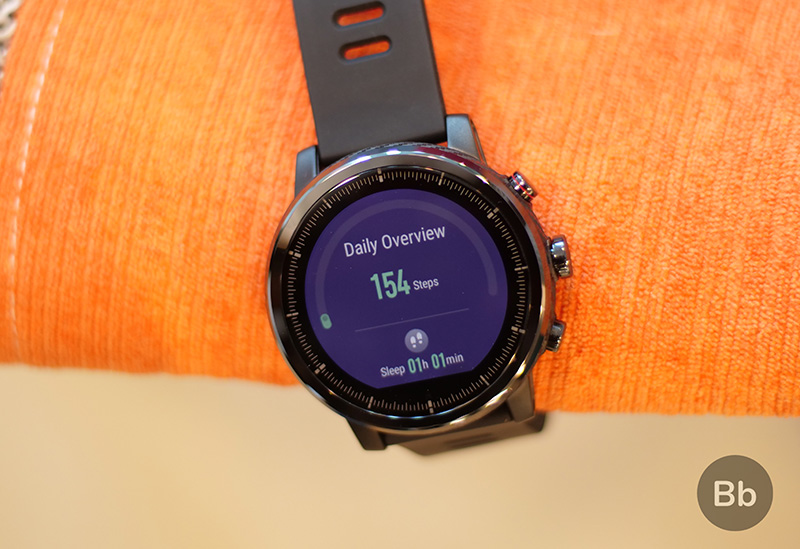 Other Features
In features that are not strictly fitness features, the Amazfit Stratos comes packing a compass which I think might come in handy in certain (very specific) situations. The watch even features on-board Music, so you can transfer some of your music from your phone to the watch, and listen to it without needing to have your phone with you. It's perfect for morning runs where you might not want to carry your phone along to avoid getting distracted. However, you will need to have a Bluetooth headset connected to the watch otherwise you'll be able to play the music but not hear it… I'm assuming that's not what you want.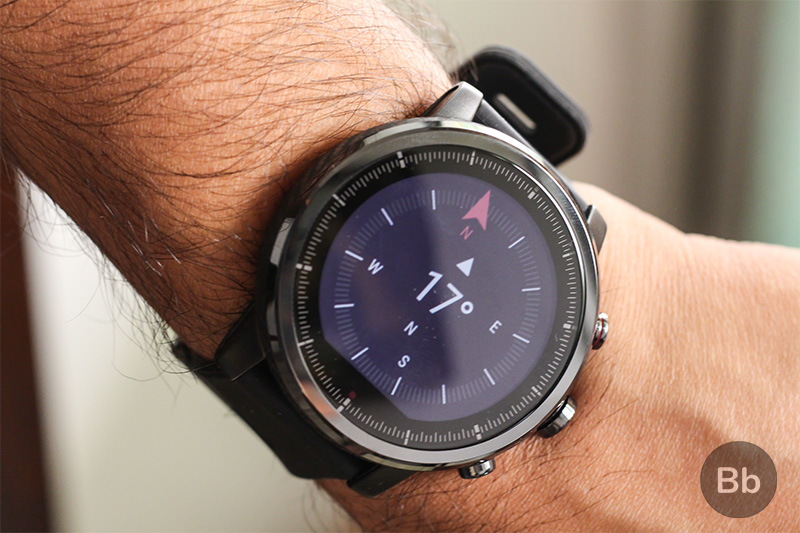 The music feature has a peculiar issue though. While the Amazfit app allows uploading music files from the phone to the watch, in my usage the uploads finished but the watch never recognized them. It was always simply saying (I'm paraphrasing) 'No music found, connect USB to transfer songs.' In the end, I had to plug in the watch to my laptop (the charging dock is used for this) and transfer the same music file from the watch to my laptop, and then back again for it to work.
There's also a weather forecast feature in the watch which shows the weather details for the next four days, and you can view more details by simply tapping on the day you want to see. This pops up a full screen weather view of that particular day with no additional information except a bigger (and better looking) visual representation of what the expected weather is like for that day.
Also, like any smartwatch worth its salt, the Amazfit Stratos is fully capable of mirroring notifications from your phone. The only problem here is that unlike any smartwatch worth its salt, the Amazfit Stratos starts showing stuff like '2 new messages' anytime you get more than one notification on the watch. What's worse, however, is the fact that the watch doesn't let you respond to the notifications. So you'll be able to read a WhatsApp message when it arrives on your phone (assuming only one message arrives at that time), but you won't be able to do anything about it. If you want to reply, you'll have to use your phone which kind of defeats the purpose and makes the Stratos feel more like a fitness tracker than anything else. At least in this regard.
There are a bunch of settings here, too. You can manually connect the watch to a WiFi network, a Bluetooth device, check for updates directly from the watch (assuming it's connected to a WiFi network). There's also a flight mode and a Silent mode for good measure. Plus there are a bunch of watch faces that you can choose from based on whatever suits your fancy.
The Amazfit App
The Amazfit app is the main interface your phone has with the watch. The app is pretty capable when it comes to displaying information, and has a ton of features which make it look a little daunting at first, but I found that using it for a little while was all that was needed.
The app displays your step count for the day right at the top of the home screen followed by the battery level of the watch (mine reads 'last charged 1 hour ago' because I connected it to my MacBook to transfer music). Tapping on the step counter opens up a more detailed breakdown of your walking/running measurements for the day. This screen also lets you check out step details for other days. Thanks to the barometer, the watch can sense elevation as well, and that information is only displayed in the app. Mine reads '2 floors climbed' because my house is on the second floor.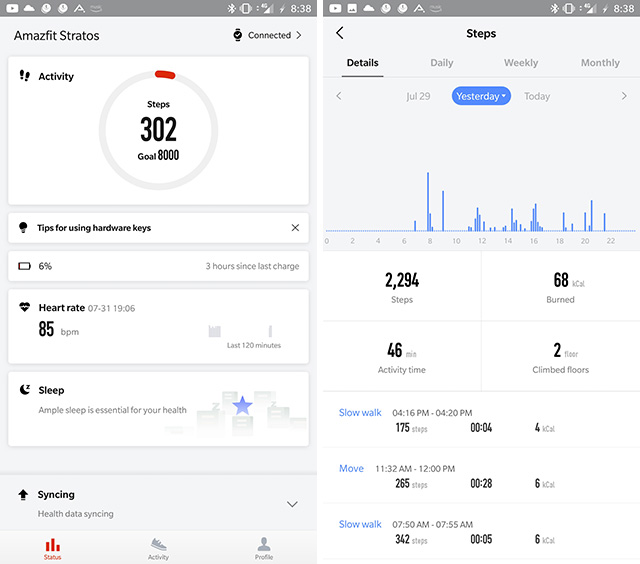 Tapping on the heart rate section opens up information about your recorded heart rate activity. By default this will be the 'Single HR' screen, but I decided to turn on continuous heart rate, and that screen shows up a more detailed view of my heart rate activity for everyday that I've been wearing the watch. It's a pretty handy feature to have.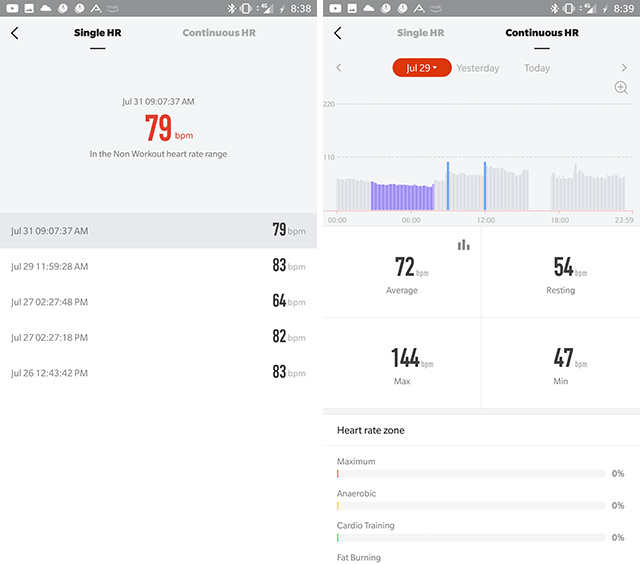 There's also the sleep section here which is basically what the watch displays in its own sleep section. You can view the number of hours you slept in a night, along with a breakdown of deep sleep, light sleep, and even awake time.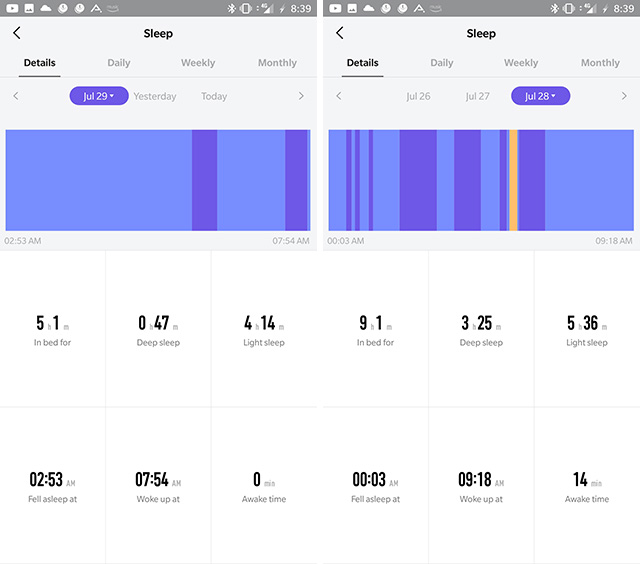 At the bottom is the navigation bar, housing the Activity, and the Profile tabs. The Activity tab is basically a compilation of the activities you've done while wearing the watch. These are broken down into all, daily, weekly, and monthly so you can keep a more granular watch on your workout regimen (that is if you have one; because I don't).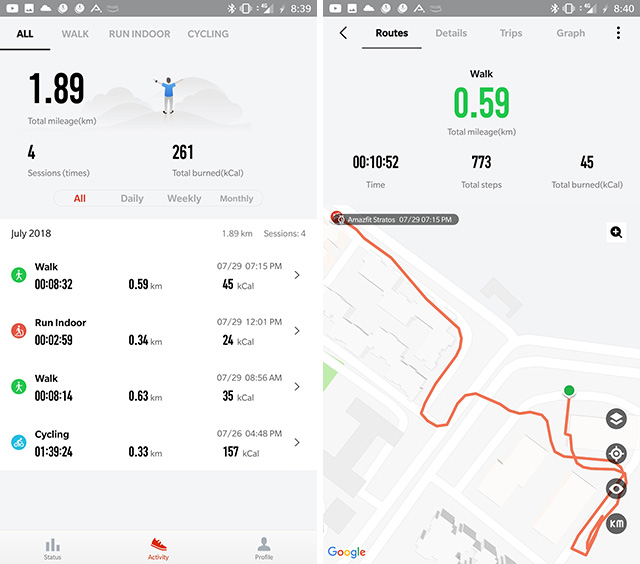 The Profile tab, on the other hand, is basically everything else about the watch and your profile. You can edit your information, check out the available watch faces, and even upload custom backgrounds for watch faces that support them. I uploaded a picture of my dog and it turned out pretty great.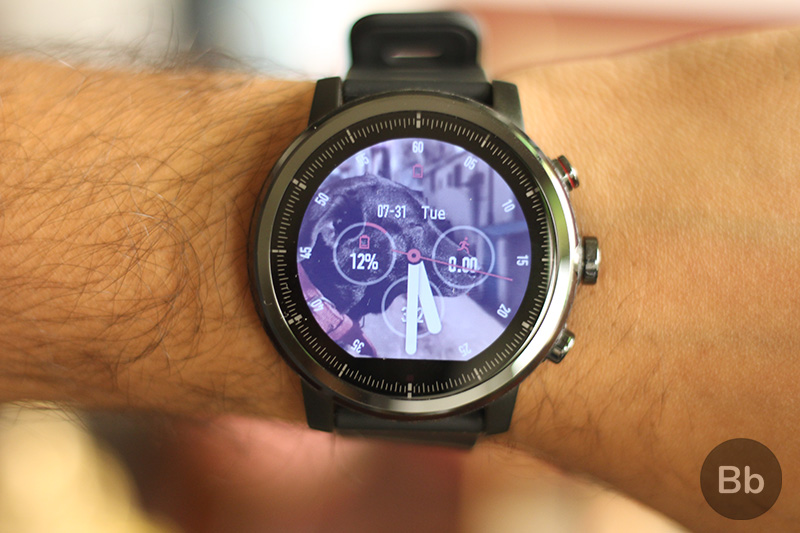 Connectivity
In terms of connectivity, the Amazfit Stratos features Bluetooth 4.0 for connecting with your phone, or a Bluetooth headset if you're listening to music stored on the watch. It also comes with support for WiFi 802.11 b/g. It's weird that the watch doesn't even support 802.11n, because that has been the standard for pretty much the last few years. Anyway, I didn't have any issues connecting the watch to my WiFi network, and even then I only did it to test it out, I don't think you'll be connecting it to WiFi all that often anyway unless you're checking for ROM updates or something similar.
That said, I would've liked 802.11n support on the watch, and the simple fact that I didn't need to connect the watch to WiFi as often is not an excuse for skipping out on what is quite possibly the WiFi standard you'll find in every single device out there.
Another important thing to note here is that you can connect this watch to the Mi Fit app as well if that's more your speed. However, I opted to connect it with the Amazfit app only in order to not miss out on any app-specific features (like that Music upload thing).
Battery
To keep things powered up, the Amazfit Stratos packs in a 290mAh battery that Huami claims will last the watch 5 days on regular use and 11 days with minimal use. I'll be honest with you, I doubted that claim due to my infuriating experience using smartwatches in general. However, the battery life of the Stratos is definitely impressive.
In my usage, I charged the watch to full on Friday July 27, and I turned on continuous heart rate monitoring, and yet as of right now (Tuesday, July 31) the watch hasn't needed a recharge (although it's on 15% now and I'll have to recharge it pretty soon). I have absolutely no doubts that this watch can easily last those claimed 11 days with minimal use. My usage was anything but minimal and the watch has lasted me an easy 5 days. I love the battery life on this watch, and it puts most other smartwatches to shame.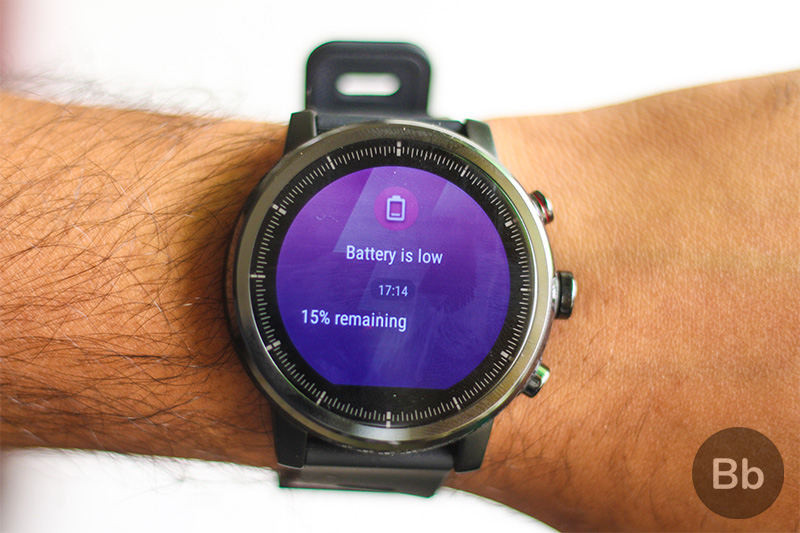 For charging, the watch comes with a horizontal charger that has four pin-connectors that charge the watch when it is placed on the charger. However, you can't simply drop the watch onto the charger and hope it'll charge (I'm used to doing that with my Moto 360 thanks to wireless charging). With the Amazfit Stratos, getting the watch to charge is a task in and of itself (and could even have been mentioned as a separate workout activity in the watch). Getting the watch to securely fit in the charger requires exact positioning of the watch, and quite a lot of force (all the while worrying that you'll end up cracking the display). It charges up pretty quickly though taking less than an hour to get back to a full 100% and ready to go for another 5 days.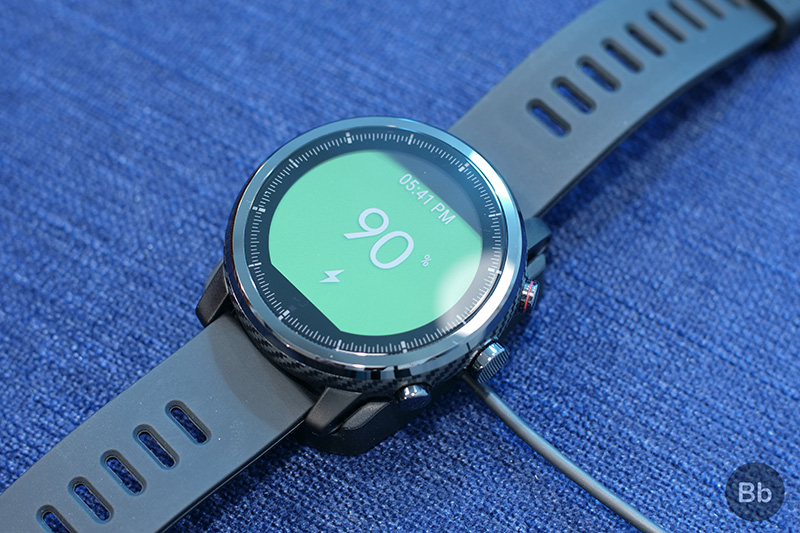 Pros and Cons:
After all of that, if you're simply looking for a quick re-look at the good and the bad about the Amazfit Stratos, here are its pros and cons.
Pros:
Comfortable
Long (like really long) battery life
On-board music
Cons:
Poor quality display
Flat-tire design
Cumbersome charging mechanism
No actionable notifications
Bulky
SEE ALSO: Mi Band 3 Review: A Worthy Mi Band 2 Successor?
Amazfit Stratos Review: Cutting Corners (and Circles)
Concluding the Amazfit Stratos (Rs. 15,999) is a difficult task. I mean, it's an affordable smartwatch by today's standards, but it cuts quite a lot of corners. However, it boasts of a battery life that I'm yet to see on a smartwatch. It's also packed to the brim with features like GPS (the Apple Watch only got that in Series 3, remember?), and comes in a design that (at least at a glance) looks like it could be a chronograph from someone like Casio, or Citizen. If I were to conclude this smartwatch, I would say this: if you're looking for a smartwatch that does almost everything you'll need it to, and you're okay with not replying to notifications or having a great display, the Stratos is the best smartwatch you can get.
However, if you can spare extra cash, and you don't mind charging your watch everyday, there are other options you can consider, like the Fossil Q Explorist (Rs. 19,995). With that watch, you get a decidedly cooler looking watch with a leather strap, and it's running Google's WearOS, which means you not only get actionable notifications, but also Google Assistant which is definitely an awesome feature to have on your wrist.
Buy the Amazfit Stratos from Flipkart (Rs. 15,999)
---
Load More