As far as fitness bands go, Xiaomi's line up of Mi Bands has been one of the best selling in the world. Ever since the company launched the (admittedly pretty basic) original Mi Band, it has caught the eye of a mass audience thanks to the aggressive pricing strategy by the company. I've used every Mi Band the company has launched, and we got the Mi Band 3 from China that I have been using for quite some time now. Well, the Mi Band 3 has arrived in India at a price of Rs. 1,999 on Amazon and Mi India. So, without further ado, let's get to our Mi Band 3 review:
Mi Band 3 Specs:
Before we dive into the review, let's get the specs out of the way.
| | |
| --- | --- |
| Display | 0.78-inch OLED |
| Resolution | 128x80 @ 193ppi |
| Water-resistance | 5ATM (50 meters) |
| Bluetooth | Bluetooth 4.2 BLE |
| Sensors | Tri-axial sensor, PPG Heart-rate sensor |
| Weight | ~20g (with wristband) |
| Battery | 110mAh Li-ion |
| Price | Rs. 1,999 |
Design and Build: Exceedingly Xiaomi-like, and I Love It
As far as the design and build of the Mi Band 3 is concerned, Xiaomi has gone with its tried and tested design philosophy, improving upon the Mi Band 2 in some key areas, and that really makes a difference in what the band looks like, and how it feels on the wrist.
Arguably, the Mi Band 3 fixes two of the biggest flaws in the Mi Band 2 design — the non-touch enabled display, and the eyesore of a button. The Mi Band 3 comes with a touchscreen display, and a button that's more like a depression in the panel. The button here manages to easily blend in with the rest of the glass panel on the front, and manages to look almost low-profile.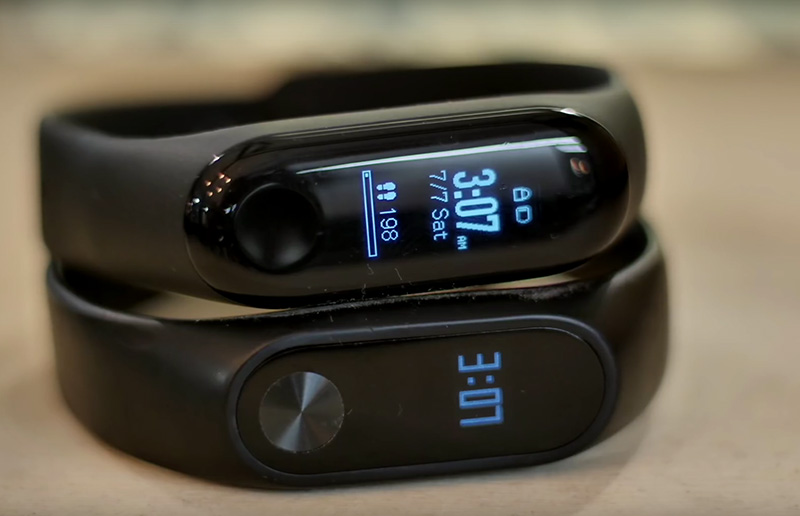 True, the 3D curved design of the tracker itself makes it look highly susceptible to scratches, and I did find myself accidentally hitting it against walls and stuff in my everyday use, which resulted in a little bit of scratching on the glass. However, that can be chalked up to my exceedingly irresponsible usage of the Mi Band 3. Devinder, who has been using another Mi Band 3 for as long as I have been using this one, is probably far more careful than I am — his Mi Band 3 doesn't have a single scratch on the glass.
Personally, I love the curved design of the tracker, it looks really beautiful even with the screen off, and I can safely say that the Mi Band 3 is an absolute stunner.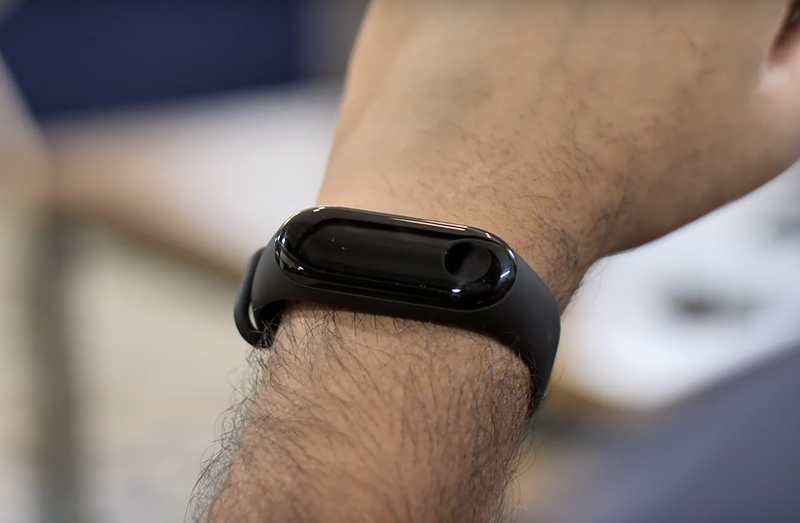 To make things even better, Xiaomi has improved the water-proofing on the Mi Band 3, taking it up a pretty-few notches from the IP67 rating on the Mi Band 2 to a water-proof rating of 5ATM (that's up to 50 meters). In comparison, IP67 is rated for up to 1 meter of submersion in water.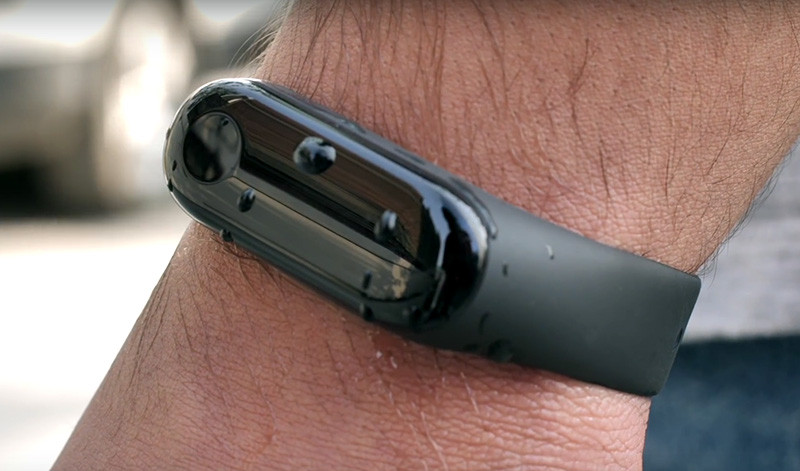 The strap here is pretty much the same in terms of build and design as the one on the Mi Band 2, or the Mi Band by extension. It's the same silicone material which is quite flexible and didn't lose its shape even on being abnormally bent and stretched by me — something no one will ever do in normal usage, but I was just being thorough in my attempts to find something to complain about. Also, unlike the Mi Band 2, the strap for the Mi Band 3 comes in three colors — black, deep blue, and orange.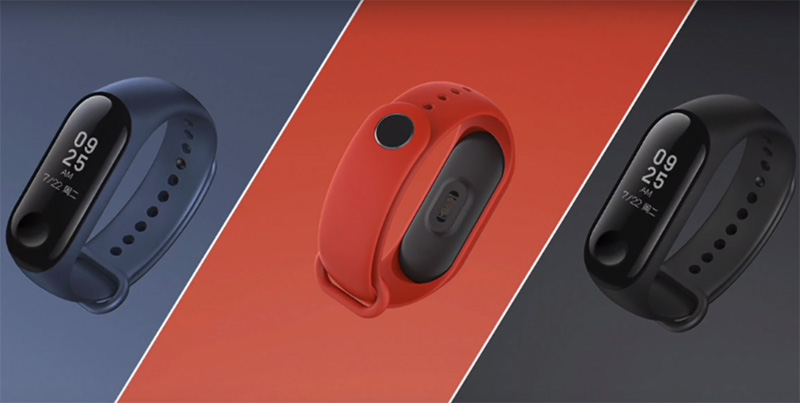 The only thing I found a tad difficult to do on the Mi Band 3, is remove the tracker from the band itself. It's a non-issue, really, but it just feels a little scary to do. I don't know if it's the curved glass panel on the tracker, or a band that's tighter than usual, but popping the tracker out of the band feels like it might end up cracking the glass.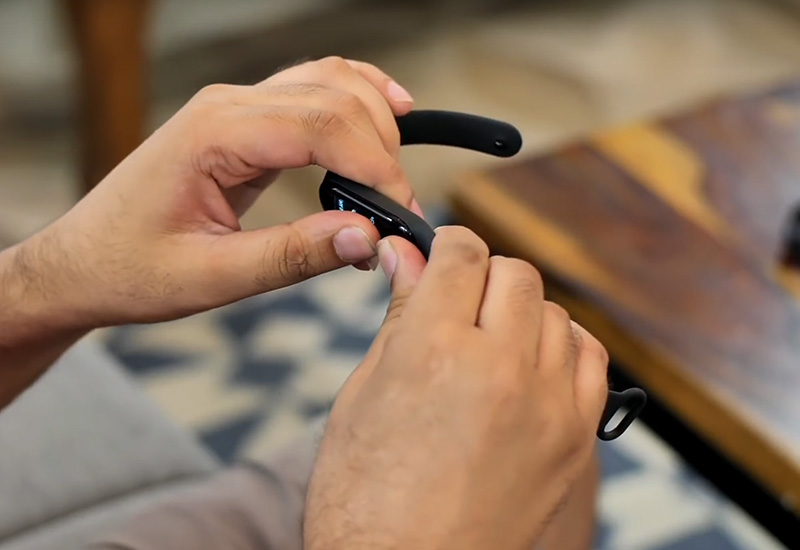 However, some of you guys mentioned in our video review that popping it out back-to-front is easier, so I tested that out, and turns out it is easier that way. Thanks! It's still more difficult than popping the Mi Band 2 out of the strap, but at least it doesn't feel like I'll be cracking the glass anymore.
Display: OLED, Touchscreen, What's Not to Love?
The Mi Band 3 also improves upon the Mi Band 2 in terms of the display. This time around, Xiaomi has put in a comparatively massive 0.78-inch touchscreen OLED panel inside the tracker. That's a big step-up from the 0.42-inch OLED panel on the Mi Band 2.
The display here is brighter as well, by a considerable margin as compared to the one you'd find on the Mi Band 2. It has a pixel density of 193ppi, which, as far as I'm aware, is one of the highest in a fitness band. It definitely feels really sharp as compared to other fitness bands in the price range.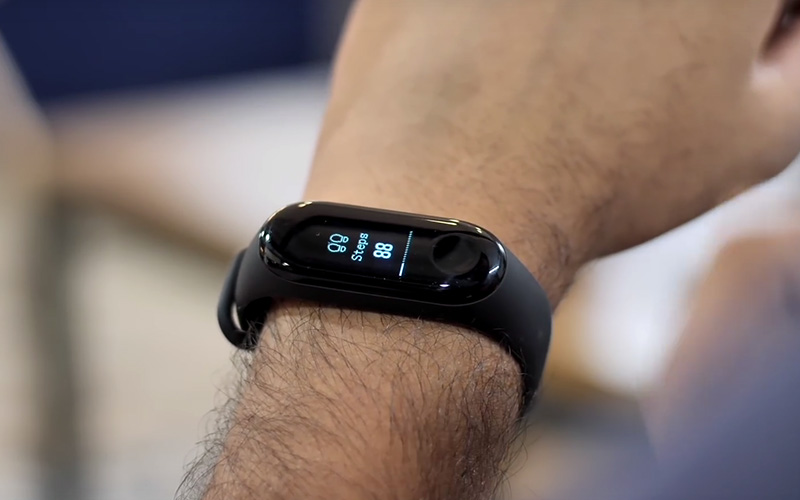 Also, since this here is a touchscreen display, you can navigate the menus using swipes, leaving the button for those few moments where you need to tap to go home, or long tap to start an action.
It's a pretty impressive display, all things considered, and the only thing I found irksome was that sometimes (just sometimes), the display would take a few seconds to start responding to touches after being woken up. That's something that can be fixed with a software update though, so if this really is an issue with the Mi Band 3 (and not just with the unit I've been using), I'm sure Xiaomi can fix it with a tiny patch.
PS: There's no notch, for the few people who were joking about it on the comments in my video. Aren't we all glad about that?
Features: Everything from the Mi Band 2, and Then Some
As far as features are concerned the Mi Band 3 takes everything that was good about the Mi Band 2 and adds a bunch of more stuff to it. To make matters easier to understand, I'll split the features on the Mi Band 3 into fitness features, and other features.
Fitness Features
In terms of fitness features, the Mi Band 3 comes with everything you'd expect from a fitness tracker in this price. The band can count the number of steps you've taken, the distance you've walked, and the amount of calories you've burnt. Calories are an important metric for people who are trying to burn some fat, or just trying to lose the holiday weight, and the Mi Band 3 will definitely help you keep a track of that.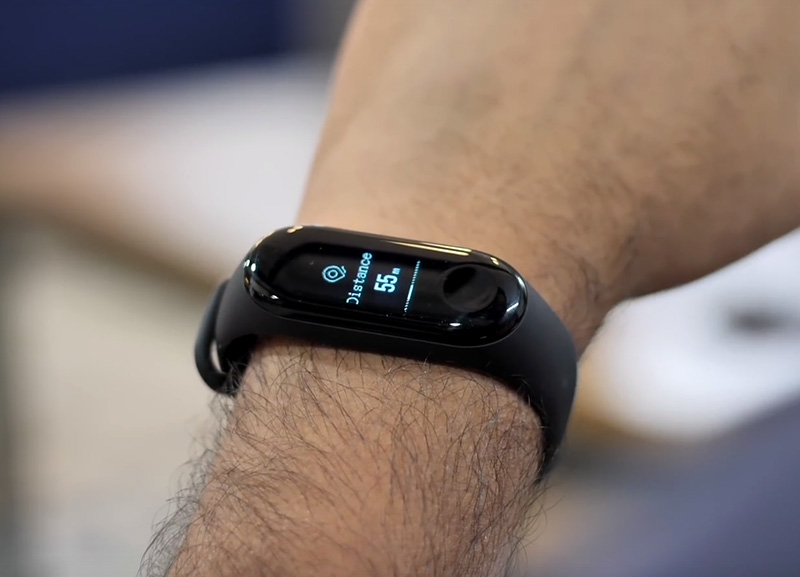 There's sleep tracking as well, which (as is usual) breaks down your sleeping patterns into deep sleep, light sleep, and awake, giving a pretty detailed look into your sleeping patterns (mine are pretty screwed up, as I realised after using the Mi Band 3).
There's also heart rate tracking, and the Mi Band 3 improves upon the Mi Band 2 here as well. While the Mi Band 2 could measure your heart-rate, it would only do so if explicitly asked to, and not on its own. That may be fine, but having an option to automatically take heart rate readings can be a godsend to anyone suffering from cardiac issues. The Mi Band 3 allows users to set an interval for the tracker to automatically take heart rate readings.
There's an option to set it to 1 minute, 10 minutes, and 30 minutes. The feature does take a major hit on the battery life (and Xiaomi warns you when you first set it up), but it's there if you want it. If you don't want it, it can always be disabled from the app.
Other Features
Other than the fitness-oriented features, the Mi Band 3 brings some pretty great additional features as well.
There's a stopwatch built-in on the Mi Band 3, which you can activate from the 'More' menu inside the Mi Band 3. This can come in very handy, not only for timing your workouts or runs, but also in everyday situations where you may find yourself in need of a stopwatch (believe me, those situations arise).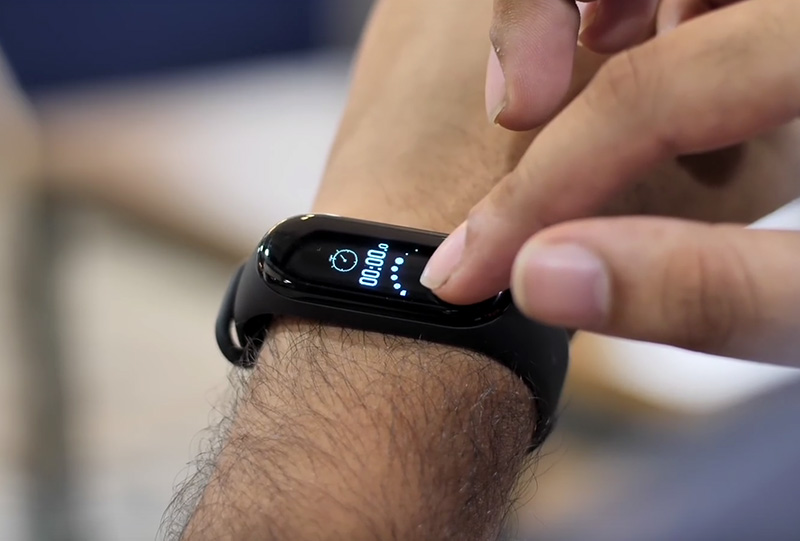 Other than that, the Mi Band 3 can also let you locate your smartphone with just a couple of taps, something that was missing on the Mi Band 2. Personally, I love this feature, because I tend to leave my phone lying around my house only to panic a couple of hours later when I can't find it anywhere. Also, if you're wondering, when you try to locate your phone from the Mi Band, it'll ring even if it's set to Silent (I even tested it with Do Not Disturb and it worked).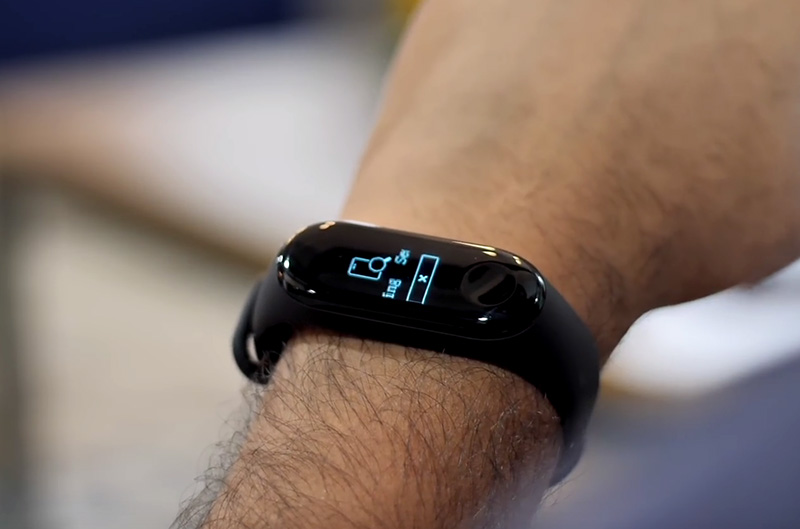 Also, notifications. The Mi Band 3 handles notifications a lot better than the Mi Band 2 ever did. If you're getting a call, the Mi Band 3 not only displays that a call is incoming, it'll also let you press and hold on the button to reject the call. However, while it says 'reject', this basically silences the call. I don't know why it wouldn't just say 'silence,' but that's how it is.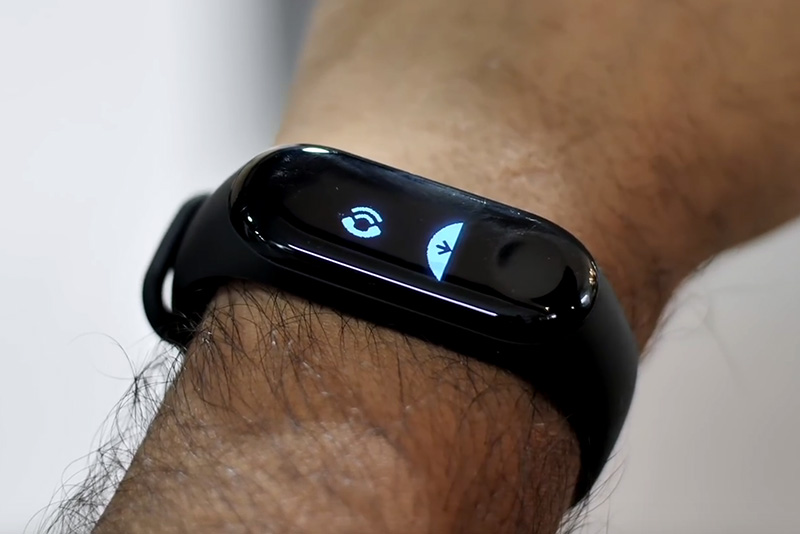 In case of messages, the Mi Band 3 now lets you view the content of the notifications as well. The band supports a maximum of 5 notifications, and can show a maximum of 3 pages per notification, which might sound like it's not a lot, but I found it to be enough. You can also press and hold the button to clear the notifications from the Mi Band 3. I would've liked the ability to reply to notifications directly from the band, but I guess that would've made the Mi Band 3 a fully-fledged smartwatch (or at least a very close approximation of one).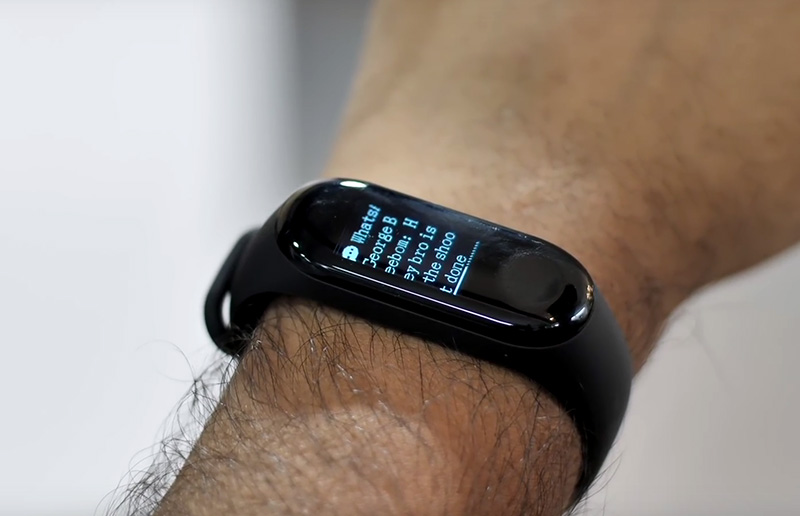 There are watch faces (band faces?) here too (just like in the Mi Band 2), but the Mi Band 3 has three faces instead of two like in the Mi Band 2, and you can now change the faces directly from the band itself. That's not really a big-deal, but it's there for anyone who likes to change band faces often.
NFC
Xiaomi had launched two variants of the Mi Band 3, including a standard model that we have and are reviewing, and a 199 Yuan model that comes with NFC.
Now, NFC means that you'll be able to pair the band with your phone a lot faster and it'll also be used for making payments with Mi Pay. However, that particular feature will most likely be limited to China, so it's not really that big a deal for us Indian users.
Overall, the Mi Band 3 is definitely a very well-rounded fitness band loaded to the brim with features. In my usage of the fitness tracker, I felt like it was very close to breaching into smartwatch territory; what with all the great features Xiaomi has stuffed into it.
The Mi Fit App
Talking about the features of the Mi Band 3, I'd be amiss if I didn't mention the ridiculously amazing app that is the companion Mi Fit app you'll be using with the Mi Band 3. Anyone who has used a Mi Band before would know how amazing an app this is, but with the Mi Band 3, there are a bunch of improvements thanks, in part I'm sure, to the improvements in the band itself.
First and foremost there's the step-counter which is pretty much the same whether you're using the Mi Band, the Mi Band 2, or the Mi Band 3. It shows a daily step-count, the distance you've traveled, and the calories burnt. It's a good way to keep track of your walking habits, and whether you're walking enough every day or not.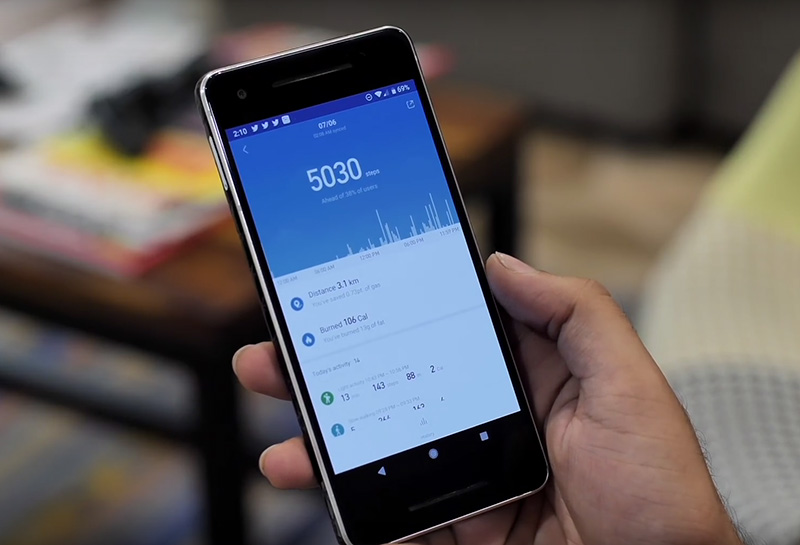 Then there comes the heart rate data which, in the case of the Mi Band 3 comes in the form of a graph. I had enabled automatic heart rate detection and set it to every 10 minutes in my regular usage of the band and the data shows up really nicely. There's also a handy table of my daily average heart rate, along with the minimum and maximum heart rate. People with a cardiac condition will find this very useful to keep a track of their heart activity throughout a day.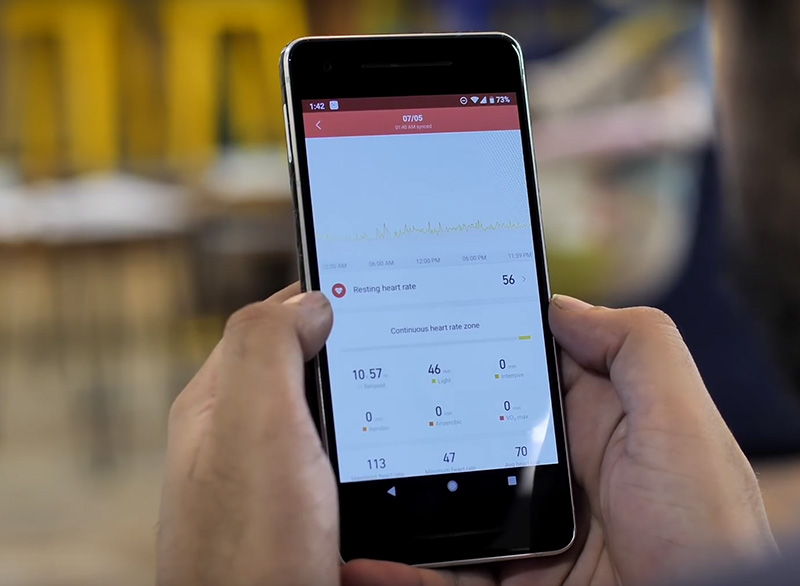 There's also the sleep data, which again is pretty much the same as it has been. The data is divided into three different regions — deep sleep, light sleep, and awake. Along with all of that, the app shows an analysis of your sleeping patterns, and even makes suggestions on how to form better sleeping habits that'll be helpful.
The Mi Fit app is also where you'll set-up things like notifications, and select the apps you want to receive notifications for on your band. You'll also be able to set an activity or weight goal for you to follow.
Battery
Coming to what is probably the one thing Mi Bands have been known for — the battery life. The Mi Band 1 had a battery life close to a month, the Mi Band 2 had a battery life of around 15 days, and the Mi Band 3 manages to push a pretty decent life out of a single charge as well.
While Xiaomi claims a battery life of 20 days with the Mi Band 3, that's under lab testing conditions, and with manual heart rate tracking. In my personal usage, I had set the heart rate measurements to every 10 minutes through the day. That obviously drains quite a lot of battery (and Xiaomi warned me about it when I first enabled it), but even with that, the Mi Band 3 lasted an easy 10 days. That's honestly kind of ridiculous.
Xiaomi's decision to go with a much larger 110 mAh battery on the Mi Band 3 as compared to the 70 mAh battery on the Mi Band 2 has obviously paid off really well here, and I have no complaints with the battery life on this thing.
Even when I did manage to completely drain it of it's battery, it took around 3 hours to get back up to a full 100%. I love it. Basically, every 10 or so days, I can just put it to charge when I go to bed, and that's it. It's pretty great.
Pros and Cons:
The Mi Band 3 delights in more ways than one, but like every other device ever designed, there are pros and cons to what is otherwise a remarkable gadget.
Pros:
Excellent design
Touchscreen OLED display
Automatic heart rate tracking
Good battery life
Sharp 193 ppi display
Cons:
Difficult to pop-out of the band
Easy to bump into walls and furniture (kind of like your little toe)
SEE ALSO: Mi 8 SE Review: The New Mid-Range King?
Mi Band 3: Truly an Upgrade over the Mi Band 2
All things considered, I have no doubts in calling the Mi Band 3 a true upgrade over the Mi Band 2. Everything the Mi Band 2 did, this does better, and to add on to that, it does some stuff that the Mi Band 2 never could.
It has a bigger, brighter display, an overall better design, all the fitness features you'd want in a fitness tracker including automatic heart rate tracking, stopwatch, notifications and call alerts, and more. It has a bigger battery that easily lasts 10 days, even with automatic heart rate tracking enabled (a feature that the Mi Band 2 didn't even have).
At Rs. 1,999, the Mi Band 3 is simply unbeatable. Whether you're looking to buy your first fitness band, or thinking of upgrading from a Mi Band 2, I have absolutely no problems in recommending the Mi Band 3.
Buy Mi Band 3 from Amazon: (Rs. 1,999)
REVIEW OVERVIEW

SUMMARY

The Mi Band 3 is a delightful little fitness tracker that you'll fall in love with. For 169 Yuan (~Rs. 1800) the Mi Band 3 brings along features almost unheard of in its price range, and a design and build that is exceedingly impressive, even for a company like Xiaomi that has had an excellent track record with its fitness trackers. The battery life is another impressive feat for a band this small, and if you're looking for a budget fitness tracker, your search will probably end here.