In more ways than one, iOS 15.4 is a huge update with several notable features including Face ID with a mask, the ability to restore a bricked Apple Watch using an iPhone, and a nifty way to add notes to iCloud Keychain entries. Another equally impressive feature is the option to get gender-neutral Siri Voice on iPhone and iPad. If you haven't yet tried this long-awaited feature, let me help you set the gender-neutral Siri Voice on your iOS or iPadOS device.
How to Use Gender-Neutral Siri Voice on iPhone, iPad, and Mac
Before we discuss the steps to follow in order to enable gender-neutral Siri voice, let's take a look at the prevalence of female-sounding voices for voice assistants, the criticism faced by Apple and others, and why gender-neutral voices are important.
If you'd rather jump straight ahead to the how-to, you can use the table of contents below to do so as well.
Gender-Biased Voice and Long Criticism
Apple has faced a lot of criticism for using female voices as the default for Siri. While some have accused Apple of being gender-biased, others have called Apple rigid asserting that the Cupertino-based company believes that women are subservient, polite, and are here to assist other people.
In the backdrop of incessant flak, Apple has stopped naming Siri voices in the latest iOS versions. The tech giant now presents Siri voices as numbered such as Voice 1, Voice 2, Voice 3, Voice 4, etc. in order to mitigate the criticism. And the latest addition is called "Voice 5".
What Makes Gender-Neutral Siri Voice So Important?
In terms of functionality, the gender-neutral voice works just like any other Siri voice – except for the fact that it is here to change the way people look at Apple's voice assistant.
With the introduction of the gender-neutral voice, Apple has tried to smartly address two major concerns. First and foremost, the Cupertino giant wants to emphasize that it fully supports the LGBTQ+ community. In an official statement given to Axios, the company has confirmed that the new voice was recorded by a member of the LGBTQ+ community stressing that it will offer users more options to choose a voice that speaks for them.
"We're excited to introduce a new Siri voice for English speakers, giving users more options to choose a voice that speaks to them. Millions of people around the world rely on Siri every day to help get things done, so we work to make the experience feel as personalized as possible."
Second, Apple no longer wants people to think that Siri is a representation of female, which has been the bone of contention for years. By numbering voices instead of naming and adding a gender-neutral voice in addition to male and female, the tech giant is on the path of course correction. Better late than never!
Set Up and Use Gender-Neutral Siri Voice on iOS and iPadOS
Whether you want Siri to use a voice that is neither female nor male or just wish to make the virtual sound neutral, this all-new Siri voice is for you.
1. To get started, open the Settings app on your iPhone or iPad running iOS 15.4/iPadOS 15.4 or later. After that, scroll down and choose Siri & Search.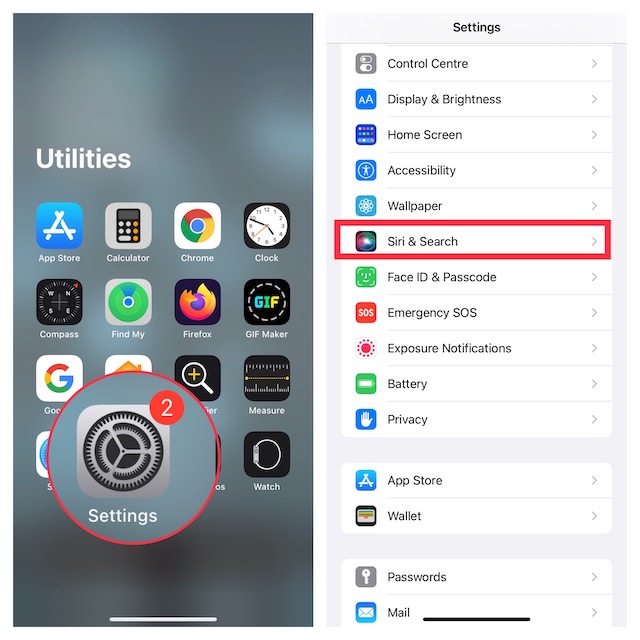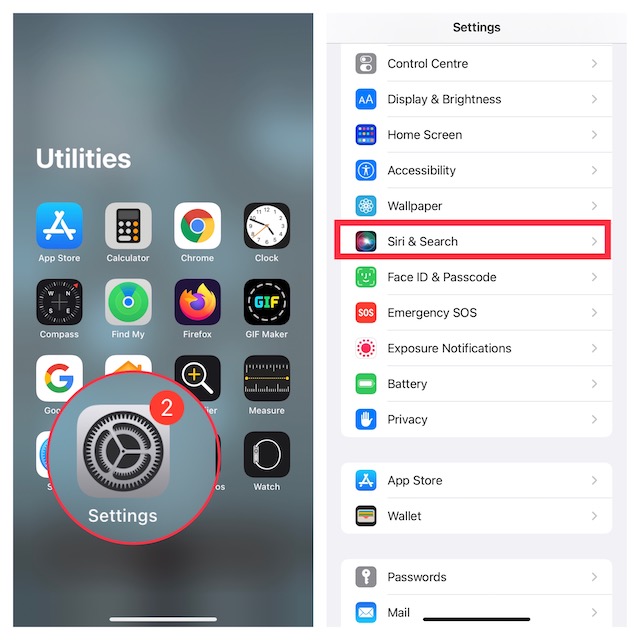 2. Now, tap Siri Voice and then ensure that American is selected as the voice variety.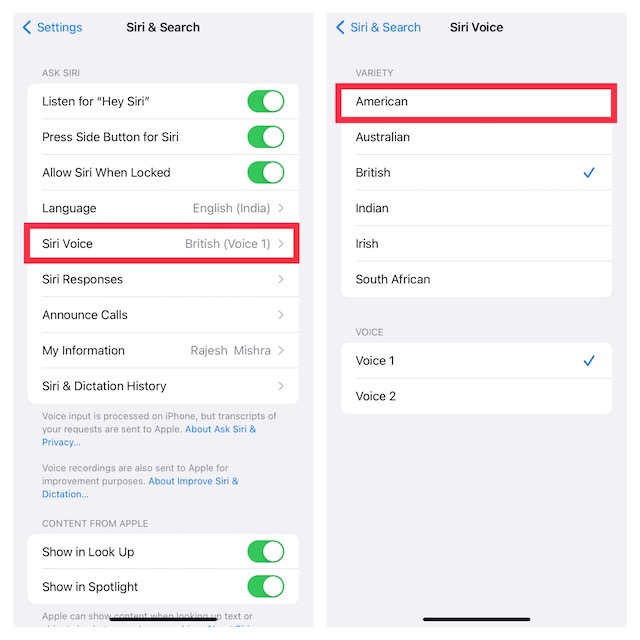 4. Finally, choose Voice 5.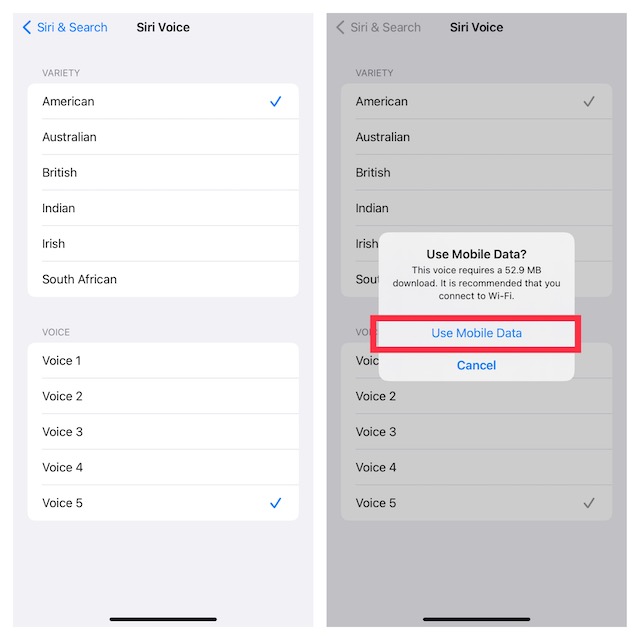 Keep in mind that it may take a few minutes for your device to download the high-quality audio samples.
Note:
If you are currently using mobile data on your device, you may get a popup saying something like, "Use Mobile Data? This voice requires a 50 MB download. It is recommended that you connect to Wi-Fi."
If you want to use your mobile data to download the new Siri voice, tap Use Mobile Data in the popup.
Set Up and Use Gender-Neutral Siri Voice on macOS Monterey
To get the new Siri voice, ensure that your Mac is running macOS 12.3 or later.
1. Launch the System Preferences app on your Mac.
2. Now, select "Siri".
3. Next, click the drop-down menu next to Voice Variety and choose American. After that, select Voice 5 and you are all set!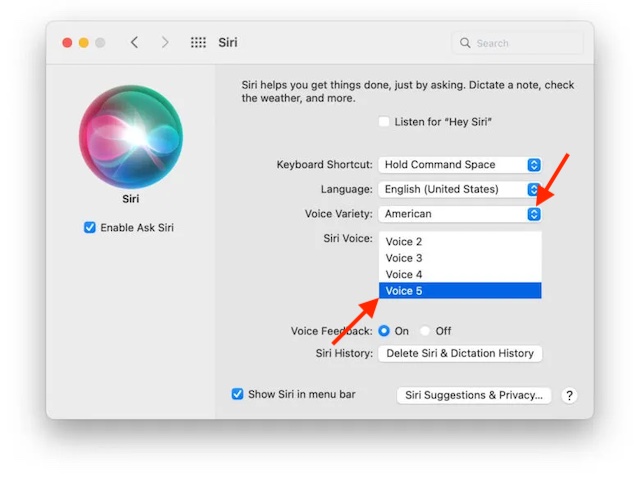 Use Gender-Neutral Siri Voice on iOS, iPadOS, and macOS
So, that's how you can get the new Siri voice on your iDevice. While Siri may not yet be as smart and efficient as Google Assistant, Apple's virtual assistant is no longer a slouch either. The virtual assistant has got a refreshed design, a more natural sound, and also works with many third-party apps like Spotify. So, which Siri voice do you prefer using, and why? Let us know in the comments.