If there is one thing the COVID-19 pandemic has taught us is that wearing a mask is of paramount importance. However, in a world full of fingerprint sensors in phones, it's easy to see how iPhone users can feel frustrated with just Face ID. Having no fingerprint sensor on your phone can be a big caveat considering you cannot take your mask off at any time. Fortunately, however, you can now unlock your iPhone even with a mask on. So if you're part of the iPhone users who are tired of entering your passcode repeatedly you've come to the right place. Keep reading as I show you how to use Face ID on your iPhone with a mask right now.
How to Unlock iPhone Using Face ID with a Mask On (No Apple Watch Needed)
There are a lot of useful features in iOS 15, but this latest one is definitely one of my favourites. While I will show you how to unlock your iPhone's Face ID with a mask, I'll also talk about how it actually works. However, if you would rather just skip to the process itself, use the table below to do so.
How Does Face ID Mask Unlock Work?
While it may be confusing to understand how Face ID can work without a user showing their full face, Apple has provided a simple explanation. The company states that Face ID mask unlock "recognizes the unique features around the eye area to authenticate" and use that data to unlock your iPhone. Mask unlock essentially employs the same tech as Face ID but focuses it on your upper face to map a unique profile. This profile is then used anytime you try to unlock your iPhone using Face ID. Apple has also mentioned that you must be looking at your phone while wearing a mask to unlock it so keep that in mind once you set it up.
Requirements to get Face ID Mask Unlock
While it's easy enough to set up Face ID with a mask on, there are certain requirements you need to fulfill before you go on using it. Have a look through the list below and make sure to have every item before you proceed.
1. iOS 15.4 Beta
Having only been released recently, the newest iOS 15.4 beta is the one that has added the ability to unlock your iPhone's Face ID with a mask on. You will require the 15.4 beta and install it to make the Mask Unlock feature appear on your iPhone. If you don't have a developer account you can always learn how to download and install the iOS 15 beta without it. Make sure to take a backup of your iPhone first and then come back here once you're on the iOS 15.4 beta.
Note: Beta software is usually buggy and can break functionality of your iPhone. You should only use beta versions of iOS on an iPhone that you don't use as a daily driver. Proceed at your own risk.
2. iPhone 12 or 13 Series
Currently, the Face ID mask unlocking feature is only working on the iPhone 12 and 13 Series. If you're a user with these devices go ahead and keep reading. Users on older models should wait for future updates before doing anything.
3. Backup Your iPhone Before Proceeding
As it is with beta software, there is always a chance of things going wrong and your data being corrupted. Make sure you backup your iPhone using Finder or iTunes before you proceed with installing anything.
4. A Decently Charged iPhone
It goes without saying that installing the latest iOS beta and then using it will drain your iPhone down just a bit. Make sure you have a decent amount of charge in your phone so it doesn't shut down during the Face ID mask set up.
How to Use Face ID with a Mask
Note: You won't need to wear a mask during the Face ID set up.
All set with the requirements? Let's begin setting up using Face ID with a mask. Follow the steps below to do so:
1. Open the Settings app on your iPhone.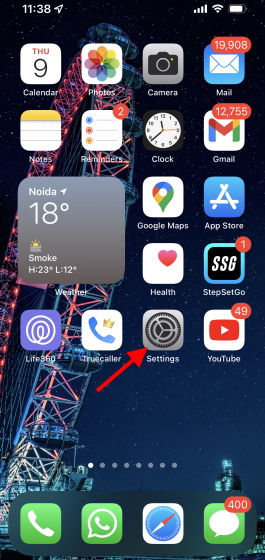 2. Scroll down and tap on Face ID and Passcode and then enter your code to proceed.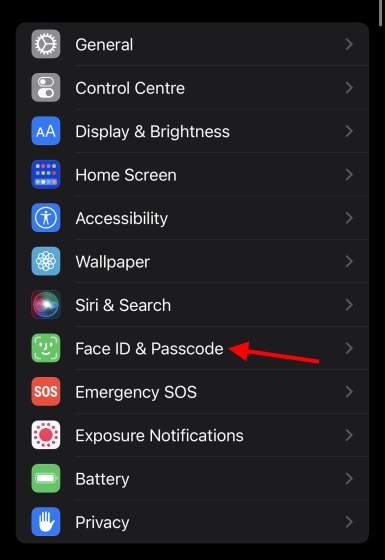 3. Scroll down and tap on the Use Face ID with a Mask Toggle.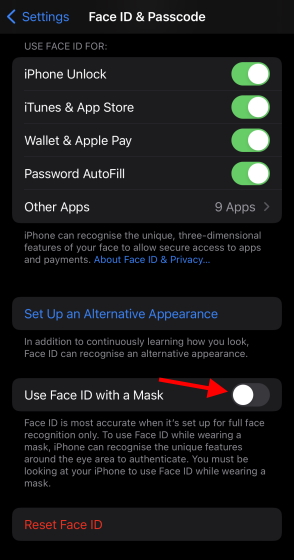 4. Read through the information and tap on Use Face ID with a Mask.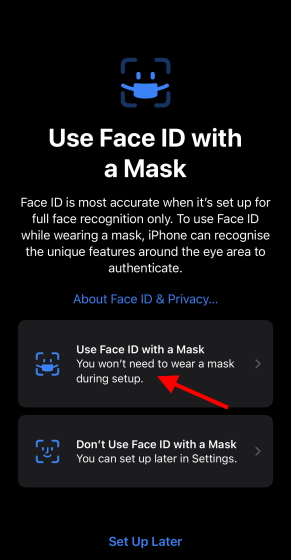 5. You will now need to set up your Face ID. Tap on Get Started to begin.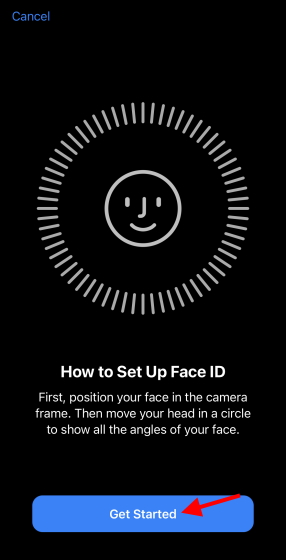 5. Simply move your head slowly to complete the circle to finish the process.
6. Press Done and you're all set.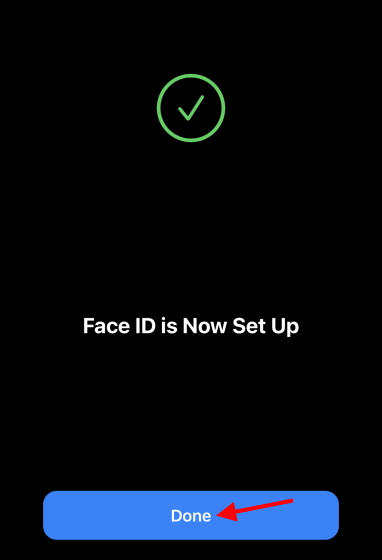 And that's it! You can now unlock your iPhone while wearing a mask. Simply look at your phone just like you would in normal Face ID and it will open up.
My Experience with Face ID Mask Unlocking
I personally love the new ability to unlock my iPhone while wearing a mask. The unlocking accuracy itself is flawless and works without delay. While Apple could have certainly come out with this feature earlier, I am someone who does not plan on removing his mask anytime soon so it's nevertheless welcome. Go ahead and use Face ID on your iPhone with a mask on and tell me how it worked out for you.
Unlock Away with Face ID Mask Unlock
I hope your life just got a lot more convenient with unlocking your iPhone with a mask on. If you've just installed the beta and are encountering pink screen issues on your iPhone 13, learn how to fix it here. Don't like Siri and want to make your life easier? Learn how to turn off Siri on your iPhone and iPad here. If you don't absolutely need the feature right now, you should wait until iOS 15.4 stable is released for your iPhone, instead of installing beta software on your primary device.
---
Load More