WhatsApp has received a backlash from users after it made it necessary to comply with the new privacy policy that permits data sharing with Facebook. If you have deleted your WhatsApp account, you might be on the lookout for new WhatsApp alternatives. Ideally, the top 2 alternatives for WhatsApp are Signal and Telegram. Today, we'll be discussing the transition from WhatsApp to Telegram.
Move from WhatsApp to Telegram
If you're hearing about Telegram for the first time or have never tried the app before, here's all you need to know to use the messaging service. This should give a perspective regarding how Telegram is better than WhatsApp and what you're getting if you make the move. With that said, let's get started.
Why Should I Move from WhatsApp?
Let's get this out of the way. WhatsApp's revised privacy policy requires you to let the company share data with other Facebook companies such as Facebook Payments, Onavo, Facebook Technologies (Oculus), and CrowdTangle.
"As part of the Facebook Companies, WhatsApp receives information from, and shares information (see here) with, the other Facebook Companies. We may use the information we receive from them, and they may use the information we share with them, to help operate, provide, improve, understand, customize, support, and market our Services and their offerings, including the Facebook Company Products," reads the privacy policy.
According to WhatsApp, the company shares the following details with Facebook and other Facebook-owned companies:
phone number
transaction data
service-related information,
information on how you interact with others when using Facebook services
mobile device information
your IP address
However, WhatsApp also adds that it "may include other information identified in the Privacy Policy section entitled Information We Collect". This section includes even more details like your contacts in the address book, status information, payments data, to name a few. While WhatsApp can't access your messages, thanks to end-to-end encryption, it collects a lot of data that isn't really needed to operate the service.
Moreover, according to WhatsApp's App Store listing, the company links the following data to your identity:
Purchases
Financial Info
Location
Contact Info
Contacts
User Content
Identifiers
Usage Data
Diagnostics
Creating an Account on Telegram
Telegram is available on all leading platforms including Android, iOS, Windows, macOS, Linux, and web. You can sign up for a Telegram account after installing the app on the platform of your choice. Registering an account on Telegram requires an active phone number and you will have to verify your phone number during the account creation process. Once you verify the number, you can add your name and get started.
Moving Personal Chats to Telegram
While it wasn't possible to import WhatsApp chats to Telegram before, Telegram has recently introduced a chat import tool to help you seamlessly bring WhatsApp chats to Telegram.
To use the tool, open a chat, tap on More -> Export chat. You can choose to move media too by tapping on 'Include Media'. If you just want the messages without media files, you can press the 'Without Media' button.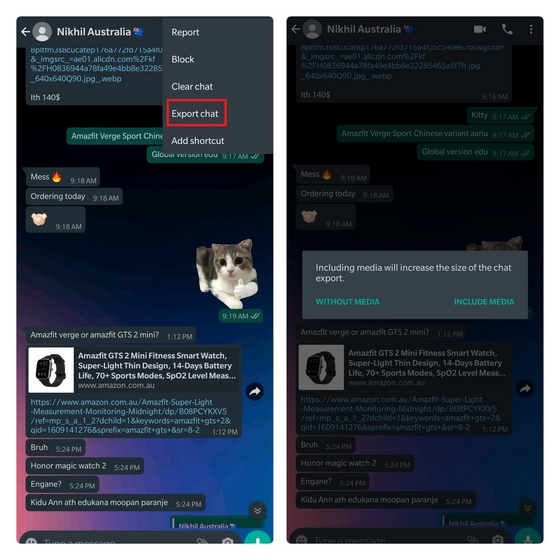 From the Share sheet that appears now, choose Telegram, and tap on the recipient's chat from the recent messages list or find it using the search box. After you find the right contact, tap 'Import'.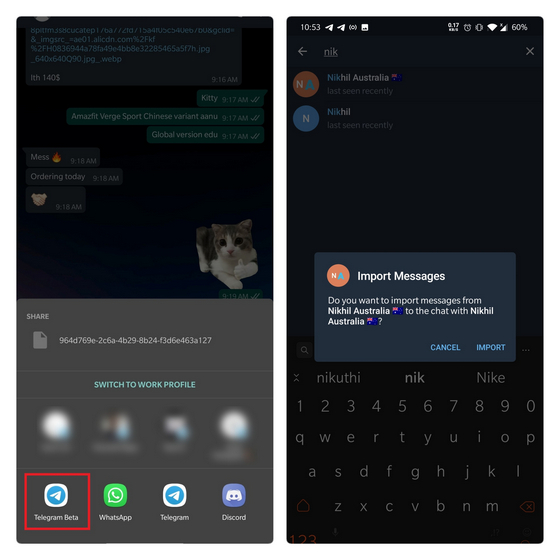 Supported Formats and Limits
With Telegram, you can send messages, emojis, GIFs, stickers, animated stickers, and files. Unlike WhatsApp that limits videos to 16 MB and documents to 100 MB, you can send files of size up to 2 GB on Telegram. If you're using Telegram for the first time, this will make a tangible difference in the way you share files with your friends. It is also worth mentioning that you can create your own sticker pack for creating goofy sticker packs. Oh, and did I tell you that you can set animated videos as your profile avatar?
One aspect you should keep in mind while using Telegram is that the app doesn't have end-to-end encryption by default, unlike WhatsApp. Don't get me wrong, the chats are still encrypted using Telegram's server-client MTProto encryption protocol. You can read more about how Telegram approaches encryption on the company's explainer here. If you want that added layer of security, you should be looking at Telegram's secret chats that offer end-to-end encryption.
To enable secret chats, open the chat window, and tap on the contact name. You will now be taken to the detailed conversation details page where you can view the files you've shared in the past. Here, tap on the vertical three dots menu and choose 'Start secret chat'. Telegram will now create a separate chat session with the same contact. On secret chats, you can set a self-destruct timer ranging from 1 second to a week.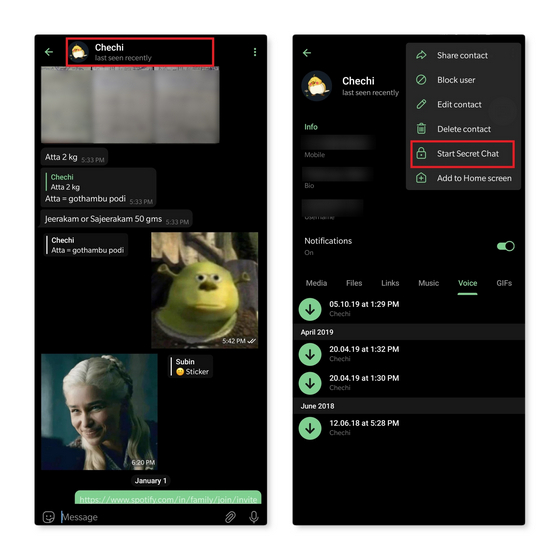 You should also note that the ability to forward messages is disabled on secret chats. While you can pick up right where you left off on Telegram apps across platforms, secret chats are limited to the device you initiate the session. In other words, you can't continue a secret chat on another Telegram app from the same account.
If you're not a huge fan of WhatsApp's dark mode and hate the fact that you can't customize the theme, Telegram is here to welcome you with open arms. Telegram not only lets you customize every aspect of it using a powerful theme engine but also offers a way to export themes to share with your friends and family. You can change your chat theme from Settings -> Chat Settings -> Color themes.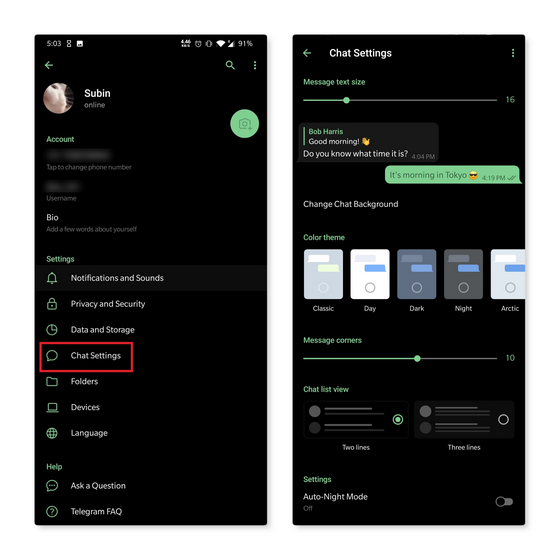 Moving Group Chats to Telegram
Much like personal chats, WhatsApp offers an Export button to take out a copy of messages from groups. Open the group you want to export messages from and tap on More-> Export Chat. You can now specify if you want to include media using the 'Include media' option.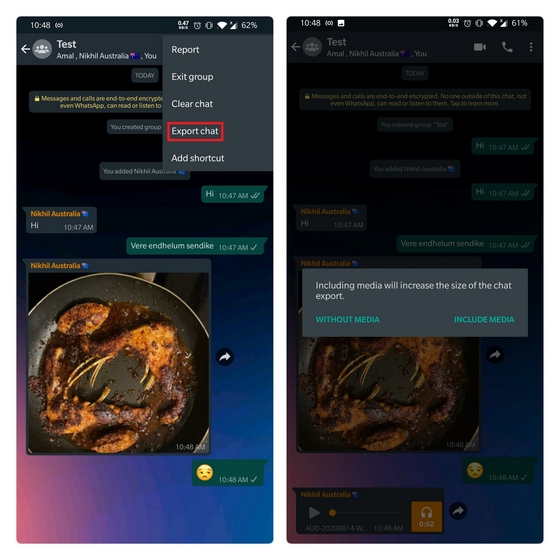 Choose Telegram from the share sheet that appears now and tap on the new Telegram group. If you don't have a new group, you can create a new group for importing messages using the 'Create a New Group to Import' option. Read on to find out how you can create a new group on Telegram the traditional way.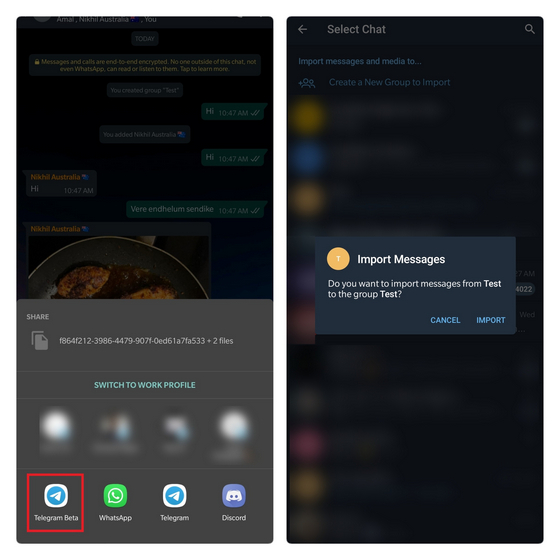 To create a new group, tap on the pencil FAB on the home page and tap on New Group.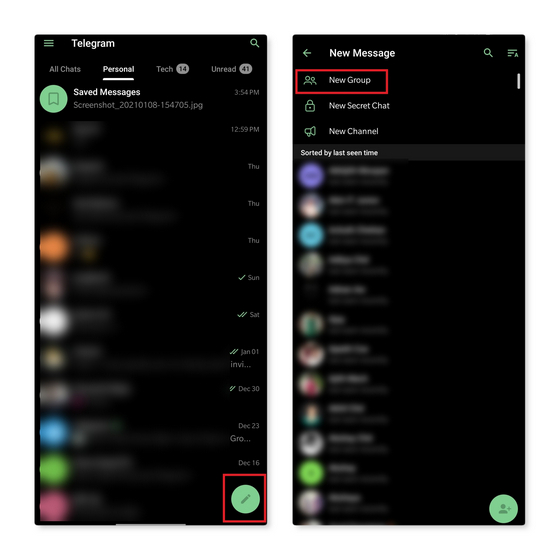 Telegram will now urge you to add participants and set a name and picture for the group. Once you do both of these, your new group will be created.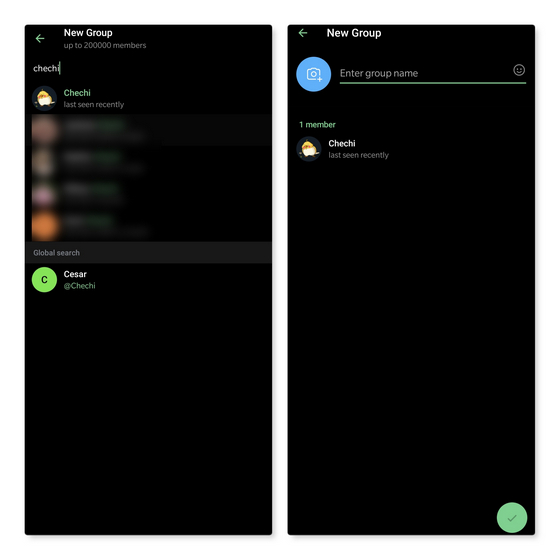 Group Privacy and Link Sharing
After you create the group, you have the option to set the group's privacy to public or private. To change this setting, tap the pencil icon on group's description page and choose Group Type. While private group requires an invite link, any Telegram user can join your group through the search feature if you set it as public. Public groups have the flexibility of getting a permanent link. Unless it is an open-source project or a discussion group for a subject with a common interest, I would recommend you keep your group type private.
To share your group's link with friends and family, tap on the 'Copy link' button from the same page and paste it into your friend's chat. Alternatively, you can tap on Share Link and send the invite link on your old WhatsApp group chat. Your friends can then join the group by tapping the link.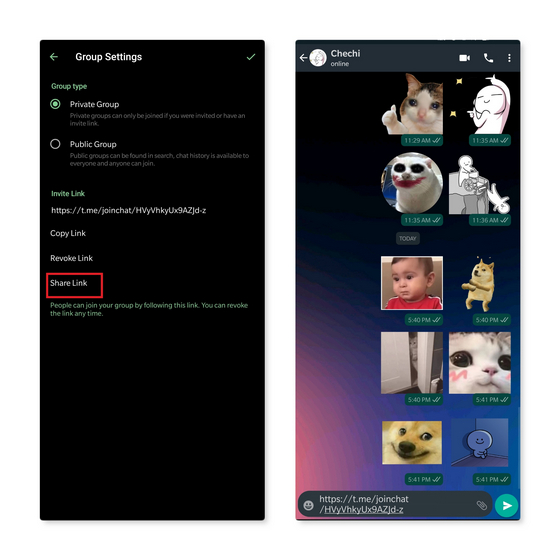 Telegram offers granular controls to define the capabilities and limitations of other administrators. If you grant admin rights to another group member, you can choose if they have the ability to change group info, delete messages, ban users, invite users, pin messages, manage voice chats, add new admins, or send anonymous messages. You also have the option to set a custom title for certain admins.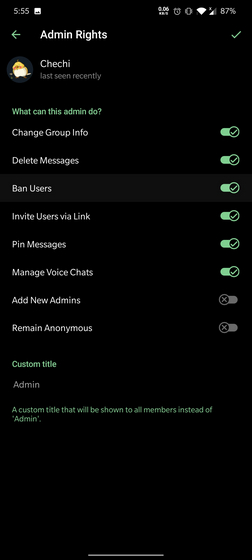 Switch to Telegram and Enjoy Advanced Messaging Features
Telegram clearly has an edge when it comes to the sheer number of features it offers. Combined with the power of cloud chats, Telegram lets you seamlessly continue your conversations across devices without breaking a sweat. If you're wondering how Telegram compares to WhatsApp and Signal, do not forget to check out our WhatsApp vs Telegram vs Signal detailed comparison that dives deep into features and privacy. You should also go through our Telegram tips and tricks compilation to use the app like a pro.
---
Load More