WhatsApp had to delay its controversial privacy policy update after it faced a backlash from its users. Due to this situation, several WhatsApp users have been switching to Signal and Telegram. To help ensure a seamless transition, developers at Telegram have created a new chat import tool that lets you import chats from WhatsApp to Telegram.
Note: While this guide focuses on importing WhatsApp chats to Telegram, you can use Telegram's import tool to import chats from other messaging apps like Line and KakaoTalk too.
Import WhatsApp Chats to Telegram
Telegram has added its import tool with the latest version 7.4 update on Apple's App Store. As of this writing, the feature is available on Android for beta users and it should trickle down to stable version in the next update. If you're a Telegram beta user, you can follow the steps right away to import WhatsApp chats. On the other hand, if you're a regular Telegram user on Android, you can go through the method to import chats and follow it as soon as the update hits the stable channel. With all that said, let's get started.
Update: The feature is now available in the stable channels of Telegram app on Android.
Import Personal Chats from WhatsApp to Telegram
1. To import personal chats to Telegram, open the conversation window of a WhatsApp contact, tap on the vertical three dots menu, and choose More -> Export chat. WhatsApp will now ask if you want to include media in the export. If you want to have media too, tap on 'Include Media.' Choose 'Without Media' if you're okay with just the text messages.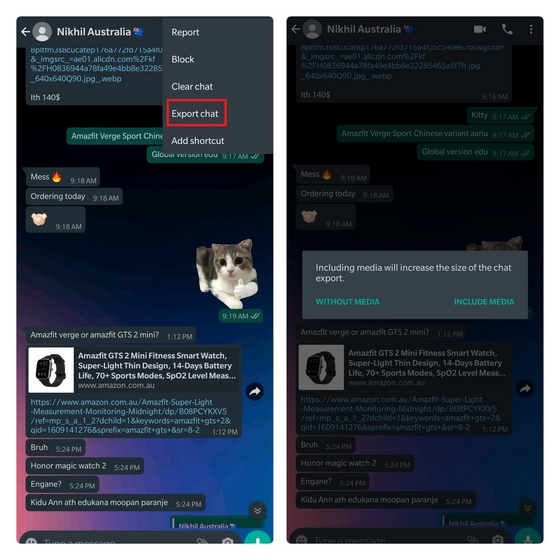 2. As soon as you tap on one of these options, the share sheet appears. From the share sheet, choose Telegram. Telegram will now urge you to choose where to import messages. You can either choose from the recent messages list or use the search box to find the contact and tap 'Import'.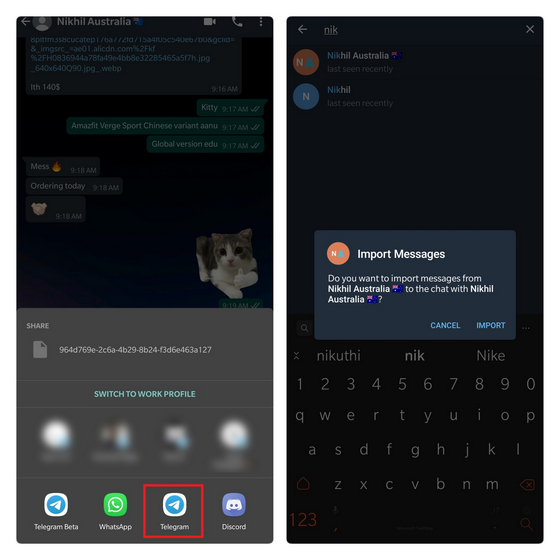 3. The app will now start importing your messages. The process can take somewhere between just seconds to a few minutes based on the message import size. Moreover, you'll have to wait a bit longer if you choose to import media too. You should keep the app open until the import process is complete.
4. As you can see below, Telegram has successfully imported messages from one of my WhatsApp contacts. Imported messages have an 'Imported' tag along with the original timestamp of the message to indicate that the message was imported from another platform.
Import Group Chats from WhatsApp to Telegram
Coming to group chats, this is where the import tool can really help you. It automatically organizes and assigns the messages to contacts that are already in the Telegram group. If there's a message from a person who's not part of the Telegram group, Telegram will show the message with the phone number of the person. Here's how you can import group chats to Telegram.
1. Open the group you want to import messages from and choose More -> Export chat from the vertical three dots menu in the top right corner. Just like personal chats, you can choose to import with or without media from a group.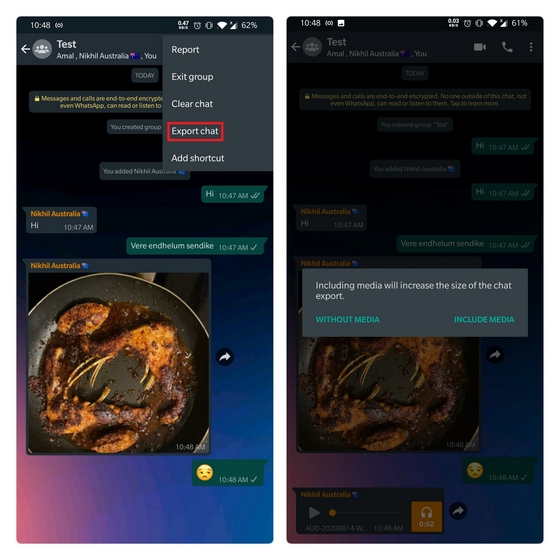 2. Choose Telegram from the share sheet that pops up now. You can now pick where you want to import messages and tap on the Import button. Alternatively, you can create a new group for importing messages using the 'Create a New Group to Import' option.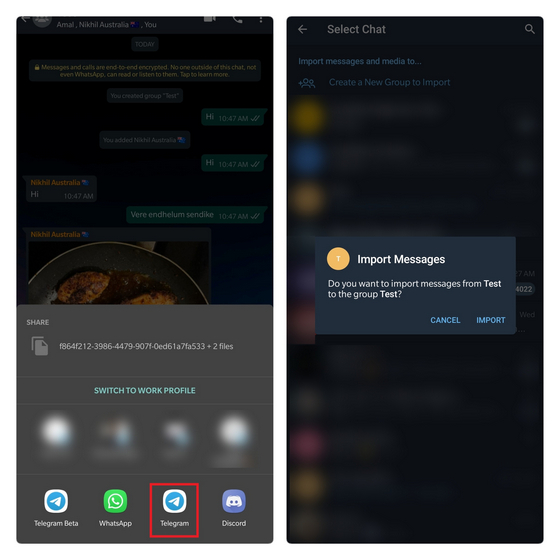 3. Once the import process is complete, you'll see a confirmation. After that, you can go through all the messages and media from the WhatsApp group (except WhatsApp stickers and documents) on Telegram.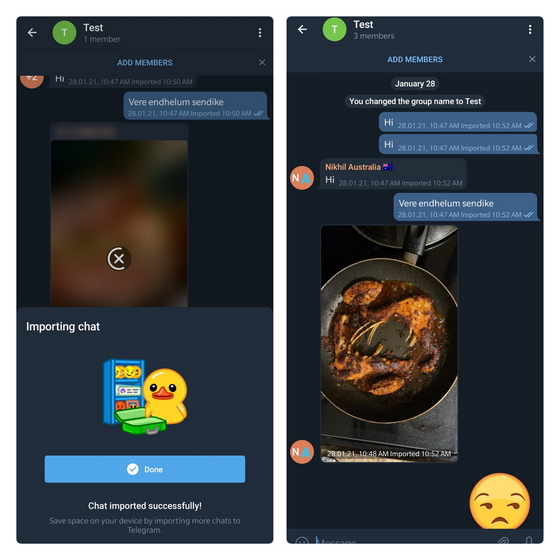 Frequently Asked Questions
1. Can I move all messages from WhatsApp to Telegram?
Yes, it is possible to move all WhatsApp messages to Telegram using Telegram's new chat import tool. You will, however, have to manually export chats from individual personal chats and groups.
2. What kind of messages can you move to Telegram?
You can move text messages, emojis, images, GIFs, videos, voice notes, and location. The chat migration tool doesn't support importing WhatsApp's stickers, animated stickers, and documents. There's partial support for contacts – you can view the phone number, but you can't directly add it to the contact list.
3. Can you import messages to a different person's chat?
You can technically import WhatsApp messages to a different person's chat on Telegram. However, we won't recommend doing that since it will create unwanted confusion for both you and the recipient.
4. Can I use this tool to import messages from other messaging apps?
Yes, you can. Apart from WhatsApp, Telegram has officially confirmed that the migration tool works with Line and KakaoTalk.
Move WhatsApp Chats to Telegram
While Signal has been working on expanding its infrastructure and bringing popular WhatsApp features, Telegram has added this neat import tool to help users make a smooth transition. If you've been thinking of moving to Telegram, you can now do it seamlessly. We've also prepared a list of Telegram tips and tricks to help flatten the learning curve.
---
Load More