With the recent changes in privacy policy, WhatsApp demands you to share data with Facebook and its family of companies. Starting from the 8th of February, WhatsApp will force you to accept the new changes or lock you out of your account. The worst part is that you can't opt-out of this intrusive policy unless you're living in a country which is part of the European Union. So, in light of this new policy, if you've been thinking of deleting your WhatsApp account, there has never been a better time, and here's how you do it.
Delete Your WhatsApp Account
Given the wide scale of WhatsApp, we've added separate set of instructions for deleting your account from Android, iPhone, and KaiOS (JioPhone). Feel free to skip to the part you need based on the phone you use.
Delete Your WhatsApp Account on Android
1. Open WhatsApp and head to Settings. You can do this by tapping on the vertical three dots icon present in the top right corner, followed by choosing Settings in the dropdown menu.
2. From the Settings page, tap on Account. On the Accounts page, you'll see various privacy and security settings. The last option on the list is 'Delete my account'. Tap on it to proceed further.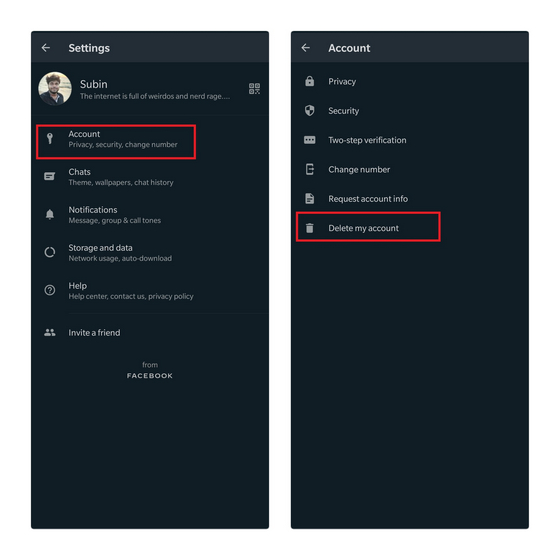 3. Once you're on the 'Delete my account' page, WhatsApp will ask you to confirm your phone number. Enter the phone number you used to create your account and press 'Delete my account' button.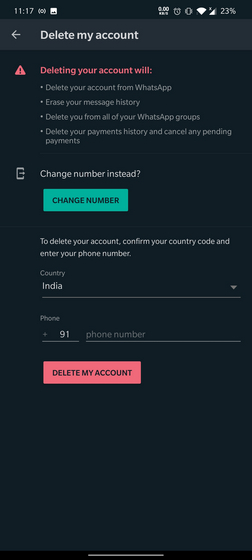 4. Soon after you tap on 'Delete my account', the company will ask the reason to delete your account. You can choose one of the predefined reasons or enter your reason in the 'Other' section. After adding the reason, press Delete my account twice. Your account will now get deleted and you can safely uninstall the app from your phone.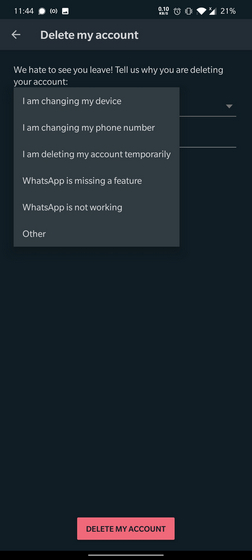 Delete Your WhatsApp Account on iOS
1. Open WhatsApp on your iPhone and switch to the Settings section from the bottom navigation bar. From Settings, tap on Account to access your account's settings page and choose 'Delete my Account'.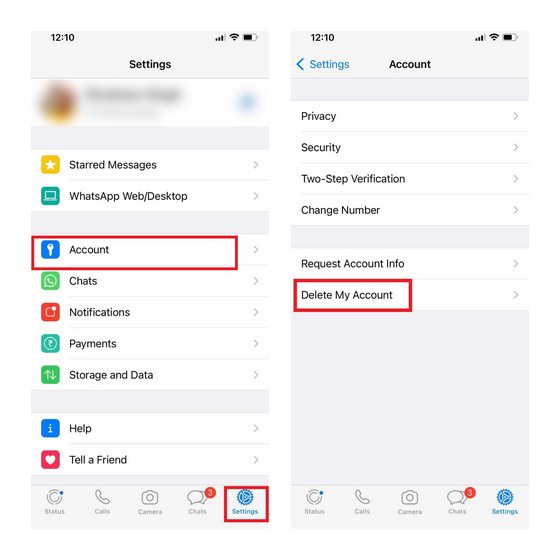 2. You should now enter your phone number linked to your WhatsApp account and tap on 'Delete My Account'. After the account deletion process is complete, you can uninstall the app from your iPhone.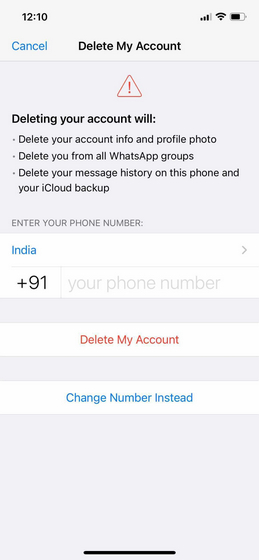 Delete Your WhatsApp Account on KaiOS
1. If you're a JioPhone user (or any other phone running KaiOS), here's how you can delete your account. Open WhatsApp and press Options button on the right side. From this page, navigate to Settings -> Account -> Delete my account.
2. After confirming your phone number, press Delete-> Delete. WhatsApp will now remove your account on request.
What Happens After You Delete Your WhatsApp Account
After you choose to delete your account, you can't regain access to it. WhatsApp will take up to 90 days to complete the account deletion process. While the company won't delete messages you sent in groups and chats thus far, it will delete information shared with other Facebook companies.
On its FAQ page, WhatsApp clarifies that copies of 'some materials such as log records' may remain in its database. However, the remaining data is disassociated from personal identifiers. The company also points out that it may keep your information for legal issues, terms violations, or harm prevention efforts.
Frequently Asked Questions
1. Why should I delete WhatsApp?
From February 8, WhatsApp demands you to share data with Facebook and its family of companies. Moreover, you can't use WhatsApp without agreeing to this new policy. In a nutshell, it is better to delete WhatsApp and regain control of your privacy on the internet.
2. Which app is better than WhatsApp?
You can use Signal or Telegram as an alternative to WhatsApp. Both of these apps offer a ton of features and are arguably better than WhatsApp. In fact, WhatsApp uses Signal's algorithm for end-to-end encryption.
3. Will uninstalling WhatsApp delete my account?
No, uninstalling WhatsApp doesn't delete your account. You will have to delete your account from Settings.
4. Which is the privacy-friendly alternative to WhatsApp?
I would recommend moving to Signal for staying connected with your friends and family without compromising your privacy. You can check out our list of best secure messaging apps to find the best option for you.
5. Will deleting WhatsApp account delete data shared with other Facebook companies?
Yes, deleting your WhatsApp account will remove data shared with other Facebook companies.
Delete WhatsApp and Switch to Privacy-Friendly Alternatives
We hope this guide helped you delete your WhatsApp account and free yourself from surveillance capitalism. While you are at it, don't forget to delete Facebook and Remove Instagram. The collect way more data than WhatsApp, and no one should be using them if they are concerned about their privacy.
---
Load More