India opened registrations for COVID-19 vaccinations earlier this year. According to the government's stats, over 13.26 crore citizens have been fully vaccinated so far, and almost 46 crores of Indians have received their first dose of the vaccine. Now, to help simplify the vaccination slot booking process, the Indian government has made it possible to book COVID-19 vaccinations slots on WhatsApp. In this article, you will learn how to book your COVID-19 vaccination slot using WhatsApp in India.
Book COVID-19 Vaccination Slots on WhatsApp in India (2021)
1. To get started, you should add MyGov Corona Helpdesk chatbot as a contact. The contact number is +91 9013151515. Alternatively, you can use this direct link to access the chatbot on WhatsApp. When the link opens, tap on "Continue to Chat", and you will be redirected to WhatsApp.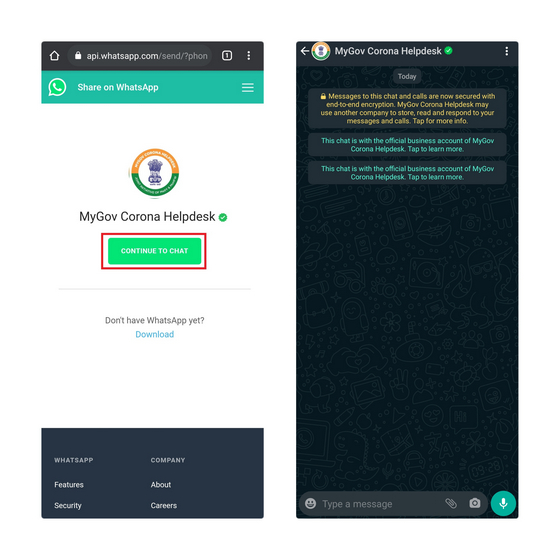 Note: Before we proceed further, I would like to point out that you can't register for the COVID-19 vaccine through WhatsApp. Instead, you will have to visit the Cowin website to register and add members. The process involves adding basic details and a government-issued photo ID. You can check our detailed guide to register for the COVID-19 vaccine in India. 
2. Next, send "Book Slot" as a message and enter the 6 digit OTP you receive as an SMS. Notably, you should enter the number you used to register for the Coronavirus vaccine. If your WhatsApp number is not the same one you used for COVID registration, you will be asked to enter the registered number.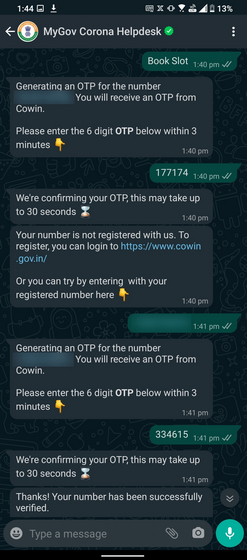 3. You will now see a list of all the members you have added to your Cowin account. To book the vaccination slot for a specific member, type the number mapped to them in the WhatsApp message. In my case, it's '1'. After picking the beneficiary, tap the "Search by pincode" button from the next message to search for a vaccination center by pincode.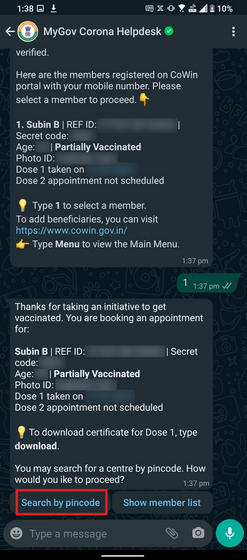 4. You can now choose to view free vaccines, paid vaccines, or both. You can tap on "Any" to view both free and paid ones. If you are trying to book the slot for your first vaccine shot, you will also see an option to pick the vaccination type.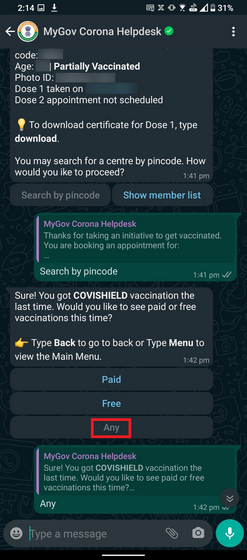 5. Up next, you should enter the pincode of your area. The chatbot will then show you the available centers near you, along with the date and number of doses. Type the number next to the date to book your vaccination slot. For example, as shown in the image below, if you would like to book the slot on August 25, message '2' to the chatbot.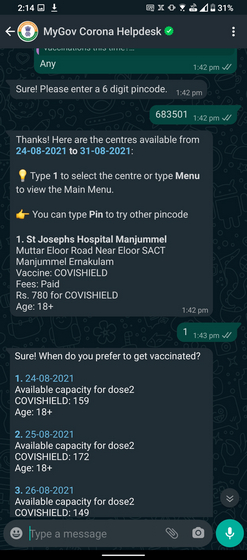 6. You will then receive the confirmation message for your Coronavirus vaccination slot in India. After confirmation, you can visit the vaccination center on the scheduled date and time to get your vaccine dose.
Use MyGov Corona Helpdesk to Book Vaccination Slots on WhatsApp
So, that's how you can use the MyGov Corona Helpdesk chatbot to book vaccination slots on WhatsApp. After getting vaccinated, you can check our guide to download your COVID-19 vaccination certificate via WhatsApp. You could also go through our list of COVID-19 resources in India and our article on finding a slot at your nearest COVID-19 vaccination center to set up alerts.