Amidst a massive shortage of COVID-19 vaccines in India, the central government is opening up vaccination for all adults in the country from 1st May as part of the third phase of the vaccination drive. However, unlike the first and second phases, walk-ins are not permitted for citizens aged between 18 and 45. Instead, perspective vaccine recipients above the age of 18 will have to register on the Aarogya Setu app or CoWIN to get the COVID-19 vaccine in India. It is a mandatory directive put in place by the government. So if you want to learn how to register to get the Coronavirus vaccine in India, you have come to the right place.
Register for COVID-19 Vaccine in India
The third phase of vaccination will begin May 1st, while the registration process will begin on 28th April. In this article, we will not only tell you how to register to get the COVID-19 vaccine in India but also everything you should about the vaccines. That includes their pricing, the eligibility criterion, and the steps on how to download vaccination certificates. So if you're in the 18-45 age group and looking forward to a jab next month, here's how you can register for the COVID-19 vaccine in India:
Register for COVID-19 Vaccine via Aarogya Setu App on Android and iOS
Firstly, install or update the Aarogya Setu app (Android, iOS) on your smartphone.
Now, open the app and go to the 'Vaccination' tab. Then enter your mobile number and hit 'Proceed to Verify' to get an OTP before you can move to the next step.
Once the OTP verification is done, register for the vaccine by filling up the required details. Finally, hit the blue 'Schedule Vaccination' button (left screenshot). You can now select a health center in your area by entering your PIN Code area to schedule an appointment for the vaccine.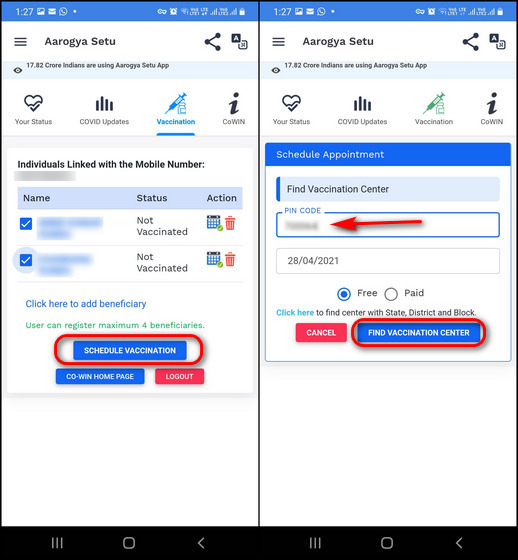 Note: If your number is already registered on Aarogya Setu, the app will present you with a list of beneficiaries associated with that number. You can then use the checkboxes next to their names to select the people you want to register for vaccination.
Register for COVID-19 Vaccine via CoWIN App on Android
You can also use the central government's CoWIN app to register for the COVID-19 vaccine. To get started, install or update the CoWIN app (download link – Free) on your Android smartphone.
Now open the app, enter your mobile number, and tap on 'Get OTP'. Enter the OTP once you receive it and tap on 'Verify OTP'.
On the Registration page, fill in your personal details, including name, gender, birth year, and more.
Next, upload the necessary documents and hit 'Register'. Finally, follow the on-screen instructions to select a nearby health center and schedule an appointment.
The mobile app currently seems to be having some login issues, though. It only has a 1.6-star rating, and we suggest you visit the CoWIN website for COVID-19 vaccine registration in India.
Register for COVID-19 Vaccination on CoWIN Website
To register on the CoWIN website, head over to cowin.gov.in. Now scroll down to 'Find Your Nearest Vaccination Center'. Here, in the search box next to the map, enter your PIN Code, select your location from the suggested options, and click on 'Register Yourself'.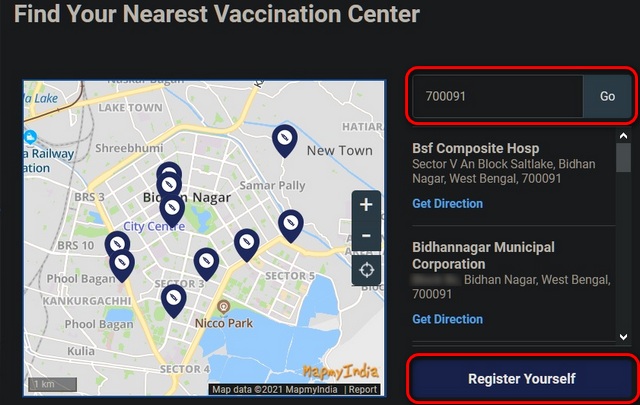 You will then move to a new page where you can register for vaccination. Enter your mobile number and click on 'Get OTP'.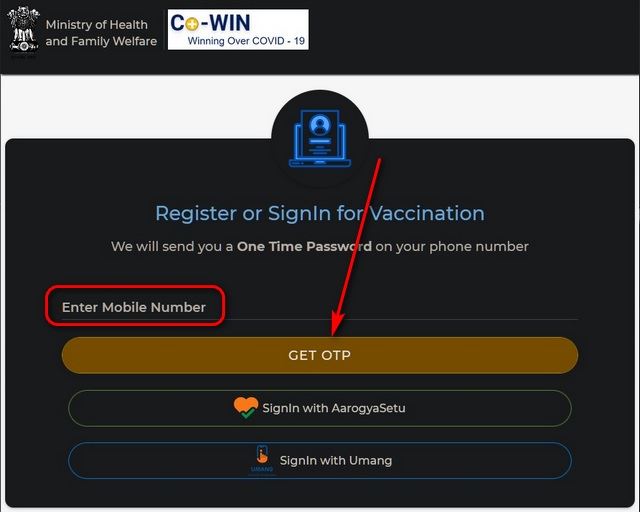 Enter the OTP and then follow the on-screen instructions to register for your COVID-19 vaccine. You will need to enter your personal information, including the name, birth year, and ID proof.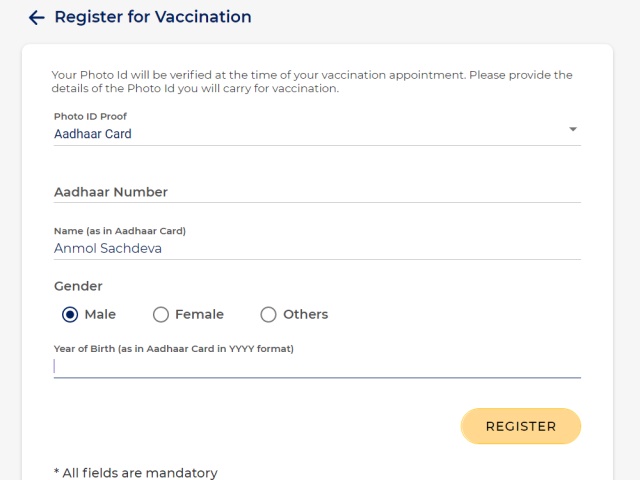 Eligibility Criterion and Required Documents
As mentioned already, the third phase of the COVID-19 vaccination drive will cover all adults, which means everyone above the age of 18 will be eligible for the shot. You will have to carry any government-issued photo ID, including a driver's license, Aadhaar Card, or voter ID card, to the vaccination site to get your jab.
Approved COVID-19 Vaccines in India
Three COVID-19 vaccines have been approved for use in India, although only two are currently available. Here's what you need to know about these two COVID-19 vaccines:
CoviShield: Codenamed AZD1222, CoviShield is the trade name of the COVID-19 vaccine developed by Oxford University's Jenner Institute in collaboration with British pharmaceutical company AstraZeneca. It is being manufactured by the Serum Institute of India (SII) in Pune, Maharashtra.
Covaxin: Codenamed BBV152, Covaxin is an indigenous COVID-19 vaccine developed by the Hyderabad-based healthcare company Bharat Biotech in collaboration with the Indian Council of Medical Research (ICMR).
In addition to these, the Russia-made 'Sputnik V' vaccine has also received emergency use authorization (EUA) in the country. It will most likely be available from early May for Rs. 750 (~$10) per dose.
Pricing of COVID-19 Vaccines in India
Pricing of both CoviShield and Covaxin varies from state to state. It also depends on where you choose to be vaccinated. They cost Rs. 250 (~$3.50) at private hospitals, while the government health centers are offering it for free to people above 45.
For people below 45, CoviShield will cost up to Rs. 600 (~$8) at private hospitals, while Covaxin prices will be as much as Rs. 1,200 (~$16) per dose. They will, however, remain free at central government hospitals for all citizens.
The pricing at state-owned health centers and hospitals will depend on state policy. The following state governments have announced free COVID-19 vaccinatiion to all residents, including those aged below 45:
Assam
Bihar
Chattisgarh
Delhi
Goa
Kerela
Madhya Pradesh
Sikkim
Uttar Pradesh
How to Download COVID-19 Vaccination Certificates
COVID-19 vaccination certificates are available for download via Aarogya Setu, CoWIN, DigiLocker, and Umang apps in India. To get a certificate, you must fulfill the following criterion:
Received at least one dose of vaccine
Must have the 14-digit beneficiary reference IDd
Must have a CoWIN registration to download the vaccination certification.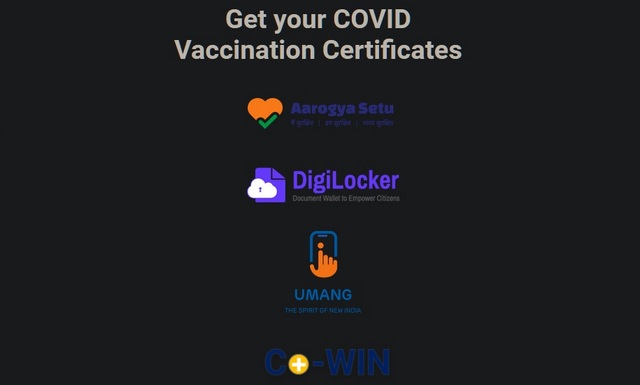 You can easily register on the CoWIN app if you're not already. If the mobile number used to register on CoWIN is different from the number used in Aarogya Setu and/or DigiLocker, you'll need to validate it to get your certificate.
Get Vaccinated and Stay Safe from COVID-19
With the second wave of COVID-19 ravaging India, quick vaccination for the majority of the population is the only way out of this situation. So to register for your jab and stay safe during these trying times. Also, make sure to follow all the WHO guidelines and India's MoHFW, including regular hand washing, mask-wearing, and sanitizing. Finally, try and stay indoors unless you absolutely need to go out. Doing all of the above can and will protect you and your loved ones.
---
Load More