watchOS 7 is here and it comes with a bunch of impressive new features and changes that really make the Apple Watch one of the best smartwatches out there. We've been playing around with the watchOS 7 developer beta, and we have discovered some cool new hidden watchOS features. So, here are all the watchOS 7 features you should know.
watchOS 7 Features
1. Native Sleep Tracking
This is the flagship feature of watchOS 7. Your Apple Watch can now track your sleep. What's more, it can help you wind down before your bedtime so you can fall asleep easily. Sleep tracking is one of those features that most people really wanted the Apple Watch to get. I had my reservations, and I still do. However, there's no denying the feature works really well.
You will have to enable this feature manually, so you can check out our guide on how to enable sleep tracking in watchOS 7.
2. Handwashing Detection
Another cool feature in watchOS 7 is handwashing detection. While a good feature nonetheless, it makes even more sense in today's scenario. Once you enable handwash detection on your Apple Watch, your watch will detect when you're washing your hands. It then starts a 20 second timer complete with haptics and sounds to notify you when you've washed your hands for at least 20 seconds.
You can also view your handwash data in the Health app on your iPhone to get a bird's eye view of your handwashing habits.
3. Private MAC Addresses
watchOS 7 also brings one of the cool privacy features we also saw in iOS 14. Private MAC addresses are meant to help prevent your network provider from tracking your Apple Watch. The feature is enabled by default in watchOS 7, but if you want, you can easily enable (or disable) private MAC address on your compatible Apple Watch manually as well.
4. Check Apple Watch Battery Health
watchOS 7 lets you check the battery health of your Apple Watch with just a few taps. Technically, you can also see a better, more detailed breakdown of your Apple Watch's battery usage, similar to how iOS does it. However, keeping a check on your watch's battery health is a pretty useful feature.
It can help you figure out if your watch needs a battery replacement, and ensure that performance doesn't take a hit because of battery issues. And if the battery health is good but the watch still doesn't last long, you can use our tips to improve battery on Apple Watch series 6.
5. Share Watch Faces
Up until watchOS 6, if you saw a super cool watch face, the best you could do is try to set it up for yourself by asking people which complications they are using and what not. With watchOS 7 though, you can finally share Apple Watch faces with your friends and family. You can even share them on social media websites and share your watch faces with the world if you like.
6. Optimised Battery Charging
Apple brought optimised battery charging to iPhones with iOS 13. Now, watchOS 7 brings optimised battery charging to the Apple Watch as well. If you're unaware, optimised battery charging learns your usage and charging patterns over time and charges your Apple Watch such that it reaches 100% at the optimal time. This way, watchOS tries to protect your battery from continuously charging even after it's already at 100%.
The feature is enabled by default in watchOS 7. However if you want, you can always manually enable or disable optimised battery charging on your Apple Watch from within the battery settings in your watch.
7. Multiple Complications
You can now also put multiple complications from the same app on a single watchface. This is new, and pretty useful for people who use apps that provide multiple complications with different types of data feeds. Personally, I don't use any such apps on my Apple Watch. However, for the sake of an example, here's a watch face with complications from just the Things 3 app.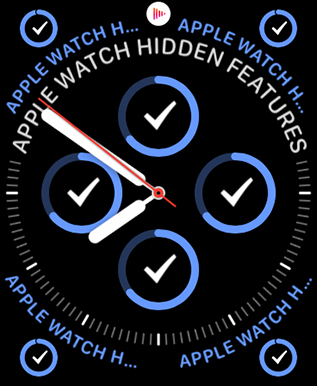 8. Charging Reminders
If you use the Sleep feature in watchOS 7, this is an option that you can enable or disable. With this, your Apple Watch will give you a reminder to charge your Apple Watch before you wear it to bed if the battery is low. This is a handy feature, because a lot of my friends have told me that they often forget to charge their Apple Watches and only remember it when they are going off to sleep, which is a pain in the neck.
9. New Workout Modes
watchOS 7 also brings improvements for fitness enthusiasts. If you're working out more while staying at home, you'll be glad to know that watchOS 7 brings three new workout modes to the Apple Watch. There are now dedicated workouts for dance, core training, and functional strength training. Plus, there's a dedicated mode for cooldowns.
10. Hearing Health Improvements
watchOS 7 also comes with a new feature to help you maintain good hearing health. This is a feature that will take a few days to actually show up in action for me, because it is based on weekly listening habits. However, watchOS 7 will now give you weekly listening reports to let you know if you're listening to music too loud. And if you are, it will automatically set a lower volume for your headphones. That's great pre-emptive action from the Apple Watch to protect your hearing.
11. Siri Shortcuts
With watchOS 7, the Apple Watch now supports Siri Shortcuts. If you have any Siri Shortcuts built on your iPhone, you can add them as complications on your watch face to quickly use them with just a tap. No iPhone needed. Moreover, you can go to the Shortcuts app on your Apple Watch to access all your Siri Shortcuts. This is something I will definitely be using once offices open again, and I restart using my shortcuts for meetings and ETA sharing.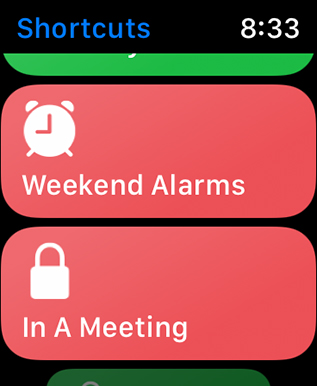 12. Force Touch Removed
This isn't so much a hidden feature, as it is a change you might not notice until you need to use it. watchOS 7 has removed the force touch interaction from the Apple Watch. These interactions are now replaced with long touches or dedicated buttons. Also, if you want to switch between a grid or list layout for your apps, you will have to do that from within Settings now.
13. New Siri Interface and Improvements
iOS 14 brings a new, compact Siri interface to the iPhone. However, watchOS 7 brings the same interface to the Apple Watch. It's not compact by any means, but it looks a lot better than it did in watchOS 6. Plus, Siri feels faster in watchOS 7 so that's great.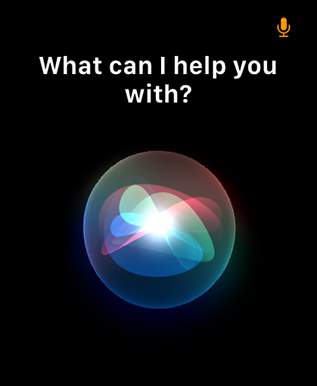 Did you know you can now also translate directly on your Apple Watch? Yeah, just ask Siri to translate something into another language and it will oblige. It's also pretty good at it and can translate long sentences as well.
14. New Chronograph Pro Watch Face
With every update, the Apple Watch gets new watch faces, and watchOS 7 is no different. There's a new Chronograph Pro watch face here now, and it can serve multiple functions. You can set it to be a tachymeter or a timer for 60 seconds, 30 seconds, or even 6 seconds if you like. I don't like the look of this watch face much, but it's there for anyone who wanted a tachymeter on the Apple Watch.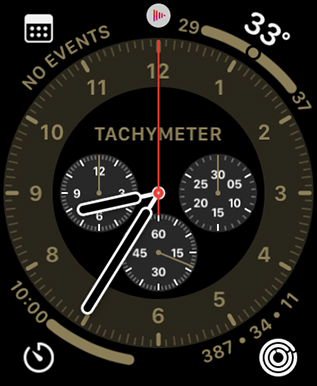 15. Cycling in Maps
The Apple Watch is now even better for cycling directions. The watch can now show turn by turn directions straight on the watch face for cycling. It also shows more information such as traffic, and if there are any bus and bike lanes in your route. Moreover, you can search for places along the way, if you want to stop at a coffee shop and grab a cup of your favourite coffee.
16. Remove Control Center Toggles
Another nifty little change in watchOS 7 is the added ability to not only re-arrange, but also remove Control Center toggles from the watch. This is great, because there are some toggles that you probably never use but are still just there. Personally, that includes the walkie talkie and flashlight toggles for me, and I've hidden them away already. If you're wondering how to go about this, you should check out our handy guide on how to remove control center toggles from Apple Watch.
17. Tap Complications in Always on Display
watchOS 7 also makes it much faster to launch your favourite complications. In the past, you had to first wake your watch and then tap on the complication to access it. However, with watchOS 7, you can simply tap on the complication when the always on display is on, and your watch will directly launch it. This is really handy for anyone who uses the workout complication on the watch face to quickly jump into workouts, among a bunch of other use cases.
It goes without saying that this feature is only available on the Apple Watch Series 5, because older Apple Watches do not have an always on display.
18. Announce Messages with Siri
If you're an AirPods user, you're probably aware that AirPods can announce your messages from your iPhone when they arrive. This is great because you can listen to messages without having to pull your phone out of your pocket. Well, now the feature is also available on your Apple Watch. If you've connected your AirPods to your watch, they will announce messages using Siri. This should prove useful if you're out on a run and don't want to turn your wrist around to try and read a message. You can also enable/ disable announce messages with Siri manually if you want.
19. Adjust Stand and Exercise Goals
Up until now, watchOS only allowed adjusting the daily Move goal on your watch. Now, however, you can even adjust the stand and exercise goals on your Apple Watch. To do this, you will have to launch the Activity app on your Apple Watch and tap on 'Change Goals'.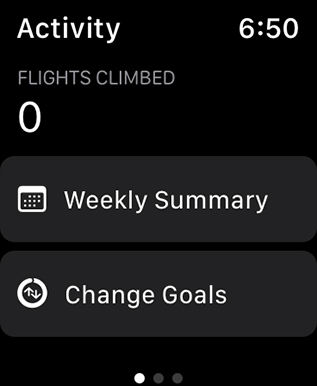 Then, you can adjust your Move goal, Stand goal, and Exercise goal.
20. Set-up Multiple Apple Watches with Same iPhone
One of the biggest issues with watchOS and iOS was the fact that you could only set up one Apple Watch with your iPhone. That meant if you wanted to give your kid an Apple Watch to make sure they can contact you in case they need to, or to keep a track of their location, you couldn't do that without getting them an iPhone as well.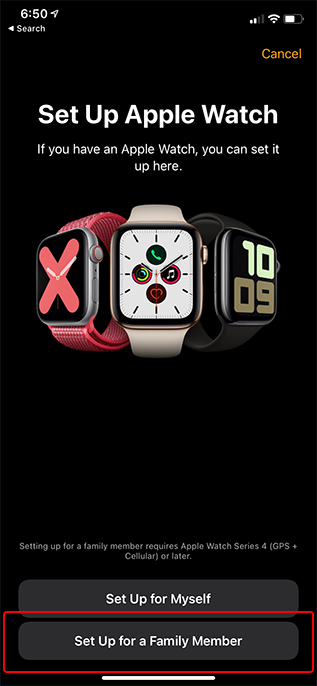 Fortunately, that's been fixed with watchOS 7. You can now set up multiple Apple Watches with the same iPhone without a hassle.
Get Ready for watchOS 7 on Your Apple Watch
We are still a ways out before watchOS 7 is released in its stable form. Before that, we will get a bunch of developer betas, and a public beta in July. So unless you're installing the betas as they come out, get ready for all these new Apple Watch features in watchOS 7 for later this year. Meanwhile, we will keep updating this list with all the new and hidden features we find in watchOS 7, so check back often for updates.
---
Load More