Trying to find the best smartwatch of 2019 is proving to be a difficult task given the rate at which the market is expanding. There's a mind-boggling amount of great products to choose from the latest Samsung releases to the well built Apple Watches. If you're looking for a guide that will help you choose the best smart watch for you, you've come to the right place. Whether you're looking for classy, functional, or a sporty watch to track your fitness goals, there's at least one top-tech timepiece guaranteed to catch your eye on this list.
Top 10 Smartwatches to Choose From
1. Apple Watch Series 4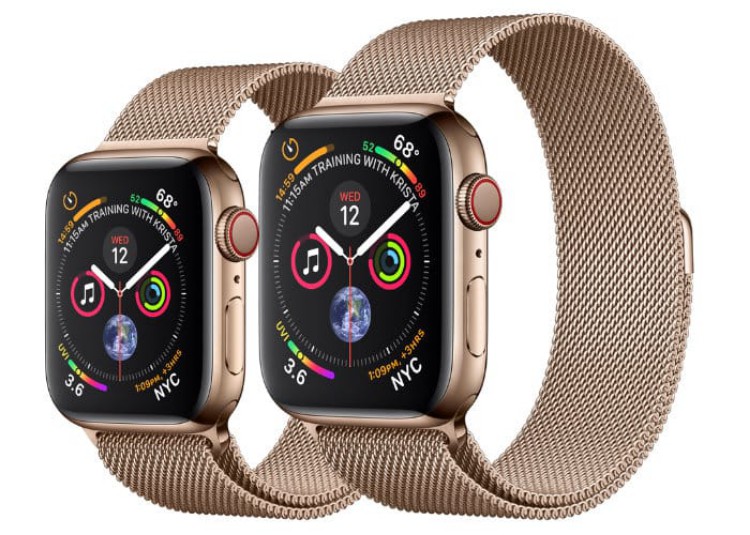 The Apple Watch Series 4, is without a doubt, one of the best smartwatches you can buy. I know it's a bit on the expensive side, and it only works with an iPhone. However, it has topped the list mainly because of all the features that it brings to the table. It's powered by a new S4 dual-core processor, that makes for smooth performance, and it also excels in terms of the battery life with 18 hours of quoted usage.
The Apple Watch Series 4 is available in two sizes i.e 40mm and 44mm, and both of them sport a beautiful OLED panel. The watch runs on Apple's latest watchOS 5 software and offers some great features like GPS and heart rate sensor. The Apple Watch also supports electrocardiogram (ECG), however, that's only available in the US. You can also buy a 4G LTE variant of the watch, and use it for calls and data without having to worry about your iPhone.
The Apple Watch Series 4 has a water resistance rating of 50 meters under ISO standard 22810:2010, which means you can use it for shallow water activities like swimming.
If you are not willing to spend so much money on the Apple Watch series 4, then you can also check out the Apple Watch Series 3. It has seen a significant price cut since the launch of Series 4, and it offers a lot of great features like an optical heart rate sensor, GPS + cellular connectivity, and more.
Compatibility: iOS
Pros
Great build quality
Good battery life
A big and beautiful OLED screen
Cons
Carries an expensive price tag
ECG feature is only available in the US
Buy Apple Watch Series 4 ($399)
2. Samsung Galaxy Watch
The Samsung Galaxy Watch is the best smartwatch you can buy if you are an Android phone user. Unlike most other smartwatches that run Wear OS, the Galaxy Watch runs Samsung's own Tizen software, and it's proven to work better than WearOS in some cases. The Galaxy Watch sports a 1.3-inch AMOLED display that's surrounded by a rotating bezel.
The rotating bezel, which is also my favorite hardware feature of the watch, can be used to interact with Tizen OS. Not only is it satisfying to use, but it also keeps the display fingerprint-free. You can either buy the 42mm or the 46mm variant as they both are available in a couple of different color options. The watch also comes with an IP68 water resistance with an additional 5ATM pressure rating.
The Galaxy Watch is compatible with iOS as well, so it can be considered as a great Apple Watch alternative.
Compatibility: Android, iOS
Pros
Beautiful OLED display
Long-lasting battery
Samsung Pay Support
Cons
Limited app selection for Tizen
Bixby is just as bad as smartphone version
Buy Samsung Galaxy Watch ($350)
3. Fossil Sport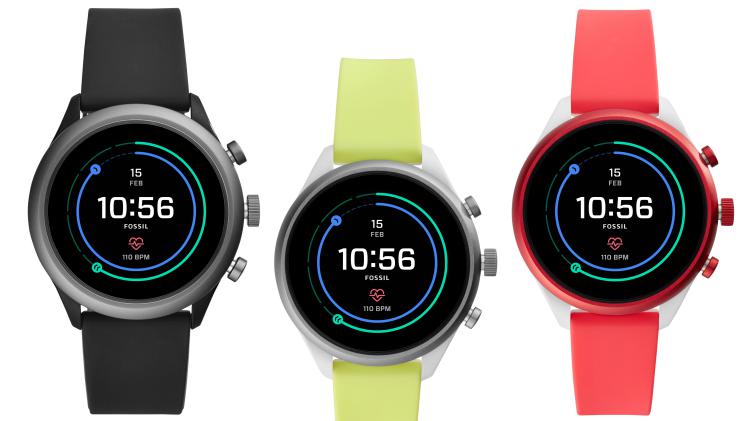 The new Fossil Sport is the only smartwatch in this list that's powered by Qualcomm's new Snapdragon Wear 3100 processor that's said to improve the performance and battery life. It is also running on Google's latest Wear OS software and offers features like built-in GPS, heart-rate monitoring, and more.
Both 41mm and 43mm of the watch, as you can see, are available in a bunch of color options to choose from, so you can pair it with any outfit of your choice. The Fossil Sport also features a 1.2-inch AMOLED display, and it is rated to last for up to 24 hours on a single charge. The watch also comes with Google Fit with which you can track metrics like step count, calories burnt, etc. throughout the day.
If you don't like the sporty look or the flashy design of the Fossil Sport, then you can also check out Fossil's other watches like Explorist HR, Venture, etc. However, they're still powered by Qualcomm's dated Snapdragon Wear 2100 processor.
Compatibility: Android, iOS
Pros
Updated Snapdragon Wear 3100 processor
Multiple color options
Beautiful display
GPS, NFC, and heart rate tracking
Cons
Mediocre battery life
Generic design
Buy Fossil Sport ($255)
4. LG Watch W7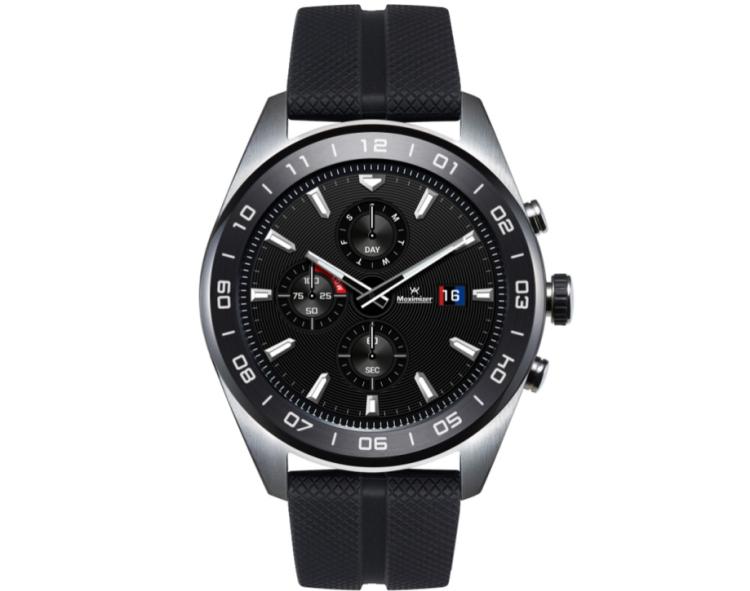 The LG Watch W7 has made it to the list mainly because of the fact that it has both a fully functional touchscreen interface with Wear OS and mechanical hands. That's right, the LG Watch W7 brings the best of both world, and allows you to use it simply as a mechanical watch when it runs out of battery.
The LG Watch W7 features a premium stainless-steel design that gives it an elegant look. Couple that with its dual-functionality, you are looking at a watch that'll definitely turn some heads. It sports a 1.2″ LCD panel and is powered by Qualcomm's APQ8009w processor. The watch packs a 240mAh Lithium Polymer battery that's rated to keep the lights on for about 24 hours.
It's sport IP68 rating for dust and water resistance, however, it lacks other notable features like GPS, HR, etc. So might want to look into other options if those are your priorities.
Compatibility: Android, iOS
Pros
Looks like a traditional analog watch
Good battery life
Cons
Lacks NFC, GPS and heart rate tracking
Thick and chunky design
Can be difficult to use the touchscreen because of the analog hands
Buy LG Watch W7 ($230)
5. Ticwatch Pro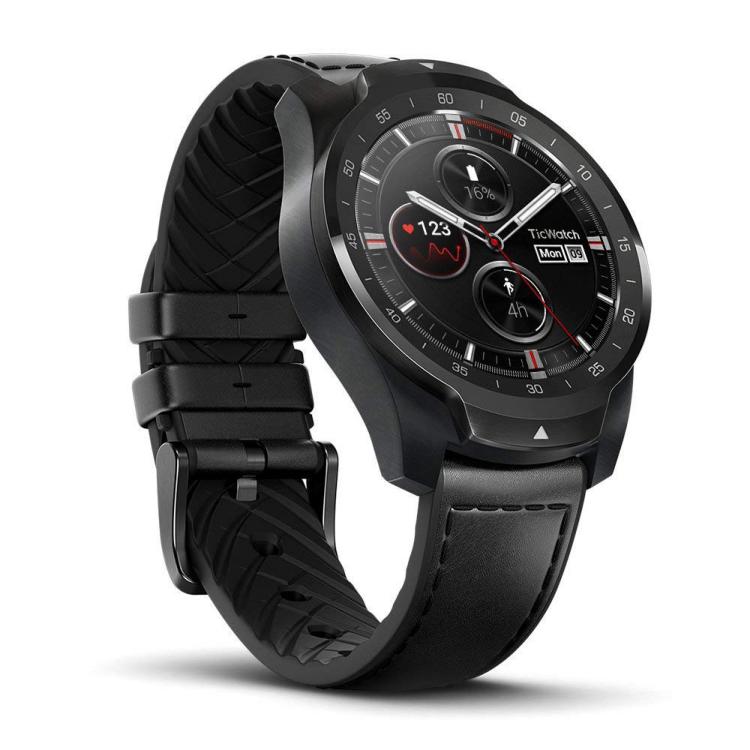 Ticwatch may not be a household name when it comes to smartwatches, but the Ticwatch Pro is a unique watch mainly because of the fact that it has two displays. Yes, the Ticwatch Pro sports two displays that are layered on top of each other. There's a transparent LCD panel on the top that can display time, heart rate, etc. But there's also an OLED panel underneath it that gives you all the benefits of Wear OS.
The Ticwatch Pro, when used as a normal smartwatch with the OLED display, can last for up to 2 days. However, Mobvoi claims that the watch can last for up to 30 days when used with the LCD panel. That, in my opinion, is really flexible as you can continue using the watch even when the battery is running low. Apart from that, the watch also has a ton of other features like GPS, NFC for payments, etc. Yes, it is not powered by the latest chipset unlike other smartwatches in the list like Fossil Sport, but it's worth taking a look at.
Compatibility: Android, iOS
Pros
Innovative dual screen technology
Great battery life when used in LCD mode
Cons
Mediocre battery life in the smart mode
No LTE variant
Buy Ticwatch Pro ($249)
6. Garmin fēnix 5S Plus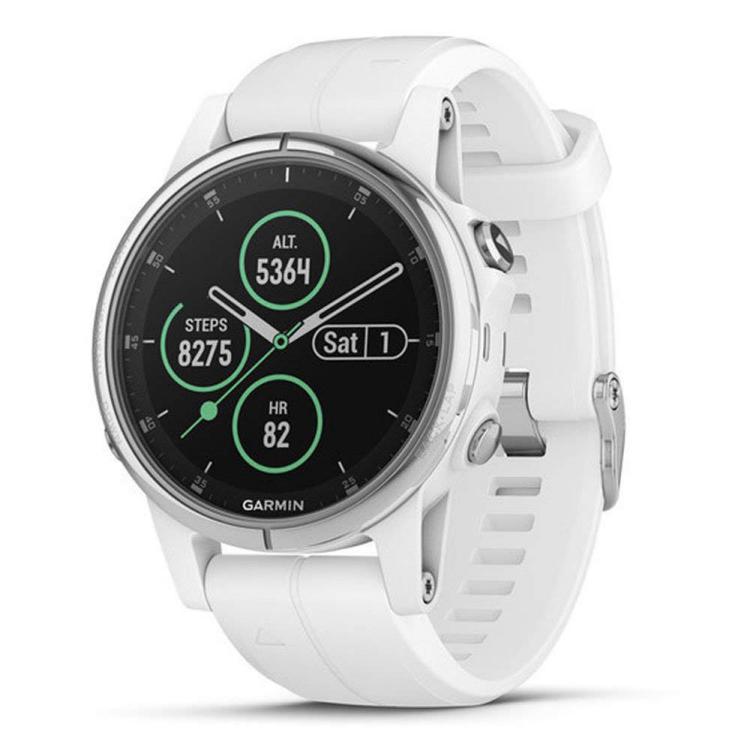 If you are on the lookout for a smartwatch that can keep you on top of your fitness game, then Garmin fēnix 5S Plus is the way to go. It's a bit pricier but it offers a lot of features that no other smartwatch brings to the table. Here's a quick look at all the sensors that this particular watch has – GPS, GLONASS, Galileo, Garmin Elevate wrist heart rate monitor, Barometric altimeter, Compass, Accelerometer, and more.
The Garmin fēnix 5S Plus runs Garmin's own software, but it's more than enough to take care of all your tasks with ease. The watch also comes with onboard storage, which you can use to store up to 500 songs. The watch also has a ton of gym activity profiles like Strength, Cardio, and Elliptical Training, Stair Stepping, and more. The fēnix 5S Plus sports a 1.2-inch display that's enclosed in a 42mm case, and it'll perfectly match your active lifestyle. Besides the fēnix 5S Plus, you can also check out fēnix 5 or 5x that are equally good.
Compatibility: Android, iOS
Pros
Great battery life
Wide selection of activity profiles
Design suitable for users with an active lifestyle
Cons
Expensive price tag
Lack of non-fitness apps on the Connect IQ store
No LTE variant
Buy Garmin fēnix 5S Plus ($700)
7. Fitbit Versa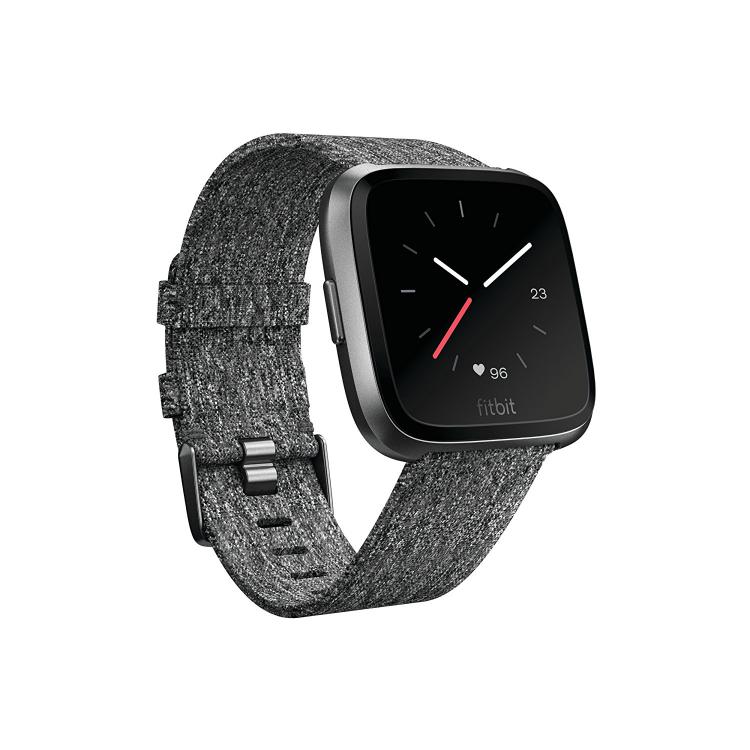 If you are not willing to spend $700 on a fitness-centric smartwatch, then Fitbit's new Versa is the smartwatch to buy. Fitbit, as we all know, is a popular name when it comes to activity trackers, and the Versa is pretty much the best of what Fitbit has to offer. It is powered by a dual-core processor and packs 2.5GB onboard storage. The watch's sleek design and flashy color options give it an edge over the other fitness-centric smartwatches in the market.
The Fitbit Versa lacks GPS, however, it supports Fitbit Pay for contactless payments. The highlight of Fitbit Versa (or any Fitbit activity tracker) is the companion app and Fitbit's highly active community. You can log your metrics and compete with your friends and family members to make sure that you're always on top of your game.
Compatibility: Android, iOS
Pros
Great battery life
Fitbit's feature-rich app and active community support
Sleek and modern design
Cons
Lacks GPS
Limited notification interactions
Buy Fitbit Versa ($179)
8. Huami Amazfit Stratos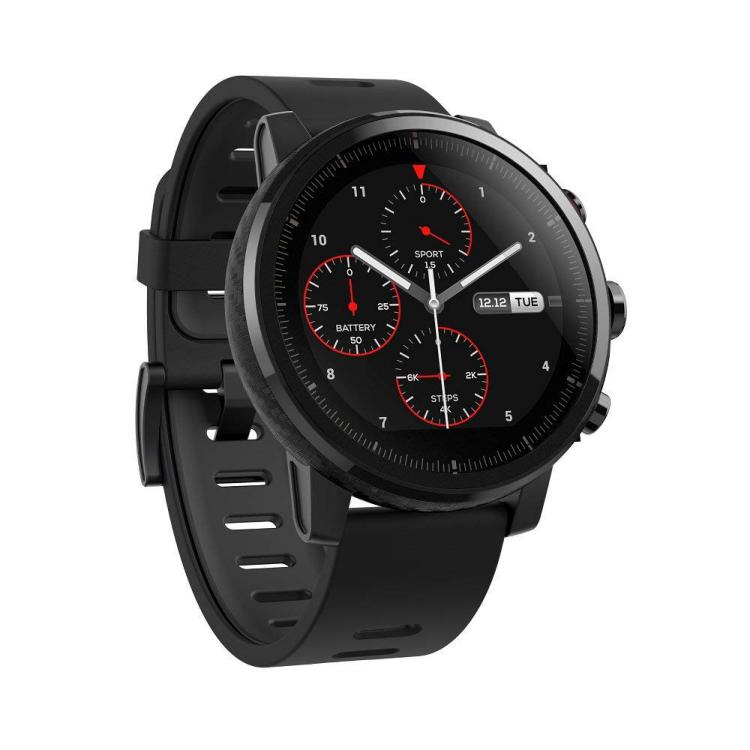 The Huami Amazfit is one of those feature-rich smartwatches that comes loaded with features. The watch comes with an array of sensors including a 3-axis accelerometer, a PPG heart rate sensor, barometer, gyroscope and more. It also comes with the sleep-tracking feature, which a lot of smartwatches including the Apple Watch Series 4 lacks.
As you can see, the Amazfit Stratos packs a circular 1.34-inch LCD panel with a resolution of 320×300 pixels. Similar to some older smartwatches like the Moto 360, the Amazfit Stratos also has a flat-tire design, that looks a little dated. The Amazfit app, however, makes up for all the annoyances, as it lets you track and keep a record of all your metrics. Overall, it's a great watch that can take care of your fitness needs, and it'll do that without breaking your bank. You can read our in-depth review of Huami Amazfit Stratos to learn more about it.
Compatibility: Android, iOS
Pros
Long battery life
Ability to store music on-board
Cons
Limited actionable notifications
The display could have been better
Bulky design
Buy Huami Amazfit Stratos ($200)
9. Ticwatch S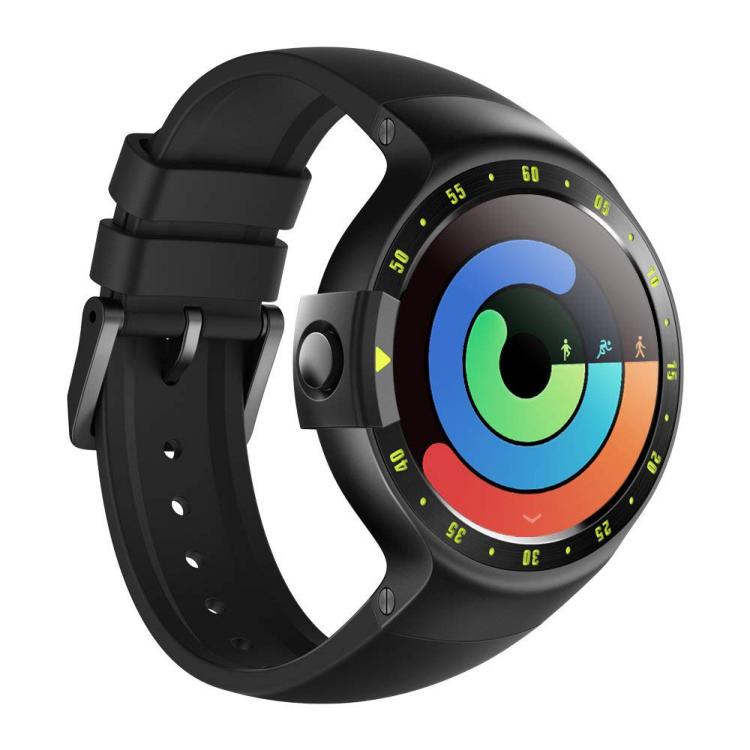 Ticwatch S is yet another great Android Wear smartwatch that you or may not have heard of. It's, in fact, one of the best budget smartwatches that you can buy. It has a simple, yet elegant design, and it packs all the basic features like GPS, heart sensor, and more. Yes, it is not as feature-packed as, say, the Ticwatch Pro, but you're getting a really good Wear OS smartwatch that sports IP67 water resistance and 48 hours of battery life.
The Ticwatch S is only available in 44mm casing, and the overall watch weighs in just 41.5 grams. The Ticwatch E is available in a bunch of finishes, so be sure to have a look at all the variant before buying one for yourself. And if you are considering buying the Ticwatch S, then I'll suggest you check out Ticwatch E as well. It's comparatively cheaper as it lacks GPS and sports a slightly smaller casing.
Compatibility: Android, iOS
Pros
Affordable price tag
Comfortable and lightweight design
Commendable battery life
Cons
Lacks LTE and NFC
Available in only one size i.e 44mm
Buy Ticwatch S ($140)
10. Huami Amazfit Bip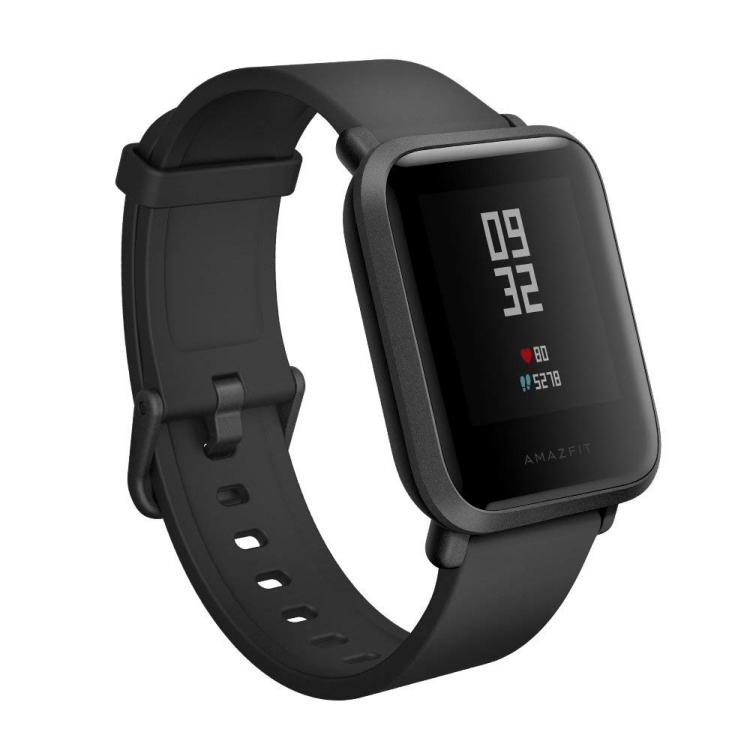 Last, but not the least, we have Huami Amafit Bip in the list. The highlight of this particular smartwatch is its 30+ days of battery life with regular use. Besides that, the watch also packs an always-on color display, GPS, barometer, a geomagnetic sensor, heart rate sensor, and more. Despite having so many hardware sensors, the Huami Amazfit Bip is super lightweight (31 grams) and comfortable to wear.
In terms of the notification, the Huami Amazfit Bip will show you your phone's app notifications like calendar alerts, text messages, emails, Facebook, Twitter, WhatsApp, and more. It has IP68 dust and water resistance, and it pairs with the 'Mi Fit' app on your Android or iOS device.
Compatibility: Android, iOS
Pros
Affordable price tag
IP68 certification
3rd-party app support via Mi Fit
Cons
Looks dated in comparison to other smartwatches
The display looks washed out
Buy Huami Amazfit ($80)
SEE ALSO: 7 Best Apple Watch Series 4 Screen Protectors You Can Buy
Well, that ends our list of best smartwatches you can buy in 2019. Of course, more smartwatches with better internals and features will be made available throughout the year, but these are ones that are worth considering right now. We'll be updating the list as and when we come across something new and interesting, so be sure to keep an eye on this list.