Trying to find the best smartwatch of 2020 is proving to be a difficult task given the rate at which the market is expanding. There's a mind-boggling amount of great products available on the market. From the latest Samsung releases to the well built Apple Watches, we have got a number of options. If you're looking for a guide that will help you choose the best smart watch for you, you've come to the right place. Whether you're looking for classy, functional, or a sporty watch to track your fitness goals, there's at least one top-tech timepiece guaranteed to catch your eye on this list.
Top 10 Smartwatches to Buy (2020)
1. Apple Watch Series 5
The Apple Watch Series 5, is without a doubt, one of the best smartwatches you can buy right now and certainly way ahead of any competitor including Samsung. In fact, one can argue that last year's Series 4 was already a tightly-put product with almost all the major features in tow. However, the Apple Watch Series 5 brings some amazing new features like Always-on display, compass sensor, 32GB of internal storage on the base variant and more. Further, with Series 5, the watch can contact local emergency services after fall detection all around the world unlike Series 4 which is only limited to the US.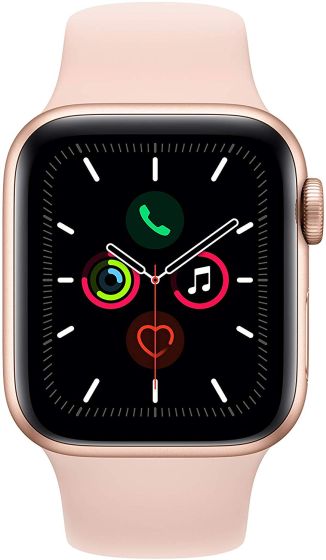 I know the Apple Watch Series 5 is a bit on the expensive side, and it only works with an iPhone. However, it has topped the list mainly because of all the features that it brings to the table. Coming to the specs, it's powered by the new S5 chipset that makes for smooth performance, and it also excels in terms of the battery life with 18 hours of mixed usage. The watch is available in two sizes i.e 40mm and 44mm, and both of them sport a beautiful OLED panel. On the software side, it runs Apple's latest watchOS 6 and offers some great features like notification and music controls, cycle tracking, and more. Not to mention, the Apple Watch Series 5 supports real-time electrocardiogram (ECG) and it's the similar one (2nd-gen) that we have on Series 4.
The Apple Watch Series 5 has a water resistance rating of 50 meters which means you can comfortably use it for shallow-water activities like swimming and kayaking. Furthermore, you can also buy a 4G LTE variant of the watch, and use it for calls and data without having to worry about carrying your iPhone all the time. Finally, Apple Watch also shines when it comes to apps and games. For iPhone users, buying an Apple Watch is really a no-brainier decision.
Note: If you are looking for an Apple Watch alternative for kids, click on the link to follow the article on the same.
Compatibility: iOS
Pros:
Great build quality and battery life
A big and beautiful OLED screen
ECG feature
Always-on Display
Fall Detection
Contact Emergency all over the world
Cons:
Carries an expensive price tag
Buy Apple Watch Series 5: Starts at $384.99  (₹40,900)
2. Samsung Galaxy Watch Active2
The Samsung Galaxy Watch Active2 is the best smartwatch you can buy if you are an Android user. Unlike most other smartwatches that run Wear OS, the Galaxy Watch Active2 runs Samsung's own Tizen OS, and it's proven to work better than WearOS in most cases — especially in battery efficiency. Unlike the rotating bezel on earlier Galaxy Watches, the Active2 sports an all-encompassing 1.4-inch Super AMOLED screen with support for Always-on display and Corning Gorilla Glass DX+ protection on top of that.
As for the internals, the Galaxy Watch Active2 comes with an Exynos 9110 chip, unlike the Snapdragon ones which are generally found in other smartwatches in the Android ecosystem. Other than that, you can buy the 40mm or the 44mm variant and there is support for LTE as well. The watch also comes with an IP68 water resistance with an additional 5ATM pressure rating so that is great. And if reports are to be believed, the Samsung Galaxy Watch Active2 will also get support for ECG and Fall Detection in the first quarter of 2020 so that is awesome. Simply put, if you are looking for an Apple Watch alternative in the Android ecosystem then Galaxy Watch Active2 is an excellent and perhaps the only choice.
In case, you want an affordable Galaxy Watch, you can go with the Galaxy Watch Active ($161 – ₹17,990) from last year. It has all the major features of Active2 but has a smaller display and does not support ECG. I would say it's an acceptable trade-off.
Compatibility: Android, iOS
Pros:
Beautiful OLED display
Long-lasting battery
Always-on display
Samsung App Store
Samsung Pay Support
ECG and Fall Detection Coming in Q1 2020
Cons:
Bixby is just as bad as the smartphone version
Buy Samsung Galaxy Watch Active2: Starts at $240 (₹25,999)
3. Fossil Gen 5
After the success of Fossil Sport, the company has brought the Fossil Gen 5 and refined it even more. Right off the bat, the smartwatch is powered by Qualcomm's new Snapdragon Wear 3100 processor — the same as Fossil Sport — which is said to improve the performance and battery life. However, as we have seen in our testing, the performance and battery life is still not up to the mark — at least not in the league of Apple and Samsung. Coming to the software, it runs Google's latest Wear OS and offers features like Google Assistant, Google Pay, built-in GPS, heart-rate monitoring, and more.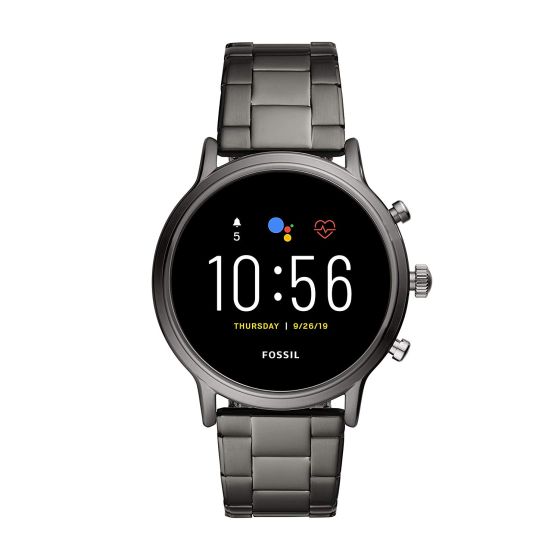 The Fossil Gen 5 features a 1.28-inch AMOLED display in a 44mm dial, and it is rated to last for up to 24 hours on a single charge. The watch also comes with Google Fit with which you can track health metrics like step count, calories burnt, etc. throughout the day. However, for me, the best addition to Gen 5 is the speaker which was missing on Fossil Sport. So now, you can make and receive calls, talk to Google Assistant via voice and more. You can even install and play games on it. So if you are looking for the best smartwatch to accompany your Android smartphone then you can consider the Fossil Gen 5.
Also, Fossil Sport has recently got a huge price cut ($99 – ₹11,995) so if you want a WearOS watch and can live with average battery life, then it's not a bad deal at all.
Compatibility: Android, iOS
Pros:
Updated Snapdragon Wear 3100 processor
Multiple color options
Beautiful display
GPS, NFC, and heart rate tracking
3 ATM water resistance
NFC for Google Pay
Cons:
Battery life and performance is not the best
Buy Fossil Gen 5: $250 (₹22,995)
4. Huawei Watch GT 2
Huawei recently announced its flagship smartwatch, the GT 2. It comes with many top-of-the-line features for fitness tracking and smartphone management. But let's start with hardware first. The GT 2 is powered by Kirin A1 chipset which is developed by Huawei itself. Huawei claims that it offers a range of fitness tracking features without consuming a lot of power. In fact, the battery life is supposed to last for 2 weeks which is just crazy. Other than that, the Huawei Watch GT 2 sports a 1.2-inch AMOLED screen in 42mm and 46mm dials.
And let me tell you there is a speaker as well so that is great for calling, but you don't get an LTE variant. Basically, the watch will use Bluetooth to make and receive calls. The prime feature of Huawei Watch GT 2 is that you have access to 15 workout modes and it claims to track all your activities accurately. Not to mention, there is built-in GPS and heart-rate sensor as well. Simply put, if you want a smartwatch for fitness tracking then I would highly recommend the Huawei Watch GT 2.
Compatibility: Android, iOS
Pros:
Crazy battery life
15 workout modes
Best for fitness tracking
Built-in microphone and speaker
Cons:
Buy Huawei Watch GT 2: $269 (₹19,500)
5. Fitbit Versa 2
If you are not willing to spend $500 on a fitness-centric smartwatch, then Fitbit's new Versa 2 is the smartwatch to buy. Fitbit, as we all know, is a popular name when it comes to activity trackers, and the Versa is pretty much the best of what Fitbit has to offer. And the new Versa 2 is even amazing with a sleek look, light build, and larger screen. The Fitbit Versa 2 is powered by its fastest processor yet and you can store up to 300 songs on the device. Among many other things, the major features are heart-rate tracking, Alexa voice assistant, sleep and swim tracking and more. In addition, the battery life on Versa 2 is stellar and goes up to 5-7 days.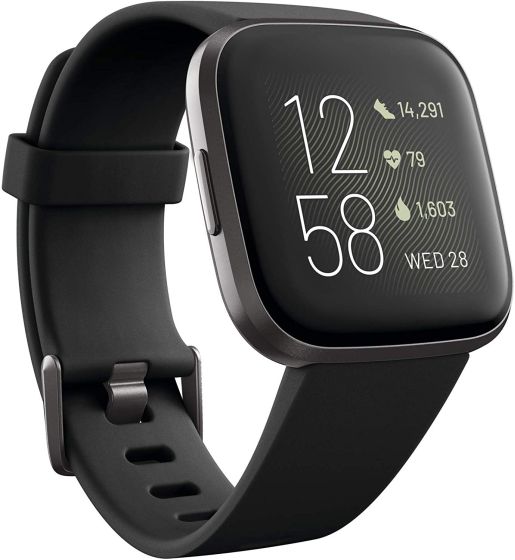 Having said that, the Fitbit Versa 2 lacks GPS and you need to carry your smartphone if you want to track your runs which is slightly disappointing. However, it supports Fitbit Pay for contactless payments so that is great. The highlight of Fitbit Versa 2 (or any Fitbit activity tracker) is the companion app and Fitbit's highly active community. You can log your metrics and compete with your friends and family members to make sure that you're always on top of your fitness game. I would say Versa 2's sleek design and flashy color options give it an edge over other fitness-centric smartwatches in the market.
Compatibility: Android, iOS
Pros:
Great battery life
Fitbit's feature-rich app and active community support
Sleek and modern design
Can store up to 300 songs
Alexa support
Sleep and Swim Tracking
Cons:
Lacks GPS
Limited notification interactions
Buy Fitbit Versa 2: $199 (₹17,699)
6. Amazfit Pace / Verge / GTS / GTR / Stratos / Bip
Amazfit recently announced a long list of similar-specced smartwatches and it's very confusing to the users. So here I am going to list out the differences so you can make a better decision. At the very outset, let me tell you all Amazfit products are fitness-centric watches. There are differences, but mainly in terms of call support, notification replies, onboard storage, app installation and more. So to break it down, Amazfit Pace has support for notification replies, comes with 2GB of onboard storage, and has Android app support. All of this is possible because Amazfit Pace runs WearOS as its underlying OS. You can, in fact, install Android apps through ADB as well. So in tandem, Pace is one of the best smartwatches Amazfit has to offer.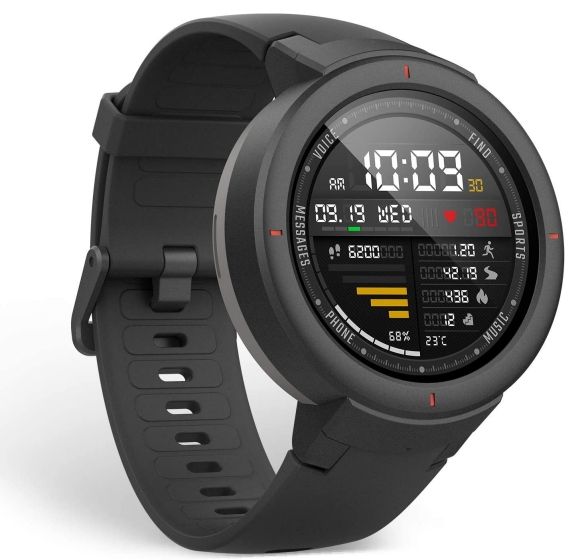 Coming to Verge, it's also based on WearOS but brings native calling support with a built-in speaker. Of course, you get other fitness-related Amazfit goodies as well. Further, Verge also brings onboard storage, Android app support, and quick replies so that is great. To sum up, Pace and Verge are two great smartwatches by Amazfit you can buy right now.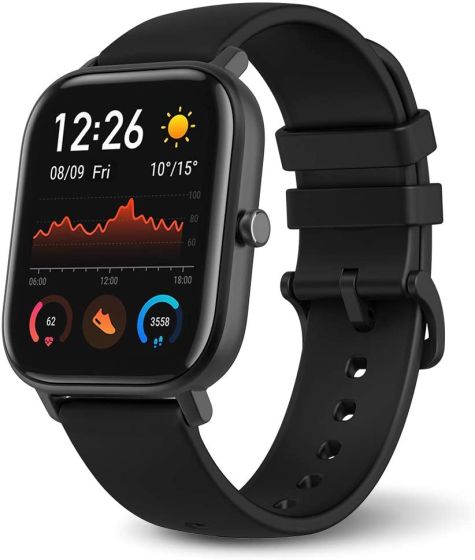 Talking about GTS and GTR, both are almost identical except for the looks. If you like a sporty watch with big dials then you can go with the GTR and if you love sleek watches like Apple Watch then pick the GTS. On both the smartwatches, you get excellent AMOLED screen, built-in GPS, all kinds of fitness tracking features and great battery life. However, you can't install apps on these watches as they are not based on WearOS. Also, there is no onboard storage or quick notification replies or call support on GTR and GTS. Simply put, if you want a watch with proper smartwatch features (calling, notification replies) then go for Verge or Pace and if you want a stylish smartwatch with fitness tracking features then just get GTS or GTR.
Also, you can take a look at Amazfit Stratos which is very identical to Pace but it's older now. Other than that, Amazfit Bip and Bip Lite are excellent fitness-centric smartwatches and the only difference between them is that the Lite variant does not come with a built-in GPS sensor.
Compatibility: Android, iOS
Pros:
Stellar battery life
Ability to store music on-board on some smartwatches
Plenty of fitness tracking activities
App, notification, and call support on some smartwatches
Music control through Bluetooth
Cons:
Limited actionable notifications
No app support out-of-the-box
Buy Amazfit Smartwatches: Starts at $64 (₹3,499)
7. Garmin Vivoactive 4
If you are on the lookout for a smartwatch that can keep you on top of your fitness game, then Garmin Vivoactive 4 is the way to go. It's a bit pricier but it offers a lot of fitness tracking features that no other smartwatch brings to the table. Here's a quick look at all the sensors that this particular watch has – GPS, health monitoring sensors, Garmin Elevate wrist heart rate monitor, Barometric altimeter, Compass, Accelerometer, and more. The watch also has a ton of gym activity profiles like Strength, Cardio, and Elliptical Training, Stair Stepping, and more.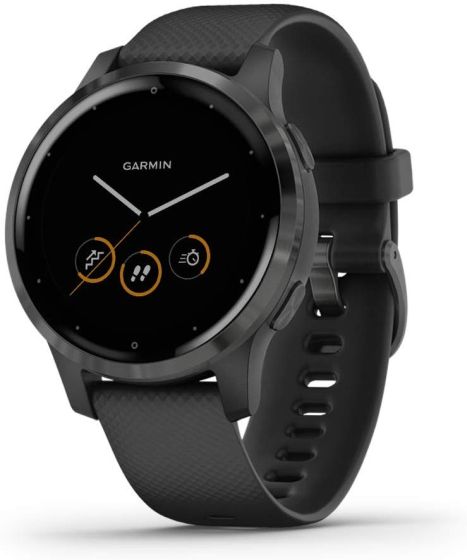 On top of that, the battery life is pretty good and it lasts for 7-8 days. It has also support for music streaming apps like Spotify, Deezer and Amazon Music which is quite nice to have for music lovers. As the Garmin smartwatch is mainly for fitness users, the company has brought something called the Garmin Coach. It's kind of an assistant which helps you while training and sports activities. As for the watch, it's available in two sizes: 40mm and 45mm so you have multiple options at your disposal.
On the software side, the Garmin Vivoactive 4 runs its custom software and does a great job at it. To conclude, Garmin Vivoactive 4 is a durable fitness tracker that also has some useful smartwatch features. Besides that, you can also take a look at Garmin Venu ($349 – ₹37,490) which is equally good.
Compatibility: Android, iOS
Pros:
A week-long battery life
A wide selection of activity profiles
Design suitable for users with an active lifestyle
Cons:
Slightly expensive
Lack of non-fitness apps
No LTE variant
Buy Garmin Vivoactive 4: $296 (₹32,590)
8. TicWatch E2
Ticwatch may not be a household name when it comes to smartwatches, but it's slowly gaining popularity. The company recently released the Ticwatch E2 which is a solid watch mainly because you get a WearOS watch at a really low price. Due to WearOS, you can interact with notifications, ask Google Assistant questions using the built-in mic, install a range of Android apps and more. Sure, the battery life is not that good and it hardly lasts more than a day, but you get all the Google goodies in a solidly built case. TicWatch E2 has a 1.39-inch AMOLED display and comes with a water resistance of up to 5ATM. And the best part is that, unlike its earlier watch, TicWatch comes with a built-in GPS sensor so no more taking your phone while going for a run.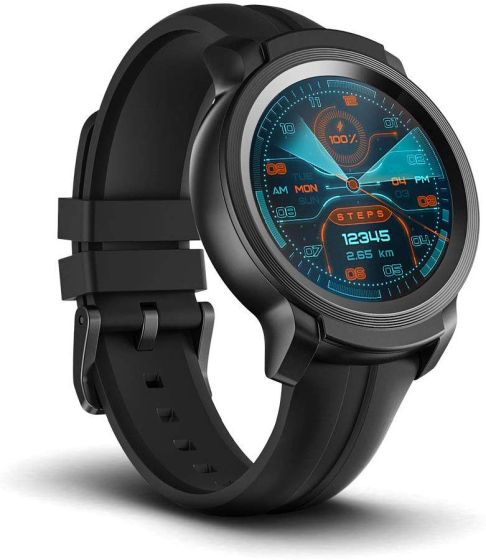 Of course, you get additional fitness tracking features as well. TicWatch E2 is powered by TicMotion which is an AI algorithm that actively detects your motion, activities like swimming and offers all your fitness records accurately without missing out on anything. Having said that, keep in mind, the TicWatch E2 does not have NFC for payments and it's not powered by the latest Snapdragon 3100 processor. Nevertheless, if you want a WearOS smartwatch at cheap, TicWatch E2 is a decent alternative to Fossil Gen 5 and Fossil Sport.
Compatibility: Android, iOS
Pros:
Google Assistant Support
Built-in GPS
AI-based activity detection
5ATM Waterproof
Affordable Price Tag
Cons:
Mediocre battery life
No LTE variant
Buy Ticwatch E2: $249  (₹13,999)
9. Skagen Falster 3
Similar to Fossil, Skagen is another company that has been creating some great looking WearOS smartwatches. And its recent release, the Falster 3 is already making noises for its incredible build quality and design. It comes in a stainless steel body and has a case size of 42mm. The best part about Skagen Falster 3 is that it comes with the latest Qualcomm Snapdragon 3100 processor so everything is fluid and fast. On top of that, it has a built-in microphone and speaker. So not only you can interact with Google Assistant, but you can also make and receive calls on the go.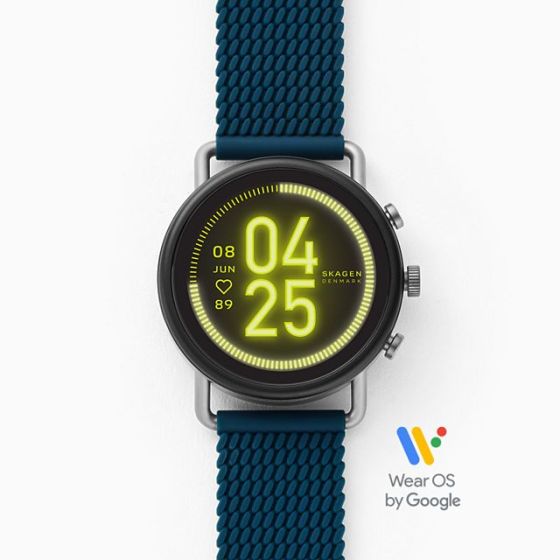 Further, there is an NFC sensor too so you can easily make payment using Google Pay on your smartwatch. But that is not all, there is a heart rate sensor, support for notification replies, thousands of Android app support, onboard storage for music and more. In short, Skagen Falster 3 ticks almost all the boxes for a great smartwatch and you should definitely give it a shot.
Compatibility: Android, iOS
Pros:
Trendy design
Qualcomm Snapdragon 3100 processor
Built-in GPS and Google Pay Support
Heart-rate sensor
Google Assistant
Cons:
Average battery life
The display could have been better
Buy Skagen Falster 3: $295
10. NoiseFit Evolve Sport
If you are looking for a well-built smartwatch at an affordable price then NoiseFit Evolve Sport is a perfect pick. It comes with a 1.2-inch AMOLED screen with touch screen controls and the display seems really good. The best part about this smartwatch is how elegant it looks with its aluminum alloy case and huge dial. With this smartwatch, you get all kinds of fitness tracking features like sleep tracker, step and calorie counter, hear-rate monitor and a lot more. It also supports more than 9 sports mode including your daily activities like Walking, Running, Mountain Climbing, Yoga and more. Not to mention, the watch is also waterproof and IP68 sweatproof rated.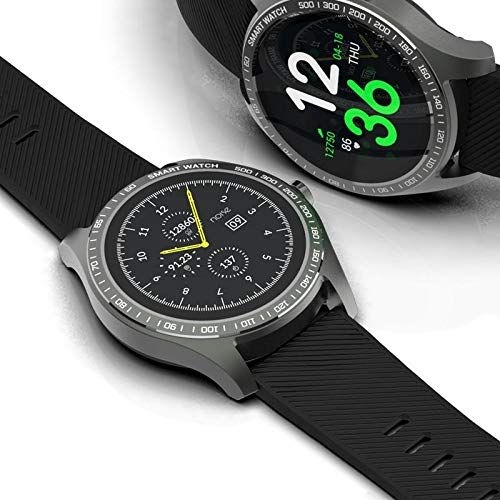 But that is not all, you can use it as a normal Analog watch as well which looks quite classy. In the Analog mode, you get 10 days of battery life and with all the smart features turned on, you get 3 days of battery life on a single charge. And best of all, you can quick-reply to WhatsApp and other messaging apps as well which is quite unique in this price range. Simply put, NoiseFit Evolve Sport is an excellent smartwatch and you can't go wrong at this price.
Compatibility: Android, iOS
Pros:
Affordable price tag
AMOLED screen
IP68 certification
Quick Reply Support
Many fitness tracking features
3-day battery life
Analog mode
Cons:
No onboard storage
No app support
Buy NoiseFit Evolve Sport: ₹5,999
Best Smartwatches You Should Consider Buying in 2020
Well, that ends our list of best smartwatches you can buy in 2020. Of course, more smartwatches with better internals and features will be made available throughout the year, but these are ones that are worth considering right now. We'll be updating the list as and when we come across something new and interesting, so be sure to keep an eye on this list.
---
Load More