Earlier today, Apple released the public beta for watchOS 7. The beta is available to anyone with a compatible Apple Watch to install and try without requiring a developer account with Apple. So, if you're unable to wait for the stable release later this year, here is how to install watchOS 7 Public Beta on your Apple Watch right now.
watchOS 7 Compatibility
The following Apple Watch models are compatible with watchOS 7
Apple Watch Series 3
Apple Watch Series 4
Apple Watch Series 5
Do note that all features may not be available on all models of the Apple Watch.
How to Install watchOS 7 Public Beta
Note: Even though public betas are usually more stable than developer betas, it's not recommended to install them on your daily driver devices. If you still choose to do so, make sure you create a backup of your Apple Watch before attempting to install beta software. We are showing you the process using an Apple Watch Series 5.
Note: You will need to update your iPhone to the latest public beta build of iOS 14 in order to install watchOS 7's Public Beta. Make sure you have done that before proceeding with this guide. If you need help, check out our article on how to install iOS 14 public beta.
Head over to the Apple beta website from the iPhone your watch is paired with, and sign in with your Apple ID.
Tap on 'watchOS'. Scroll down, and tap on 'enroll your Apple Watch'.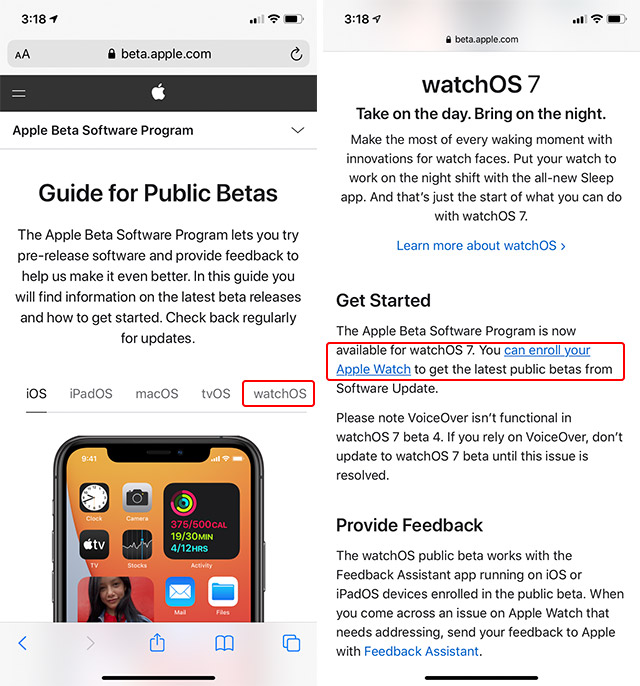 Now, tap on 'Download profile'. Next, tap on 'Allow' when the pop up asks you if you want to download the profile.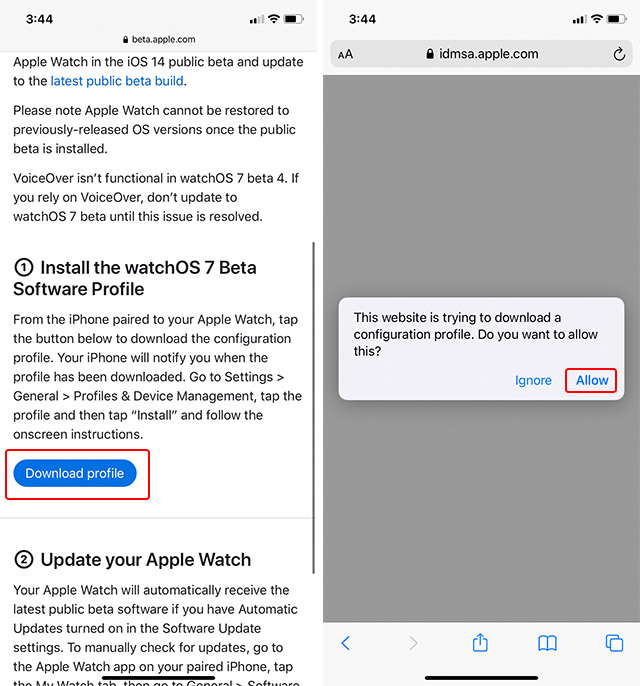 You will now be taken to the profile installation screen. Tap on 'Install' in the top right corner and enter your passcode.
You will be asked to restart your Apple Watch. Simply tap on 'Restart'.
Soon after your Apple Watch restarts, you will receive a notification to download and install the public beta. If you don't, you can check it manually as well. Just head to the Watch app, and go to 'General -> Software Update'.
That's it, you can now download and install the watchOS 7 Public Beta on your Apple Watch.
watchOS 7 brings a number of useful new features to the Apple Watch including private MAC addresses, sleep detection, handwash detection, customisable control center and more. To learn more you should check out our article on hidden watchOS 7 features as well.