Over the past few years, we have seen a boom in EV mobility across the world. Although late to the party, India is gradually becoming a viable market for electric vehicle businesses and customers alike. From electric cars like Nexon EV to electric scooters like Ather 450X and Ola S1 Pro, the EV revolution is finally making waves in the country. However, one crucial factor that creates hesitation among potential customers is the availability of chargers. Considering the rising popularity of electric vehicles, we have listed a few methods to find EV charging stations near you in India. These apps and websites will make it easier for you to locate electric vehicle charging stations in the country.
Best Apps and Websites to Find EV Charging Stations in India (2022)
Finding an EV charging station is no longer a hassle, thanks to charging station aggregators and first-party apps from leading charging network providers. Without further delay, let's take a look at the possible options.
Google Maps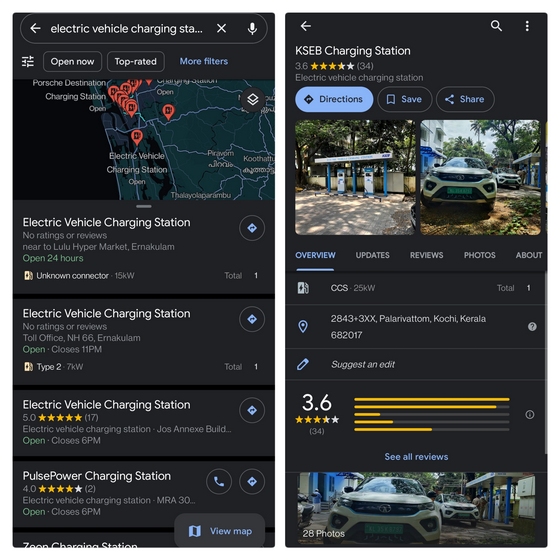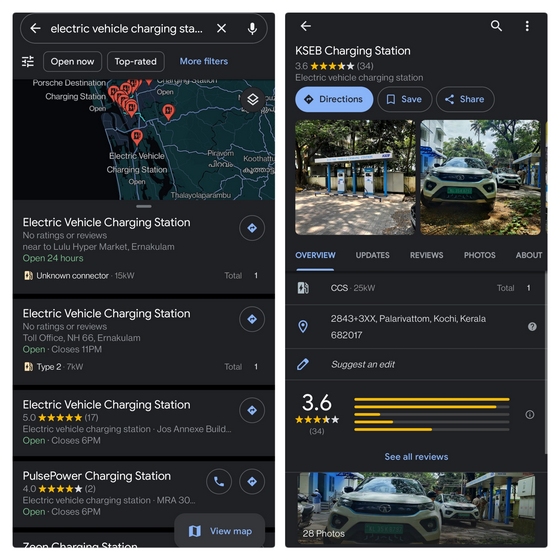 As one of the best GPS and navigation apps for iPhone and Android, Google constantly adds helpful new features to Google Maps. One such feature is the ability to locate EV charging stations near you. All you have to do is search "electric vehicle charging stations" or "EV charging stations" and Google Maps will show you nearby charging stations along with the charging plug and output power. This is the easiest way to find charging stations around your location in India.
Download Google Maps (Free, Android and iOS)
EV Plugs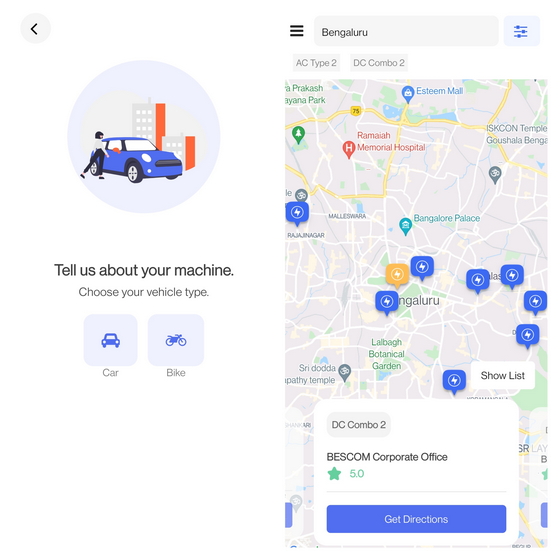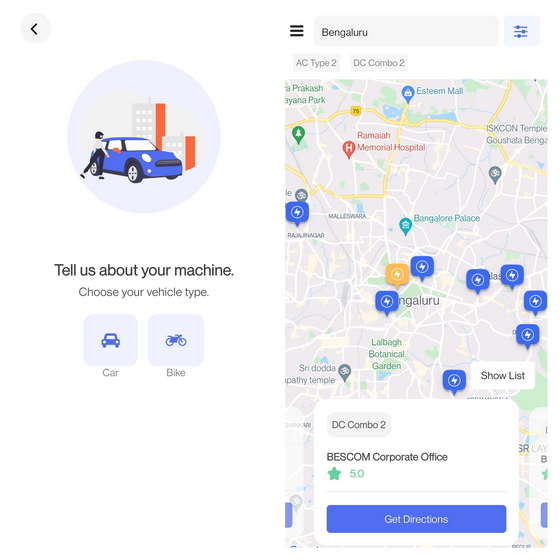 Claimed to be India's first EV charging station aggregator platform with over 1,000 listings, EV Plugs is a convenient mobile app to find charging stations from EESL, Tata Power, Statiq, Magenta, Ather, and more. After downloading the app, you can pick whether you own an electric bike or a car to instantly find compatible charging stations. You will also see navigation directions from Google Maps in the app. Not just that. The app also has filters to sort charging stations by plug type and distance, which should come in super handy as the EV charging station network grows in the country.
Download EV Plugs (Free, Android and iOS)
Statiq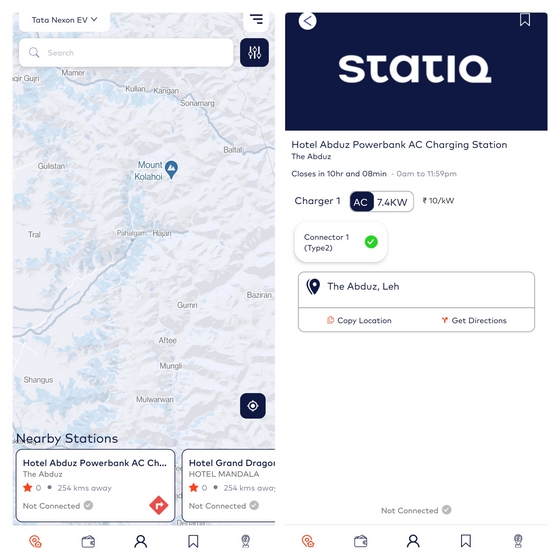 Another charging station app to consider is Statiq. Unlike EV Plugs, Statiq has its own charging network with over 150 charging stations and lets you book a slot and make payments. Statiq also shows you the real-time status of the charging stations, distance from your current location with directions, price per kW, and operating hours. Overall, Statiq is a feature-packed app for finding chargers in the company's charging network.
Download Statiq (Free, Android and iOS)
Tata Motors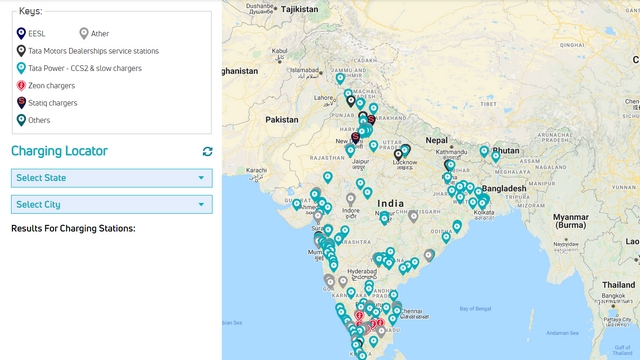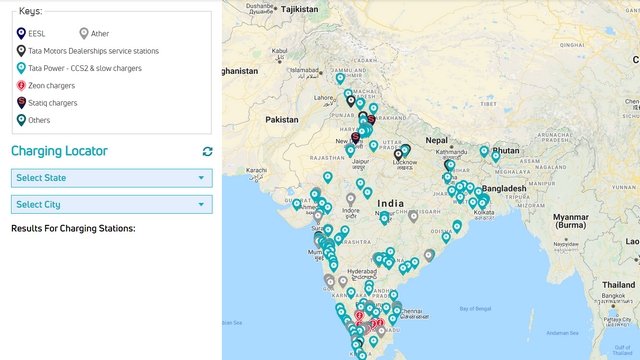 To help Nexon EV owners conveniently locate charging stations, automaker Tata Motors has launched an easy-to-use EV charging point aggregator website. Other than Tata Motors dealership service stations, the website lists chargers from EESL, Ather, Tata Power CCS2 & slow chargers, Zeon chargers, and Statiq chargers. However, you won't see the real-time status of these stations here.
Try Tata Motors Charging Locator (Visit)
Tata Power EZ Charge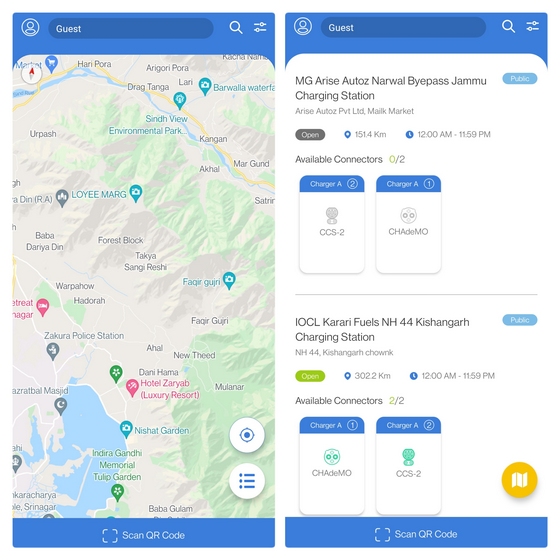 If you are someone who extensively relies on the Tata Power EV charging network to charge your electric vehicles in India, you should consider installing the Tata Power EZ Charge app. It offers you all the essential details, including the distance, operating hours, real-time status, and available connectors and connector types. Since it is dedicated for Tata's charging network, you can also use the app to pay for your charging sessions with ease.
Download Tata Power EZ Charge (Free, Android and iOS)
ChargeList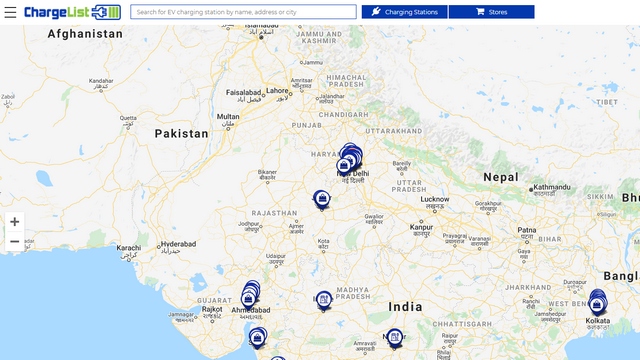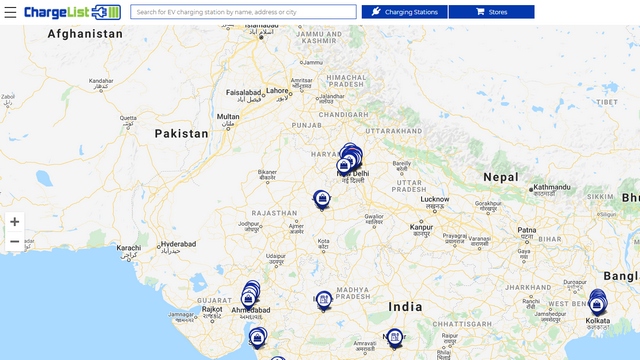 ChargeList is another website you can check out for locating charging stations in India. However, it isn't just as sophisticated as competing offerings and takes a simple approach instead. You can browse through ChargeList's map view to check out listed charging stations across the country.
Try ChargeList (Visit)
Frequently Asked Questions (FAQ)
Q. How Much Does It Cost to Charge an Electric Vehicle (EV) in India?
The cost of charging an electric vehicle in India changes based on the region. For instance, the cost of charging an EV in Delhi is Rs. 4.5 per unit for low tension EVs and Rs. 5 per unit for high tension EVs. Meanwhile, the price is around Rs. 15 per unit in Mumbai and Rs. 7.28 per unit in Bengaluru.
Q. How Many EV Charging Stations Are There in India?
At the time of writing this article, there are almost 1,000 public EV charging stations in India, with plans to expand the infrastructure in the future.
Q. Is There an App or Website with All EV Charging Stations List in India?
Yes, you can use an app like EV Plugs to browse all EV charging stations in India. There are also apps like Statiq and Tata Power EZ Charge to check the real-time availability status of charging stations near you.
Q. Can My Electric Vehicle (EV) Be Charged at Home in India?
Yes, you can charge your electric vehicle at home in India with a compatible plug and charging mount.
Q. Does India Have Tesla Charging Stations (or Superchargers)?
Although Tesla hasn't installed charging stations in India yet, we could expect the company to install its charging stations in India as part of its expansion plans.
Locate EV Charging Stations Near You in India
Although not as ubiquitous as petrol pumps at the moment, the EV charging network in India is growing at an exponential pace in India. If you are someone who has just purchased their first EV, we hope this article helped you navigate the complex world of charging networks to ensure you never run out of juice. If you use a charging station app that's not mentioned above for finding charging stations, let us know in the comments.
---
Load More