We all use our iPhones for a variety of tasks, every day. One of these tasks is getting directions to places that we'd like to visit, or checking up on traffic on our commute to and from work. Maps, GPS, and navigation apps are what we use in these situations to figure out the best route to reach a destination and to get an idea of how long it will take us to get there. Say, you're visiting a new city, and you need to visit the best places that the city has to offer; it's GPS and navigation apps to the rescue. The same goes for situations where you want to prevent getting lost in a new, unknown city. With that in mind, here are the 10 best GPS and navigation apps for iPhone, that you should consider having on your device in 2020.
Best GPS and Navigation Apps for iPhone in 2020
When you are spoilt with choices, nailing down the one that can meet both your taste and demand becomes a little tricky. But worry not, this is where a few tips have a decisive role to play. So, breaking down them all right at the beginning would be the right way to go, wouldn't it?
What Sort of Navigation App Should You Choose?
With time, navigation apps have become really smarter and of course more helpful than ever before. While Google Maps can still claim to be ahead of the pack, rivals have caught up really well – so much so that some of them even beat Google's famed offering on quite a few fronts. As to what can fit ideally to your needs, look at each app from the eyes of your top priorities i.e live traffic updates, offline maps, detailed travel guide, and more. To help you easily pick out the one that's most likely to get along with your requirements, we have highlighted the top features of each app, while also giving a sort of one-line verdict. With that said, let's hop onto the top GPS and navigation apps for iPhone, shall we?
1. Google Maps
You didn't expect any other app to slot in at the top spot, did you? Needless to say, Google Maps is by far the most widely used, and trusted GPS, and navigation app in the world. Developed by Google, and distributed for free, the app features accurate traffic data, multiple modes of transport for navigation and directions, as well as automatic re-routing in navigation due to traffic conditions, or missed turns, and exits.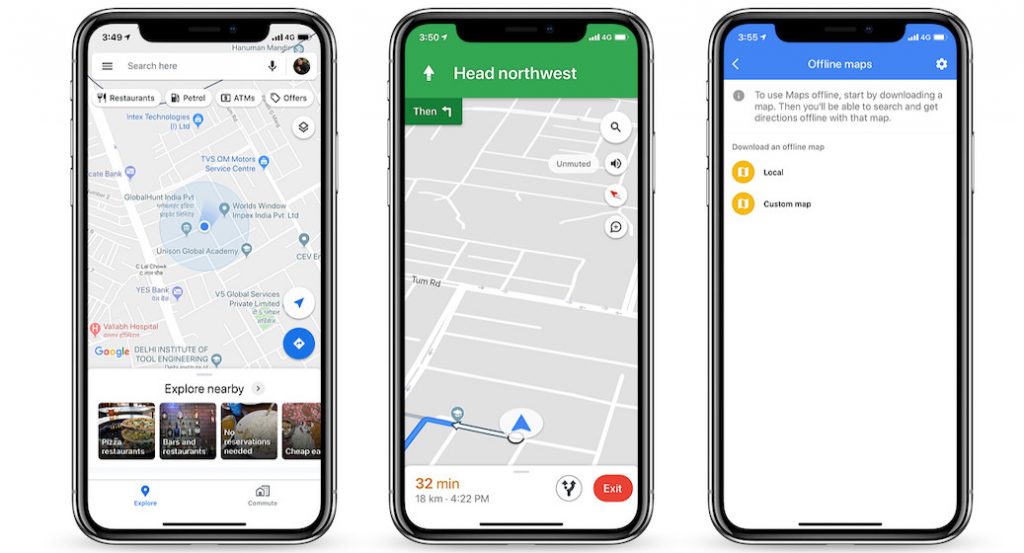 The app also features street view, and indoor imagery, to allow users to virtually visit a place, before deciding on physically visiting it. Best of all, though, is the feature that allows users to save maps for offline use so that they can get directions, and search the offline maps, even when they don't have any data connectivity. This can prove extremely handy while visiting new cities, or going abroad.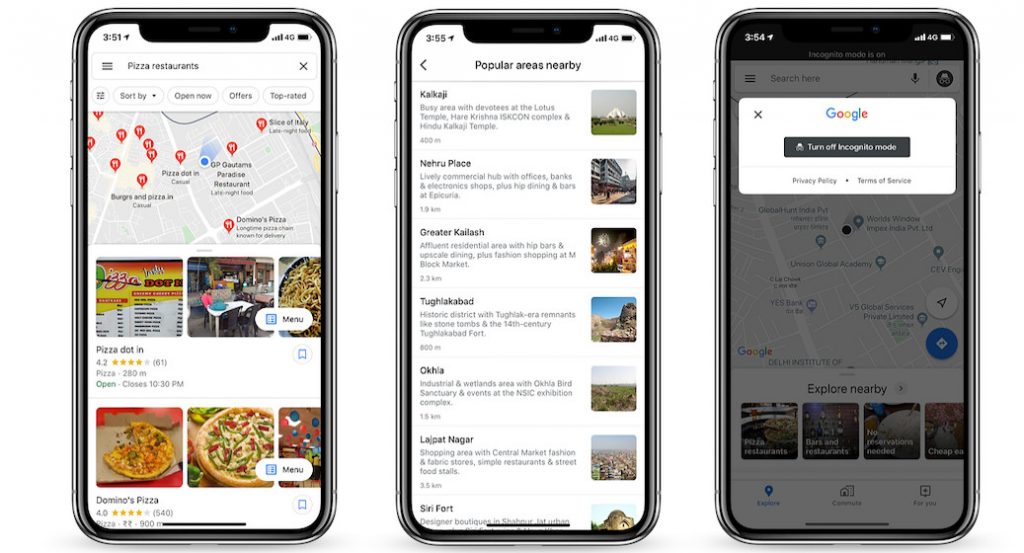 One of my favorite features of Google Maps is the ability to create a shortlist of options and vote in real-time. Times when you are planning to go for a memorable holiday with your buddies, this feature can come in super handy. Not to mention the incognito mode that lets you use the app privately. Oh yes, you can also create a nice collection of all of your favorite places and share them with your friends and loves. But these are just the tip of the iceberg. Google Maps has got several tricks under the hood which you should explore. Long story short, if you want a navigation app to offer you more flexibility along with the most accurate results, Google Maps has to be your top bet.
Price: Free
2. Maps.ME
Maps.ME is a free app that boasts of maps for over 600 cities across 100 countries. So, no matter where you're going, chances are Maps.ME will have the maps for that place. The app is aimed at tourists, and people who're traveling, and includes detailed maps, including restaurants, tourist destinations, gas stations, etc. For hill-stations, Maps.ME includes ski-slopes and stations. The app also allows users to download maps for offline use, and search them without any data connectivity. In terms of accuracy, it's up to the task thanks largely to the ever-growing OpenStreetMap (open-source) contributors.
Whether you want directions to point of interest, hiking trails or the spots missing from other maps, it has got you covered. Keep in mind, while this navigation app is available for free, not all the goodies come in the freemium version. So, you will have to spend a few bucks, if you want to unlock your favorite features. Pricing aside, if you want a simple GPS and navigation app for iOS that can serve as a detailed travel guide, Maps.ME can live up to your expectations.
Price: Free, in-app purchases available
3. Waze
Waze is an app from Waze Inc, that got acquired by Google, back in 2013. The app is crowdsourced and depends on the users to source its traffic data. It allows users to report accidents, hazards, road closures, etc, in order to help other drivers using the app. So, if the traffic is jam-packed, the app will change it to ensure you don't get stuck. You can keep a track of alerts about traffic, police, and accidents so that your journey can remain swift. The app also features turn-by-turn voice navigation and incorporates an ETA sharing feature, that allows users to share their ETA with the people they're meeting. Besides, it can help you find the cheapest fuel along the route to help you save money.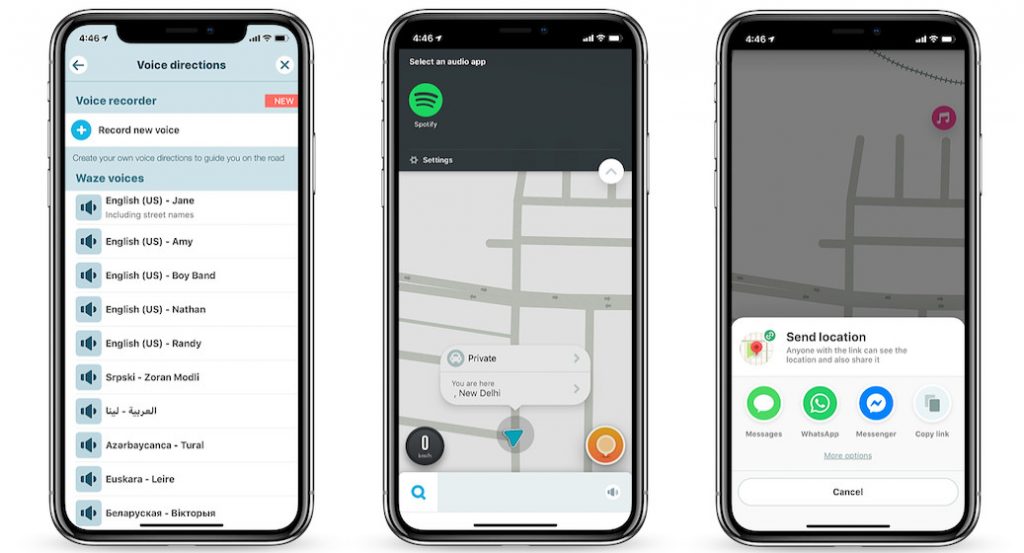 If you have a liking for music, you will have the needed freedom to play your favorite music apps and also listen to podcasts during the long drive. But these are just a few highlights as the app has got more tricks up its sleeve than what meets the eyes. Overall, if you want your journey to not get stuck due to unexpected things, look no further than the Waze navigation app.
Price: Free
4. Apple Maps
Gone are the times when Apple Maps felt like just making numbers on the iPhone. While the app is still nowhere near Google Maps in terms of features, it has caught really well in recent times thanks largely to the arrival of a host of new features including ETA sharing, the option to avoid tolls and motorways and more. The app features a simple interface, and focuses on letting the user choose the destination, and then providing them with directions, and navigation.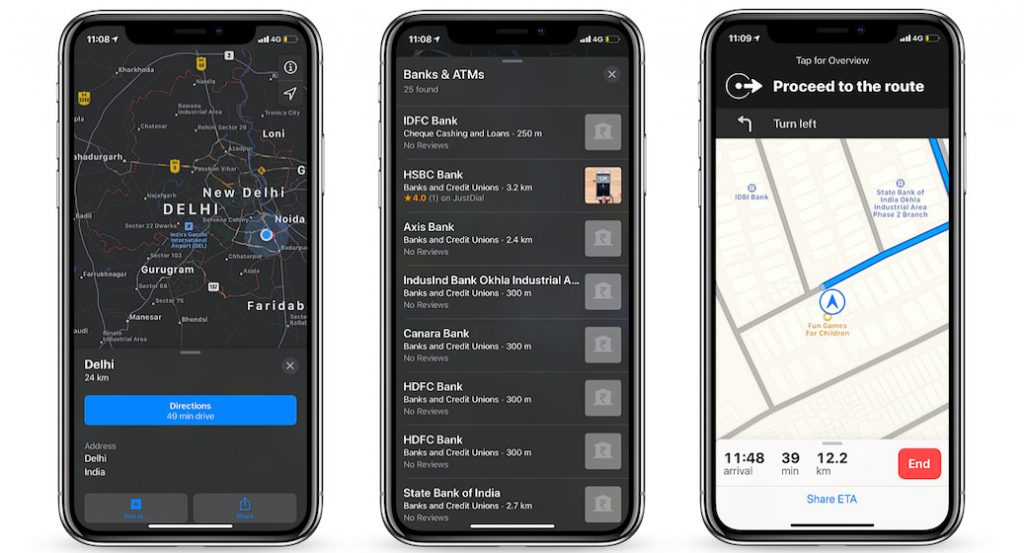 Probably the best part about using Apple Maps is its seamless integration with Siri and the fact that it gets displayed on the lock screen, as well, which means that users can take a quick glance at the navigation, even if their phone got locked while driving. If you're using a car equipped with an Apple CarPlay system, then using Apple Maps gets even better. As soon as you park your car, and get out of it, your phone automatically marks the location on the map, so you don't forget where you parked your car. This can prove extremely useful in new places, and cities.
To find out more about Apple Maps, head over here.
5. CityMaps2Go
CityMaps2Go is an app that features detailed maps that can be saved offline by the users, in order to be accessed even when there is no data connectivity. The maps can be saved for cities, states, or even entire countries in one go. With more than 150 countries and 60000 destinations, it has got one of the most detailed and massive maps ecosystem. On the map, users can save places, and add them to lists. They can also organize the saved places into the categories that they want.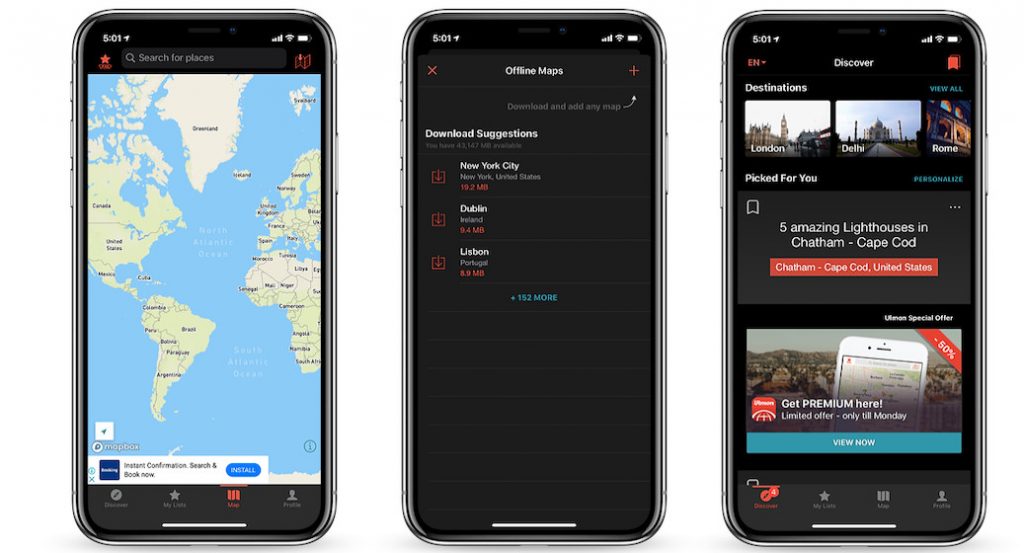 For example, you could save some sightseeing places in a list of "Things to See", while some restaurants might be saved in a list of "Places to Eat", etc. The app basically aims to make it easier for users to plan their visits to other cities. Users can get directions to places saved in the app by using apps such as Apple Maps, Google Maps, etc., and can also order an Uber directly from the app itself. Plus, they can also organize trips with lists. Though the free variant of CityMaps2Go has got all the essential features, you will need to spend a few dollars extra to access all the top goodies without any limitations.
Price: Free, in-app purchases available
6. Scout GPS Navigation
The Scout GPS Navigation app features real-time traffic, and speed updates, to ensure that users always know when they'll reach their destination. Before starting navigation, users can click on all the available routes to get turn-by-turn directions for the selected route. As it's powered by OpenStreetMap, it offers accurate information. The app also allows users to share their ETA with one or more of their contacts, and features a list of frequently contacted people, to make it easier for the user to share their ETA on the go.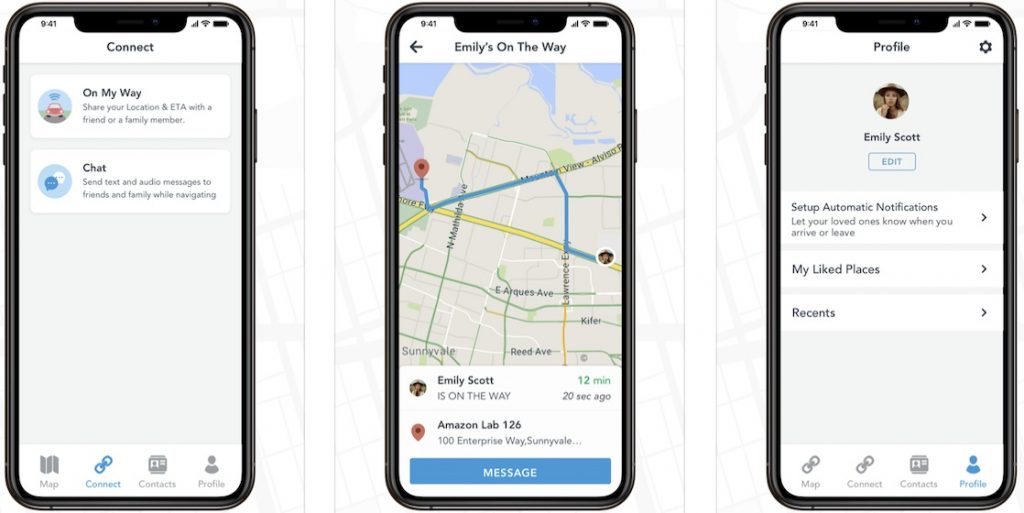 Scout GPS Navigation also allows users to download the maps for offline use so that users can access the maps, and get directions even when they are offline.What has caught my eyes in this app is the voice chat that allows users to stay connected with friends and loved ones with ease. While Scout GPS Navigation comes for free, you will need to shell out some bucks to put your hands on all the features without any restrictions.
Price: Free, in-app purchases available
7. Sygic GPS
Sygic GPS is another great GPS app for the iPhone, that features voice-guided navigation, along with live-traffic updates so users know the exact traffic conditions at all times. The app features speed camera warnings, along with dynamic lane guidance for safe lane changing. With the handy voice-guided navigation at the disposal, you can focus on driving their car, without having to look at the navigation screen every few seconds.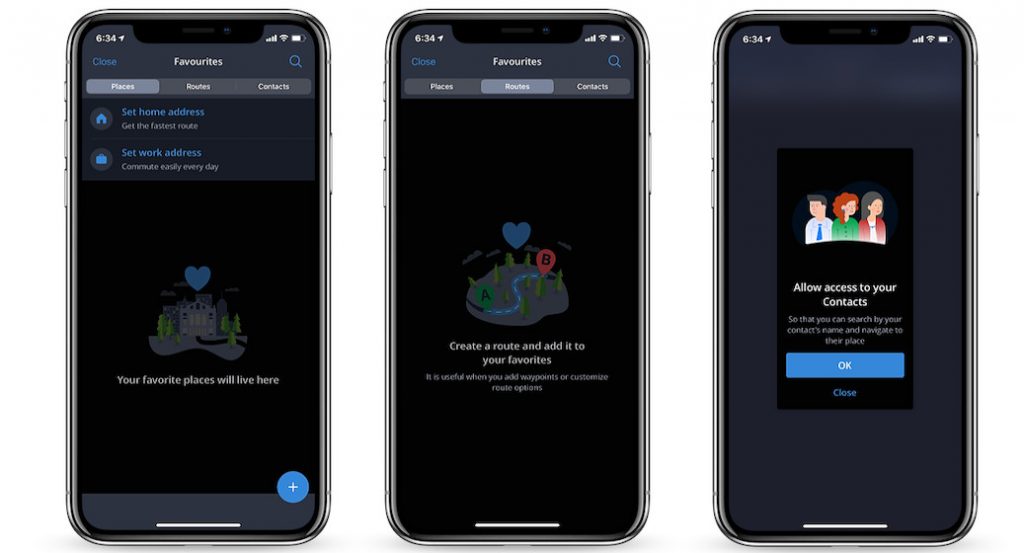 And, when you arrive at their destination, the app offers parking suggestions, along with availability, and pricing. Plus, it also provides pedestrian GPS navigation with useful walking directions so that you can comfortably roam around even at a foreign place. Moreover, the dashcam automatically records the road ahead and captures a video that can prove quite helpful in case of an accident. Another notable feature of this app is the seamless connectivity with Apple CarPlay, ensuring you have easy access to the needed navigation features without any hassle.
Price: Free, in-app purchases available
8. Here WeGo
Here WeGo is the name of the map app previously known as Here Maps, by Nokia. Providing coverage in over 100 countries and public transit information for more than 1300 famous cities including New York, London, Berlin, Munich, Paris, and Barcelona, it's at par with the best in the business. The app features multiple modes of transport for navigation and allows users to save maps offline so that they can be accessed even when there is no data connection available. The offline functionality of the app includes street information as well so that users can get turn-by-turn navigation, even when they are offline.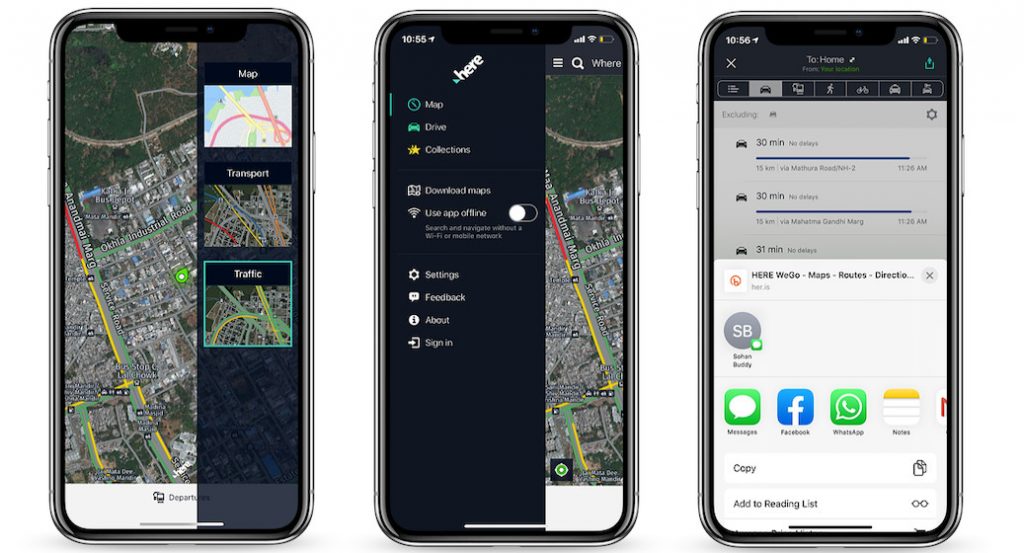 If you are planning on using public transport, or taxis for their journey, the app allows you to check the prices of tickets, or the taxi fare for the location that they want to go to. Just like many of its counterparts, it also offers offline maps so that you can navigate places without having to burn your cellular data. What's more, the app features integrations with popular services such as TripAdvisor, BlaBla Car, Expedia as well to help you plan your travel without having to hop from one end to the other.
Price: Free
9. MapQuest
The MapQuest app features voice-guided turn-by-turn navigation, along with real-time traffic updates, and automatic re-routing based on traffic conditions on the road ahead. Therefore, you can avoid most gridlocks, and have as smooth a journey, as possible. And with the fully optimized routing, it helps you save plenty of precious time. Another feature that makes it quite helpful for travelers is the option to compare prices of nearby gas stations. Thus, finding the one that offers the best deal should never be a problem.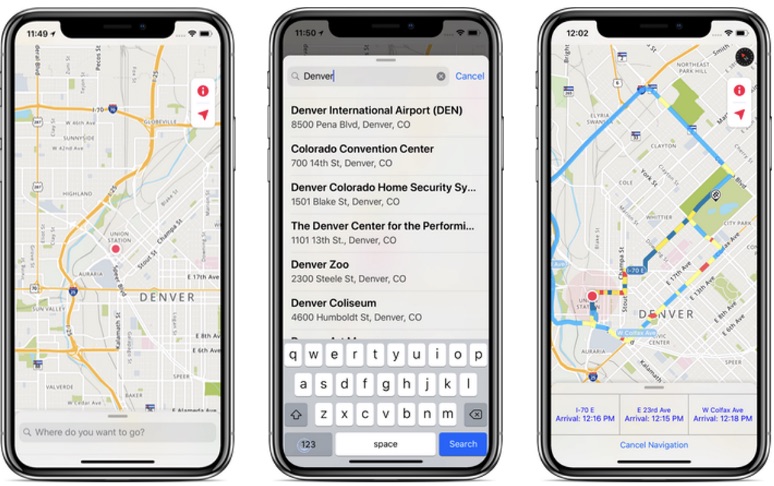 The app also allows users to share their ETA with friends and family so that they have a fair idea of when to expect them. Along with that, the app lets users search for nearby points of interest such as bars, hotels, and more. On top of all, you can also view local weather to avoid being stuck in bad weather. Overall, MapQuest is one of the most loved GPS and navigation apps for the iPhone and iPad.
Price: Free
10. Triposo
The Triposo is app is not so much a fully-fledged GPS and navigation app, as it is an app aimed at tourists. The app doesn't feature a complete world map. Instead, it features maps of a lot of the major tourist destinations worldwide. The maps for these cities can be downloaded by the user for offline use for uninterrupted navigation even without a cellular connection. These maps feature a plethora of points of interest in the selected city and allow users to get directions to the points of interest that they want to get to.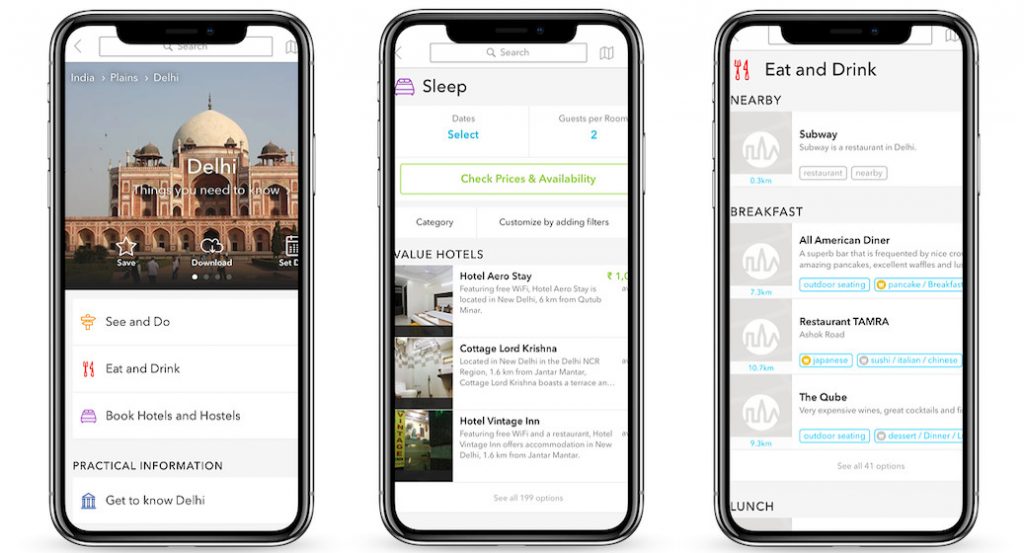 Perhaps the most interesting feature of the app, especially for tourists, is the ability to create city-walks. City-walks are short walks that a user can follow to visit some of the most important points of interest in the city. Users can choose to make the city walks short, or long. Being an app aimed at travel, the Triposo app also allows users to book hotels, tours, and activities, all from inside the app itself.
Price: Free, in-app purchases available
Use These iPhone GPS and Navigation Apps to Travel Like a Pro
Using these GPS and navigation apps for iPhone will ensure that you never get lost in a new city, or get late for work, due to traffic. These apps definitely make it easier to get around the city, without needing to ask people for directions. As always, we would like to know about your favorite GPS and navigation apps for your iPhone. Also, if you think that we missed out on a great GPS app that should have been a part of this list, make sure you let us know about it in the comments section below.