There are both pros and cons of living on the bleeding edge of technology. While the upshot is to get things done faster and more conveniently, the downside is that your security and privacy are always under threat. And if you want your data to be private, you should take advantage of a highly secure and reliable VPN service. While there are tons of virtual private networks available in the market, very few of them deliver the desired security and convenience. To help you find a more suitable option for your needs, we've handpicked the 14 best VPN for Windows 10 and Windows 11 PC, which are far ahead of the curve in 2022.
Best Windows 10 VPN (Updated 2022)
Just a little tip-off, recently we lined up the top VPNs for Android and VPNs for iPhone so that you are secure even when you are surfing the web on your mobile devices. And in this article, we bring you the 14 best VPNs for Windows 10 computers. You can take a quick look at the VPNs from the link below.
Note: With CERT-In's new directive requiring VPN providers to start maintaining laws, a number of VPN companies have shut down their servers in India. We will be mentioning the same in the descriptions for the VPNs that no longer offer Indian servers. You can still use these VPNs in India, but you will not be able to connect to an Indian server using these services.
Before we get to our list, there are a few points that we want to make clear. We have discussed some crucial points below so that you can make the right purchasing decision.
Vital Things to Consider Before Deciding on a VPN
To me, there are three pivotal things that make any VPN a great option: High-end encryption, speedy network, and compatibility. For enhanced safeguards, you can also bring no-log policy and shield against spamming as well as malware attacks into the mix.
Are Free VPNs Reliable?
Well, they rightly say, "When the product is free, you're the product." Most of the free VPNs are trash. However, there are quite a few free VPN services that are highly reliable and have a no-log policy. They do that by restricting speed and data allowance. The network speed on free VPN services is bad and you won't be streaming any high-quality content on them. You also get a small quota (normally between 500 MB to 5 GB) that you will use up in days. That's why you should be extremely choosy, especially when going for a free VPN.
VPNs to Avoid
As a rule of thumb, you should not trust the free VPNs that offer unlimited data if you are serious about protecting your privacy on the web. Most unlimited free VPNs collect some sort of metadata and sell the information to third parties for targeted advertisements. I would strongly recommend you to give a scant reading of the privacy policy before you pick a VPN.
Apart from that, stay away from VPNs which are based out of countries that regularly seek user's private data from tech companies. China and Russia are two broad examples, but the US is also considered a hostile country as far as strong privacy laws are concerned. Your safe bet would be VPN companies working under the jurisdiction of Europe.
List of Best VPNs for Windows 10 and Windows 11 PCs
1. ExpressVPN
Among a plethora of VPNs available for Windows PC, I've found "ExpressVPN" top-notch on all fronts. Of course, it's a bit more pricey. However, if you are willing to cross some extra miles for more trusted safeguards and pretty good speed, this one is undoubtedly the go-to option.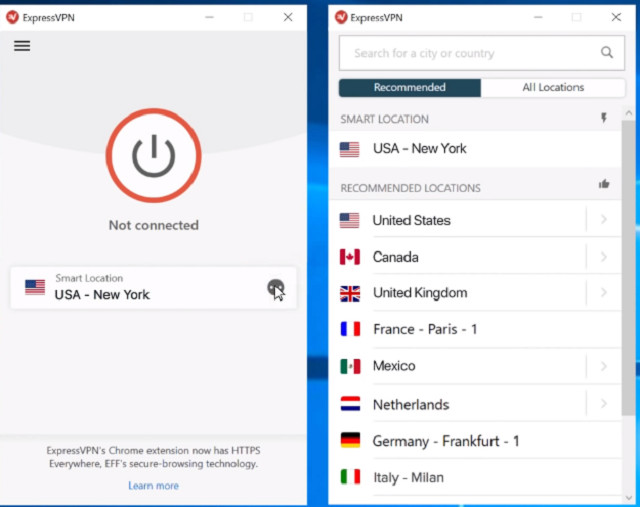 With more than 3000 global VPN servers, ExpressVPN boasts a solid network across 94 countries. That means you can enjoy a faster and more stable connection. On top of that, you get unlimited bandwidth to browse the web without any limitations. On the privacy front, this VPN app makes it crystal clear that it doesn't store your activity or connection logs. Besides, it keeps your entire activity concealed from the prying eyes.
Thanks to the top-of-the-line defense in the form of 256-bit AES encryption, split tunneling, DNS/IPv6 leak protection, and super handy kill switch, it ensures your confidential info stays within a safe territory. Therefore, you can surf the net with complete peace of mind, knowing all of your sensitive footprints are protected by a reliable safeguard. Moreover, it provides a pretty good 24/7 customer service to help you out whenever you need assistance.
Why Should You Choose ExpressVPN?
There are three things that make ExpressVPN a cut above the rest. First and foremost, it offers a bit more stable connections, allowing you to go about the business with no hiccups. Secondly, it's considered to deliver high security and privacy to your confidential info. And the third, it's quite easy to set up and use.
Don't Use If:
Some experts consider ExpressVPN's algorithm to be weak so if you are privacy-oriented then look for other VPNs on this list
Availability of Indian Servers:
ExpressVPN has taken its Indian servers offline. While you can still use ExpressVPN if you're in India, you will no longer be able to find (or connect to) Indian servers on the service. However, ExpressVPN is offering virtual servers instead. You can read more about ExpressVPN's decision here.
Price: $12.95/monthly, $99.95/yearly, 30-day money-back guarantee.
Visit: Website
2. ProtonVPN
What about having a reasonably good VPN without spending any bucks? Give a try to ProtonVPN, which is considered to be one of the best free VPN for Windows 10. To keep your sensitive data like passwords safe, it sends your internet traffic via a highly secure encrypted VPN tunnel. So, your information has the required defense even when you are using public Wi-Fi or unreliable internet connections.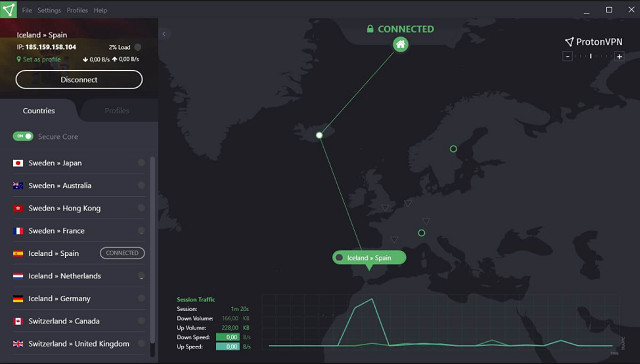 Moreover, this Swiss VPN provider has a trusted policy of not storing your data or selling it to any third-parties. Another feature that makes ProtonVPN useful is the integration with the Tor anonymity network. As a result, you will be able to route your entire traffic via the Tor network and have access to Onion sites.
As for user-interface, it has got a fairly clean and intuitive UI. Therefore, you can get through your task of web browsing or streaming music or watching videos without any hassle. Even better, the free version doesn't have any data or speed limit, allowing you to carry out your work with the needed liberty.
Why You Should Choose ProtonVPN?
As compared to many free VPN apps, ProtonVPN appears to be slightly more equipped. With no restriction on speed or data, it allows you to go about your business without any obstacle. Furthermore, it has a good reputation for offering essential security to browsing data.
Don't Use If:
Under the free tier, it only offers servers from three regions including the US, Japan, and the Netherlands. If you want more flexibility while choosing servers then others might be a better option.
Availability of Indian Servers:
ProtonVPN has, so far, not shut down its Indian servers. However, the company has a long-standing policy regarding operations in countries where it may be asked to collect user data. According to this policy, ProtonVPN will shut down its servers in countries where regulators or governments ask it to collect user data, or try to exert pressure on it to do so. You can learn more about this from ProtonVPN's blog post (visit).
Price: Free/ Premium version $4.99/monthly
Visit: Website
3. TunnelBear
"TunnelBear" is yet another VPN app that looks quite promising. Of course, the basic version has many notable limitations but if you are willing to just satisfy your basic demand, the free version can suffice your needs to a good extent. And just in case, you find the app living up to your demand, you have the option to upgrade to the premium version.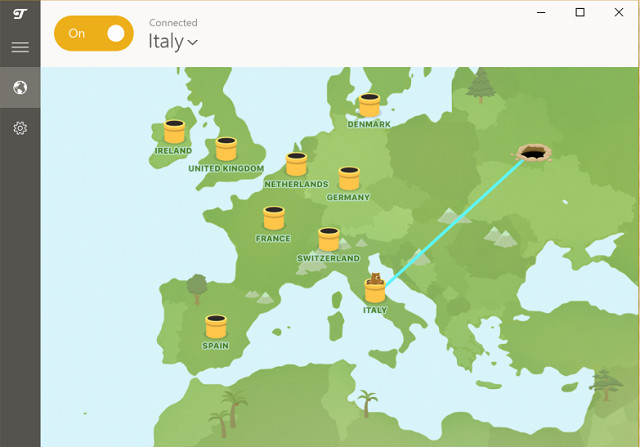 The free version of the app offers just 500MB of data a month, which is certainly too low for most people. But you can go for the premium version to make the most of unlimited data and browse the web without any hurdles. The pro version of the app will also let you enjoy the seamless connection on up to five devices simultaneously. That apart, you will also get reliable customer service.
Why You Should Choose Tunnelbear?
The reason why you should give a try to TunnelBear is that it works pretty well. The free version does have many restrictions but if you can accommodate your needs within them, it would be worth having a look at.
Don't Use If:
While TunnelBear is great, there is a connection limit of 5 devices which is bizarre. If you have more devices then find other VPNs from this list. Moreover, Tunnelbear is based out of Canada, which is a part of the Five Eyes Intelligence sharing initiative, and may be required to share data with government agencies.
Availability of Indian Servers:
Tunnelbear has shut down its Indian servers. You will no longer be able to connect to servers located in India. You can read more about this from Tunnelbear's post here.
Price: Free/ Premium version is available for $59.88/yearly and $99.99 for 2 years
Visit: Website
4. Private Internet Access
Should you want to pick out a slightly more affordable yet highly proficient VPN for your Windows 10 PC, "Private Internet Access" can be a smart deal. Moreover, it enjoys a very good reputation for protecting private browsing data.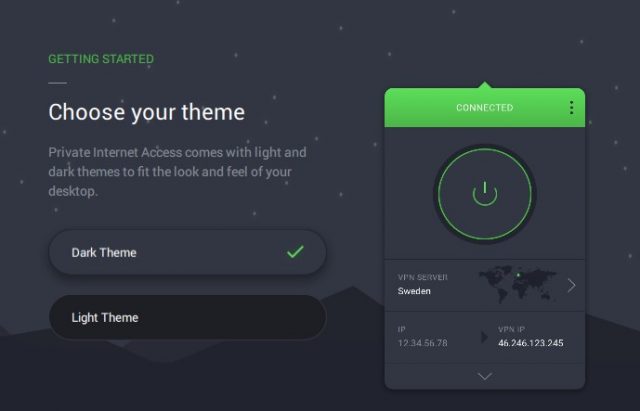 The app effectively blocks ads, malware, and trackers so that you are able to go through your job with the needed speed and safety. Thus, there is less chance of being distracted while surfing. Thanks to the fully encrypted Wi-Fi in the offing, your browsing session remains on the safer side. And with no traffic logs, all of your data stays private and away from the sight of hackers.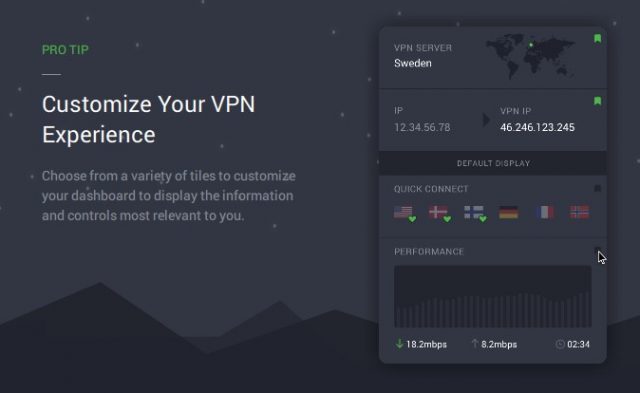 Beyond security, I like the hassle-free set-up which makes getting started so quite convenient. What's more, you can use it on as many as 10 devices at the same time. And with the P2P support, it ensures your personal dealings have the required confidentiality.
Why You Should Choose Private Internet Access (PIA)? 
It's nothing but the ability to protect your private browsing data that makes "Private Internet Access" a fine option. You can use it on 10 devices at once and even take advantage of P2P support. Moreover, it's incredibly easy to set-up.
Don't Use If:
Some users don't like the fact that PIA is based out of the US which is not seen as the best jurisdiction for user privacy.
Availability of Indian Servers:
Private Internet Access (PIA) has also shut down its physical servers in India due to the CERT-In directive. You can read about PIA's virtual servers and more here.
Price: $11.95/monthly
Visit: Website
5. NordVPN
For browsing the web anonymously and keeping your data fully protected, you can't go wrong with NordVPN. For long, it's been one of the most popular VPN services. One of my favorite features of this app is the ability to quickly connect to the best server. With the servers available in more than 60 countries, it has you mostly covered. Therefore, getting a strong connection shouldn't be a big ask for you.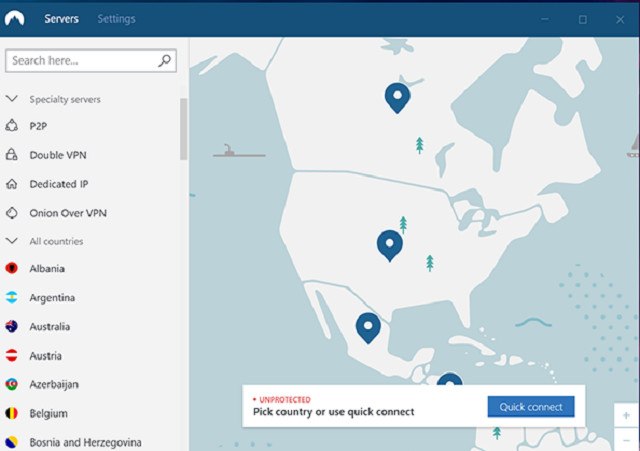 And with the high-end military-grade encryption, it provides an all-around defense to your data when using public Wi-Fi or for that matter any network. Thus, your web browsing session will be both smooth-sailing and private–away from the snooping eyes.
You have easy access to messaging sites, streaming video services, and social media without any roadblock of censorship. Well, if you are asking for more freedom, it shouldn't disappoint you. Not to mention the kill switch that won't let your confidential data be exposed.
Why Should You Choose NordVPN? 
There is a lot to like in "NordVPN." One of the most appreciable features of this VPN is military-grade encryption that keeps your personal information behind a secure wall. Apart from offering a high-end defense, it also excels in providing a fairly speedy and stable network. As for the price, it's pretty competitive.
Don't Use If: 
Although NordVPN is generally considered quite secure and well-guarded, it was hacked in 2018 which led to severe criticism against its security models. NordVPN claimed that the breach was only limited to one server. Anyway, if you can't compromise with your online security in any manner then look for the alternatives.
Availability of Servers in India:
NordVPN has shut down its servers in India from June 26 as well. You can read more about NordVPN's decision to shut down its servers in India here.
Price: $11.99/monthly, a 30-day money-back guarantee
Visit: Website 
6. Mullvad
Mullvad is kind of a niche VPN that not many people know about. It's one of the oldest VPNs out there and it was started in 2008 with headquarter in Sweden. The reason I am recommending this VPN despite its obscurity is that it does not compromise with security at all. All the major VPNs in the market including ExpressVPN and PIA deploy OpenVPN or L2TP/IPSec security protocols and frankly, they are pretty good. However, a modern VPN protocol called Wireguard has come up that utilizes state-of-the-art cryptography and it's supposed to be much better than OpenVPN both in terms of security and performance. You can check out a detailed comparison between OpenVPN vs Wireguard to learn more.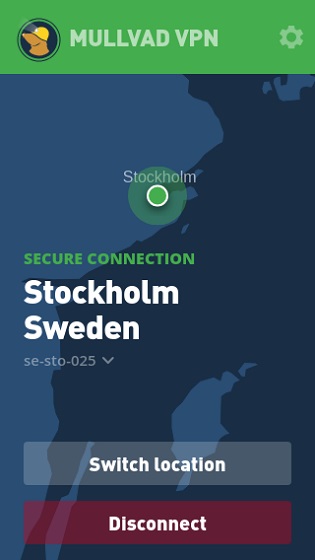 Mullvad is among the first VPN providers to implement Wireguard protocol in their servers and that makes it a highly secure VPN for Windows 10. I would say, go ahead and use the VPN on your PC to see the real difference in performance. And for what it's worth, Mullvad has 409 servers in 39 countries so that is great too.
Why Should You Choose Mullvad?
One of a kind VPN having a new security protocol and advanced cryptographic algorithms intended to always protect your privacy on the web. Apart from that, it's quite affordable in comparison to other premium VPNs.
Don't Use If:
Despite the promise, Wireguard security protocol has not been widely adopted which makes people believe that it's not ready yet. If you want to use a tried and tested security protocol then look for other options.
Price: $5/month
Visit: Website
7. Windscribe
Windscribe is another popular VPN that you can use on Windows 11. Unlike the premium VPNs, it offers a free tier as well. You have a data cap of 10GB per month under the free tier and that seems quite good. Further, Windscribe brings support for 10 countries all over the world under the free plan so that is great. And in case, you choose to get the premium plan then you will have 500 servers from close to 58 countries around the world. That's amazing, right?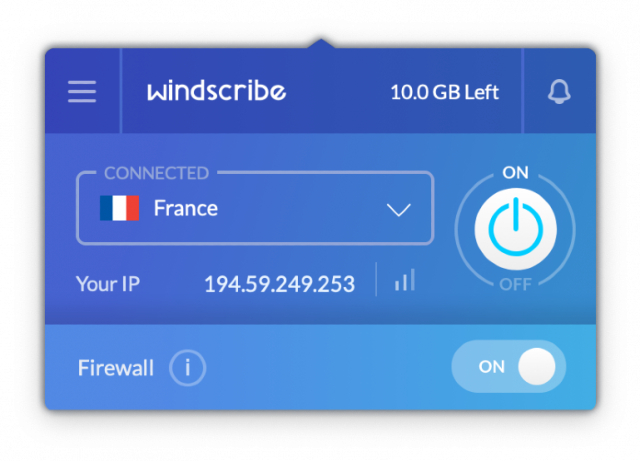 On top of that, Windscribe maintains that it does not log traffic data in any manner for both free and premium users. Further, Windscribe prevents your tracking on the internet with DNS Leak Prevention. Not to mention, if you want to choose your own VPN protocol like OpenVPN, IKEv2, SOCKS5 then you can do so with Windscride. All in all, if you are looking for a Windows 10 VPN that offers free data allowance in a month then Windscribe is a worthy pick.
Why Should You Choose Windscribe?
Windscribe offers you 10GB of free data usage which is quite sizeable and you won't find such service from other premium VPNs. In addition, it has DNS Leak Prevention and you have the option to choose from multiple security protocols.
Don't Use If:
While it does offer a long list of servers under the free tier, the speed is significantly reduced. So choose the VPN based on you want — server flexibility or fast performance?
Availability of Indian Servers:
While we couldn't find any official post or statement on the Windscribe website, reports have claimed that Windscribe has said that the company will keep servers running in India until hosting providers refuse service to them.
Price: Free, $9/month, $5.75 per month if paid yearly
Visit: Website
8. IPVanish
If you are hunting for a highly efficient VPN for torrenting and P2P traffic, IPVanish would be a better way to go. Powered by 256-bit AES Encryption and strict no-log policy, it doesn't let your data get exposed.
Plus, you will also be able to securely access censored apps and websites. Times when you don't want to get tied down by certain censorship, this feature could turn out to be extremely handy in allowing you to go about the job without any roadblock.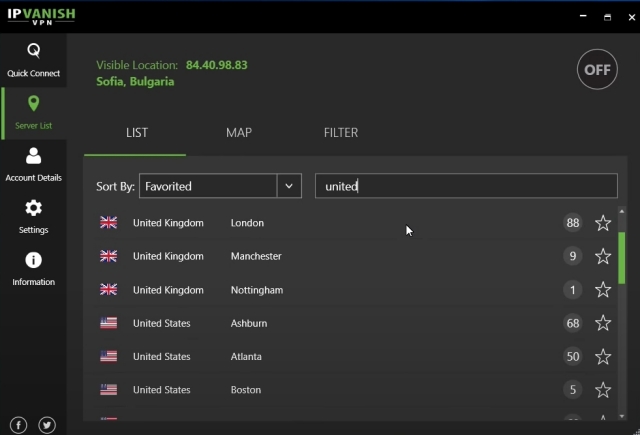 It has around 1300 anonymous servers, which is far less than many of its top rivals. But when it comes to providing a fast connection, it's second to none. Moreover, it offers unlimited server switching. That means you will be able to hop between servers without any restriction, which is a big plus.
Another appreciable feature is the ability to have as many as 10 simultaneous connections on multiple devices, which would make your life more convenient when switching from one device to the other. With no restriction on bandwidth, you can carry out your task freely. Regarding customer support, it's considered to be one of the most appreciable.
Why Should You Choose IPVanish?
The ability to offer proficient torrenting and P2P traffic makes "IPVanish" a clear favorites for professionals. Couple that with the speedy networks as well as the strict privacy policy and you have a virtual private network that can live up to the high demand admirably.
Don't Use If:
In 2018, IPVanish was accused of sharing personal information with the Department of Homeland Security, US. So if you put your online security above everything then look for other VPNs on this list.
Availability of Indian Servers:
IPVanish has also removed its servers from India. Therefore, you can continue using IPVanish to browse the internet from servers in other countries, but you will no longer be able to connect to servers in India. You can read more about this here.
Price: $7.50/monthly, $58.49/yearly, a 7-day money-back guarantee
Visit: Website 
9. CyberGhost
"CyberGhost" may not be as popular as some of its noted rivals but when you take everything that it offers into account, you will find it highly appreciable. The highlight of this VPN service is the huge network of 4800 servers spread in more than 61 countries. This robust network makes sure you are able to find a speedy server with ease. You can take advantage of the simultaneous connection on up to 7 devices to get your work done seamlessly. Due mainly to the stable connection, things like random buffering or the frustrating throttling won't hamper your web browsing.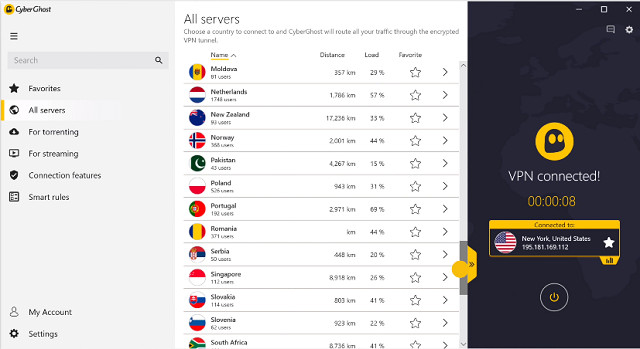 With the unlimited bandwidth at your disposal, you will have the maximum freedom to surf the web or use your favorite apps. Another department where CyberGhost is considered very good is offering essential privacy.
The no-log policy and the use of the advanced 256-bit AES Encryption make it a complete package. Not mention the IP leak and DNS protection that adds another layer of defense to your armory. Therefore, both your data and identity will get a dependable firewall to remain shielded and anonymous.
Why Should You Choose CyberGhost?
"CyberGhost" has a lot to offer. From a highly appreciable network of 4800 servers to uncompromised security, this VPN service ticks off most boxes. Moreover, its long-term plan is quite affordable. As for the 24/7 customer support, it's always readily available to help you out.
Don't Use If: It's owned by the same company that recently took over PIA. Many find this relationship unsettling, hence the suspicion against CyberGhost.
Availability of Indian Servers:
CyberGhost has shut down its servers in India. However, the company says it still offers virtual IP addresses in India. You can read more about this here.
Price: $12.99/monthly (14 day money-back guarantee), $71.88/yearly (45-day money-back guarantee)
Visit: Website
10. Hotspot Shield
"Hotspot Shield" claims to deliver ultra-fast virtual private network. And from what I have experienced after giving it a long run, I can say that this VPN service is definitely one of the fastest in the market.
With the help of it, you can quickly access a secure internet and connect to all of your apps. So, whether you want to chat with your funny buddies on social networks, stream videos, scan through the latest news or play high-octane games online, it can let you do all these things with the needed privacy.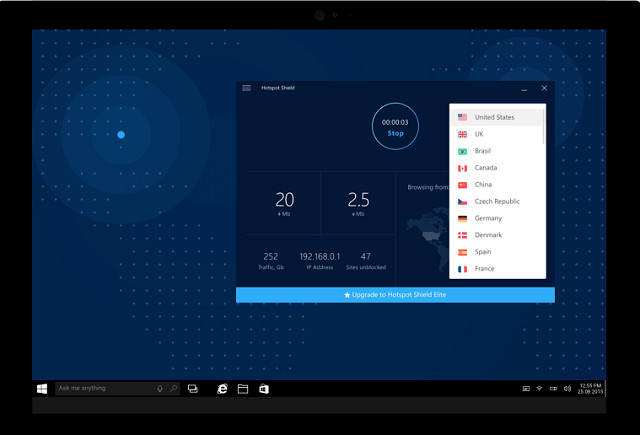 The multi-device compatibility offers you more flexibility, allowing you to get your task done from any of your devices. Using a single account, you will be able to install this app on up to 5 devices. As compared to some of its counterparts, the number is slightly on the fewer side. However, in a normal use case, it would be just good enough.
By completely shielding your web browsing session, Hotspot Shield makes your web browsing fully secure. Another feature that has called for my attention in this app is the ability to block over 3.5 million malicious sites. Thus, it will not just keep your data guarded but also protect your device from being attacked by malware.
Why Should You Choose Hotspot Shield?
Apart from being wicked fast, Hotspot Shield also offers high security to your web browsing session and data. On top of all, it's spot on when it comes to fighting out malware and phishing by blocking out malicious sites.
Don't Use If:
In 2018, the CDT (Center for Democracy and Technology) accused Hotspot Shield of following undisclosed data sharing practices' with advertising networks. I would suggest you to look for other VPNs if you want strong privacy protection.
Price: $12.99/monthly
Visit: Website
11. Betternet
If simplicity is what drives your search for a better free VPN that can work efficiently on your Windows PC, I would recommend you to give "Betternet" a chance. As someone who has given it an extensive run, I can vouch for its impressive functionality.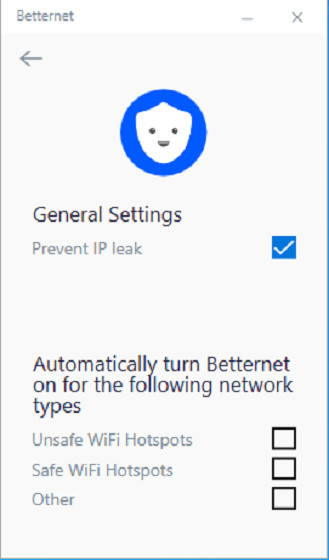 The virtual private network app has a pretty lightweight interface. And with the easy-to-use features, you won't have any hurdles in getting through your usual tasks. As for security, "Betternet" has a very reliable policy of not misusing your data or giving it away to any third-parties.
To ward off any compromise, it makes sure your internet connection is encrypted and well within a safe wall. It also battles out nefarious online scams and catastrophic malware attacks. So, you shouldn't worry about your privacy and the safety of your data.
Why Should You Choose Betternet? 
Purely based on performance, I think "Betternet" does deserve serious consideration. It seems to be a complete package on more fronts than one. For instance, you get your internet connection fully encrypted and also have enough speed to go about your business without any noticeable throttling.
Don't Use If: 
Some users complain that Betternet servers are very slow to respond and often, you experience ads as well.
Price: Free trial for seven days/ $12.99 monthly
Visit: Website
12. Hide.me
Just because "Hide.me" is placed in the 12th position; you shouldn't underestimate it. Really. As a free VPN app, Hide.me has covered most of the basics. So, you can use it to zoom through your usual task with a satisfying result. As it has the support for tons of connections, your work won't be hampered by stuttering or sloppy connections.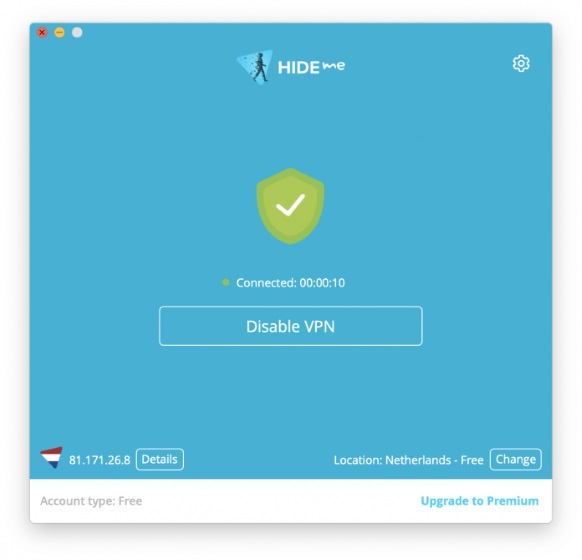 Courtesy the gigabit speed, your streaming videos, downloading apps and even playing games will remain smooth. Just like most of its reputed counterparts, it also has a very good zero log policy put in place.
The app also lets you take advantage of many VPN protocols such as PPTP, L2TP/IPsec, SoftEther, SSTP, and OpenVPN & IKEv2. To keep all of your data safeguarded, it uses the superior AES-256 bit encryption with 8192-bit keys. Besides, you can switch over to the pro version to have unlimited data transfer and five simultaneous logins.
Why Should You Choose Hide.me?
I would say yes if you want to have a very capable free VPN that does most of the things reasonably well. The availability of AES-256 bit encryption and the option to choose multiple VPN protocols are notable features. Besides, it also has a good track record of offering dependable security.
Don't Use If:
Smaller server network in comparison to other VPNs on this list. Also, you can't stream Netflix with Hide.me.
Availability of Indian Servers:
Hide.me has phased out its Indian servers as well. You will no longer be able to connect to Indian VPN servers using Hide.me. You can read more about this change on the official website (visit).
Price: Free, paid plans start at $9.95 monthly with a 30-days money-back guarantee.
Visit: Website
13. SurfShark
SurfShark is another of the best VPN service providers on Windows, offering up to 1Gbps speeds at affordable rates. Rated highly by torrent downloaders for offering a safe means to download movies and music without the fear of snooping by the copyright trolls, SurfShark provides a different IP address every time you connect, which makes tracing much harder.
The company also maintains a strict 'no-log' policy, whereby it doesn't monitor, track, or store what you do online. It also guards your personal data by using industry-leading AES-256-GCM encryption. IKEv2/IPsec is a default protocol on SurfShark, but you can still select to use OpenVPN if you want.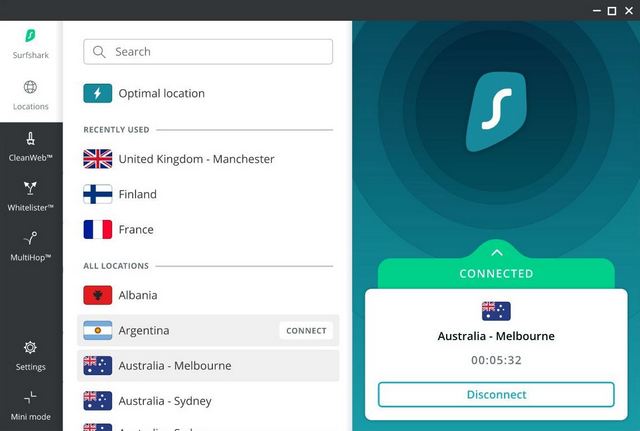 Another notable plus for SurfShark is that it is based in Virgin Islands, which is not a Five-Eyes country, which means it will not be forced to reveal your data to law enforcement agencies anywhere. SurfShark allows users to connect an unlimited number of devices per subscription. What's more, it also helps you unlock region-blocked content in streaming services like Netflix, making it an extremely popular option for many around the world.
SurfShark also has more than 3,200 servers in 65 countries, including the US, Sweden, Russia and India. Last, but not the least, the service is available on a whole host of platforms, including Windows, Linux, Mac, Android, iOS and Fire TV. Like many leading VPN clients, you can also use SurfShark through its browser extensions on Chrome and Firefox.
Why Should You Choose SurfShark?
Not based in a Five/Nine/Fourteen Eyes Surveillance Alliance, Unlimited devices per subscription, Support for OpenVPN, Access to Netflix and torrents
Don't Use If:
No automatic kill switch on Windows, Static IP addresses, No free trial on Windows
Platforms: Windows, Linux, Mac, Android, iOS, Fire TV
Price: Free trial (on Mac, iOS and Android), Premium plans start at $12.99 per month or $59.76 per 24 months
Availability of Indian Servers:
SurfShark was one of the first VPN providers to announce that it will shut down its servers in India due to the new regulation. The company has, however, made virtual servers available for users who need to connect to Indian IP addresses.
Visit: Website
14. StrongVPN (Previously Encrypt.me)
Another great VPN service provider is StrongVPN. Earlier we had Encrypt.me on this spot, which offers a fast, secured and reliable VPN service on multiple platforms. However, Encrypt.me is becoming StrongVPN now. It is priced at $10.99 for unlimited data. StrongVPN also offers content filtering options and lets you create private endpoints for isolation and dedicated IP addresses.
In terms of privacy, the service encrypts all connections for enhanced security. To back-up its claims of security, the company also carries out third-party audits and pen tests to evaluate its development, deployment and service management processes. That includes a service-wide code-open penetration test in 2016 and an app audit in 2019 to check possible risks for security breaches and leaks.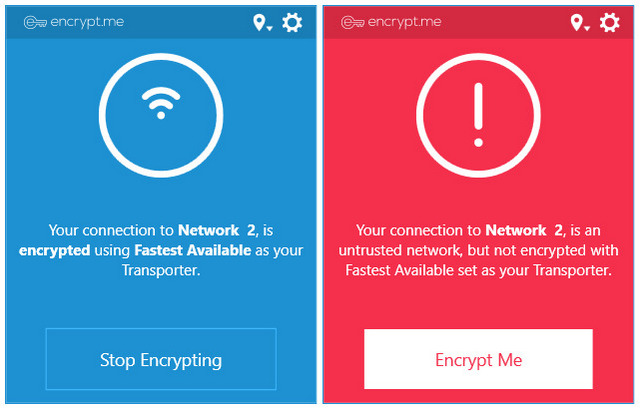 StrongVPN also uses multiple cloud providers that allows it to run servers in dozens of locations around the world. It also uses OpenVPN on Mac and Android, combining speed and security with 256-bit encryption. Users can also configure it by choosing from a number of protocols, including L2TP, PPTP, IKEv2/IPSec, or SSTP.
While Encrypt.me was not a zero-log service, StrongVPN has a no-log policy. That means you don't need to worry about your browsing activity or any personal information being stored on StrongVPN's servers.
Why Should You Choose Encrypt.me?
Support for L2TP, PPTP, IKEv2/IPSec, SSTP and Open VPN; Affordable plans
Don't Use If:
The issue with Encrypt.me is that it blocks Netflix and torrents. Plus, there's no kill switch on Windows. If those things are deal-breakers for you, consider using one of the other options on this list.
Platforms: Windows, Mac, Android, iOS, Fire TV
Price: Free 14-day trial, Premium plans start at $10.99 per month
Visit: Website
Frequently Asked Questions
Q. Are VPNs Legal?
Yes, VPNs are completely legal to use. However, if you commit an offense by using a VPN then your country can prosecute you, given that there is such a law in that jurisdiction.
Q. Can I Use VPNs in India?
India's new regulation has made it compulsory for VPN providers with servers in India to record and store data about their customers. As such, many VPN providers such as Tunnelbear, NordVPN, SurfShark, and others have taken their Indian servers offline. However, if you're in India, you can still legally use VPN services, although you won't have access to servers located in India.
Q. Which Free VPN is Best for Windows 10?
I would say, if you are looking for a free VPN for Windows 10 then ProtonVPN is a clear answer. It offers unlimited data allowance and allows users to choose servers from major regions. Not to mention, ProtonVPN does not log any kind of data for free users.
Q. Is a VPN Really Safe for Windows Users?
Yes, it is. VPNs are not just used for downloading torrents, but also to block online trackers and malicious cookies. In multiple ways, it helps you shield your privacy on the web.
Q. Does Windows 10 have Built-in VPN?
It does not have a built-in VPN, but you can set up a third-party VPN using Windows Settings. It will help you manage the VPN through system toggles rather than using the third-party application.
Q. How to Manually Set Up a VPN on Windows 10?
To manually set up a VPN on Windows 10, right-click on the Start Menu and open Windows Settings. After that navigate to Network & Internet -> VPN -> Add a VPN Connection. Here, choose the VPN provider from the drop-down menu and give a name. Finally, choose the security protocol and click on the "Save" button. Now onwards, you can turn on/off the VPN through the Action Center.
Use VPN for Windows 10 PC to Safeguard Your Connection
With so many top-notch options vying for your attention, I hope you've finally picked out the best VPN for Windows 10 PC. All the options are good and as mentioned above, everything comes down to your preference and what the needs demand. So, put your requirements into the right perspective and then choose the right VPN for Windows 10 that has all the ingredients to stand up to your task. Do let us know which Windows 10 VPN service you wen with by writing in the comments section below.