WhatsApp has consistently remained the most popular messaging app on Android and iOS. From sending instant messages to making full-fledged video calls and processing payments, there is a lot WhatsApp is capable of. However, there's one platform that the Facebook-owned messaging service has not paid a lot of attention to, and it's the iPad. So if you are someone who is tired of waiting for an official WhatsApp for iPad app, we are here to make things easier for you. We have created a complete guide to teach you how to set up and use WhatsApp on your iPad right away.
How to Use WhatsApp on iPad (2023)
The guide not only teaches you how to use WhatsApp on your iPad but contains some other points, including the limitations you might encounter during use as well. If you would rather read about them first, use the table below to jump to that section.
Set up and Use WhatsApp on iPad
Though WhatsApp doesn't have an official iPad app, the new WhatsApp multi-device feature makes it quite straightforward to start using WhatsApp on iPad. All you need to do is a simple one-time setup, and then you're good to go. What's more, you don't even need to keep your smartphone online, and you can directly use WhatsApp on the iPad.
Here's how you can set up WhatsApp on iPad:
Head over to the WhatsApp Web website in Safari on your iPad. You should see a QR code on the screen.
On your Android phone or iPhone, go to WhatsApp Settings -> Linked Devices. Here, tap on 'Link a Device'.
Scan the QR code displayed on your iPad, and WhatsApp will get linked to your iPad browser.
That's it, you can now start using WhatsApp on iPad without even needing to keep your smartphone online. Do note that the first time you connect your WhatsApp account to your iPad, it might take a while for all the messages to be downloaded, depending on your network speed as well as the number of messages you have on WhatsApp.
Create a Home Screen Shortcut for WhatsApp on iPad
Now that you've set up WhatsApp on your iPad, you can open Safari and access WhatsApp whenever you want. However, if you want to make things easier, you can create a WhatsApp shortcut on your iPad home screen as well. This way, you can easily access WhatsApp on iPad from the home screen. Here's how you can do this.
Open WhatsApp Web in Safari on your iPad. Tap on the share icon.
Tap on 'Add to Home Screen'.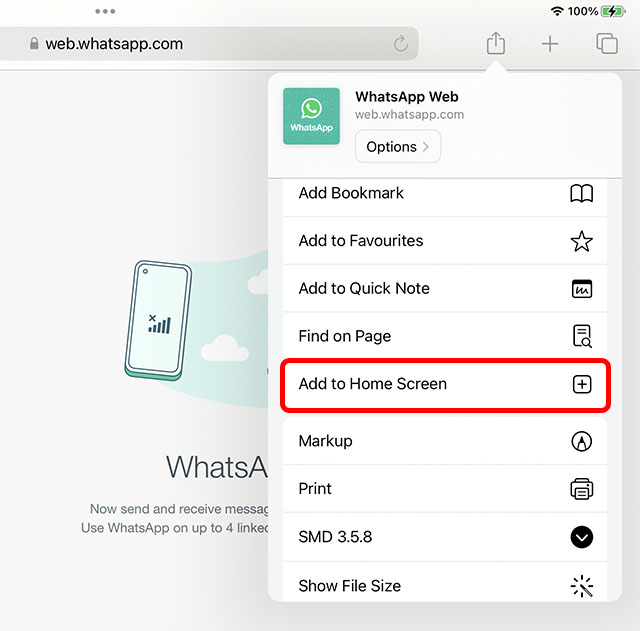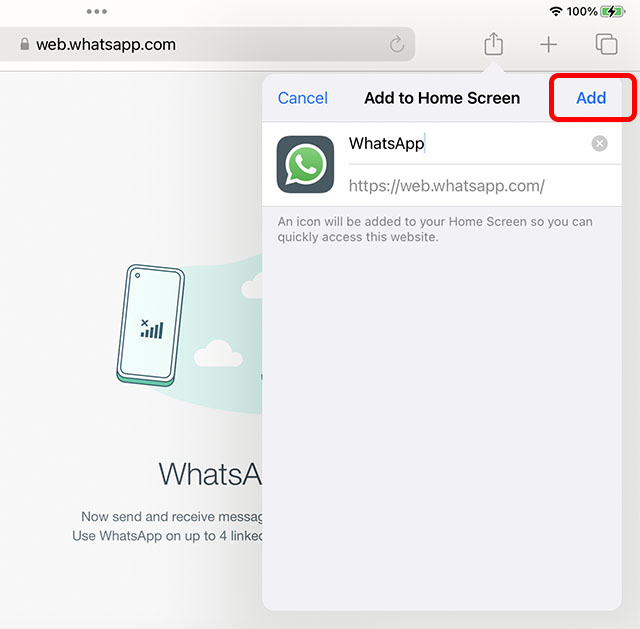 That's it, a shortcut to WhatsApp Web will now be added to your home screen, complete with the WhatsApp icon. You can just tap on this icon and launch WhatsApp web on your iPad easily.
Now that you have WhatsApp up and running on your iPad, you can use all the features available in the web version of the messaging app with ease. You can not only text people but also send them images, documents, and voice messages like you would do otherwise. Moreover, you can even view WhatsApp Status and use the dark theme in WhatsApp Web.
Does WhatsApp Work Natively on iPad?
While WhatsApp is available on Android, iOS, and PC, it is currently not available for the iPad officially. The App Store listing is only for iPhone users and as such iPad users cannot use WhatsApp. For that to change, WhatsApp will need to launch an official iPad version of the app.
Will WhatsApp Ever Come to Apple iPad?
Yes, Whatsapp could soon have a native iPad app. A while back, prominent WhatsApp tipster WABetaInfo revealed the possibility of the iPad having a standalone WhatsApp app. This report was fueled by WhatsApp's multi-device support, the details of which we will discuss below.
Apparently, the reason it's taking time is that WhatsApp needs to properly port the end-to-end encryption (and other core features) before an iPad app is made available to users. However, as things stand, there is a strong possibility that WhatsApp will get a dedicated iPad app soon.
Third-Party Apps to Use WhatsApp on iPad
We recommend sticking to the above method as it's not only the easiest but also a free method to use WhatsApp on your iPad. However, if you are inclined towards using a third-party app to get the job done, you can find many on the App store. Now be aware these apps use the same WhatsApp web framework and create their own overlay around it. However, if you are the type of iPad user who loves dedicated apps, you will need to wait for the official one.
For iPad users still wanting to check out a third-party option, we recommend the three selections below:
1. Messaging for WhatsApp on iPad
This third-party WhatsApp app is the most popular on the App Store with a ton of positive ratings. This paid app goes through the same steps of QR code scanning as explained above. However, it will make your life easier by opening WhatsApp in the form of an app, thereby only requiring users to scan and get started in a jiffy. However, do be aware that since this acts as a companion app, there will be periodic lag that might take away from your experience.
Get Messaging for WhatsApp on iPad (Paid, $2.99)
2. Whats Web App +
This companion app for WhatsApp on the iPad boasts encrypted app protection and multiple account management. So if you are a user who wants to log in with multiple WhatsApp numbers, this might be the one for you. Whats Web App+ even gives users access to a neat Status creator with templates and other customizations. However, do be aware that you will see in-app advertisements from time to time and must pay a fee to get rid of them.
Get Whats Web App + (Free, supports in-app purchases)
3. Messenger for WhatsApp ++
Another third-party app to get WhatsApp on the iPad, Messenger for WhatsApp++ is another lightweight addition to the list. Like before, you need to scan a QR code to set it up. Additional features include locking the app to protect your chats and chat reminders, which allow users to set up reminders to respond to specific conversations. You can even create Birthday reminders to ensure you don't forget to wish your friends or family members.
Get Messenger for WhatsApp ++ (Free, supports in-app purchases)
Are There Any Limitations to Using WhatsApp on iPad?
While the WhatsApp experience on iPad is decent even without the app, there sure are some limitations. Here are some you should expect while going ahead and using it.
1. Occasional Lag
During your day-to-day operation, you might encounter a touch of lag or two. Since we cannot use WhatsApp's native app on the iPad right now, this is completely natural. So if you are the type of user who wants to have a lightning-fast response, you better stick to your phone.
2. Different Contacts List
WhatsApp on the iPad will pull the list of contacts and conversations from your phone and not from your iPad. It is not something you can circumvent as of now.
3. Needs an Existing Account
You will need an existing WhatsApp account on your mobile to install and use WhatsApp on the iPad.
4. No Voice & Video Calling
While WhatsApp has started testing voice and video calling on its desktop app for Mac and Windows, you can't access these features on the web version. So yeah, you will not be able to voice or video call your friends and family even if you start using WhatsApp on an iPad via the workaround explained above.
Use WhatsApp on Your iPad in a Few Easy Steps
We hope this guide will be useful in helping you figure out how to set up and use WhatsApp on your iPad. There sure are some limitations to the experience right now, but it will become a whole lot better once the native iPad app and multi-device support arrive on WhatsApp. If you are content with using the messaging app on your phone, try these best WhatsApp tips and tricks to further enhance your experience. And well, if you are privacy-conscious and want a cross-device messaging app to ditch WhatsApp altogether, go ahead and check out these best WhatsApp alternatives. Need help in setting up WhatsApp on your iPad? Ask your questions in the comments below, and we will help you out.
---
Load More